Get connected with our daily update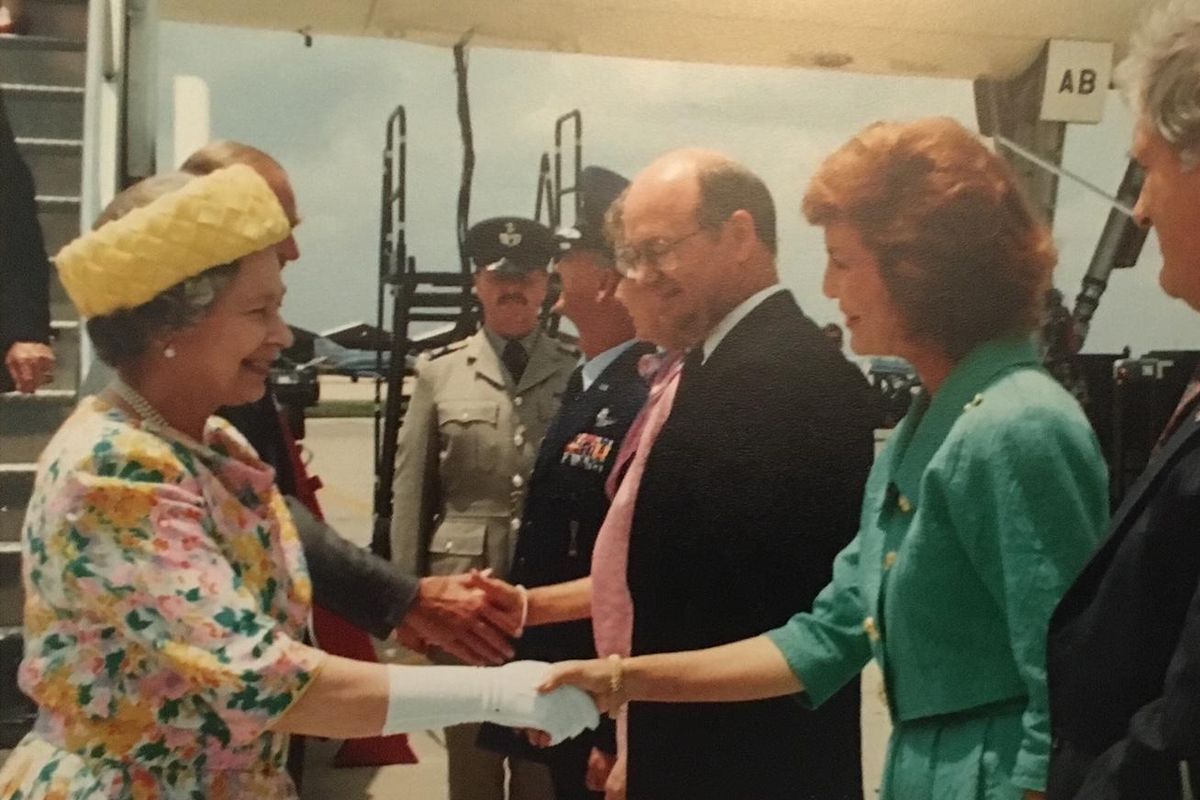 photo courtesy Lee Cooke
After the death of Queen Elizabeth II Thursday, many Austinites are treasuring their personal memories of her from a May 1991 visit to Austin with her husband, Prince Philip, the Duke of Edinburgh.
"I remember it well," then Mayor Lee Cooke told Austonia in a Thursday phone call. "It was her first trip to Texas. I welcomed her, with my wife Barbara Cooke, when she got off the plane at Bergstrom Air Force Base (now ABIA). We went to the Capitol where I presented her with the key to the city" while Governor Ann Richards and Lt. Gov. Bob Bullock looked on.
"We hosted a dinner for the Queen that night at the LBJ Library, with Lady Bird Johnson," Cooke said, noting that the Queen was "congenial and easy to talk to," while her husband, who Mayor Cooke took on a tour of electronics manufacturing plants, "was not one for small talk."
---
The next day, the royal party visited San Antonio and Dallas before finishing their Texas swing in Houston.
Her Royal Highness was known for her love of fine racehorses. Mayor Cooke says that he was seated at her table in Houston at the farewell dinner, when she spoke mostly of racehorses and her excitement about flying on to Kentucky to visit horse farms.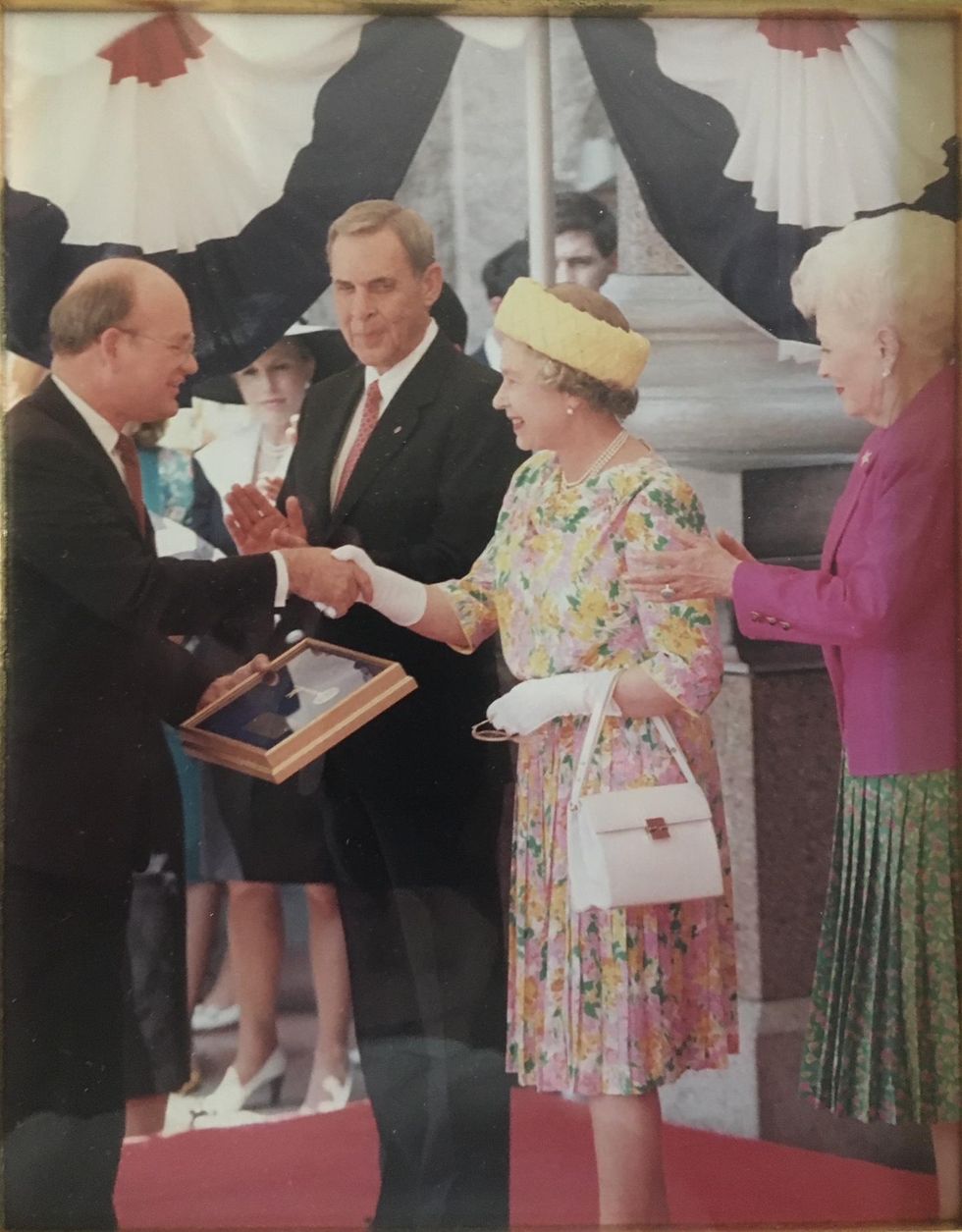 Austin Mayor Lee Cooke presents the key to the city to Queen Elizabeth II, while Governor Ann Richards and Lt. Gov. Bob Bullock look on.Photo courtesy Lee Cooke
A May 21, 1991 article in the Fort Worth Star-Telegram noted some extra details from the Austin visit:
At the state Capitol, she told the crowd of 5,000 that "lesser mortals are pitied for their misfortune in not being born Texans."
Prince Philip, while touring a microchip factory, noted that "I've been doing [this] professionally for the last, roughly, 40 years…I can claim to have patted the first microchip on the head."
Texas House Speaker Gib Lewis gave Queen Elizabeth six pairs of Justin Roper boots, to take home to her six grandchildren.
The Longhorn band played The Eyes of Texas and then God Save the Queen.
Prince Philip, known for his dry sense of humor, said "these are two of the things I've been longing for," after being given a commemorative t-shirt and a silicon wafer.
British journalists supposedly spent the evening at the Broken Spoke.
Other Austin activities were a speech to a joint session of the legislature and a reception at the Governor's Mansion.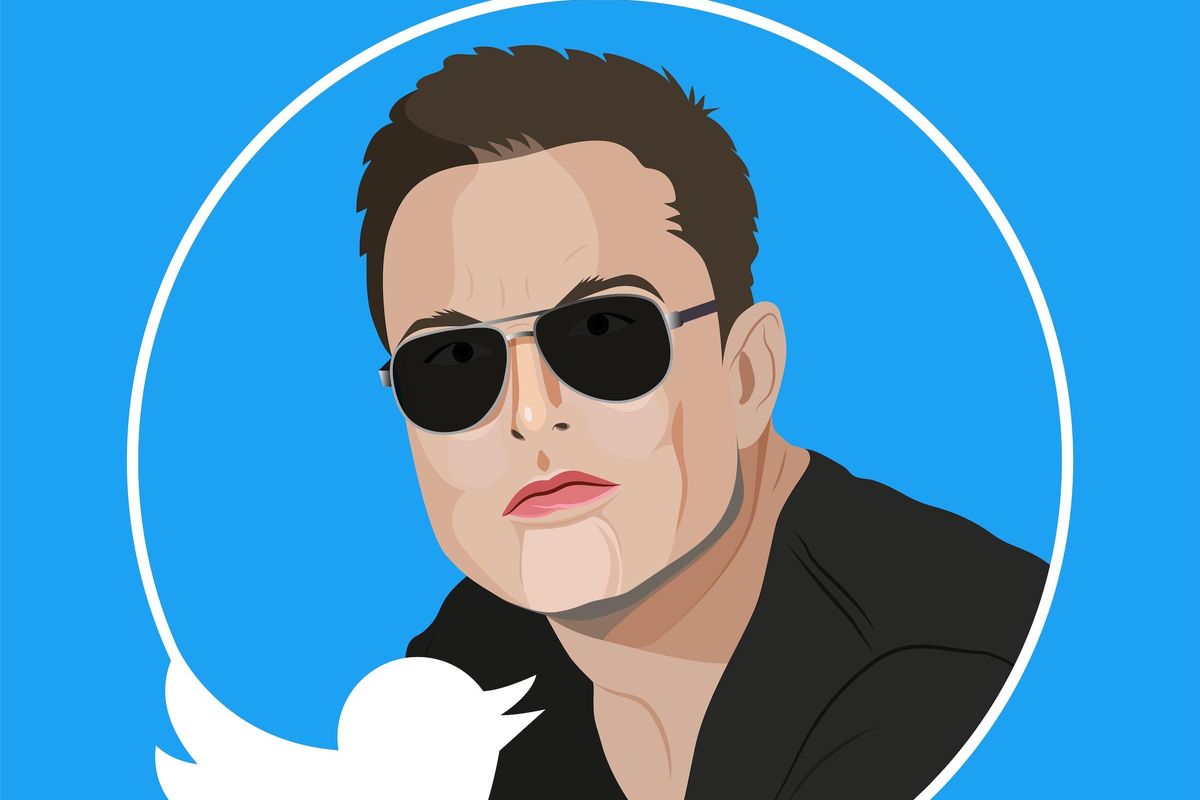 Shutterstock
Elon Musk has proposed once again to buy Twitter for $54.20 a share.
The news that Musk is offering to carry on with the $44 billion buyout was first reported by Bloomberg. Now, a filing with the Securities and Exchange Commission shows Musk made the proposal in a letter to the tech giant on Monday.
The New York Stock Exchange temporarily halted trading in Twitter stock twice Tuesday, first because of a big price move and the second time for a news event, presumably the announcement of Musk's renewed offer.
While the per share offer price on this latest proposal remains the same as the original offer, it's unclear if Musk has made other term changes or if Twitter would reject it. According to other reports, a deal could be reached this week.
The stock closed at $52.00/share Tuesday, indicating market uncertainty around the $54.20 offer.
After Musk informed Twitter of plans to terminate the original agreement in July, Twitter sued. A trial has been expected in Delaware Chancery Court on Oct. 17.
With the proposition of a buyout on the table again, it revives the question of whether Musk might move Twitter from San Francisco to Central Texas.
He's done so with some of his other companies. Tesla's headquarters in southeast Travis County had its grand opening earlier this year and tunneling business The Boring Company moved to Pflugerville. At least two other Musk companies, SpaceX and Neuralink, have a Central Texas presence without being headquartered here.
Technology journalist Nilay Patel this afternoon voiced concerns that owning Twitter and Tesla together could be problematic for Musk, as his Tesla manufacturing facilities in Germany and China are both in countries that have disputes with Twitter over content moderation and censorship.
Telsa shares fell after the Twitter news became public, before rallying to close up, at $249.44.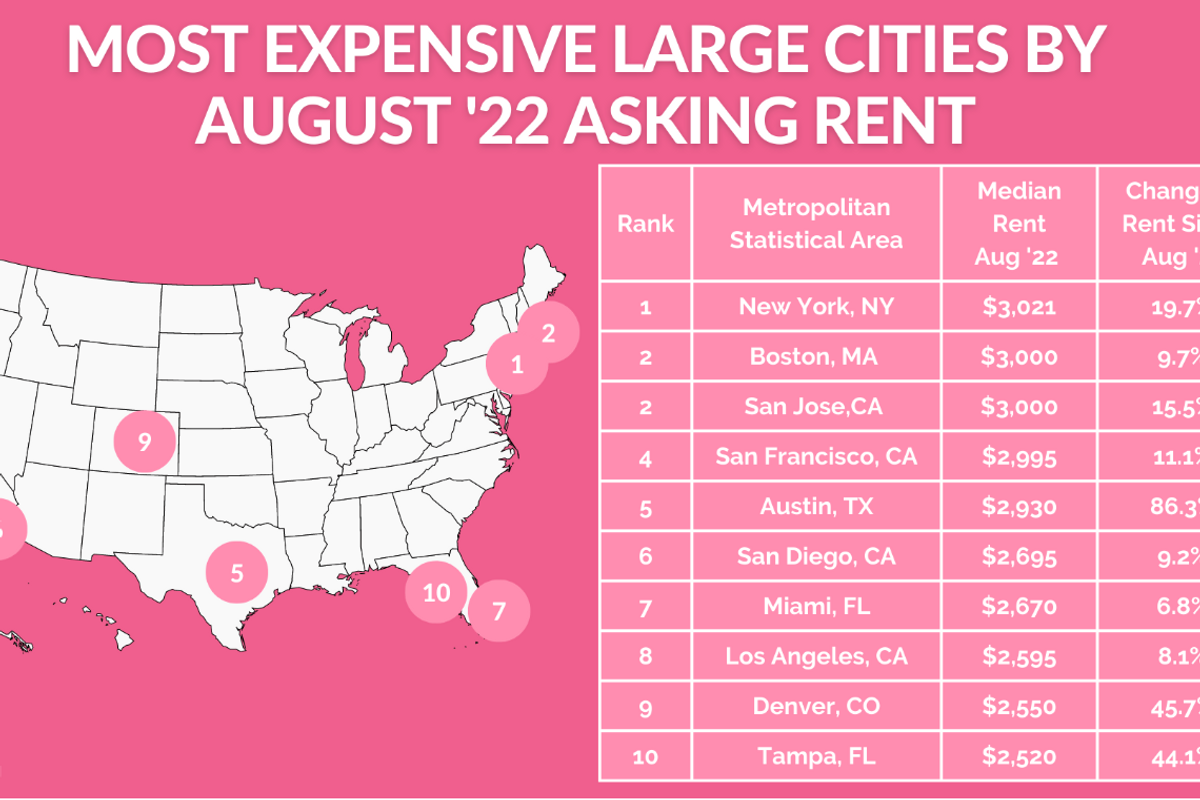 Dwellsy
While searching for a place to live, Austin renters will face monthly rates of nearly $3,000, a recent guide from rental marketplace Dwellsy shows.
The median rent in August this year was $2,930, a more than 86% increase since August 2021. That's $820 more than the nationwide median asking rent in August and puts Austin just below the Bay Area, Boston and New York for large cities with the most expensive asking rent.
"Within this group, Austin, TX stands out for the highest increases in asking rent, which has nearly doubled since this time last year," the study notes.
Outside of those large cities, however, others are seeing even higher rent spikes. Metro areas that ranked above Austin in one-year increases include those like Kansas City, MO with a 112% change in rent since last August and Tucson, AZ with a 124% change.
The data reflects large apartment communities, single-family homes and 2-6 unit buildings.