Get connected with our daily update
Full disclosure: I do not speak Spanish. Growing up in McAllen, Texas, I understand the language to a degree of absolute confidence, yet I rarely attempt to speak Spanish aloud.
---
I know I won't pull it off in a manner that is comparable to my English, and that stops me from even trying—or that is my rationalization.
My father, who came to the U.S. at eight from Mexico, was punished for speaking Spanish at the Catholic School he attended in his new land.
I heard those painful anecdotes in English, in a house where I also learned my American accent from watching "Three's Company" and "Rockford Files" reruns.
In 2016, Sen. Ted Cruz explained his unease with Spanish to a Univision reporter after being asked if he could answer questions in Español: "I understand almost everything in Spanish, but I can't speak as well as I'd like."
Switching back to English, Cruz said, "I have the problem of the second-generation immigrant." He added, "To be honest, what I really spoke at home was Spanglish."
The reasons for this second-generation immigrant's unease in Spanish are complex, but the source of this complication seems tied to an immigrant's sense of survival.
Virginia Talley, who runs Hyde Park's The Language House, has very personal reasons for trying to get her students to experience the fullness of the Spanish language. The Language House offers private and group Spanish conversation classes, and in pre-COVID days even offered immersion trips to Oaxaca, Mexico for those who wanted to explore the land as well as the language.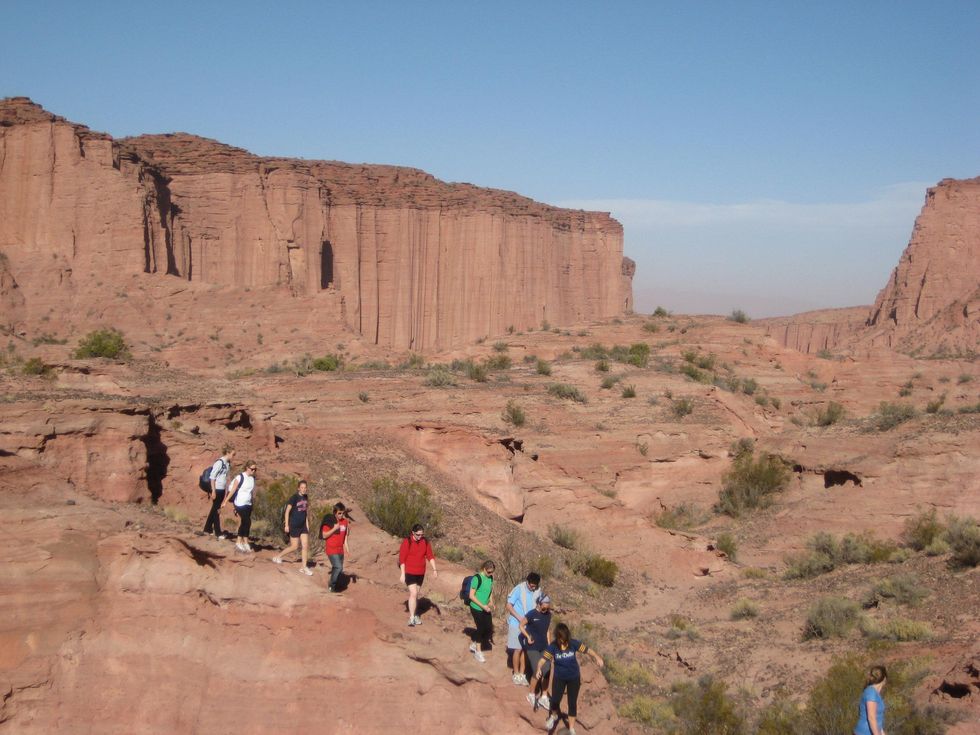 Students of the The Languge House go on a hike in Argentina as part of an immersion trip the school offers. (The Language House)
Talley's father, a family doctor in Bastrop, had a lab tech who was originally from Mexico but never spoke his native tongue. According to Talley, the man considered Spanish taboo and did not speak it to his children due to locally perceived lower-class implications of the language.
"It was this horribly tragic thing when I look back on it," said Talley. "Where I was growing up, a lot of my friends were Hispanic… but they didn't speak it at all because, again, I think it was really looked down upon; the parents didn't even try to teach their kids."
Now Talley often sees second-generation Latino immigrants coming to her classes out of something close to guilt, or even a sense of responsibility to a lost heritage. "People feeling like they were embarrassed because they think they should be able to speak Spanish; you know, maybe it was not spoken at home, or they rejected it or they did not learn it properly."
The stigma of speaking Spanish is lifting, according to Talley; and now even those who can speak Spanish fluently seem compelled to learn it better.
While teaching Spanish 101 at Austin Community College, Talley says she was flabbergasted when she saw that everyone in her class was Latino. "I thought, 'What is going on here?' They were all heritage speakers and so their Spanish was beautiful (but), they could not write, so it was like an interesting dynamic, teaching heritage speakers basically how to write properly."
Marisol Cortez, an award-winning author who will be one of the few in-person authors featured in Austin's upcoming Texas Book Festival, knows the cultural complexities of this language issue well, and she is doing something about it.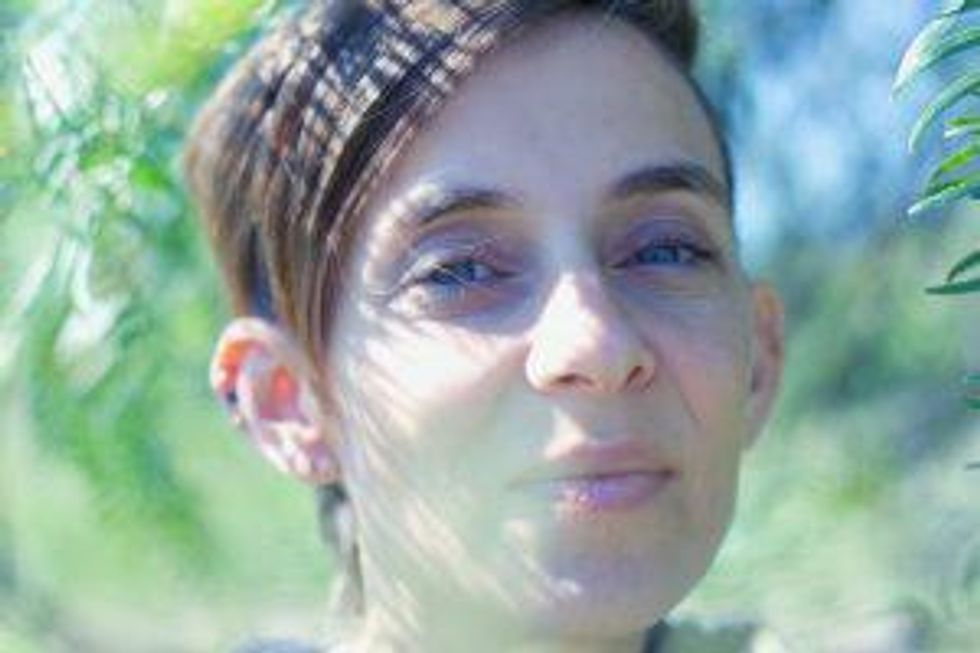 Marisol Cortez feel internal pressure when she speaks Spanish, since she's not fluent in it. (Marisol Cortez)
A mother of a 13-year-old and a toddler, Cortez has made it a point to have her children speak both English and Spanish.
This was something that she herself did not get to experience while growing up, and it was an early impediment to her environmental activism that she had to correct.
Despite having a Mexican-American father, Cortez never heard Spanish at home. Growing up with a more natural command of English than Spanish in San Antonio was a bit of a double-edged sword for the writer.
Cortez recalls how her dad's own brand of Tex-Mex Spanish was mocked when he visited relatives in Mexico; so, the language was curiously a problem on both sides of the border.
"My dad didn't ever speak it at home," she says. "So I grew up kind of absorbing it but not speaking it at home and then anything that I am able to say in Spanish now was pretty much acquired as an adult."
The insecurity regarding her Spanish remains a slight block to her even today. She says when she speaks it she's nervous and feels internal pressure to sound more fluent than she is. But it's important to her that it stays alive in her family.
"The importance of Spanish for future generations lies in its ability to keep us tied to the struggles of our parents and grandparents," Cortez said. "It's a way of acknowledging that we stand on the shoulders of those struggles. Even as we acknowledge the reality that Spanish is a colonial language imposed on peoples original to this continent, it's also a way of keeping us connected to our neighbors, accountable to their struggles. It's an important form of solidarity."
From Your Site Articles
Related Articles Around the Web
Rounding out the last-quarter corner of October, we are thrust toward the season of "the little death"—the sign of Scorpio—both inevitably transformational and potentially orgasmic.
This dying is simply a very natural and necessary process, as the year begins its closing. In Scorpio season, we are invited to look directly into our shadow and that of the world around us. This marks a significant end-of-a-cycle that began six months ago. This is the month of embracing the cycles of life, of looking death in the eyes, of embracing the very powerful process of transmutation and as we dive into it, remembering that rebirth is always imminent.
Shortcuts: Aries, Taurus, Cancer, Leo, Virgo, Libra, Scorpio, Sagittarius, Capricorn, Aquarius, Pisces
(*Note: When reading your monthly horoscope, it is always good to read not only your "SunSign" but also your "Ascendant"— referred to as your "Rising Sign".)
Aries: March 21-April 19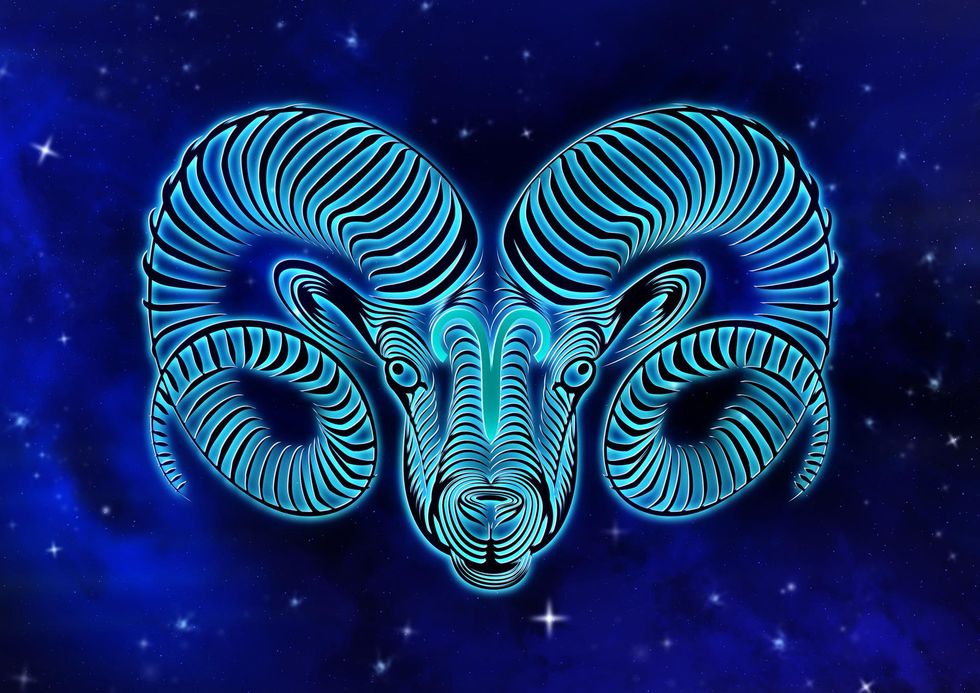 Arians, you may have felt like you have been on the stand the last months, and you have in many ways with so many planets in opposition to your Sun! Alas, you may feel emancipated from the resistance and this month return to your preferred state of passion and enthusiasm spurring new horizons of creative endeavors. Your flame may be burning so hot in fact, that you may well ignite a romantic interlude, however the dynamic may well end up requiring more than you are interested in investing. Your bigger picture continues to be on personal achievement, however this year you are learning that 'it takes a village'. The Nov. 19 full moon eclipse teaches you to let go of attachment, and the need to control all the strands of the web.
Taurus: April 20-May 20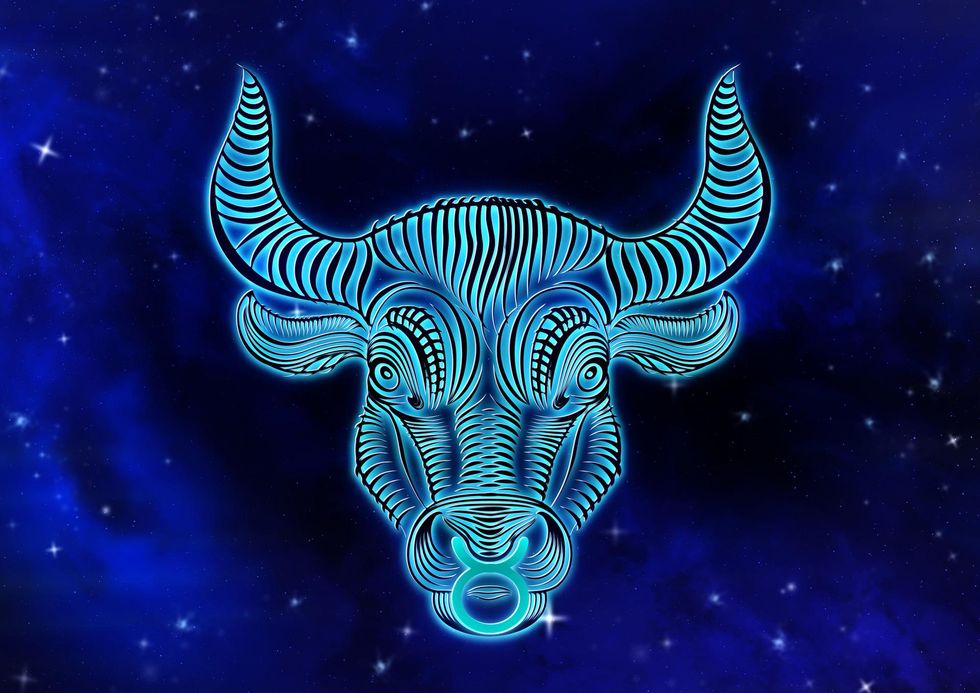 Pleasure-seeking Taurus, Scorpio season is the double-edged sword for you. The Soul's 'urge to merge' entices you, while also eliciting apprehension as this level of union may open up the cellar doors. The Nov. 4 Scorpio new moon falls in your relationship sector this month, so just surrender to the pleasure principle as it allows and 'trust the process' that follows. Remember you are being activated this year to evolve, and getting our hands and hearts dirty is sometimes required. The Solar eclipse on Nov. 19 falls in your sign, which ignites a very karmic path that will unfold over the next year and a half in your favor. Your calm, steady, and creative demeanor and your gifts will be called to the front lines to bring a necessary balance to the world.
Gemini: May 21-June 20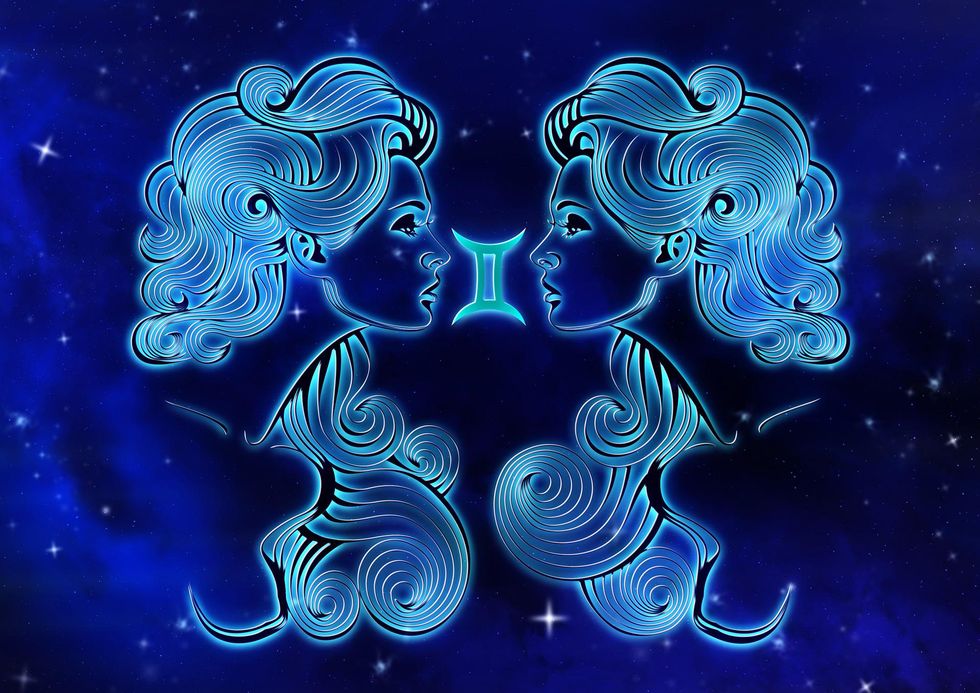 Geminis, we love you for always 'keeping it light'. However, Scorpio season may require you to face some issues that have been boiling beneath the surface, especially in the workplace. Remember 'Twins', you are learning about duality this go-round, and that you can't have the 'light,' without also embracing the 'dark'. Freedom comes from this natural and necessary process of healing so sit back and learn something this month. The Taurus Solar eclipse Nov. 19 that falls in your 'house of The Mystic,' will reward you with a leap in your spiritual consciousness.
Cancer: June 21-July 22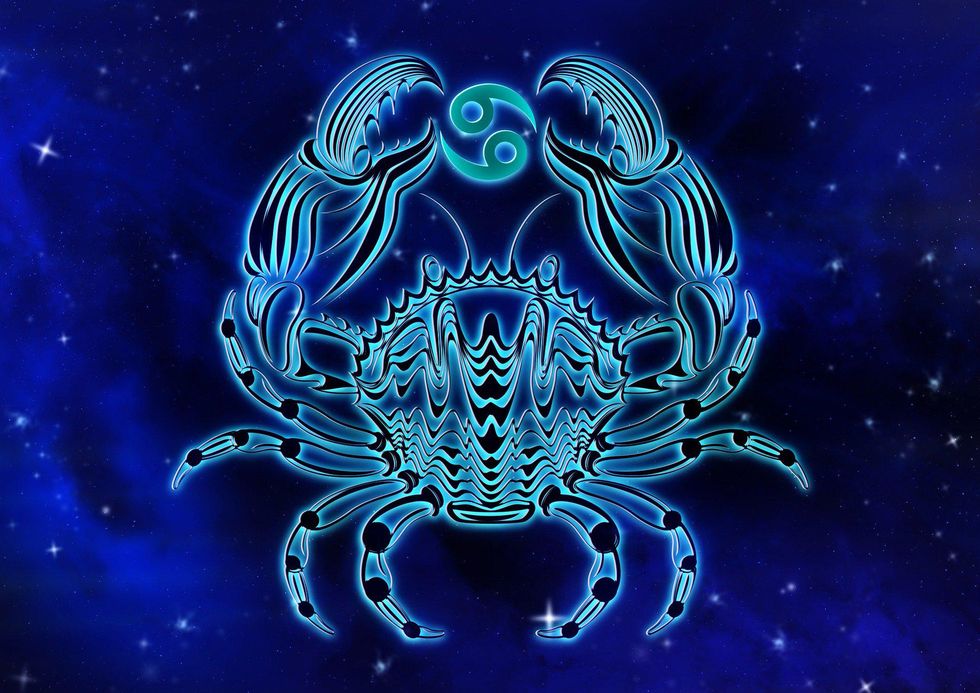 Delicate Cancers, you have been forced out of your shell over and over, in the last year. The current evolutionary shift has so needed your gifts of love and compassion. Scorpio season for you may bring a wave of emotionality but nothing a good cry cannot navigate. This year your motherly gifts are called out of the house and into the larger community. At the Taurus solar eclipse, you may find yourself at the end or the beginning of the very significant community role. Remember that when one door closes, another opens, and that truly, 'home is where the heart is'.
Leo: July 23-Aug. 22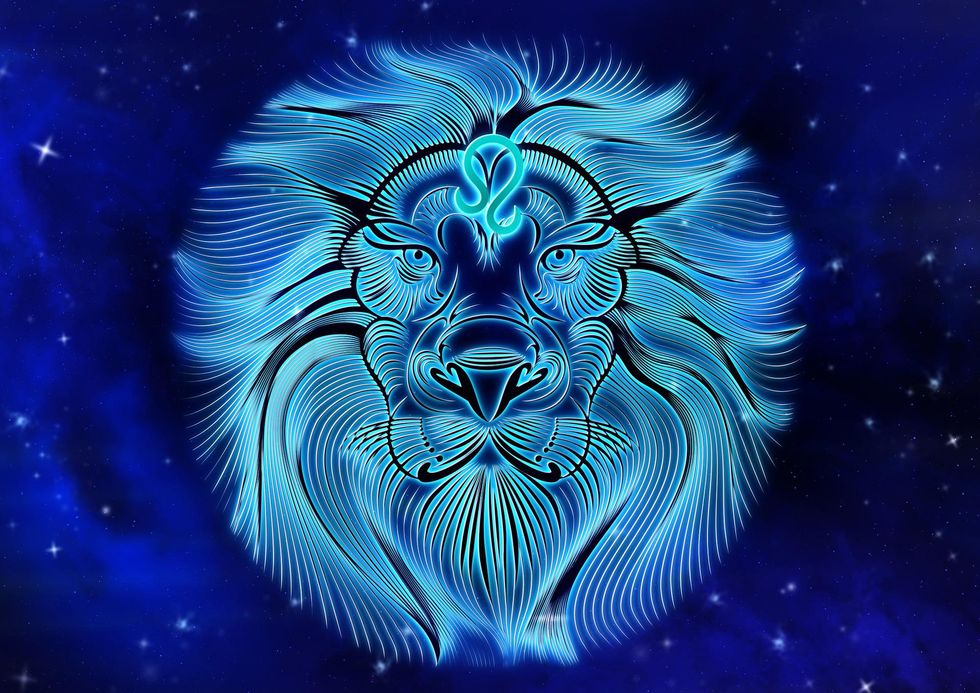 Bright-light-Leo's, Scorpio may not be your favorite season (except perhaps the costume party!) as the emerging shadows appear to be in contrast to your ever-lasting light! But relax and remember that 'dark', merely means 'hidden', and once revealed, gains access to more light! Hey Lions, the transformation for you this month, is with home and work. Change, healing, and progress are keywords, which may require fast decisions. The Nov. 19 Taurus lunar eclipse lands in your career sector, so the question to ask is…"is this really what I want to be doing?" Your exuberant playfulness, joy and creativity are your greatest gifts. Be sure they are intricately woven into your path.
Virgo: Aug. 23-Sept. 21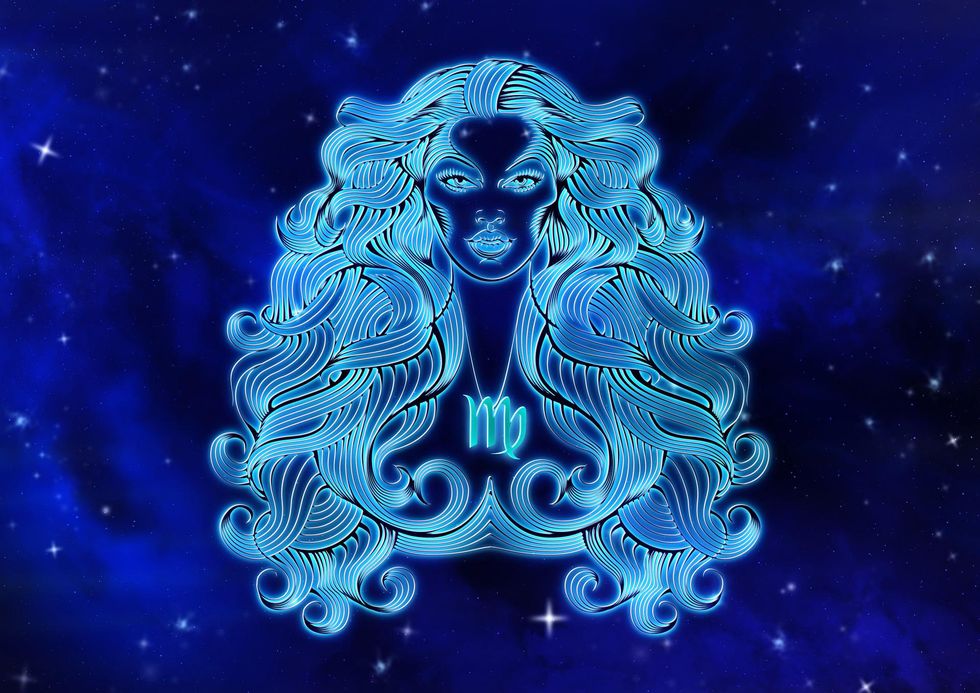 Creating order out of chaos is your specialty, vigilant Virgos. You welcome Scorpio season to clear out the cobwebs and get on with things. Do be careful not to become too focused on the distortions, remembering that 'what we focus on expands'. You are a pinnacle of this time of 'the Great Shift' and are upgrading quickly to meet the collective needs. The Scorpio new moon, and the Taurus lunar eclipse fall in your axis of 'information, knowledge, communication, and beliefs'. You are upgrading your mental circuitry. Don't hold onto anything, and trust that you will end up where you belong.
Libra: Sept. 22-Oct. 23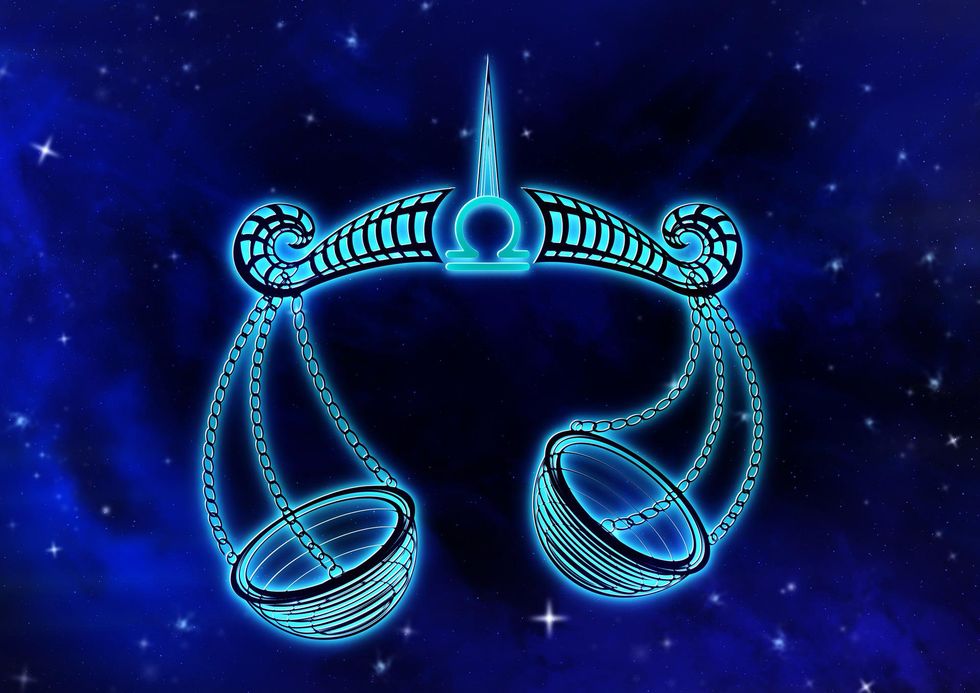 Love-hungry Libras, we know you always love Scorpio season because it means going deeper into the intimate realms and you are absolutely fine with whatever it takes! However, this month's Scorpio new moon invites a rebirth to your relationship with yourself, which is a reward after a long journey of introspection and growth. This journey brings you to a place of balance with self and others. This is your deepest work in this lifetime, so celebrate with an extra dose of self-care! There could be some financial upgrades this month. Consider partnering up, as a way of combining resources. Your gift of diplomacy may be called upon surrounding the Nov. 19 Taurus lunar eclipse.
Scorpio: Oct. 24-Nov. 21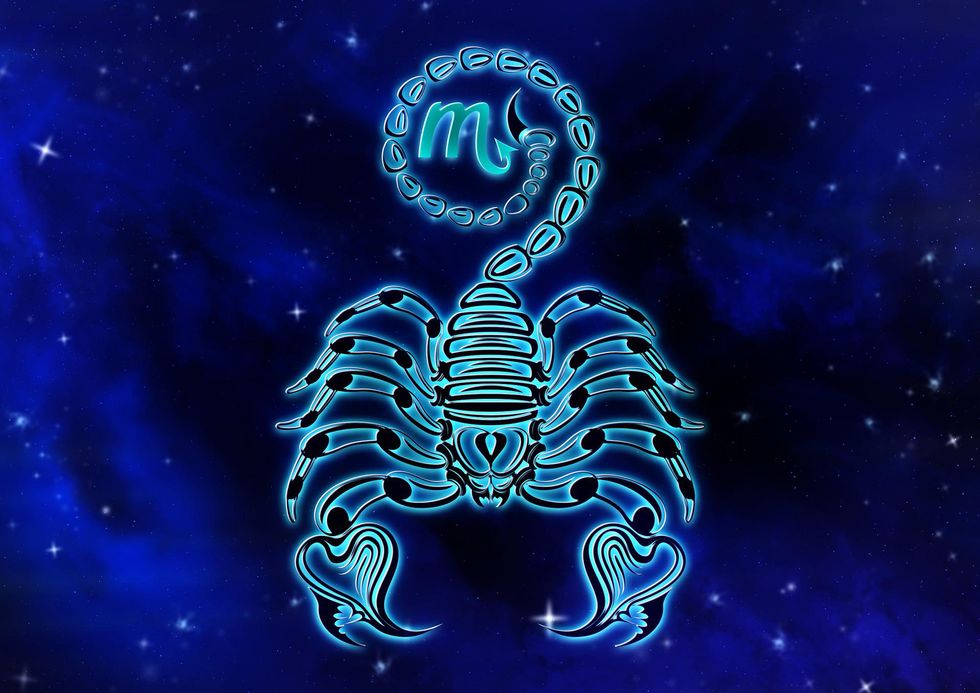 This is your big month all-powerful Scorpios… Happiest Re-Birth-Day to you! This is your moment to push the 'reset' button, shed last year's skin, and embody the fullness of your passion and purpose! The Nov. 4 new moon, also in your sign, is the invitation to surrender any old emotional pain and story, and get clear about your higher mission—as your strength and depth are greatly needed at this evolutionary threshold. The Nov. 19 lunar eclipse may trigger relationship shifts, though exciting, may be fleeting, but remember every romantic soiree serves your evolution in some manner. Home and family continue to be a bit in flux, so live from the heart... while learning to let go and trust.
Sagittarius: Nov. 22-Dec. 21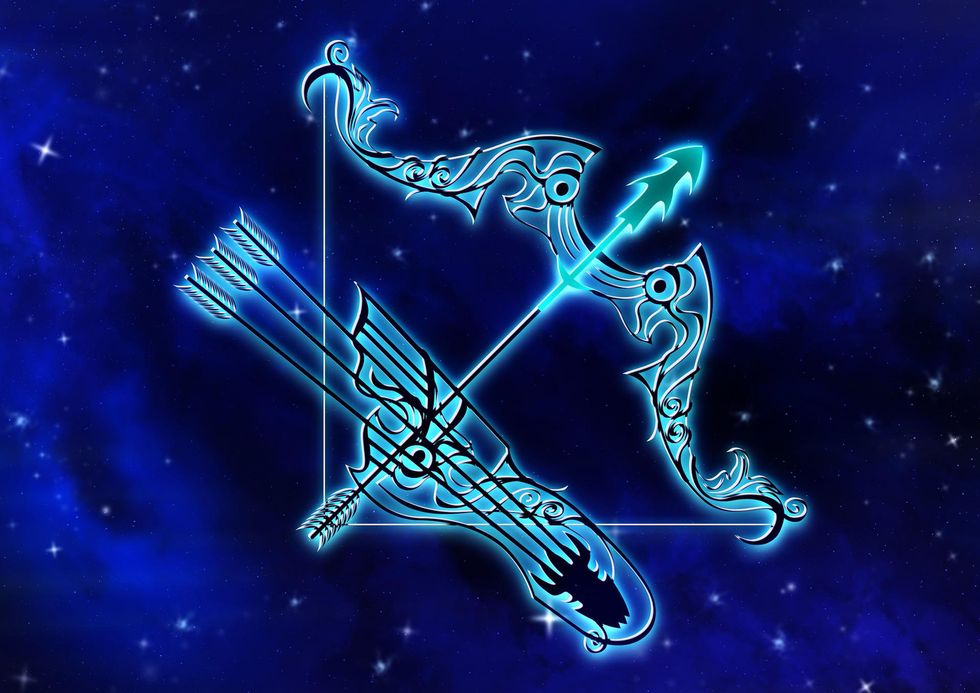 Sagittarians, you are the leaders of great thought. You have been tested the last year to open your mind-horizons into areas that have brought discomfort. Sometimes you find it easier to hold onto old learned beliefs because the emerging new truths feel too destabilizing. The Nov. 4 New Moon awards you the opportunity to 'let go and trust' that all is going to be ok. You will continue to be tested in your capacity to 'listen' and communicate compassionately with others. The Nov. 19 lunar eclipse may trigger some chaos at the job site but observe it with a higher mind, relax into the process; this restructuring is necessary and of the highest order. A renewed self-care regime could be the missing component to the balance you seek.
Capricorn: Dec. 22-Jan. 19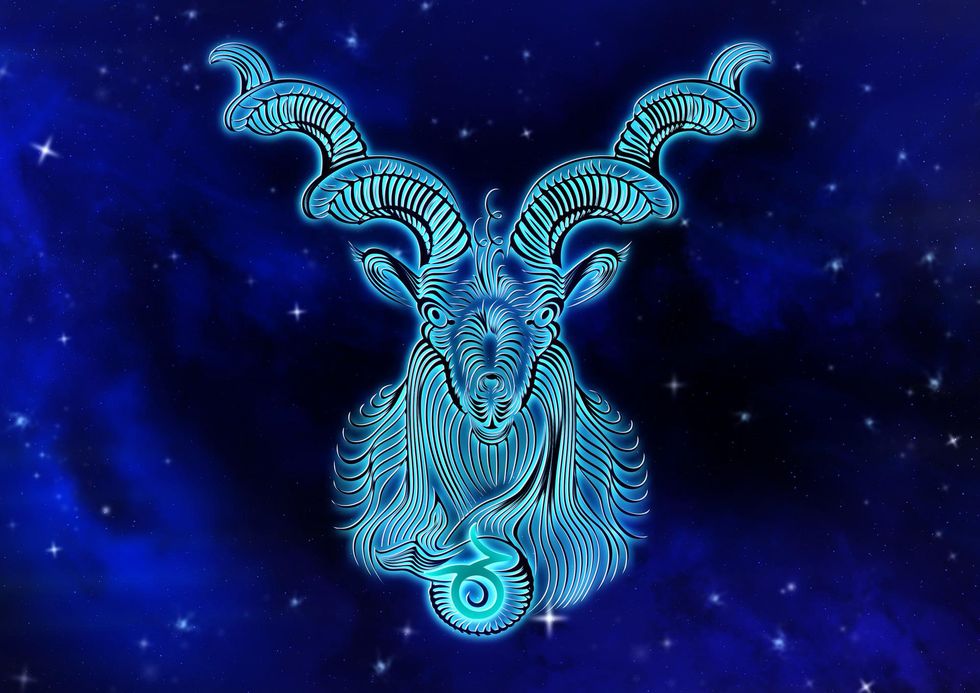 Wise and focused Capricorns, this month you may find great fulfillment putting your hard work to good use within the community. Though not your initial intention, your industrial focus may also come with unexpected healing of a past hurt around the Nov. 4 new moon. This year has put focus on refining your character, and to reassess what you truly value. Finances have also been serious business with the need to balance your spending with saving. But the Nov. 19 lunar eclipse is begging for you to lighten up a bit and play. Do something spontaneous and be open to a little romance, expected or unexpected!
Aquarius: Jan. 20-Feb. 18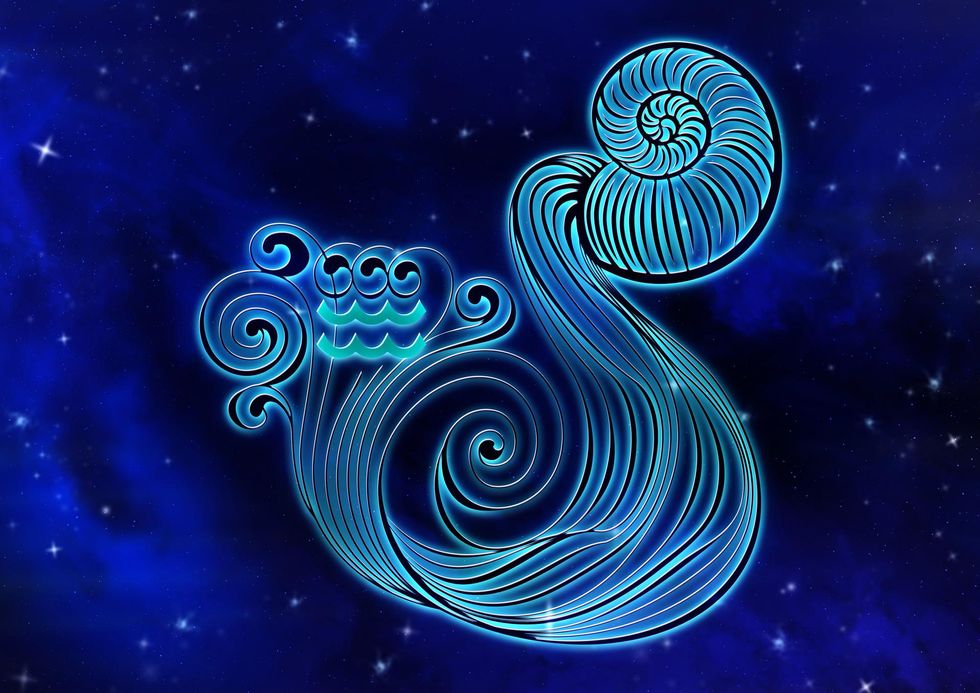 Revolutionary Aquarians! You were born for these times and find yourself on the front lines of this fast-moving evolutionary train! Though you might have hoped humanity would be further along by now, you must not lose heart and continue to fine-tune your mental channels in order to guide us into the future. The Nov. 4 new moon may offer a new direction in your career, while the Nov. 19 lunar eclipse may bring unexpected change in the home-front. You of all the signs understand that it is 'the storm' that precedes the greatest shifts... Keep holding the light and guiding with the certainty of your soul's light.
Pisces: Feb. 19-March 20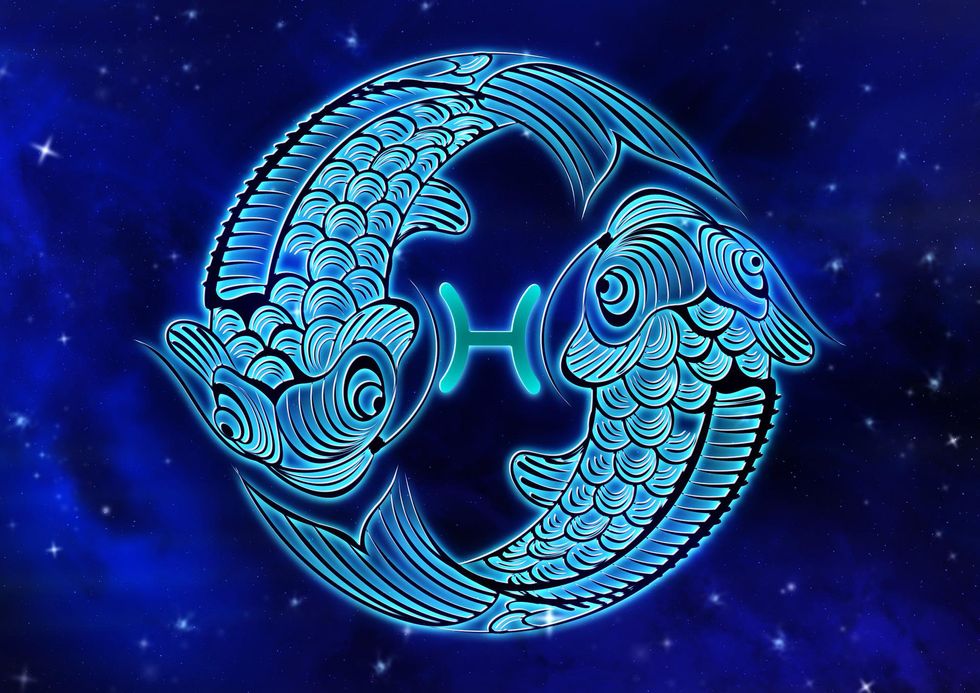 It's been rough waters for you this past year Pisces, as your empathic nature feels all the collective alchemical turmoil deep within. You are closing out some massive cycles requiring deep inquiry, surrender and trust. The Nov. 4 New Moon invites you to stretch your comfort zone and peer into the less pleasant aspects of life, in order to avoid bypassing and embody a balanced approach. You will be rewarded by the Lunar Eclipse Nov. 19 with an invitation to speak, write, teach, or perhaps just soul-enriching connections with others. Remember that your endless well of compassion is your greatest gift, and so needed on the planet at this time.
Shannon Gill is an Evolutionary Astrologer, Jungian Counselor, and the co-founder of 'The Shift Foundation' at Samadhi Retreat Center. To learn more about her work, or to schedule a personal session, you may contact her at shannonleigill.com.
Enjoying Austonia? Signup for our newsletter to get daily Austin news, straight to your morning inbox!
Austin's Delta 8 industry has been turned on its head after Texas health officials clarified that the cannabinoid is on the state list of illegal substances, though it was previously believed to be legal by most retailers, consumers and manufacturers.
House Bill 1325, which was signed in June 2019 by Gov. Greg Abbott, and the Farm Bill, signed into law by former President Donald Trump in 2018, legalized any hemp product containing less than .3% THC. The same bills were thought to have made Delta 8 legal, though the Texas Department of State Health Services added a notice on its website saying it was still a controlled substance as of Friday, Oct. 15.
Both the federal and state governments keep separate lists on what is considered a controlled substance. Marijuana is considered Schedule I, a category reserved for substances with "no currently accepted medical use and a high potential for abuse," both statewide and federally.
Austin-based CBD retailer Grassroots Harvest CEO Kemal Whyte, like many CBD shop retailers, was blindsided by the announcement. Many small businesses rely on Delta 8 for their sales—Green Herbal Care CBD said about 90% of its sales come from Delta 8—and Whyte said he is frustrated by the inconsistencies in the drug scheduling system.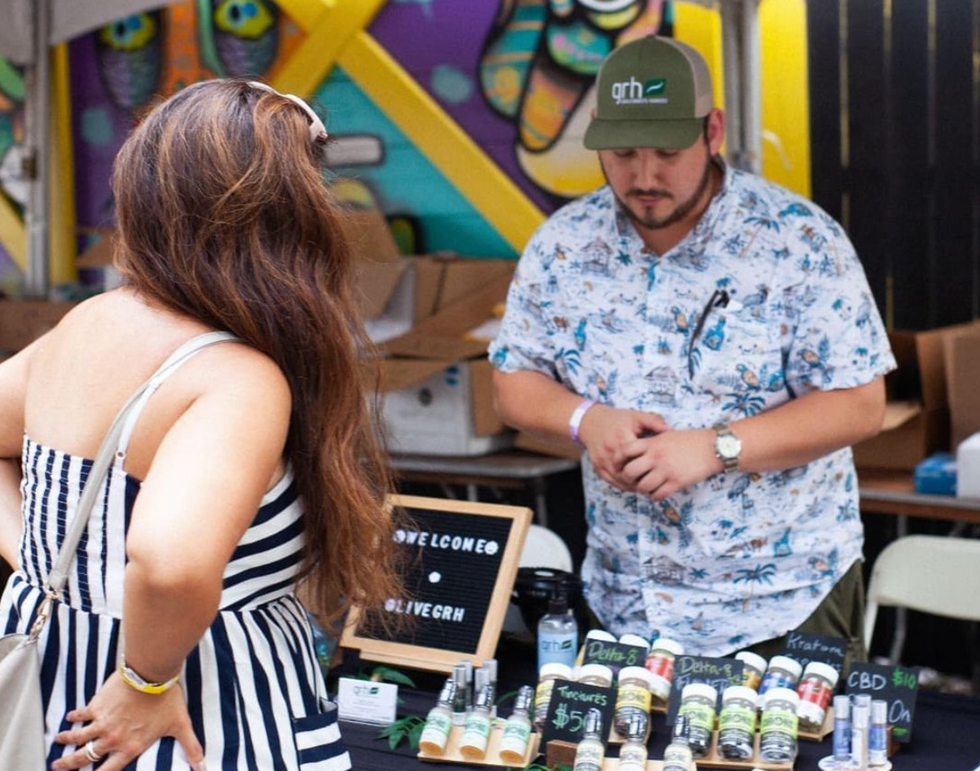 (Grassroots Harvest/Instagram)
Since 87% of Texans support the legalization of marijuana, at least for medical use, per a recent poll, Whyte said he wonders who this legislation is for.
"It's gonna have a massive impact on small businesses—there's just no way around it," Whyte said. "The reality is, we don't want to push out anything bad for our customers, we want this to benefit our customers and to help them. If we can make money while doing it, that's the American dream. What are we doing, whose benefit is this for?"
Delta 8 surged in popularity after the perceived legalization—consumers enjoyed its lower psychotropic potency, decreased anxiety while using it and the peace of mind as a legal way to get high. So in order to protect their products and livelihoods, both Grassroots Harvest and Austin-based manufacturer Hometown Heroes are taking legal action.
Whyte said Grassroots Harvest is suing DSHS, saying their action is creating negative effects in the market. Meanwhile, a Hometown Heroes spokesperson said the company is in the process of filing a temporary restraining order that would pause the ban on Delta-8 in the state of Texas.
Threats against Delta 8 are not new—DSHS lost a lawsuit trying to make "smokable hemp products" illegal last year and Texas lawmakers had been considering a bill that would make Delta 8 illegal, though it was dropped after the clarification was made.
Hometown Heroes released a formal statement in response to the DSHS rule.
"I need to be clear—we love Texas, we're just choosing to fight for the will of the people in regards to cannabis in Texas," Hometown Hero CEO Lukas Gilkey said in a statement. "(Texas DSHS) are using backhanded ways to create legislation and go against the will of the people."
Whyte laments the fact that it would be easier legally to "open up a strip club that also sells guns," and said he can't post customer testimonials that mention the benefits of Delta 8 without getting hit with a cease and desist from the Food and Drug Administration. Whyte said he isn't opposed to regulation—far from it—he just wants to see it go through the correct channels.
"The fact that they're stunting our ability to communicate with our clients that want to learn about this, you're preventing us from communicating with them and teaching them, or spreading information that we know," Whyte said. "I think that that in and of itself opens up a lot of questions."
Grassroots Harvest still has Delta 8 products on its shelves for the time being but for how long, Whyte doesn't know.