Get connected with our daily update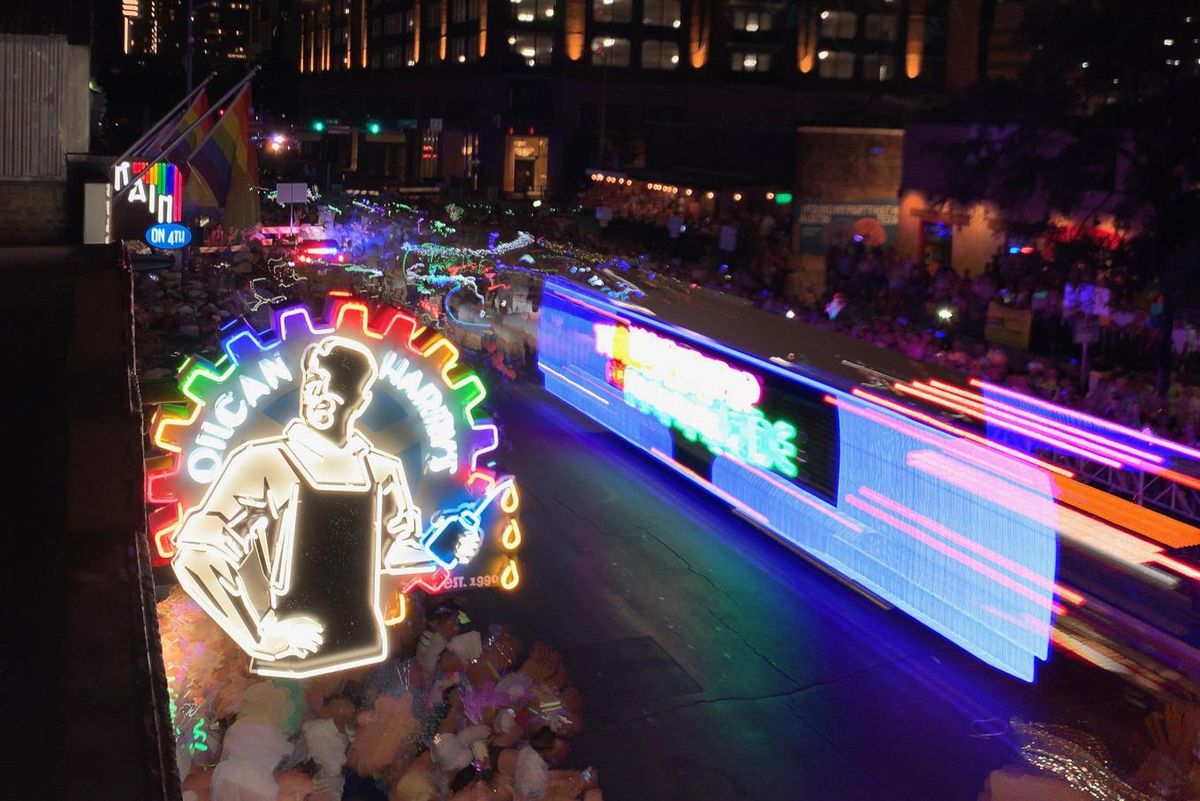 With Sixth Street and Congress right nearby, Fourth Street is a hidden gem that can be easily overlooked. You'll know you've made it when you spot the colorful crosswalks along Bettie Naylor Street.
---
Known in particular for its bustling drag and gay nightlife scene, Fourth Street is where you're most likely to catch a drag queen in her natural habitat. However, the strip is also a hub for fine dining, rooftop views and themed bars off the beaten path.
Home to many gay clubs and bars, Fourth Street is dubbed Austin's Gay District—but everyone is welcome to enjoy themselves on this strip. In October 2021, rainbow crosswalks were installed at LGBTQ+ advocate Naylor's intersection, commemorating that everyone deserves to feel at home in Austin.
Here's what you can find in this bustling district.
☕️ WHERE TO GET A COFFEE
Halcyon | 218 W. 4th St.
This java house by day, bar and lounge by night is meant to give you the feeling of 'halcyon': calm, peaceful and happy. Halcyon has a fully-stocked kitchen with breakfast, lunch, pastries, drinks, cigars and sweet treats, including tableside s'mores. People-watch from the outdoor patio, drop in for some live jazz on Monday nights, live music every Wednesday and Thursday and drag brunch on Saturdays.
Houndstooth Coffee | 401 Congress Ave.
Nestled inside the Frost Bank building, Houndstooth Coffee is a hipster hangout with locations here and in Dallas. Using roasts from Tweed Coffee in Dallas, Houndstooth prides itself on being locally-owned and operated. Though you won't find much to eat at Houndstooth other than a PB&J sandwich or popcorn, Houndstooth offers a full range of gourmet cocktails to go.
Juan Pelota | 400 Nueces St.
Located in a shared building with Mellow Johnny's Bike Shop, Juan Pelota's sporty indoors is a welcoming environment for a morning espresso whether or not you're cycling. Marking the furthest point on the west end of 4th Street, Juan Pelota has been dealing local coffee, pastries and brewskies since 2008. Though it is only open until 5 p.m., or 2 p.m. on Mondays, the cafe starts its daily happy hour at 3 p.m. for $2 off beers and $1 off wines.

🍽 WHERE TO EAT
Group Therapy | 400 Lavaca St.
On the seventh floor of Hotel ZaZa, Group Therapy isn't what it sounds like but you will leave fuller than you did before. A plush, velvet-lined interior will draw you in for either a classy evening meal or weekend brunch. Catch live music on the weekends, grab a drink at the attached Cabana Bar or watch the sunset over some whipped feta.
RA Sushi Bar | 117 W. 4th St.
Lively music, intricate cocktails and Instagram-worthy sushi rolls await at RA Sushi Bar. Dine-in either the vibrant interior, at the sushi bar or on the rooftop patio with a furry friend. Catch the afternoon and evening happy hour Monday through Saturday!

Péché | 208 W. 4th St.
Named after the French word for "sin," Péché is Austin's first absinthe bar, meaning it showcases a cocktail menu full of pre-Prohibition-style drinks and European fare. Bar manager Derek Weiss and executive chef John Lichtenberger aim for visits to be an educational experience, so come with questions in mind. You'll know you're there when you see the serpent on its sign tempting you with "sinful cocktails and cuisine."
🏳️‍🌈 WHERE TO FIND DRAG
A drag queen is someone, usually male but not always, who uses clothing and makeup to construct an exaggerated female identity for entertainment.
During a show, a queen will typically hold a dramatic performance by lip-synching, singing, dancing, interacting with the audience and doing comedy. Attendees are encouraged to tip the queen during the show.
​Coconut Club and Neon Grotto | 310-318 Colorado St.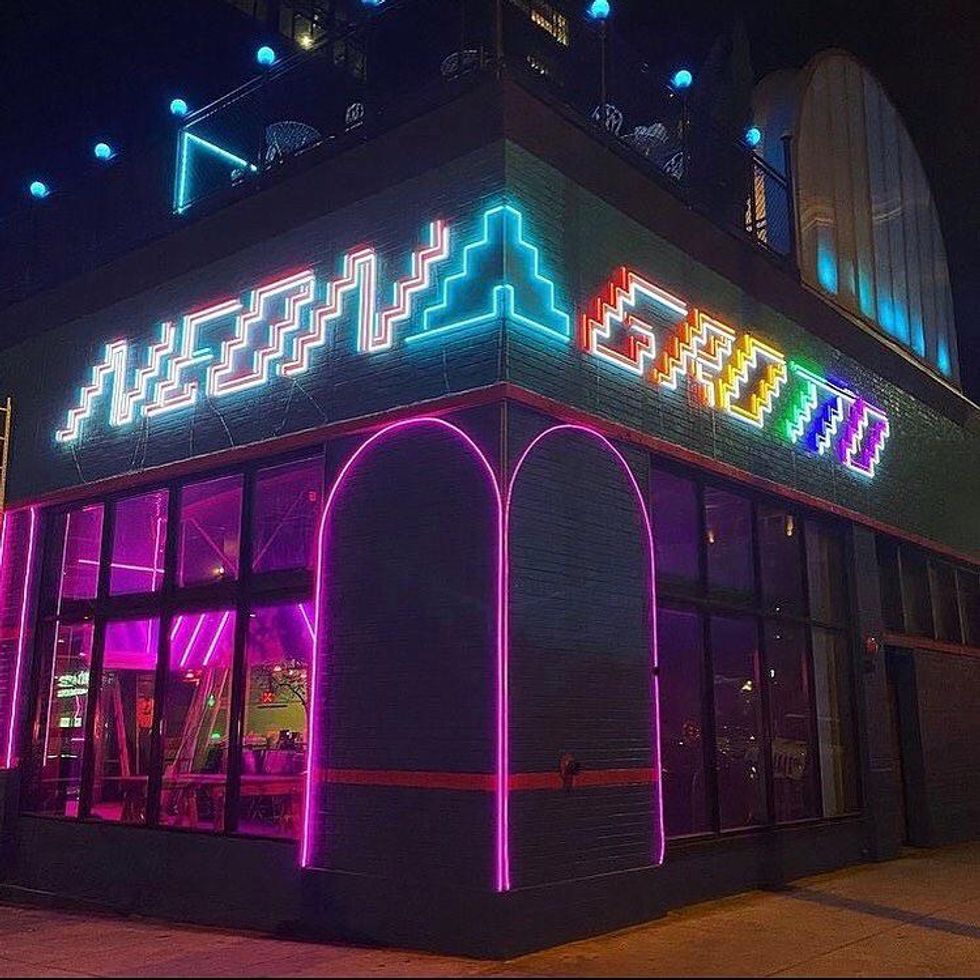 (Neon Grotto/Facebook)
These two adjoining nightclubs have both joined in on celebrating queer artists and culture but maintain a classic nightclub atmosphere. Both relatively new to the strip, the tropically-themed Coconut Club opened in 2019 from the people behind Cheer Up Charlies, whereas Neon Grotto turned its rainbow lights on in 2021. Check out Coconut Club's rooftop bar and Gatorade-based drinks, Neon Grotto's live DJs and lively drag shows at both.

Oilcan Harry's | 211 W. 4th St.
Claiming to be the oldest LGBTQ+ bar in Austin, Oilcan Harry's opened its doors in 1990 as a safe haven for people of all walks of life. The bar has a little something for everyone: OCH is famous for its drag shows but also has a sports bar, hosts live DJs, and an outdoor patio to lounge on. OCH holds a drag show or two every single night, frequently alongside karaoke or competitions, on top of special appearances and RuPaul's Drag Race watch parties. The bar is open to those 18 and older on Thursdays, so everyone gets to partake in the fun.
Rain | 217 W. 4th St.
Right next door to OCH, Rain will give you your fill of drag shows while offering some sexier content compared to its neighbor. Catch go-go boy dancers from every Thursday through Saturday, Thursday night amateur strip contests, Sunday happy hour from 5-7 p.m. and plenty of no-cover local drag queen performances on the weekends.
🍹 WHERE TO GET A COCKTAIL
​DuMont's Down Low | 214 W. 4th St.
Self-proclaimed "most unique new venue" in Austin, DuMont's Down Low is located in a cozy basement lined with whiskey barrels from local distillers. Exposed brick and large furniture gives the bar a warm and inviting feeling. Try the seasonal clarified punch or the flowery Lavender Bee cocktail.

Driftwood Downtown | 319 Colorado St.
From real estate developer Discovery Land Company, Driftwood Downtown is a private club with three floors for lounging, coworking, meeting and entertaining. The club includes a taproom with a golf simulator, a mezzanine perfect for enjoying a drink and private rooftop overlooking downtown ensure you'll never be bored at the club. Driftwood Downtown is open daily for members but can accommodate reservations for private events.
Hen House Basement | 117 W. 4th St.
You may have to do some searching to find this hidden bar, which is also known as the Lost Lei, but you'll find a tropical paradise when you do. Tucked in an underground basement, Hen House is full of tropical decorations and fruity, festive cocktails. This is a great place for photo opportunities as drinks come in tiki glasses.
🥱 WHERE TO STAY
Hotel ZaZa | 400 Lavaca St.
Overlooking Republic Square, Hotel ZaZa puts you right in the center of downtown and surrounds guests with luxury amenities. With 159 guestrooms, Concept Suites and Magnificent Seven Suites, ZaZa has a range of opulent options. Hotel guests have access to the ZaSpa, seventh floor Cabana Bar and pool, and two different restaurants: Group Therapy and its "relaxed little sister" Perfect Strangers, which offers breakfast and lunch on the Fourth Street patio.
Prices fluctuate based on time of year, room and length of stay, but expect to pay at least $250 per night at this upscale hotel.
Onyx Hotel | 301 E. 4th St.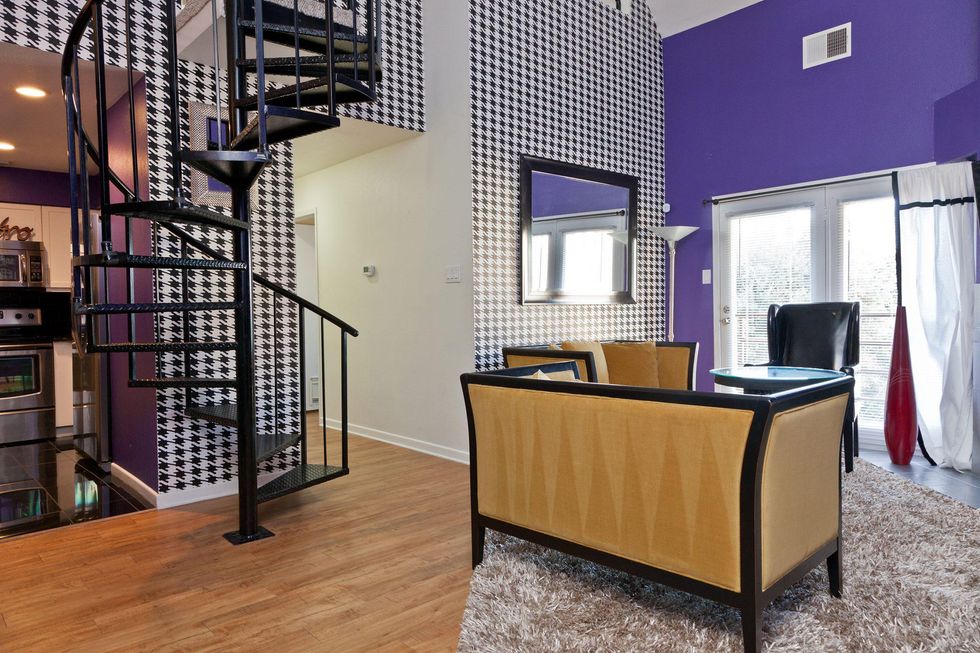 Inside the Grand Austin Hotel suite. (Onyx Hotel)
Marking the Eastern end of 4th Street, Onyx Hotel offers the Austin experience through themed suites for parties of all sizes. Ranging from $149-$399 per night, many of the suites feature multiple bedrooms. Check out the spiral staircases inside the Rock Royalty suite, complete with decor inspired by the many musicians that have passed through Austin, or the desert-esque Marfa suite. All suites come with a kitchen and gated parking.
🚗 WHERE TO PARK
Like Most places downtown, parking is going to be a challenge. Your cheapest options are likely going to be street parking or off 4th Street.
​LAZ Parking | 400 Congress Ave.
Open 24/7, this parking lot is very central but charges upwards of $25 per hour.

​SPACES Parking | 301 Congress Garage
Right across from the Frost Bank Tower, this garage will run you at least $15 per hour.

​405 Colorado Street
One of the cheaper options, you can park in this garage from about $12 for two hours.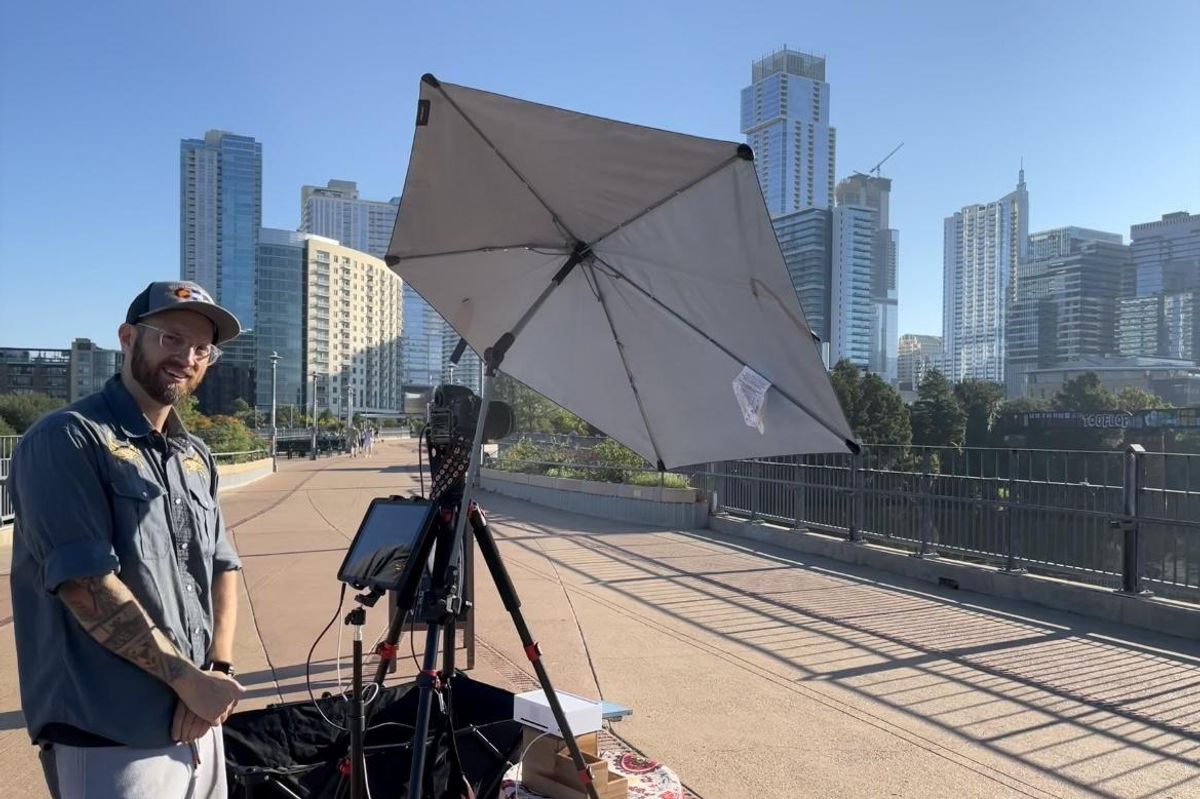 Nicklaus Pereksta says he loves photographing enthusiastic people, and it's why his latest gig offering pictures to people out on Lady Bird Lake's hike and bike trail is going smoothly. He sets up his gear on the Pfluger pedestrian bridge and puts out a sign: Photos, $10.
"Overwhelmingly, this has been a really positive experience," Pereksta said. "I get excited when I wake up in the morning and I can't wait to go to work."
Bikers and joggers are excited about it too. On the pedestrian bridge leading to downtown Thursday morning, a man on an e-bike rode up and posed, wanting more photos.
"I posted the last pictures on Instagram and people loved it. They asked, 'where is this guy?'" the biker told Pereksta. Bashfully, Pereksta, who also photographs landscapes and at weddings and other events, said he was happy to hear that.
Pereksta started these photos about a month ago, after the strenuous runs required in his valet job started causing pain in his legs. And though he has a passion for photography, he wasn't so sure when he started working independently if it would work out.
He felt uncertain about the demand for it and was also worried about having lots of expensive equipment out in the open.
"Then like the first day was nothing but high praise and people are like, this is so awesome. This is great. I've never seen anything like this before. I was like, Wow, this was really good, like positive turnout. So I got encouraged."
Now, he wants to expand and is thinking of contacting the Mueller Farmers Market about how to become a vendor. Still, he'll carry a connection to photographing on the bridge since the word bridge is related to his last name.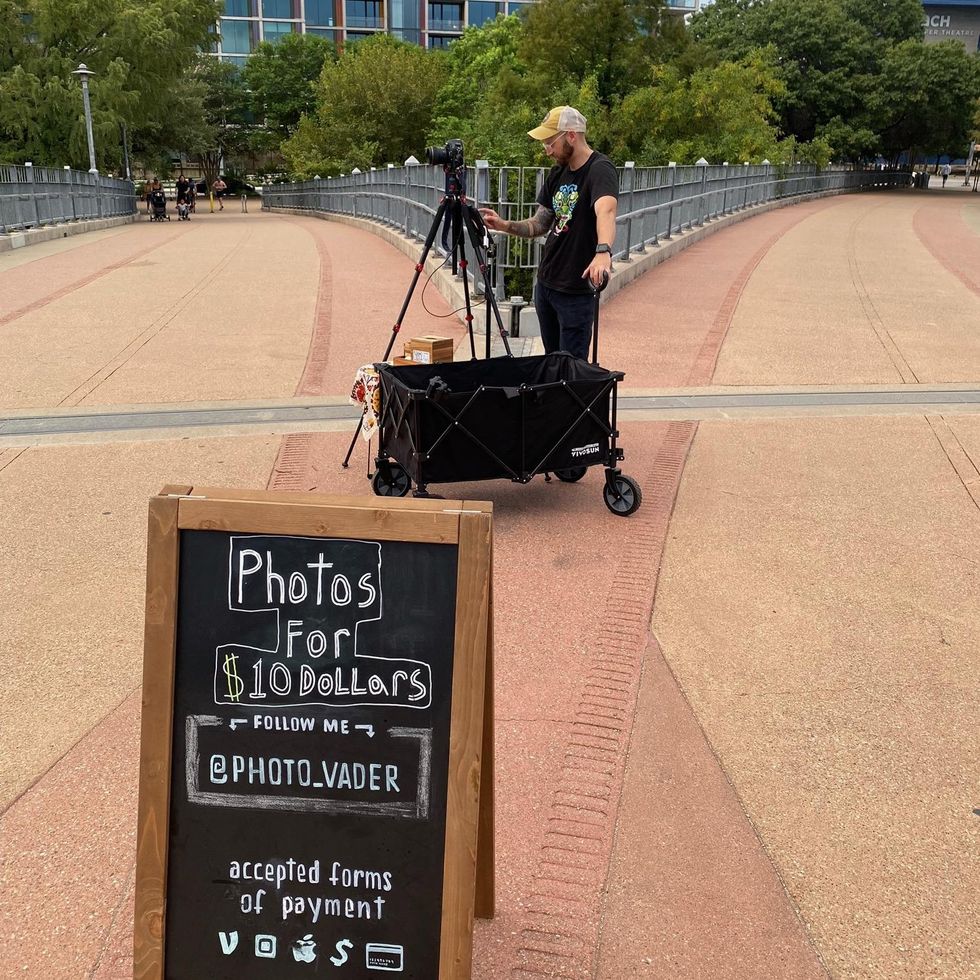 (Dewey C.)
"It's a name my great, great, great grandfather came up with when he was marrying somebody. It's actually quite a romantic name. It means a joining of two bridges," Pereksta said. "So, I thought it was ironic that I'm set up on a bridge. I'm kind of representing my last name right now."
Austonia talked to Pereksta about life in Austin, where he's lived for eight years after living in Boston doing band photography.
What was your first experience with Austin?
I came here to visit some friends and they took me to Barbarella. So we went to Barbarella and I was like, 'wow, this place is great.' And then the restaurants and the food and going to Barton Springs. I was like, 'this is amazing.' Because there's nothing like that in Boston. If you want to go to a natural spring, you got to go to New Hampshire. There's no pools in the city at all. So there's lots of swimming out here.
What do you like best about Austin?
You go to any little quiet bar and there's a band playing that should be like onstage for a sold out show. Yeah, they're playing to 10 people, right? Like, one of the best bands ever and they're playing for 10 people, right? And just little magic moments like that are pretty fun. You just run into little random weird things.
What do you think makes Austin different from other places?
There's no fall.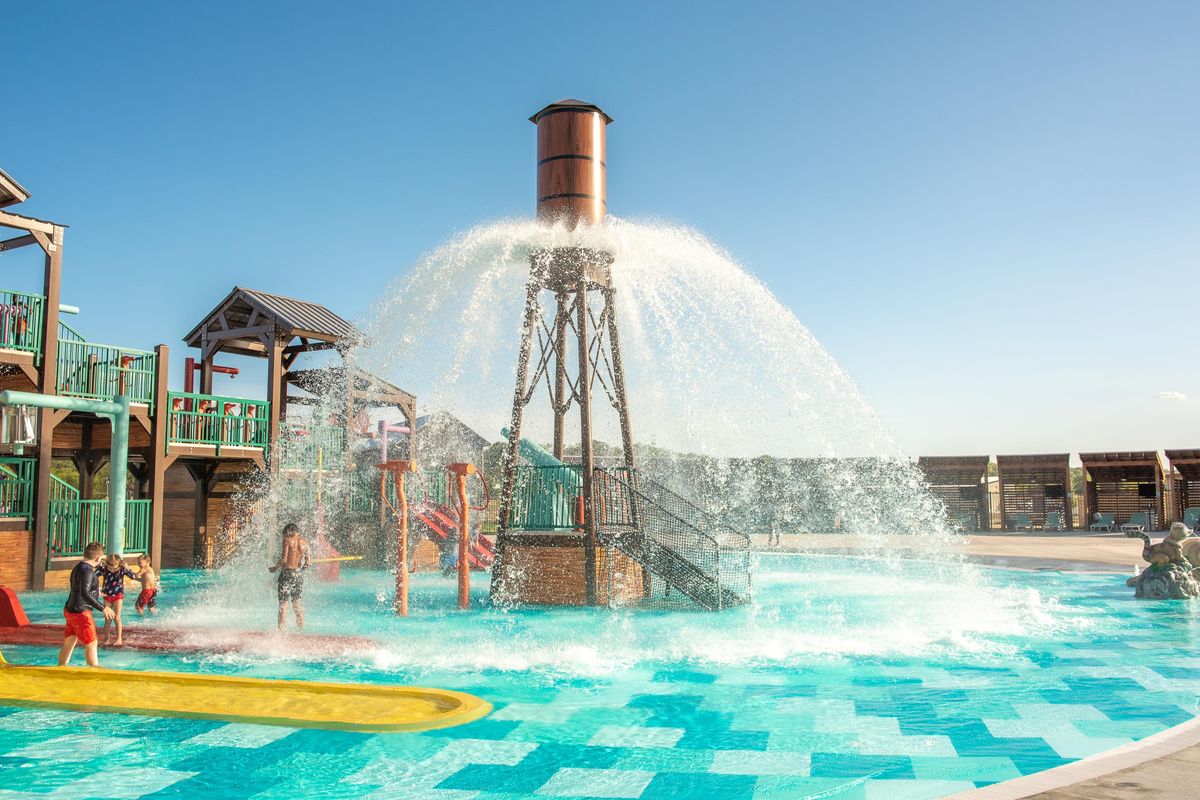 Camp Fimfo Waco
Camp Fimfo Waco, a brand new camping resort, is kicking off football and fall camping season in style! With top-notch amenities, premium accommodations, and 10 weekends of fall fun, there's no better place to have a fall camping getaway, especially if you're a Baylor football fan!
Fall promises to be a one-of-a-kind camping experience. From Sept. 16 to Nov. 24, weekends will be packed with fall-themed activities, including special Halloween weekends in October. Campers can enjoy activities like fall crafts, campground trick-or-treating, costume contests, site decorating, outdoor movie nights, and more!