Get connected with our daily update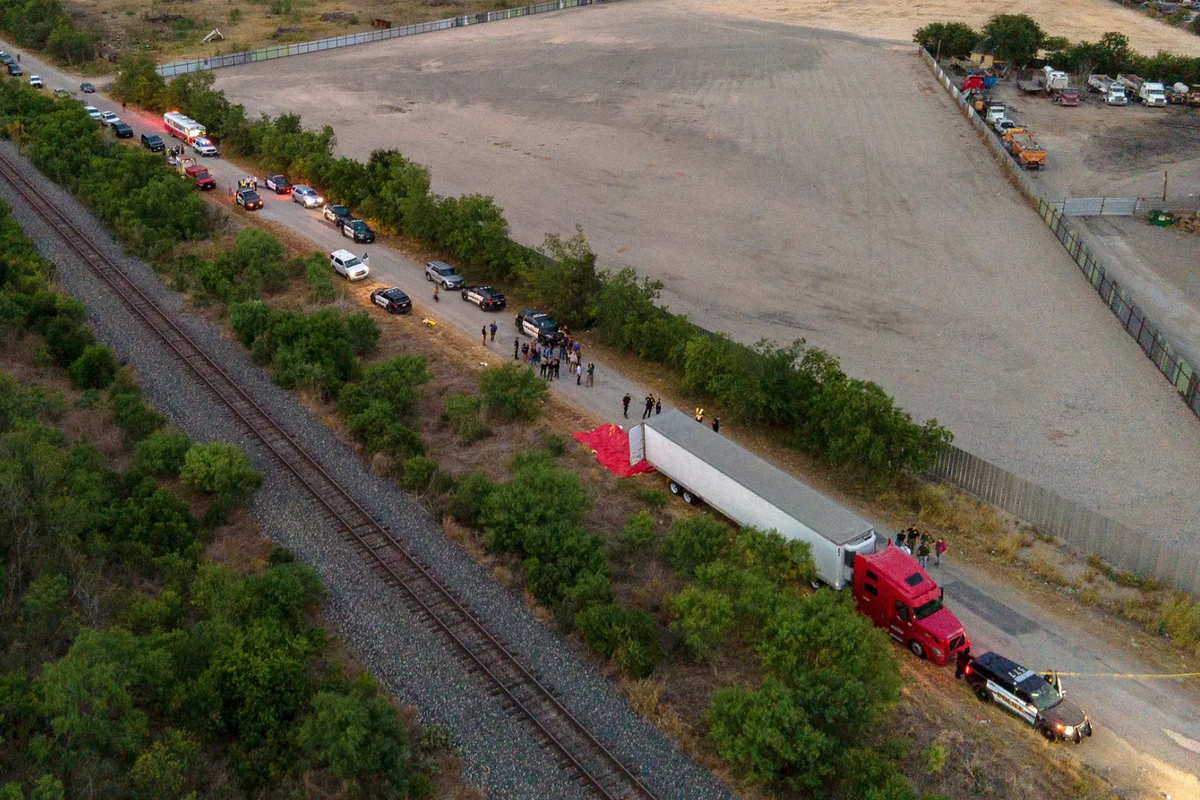 By Jaden Edison and Patrick Svitek
SAN ANTONIO — A tractor-trailer found near Lackland Air Force Base in San Antonio contained the bodies of 50 dead people, along with 16 others who have been taken to hospitals, according to local officials in San Antonio and Mexican President Andrés Manuel López Obrador.
---
"This is nothing short of a horrific human tragedy," San Antonio Mayor Ron Nirenberg said at a news conference near the scene.
Local officials said federal authorities were now investigating the case and that three people were in custody, but it was unclear if they were connected to the incident. A U.S. Immigration and Customs Enforcement spokesperson said Homeland Security Investigations is leading a criminal investigation with the support of San Antonio police.
The horrifying discovery was made near the intersection of Cassin Drive and Quintana Road in Southwest San Antonio.
Federal, state and local authorities believe that the victims were migrants. Cross-border smuggling and human trafficking have been longstanding problems along the U.S.-Mexico border, but the deaths of 50 people represent a stunning loss of life. San Antonio Police Chief William McManus described the case as the deadliest human smuggling incident he could recall in the city.
Authorities received the first call about the truck shortly before 6 p.m. from a worker in the area who had heard a cry for help and went to investigate, McManus said.
According to a law enforcement official, it appears people were trying to jump out of the tractor-trailer because some of the deceased were found along several blocks. The tractor-trailer had a refrigeration system, the official said, but it did not appear to be working. Many of the people found inside the vehicle appeared to have been sprinkled with steak seasoning, the official said, in perhaps an attempt to cover up the smell of people as the smugglers were transporting them.
Authorities said the truck's doors were partly open when they arrived; a body was outside the vehicle and the rest could be seen inside. The city's fire chief, Charles Hood, said the survivors did not appear to have access to water and were too weak to exit the truck on their own.
"We're not supposed to open up a truck and see stacks of bodies in there," Hood said. "None of us come to work imagining that."
Twelve adults and four children were taken to hospitals. They were hot to the touch and were suffering from heat exhaustion and heat stroke, but Hood said he was "very hopeful" that they would survive.
With a few days left in the month, National Weather Service meteorologists say June 2022 has already become the warmest June on record in San Antonio.
The average number of days with temperatures of 100 degrees or higher in San Antonio is nine, according to historical data from NWS dating back to 1885. This year, San Antonio has had 16 days with temperatures of 100 degrees or higher, NWS meteorologist Bob Fogarty said.
McManus told reporters that he was not confident that everyone who had been inside the truck had been accounted for, and that authorities still don't have an indication of how many people in total had been inside the truck. He said the three people in custody were not found with the truck, but declined to comment further.
Mexican Foreign Minister Marcelo Ebrard said the Mexican consul in San Antonio was en route to the incident site, according to Reuters. Ebrard said the nationalities of all the victims were still unknown, but Guatemalan officials said in a statement that U.S. and Mexican authorities have confirmed some of the victims are from Guatemala. Officials with the Guatemalan consulate in McAllen said they are visiting a hospital to see if two of the children who survived are from Guatemala.
The Honduran foreign ministry said it is investigating whether any of the victims were from Honduras. Alex Selgado of Fuerza Catracha, a Honduran immigrant rights organization, told The San Antonio Express-News at the scene that "officials did inform us that some of the deceased may be Honduran because they had emblems or insignia of our country" on their clothing.
In 2017, San Antonio police discovered 39 undocumented immigrants inside of a scorching-hot tractor-trailer, resulting in 10 deaths. The driver of the truck was sentenced to life in prison in 2018.
Meanwhile in 2003, 19 undocumented immigrants were found dead in Victoria after suffocating in an airless trailer.
The Rio Grande Valley Sector Border Patrol last week said it had disrupted four human smuggling events that resulted in 50 arrests.
"I am heartbroken by the tragic loss of life today and am praying for those still fighting for their lives," said Alejandro Mayorkas, U.S. secretary of Homeland Security. "Far too many lives have been lost as individuals — including families, women, and children — take this dangerous journey."
In a tweet responding to the incident, Gov. Greg Abbott blamed the deaths on President Joe Biden, saying that "they are a result of his deadly open border policies."
Democrat Beto O'Rourke, who's running against Abbott for governor, tweeted that the incident is "devastating."
Gustavo García-Siller, the Roman Catholic archbishop of San Antonio, wrote on Twitter: "Once again, the lack of courage to deal with immigration reform is killing and destroying lives. We do not learn. God teach us to change."
The Mexican consul general in San Antonio, Ruben Minutti, asked any Mexican citizens seeking help or information about the incident to call the consulate at 210-872-4386, according to San Antonio Report.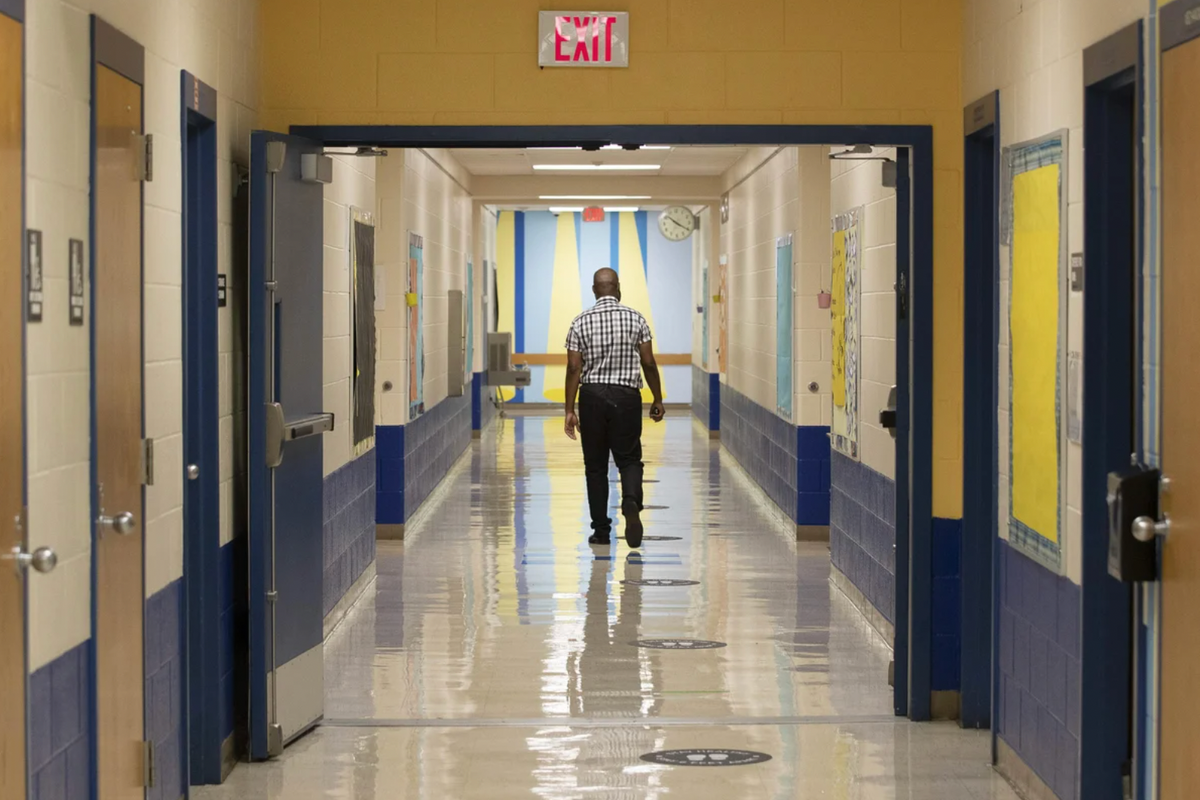 Matias Segura swept his hand across a whiteboard in his office at AISD headquarters, describing how an entrance vestibule works. It might remind you of a sally port at a prison. The vestibule is designed to protect our children from the active shooters who have plagued our nation since Columbine in 1999.
"You start with the signage," he said. "You know exactly where the entrance is, and that's for first responders too. We really want to make sure we keep up with visitor patterns. If they come in, they go through a system. Driver's license, background check, which takes about a minute. We have a software system."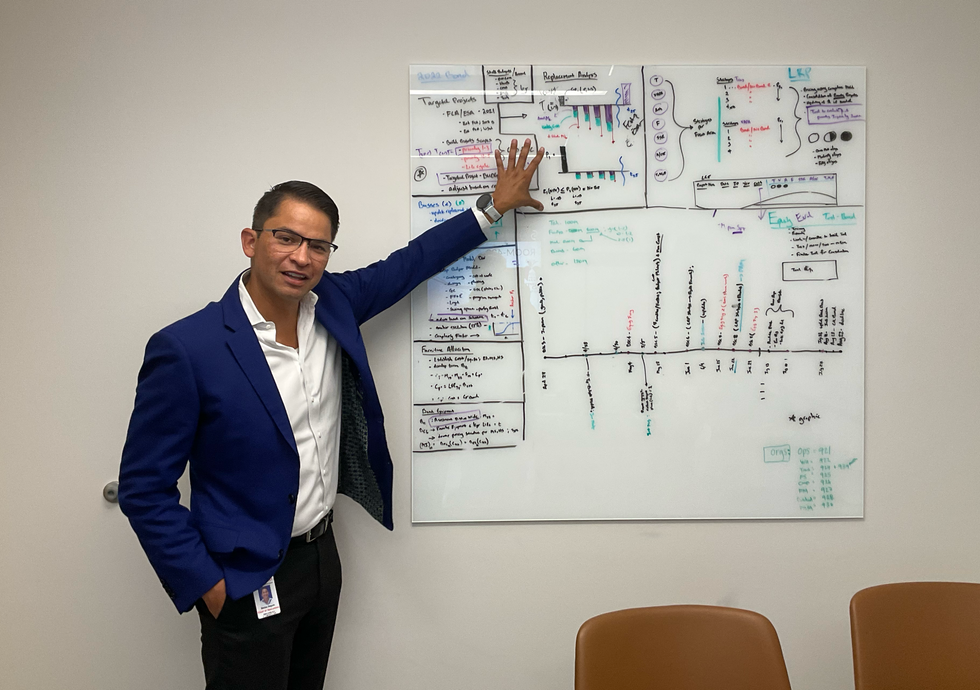 AISD Director of Operations Matias Segura explains the overall school construction and what the entry vestibule looks like. (Rich Oppel)
The vestibule has two sets of locked doors. The exterior set has an audio-visual intercom, operated by a desk officer who has a view of visitor parking, the building approach and the vestibule. If allowed in, a visitor is buzzed through and then faces questioning and clearance by the desk officer. The visitor is given a card-reader pass. If a second person attempts to "trail in" behind another visitor, he is trapped in the vestibule until his status is determined. The second set of doors, into the main school building, remains locked and shut. It is open when students arrive in the morning.
Thus, the days of walking into the school, maybe waving at the principal's executive assistant and strolling off to the cafeteria for lunch with your daughter are gone, a relic of a more bucolic time when "active shooters" were never imagined. But one must ask, what do we give up for greater safety?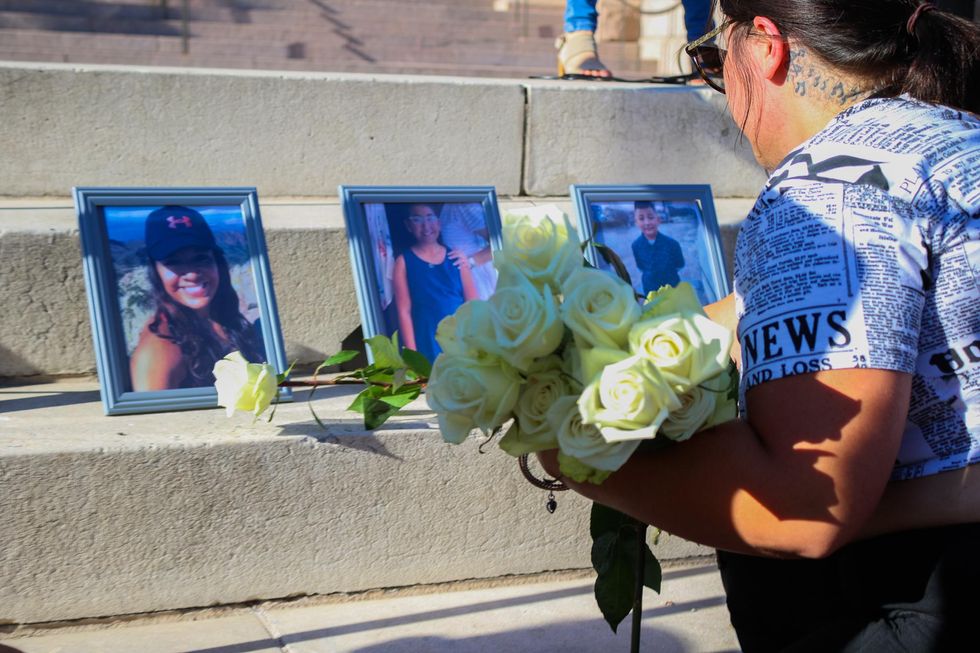 Austinites remembered the Uvalde shooting victims in a vigil at the Texas Capitol in May. (Tony Fuentes)
Some critics argue that we are at risk of losing traditional values in the redesign of schools, courthouses, hospitals, churches and shopping centers. Writing in The Washington Post, architecture critic Philip Kennicott said the nation's gun culture "threatens an essential precondition for democracy: its public space… Ideals of openness, flow, transparency and access will no longer be sustainable."
Segura contemplates the question. At 41, he has held his job as AISD director of operations for four and a half years. Prior to that he was a consultant who led the team to build Austin's new courthouse. His Austin and Texas roots are deep. He was born here, graduated from Bowie High, and went off to Lubbock to earn a degree in civil engineering from Texas Tech. He returned to secure an MBA at the University of Texas at Austin. He and his wife Joy Burson-Segura have two daughters who attend AISD schools. Segura said he and his operations team love AISD, care deeply about their work, and want citizens "to see us as partners."
Back to what we lose in hardening the schools.
Segura says, "We think about students' health. Having daylight, bringing light into a hardened facility, being able to access outdoor learning areas, (which is) hypercritical, especially in what we have learned in the pandemic." Segura doesn't like the idea of moats around schools (exotic, expensive) nor of classroom bomb shelters (what would teachers and students think about their looming presence?), efforts that are being tried elsewhere.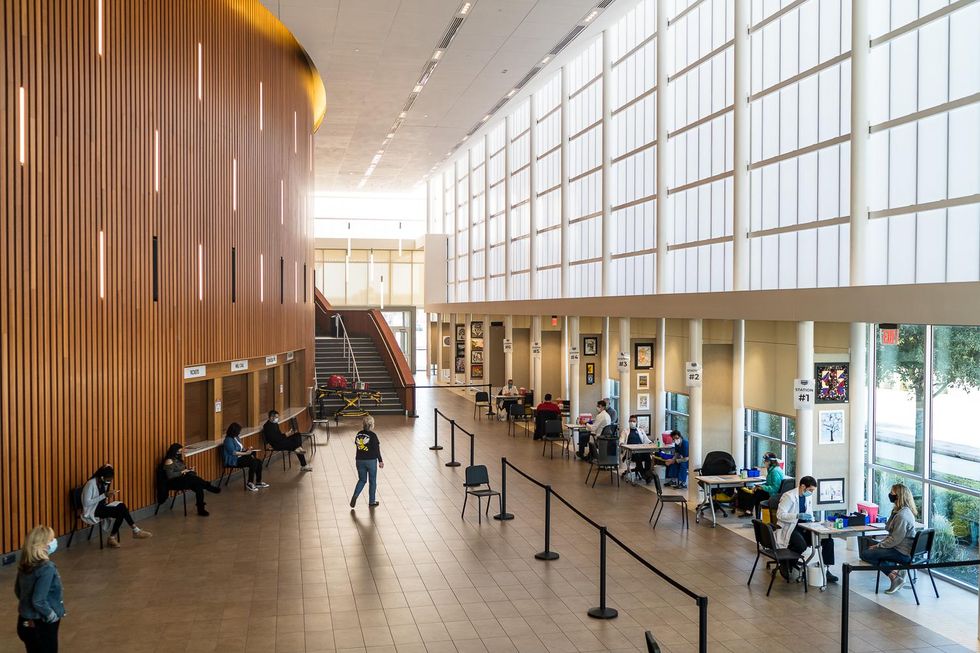 Healthcare workers receive the Moderna COVID-19 vaccine at the AISD Performing Arts Center in Mueller in 2021. (Jordan Vonderhaar)
AISD must juggle school security with the historic use of our schools for other purposes, such as voting, PTA-PTO meetings, community fairs, and, more recently, COVID-19 testing, vaccinations and food distribution. AISD does not want to end those uses, so the challenge is to design schools with separate rooms or places for those uses.
Clearly, Segura has thought about balancing conflicting equities. For him, it's not all locked doors and blank brick or concrete walls. He stresses the importance of building a culture that includes shared responsibility of all school employees where, for example, a custodian could ask a stranger whether they have a visitor's badge. All staffers should be well-trained in security measures, knowledgeable about new technology, and committed to working as a team to protect students, teachers and others. "We are working very, very hard on the culture," he says. "Also, we need (financial) investment if we are going to move the needle."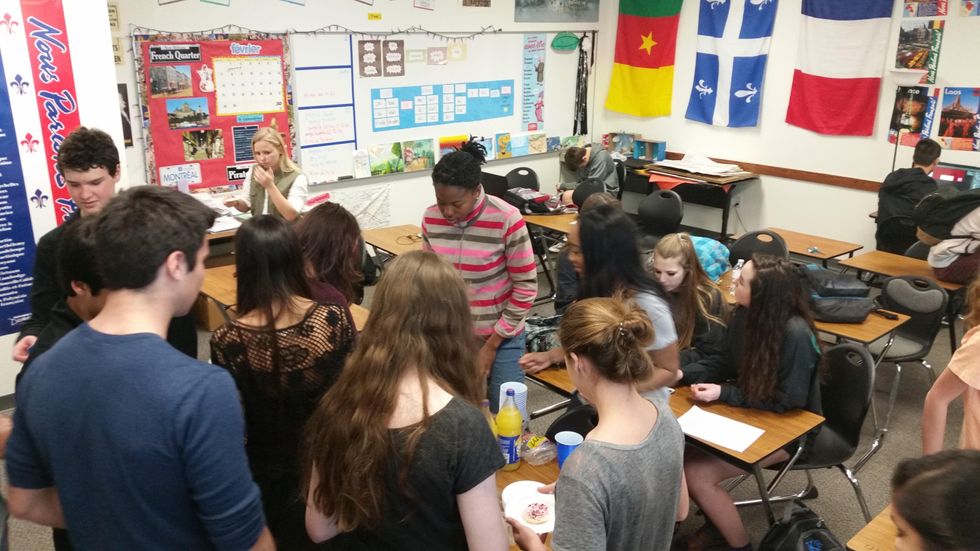 (Laura Figi)
Kennicott, the Washington Post critic, quotes the late Sen. Patrick Moynihan, a sociologist and New York Democrat, who said, "Architecture is inescapably a political art, and it reports faithfully for ages to come what the political values of a particular era were. Surely, ours must be openness and fearlessness in the face of those who hide in darkness."
But that was in 2001. What messages will Austin's new public schools convey to future generations about our 2021 political values?
"First and foremost, these are education spaces that belong to our community. Our objective is to create incredible learning experiences for our students and at the same time ensure that the students and staff are safe." He said he wants people to view schools as "inspired," places where they would want to send their children. "Great things are happening in that space," and that teachers see a place where they want to work and where they feel safe.
Voters in AISD will decide Nov. 8 on a $2.44 billion bond package to provide "funding for improvements to enhance safety, centers on equity, benefits every campus, and addresses affordability," according to AISD officials.