Get connected with our daily update
More than a week after the Astroworld festival, a 9-year-old boy became the youngest person to die from injuries due to the festival's deadly crowd surge.
---
Ezra Blount, a young Travis Scott fan who attended the festival's headliner with his father on Nov. 5, succumbed to his injuries on Sunday night, becoming the 10th to die from injuries at the festival.
The 9-year-old was on his father Treston Blount's shoulders near the back of the crowd as concertgoers began to push forward at the beginning of the concert. His father lost consciousness in the crowd, and the boy soon fell to the ground and was likely trampled in the frenzy. By the time Treston Blount woke up, his son was nowhere to be found.
Blount filed a police report and was given a message that his son was in the hospital.
The boy had swelling in the brain and "trauma in nearly all organs," according to his father. Blount was one of dozens who were left in critical conditions after some suffered cardiac arrest and other devastating injuries. Over 300 were treated for injuries at a nearby field hospital at the festival, and by the next day, it was discovered five of the remaining hospital patients were minors.
Blount created a GoFundMe for his son's injuries in the wake of the incident as Ezra was put in a medically-induced coma to combat the injuries.
The Blount family becomes one of hundreds of others to sue Scott, festival organizers including Live Nation and others in the wake of the deadly crowd fest as many attest that poor management led to the surge. One Austin man, Kristian Paredes, has had hundreds join his lawsuit against Scott and Drake, a rapper who had a guest performance at the festival, to "hold those entities, those corporations, those individuals responsible, that could have and should have prevented this entire tragedy," according to Paredes' attorney Thomas J. Henry.
Blount's attorney Ben Crump released a statement detailing the loss after Houston Mayor Sylvester Turner announced Blount's death.
I am saddened to learn of Ezra's death this evening. Our city tonight prays for his mom, dad, grandparents, other family members and classmates at this time. They will need all of our support in the months and years to come. May God give them strength. RIP Ezra. st #AstroWorld pic.twitter.com/Ankq7FMa3l
— Sylvester Turner (@SylvesterTurner) November 15, 2021
"The Blount family is grieving the incomprehensible loss of their precious young son," Crump said. "This should not have been the outcome of taking their son to a concert, what should have been a joyful celebration. Ezra's death is absolutely heartbreaking. We are committed to seeking answers and justice for the Blount family. But we stand in solidarity with the family, in grief, and in prayer."
The Houston Police Department continues to investigate what caused the deadly surge.
Enjoying Austonia? Signup for our newsletter to get daily Austin news, straight to your morning inbox!
In a city where live music is heralded above all else, Pete Monfre was surprised to find local musicians working for free that he quit the industry for 10 years in 2006.
Local musicians tended to be underpaid before COVID-19 sent the music industry reeling, but the fallout from the pandemic exasperated the existing problems. Musician and marketer Monfre knows—he's been behind that shaking tip jar, trying to turn a profit while doing what he loves. He's tackling the problem with a unique brand of live shows, which go against the grain, mix business with pleasure and help bring home the bacon.
The shows, called Stories from the Road, are an informal storytelling jam session at The Saxon Pub that encourages interaction between the artist and audience.
After a brief hiatus due to ongoing woes of the pandemic Stories from the Road came back to The Saxon Pub on Saturday. It was the first of 23 consecutive shows that didn't sell out, which Monfre attributes to the break of not having shows.
"We called it Stories from the Road—not a band, an experience," Monfre said. "We're not going to rehearse, we're not going to have a list, we're not going to prepare, every show is a one-off and you will never see it again."
His shows start early at 6 p.m., with a rotating group of musicians playing blues or Americana who need not rehearse. This time it featured Mark "Kaz" Kazanoff on saxophone and harmonica, bassist Mark Epstein, drummer Kevin Hall and Adam Pryor on Hammond Organ.
You'll probably end up spending a bit more than the typical show at the Saxon Pub, around $30 per person, but each show goes directly to supporting the artists that made it.
"Part of the mission was to advocate for fair wages for musicians and to help musicians understand their economic value," Monfre said. "Now I can afford to pay musicians a modest guarantee and we call that the Fair Play approach to live music."
Monfre moved to Austin as a young adult with the intention of "conquering the music industry" in 1981, which he told Austonia he did not do but did meet "a lot of interesting people." He left Austin to tour for a few years, then moved to Milwaukee, where he continued to play music.
After returning to Austin in 2006, Monfre discovered some musicians were playing shows for free.
"I'm playing in Chicago and Michigan and hardcore blues places, and we don't play for free," Monfre said. "So I actually quit for 10 years. There is no reason to play for free whatsoever if you just get the model right."
Having already tried to conquer the music industry once, Monfre took a business-forward approach the second time. The model also caters to what he believes is an underserved group: working professionals who want to meet like-minded individuals but also be home by 9 p.m.
Chief Technology Officer for Economic Transformation Technologies David Smith, who has been coming to other Monfre shows since they started in 2016, said he enjoys the improvisational nature of the shows because it reminds him of old Austin.
"The Stories from the Road get back to the root of what music is: the fact that you can sit and jam, make music with musicians because they understand music, and that's the soul of Austin," Smith said. "It really is a celebration of music."
Monfre said the informality is what makes his shows so popular—you'll hear the musicians ask the key for a song, take a request from the crowd, make a lighthearted jab at one another or create a song from scratch.
"They want to see the sausage being made, it's really funny I would have never thought it," Monfre said.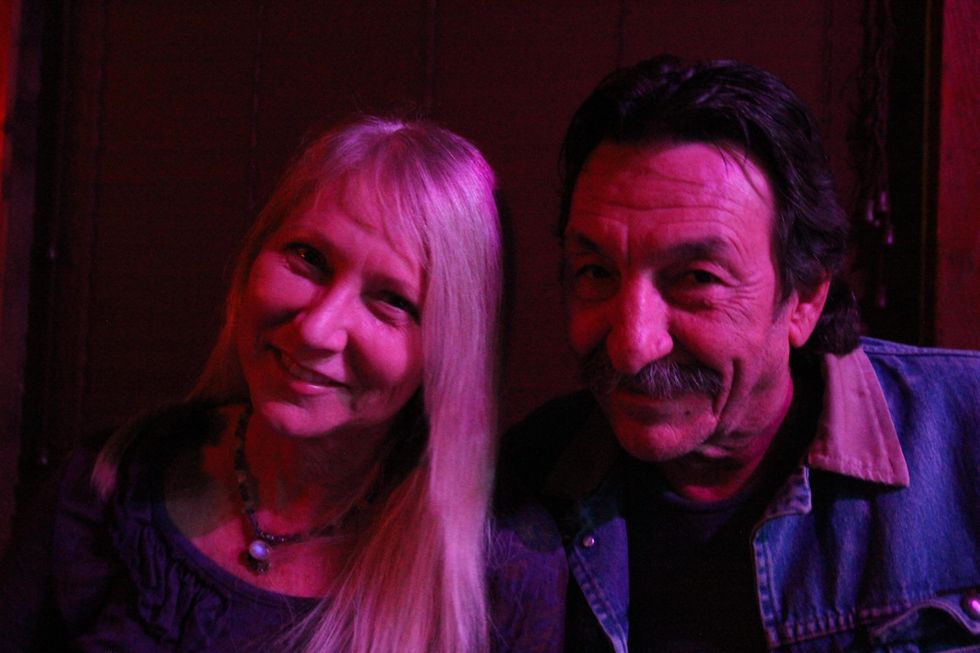 Price (right) said he was happy the show ended early so he could make it home to Lampasas. (Laura Figi/Austonia)
"I am knocked out. It just really didn't get any better than what we just had—this band was so good, the crowd was so good," Price said. "That's what Austin in the '60s and '70s was all about, just everybody throwing it together."
Stories from the Road is returning to The Saxon Pub stage on Dec. 18, with a completely new group of musicians. The show, like always, will start at 6 p.m.
In this season of gifts, giving, and gratitude, Tito's is making it easy to shop for your friends and loved ones while helping our community.
The beloved Austin company's Love, Tito's retail space, downtown at 215 Lavaca Street, is fully stocked with great gear. 100% of net proceeds of whatever you purchase—a new collar for your four-legged friend, a Tito's tee, some branded barware—go to the nonprofits they support. From the environment to animal rescue, you can choose your cause while choosing a new copper cocktail kit… or old school cap… or golf polo.
The store is stocked with stuff that the online experience just can't offer: never-before-seen swag, doggy photo booths (to say it's a dog-friendly space is an understatement), a record player to spin some tunes, and a bar finder listing local spots serving mean Tito's cocktails. Locals and out-of-town visitors alike can enjoy wonderful distractions while kicking back in an environment designed to cater to Tito's fans.

While you can't enjoy a cocktail there due to Texas liquor laws, the store offers unique experiences for any and all fans of the brand, and gives folks a chance to find what resonates with them while taking home a piece of the Tito's story.
*At our Love, Tito's store in Austin, net proceeds constitute an average margin of at least 25% of the retail price of a product, excluding the cost of tax on the purchase. We are not deducting cost of our people, the store rent or other operating costs.
The holiday season is upon us, so get ready to celebrate with carols, snacks and light shows galore. Austin is full of holiday festivities spanning throughout all of December so get out and enjoy the cool weather while it lasts.
Don't miss these nine holiday-themed light shows.
Austin's most famous annual light show and a Readers Choice of USA Today's 10 Best Public Displays of Holiday Lights, the Trail of Lights will be drive-thru again this year Nov. 27-Dec. 31. For 57 years in a row, the Trail of Lights has lit up Zilker Park with games, food, local vendors and more than two million lights gleaming for the holidays. The event, as always, is free to the public and you can reserve slots here. The Zilker Tree is already up, so you can already see it if the holiday cheer is too much to bear.
Coming back for the second year in a row, Peppermint Parkway will transport you to COTALAND, where six million lights gleam and Christmas is just a one-mile drive away. The hybrid event will have you drive through the display of lights, dancing elves and unique little villages before you hit the walking plaza, where you can grab a bite to eat and meet Santa. Tickets range from $40-$95, some including a lap around the COTA track, running from Nov. 26-Dec. 26.
Dreamland Dripping Springs has been transformed into a winter wonderland—running throughout the month of December, the venue's first-ever holiday display is taking over with activities for the whole family. Plus, running from Nov. 20-Jan. 4, a pop-up ice skating rink will really bring the holiday cheer for $10 or $5 Monday specials. The lights display will feature half a million lights and warm, festive sips from the taproom.
With events galore for the holiday season, winter is really when the Hill Country Galleria thrives. Starting with its Light Up The Plaza event on Saturday from 6-8 p.m., where visitors can see Santa, gaze at the official lighting of the holiday tree and hear some live tunes from rock band American Authors. The Galleria will also hold a holiday market every Thursday, Friday and Saturday leading up to Christmas Eve and periodic photos with Santa at Buenos Aires Cafe.
Deck the Halls at the Driskill Hotel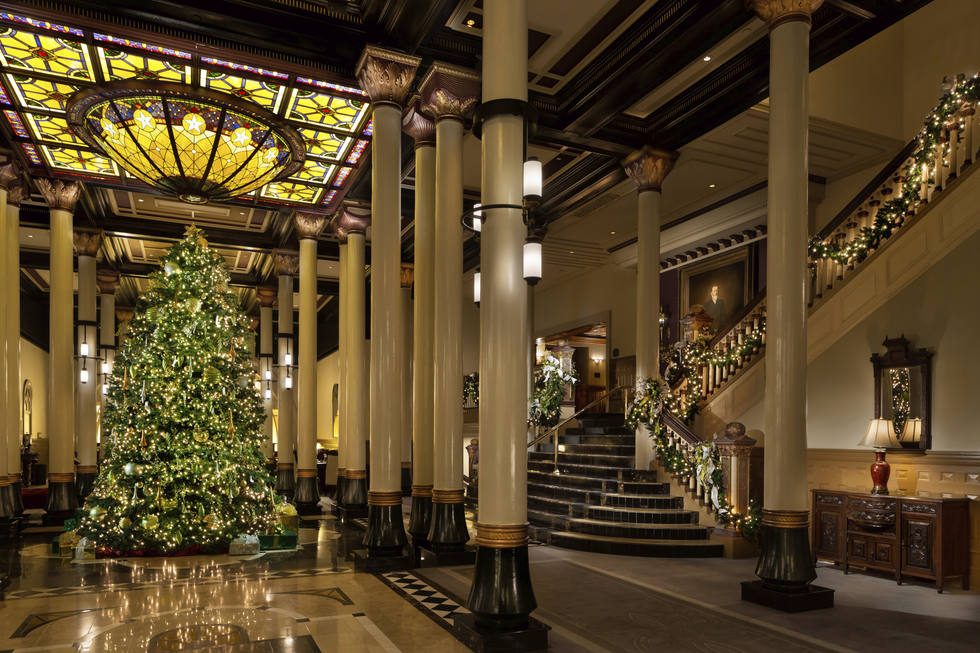 (Courtesy of the Driskill Hotel)
This holiday season, the Driskill will deck out every nook and cranny of the historic hotel from the grand staircase to the 16-foot Christmas tree in the lobby to be lit on a Dec. 1 ceremony that will be open to the public. Touches of Driskill festivities can also be seen at Dell Children's Hospital with a gingerbread village for its annual "Cookies for Caring" event.
Kicking off the lighting of the tree on Saturday, Dec. 4, Austinites will gather on the steps of the Texas Capitol at 6 p.m. to sing the 45-foot tree to life. Afterward, local band Los Coast will close out the night with a free concert. The fun doesn't stop there though as the Downtown Austin Alliance will host the Downtown Holiday Stroll, with "holiday passports" and stamps to collect for local restaurants and stores, and a Frida Friday Holiday Market at Republic Square.
Combining festive holiday lights and the beautiful native plants of Central Texas, Luminations at the Wildflower Center is back with thousands of lights, luminarias and a lit-up look at Fortlandia. This year will also feature an interactive light maze called "silvana" by Ben Busche of architecture firm Brut Deluxe, which will be the maze's first appearance in North America. The event will run Thursdays-Sundays from Dec. 2-Jan. 30 for $10-$25 per person.
Reserved tables are back for Mozart's Coffee Roasters annual Christmas Lights Show for $20 four-person tables and $30 six-person tables—so get your tickets early because these tables are likely to sell out. The light show will also feature a festival-style Bavarian marketplace for those last-minute gifts. If you're too late to reserve a table, don't worry, there will be standing room available for free so come one, come all, and come early for parking.
From Dec. 2-4, Old Settlers Park will light up with holiday displays, family activities, festive refreshments and live music. Watch the balloons hover above the lake as you sip on a hot chocolate or give to those in need, with stands for Round Rock Operation Blue Santa, which is taking toys for kids in need, the Play For All Foundation, which is accepting cash donations for disabled children, and the People & Parks Foundation, accepting cash donations for green space in the community. Admission to the event is free, along with most of the activities in the park.