Get connected with our daily update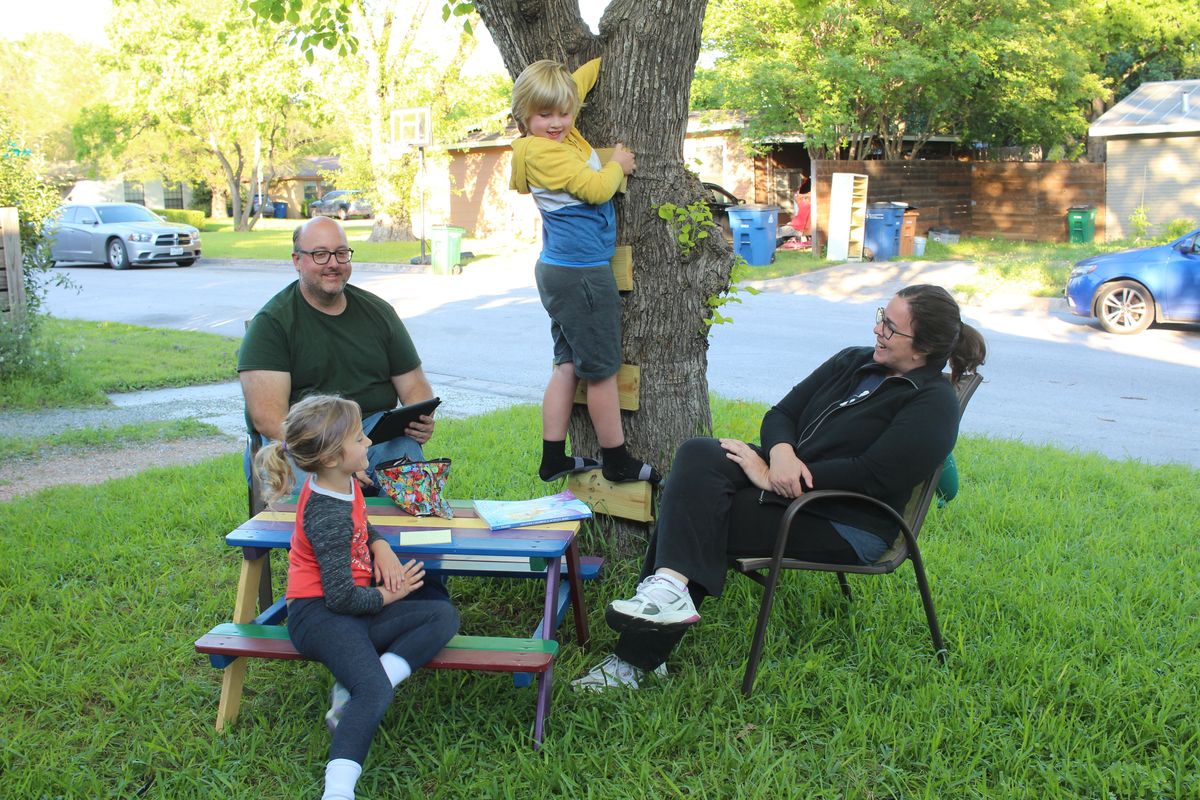 Michael Hoke
Welcome to Austonia, a new, locally owned news company here to report on news, business, and politics in Austin, Texas. Like what you see? Sign up for our daily newsletter to get our latest stories in your inbox.
In pre-COVID times, calling the Hoke family "busy" would be an understatement.

Hyper-social and community-oriented, Laura and Michael Hoke and their two children barreled daily through club meetings, social lunches, farmers markets, volunteer projects and more. In Austin, regularly ranked the best place in the U.S. to live by various magazines, it was easy to fill their calendar.
But after a month of staying home to help stop community spread of the virus, a different Hoke family is emerging.
---
They're home together every night. They eat their meals outside. There's extra cookie-baking. There are more family movie nights. Daily bike rides. Longer bedtime routines. Fewer plans.
"We do so much less than we did a month ago, but somehow life feels richer than ever," said Laura Stromberg Hoke, whose job in the nonprofit sector allows her to work from home. "I don't want this crisis to go on forever, but I desperately want our future as a family to look more like this."
Amid outbreak fears in mid-March, Austin's schools shuttered, and museums and social venues shut down. Families found themselves with little choice but to stay home together.
It's a stark change for Austin, where families like Melissa Huebsch-Stroud's often trade extra square footage in a suburban home and yard for a more compact house near downtown. They avoid traffic but rely on school, playscapes and museums for activity and to keep toys to a minimum at home.
"That's all out the window," said Huebsch-Stroud, whose family just installed a playscape in their minuscule backyard "to ensure physical activity and therefore sanity."
Families like hers say they are lucky to have the opportunity to stay safe at home with their jobs and families, even as financial, emotional or logistical challenges take their toll.

Working and parenting full time, at the same time, often feels like an impossible task. Huebsch-Stroud was even inspired to create a family life spreadsheet to process her feelings of being overwhelmed (see below).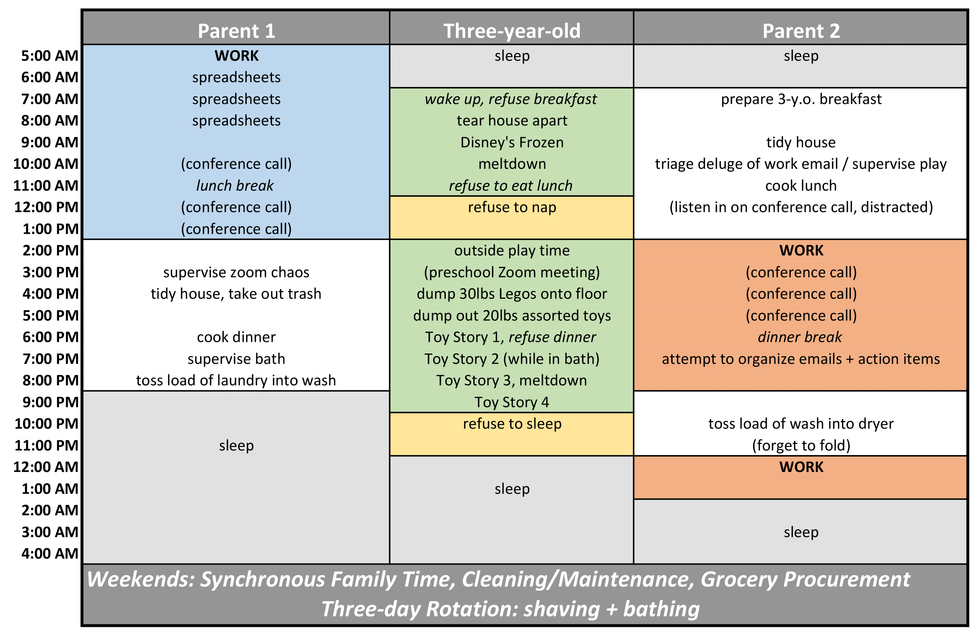 Melissa Huebsch-Stroud made this spreadsheet to try and figure out why it felt so draining to work and parent full time every day. (Courtsey: Melissa Huebsch-Stroud)Melissa Huebsch-Stroud
Jobs are cut, electric bills are up, dishwashing is constant, bandwidth is strained, food bills are high.
"They eat like seven times a day," local mother Evelyn Escamilla says, almost incredulously, of her three teenagers.
But they find comfort in the new habits they've built around home life—daily walks, a stocked kitchen—after staying there, for a change.
"The benefit is having this more 20th century family life, like the kind that I grew up in," said Anthony Haley, whose two kids are ages 9 and 6.
Jimmy Stewart, owner and co-founder of Do512, built his livelihood on people going out and doing stuff. Earlier this week, he and the three kids built a campfire and pitched tents in the backyard.
"I'm already thinking about how when this is all over, I'm definitely going to miss parts of it," Stewart said. "I'd say these are definitely traditions that we will try to carry on."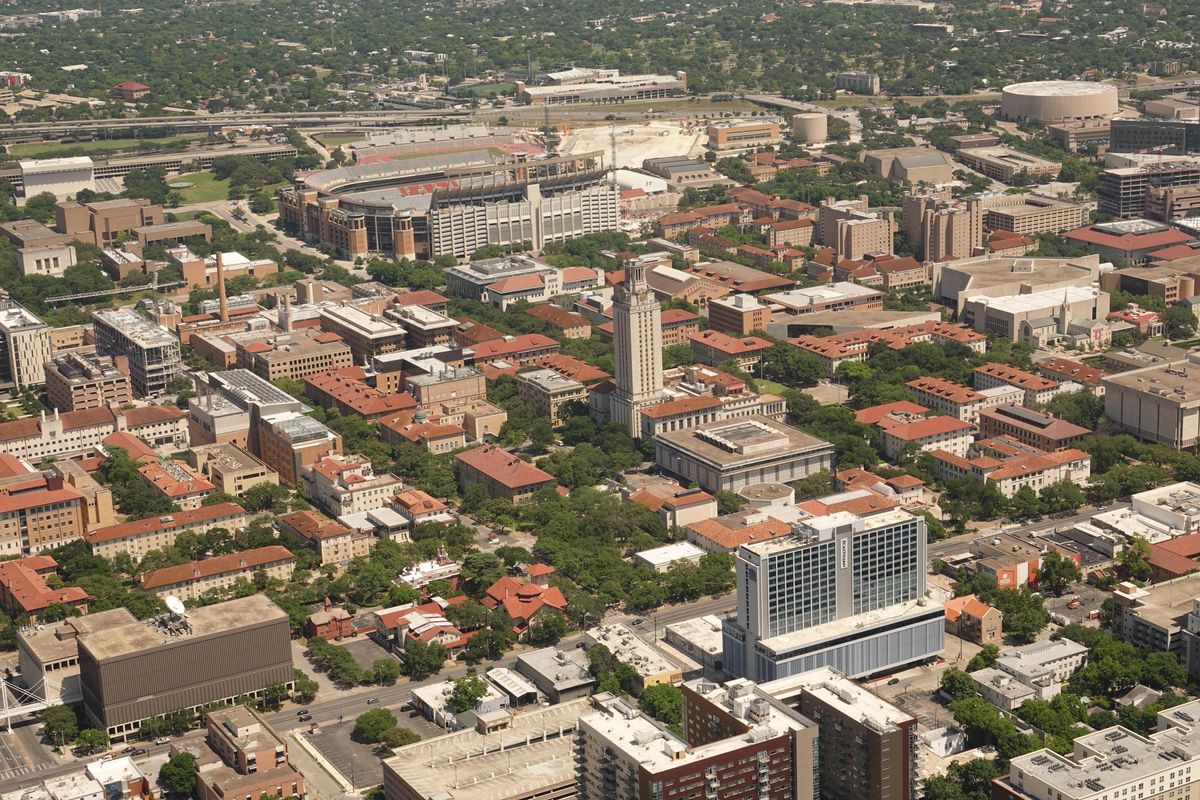 austonia
College ratings site Niche.com has released its 2023 Top Party School rankings.
One Texas college made the list: the University of Texas at Austin.
Longhorns know how to party with the best, apparently. But anyone who's spent time on the Forty Acres may wonder why the ranking was so low.
Here's the complete list:
Univ. of California - Santa Barbara
Tulane University
Florida State University
The University of Alabama
Howard University
University of Wisconsin
University of Georgia
Syracuse University
University of Southern California ✌️
University of Illinois Urbana-Champaign
West Virgina University
Penn State
University of Mississippi
Ohio University
Miami University
Indiana University - Bloomington
University of Iowa
San Diego State University
Florida A&M University
Michigan State University
University of Texas - Austin
The Ohio State University
University of Virginia
Rutgers University - New Brunswick
University of Colorado Boulder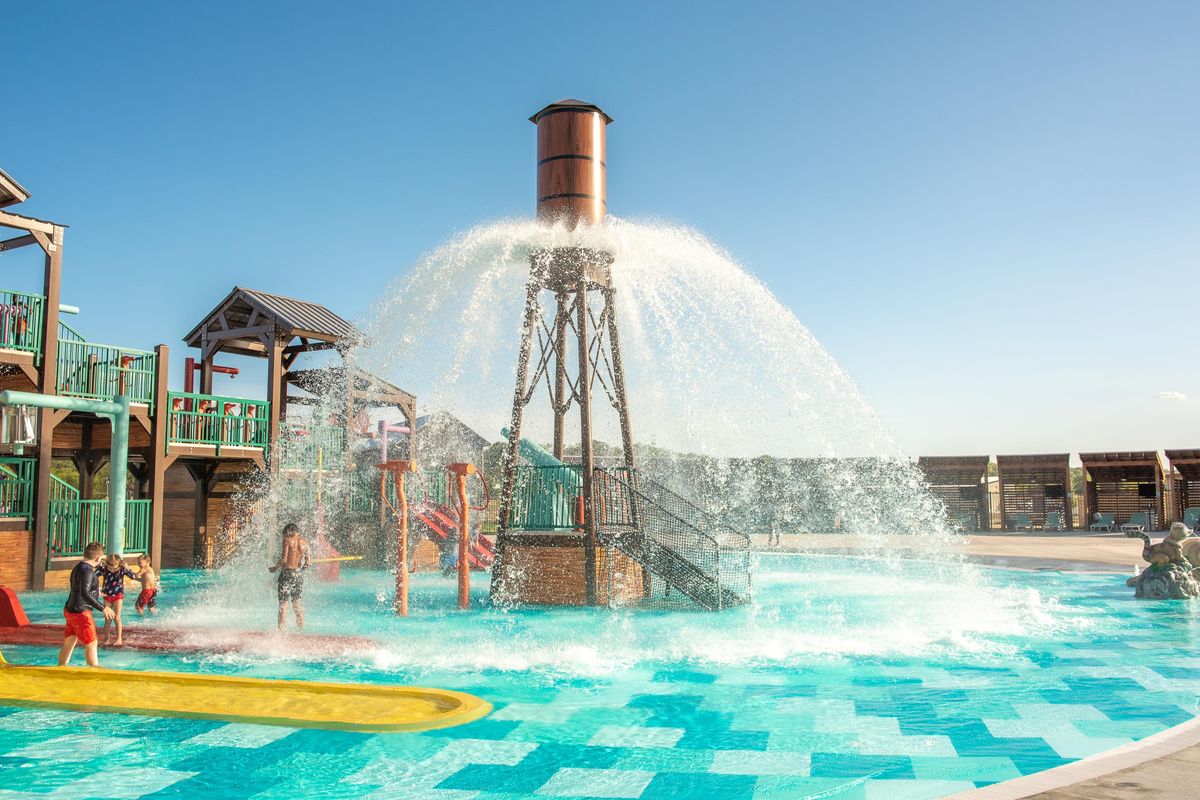 Camp Fimfo Waco
Camp Fimfo Waco, a brand new camping resort, is kicking off football and fall camping season in style! With top-notch amenities, premium accommodations, and 10 weekends of fall fun, there's no better place to have a fall camping getaway, especially if you're a Baylor football fan!
Fall promises to be a one-of-a-kind camping experience. From Sept. 16 to Nov. 24, weekends will be packed with fall-themed activities, including special Halloween weekends in October. Campers can enjoy activities like fall crafts, campground trick-or-treating, costume contests, site decorating, outdoor movie nights, and more!