Get connected with our daily update
Michael Hoke
Welcome to Austonia, a new, locally owned news company here to report on news, business, and politics in Austin, Texas. Like what you see? Sign up for our daily newsletter to get our latest stories in your inbox.
In pre-COVID times, calling the Hoke family "busy" would be an understatement.

Hyper-social and community-oriented, Laura and Michael Hoke and their two children barreled daily through club meetings, social lunches, farmers markets, volunteer projects and more. In Austin, regularly ranked the best place in the U.S. to live by various magazines, it was easy to fill their calendar.
But after a month of staying home to help stop community spread of the virus, a different Hoke family is emerging.
---
They're home together every night. They eat their meals outside. There's extra cookie-baking. There are more family movie nights. Daily bike rides. Longer bedtime routines. Fewer plans.
"We do so much less than we did a month ago, but somehow life feels richer than ever," said Laura Stromberg Hoke, whose job in the nonprofit sector allows her to work from home. "I don't want this crisis to go on forever, but I desperately want our future as a family to look more like this."
Amid outbreak fears in mid-March, Austin's schools shuttered, and museums and social venues shut down. Families found themselves with little choice but to stay home together.
It's a stark change for Austin, where families like Melissa Huebsch-Stroud's often trade extra square footage in a suburban home and yard for a more compact house near downtown. They avoid traffic but rely on school, playscapes and museums for activity and to keep toys to a minimum at home.
"That's all out the window," said Huebsch-Stroud, whose family just installed a playscape in their minuscule backyard "to ensure physical activity and therefore sanity."
Families like hers say they are lucky to have the opportunity to stay safe at home with their jobs and families, even as financial, emotional or logistical challenges take their toll.

Working and parenting full time, at the same time, often feels like an impossible task. Huebsch-Stroud was even inspired to create a family life spreadsheet to process her feelings of being overwhelmed (see below).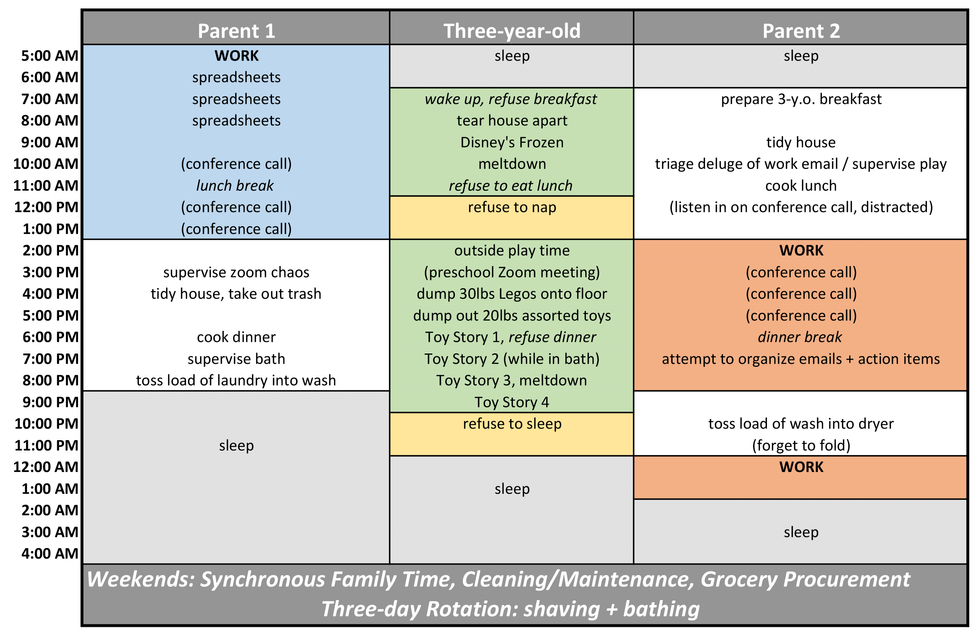 Melissa Huebsch-Stroud made this spreadsheet to try and figure out why it felt so draining to work and parent full time every day. (Courtsey: Melissa Huebsch-Stroud)Melissa Huebsch-Stroud
Jobs are cut, electric bills are up, dishwashing is constant, bandwidth is strained, food bills are high.
"They eat like seven times a day," local mother Evelyn Escamilla says, almost incredulously, of her three teenagers.
But they find comfort in the new habits they've built around home life—daily walks, a stocked kitchen—after staying there, for a change.
"The benefit is having this more 20th century family life, like the kind that I grew up in," said Anthony Haley, whose two kids are ages 9 and 6.
Jimmy Stewart, owner and co-founder of Do512, built his livelihood on people going out and doing stuff. Earlier this week, he and the three kids built a campfire and pitched tents in the backyard.
"I'm already thinking about how when this is all over, I'm definitely going to miss parts of it," Stewart said. "I'd say these are definitely traditions that we will try to carry on."
Capital Metro has been awarded $750,000 from the Federal Transit Administration to go toward Project Connect's Orange Line, documents show.
The FTA announced the funding round on Thursday, which dispersed $11 million across 12 states and 20 projects. The money is meant to connect communities to affordable transit and housing through the FTA Pilot Program for Transit-Oriented Development planning.
CapMetro said the funds will go toward projects at eight stations spanning 6.5 miles on the South end of the Orange Line, which has a total of 22 stations. The full project stretches across the 20 miles from Southpark Meadows to Tech Ridge.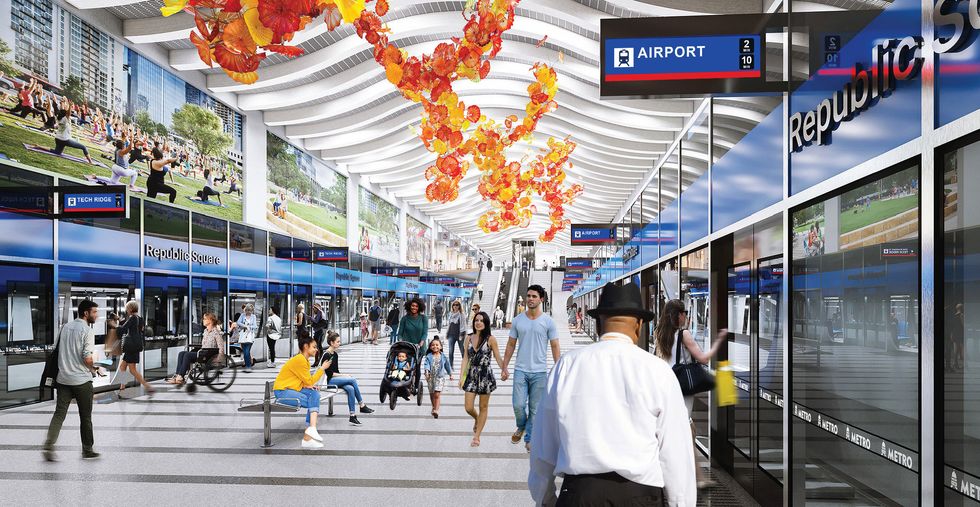 Republic Square station is along the Orange Line. (Project Connect rendering)
Once it's complete, which officials estimate will be in 2028, the Orange Line will reach the following stations:
Tech Ridge (Park & Ride)
North Lamar International District
Crestview
The Triangle
UT campus
Republic Square
Auditorium Shores
South Congress
Southpark Meadows (Park & Ride)
A $500 million mixed-use development spanning 1,400 acres is coming to Southeast Austin, near Tesla's headquarters at Giga Texas.
Plans for the development by Houston-based real estate firm Hines include 2,500 houses along with multi-family and townhomes, and commercial land. Hines is partnering with Trez Capital, Sumitomo Forestry and Texas-based Caravel Ventures.
The development, which is known as Mirador, will be located off the 130 Toll and Highway 71, which the developers say provides easy access to the Circuit of the Americas Formula 1 racetrack and other Austin attractions like restaurants, parks and live music venues.
Hines also boasts amenities like a 60-acre lake, over 600 acres of greenbelt, community parks, trails and a swimming pool.
"As Austin continues to grow into the tech epicenter of Texas, coupled with a supply-constrained market, the demand for new housing is at its highest," Dustin Davidson, managing director at Hines, said. "Mirador will be critical in providing more options for Austin's growing population and we are excited to work alongside our partners given they each provide a unique and valued perspective in single-family development."
The local housing market has been hot in recent years, with home sales accelerating earlier in the pandemic. In July 2021, the Austin metro area hit its pricing peak at $478,000. As Austonia previously reported, the area has been expected to see the Tesla effect, with the new workforce driving up demand for housing and other services.
The single-family houses are expected to be developed over the course of six years, in phases. Construction on the homes is expected to start this year and home sales will begin in 2023.