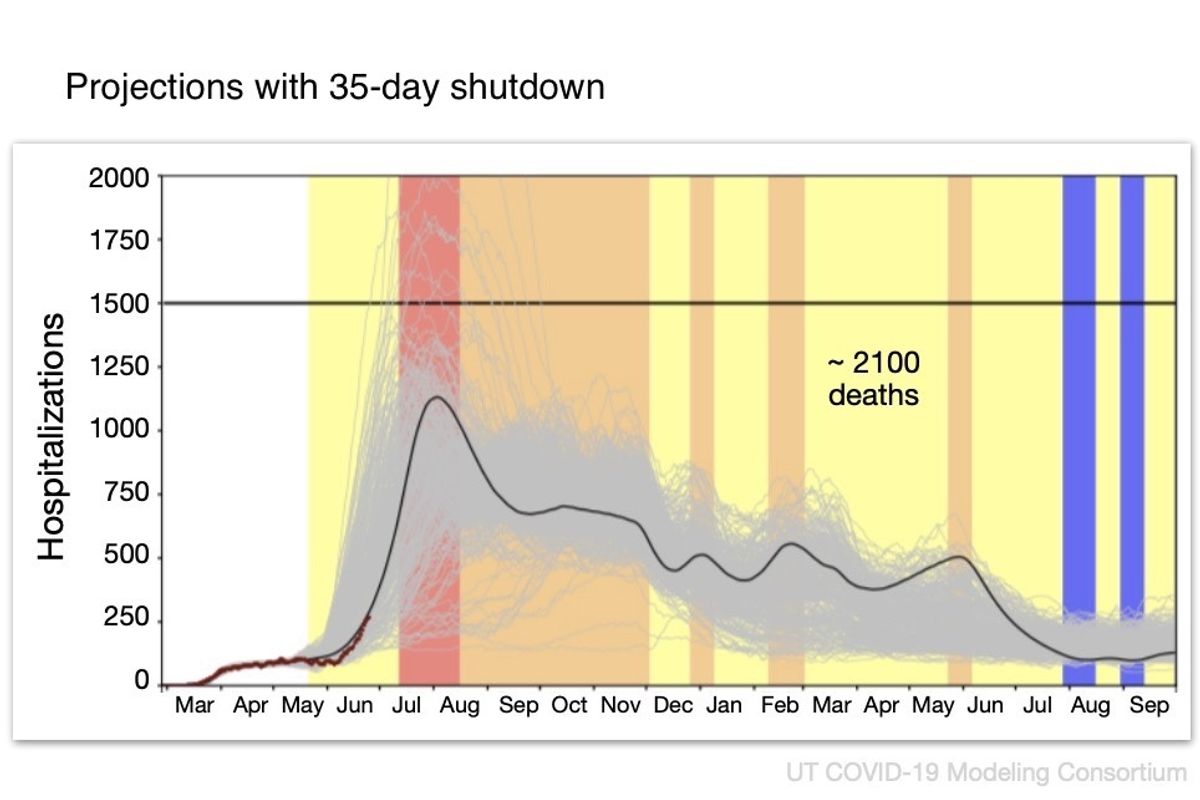 Without significant behavior and policy changes, Austin-area hospitals will reach capacity in mid-July, according to updated projections by the COVID-19 Modeling Consortium at the University of Texas at Austin.
---
"Right now it seems like we should be doing everything we can—short of a stay-home order—to stop transmission," Dr. Lauren Ancel Meyers told Austin City Council members on Monday. "We're at that point."
An evolving guide
Austin Public Health issued a color-coded, five-stage guide to policy recommendations in mid-May. The thresholds between stages are based on the rolling average of new daily hospital admissions for COVID patients. The recommendations ranged from limiting social gatherings to returning to "Stay Home-Work Safe" conditions.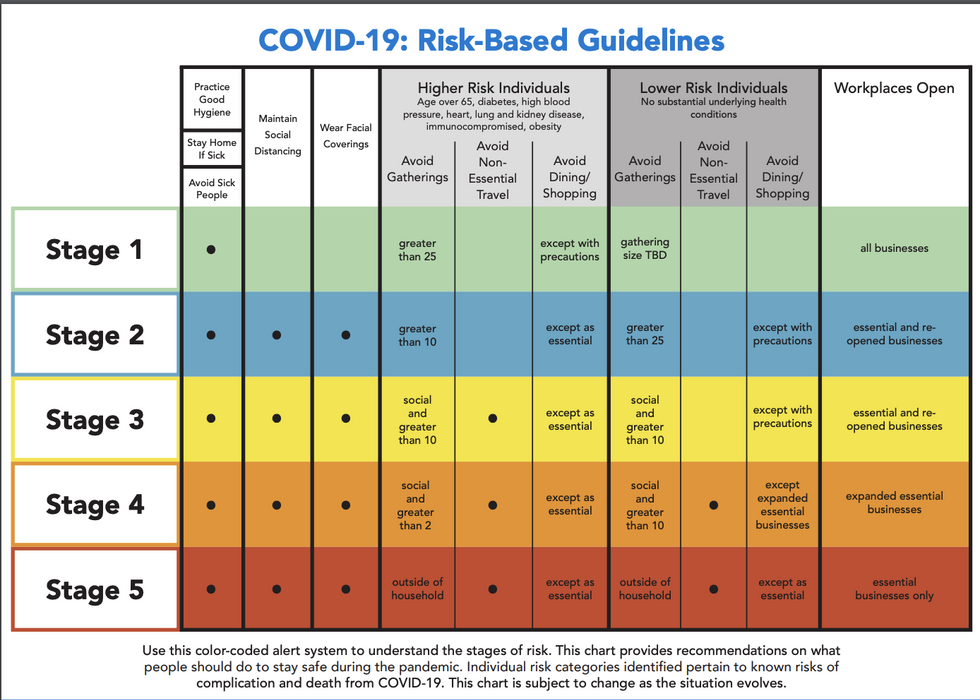 (Austin Public Health)
This week, APH updated its thresholds to account for adjusted hospital capacity and average hospital stay, which is currently about nine days. "By changing the threshold triggers, the community is able to remain in Stage 4 for a longer period of time before crossing into Stage 5," APH said in a statement.
The new stage thresholds are as follows: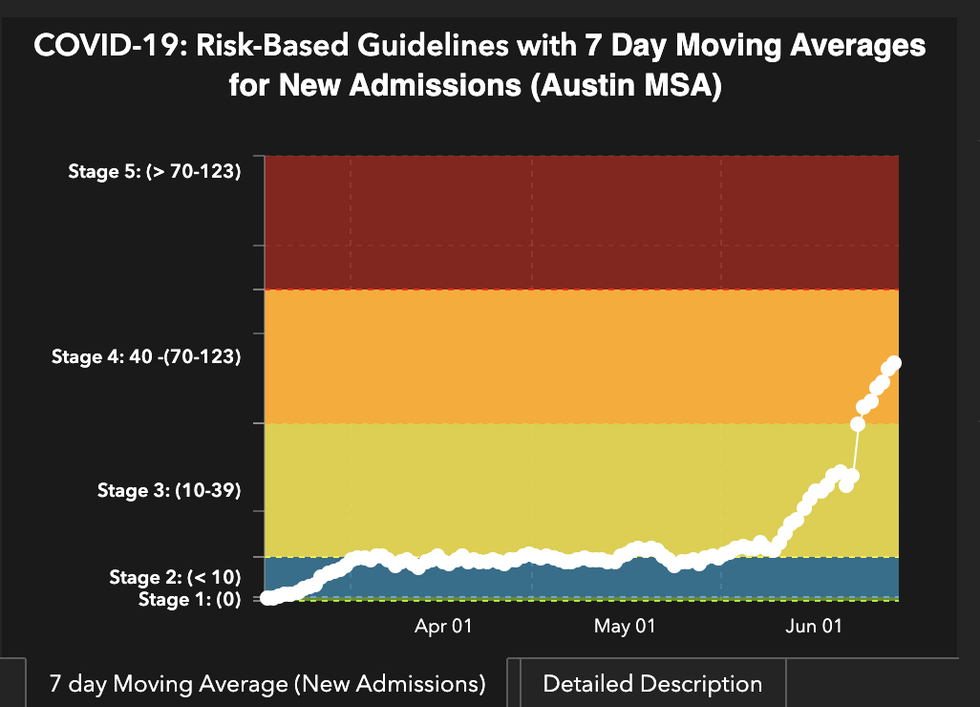 The updated guidelines increase the threshold for Stage 2 from a rolling average of 5 new daily COVID-related hospital admissions to 10, Stage 3 from 19 to 39 and Stage 4 from 20 to 40.
New modeling
While local officials are unable to implement policies that interfere with state orders, Dr. Meyers presented a series of scenarios that project how different policy interventions might play out.
"It's very hard to project what COVID is going to do beyond a couple weeks because we cannot predict behavior, and we cannot predict policy," she said.
The scenarios project with 95% certainty that area hospitals will not exceed capacity—a total of 1,500 COVID-19 patients—if certain measures are taken. While the interventions vary, each scenario is expected to result in 2,100 total deaths between now and the end of 2021. The difference between them is the duration, timing and extent of the shutdown.
1. In the first scenario, Austin officials would implement the policy changes recommended at Stage 4 of APH's risk-based guide, which Dr. Meyers helped develop.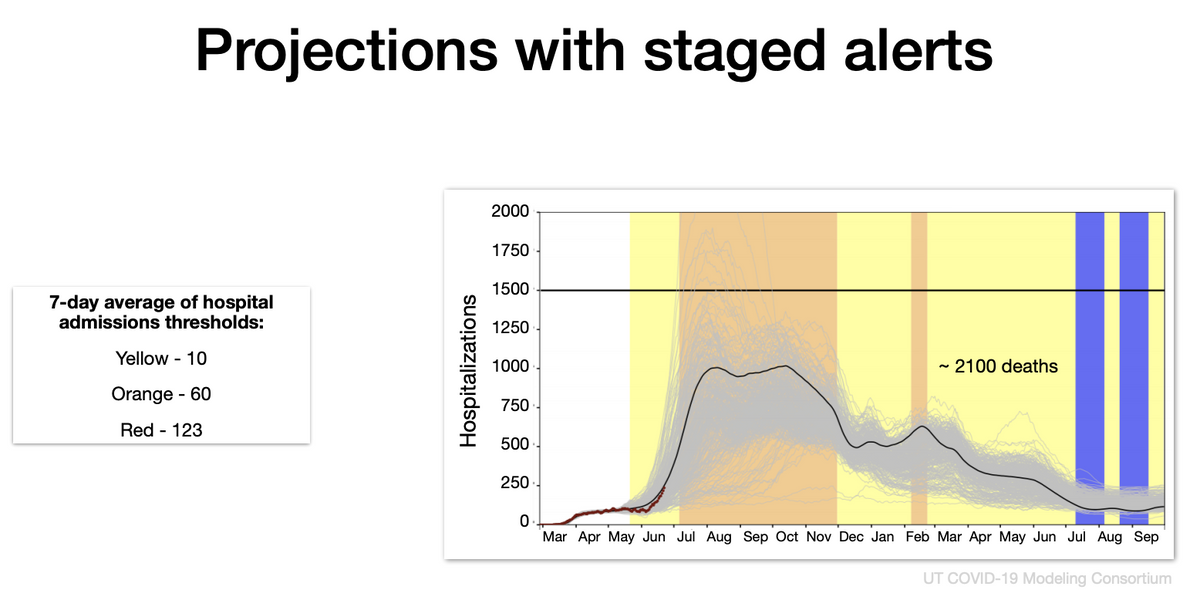 Dr. Meyers presented this scenario, which presumes partial measures are taken now to contain the current surge.(COVID-19 Modeling Consortium at the University of Texas at Austin)
If people comply—wearing masks, limiting social gatherings and minimizing unnecessary trips outside of their homes—the projections suggest that hospitals will not exceed capacity, Stage 5 will never be reached and by December the curve will begin to flatten.
If such precautions are not taken and adhered to, Austin will escalate to Stage 5, at which point partial measures will not be enough and a second stay-home order is recommended.
2. In this second scenario, Austin would likely see a series of stay-home orders issued between now and early next year to avoid exceeding hospital capacity.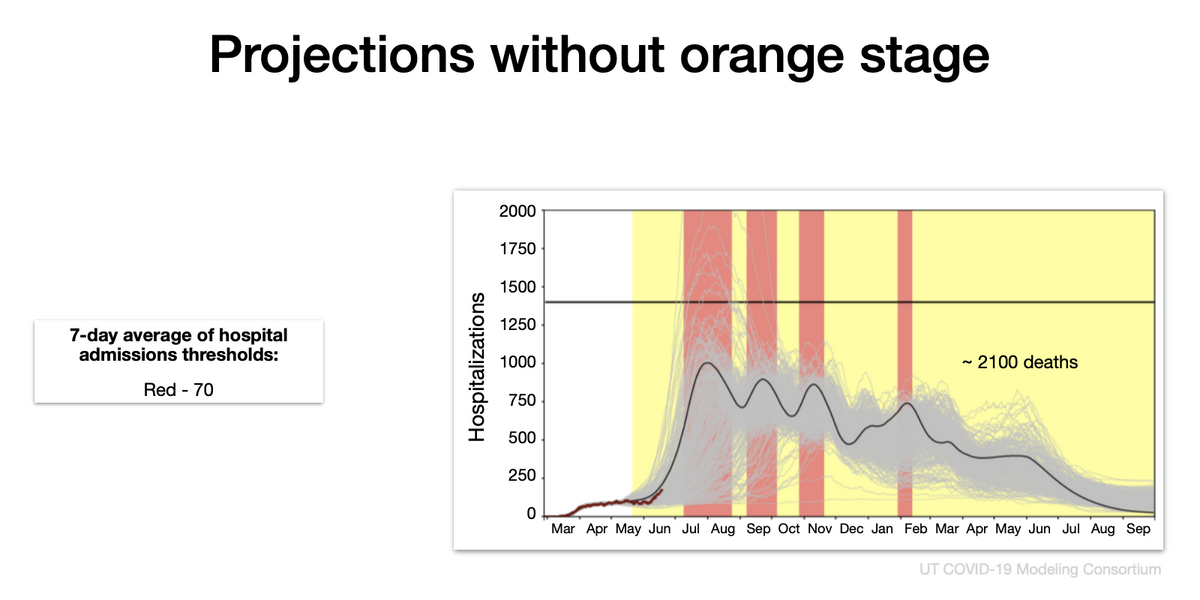 In the second scenario, the current surge forces a second shutdown order—and then a series of additional shutdowns—to avoid overwhelming local hospital capacity.(COVID-19 Modeling Consortium at the University of Texas at Austin)
"That's pretty bleak," Dr. Meyers said. "It's several months of periodic stay home."
3. In the third scenario, Dr. Meyers and her team modeled what would happen if local officials don't implement policy changes immediately, but in mid-July issue a five-week stay-home order in an attempt to slow transmission of COVID-19.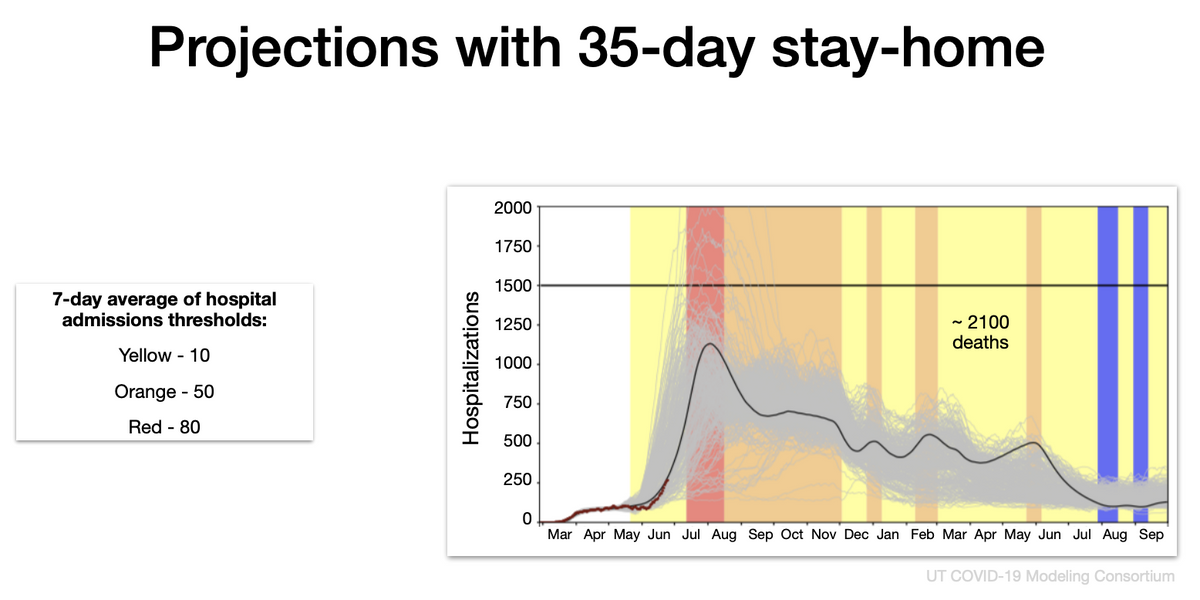 The final scenarios projects the outcome if a five-week shutdown is implemented now, which would prompt a three-month period in Stage 4. (COVID-19 Modeling Consortium at the University of Texas at Austin)
Following the five-week period, the projection is that Austin would enter Stage 4 for three months, during which time schools would reopen.
"The only scenario I think that would be really, really impossible to have any schooling would be if we're in [Stage 5]," Dr. Meyers said, adding that at Stage 4 there would still need to be some "pretty extreme" measures in place to ensure transmission isn't escalating.