Austonia AM
100% Austin news, info, and entertainment, straight to your inbox at 6 a.m. every morning.
In five minutes, you're fully informed and ready to start another great day in our city.
Get connected with our daily update
Austin has edged past the threshold determined by health authorities and city officials to be the key indicator of a surge in coronavirus cases and the trigger to pull back on reopening.
---
On Sunday, Austin Public Health reported 30 new COVID-related hospital admissions, bringing the seven-day rolling average up to 20.6.
The hospitalizations threshold
"We have very carefully calibrated what we believe is the right moment for us as a community to discuss pulling back so that we would not overrun our hospital capacity, and that right moment is the trigger of 20," former Travis County Judge Sarah Eckhardt said during a virtual news conference last week.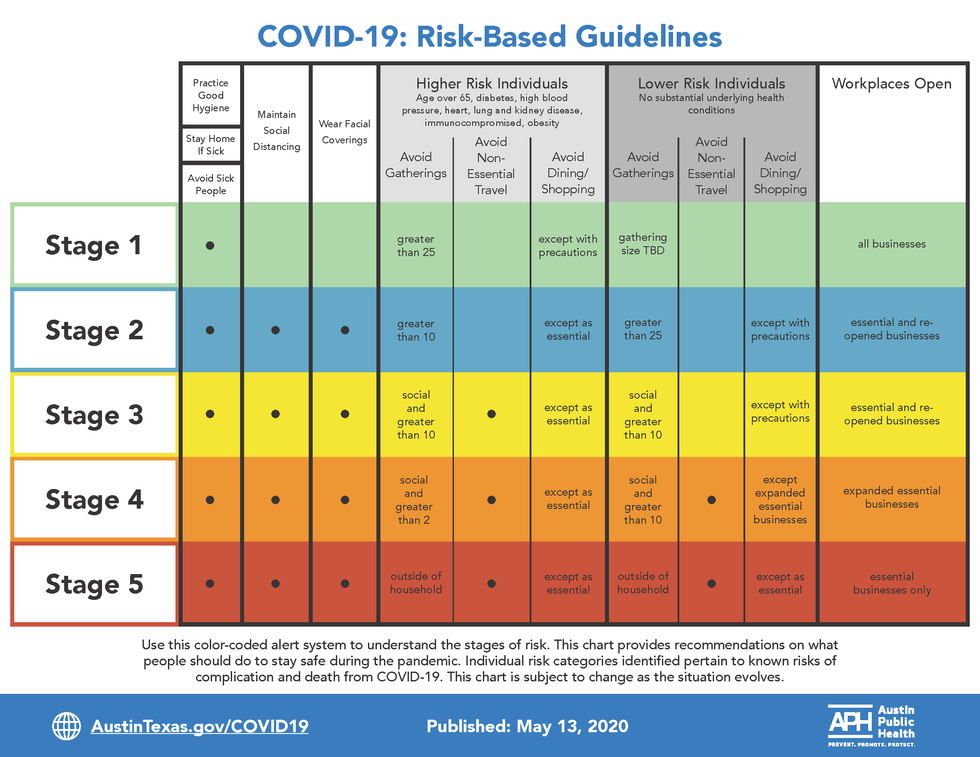 (city of Austin)
This follows a sharp increase in cases that Austin-Travis County Interim Health Authority Dr. Mark Escott attributed to the state's ongoing reopening and Memorial Day festivities.
City officials said there is currently plenty of bed space but that such an uptick in new daily hospital admissions could jeopardize hospital capacity.
"At this point, our blinking yellow warning light is turning orange, which means our hospitals seem to be headed to an overwhelming surge in admissions," Austin Mayor Steve Adler wrote in an email update Sunday. "We have some decisions to make and trade-offs to consider as we approach the red zone."
According to APH's five-stage alert system, the Austin metro area is exiting stage 3 and entering stage 4—the point at which experts recommend more restrictions in order to limit community spread and avoid overwhelming hospitals.
The city and the state
Although it remains unclear how the state will respond to this surge, local officials have said they would intervene by recommending residents limit social gatherings, avoid nonessential trips outside the home and limit those trips they do take to essential businesses only.
"If we do reach that threshold, we are going to have to have more serious conversations with the state," Dr. Escott said last week.
Eckhardt added, however, that Texas Gov. Greg Abbott has stripped most local governments of their ability to enforce pandemic-related restrictions.
COVID-19 caseloads and hospitalizations are not only increasing in Central Texas but across the state. But Abbott said Friday that there's "no real need to ratchet back the opening of businesses," in part because of the available hospital capacity.
Dr. Lauren Ancel Meyers, the director of the COVID-19 Modeling Consortium at the University of Texas, helped local health officials develop the five-stage alert system.
In an interview last week, she told Austonia: "That's the reason for the staging, so that we can tap on the brakes and not have to slam on the breaks."
Matthew McConaughey is reportedly weighing a run for Texas governor in 2022.
The Austin resident and Oscar winner has been "quietly making calls to influential people in Texas political circles, including a deep-pocketed moderate Republican and energy CEO" as he decides whether to run, according to Politico.
McConaughey said a gubernatorial run is "a true consideration" while on a March episode of Houston's "The Balanced Voice" podcast.
Although most political strategists doubt McConaughey's commitment and viability as a candidate, some are still intrigued by the possibility.
"I find it improbable, but it's not out of the question," Karl Rove, a top Republican strategist with a long history in Austin, told the political news site. He added that the big question is whether McConaughey would run as a Republican, a Democrat or an independent.
Brendan Steinhauser, an Austin-based GOP strategist, told Politico he's surprised McConaughey isn't being taken more seriously. "Celebrity in this country counts for a lot," he said. "It's not like some C-list actor no one likes. He has an appeal."

Texas Gov. Greg Abbott plans to run for a third term and remains popular among Republican voters, 77% of whom approve of his performance as of April, according to the Texas Politics Project.
Some strategists believe an independent McConaughey run would benefit Abbott. But a recent poll from The Dallas Morning News and the University of Texas at Tyler found that McConaughey would beat Abbott, 45% to 33%, with 22% opting for someone else.
Mimi Swartz, an executive editor at Texas Monthly, mulled a McConaughey run in a recent opinion essay from the New York Times. "Texas may not be ready for a philosopher king as a candidate, much less governor," she wrote. "May the best man win, man."
Some JuiceLand production facility workers and storefront employees are organizing to demand wage increases, better working conditions (including air conditioning in the warehouse) and pay transparency, among other asks. They are also calling on staff to strike and customers to boycott the Austin-based company until their demands are met.
JuiceLand responded on Saturday. "We are listening," the company wrote on their Instagram story. "JuiceLand crew now makes guaranteed $15 an hour or more companywide."
JuiceLand, which was founded in 2001 by Matt Shook and now has 35 locations in Austin, Houston and Dallas, acknowledged the rising cost of living across Texas and the added stress of the pandemic in an email to employees on Saturday, part of which @juicelandworkersrights shared on social media. "There's no denying that times are tough and financial security means more now than ever," the company wrote.
Organized JuiceLand workers rejected this proposal, according to a recent post on the @juicelandworkersrights Instagram account, and reiterated their demands.
"Cost of living in Austin is rising exponentially and will only continue to get worse with the tech boom," the post read. "$15 is barely a sustainable living."

Related Articles Around the Web