Never miss a story
Sign up for our free daily morning email...
...and afternoon text update
Get connected with our daily update
Austin Mayor Steve Adler said he is raising a yellow flag as COVID-19 caseloads, hospitalizations and positive test rates rise following the state's reopening and Memorial Day activities—county health officials agreed.
---
"This is a real surge that's happening," Austin-Travis County Interim Health Authority Dr. Mark Escott said during a virtual press conference this morning.
Over the last three days, Travis County has reported triple-digit growth in new cases. While the rolling average for new daily cases had been between around 40 and 60 cases, the average for the last three days has more than doubled, Dr. Escott said.
"Our concern is that this is a hockey stick appearance," he added, of the exponential growth.
Rising positive rates and hospitalizations
Austin Public Health has seen an uptick in its free testing service in the wake of recent protests and its related decision to expand access to asymptomatic residents. But Dr. Escott said the spike in cases is not merely reflective of expanded testing, as evidenced by the attendant increases in hospitalizations and positivity rate.
APH tests over the last week have returned positive results at a rate of 9.3%, where it had previously hovered around 5%. And yesterday the region saw a record number of new hospital admissions—24—bringing the total number of hospitalizations to 104.
These increases do not yet reflect cases related to recent protests against police brutality, Dr. Escott said, and instead are connected to testing conducted June 1-2.
Although the city has a surge plan in place and can expand its treatment capacity by building field hospitals, Adler said this is a scenario he hopes to avoid. "While we'll have beds, they're not the same kinds of beds [as those in hospitals]," he said. "People in those facilities don't get the same kind of care."
No second shutdown in sight
Despite these concerning trends, Dr. Escott emphasized the power of community response. Masking, practicing social distancing and maintaining good hygiene can help derail this surge.
In the meantime, local officials are not yet at the point of considering a second shutdown of businesses.
Health officials, with the help of researchers at the University of Texas at Austin, have identified a rolling average of 20 new daily hospital admissions as a trigger point for intervention.
While Texas Gov. Greg Abbott has restricted local governments in what enforceable actions they are able to take in the face of this pandemic, Dr. Escott and former Travis County Judge Sarah Eckhardt said they are hopeful the state would support them should the hospitalization rate continue to increase.
"If we do reach that threshold, we are going to have to have more serious conversations with the state," Dr. Escott said, adding that every other major metropolitan area in Texas is seeing similar trends.
(Laura Figi/Austonia)
Austin FC's opening match at LAFC has already gotten plenty of buzz, and not just because the team will be playing its first-ever match. The opener will also see two famous fans pitted against each other: Will Ferrell and Matthew McConaughey.
Since he joined the club as a part-time owner in 2019, McConaughey hasn't been quiet about going Verde. The Austin icon has been a hypeman for the team on the Jimmy Kimmel show, spoken with MLS Commissioner Don Garber at SXSW and is vocal about the club on Twitter.
On Tuesday, McConaughey talked all things Austin FC from what appeared to be an Airstream.
"We've been talking about this," McConaughey said. "We've been building this brick by brick. We understand it's Verde, it's listos, but now it's live."
"I just got some chills saying that," McConaughey added.
This weekend will put the club to the test for the first time against LAFC, which also happens to be part-owned by a big Hollywood name. Comedian and actor Will Ferrell will be on the other side of the pitch come Saturday, and he's ready to start a rivalry.
After talking to McConaughey about both teams, Ferrell told Spectrum News he's excited to watch his team play the so-called "Austin Cacti" this season.
"I can only hope for a rivalry," Ferrell said. "I think Austin is going to be a fantastic market for a brand new soccer team, and I can't wait to be there when LAFC plays the 'Austin Cactuses.'"
Now with five days to go, McConaughey said that he and Ferrell had been having a "war with words" over the match and are planning on placing bets before game time.
It's not the first time the two have found themselves on opposing sides of a sport. Back in 2018, Ferrell made his way to Austin to see USC football duke it out with the Longhorns (psst,—UT won.)
McConaughey and Austin FC are hoping to see yet another loss for Ferrell as they head to their first game on Saturday, but the match will be quite the challenge.
The MLS set the opening schedule for more than fame; the newly-formed Austin FC has been one of the most talked-about teams this preseason, and LAFC is projected at No. 2 in the league's power rankings. Austin FC currently sits at No. 21.
Head Coach Josh Wolff has said LAFC has one of the best offenses in the league.
"LAFC has one of the best attacking teams in the league," Wolff said. "They will punish you. They've never been shy of putting up goals, and again, I expect them to be one of the best teams in the league this year."
The club has lived up to Wolff's words: in just their second season of existence, LAFC took first in the Western Conference and were Supporters' Shield winners in 2019.
Austin FC will need to hold off LAFC captain Carlos Vela, a versatile winger/attacking midfielder who won the Most Valuable Player title in 2019, as well as high-scoring forward Diego Rossi.
Meanwhile, LAFC will face challenges in DP Cecilio Dominguez and midfielder Alex Ring, the former NYCFC "ringleader" who has worn the captain's armband already for his newest team. Forward Rodney Redes may or not be playing Saturday due to a "ding" on his knee, but if he does, he'll be a force to be reckoned with as well.
Austin FC's inaugural match will be nationally broadcast on FOX and FOX Deportes and will be featured on Alt 97.5 FM.
Starting Monday, Austin voters will decide whether to reinstate a ban on sitting, lying and camping in certain areas of the city. Proposition B is one of eight proposed city code or charter amendments on the May 1 ballot, but it is perhaps the most contentious.
Spearheaded by the political action committee Save Austin Now, Prop B is a direct response to City Council's 2019 decision to overturn a 23-year-old ban on such activities. This is the second time the group has tried to get the issue on the ballot since the first petition was ruled invalid by the county clerk for duplicate signatures and other issues last year. Homeless advocates campaigned against the ban, arguing that it criminalized homelessness and led to citations and tickets that prevented homeless people from accessing housing, employment and other resources. Since then, the city's homeless population has grown in size and visibility.

SAN, advocates and council members generally agree that the situation is untenable, but they disagree about the ban's merit. Austinites who are directly impacted—including people who live near camps, downtown business owners and homeless residents—feel similarly embattled, telling Austonia that, regardless of how they plan to vote, not enough is being done to house the homeless.
Word on the street
Lisa Novak bought a condo in the East Riverside neighborhood in 2013, drawn in by its affordability and Guerrero Park. She attributes the increase in camping along the Riverside Drive median to council's decision to repeal the ban. "It turned into open season," she said.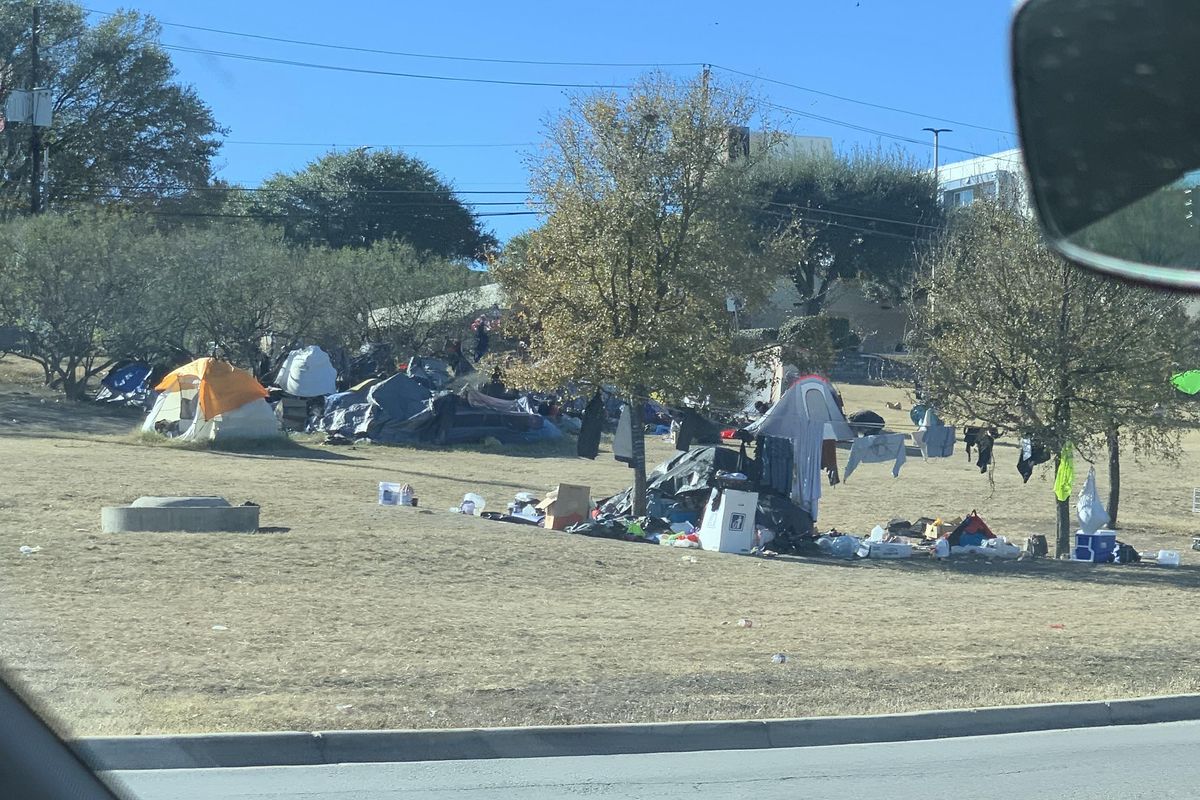 Lisa Novak took this photo of campers along the Riverside Drive median, near where she lives. (Lisa Novak)
Novak worries about the recent spate of fires and how camps affect area business owners and incoming tourists. After her husband witnessed a violent exchange between two panhandlers, the couple stopped walking to their neighborhood H-E-B. She will vote for Prop B and disagrees with advocates who say it criminalizes homelessness. "I'm sorry, but as a member of society there are certain rules and regulations," she said.

Kevin Ludlow's Windsor Park home sits right behind a long-time homeless camp along Little Tannehill Branch Creek. He estimates he has spent hundreds of hours talking to city staff, council members, nonprofits and police about trash and safety concerns.
Ludlow is undecided on Prop B. He thinks a ban will address these issues, but he also feels police could be more responsive to reports of theft, vandalism and other crimes without penalizing campers who are otherwise law-abiding. "There's no winning hand, and I feel it's by design," he said.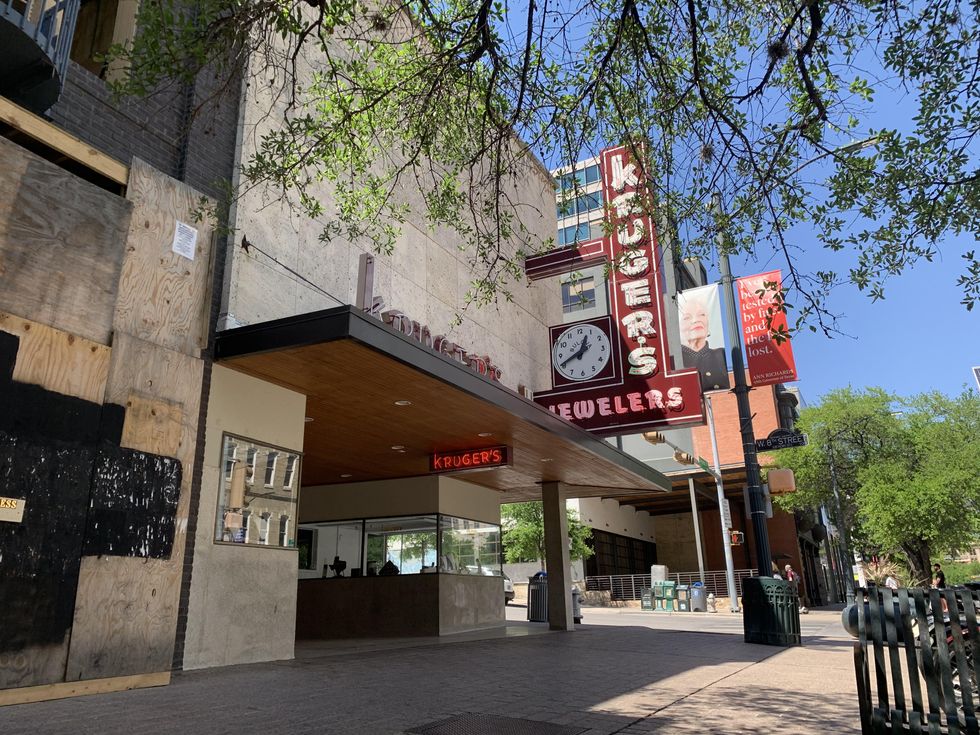 Longtime Downtown business Kruger's Diamond Jewelers often has homeless residents camping outside the entryway. (Emma Freer)
David Kruger, fourth-generation owner of Kruger's Diamond Jewelers on Congress Avenue, is similarly ambivalent. Although homeless residents often camp out in his entryway, his issue is with city leadership, whom he feels are incapable of developing solutions. "I'm probably going to vote in favor of it, I guess, but I'd feel better if there was another item that addressed the problem," he said, comparing Prop B to trying to put toothpaste back in the tube.
Christopher Carr, a member of the Austin Homeless Advisory Committee who has been intermittently homeless since graduating from the University of Texas at Austin in the 1990s, is more decisive. A poet who loves opera and has bipolar disorder, he camps near the intersection of 15th and San Antonio streets. When the ban was in effect, he was often harassed by police he says. "You felt like you might have a few seconds before the cops showed up (if you sat down on a sidewalk)," he said.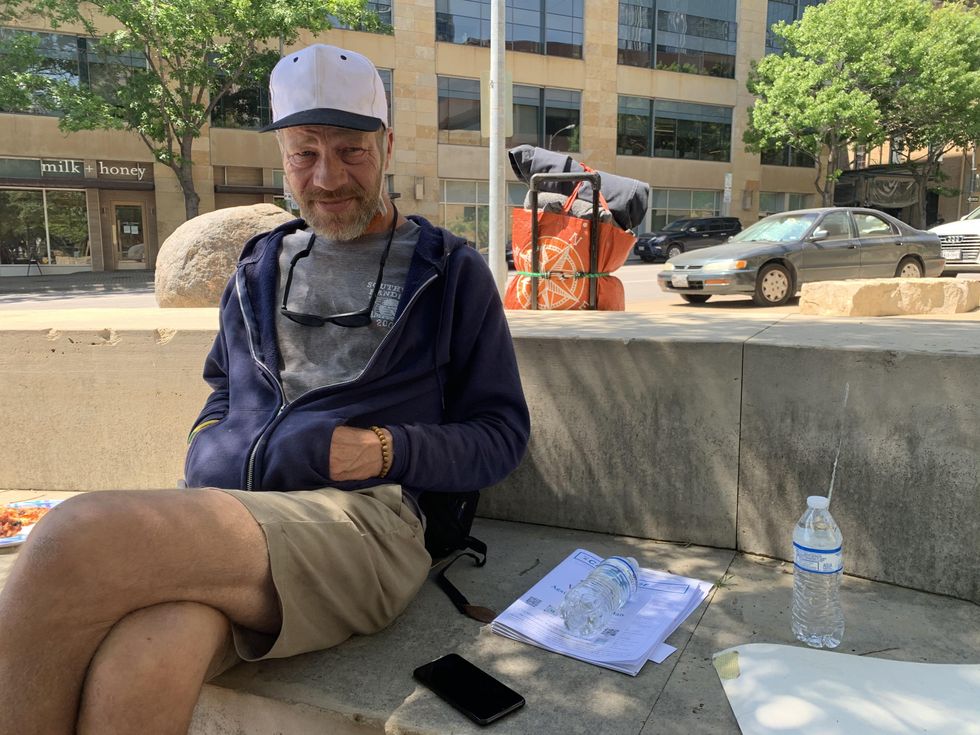 Christopher Carr attends a meeting of the Challenger Street Newspaper, for which he is a contributor and distributor, outside of City Hall on Sunday. (Emma Freer)
Since the ban was lifted, Carr feels Austin's housed residents have turned against the homeless: "If you don't like seeing all these tents everywhere, why don't you not like the country where this level of indigency exists?"

A stopgap measure
Save Austin Now argues that repealing the ban has adversely impacted public safety, residents and businesses and left homeless people to live in unsafe conditions. Ken Casaday, president of the Austin Police Association and SAN board member, added that the council vote left residents out of the process. "For me, the big issue is 'let the citizens vote,'" he said. "If the citizens vote down Prop B, we'll live with it."
But the May 1 election is likely not the end of this debate. Texas lawmakers are considering a statewide ban on public camping in a clear rebuke of local policy.
Chris Harris, director of Texas Appleseed's Criminal Justice Project and an activist who helped overturn the ban in 2019, argued that the decision has made homelessness more visible, leading to greater investment by the city and nonprofits. "No matter what happens with Prop B or with these bills at the Legislature, our community can't forget about this issue," he said. "We decriminalized homelessness not because we saw it as a solution to homelessness but because we thought it was (an issue of) right-or-wrong."
(Counse/CC)
University of Texas students can expect a "near normal" fall semester this year.
The plan, sent to the Daily Texan via email from communications manager for the Office of the Executive Vice President and Provost Kathleen Harrison, is to hold 91.7% of classes in person, 4.2% of classes in a hybrid format and the remaining 3.1% of classes will stay online.
The announcement is a stark increase from last fall, during which over 60% of classes were online, 24% were hybrid and only 16% were in-person. President Jay Hartzell said last month he expects the upcoming semester to look more similar to fall 2019 than fall 2020.
The new schedule is not set in stone—Harrison said UT will continue to monitor the COVID-19 situation on campus and that safety of the community is a top priority.
"The University's decisions are based on the latest data and information available," Harrison said. "If conditions change, we will continue to keep the safety of our community a top priority and adjust as needed."