Get connected with our daily update
Austin Mayor Steve Adler said he is raising a yellow flag as COVID-19 caseloads, hospitalizations and positive test rates rise following the state's reopening and Memorial Day activities—county health officials agreed.
---
"This is a real surge that's happening," Austin-Travis County Interim Health Authority Dr. Mark Escott said during a virtual press conference this morning.
Over the last three days, Travis County has reported triple-digit growth in new cases. While the rolling average for new daily cases had been between around 40 and 60 cases, the average for the last three days has more than doubled, Dr. Escott said.
"Our concern is that this is a hockey stick appearance," he added, of the exponential growth.
Rising positive rates and hospitalizations
Austin Public Health has seen an uptick in its free testing service in the wake of recent protests and its related decision to expand access to asymptomatic residents. But Dr. Escott said the spike in cases is not merely reflective of expanded testing, as evidenced by the attendant increases in hospitalizations and positivity rate.
APH tests over the last week have returned positive results at a rate of 9.3%, where it had previously hovered around 5%. And yesterday the region saw a record number of new hospital admissions—24—bringing the total number of hospitalizations to 104.
These increases do not yet reflect cases related to recent protests against police brutality, Dr. Escott said, and instead are connected to testing conducted June 1-2.
Although the city has a surge plan in place and can expand its treatment capacity by building field hospitals, Adler said this is a scenario he hopes to avoid. "While we'll have beds, they're not the same kinds of beds [as those in hospitals]," he said. "People in those facilities don't get the same kind of care."
No second shutdown in sight
Despite these concerning trends, Dr. Escott emphasized the power of community response. Masking, practicing social distancing and maintaining good hygiene can help derail this surge.
In the meantime, local officials are not yet at the point of considering a second shutdown of businesses.
Health officials, with the help of researchers at the University of Texas at Austin, have identified a rolling average of 20 new daily hospital admissions as a trigger point for intervention.
While Texas Gov. Greg Abbott has restricted local governments in what enforceable actions they are able to take in the face of this pandemic, Dr. Escott and former Travis County Judge Sarah Eckhardt said they are hopeful the state would support them should the hospitalization rate continue to increase.
"If we do reach that threshold, we are going to have to have more serious conversations with the state," Dr. Escott said, adding that every other major metropolitan area in Texas is seeing similar trends.
(Clint Broden)
Daniel Perry, the active-duty Army sergeant who says he shot Black Lives Matter protester Garrett Foster in self-defense, was driving for Uber when he accidentally encountered the demonstration on the night Foster was killed, his attorney said Monday.
Perry, who is stationed in Killeen and only allowed to travel 100 miles from base, was not in Austin that night to attend the demonstration, attorney Clint Broden said, but because it "was the closest location that had significant ridesharing customers."
Broden also shared a redacted version of Perry's bank statement that shows two deposits from Uber that he said correlated to runs in Austin that night. Perry has been ordered to remain on base since the shooting, Broden said.
"We hope this puts to rest the allegations that Sgt. Perry traveled to Austin for any nefarious purpose," he said.
Some, including Foster's mother, have pointed to Perry's since-deleted Twitter account as evidence that he disagreed with BLM protesters and showed up at the rally to cause trouble.
The release was accompanied by six photos showing what the attorney described as the damage inflicted on Perry's car by protesters, including a bullet hole.
After Perry shot Foster, who was carrying an AK-47 and whom Perry claims was raising his rifle "in a direct threat to [his] life," another person in the crowd shot at Perry's vehicle, according to police. That person has not been publicly identified. Like Perry, he or she had a concealed carry license and was questioned and then released by the Austin Police Department.
Protesters arrested

On Saturday, in the wake of Foster's death and the release of Perry's name the day before, protesters and law enforcement clashed in demonstrations near downtown. Austin police on Monday released the names of 40 people arrested at the protests. The most common charge was obstruction of a highway.
Perry's attorney shared photos that he says show damage inflicted by protesters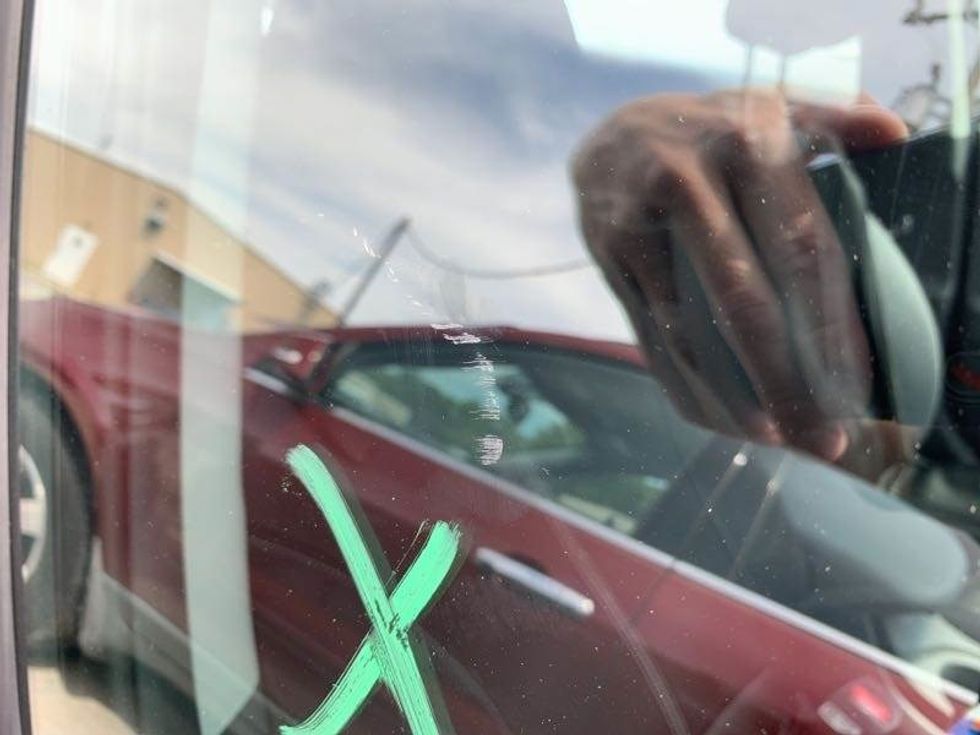 Perry's lawyer claims this photo shows where the vehicle was scraped with a brick.
(Clint Broden)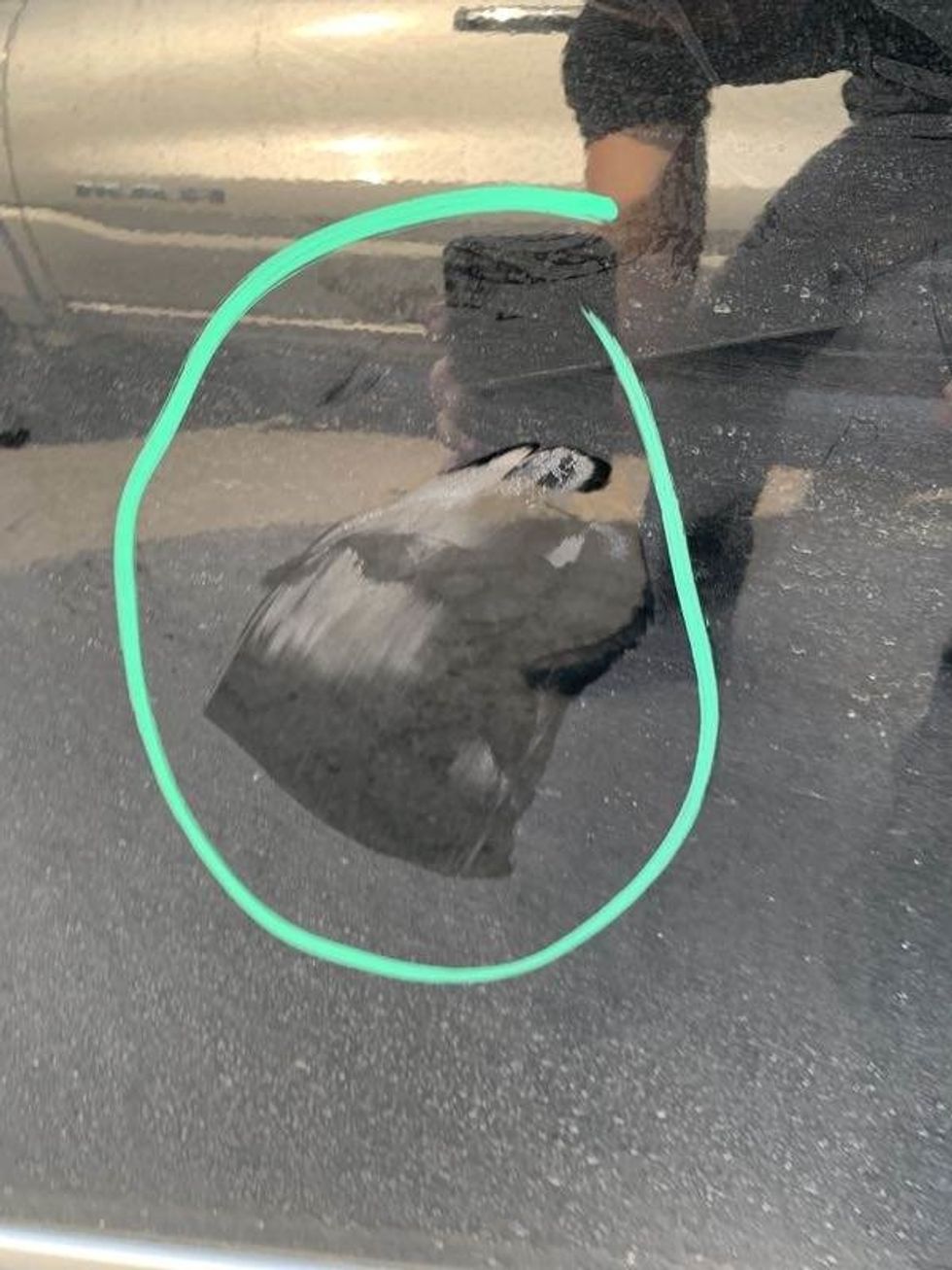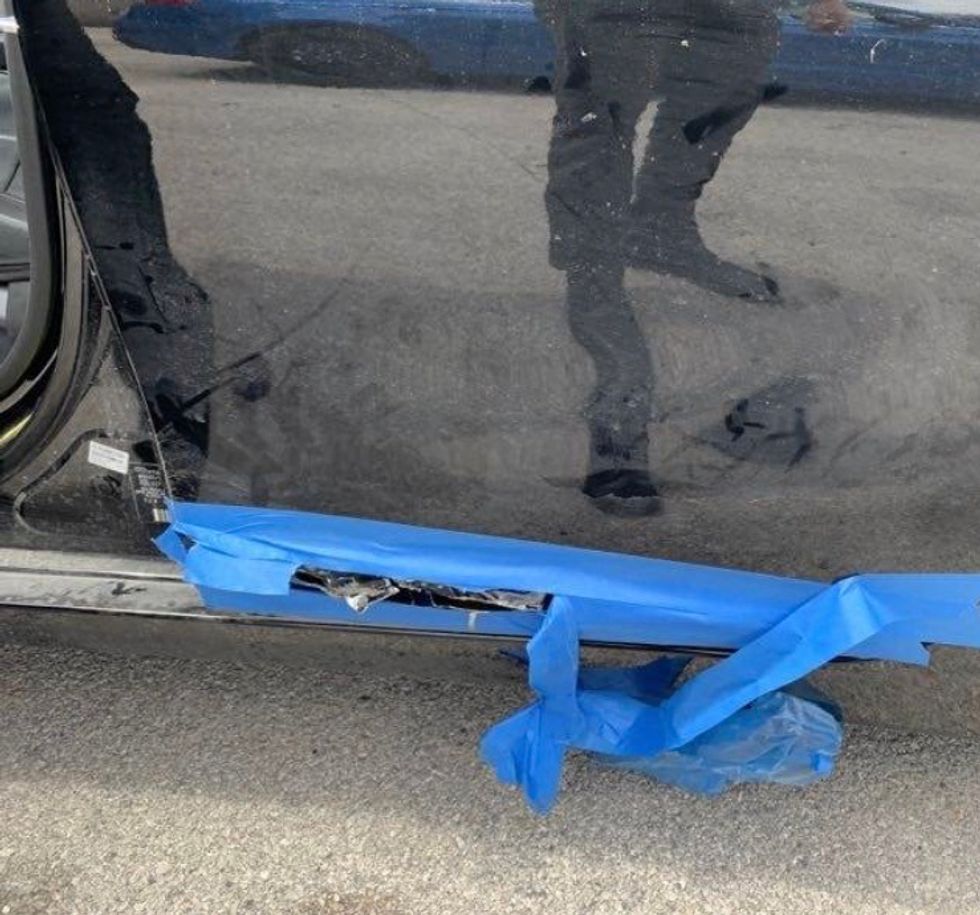 This photo, the lawyer says, depicts bullet holes.
(Clint Broden)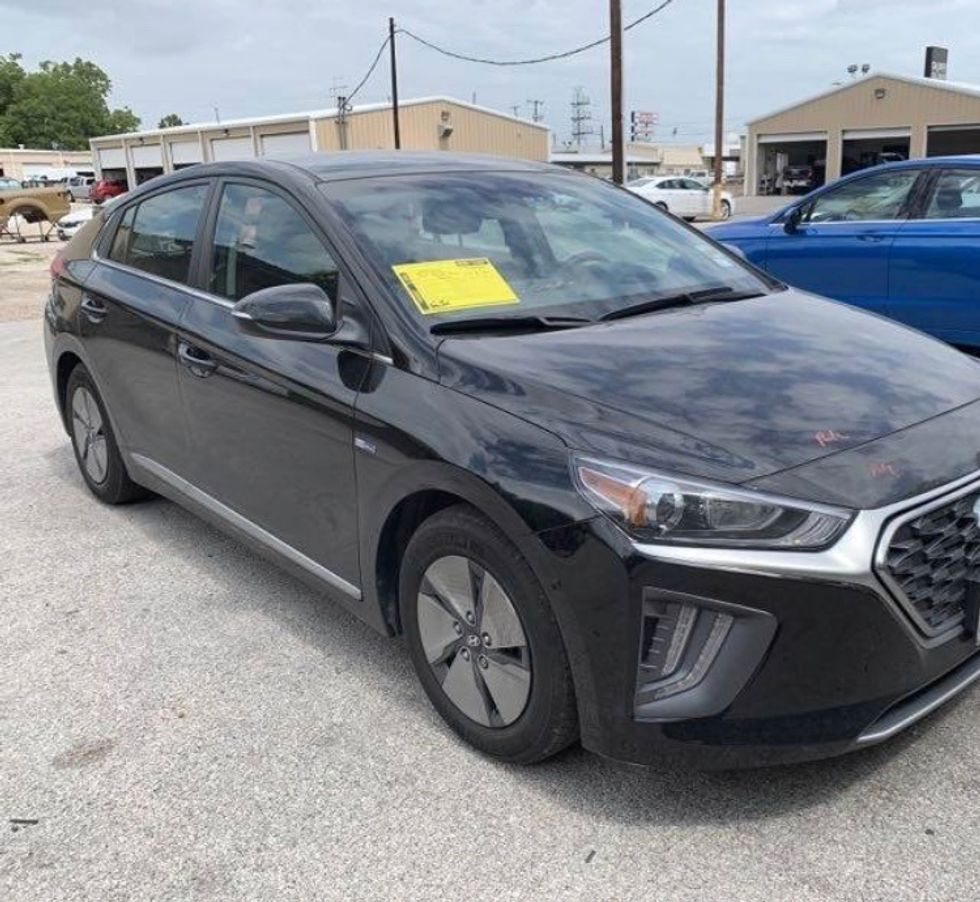 Perry's lawyer claims this photo shows hood damage "identified by auto body shop as a result of banging."
(Clint Broden)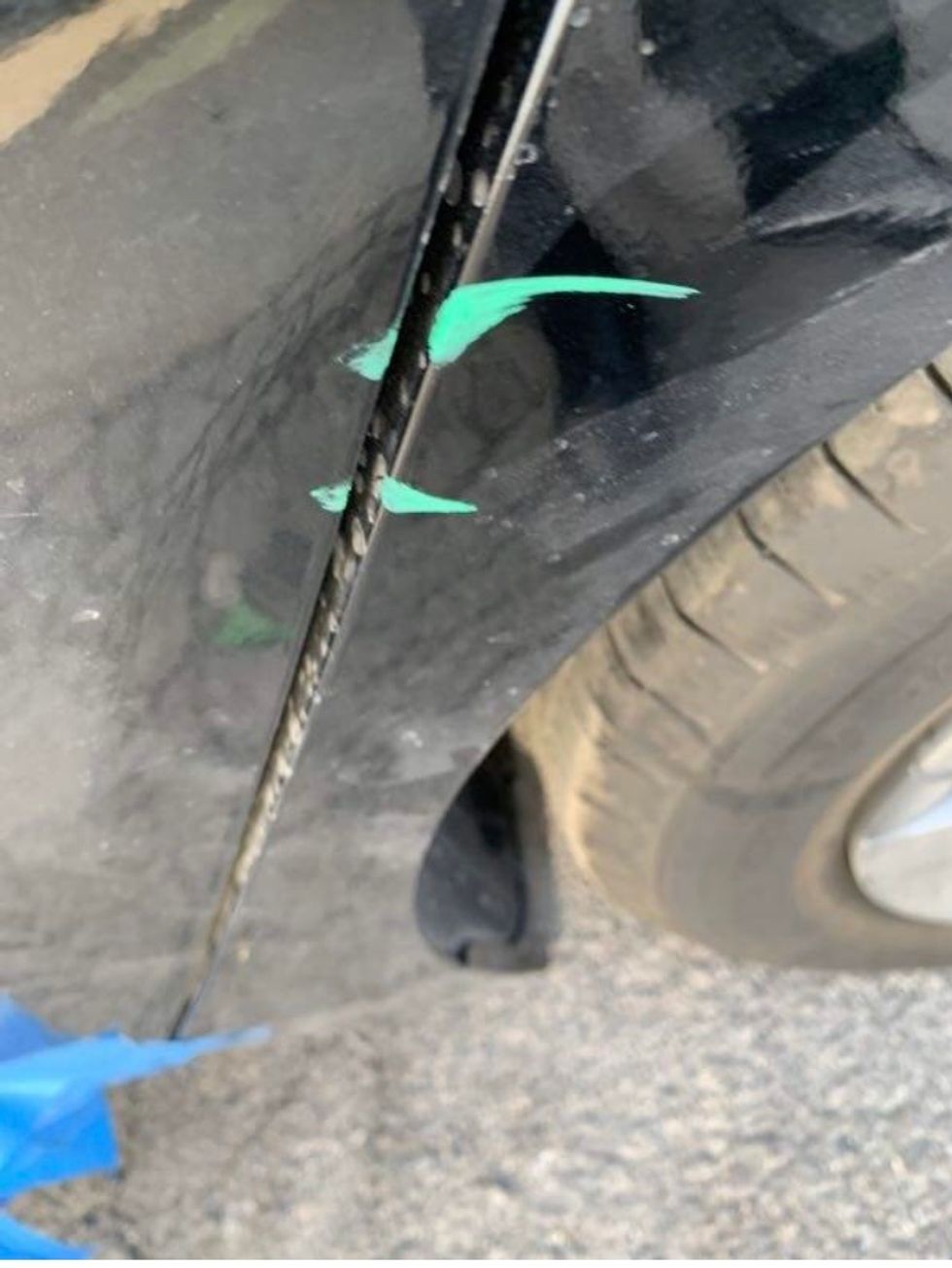 This photo, the attorney claims, shows a misaligned door where people hit the vehicle.
(Clint Broden)
Follow Austonia on Instagram to keep up with what's happening in your city.
Our Instagram page allows you to stay up to date with all things Austin, from coronavirus updates to local personalities. Join our Instagram family to see the faces, events and news that make up the city.
(Apple)
Former Longhorn and NFL star Emmanuel Acho stars in the two-part premiere of "The Oprah Conversation," which hit screens on Apple TV+ over the weekend.
<p>Acho is a natural fit to kick off the new show by Oprah Winfrey. The two are partnering to <a href="https://austonia.com/media/uncomfortable-conversations" target="_blank">publish a book based off his wildly popular social-media series</a>, "Uncomfortable Conversations with a Black Man."</p>In the show's first installment, Winfrey and Acho answer questions by white and Latino guests about race and what it means to be Black in America.<p>"He's answering uncomfortable questions about racism in America and the best ways to keep the conversation going with your family and friends," reads a statement on the show's social media.</p><div class="rm-shortcode" data-rm-shortcode-id="b731717d9d6127f784b0c98ace3bba1a"><div class="fb-video" data-allowfullscreen="true" data-href="https://www.facebook.com/video.php?v=2661048164154842"></div></div><p><br/></p><p>"The Oprah Conversation" is Winfrey's newest series on Apple TV+, following "Oprah Talks COVID-19" and "Oprah's Book Club."</p><p>In future episodes, the show will continue to explore timely topics with leaders from across the globe. <a href="https://tv.apple.com/us/episode/uncomfortable-conversations-with-a-black-man-part-1/umc.cmc.18mbwbiobbhzpxceuzvijsln8?showId=umc.cmc.49yt85r7ow6904u0177r694qy" target="_blank">Watch it here.</a></p>