Get connected with our daily update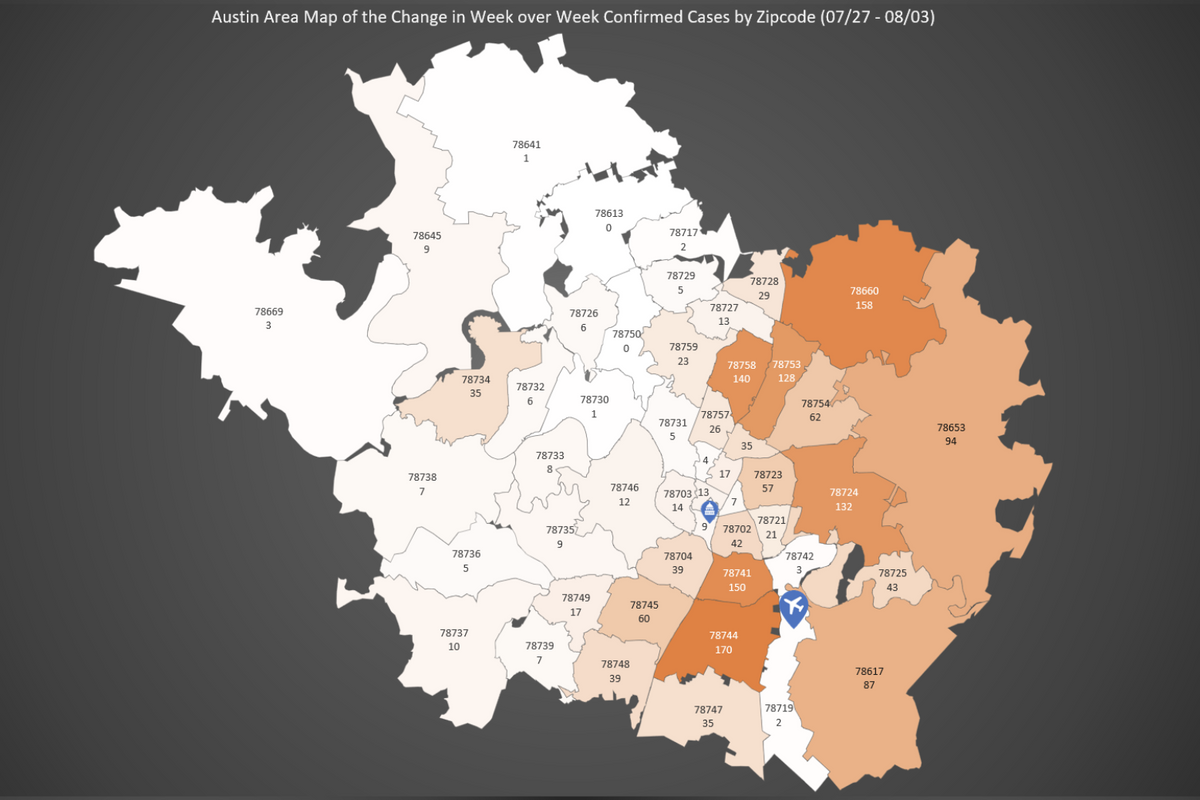 The mountain of COVID-19 data released every day in Austin is easier to understand with visual aids.
Once a week, Austonia is taking a look at the previous seven days of COVID-19 statistics, all with the very helpful graphics of Austin resident and Reddit user Rational Anarchy, who has been producing daily visuals and posting them in the forum.
---

(Updated Aug. 7. All graphics: Rational Anarchy/Reddit)

Travis County's daily confirmed new COVID-19 cases stop decline, hit plateau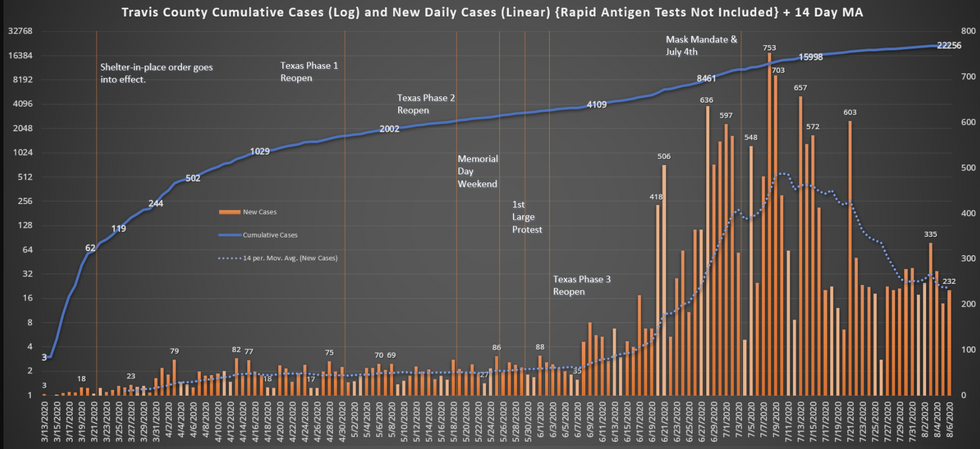 After two weeks of steady decline in the number of new COVID-19 cases and daily hospital admissions, both trend lines now appear to be in a plateau.
"That's better than a surge - but still dangerous," Austin Mayor Steve Adler said during his State of the City address on Wednesday.
The seven-day moving average of daily new confirmed cases has risen slightly, to 262 as of Thursday evening compared to 218 last week. The moving average of daily new hospital admissions is now 38, up slightly from 37.7 last week.
Austin-Travis County Interim Health Authority Dr. Mark Escott is concerned the plateau could reverse track, especially if schools reopen and sports stadiums welcome back fans.
"We've seen over and over again, across the country and across the globe, that when communities relax too soon, it results in a bounce of cases and a repeat surge," he told county commissioners on Tuesday.
Travis County's reported COVID-19 deaths hold steady

As of Thursday evening, Travis County reported 288 deaths, up from 266 deaths a week ago.
The local case fatality rate—defined as the number of reported deaths per confirmed cases—remains around 1.3%, compared to 1.1% on July 9. But the 14-day moving average number of daily reported deaths has declined slightly, to four from around six last week.
Dr. Escott has attributed the increase to the fact that most of the patients hospitalized with COVID-19 in late July were over 60—and at much higher risk of death.
COVID-19 hospitalizations in the Austin metro continue to decline

The total number of patients hospitalized with COVID-19 is also declining. As of Thursday evening, 297 people were hospitalized with the virus in the five-county metro area, compared to 388 a week ago.
And ICU occupancy improved incrementally—only to bounce back

After six weeks of the ICU occupancy at more than 80%, it finally dipped to 78% on Tuesday evening, according to a joint update from Austin's three major hospital systems.
But on Friday, the three systems—Ascension Seton, Baylor Scott & White and St. David's HealthCare—reported an updated ICU occupancy rate of 82%.
Ventilator use is declining, however, with 73 people using them as of Thursday evening, compared to 97 a week ago.
Austin's COVID-19 cases remain most concentrated on the East Side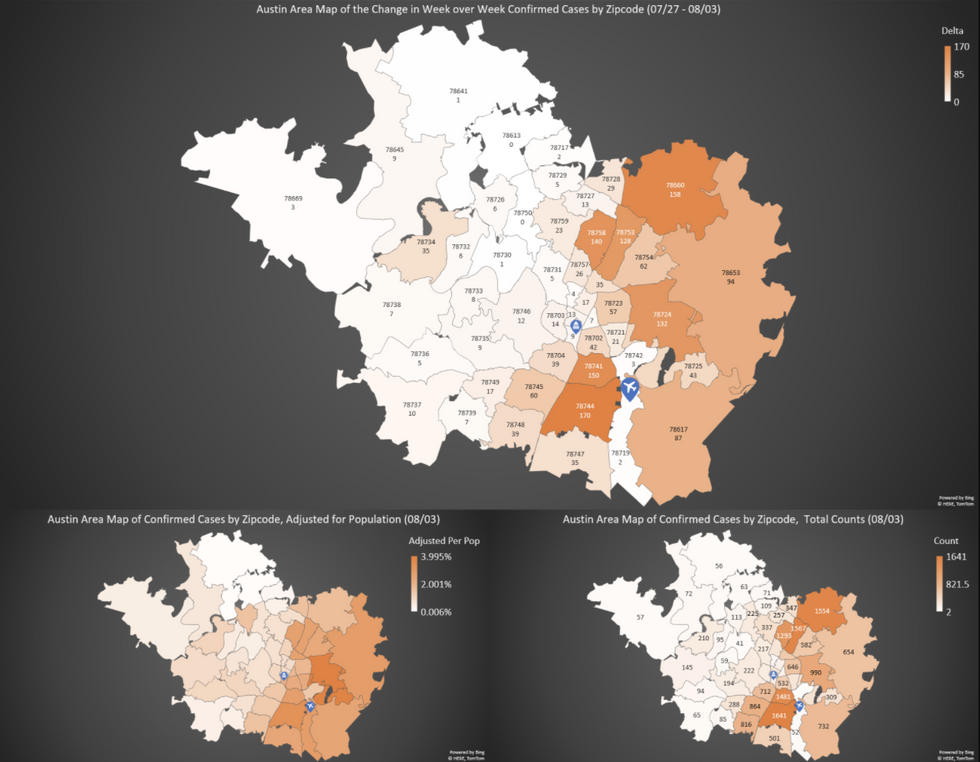 New COVID-19 cases in Austin remain most densely concentrated on the city's East Side—and specifically in the ZIP codes 78744, 78753 and 78660.
Austin Public Health has opened testing sites in these areas to serve those most in need and has also targeted outreach to the city's Latino and Black populations, who are at the highest risk of being hospitalized with and dying from COVID-19.
Austin's older residents remain most at risk of dying from COVID-19—amid other disparities

While young people age 20-39 make up nearly half of the total confirmed COVID-19 cases, they are much more likely to avoid hospitalization and recover.
In sharp contrast, people 60 years and older make up only 12% of confirmed COVID-19 cases but account for 80% of reported deaths, according to Austin Public Health.
Want to read more stories like this one? Start every day with a quick look at what's happening in Austin. Sign up for Austonia.com's free daily morning email.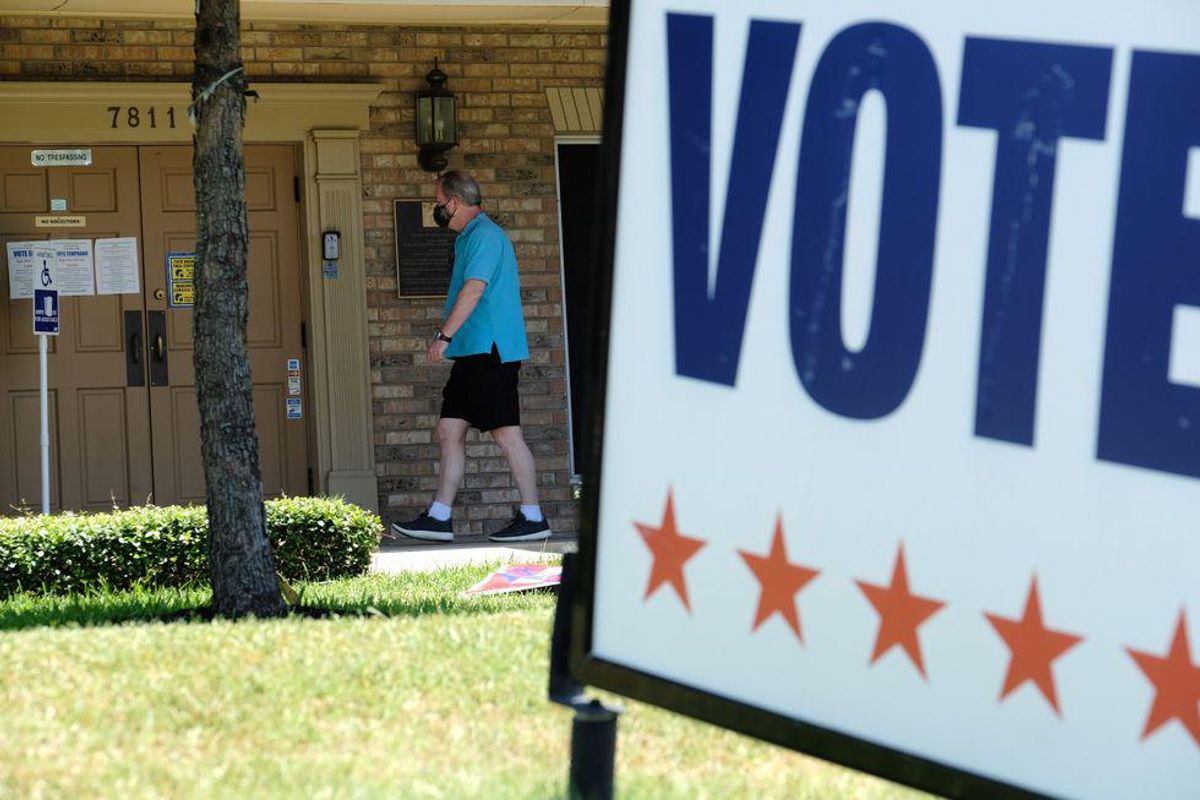 May's second election is here, in which voters will decide on the candidates to represent their party in the November general election after the winner in some March primary races was unclear.
Just like the March primaries, voters will choose which party they choose to vote in. Then based on location, each ballot will show which races are in a runoff.
In Texas, candidates must win at least 50% of the vote to be elected. In the races where the top candidate only received a plurality of votes, a runoff is being held.
Here's everything you need to know before heading to the polls.
Know before you go
Early voting for the Texas primary runoff election begins Monday and will last through May 20; Election Day is May 24.
The registration period for this election has passed; check if you're registered to vote here.
The polls are open from 7 a.m. to 7 p.m. daily. As long as you're in line by 7 p.m., you can vote.
You'll need a valid photo ID to present once you're at a polling location.
Here are the early voting locations in Travis County.
View wait times at polling locations here.
Races to watch in Travis County:
Statewide
Lieutenant Governor
Republican: Incumbent Lt. Gov. Dan Patrick won his primary in March.
Democratic: Mike Collier and Michelle Beckley are vying to be the Democrat candidate on the ballot.
Attorney General
Republican: Incumbent AG Ken Paxton is fighting for his seat against George P. Bush.
Democratic: Rochelle Garza and Joe Jaworski will face off to be the Democratic candidate in this race.
View all the statewide races on the ballot here.
U.S. House of Representatives

View the district you live in here.
District 21
Republican: Incumbent Chip Roy won his primary in March.
Democratic: Claudia Andreana Zapata and Ricardo Villarreal are hoping to secure this vote.
District 35
Republican: Dan McQueen and Michael Rodriguez are going head to head to be the Republican candidate in this race.
Democratic: Former Austin council member Greg Casar won this race in March.
Texas House
District 19
Republican: Ellen Troxclair and Justin Berry are vying to be the Republican candidate in this race.
Democratic: Pam Baggett won her primary in March.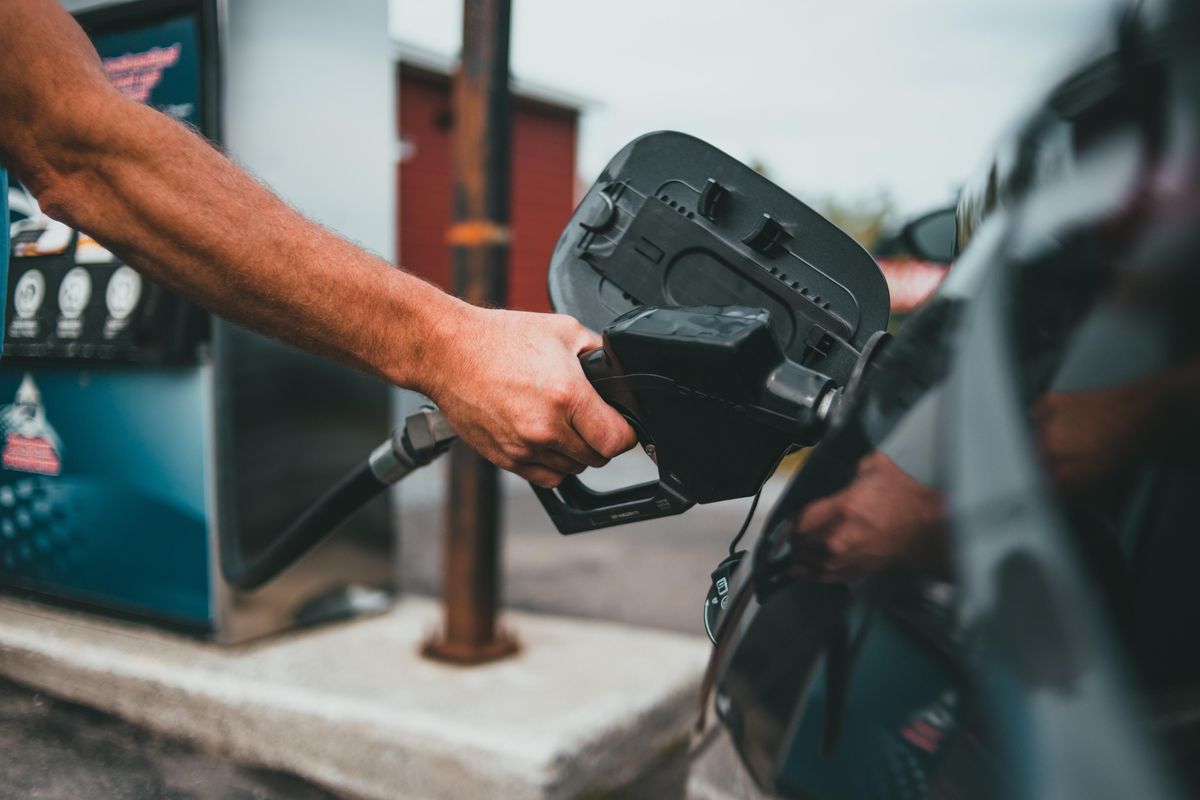 Fuel costs in Austin and across the nation are record high—and they're not going down anytime soon.
Average gas prices in Travis County are sitting a hefty $4.16 per gallon, according to AAA, compared to an average of $2.70 last year. Nationwide, fuel prices are at an average of $4.48 per gallon.
The bill per gallon is the highest ever recorded in Austin but experts don't expect a reprieve anytime soon—GasBuddy head of petroleum analysis Patrick DeHaan said to expect new records on a "near daily" basis.
"There isn't much reason to be optimistic that we'll see a plunge any time soon," DeHaan said, adding to expect prices closer to $5 by the end of the week.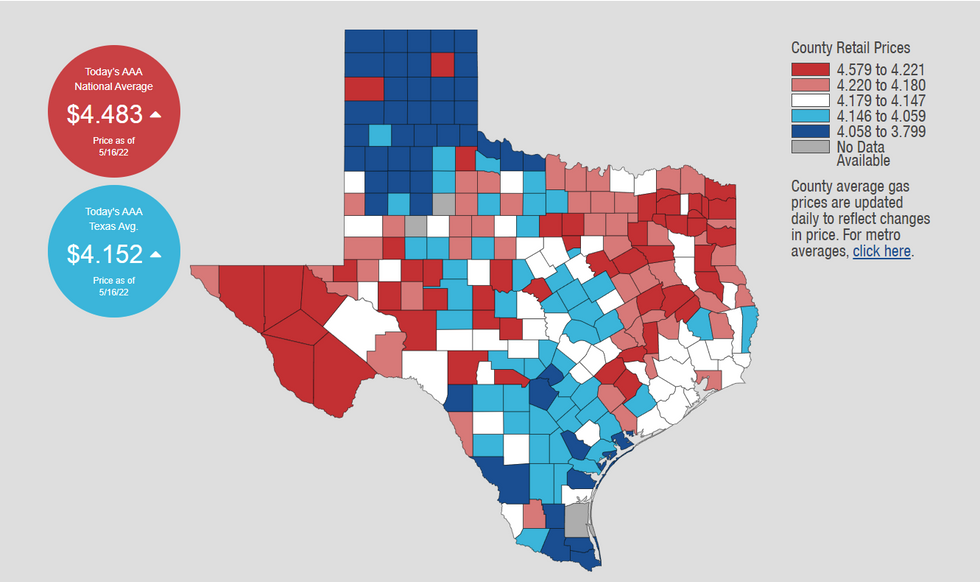 Why are prices climbing? DeHaan says to blame low inventory combined with high demand, more expensive blends and warming temperatures jump-starting "driving season."
While gas prices are marginally cheaper in Williamson and Hays Counties, between $4.12-$4.13, surrounding counties are locked into the same price range.