Get connected with our daily update
(Source: Travis County)
Travis County adults of all ages are testing positive for COVID-19, but it is largely those over 70 who are dying—nearly two-thirds of the total as of May 1.

---
As of yesterday evening, Travis County had reported 58 COVID-19 deaths. Demographic data is available only as of May 1, when there were 51 reported deaths. Of those, eight were of people ages 60-69, 10 were ages 70-79 and 24—or nearly 50%—were 80 years or older. Yesterday, Austin-Travis County Interim Health Authority Dr. Mark Escott told Austin City Council that 30 of the deaths thus far have been of residents and staff at nursing homes and other long-term care facilities.

Racial disparities in Austin COVID-19 deaths have also emerged, as they have across the U.S.
The proportion of white and black residents who have died of the disease is greater than their share of the local population. Hispanics, who make up 34% of the county, account for 26% of the deaths, but they are overrepresented when it comes to hospitalizations, Dr. Escott told Austin City Council on Tuesday.
But so far Austin has avoided overwhelming its health care system, and it has not seen a sharp increase in at-home deaths as a result of the pandemic.
The Austin Public Health Office of Vital Records registered a total of 819 death certificates between March 1 and April 20, an increase of 43 deaths from the same period last year.
With businesses reopening, however, local officials warn of a second surge in COVID-19 cases. Updated modeling, released last week, predicts cases will peak in June and lead to, conservatively, 6,500 deaths. More than half are expected to be from causes other than COVID-19 as a result of people avoiding hospitals—local emergency rooms are already reporting precipitous drops in admissions.
Dr. Mark Hayward, a sociology professor at UT-Austin, said sifting through these factors—on the one hand COVID-19, and on the other, people avoiding care for fear of contracting it—can make it difficult to compile an accurate pandemic death toll.
Lack of testing is another challenge, since it means we will most likely never have an accurate idea of the total number of cases. For example, Dr. Mark Escott has said the county caseload is likely seven to eight times the number of confirmed cases.
"First of all, we undercount the cases," Dr. Hayward said. "And then … we always undercount the deaths."
It may not come as a surprise that dating app use surged during the pandemic when many had to swap the benefits of in-person dating for on-screen connections. Bumble revenue swelled to $337.2 million in 2020 compared to $275.5 million, Hinge revenue tripled in the same period and Tinder users broke two records from January to March of 2021.
What may be more intriguing, however, is that many apps anticipate more growth into 2022. Hinge expects to double its revenue by the end of 2021, while Tinder has announced several new features to meet new demands in time for what some are calling a "third surge" of COVID-19.
Vaccinated Austinites who had been eager for "Shot Girl Summer"—a season of in-person dating, going out and making up for time lost—may have to get back on the apps, at least partially, as cases rise higher than they've been since February and mask recommendations reenter the picture.
Austin-area resident Chloe Mohr, a 22-year-old recent college graduate, had sometimes used Tinder before the pandemic. While the app wasn't a supplemental replacement for deeper connections during stay-at-home orders, it did help her stay in the dating game and continue meeting new people.
"Using dating apps during the pandemic was easy when wanting something casual or entertaining," Mohr, who now works in marketing, said.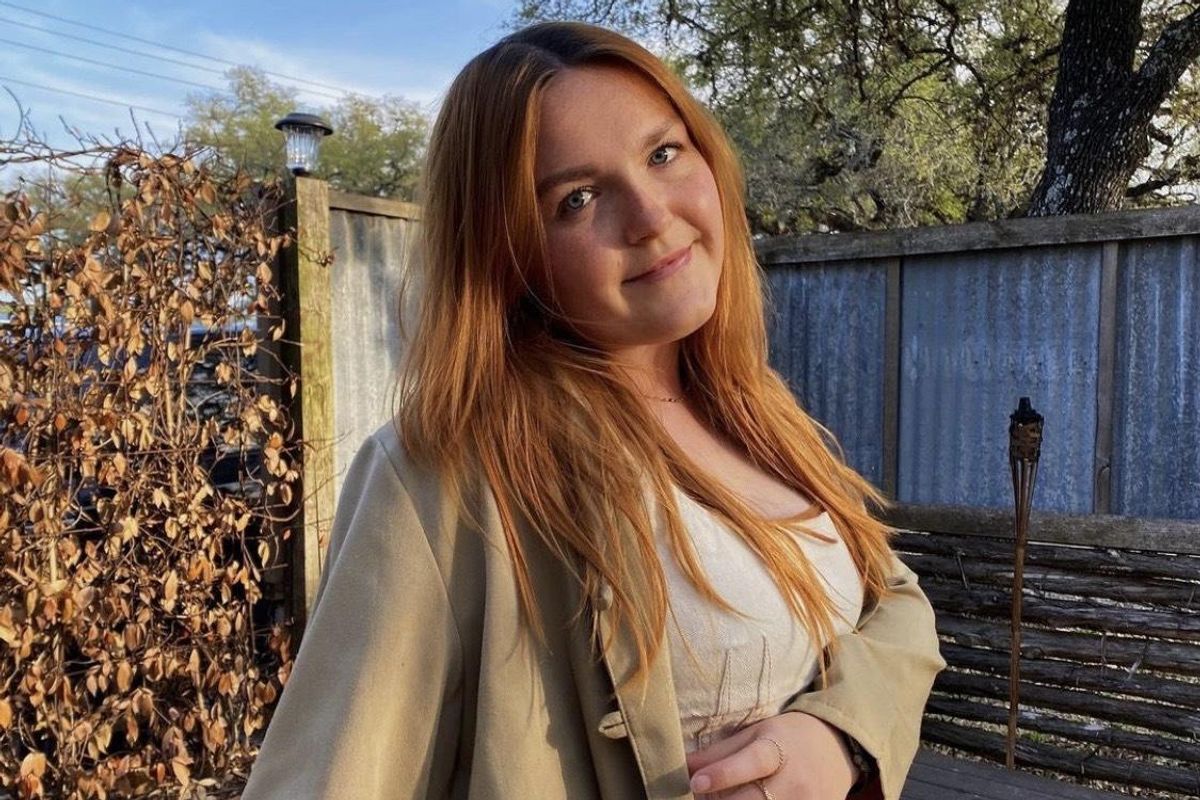 Chloe Mohr turned to Tinder more during the pandemic to stay connected to people. (Chloe Mohr)
Sixty percent of members came to Tinder because they felt lonely and wanted to connect with people, a Tinder study revealed, and chats were 32% longer during the pandemic.

But dating during a pandemic is no walk in the park when there's fear about contracting COVID, Mohr said. She had fears at the beginning
Tinder, Bumble, Hinge and OkCupid have responded to the new dating criteria, adding vaccination badges to profiles in partnership with U.S. and British governments.
In order to meet the demand for a stricter screening process and the superficial nature of swiping, Tinder has also introduced new features that allow users to add videos to their profiles and chat with others before they've even matched.
The new add-ons could be beneficial for the app as interest continues to swell—Google searches for "dating" have hit a five-year high, according to NPR.
But the future of dating could be vastly different—and stay different—even well into the next decade.
According to a Ypulse study, 43% of dating app users said the apps made them feel less lonely in the pandemic. Even post-pandemic, 40% of Tinder users say they plan on video-chatting with their matches before they meet, and being honest, authentic and respecting boundaries have become big talk on the app in the past year.
While it's unclear how the pandemic will shape dating for good, signs show that Austin residents and those nationwide may lean on dating apps once again if social distancing returns to the norm.
With more research done on the COVID-19 Delta variant, Austin Public Health is upping its goal of 70% vaccinated to at least 80% due to the extreme virality of the strain.
As more Delta cases are identified—up to 29 cases are confirmed in Travis County—health officials are urging the unvaccinated to get their shots to contain the spread and relieve hospitals from reaching full capacity.

Austin-Travis County surpassed the Stage 5 threshold on Friday and has reached a seven-day average of 61 hospital admissions. However, Austin health leaders have yet to make an official shift as the Delta variant calls for new guidance, APH Health Authority Dr. Desmar Walkes said at a joint Travis County Commissioners Court meeting on Tuesday morning.
The new guidance has yet to be released, but Walkes said it will take into account the viral load of Delta on both unvaccinated and vaccinated people.
Last week, the Centers for Disease Control and Prevention revealed the Delta variant was as contagious as chickenpox, which has a herd immunity threshold of at least 90% vaccinated.
Although 63.42% of those eligible in Travis County are fully vaccinated, breakthrough cases—where vaccinated people are contracting COVID-19—are being identified. APH has identified 1,496 breakthrough cases of the roughly 800,000 vaccinated. Most breakthrough cases are showing less severe symptoms or are asymptomatic, according to APH.
Health officials are still asking residents to wear masks, although the city cannot mandate any masking orders due to an executive order by Texas Gov. Greg Abbott.
"Our challenge is going to be whether we're going to stand as a community and everyone who can get vaccinated, get vaccinated, and everyone wear a mask—that's what it's going to take," Walkes said.
Save Austin Now is now 2-0 over Austin City Council after its petition to add more staffed police officers to the Austin Police Department was certified, garnering over the 20,000 votes needed to make it on an election ballot.
The petition calls for more police staffing per city resident, quicker response times and more training for city police officers in the wake of increasing violent crime rates nationwide and a year of limited APD staffing. The City Council will now decide whether to implement the ordinance outright or add it to the November election ballot; it will likely do the latter.
Over 25,000 of the 27,778 signatures racked up by the public safety petition were certified as valid, well over the 20,000-vote threshold required to be certified with the City Clerk. City Clerk Jannette Goodall placed the city's seal of approval on the petition on Tuesday morning.
The petition, by the same political group that got the camping ban reinstated through a petition in May, seeks to:
Require minimum staffing of two officers per 1,000 residents
Require a minimum standard of 35% community response time
Add 40 hours of training
Require city council members, Mayor Steve Adler and other city staff to enroll in the Citizens Police Academy
Facilitate minority officer hiring through foreign language proficiency metrics
Austin's 160 patrol vacancies have dropped its staffing rate to 1.2 officers per 1,000 residents, according to the department. APD's response time has increased by about one minute and 50 seconds in a year.
The petition comes nearly a year after APD's budgets were slashed by city council following the summer's Black Lives Matter protests, which saw several demonstrators severely injured as millions called for justice in the police-related deaths of George Floyd and locally Mike Ramos, an unarmed Black man killed by APD officer Christopher Taylor, in April 2020.
Austin and the U.S. have experienced a widespread uptick in violent crime rates in 2021. The city has reached 49 homicides in 2021, higher than the total number of murders in all of 2020 and the 38 homicides in the city in 2019. Austin police officers have seen response times rise as the department suffers increased vacancies and fewer newcomers while cadet classes are being readjusted.
Opponents argue the ordinance would ramp up a policing budget while taking away from other departments including Fire, EMS, violence prevention, and mental health care. City Council Member Greg Casar, the Travis County Democratic Party and the Austin Justice Coalition have spoken out against the organization's latest public safety move, calling out the campaign as a "right-wing petition" that misleads those who sign.
🔥 PANTS ON FIRE: Republican-front group Save Austin Now is lying about their petition!

They say their measure is about police reform, when it's really about devastating our city budget - all for the benefit of the police union. Watch the video here ⬇️ #ATX pic.twitter.com/Z6QQSfhHfH
— Gregorio Casar (@GregCasar) August 2, 2021
The latest battle between city council and Save Austin Now will be decided by Austin residents in the Nov. 2 election.