Austonia AM
100% Austin news, info, and entertainment, straight to your inbox at 6 a.m. every morning.
In five minutes, you're fully informed and ready to start another great day in our city.
Get connected with our daily update
(Iryna/Adobe)
When Dr. Tina Philip opened her family medicine practice in Round Rock in early March, she didn't know that a shelter-in-place order would prevent most patients from visiting her new office, or that she would attend the majority of her appointments virtually.

---
"I'm in a really unique situation," she told Austonia.
While managing the demands of her budding practice, Dr. Philip also sought out volunteer opportunities to help with the local COVID-19 pandemic response.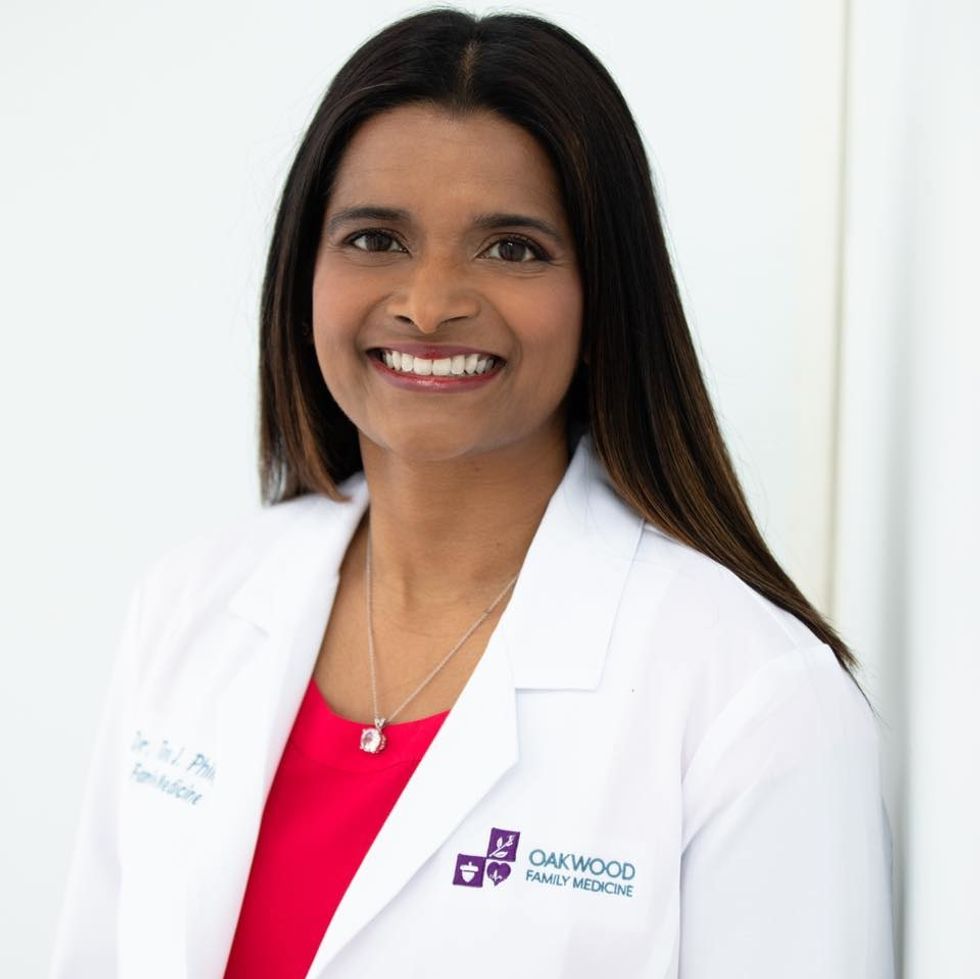 Dr. Tina Philip
She registered with the Texas Disaster Volunteer Registry, a database maintained by the Department of State Health Services, and responded to a call for volunteers from the Travis County Medical Society, which is working to recruit physicians for a field hospital at the Austin Convention Center.
"Family medicine is one of those things that I think is really unique in that we really get trained to see and do everything," she said. "So it's a specialty that's perfect for things like that."
Dr. Philip has previous experience with disaster response, having volunteered in the wake of both Hurricane Harvey and Hurricane Katrina. "Obviously, it's a little bit scarier in this situation than those ones were," she said, not least because she still has her own patients and livelihood to look after.
But Dr. Philip's prepared to take on the additional workload—and believes others are, too. "In general, most physicians, I think, really do want to help," she said. "It's just one of those things that kind of goes with the job."
In search of staff
Dr. Philip joins 181 other area physicians who responded to a request for volunteers issued by the Travis County Medical Society. While ready to work at the convention center, they're on standby status for now.
Local officials delayed the July 21 opening of a 1,500-bed field hospital at the convention center after months of preparation, citing staffing concerns at area hospitals.
"Hospitals have the space, they have the stuff, they need the staff, so it makes sense for us to prioritize that they have the staff they need … before we start moving patients to the alternate care site," Austin-Travis County Interim Health Authority Dr. Mark Escott said at a press conference on Wednesday.
As a result, hospitals and local officials are requesting additional staffing support from the federal government, other states and area staffing agencies.
The first priority is finding staff to support frontline healthcare workers at area hospitals, who are overworked and reporting higher rates of absenteeism, as many recover from COVID-19 themselves or care for family members who have been infected.
But if hospitals reach capacity, the convention center will need staff to care for noncritical spillover patients.
TCMS President Dr. John Abikhaled said the request for volunteers received a "strong and supportive response" in an email to Austonia.
While some respondents are retired, most are actively practicing and willing to work shifts on nights and weekends. Specialties include surgery, pediatrics and emergency medicine.
Because Dr. Philip works five days a week at her practice in Round Rock, she would likely only be able to volunteer at the convention center on weekends. "It'd be a lot of work," she said. "[But] if we can even contribute one shift, one shift is still something."
Something about Q2 Stadium brings the best out of goalkeepers.
Much like Austin FC's Brad Stuver has done throughout the season, U.S. men's national team keeper Matt Turner kept his team alive in a 1-0 victory over Qatar. The match proved to be a battle of stamina as USMNT's Gyasi Zardes netted a last-minute goal to push Team USA to the CONCACAF Gold Cup final.
Turner, who has conceded just one goal throughout the tournament, continually tipped off shots by an offensively-minded Qatar and put up three saves. Turner now has 18 saves in the Cup.
The USMNT stumbled through the first half, falling to a 10-shot deficit in the first 45 minutes. Qatar, which gained quick acclaim as the 2019 Asian Cup winners, has not gone scoreless throughout the tournament and has tallied the most goals in the Gold Cup so far.
Qatar saw their biggest shot to topple the U.S. team in the 61st minute after they were awarded a penalty kick. Turner never had to make a save, however, as Hassan Al Haydos missed the crucial shot.
Team USA regrouped and took the reins of the second half, but it was two substitutions by USMNT Head Coach Gregg Berhalter that advanced the team to the continental final.
The two second-half subs, Gyasi Zardes and Nicholas Gioacchini, proved to be the perfect mix for Team USA. As the final whistle loomed, Gioacchini set Zardes up for the first goal of the game in the 86th minute of play.
But Zardes wouldn't take credit for the game-changing goal.
"It's not just me, it's a whole team effort," Zardes told FS1. "It was a tight game, they're a great team, but our starters did a phenomenal job at wearing them out... and trying to create opportunities to where when the subs came in, we were able to make a difference."
An outmatched Qatar wasn't able to gain ground as the final tally went 1-0 to the U.S. in Q2 Stadium.
While some were concerned at stadium turnout before the match began, the stadium slowly swelled to near capacity as usual in Austin. Berhalter, whose son Sebastian Berhalter is a midfielder at Austin FC, has previously shown admiration for the MLS' newest stadium.
This was the second national team match held in Austin in under a month after the women's national team christened the pitch in June.
Next up, Team USA will play the winners of the Mexico vs. Canada semifinal, which takes place at 9 p.m. Thursday, in the Gold Cup final. The final round of the continent's biggest tournament will take place at 7:30 p.m. on Saturday in Las Vegas.
Ingredients:
1 1/12 oz sweet pepper-infused Tito's Handmade Vodka
3 oz soda water
1 oz grapefruit juice
1/2 oz lime juice
1/4 oz simple syrup
Directions: Add all ingredients, except soda water, to a shaker with ice. Shake and strain into a glass over fresh ice. Top with soda water and garnish with a mint sprig.
The Biden administration is asking cities and states to use pandemic relief funds to pay residents $100 to get vaccinated. Meanwhile, Texas Gov. Greg Abbott reaffirmed prohibitions on pandemic protocols in a new executive order issued on Thursday.
The order emphasizes that "the path forward relies on personal responsibility rather than government mandates," according to a press release. It outlaws government entities from requiring employees to be vaccinated or individuals to provide proof of vaccination and upholds previous orders restricting government entities' ability to impose pandemic protocols.
Local public health and elected officials have asked all Austinites to wear masks indoors, regardless of vaccination status, and unvaccinated individuals to avoid nonessential trips last week given the rising number of local confirmed cases and related hospitalizations in recent weeks. But it is not enforceable under Abbott's order.
The seven-day moving average of new hospital admissions in the five-county Austin metro has more than quintupled since the beginning of July and is now 47.4. The threshold for Stage 5 is 50, according to Austin Public Health's risk-based guidelines.
Despite these trends, Abbott stands firm in his commitment to avoid new statewide mandates and to prohibit local government entities from issuing any of their own.

"Texans have mastered the safe practices that help to prevent and avoid the spread of COVID-19," he said in a statement. "They have the individual right and responsibility to decide for themselves and their children whether they will wear masks, open their businesses and engage in leisure activities."
Public health officials have attributed the current spike to the more contagious Delta variant and unmitigated spread among unvaccinated individuals. Abbott encouraged Texans to get vaccinated if they haven't already but affirmed that it would never be required by the state in his statement.
An increasing number of Austin-area employers—including Ascension Seton, Baylor Scott & White Health, Facebook and the Department of Veterans Affairs—have announced new vaccine requirements in recent days. Austin Mayor Steve Adler asked the city manager to enact a similar requirement on Wednesday, but the city is unable to do so due to an executive order issued by Abbott in April.