Get connected with our daily update
(Dave Creaney)
Welcome to Austonia, a new, locally owned news company reporting on news, business, and politics in Austin. Like what you see? Sign up for our daily newsletter to get our latest stories in your inbox.
Ben Ballinger can't remember the last time he went more than two months without playing music in front of an audience.
---
But with venues throughout Austin closed since mid-March as part of precautions related to the COVID-19 pandemic, the singer-songwriter said he hasn't set foot on stage since late February, when he performed at a local fundraiser for one-time presidential hopeful Bernie Sanders.
That hiatus came to an end May 7, however, thanks to some ingenuity—and Ballinger's instinct that Austin music fans are hungry for a chance to experience live music again.
Along with fellow songwriter David Ramirez and the duo of Kevin Curtin and Gary Lindsey, Ballinger booked a drive-in style concert in an undisclosed field in south Austin that accommodates 25 vehicles.
Once at the location, which was distributed only to ticket holders, passengers stayed inside the vehicles and listened to the live performances on the car radio via a low-power FM transmitter. Since all 25 slots, at $20 each, sold out in less than two hours, Ballinger said he's encouraged that local fans are ready to support live music again even if they have to do so in an unusual setting.
"My stir-craziness, if I have any, is not why I wanted to do this. But I did sense an overall stir-craziness in the community and that definitely played into it," he said. "I tried to do as much market research as I could because I didn't know how it would be received and everyone has different levels of precautions. As soon as they heard what I was thinking, everyone thought it was a great idea."
The do-it-yourself gusto that inspired Ballinger to organize the concert roughly two weeks after first conceiving of the idea means attendees had a far different experience than they've grown accustomed to while attending shows in any of Austin's dozens of bars and live music venues.
Performers used a cargo rack atop Ballinger's Chevrolet Suburban as their stage, with no alcohol on sale. Concert flyers acknowledged the lack of public restrooms on-site, which Ballinger said played a part in the decision to keep the concert short, at 90 minutes total, as a way to minimize discomfort.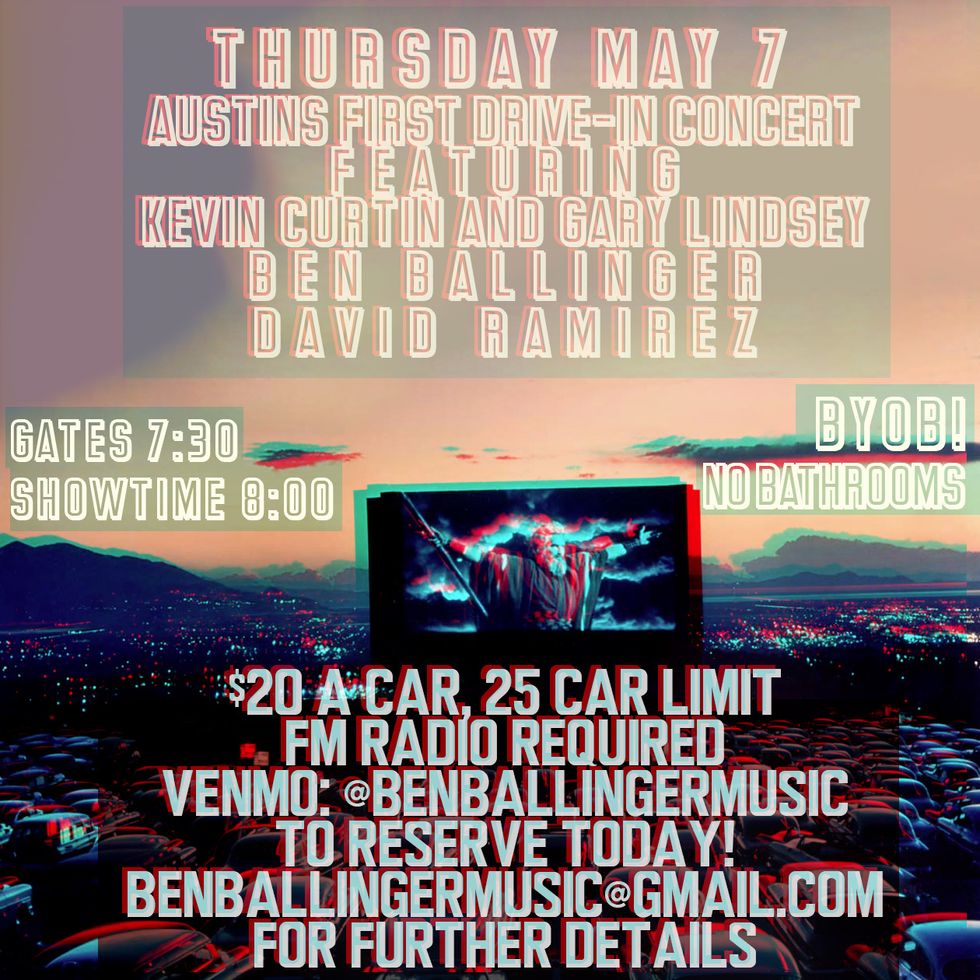 Tickets for tomorrow are sold out, but Ballinger plans to make this a weekly event.
The quick sellout has Ballinger planning to host performances weekly and he's encouraging interested acts to contact him via email (see flyer) to take part in what he said is likely to be one of the most nontraditional concert settings he or anyone else involved have ever been a part of.

"There's definitely a heartbreaking aspect to it—that in any other situation I'd be uncomfortable with the awkward distance we're going to have between us. But given the circumstances it's the best we can do right now," he said. "It's going to be unique. Part of why I felt emboldened to try it was because if anywhere was going to have something like this, this is the place where it could happen and the people here would support it and be open to it."

Concerning levels of cylindrospermopsin were discovered on Sept. 22 after a person got sick and samples were sent to get tested on Sept. 9. Signs will be posted at access points to Sculpture Falls that people and their pets should not injest or swim in the water.
Unlike the harmful algae making dogs sick in parts of Lake Travis and Lady Bird Lake in past summers, these toxins are found in the water, the city says. Barton Creek visitors are asked to avoid stagnant water especially.
The toxins also result in different health effects than the harmful algae in Lady Bird Lake, including liver and kidney damage. If exposed, people can feel:
Fever
Headache
Vomiting
Bloody diarrhea
If exposed, people should seek medical attention and report it to 311.
TinyFest Texas 2021
When: 10 a.m. Saturday – 5 p.m. Sunday
Where: Jourdan-Bachman Pioneer Farms, 10621 Pioneer Farms Drive
What: Tour tiny houses, van converstions, shipping container homes and more at this year's TinyFest. Grab tickets here for a weekend of speakers, workshops and panel discussions plus live music, food and more!

Fierce Whiskers Grand Opening
When: 12 p.m. Saturday
Where: Fierce Whiskers, 5333 Fleming Court
What: Fan of whiskey? Come along to the free grand opening of Fierce Whiskers Distillery's new tasting room. Enjoy bites from a food truck, oysters, musical performances and a raffle.

Austin Summer Carnival
When: 6 p.m. Saturday – 2 a.m. Sunday
Where: The Venue ATX, 516 East 6th St.
What: Don your dancing outfit for this carnival that celebrates the African heritage with Brazilian, Latin and Caribbean rhythms in Austin. Snag your tickets here.

Beginner's Succulent Arrangement and Planting
When: 3 p.m. – 4 p.m. Sunday
Where: Succulent Native, 5501 North Lamar Blvd.
What: Calling all first-time planters: Get your hands dirty and learn about succulent and cactus arrangement and care. No tools required! Grab your tickets here.