Never miss a story
Sign up for our free daily morning email...
...and afternoon text update
Get connected with our daily update
Welcome to austonia.com, a new local news site for Austin. We're local people producing local stories. 100% free for news, trends, controversies, celebrities. Sign up for daily updates to get our latest stories in your inbox.
When Amie Jean won her election as student body vice president at the University of Texas-Austin last year, the career-driven business school senior saw it as her chance to enjoy campus life for her last few months as a student.
---
Then campus life went away, shut down by the pandemic. But even more alarming was what disappeared with it: The long list of career prospects she had been lining up with years of hard work, networking and resume building.
The irony hasn't escaped Jean, 22, who graduates from the McCombs School of Business on Saturday in a virtual commencement ceremony for the University of Texas.
But she's trying to maintain a positive outlook about the uncertain future.
"If we all don't know, then at least I'm not alone," she said with a laugh.
Economists mince no words about what college graduates face: The economic crash that followed the shutdown left behind an economy at its weakest since the Great Depression, with a national unemployment rate of 14.7% and a Texas unemployment rate at 12.8%, the state's worst on record, according to U.S. labor statistics released Friday.
"The job prospects are dismal at the moment," said Michael Sadler, senior finance lecturer and economist at McCombs, adding that the few openings are not in entry-level fields. "Many of my students at UT have had job offers revoked or deferred, and those that were going to internships have seen those canceled."
Experts also predict that students graduating in a recession are also likely to make less money in the long term.
"Exactly when you graduate, and the existing economic conditions at the time, has permanent effects on earnings over the lifetime of an individual," Sadler said.
Charlotte Gorman, 26, who is getting her master's degree Saturday from UT's LBJ School of Public Affairs, hopes that working for the government will insulate her from the pay issues and job insecurity.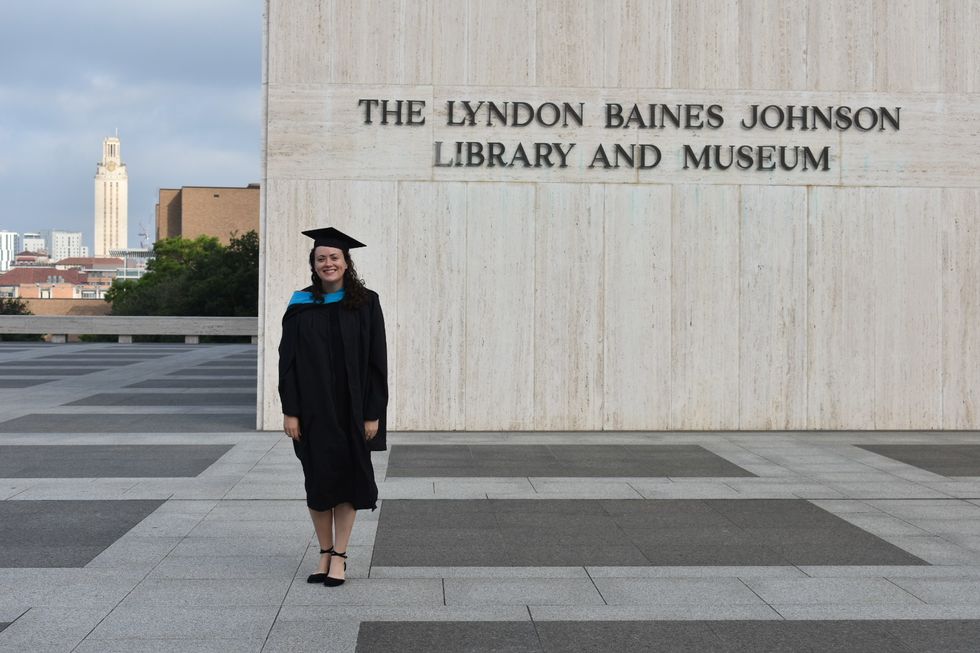 Charlotte Gorman is graduating from the LBJ School. (Charlotte Gorman)
She snapped up a one-year fellowship in Washington D.C. in March when she realized that job opportunities were drying up. They have told her it will happen, she said, though the start date has been delayed.
"I don't know what things will look like a year from now," she said, "but I will at least have a year of experience under my belt rather than being fresh out of school."
At placement company Express Employment Systems in Austin, owner and recruiter Mark Wagner has heard from more student job seekers since the shutdown. He's also seen fewer companies hiring talent with no job openings—a common corporate strategy to keep good people away from competitors.
It's a practice he said likely won't come back soon, maybe not until a vaccine is found.
The rebound can't come soon enough for Shelby Evans, who gets her master's degree in public affairs on Saturday.
Calls and informational interviews with prospective employers dried up in March, she said. Now, she is watching her sizeable student loan balance gathering interest while she job hunts.
"I am sure things will get back to normal, and it's just a matter of when," Evans said. "But 'when' really matters when you have a bunch of debt."
First score made by LAFC. (Sonia Garcia/Austonia)
Austin FC couldn't find the stamina to fight off a 2-0 loss against LAFC for their inaugural match on Saturday.
The match, which saw No. 21 Austin FC go head-to-head with No. 2 LAFC in Los Angeles, was broadcast nationally on FOX and FOX Deportes.
Eleven players took the stage as Austin FC players for the first time, with five starters making their MLS debut. "Ringleader" Alex Ring took the captain's armband and wore it well. The defensive midfielder could be seen leading his teammates through their first ever match, but it wasn't enough to stage an Austin takeover in LA.
In the signature style of Head Coach Josh Wolff, the team played with quickness and intensity, nearly connecting on several fast breaks. It was harder for them to stay in front, however, something that Wolff credits with quick decision making and a tough LAFC defense.
"We have a quick attacking team, but I think when you make quick attacks and it fizzles it's just about some decision making," Wolff said. "Are we in position to finish attacks? If not, can we reestablish our attack and get stuff better?"
The club was given some generous breaks from No. 2 LAFC, who had one or both of their star DPs out for the half. While forward Diego Rossi is out for the entire match due to a hamstring injury, Carlos Vela was accidentally pulled too soon on what turned out to be a miscommunication.
"He gave us the sign that he needed to come off," LAFC Head Coach Bob Bradley said on broadcast. "I can't say more than maybe it's my fault."
LA pulled some dramatics and slowly gained more possession throughout the half, but ATXFC's defense wasn't initially as shaky as it seemed in preseason. Jhohan Romana has pulled his weight in getting the ball out of goal, and a 34-year old Matt Besler held his own in center back.
As the second half commenced, however, it became clear that LAFC had the advantage over Austin's first major league team.
Goalkeeper Brad Stuver had his work cut out for him, fending off 24 shot attempts, 11 of which were on goal. He didn't have much time to prepare, either: in the first 30 seconds of play, Stuver had already made a save to keep the match 0-0.
LAFC finally connected in the 61st minute of play as Corey Baird shot one into the bottom right corner. The team capitalized off their momentum and put one past Stuver a second time, drawing roars of approval from the LAFC crowd.
While some last-minute attempts from Jon Gallagher and others were made, Austin FC didn't have the endurance to bring a tie. After seven additional minutes of stoppage time, the club lost their first match 2-0.
While the scoreboard tells one story, Wolff said that the team did well considering the skill of LAFC and the pressure of their club debut.
"We've got to be realistic," Wolff said. "This is the first time this organization has been in front of TV with an opportunity to show itself and I think there were some promising moments. And we're going to maximize those and continue to try to develop those, but there's lots to build on."
The team may have lost, but it still won the support of thousands of Verde fans, dozens of which made it to watch their team's first match. When Stuver and the team made it to bthe stadium, Los Verdes fans were already there to show support, and Stuver said his wife saw the same back in Austin.

"The moment that we pulled into the stadium, we saw Black and Verde fans cheering us on as we got to the stadium," Stuver said. "During warm up, you can just look around and see different groups sitting in different sections of the stadium and it's just truly amazing to see the support in our first game. We know that we want to give the fans everything, because this we play for the city and we play for them."