Never miss a story
Sign up for our free daily morning email...
...and afternoon text update
Get connected with our daily update
(Starting Strength Austin)
Earlier this week, Texas Gov. Greg Abbott announced gyms and fitness studios can open at 25% capacity starting May 18—just over two months after local stay-home orders required them to close. They'll join a growing list of businesses—including restaurants, malls, movie theaters, barbershops and tanning salons—that have received the green light from the state amid the coronavirus pandemic.
---
But like restaurateurs and hair salon owners, personal trainers and yoga teachers are responding at their own pace—with some planning to reopen as soon as they're allowed to, and others waiting for more information from health officials and clients.
Starting Strength Austin, a franchise location on West Anderson Lane, is reopening May 18, and coach Jarrod Schaefer said he expects it to be close to full—within capacity limits. "We always wanted to open as soon as we could do so without getting into any trouble," he said.
For Schaefer, strength training is essential to health and wellbeing, and he feels a responsibility toward his members to get back to work. "We think that [reopening] will make the situation that they're in, because of the pandemic, a lot better for them," he said.
Each Starting Strength member will get their own 11-foot-wide training area and bag of chalk, and equipment will be disinfected between uses. Typically, the gym is restricted to 12 members at a time; when it reopens, that number will go down to eight. While some members have wanted to have long conversations with Schaefer about safety protocols, others have already scheduled sessions.
Matt Ryan, a personal trainer and owner of Heavy Mettle Fitness, is hearing similar feedback from his clients. While some are more comfortable continuing with virtual sessions, about half are ready to resume meeting in person. "I will be training as long as the client feels comfortable," he said, adding that he plans to wear a mask when they are allowed to resume May 18.
Other fitness studios are waiting for more information before making a decision either way.
Caroline Caswell and Brandi Jo Perkins opened Earth Commons in East Austin on March 15 after months of preparation—and one day before local officials issued stay-home orders that required them to close. The apothecary offers private holistic consultations, workshops and space for yoga classes and other events.
While Caswell and Perkins are itching to reopen, they have not yet decided when they will do so and are looking to their community and like-minded businesses for guidance.
"We're just really trying to be cautious and thoughtful, especially as a business that is here to help people in their health," Perkins said.
Earth Commons was able to shift its retail business online, with good response, the owners said. But their vision in opening the business was to create a gathering space, and some planned classes—such as one on ayurvedic self-massage—require in-person attendance.
"We don't want to have a class if people are questioning, 'Is this safe or not?'" Caswell said.
Similarly, Wanderlust Yoga—which has locations downtown and at the Domain—is staying closed until "every available precaution" can be taken, instructor Zoe Welch said. "Our plan is slow and safe," she added.
In the meantime, the local business has raised more than $20,000 through GoFundMe to help staff and is offering classes and workshops online. "If anything, we've been getting requests to keep the online yoga for as long as we can—even once we deem it safe to open the doors," Welch said.
Earth Commons and Starting Strength have also been pushed to develop their online audience during this shutdown period. But Schaefer said it doesn't replace the core business, adding: "We can't stay closed forever."
Austin FC couldn't find the stamina to fight off a 2-0 loss against LAFC for their inaugural match on Saturday.
The match, which saw No. 21 Austin FC go head-to-head with No. 2 LAFC in Los Angeles, was broadcast nationally on FOX and FOX Deportes.
Eleven players took the stage as Austin FC players for the first time, with five starters making their MLS debut. "Ringleader" Alex Ring took the captain's armband and wore it well. The defensive midfielder could be seen leading his teammates through their first ever match, but it wasn't enough to stage an Austin takeover in LA.
As Austin FC took the stage for their first-ever match, they appeared more experienced than their track record. The club held LAFC to a scoreless first half, keeping about equal possession of the ball.
In the signature style of Head Coach Josh Wolff, the team played with quickness and intensity, nearly connecting on several fast breaks.
The club was given some generous breaks from No. 2 LAFC, who had one or both of their star DPs out for the half. While forward Diego Rossi is out for the entire match due to a hamstring injury, Carlos Vela was accidentally pulled too soon on what turned out to be a miscommunication.
"He gave us the sign that he needed to come off," LAFC Head Coach Bob Bradley said on broadcast. "I can't say more than maybe it's my fault."
LA pulled some dramatics and slowly gained more possession throughout the half, but ATXFC's defense wasn't initially as shaky as it seemed in preseason. Jhohan Romana has pulled his weight in getting the ball out of goal, and a 34-year old Matt Besler held his own in center back.
As the second half commenced, however, it became clear that LAFC had the advantage over Austin's first major league team.
Goalkeeper Brad Stuver had his work cut out for him, fending off 24 shot attempts, 11 of which were on goal.
LAFC finally connected in the 61st minute of play as Corey Baird shot one into the bottom right corner. The team capitalized off their momentum and put one past Stuver a second time, drawing roars of approval from the LAFC crowd.
While some last-minute attempts from Jon Gallagher and others were made, Austin FC didn't have the endurance to bring a tie. After seven additional minutes of stoppage time, the club lost their first match 2-0.
It's matchday! Austin FC—Austin's first major league sport team—kicks off its debut season in Los Angeles today after years in the making. We know how much this means to our beloved city and are taking you along with us as we journey to LA!
Austin FC writer Claire Partain and I are excited to bring you game-day coverage straight from the City of Angels. Check back here for updates, and visit our socials: @austonianews for the latest.
5 p.m: Kickoff!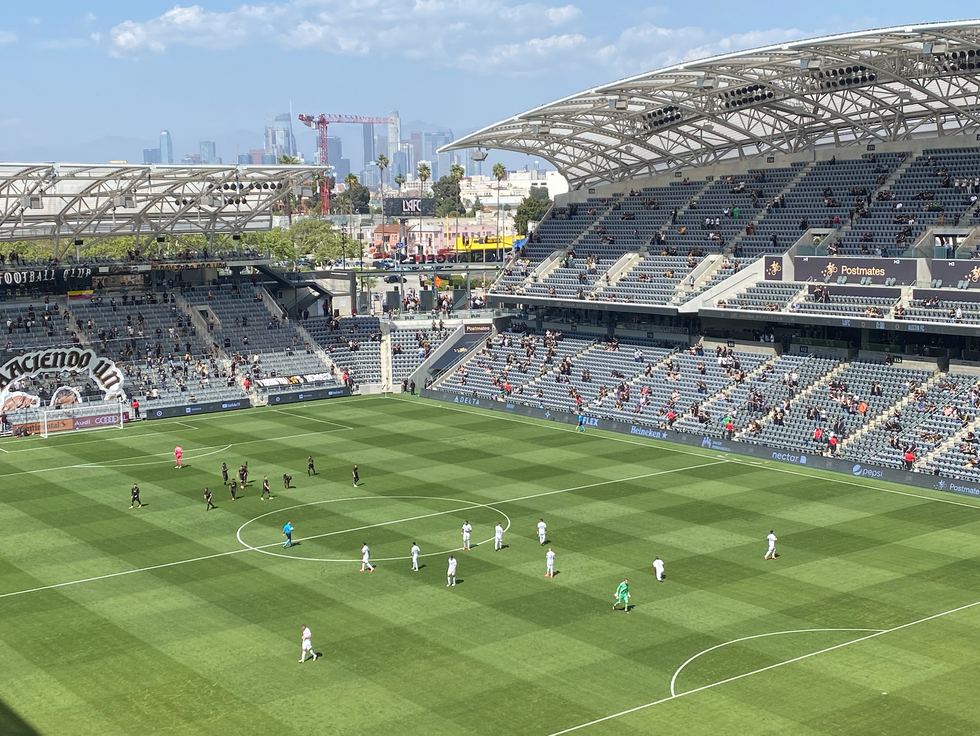 It's finally here! Claire will be updating Austonia's Twitter account live. And we'll post her game recap after the game. Best of luck Verdes!
4:40 p.m: Excitement radiates back home
Watch parties are in plenty supply back home. Austonia's Laura Figi visited Circle Brewing Co. and found a crowd of excited supporters.
4:20 p.m: Austin FC supporters are in the stadium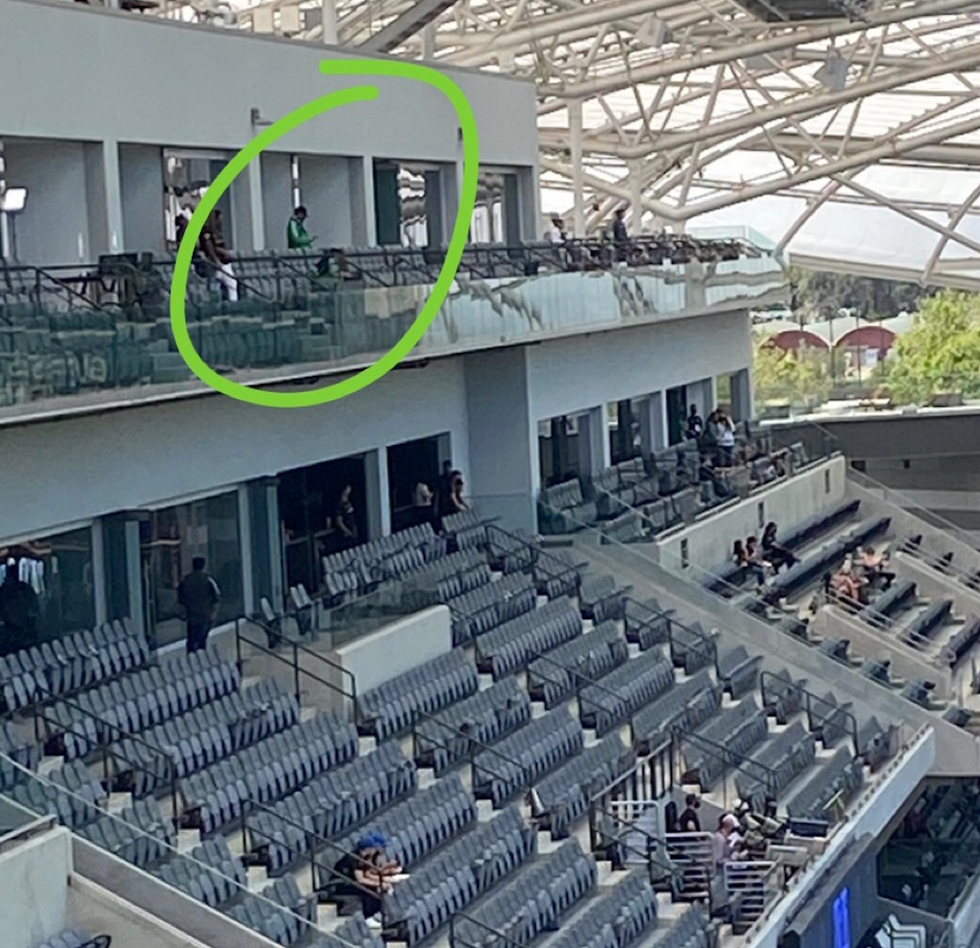 Although the Banc of California Stadium is hosting the match at limited capacity, we see some green in the stands ahead of kickoff. Just moments away from the Austin FC's debut!
~3:20 p.m: Austin FC's team bus enters the stadium grounds
With a warm welcome from Los Verdes, Austin FC players were welcomed into the Banc of California Stadium.
~1 p.m: Los Verdes in LA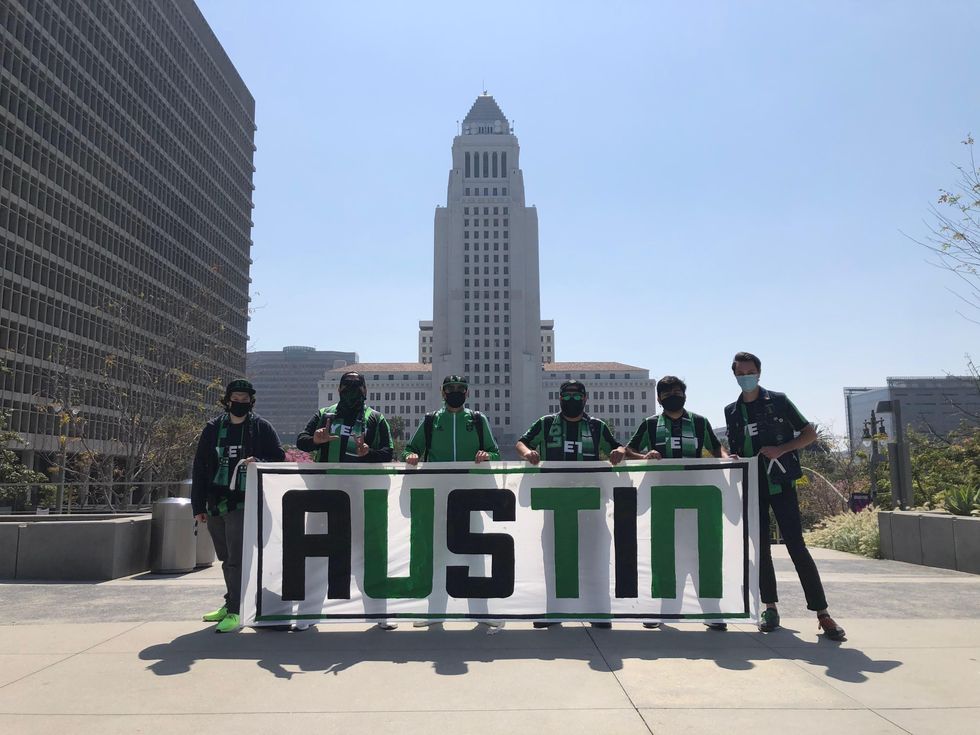 (Rigo Rodriguez/Los Verdes)
Austin FC supporters are making their presence known in LA, including the Los Verdes group.
Los Verdes members started having match-day fun around the area this morning with brunch. We'll be joining them about an hour before the game outside the stadium to share some of their excitement. We'll post immediately to Austonia's Instagram.
11:45 a.m: We landed!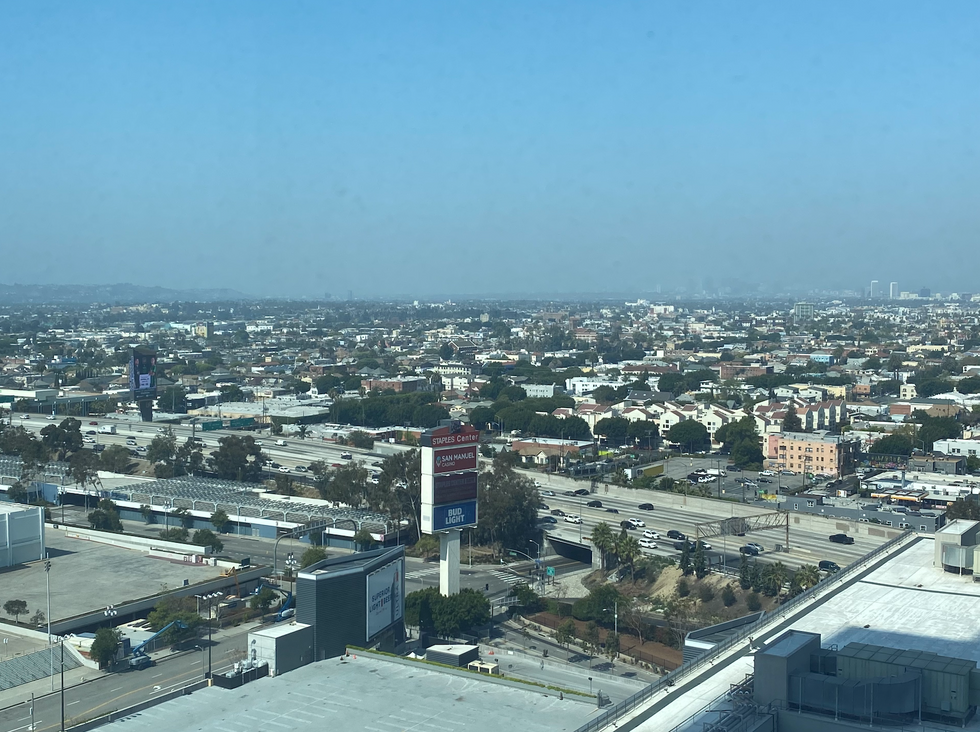 View from hotel room where we're staying; the stadium digital sign can be seen in the right corner. (Sonia Garcia/Austonia)
Switching over to pacific time, we're here and it's almost like no time went by. It's 9:45 a.m. here.
We've been in contact with Los Verdes, an Austin FC supporter group, who is also here in LA counting down to kickoff.
8:20 a.m: LA bound
Like many of you, we've been looking forward to this moment for, let's just say, a very long time. Today, we woke up bright and early, headed to Austin-Bergstrom International Airport and hopped on a flight to LA.
A gloomy day in Austin with a very quiet airport, we're headed to sunny skies in California.
As we wait for the game to start at 4:30 p.m., check out Claire's preview of the game with a predicted lineup and timeline of the long journey to get here.