Austonia AM
100% Austin news, info, and entertainment, straight to your inbox at 6 a.m. every morning.
In five minutes, you're fully informed and ready to start another great day in our city.
Get connected with our daily update
(Central Texas Food Bank)
Since the COVID-19 pandemic arrived in Austin, the Central Texas Food Bank has seen a tenfold increase in food costs.
---
The local nonprofit used to spend about $20,000 a week on food. But most of its inventory came from donations and food recovery partnerships with grocery stores, wholesalers and local farmers. Now it's spending $200,000 a week because of increased need from the public and fewer recovery opportunities, as places like HEB and Sam's Club try to keep their own shelves stocked.
The food bank serves 21 counties and distributed 52 million pounds of food in 2019. It has responded to natural disasters and fed government employees during previous shutdowns. "This has dwarfed anything else we've seen," Chief Development Officer Mark Jackson said.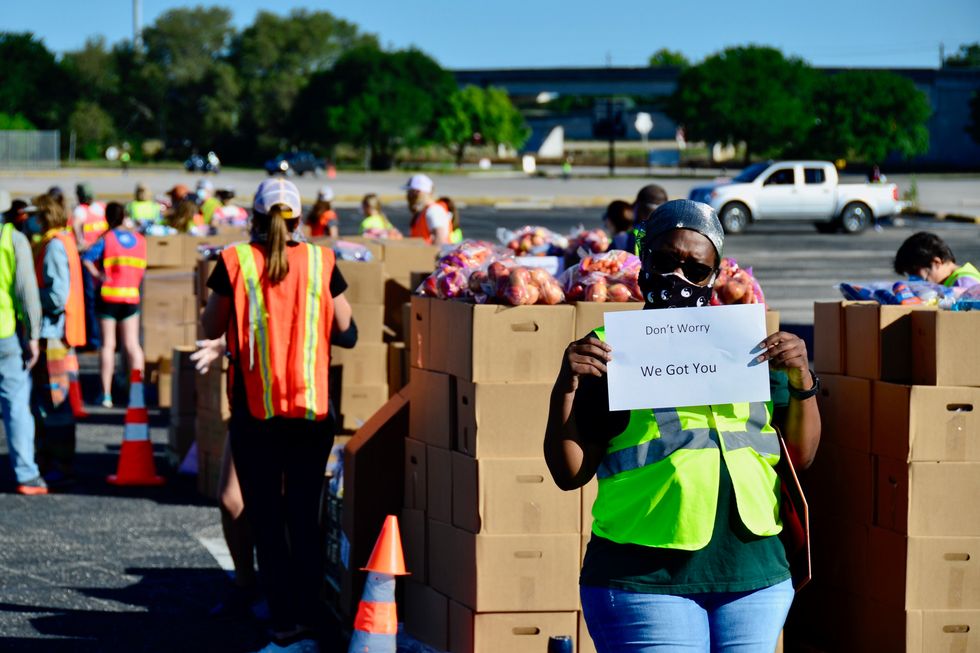 (Central Texas Food Bank)
In addition to increased demand for services driving up operating costs, many local nonprofits are also facing disrupted supply chains, volunteer hiatuses and financial uncertainty. Their most acute need is emergency funding, according to a recent survey conducted by Mission Capital. Nearly half of the 458 responding organizations reported increased demand for their services. At the same time, 80% are struggling to reach their clients because of pandemic-related challenges; nearly half have instituted hiring freezes, furloughs or layoffs; and 65% said they have canceled fundraising events.
Austin Pets Alive is facing this perfect storm of challenges. Since the pandemic began, thousands of residents have fostered or adopted pets, which has been a huge relief, Public Relations and Events Manager Katera Berent said. But the organization has also taken in more animals, as rescues and shelters in rural areas have shut down in response to the pandemic. "That has been a very big change for us," she added.
Meanwhile, APA's normally robust volunteer force—around 2,000 people strong—is largely out of commission with the shelter closed to the public and social distancing recommendations still in effect. Fundraising is also down, which Berent attributes in part to rising unemployment. Its other revenue streams—a couple of thrift stores, which remain closed, and in-person events—have also dried up. "We're a bit nervous," she said.
Foundation Communities, an affordable housing developer, is in the same boat. The nonprofit has suspended its in-person volunteer programs, which provide tenants with services such as tutoring and tax preparation assistance. "We're challenged because most of our work is shoulder-to-shoulder," Executive Director Walter Moreau said.
The organization's annual fundraiser is scheduled for October, which is a concern, as is the economic slump that has accompanied the pandemic. "We've seen some foundations kind of pull back on giving because of uncertainty," he said. "Their endowments may have declined in the market, so they don't have as much money to give."
In response, nonprofits have been forced to adapt. Megan Ambrose—the vice president of marketing and events for Notley Ventures, an Austin-based organization that provides resources and funding to nonprofits and social enterprises—pointed to Code2College as an example. The local organization works to support minority and low-income high school students in STEM fields and has received funding from Notley's Philanthropitch initiative. In response to the pandemic, Code2College's staff has created an online curriculum and is working to develop a virtual alternative for summer internships.
"That's sort of the most inspiring part of the pandemic—is how well the nonprofits and social impact community are adapting and innovating," Ambrose said, while adding that these organizations still need support to survive. "It's a really tough time."
Courtney Manuel is the executive director of I Live Here I Give Here, which works to encourage philanthropy through events such as Amplify Austin. She worries that the worst may still be ahead for nonprofits, as loans such as the Paycheck Protection Program run out and the full economic fall-out of this pandemic becomes clear.
"The community turns to the nonprofit community to support them when times are really dire," she said. "So if we're not supporting our nonprofits right now so that they exist when we're on the other side of this thing, we're not going to have the infrastructure that we need to respond as things continue to unfold."
Matthew McConaughey is reportedly weighing a run for Texas governor in 2022.
The Austin resident and Oscar winner has been "quietly making calls to influential people in Texas political circles, including a deep-pocketed moderate Republican and energy CEO" as he decides whether to run, according to Politico.
McConaughey said a gubernatorial run is "a true consideration" while on a March episode of Houston's "The Balanced Voice" podcast.
Although most political strategists doubt McConaughey's commitment and viability as a candidate, some are still intrigued by the possibility.
"I find it improbable, but it's not out of the question," Karl Rove, a top Republican strategist with a long history in Austin, told the political news site. He added that the big question is whether McConaughey would run as a Republican, a Democrat or an independent.
Brendan Steinhauser, an Austin-based GOP strategist, told Politico he's surprised McConaughey isn't being taken more seriously. "Celebrity in this country counts for a lot," he said. "It's not like some C-list actor no one likes. He has an appeal."

Texas Gov. Greg Abbott plans to run for a third term and remains popular among Republican voters, 77% of whom approve of his performance as of April, according to the Texas Politics Project.
Some strategists believe an independent McConaughey run would benefit Abbott. But a recent poll from The Dallas Morning News and the University of Texas at Tyler found that McConaughey would beat Abbott, 45% to 33%, with 22% opting for someone else.
Mimi Swartz, an executive editor at Texas Monthly, mulled a McConaughey run in a recent opinion essay from the New York Times. "Texas may not be ready for a philosopher king as a candidate, much less governor," she wrote. "May the best man win, man."
Some JuiceLand production facility workers and storefront employees are organizing to demand wage increases, better working conditions (including air conditioning in the warehouse) and pay transparency, among other asks. They are also calling on staff to strike and customers to boycott the Austin-based company until their demands are met.
JuiceLand responded on Saturday. "We are listening," the company wrote on their Instagram story. "JuiceLand crew now makes guaranteed $15 an hour or more companywide."
JuiceLand, which was founded in 2001 by Matt Shook and now has 35 locations in Austin, Houston and Dallas, acknowledged the rising cost of living across Texas and the added stress of the pandemic in an email to employees on Saturday, part of which @juicelandworkersrights shared on social media. "There's no denying that times are tough and financial security means more now than ever," the company wrote.
Organized JuiceLand workers rejected this proposal, according to a recent post on the @juicelandworkersrights Instagram account, and reiterated their demands.
"Cost of living in Austin is rising exponentially and will only continue to get worse with the tech boom," the post read. "$15 is barely a sustainable living."

Related Articles Around the Web