Get connected with our daily update
#Austin 6th street, May 22nd The first day bars have been offically allowed to open. I clocked a thousand + in t… https://t.co/7Iten73QG1

— Taylor Blount (@Taylor Blount) 1590222355.0
Sixth Street bars were flooded with people over the first weekend that they have been open in more than two months.
---
Bars in Austin were shut down March 17 in order to prevent the spread of the coronavirus.
Mayor Steve Adler responded on Sunday to social media videos and photos of the crowds downtown, urging caution.
Please 6 foot social distance and wear a face covering to give the Governor's reopening of the economy the best cha… https://t.co/26zxrkMmAQ

— Mayor Adler (@Mayor Adler) 1590366809.0
At least one person was arrested for firing a gun on Sixth Street.
Daylight hours also saw Austin residents rush back into activity. Four county parks were shut down due to crowding while thousands of people rented kayaks or paddle boards from the Texas Rowing Center—an all time high, the owner told KVUE.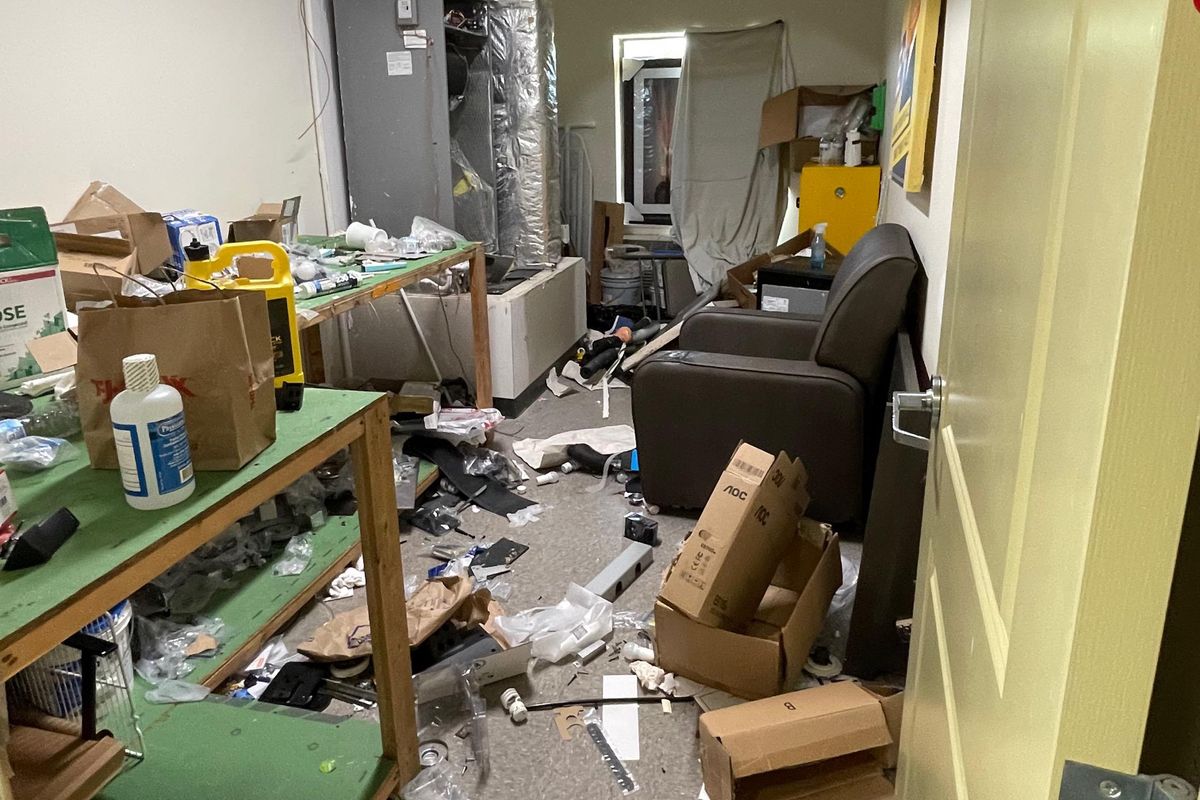 Austin's Homeless Strategy Officer Dianna Gray has apologized after vandals broke into a city-owned hotel in the process of being converted into a homeless hotel.
The break-in was discovered on May 5 at the northwest Candlewood Suites, 10811 Pecan Park Blvd., which had been sitting vacant and unrenovated with no security protocol at the time. The incident came to light after Austin City Council member Mackenzie Kelly, who represents the area, tweeted photos of the damage to the interior.
What she said about the damages:
Damage spans all three floors of the building and is in nearly every room.
The entire hotel was stripped of copper.
Washers, dryers, air conditioners and electrical wiring was destroyed.
Kelly said she learned of people sleeping at the hotel without permission.
Here are the photos of the inside of the Candlewood Suites that I shared during my press conference at 3pm today.

I want to encourage anyone with information regarding this incident to call Crime Stoppers at 512-472-8477. 1/2 pic.twitter.com/2bVBoA6Vba
— Mackenzie Kelly (@mkelly007) May 12, 2022
A memo from the city said security had yet to be initiated due to a delay in processing the request.
The memo also said it introduced security protocols after the incident, which will now be on patrol "day and night."
"The intent had been to have security on site previous to this event," Gray said. "It had been requested, and there was a delay in the request, so it had not been initiated. We acknowledge that as a failure and apologize."
The city bought the hotel—now called Pecan Gardens—in August 2021 for $9.5 million with plans to convert it into 80 supportive housing units as part of the Housing-Focused Encampment Assistance Link initiative.
The city's Homeless Strategy Division expects occupants—individuals exiting long-term homelessness—to move in later this year or early next year.
On Thursday, City Council is poised to approve a contract with Family Eldercare, allowing them to begin renovations.

Additionally, Williamson County Judge Bill Gravell shared photos of an adjoining homeless encampment nearby to the hotel.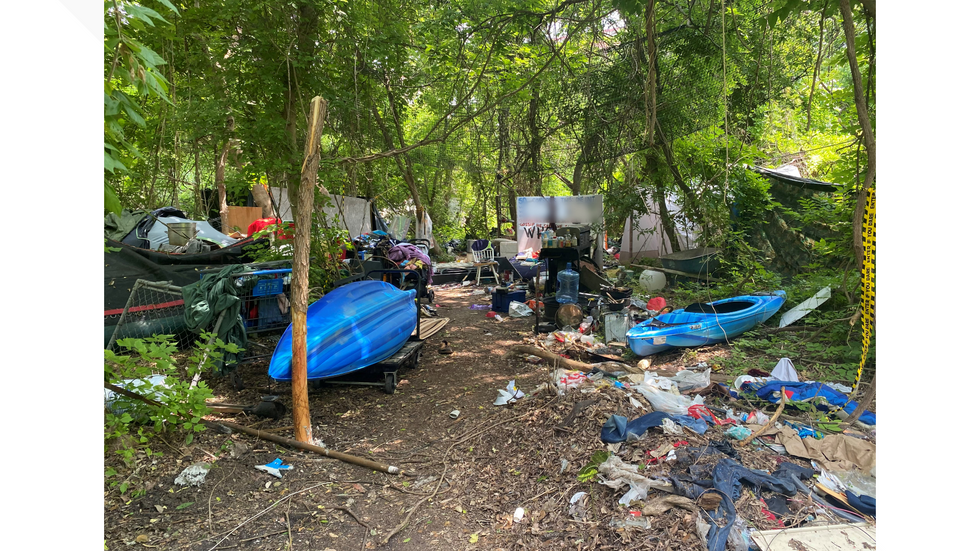 (Williamson County)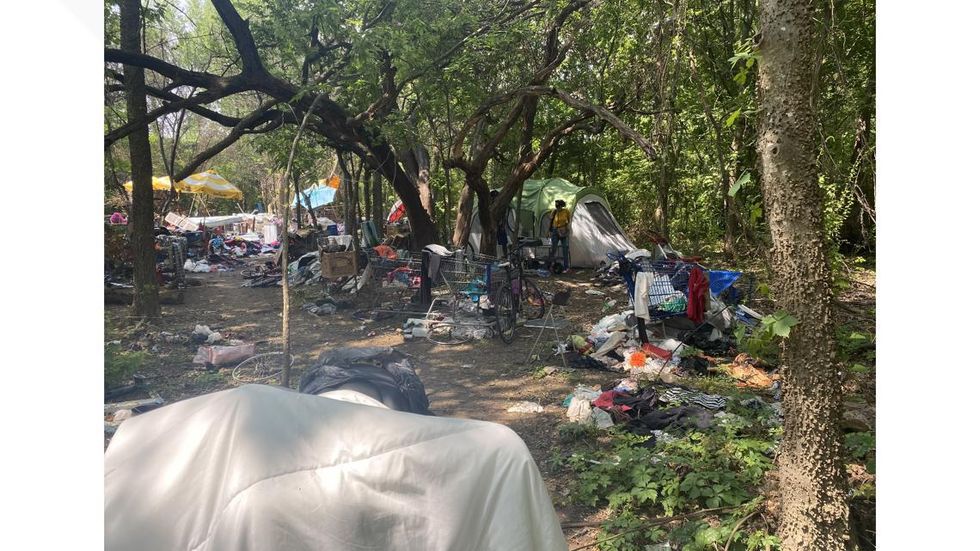 He issued the following statement: "I am deeply disappointed that once again the city of Austin has made decisions regarding their property in Williamson County without involving Williamson County leadership in coming up with solutions. I have heard from our residents that Austin's property has brought crime to their neighborhood. They sent me pictures of what is going on in their neighborhood. The city of Austin made their problem Williamson County's problem, so I promise our residents that I will work to find a solution. Our residents deserve to not live in fear."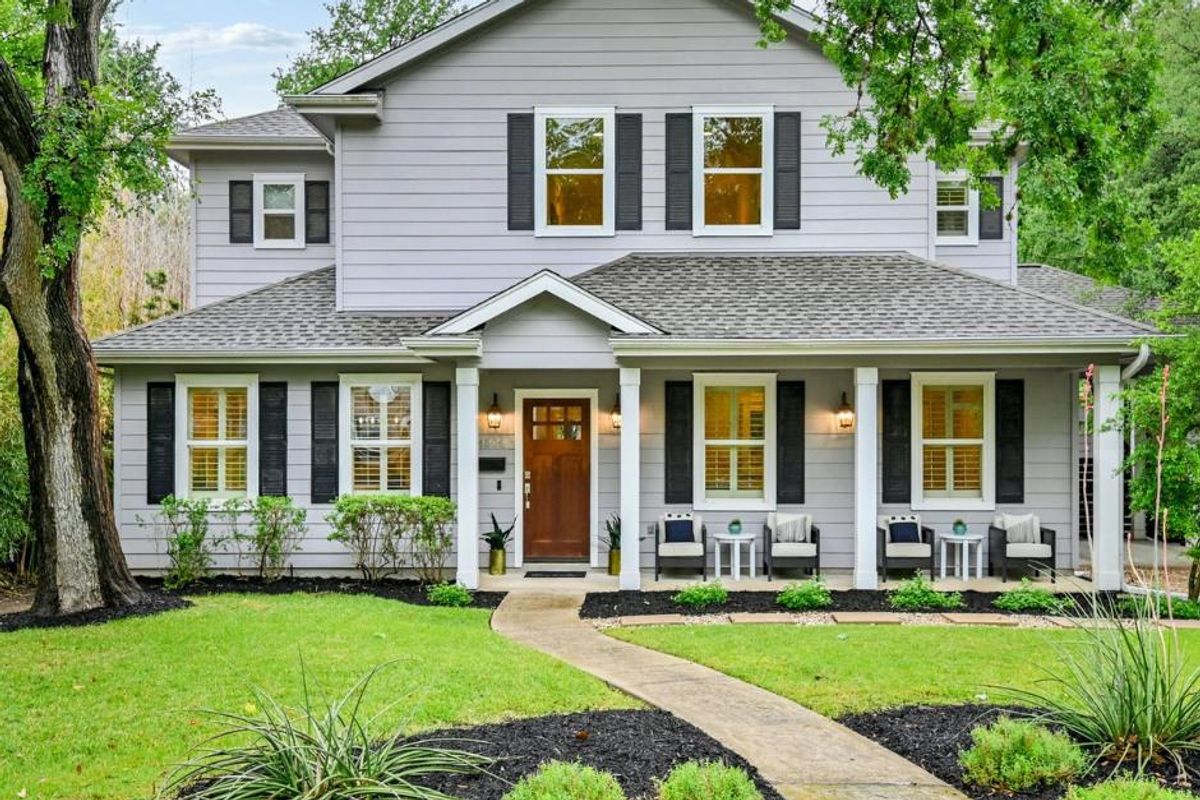 Austin's home sales were on the decline for the second month in a row as the metro's median home price reached an all-time record of $550,000 in April, according to the Austin Board of Realtors' April report.
While home sales were down 6.2% year-over-year, the five-county metro still saw the second-highest number of sales on record.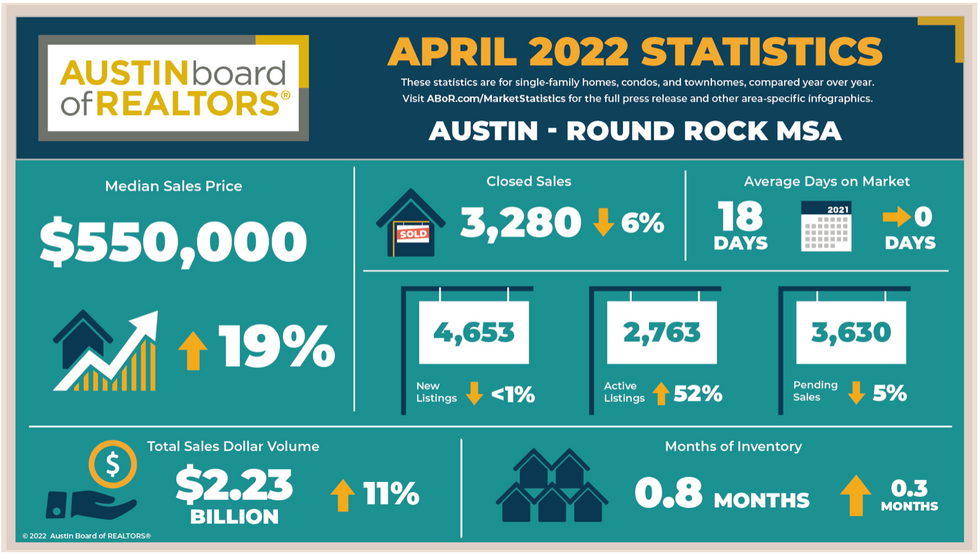 Austin was its year-over-year median home price raise 19%, while sales were down 6% in April 2022. (Austin Board of Realtors)
Here's a look at the numbers behind the month's housing report:
The metro saw 3,280 home sales, 216 short of a record-breaking April 2021
The median home price grew 19.6% year-over-year to $550,0000
Active listings jumped 52.5%, causing inventory to rise from 0.3 months to 0.8 months
The city of Austin has a new all-time median home price record of $640,000
While ABoR president Cord Shiflet said the metro has "far from a healthy number of homes for sale," Austin did see the biggest gain in housing inventory year-over-year since 2017 as the market continues to slowly cool from its pandemic peak.