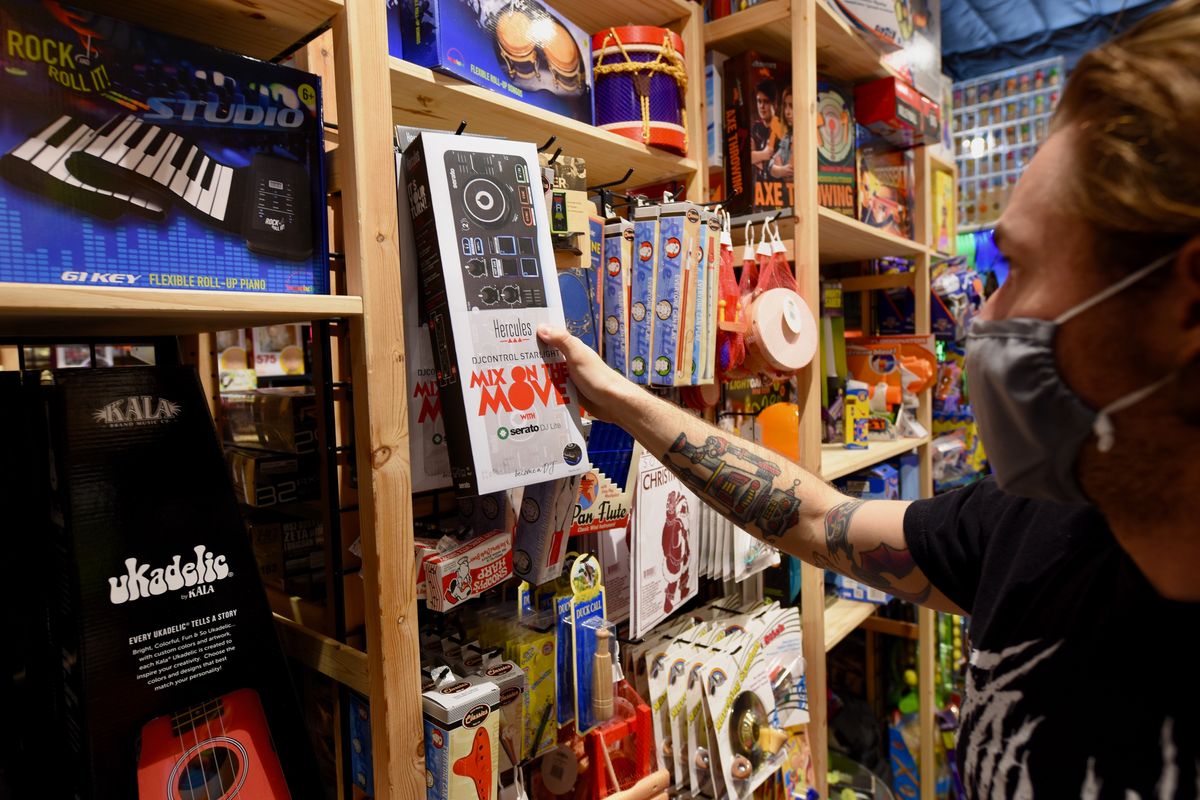 Shelley Meyer, owner of the iconic Wild About Music shop in downtown Austin, was finally able to sell band T-shirts, music posters, and other music-themed gifts today for the first time in nearly a month.

Along with other shops defined as nonessential, Wild About Music has been effectively closed since a March executive order from Gov. Greg Abbott, but as of a new executive order issued last Friday, can now conduct business on a to-go basis.
---
"It has to get better," said Meyer, who also owns Toy Joy, Yummy Joy and Austin Rocks. "The more public it becomes that we're open, it won't just be us trying to tell the world. It'll be more of an expectation."
High fashion, novelty gifts, art, furniture—for weeks, merchants like these have been relegated to selling on national online marketplaces or simply waiting it out with no income.
Abbott's order impacted more than 90% of small businesses across the nation, said Dixie Patrick, president of the Austin Independent Business Association. The group represents about 1,000 independent businesses, about half of which are retail, she said.
Even businesses that the order defined as essential felt the burn. Business is down 70% at Precision Camera, which supplies audio/video equipment to news media and churches, said General Manager Gregg Burger. Customers who weren't regulars assumed that they were closed.
"Everyone will know to call us now," Burger said.
One challenge is to make sure businesses have access to the required hand sanitizer and cleaning supplies, Patrick said.
Another is that some smaller retailers have never been online before, she said, and now that customers can't browse indoors, it's much more important to the store's success.
"There is a subset of people who are really starting from scratch," she said.
At Wild About Music, Meyer and her crew have been moving a couple of guitars a week through reverb.com, a national online music store, but they are still at their highest annual inventory levels every February, when they stock for SXSW, which was canceled.
Their experiments with online sales were a bust in the past because there was too much competition with national online retailers, said Meyers.

Now they've revived their web store and consolidated all their shops' curbside and phone business at their Toy Joy/Yummy Joy location on Airport Boulevard to cut costs.
They also let customers browse their music store through Zoom or FaceTime by appointment—the closest they can get to in-person sales.
Hopefully, she said, it'll be enough for now. While she may be one of the city's larger local retailers, she also has a lot on the line.
"We've got a barrel of stuff and are in a barrel of hurt over this," Meyer said.