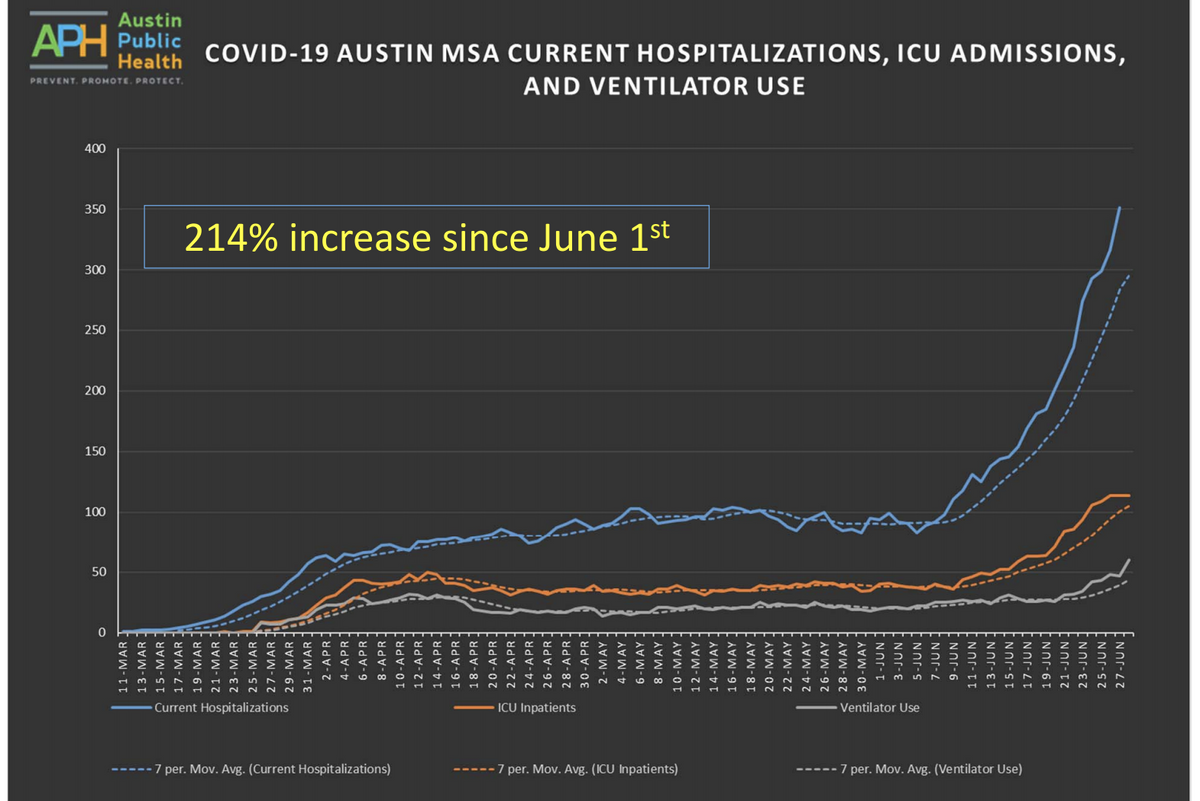 (City of Austin)
Austin's surge in COVID-19 cases, which threatens to overwhelm the area health care system by mid-July, may force a second shutdown, Austin-Travis County Interim Health Authority Dr. Mark Escott told the City Council at a special called meeting Monday.
---
Since June 1, Travis County's average number of daily new COVID-19 cases has increased 372%, from around 60 at the start of the month to around 400 today. The average number of new daily hospital admissions has also skyrocketed in that period, increasing 400% from around 10 to 52.
"We are at the verge of having that recommendation coming from me to the mayor and Judge Biscoe about shutting down again," he said.
Hospital capacity
While there is currently enough hospital capacity to meet demand, that is likely to change in the next few weeks barring any substantial developments, Dr. Escott said. Already, he is hearing from area hospitals that they are hitting their ICU bed capacity and having to transfer patients to other facilities with more space.
To this end, APH is preparing an alternate care site for overflow patients. Although the city has not named its location, a local physician indicated during a press conference last week that it is the Austin Convention Center.
Beyond bed capacity, another concern is adequate staffing. "The beds and the space are not going to be the issue," Dr. Escott said. "It's the people that provide care to those beds are going to be the issue."
Shifting strategy
As a result of this surge, APH has shifted its strategy to maximize its resources and plan for "at least a year" of further pandemic response, Dr. Escott said.
Due to limited tests—as well as limitations on how quickly those tests can be processed by labs—APH has decided to stop testing asymptomatic residents, a practice it began on June 5 following mass protests.
APH will prioritize its testing and contact tracing efforts for symptomatic patients who have been tested recently, people living in congregate settings, workers involved in critical infrastructure and other vulnerable populations.
The department is also looking to shift its testing operation to private companies and contractors, so that it can direct public resources where they are most needed.
Local measures to slow the spread
Travis County Parks will close all parks in its system starting Thur, July 2, 2020 at 8 p.m. and re-open on Tue, Ju… https://t.co/T0JUeKbTDO

— Travis County Parks (@Travis County Parks) 1593455358.0
Travis County Judge Sam Biscoe sent a letter to Texas Gov. Greg Abbott on Monday asking the state to enforce mandatory masking, prohibit social gatherings of more than 10 people, roll back business occupancy to 25% and allow local officials to issue stay-home orders as needed.

"Our numbers of confirmed positives and the lag time between the test results have outstripped both our ability to contact trace and the utility in contact tracing," he wrote. "In summary, the rapid increase in cases has outstripped our ability to track, measure, and mitigate the spread of disease.
Travis County Parks announced Monday that it will close all of its parks, including boat ramps, on Thursday evening through the Fourth of July weekend.
So far the city has not followed suit. When council members asked Dr. Escott whether they should do so, he said he is concerned that it would lead to people gathering elsewhere.