Get connected with our daily update
With a slight decline in the number of new confirmed COVID-19 cases reported last week, a leveling off in the average number of hospitalizations and some evidence that transmission is slowing, Austin residents may be wondering: Is the curve flattening?

---
Experts are united in their response: it's too early to tell.
What we know now
Austin Public Health told Austonia that neither of two critical metrics used by epidemiologists—the daily number of confirmed cases and the epi curve—"shows a flattening."
The epi curve charts the daily onset of illness.
But there are some positive developments.
Dr. Lauren Ancel Meyers, a professor of integrative biology and director of the COVID-19 Modeling Consortium at the University of Texas at Austin, said last week that there is evidence that the transmission rate may have slowed in late June, that hospital stays are shortening, and that the case fatality rate is declining.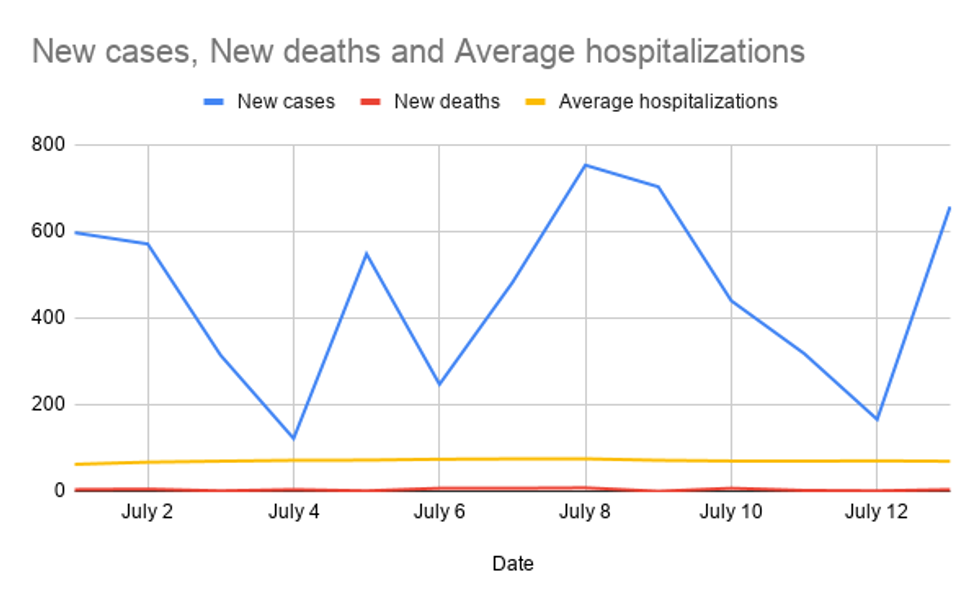 The graph above shows the number of new confirmed COVID-19 cases, reported deaths and the average number of new hospital admissions on a daily basis for the month of July.(Austin Public Health)(Graph by Emma Freer)
There is also reason to believe that things are not getting any better.
The number of daily new confirmed cases increased 19% over the last week compared to the one prior. The average number of new hospital admissions and the total number of reported deaths increased by 6% and 16%, respectively.
There are also delays in the reported data—around two weeks between transmission and the time that cases are confirmed by test results. So while there may be evidence of a slowdown in transmission in late June, that rate could have changed since then.
Experts are particularly concerned that transmission surged around the Fourth of July due to holiday gatherings. But a related increase in new confirmed cases isn't expected until the two-week mark—this Sunday.
"It's very, very uncertain, and we should not even come close to thinking it's time to let up," Dr. Meyers said. "If anything, we should be reinforcing this culture of caution."
What to look for
Dr. David Rubin directs the PolicyLab at the Children's Hospital of Philadelphia, which has modeled the spread of COVID-19 in counties across the U.S. since the start of the pandemic.
He looks for at least two weeks of declining daily new confirmed cases before assuming there is any evidence of a flattening curve.
"It looks like you're still very much in the active phase of the epidemic," he said after reviewing Travis County's dashboard, which shows four days of successive decline followed by a spike on Monday evening—when 657 new cases were reported.
While some policy changes may be having a positive effect, there is also evidence that more are needed.
PolicyLab relies on cell phone GPS data to build their models, Dr. Rubin said, and the available data indicates county residents are not socially distancing enough to flatten the curve—let alone reverse its course.
"It's not like people in Austin haven't been laying low again," Dr. Rubin said. "It's that people have under-appreciated the amount of distancing you actually need to do, even with your masks."
Another concern is that densely populated counties, like Travis, tend to have a more difficult time flattening the curve than less populated ones.
"I kind of want to prepare for people who have been in these really surging areas to understand that it's going to take a while"—in the range of weeks to a couple months—"even with good moves," he said.
The deadline for good moves may be looming.
"It's kind of like, for those people who invest in stocks: do you want to see the market crash before you decide to take your money out of the market?" Dr. Rubin said. "No, you'd like to have a heads up that it's coming."
Want to read more stories like this one? Start every day with a quick look at what's happening in Austin. Sign up for Austonia.com's free daily morning email.
For the first time since July 30, the seven-day moving average for COVID hospitalizations dropped below 50 on Tuesday, reaching the Stage 4 threshold.
At 49, the number is low enough to lower guidelines, but the city has not yet changed its Stage 5 status.
Austin has been in Stage 5, the highest level of Austin Public Health's COVID risk-based guidelines, for over a month as case rates and hospitalizations surpassed last summer's surge, the Delta variant targeted the unvaccinated and a younger demographic and ICUs surpassed capacity in the Austin metro. But with the seven-day moving average at 49 on Tuesday, it may be a sign that the third surge is beginning to end.
On Tuesday, 515 new cases were reported, down from a third-surge peak of 1,261 on Thursday, Sept. 7. Two days after the peak, Austin reported 1,000 COVID deaths and broke a daily death toll record with 23 deaths in a single day.
But while cases and hospitalizations are dipping, the city still has many factors to consider before dropping safety guidelines. Austin Public Health told KXAN Wednesday that key indicators including "positivity rate, the doubling time of new cases, and current ICU and ventilator patients" will need to be evaluated first.
The metro continues to have no ICU beds available as Austin-Travis County Health Authority Dr. Desmar Walkes says patients from other counties come into the area to seek care. Travis County saw 35 COVID deaths for the week of Sept. 17, slightly down from a peak of 36 for two weeks prior.
The lower hospitalization rate comes as Austin reaches a 70% vaccinated population, a number once thought to be needed to reach herd immunity. With the highly contagious Delta variant, however, many think that the new herd immunity rate is closer to 80%. But Austin officials have reported being "cautiously optimistic" as the moving average for hospital admissions slowly declined from their peak of 83.6 on Aug. 11.
"We're starting to see our case numbers decrease over time, and that is an exceptional thing to say at this point, but we're still cautiously optimistic," Walkes said.
Under Stage 4 guidelines with the Delta variant, APH continues to recommend limiting dining to takeout/curbside for unvaccinated or partially vaccinated individuals and slightly lifts shopping and travel guidelines to "only if essential." Stage 4 continues to recommend masks for vaccinated individuals in social and public settings but now includes high-risk vaccinated individuals that were recommended to stay home unless essential in Stage 5.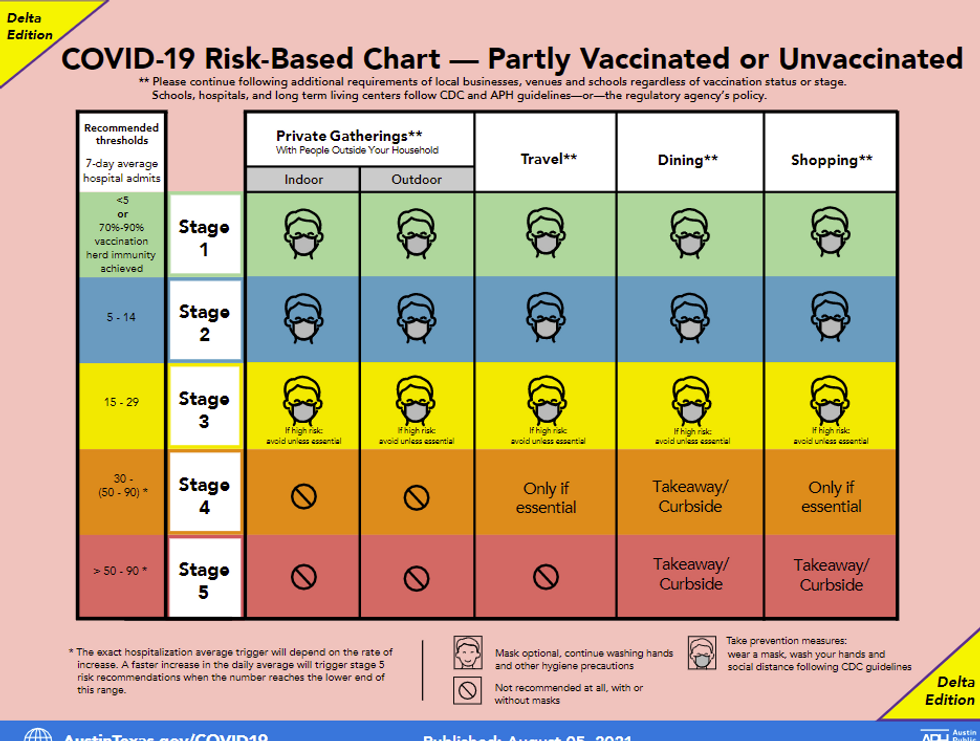 (Austin Public Health)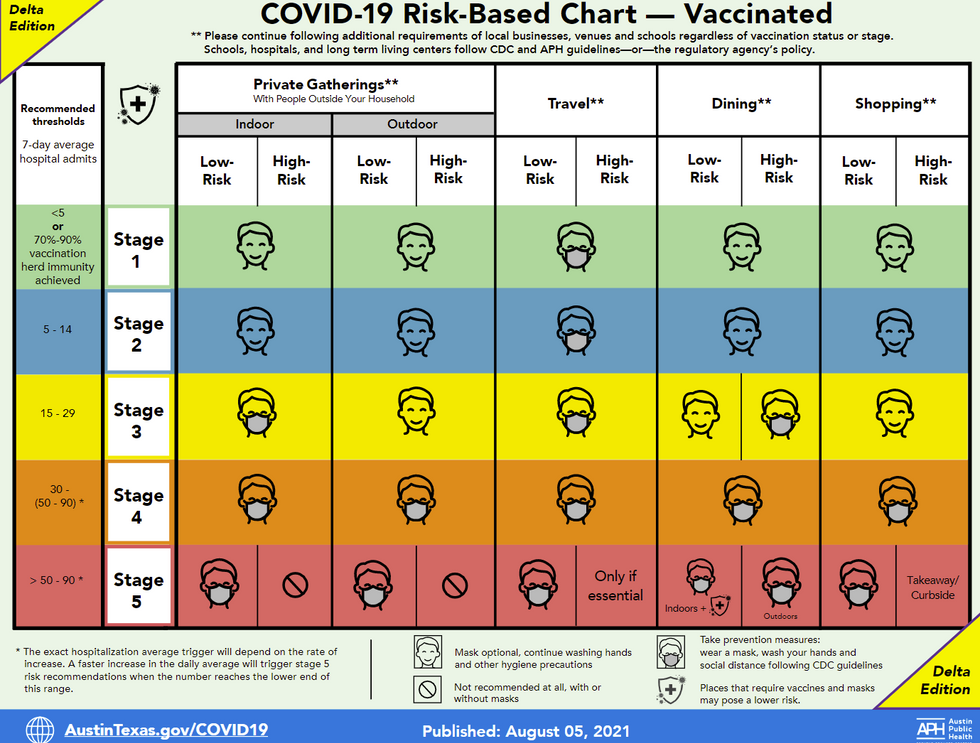 (Austin Public Health)
Austin's new police chief is former assistant chief Joseph Chacon, Austin City Manager Spencer Cronk announced Wednesday morning.

Narrowing a pool of 46 candidates down to seven, then three, Chacon beat out Avery L. Moore, assistant chief of the Dallas Police Department, and Emada E. Tingirides, deputy chief of the Los Angeles Police Department, for the position. Austin City Council will still need to confirm the appointment come Sept. 30.
"I'm confident Interim chief Joseph Chacon is the right person to lead our City's police department to achieve results, build trust and transparency, and accomplish equitable public safety outcomes for all Austin residents and visitors," Cronk said.
Chacon, who was the interim chief for the past six months, will assume the position after Brian Manley retired in March and the department underwent scrutiny with a rise of murders and crime in the city. The Austin Police Department is also undergoing reform as a result of last year's Black Lives Matter protests that ultimately resulted in city council cutting and reallocating millions of the police budget. The department has additionally faced a staffing shortage that predates the budget cuts and was exacerbated by the halting of police cadet classes—classes have since resumed with a new curriculum at the beginning of summer.
At a press conference on Wednesday afternoon, Cronk said the final decision was driven by input from the community. He said Chacon is committed to reshaping public safety and gaining the trust of the community—putting in the work to do so.
Chacon acknowledged APD is at a crossroads, saying its relationship with the community needs a reset and it the department will be committed to transparency. He cited a change he made as interim chief that releases video of officer-involved incidents in 10 days as opposed to 60, which he says is in line with such expectations of transparency.
When discussing the spike in homicides, he said the homicide unit has worked to solve most cases and hold those responsible accountable.
"We remain one of the safest big cities in the United States and this is in large part due to to the daily efforts of the men and women of this department who show up every day with courage, respect, professionalism, integrity and a heart for service," Chacon said. "They keep this city safe every day."
He also addressed the attrition rates at the department, citing that while officers are leaving at high numbers, people are also applying at record rates.
Like Manley, Chacon is an internal hire; Cronk said he did not anticipate making an internal hire initially.
Chacon has been in law enforcement for 28 years and was appointed assistant chief in Austin in 2016.
"I am extremely excited and humbled by this amazing opportunity," Chacon said. "Austin PD is at a critical juncture, and I am honored that the city manager is showing the trust in me to lead this amazing organization. I will be engaging our department employees and our community to make sure we are moving forward in the best way possible."
This story was updated after the 1:30 p.m. press conference.
What, you think the only thing there is to do at Austin City Limits is to watch your favorite artists? Must be your first time. ACL is more than just a dreamy three-day soundscape in the park—between sets, the festival has so much to offer that it's nearly impossible to get bored.
You're bound to have some downtime while attending ACL 2021, so when you do, make an effort to explore the booths, zones, markets and branded seatbelt forests—you'll be glad you did.
Ice for your Hydroflask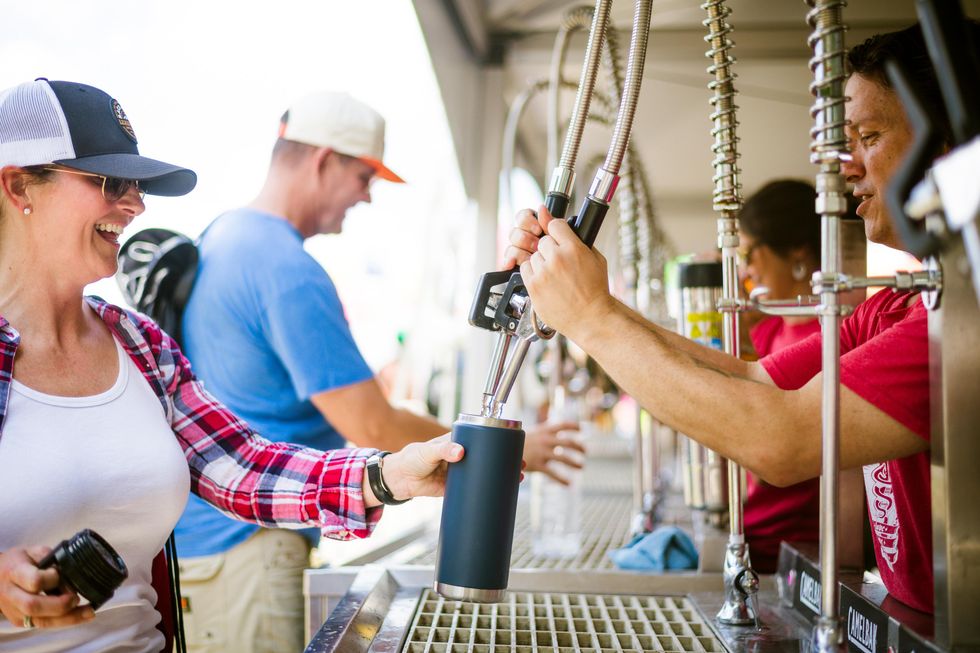 (Katrina Barber for ACL Fest)

Empty plastic or aluminum water bottles are welcomed inside the festival and ACL does a great job of keeping attendees hydrated, so there's no reason to buy water or waste plastic while attending. You have to bring the bottles in empty but there are several filling stations for water bottles located around the park. None of them offer ice, which can be essential during those 100-degree days. Head to any of the bars located in the park and ask for a cup of ice—bartenders are happy to part with it and you'll be cool as a cucumber!
Access to private lounges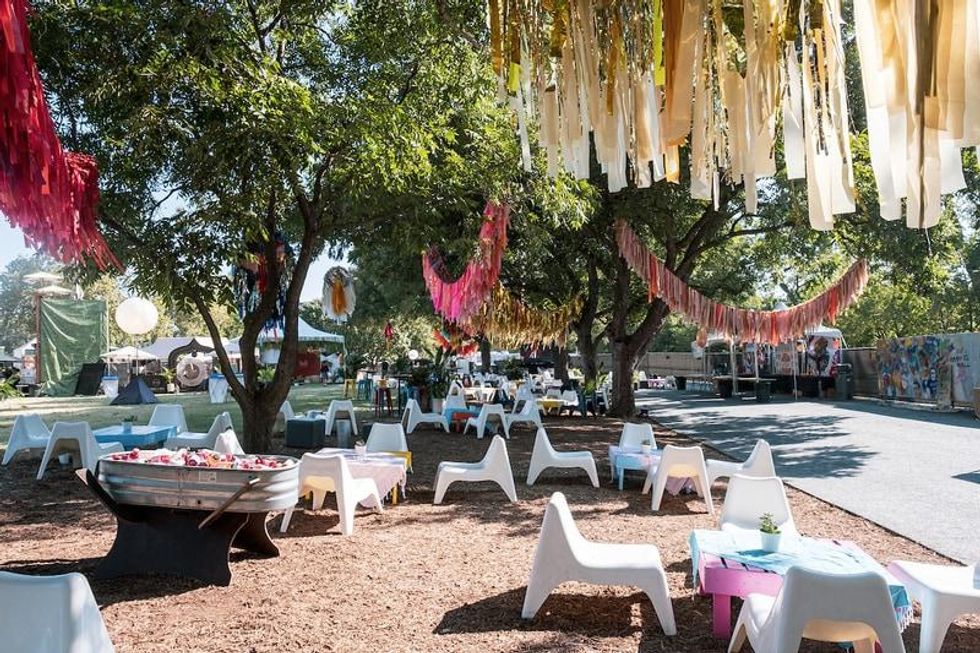 (ACL Fest)
Need a break from the never-ending sun? A snack that doesn't cost $30? There are private, shady lounges all over the park—some for exclusive ticket holders, some waiting to be discovered by even the one-day crowd. Take for instance the T-Mobile Lounge, located adjacent to the stage of the same name, offered patrons a wristband to access the lounge in exchange for a social media post back in 2019. If you're an American Express cardholder, the benefits are numerous: a lounge open only to cardholders and complimentary merch awaits those who don the card.
Free prizes, snacks and drinks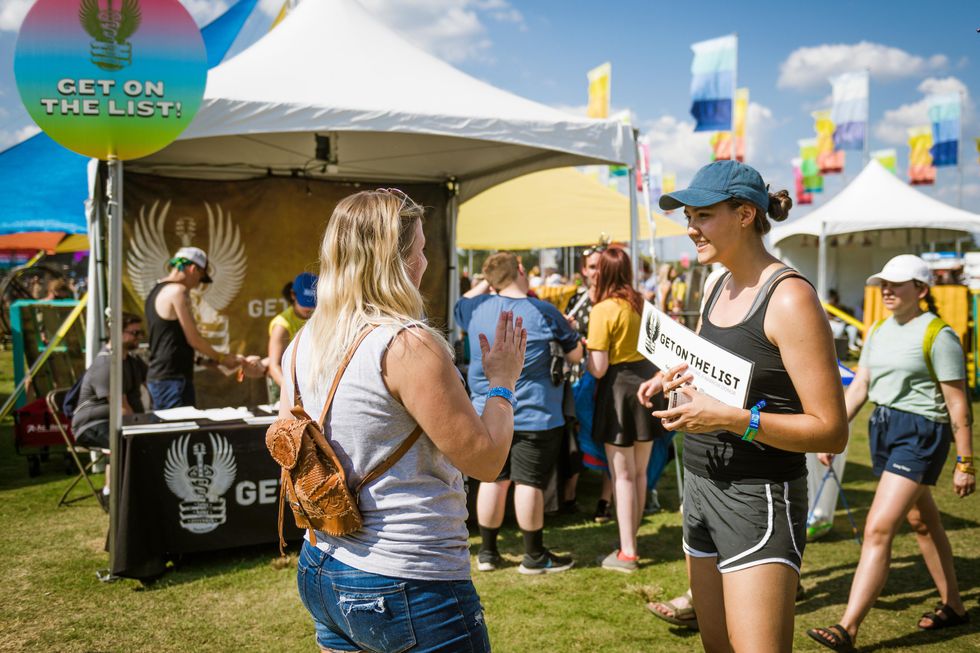 (Katrina Barber for ACL Fest)
With dozens of vendors on the grounds, swag is not hard to find. You might have to play a game, answer some trivia or post on social media to qualify but the free merch often comes in handy. Forgot a fan? A vendor has one. Need a bandana? Visit the Tito's stand. Lose your water bottle, sunscreen or earplugs? A vendor has you covered, so be generous with the Instagram tags.
The ACL Art Market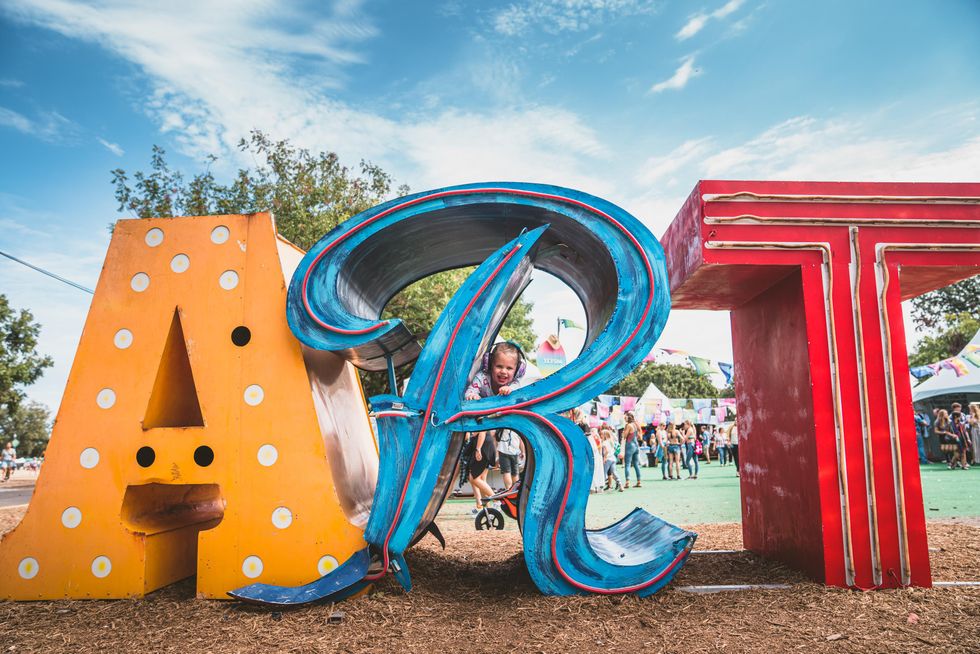 (Roger Ho for ACL)
Support local by visiting the artisans at the festival's art market, located in the center of the park. Artists from all walks of life and levels of success sell their artwork yearly at the festival, so you'll need space to store your new keepsake if you're planning to collect. Blue Lux, Austin Art Garage, Greg Davis and Futurgarb are a few previous attendees. You'll know you've made it when you stumble across the massive, colorful "ART" sign.
Clean up trash for free merch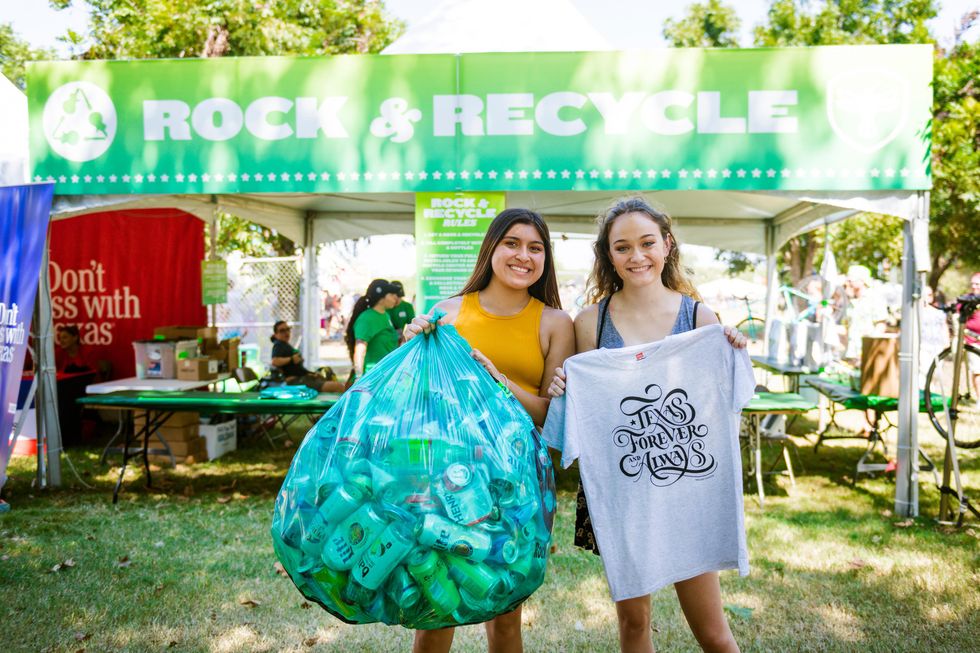 (Katrina Barber for ACL Fest)
Ensuring that Austin's beloved park stays clean throughout the festival, ACL partners with Austin Parks Foundation for its "Rock & Recycle" program that offers a little something for everyone. Stop by the Austin Parks Foundation booth when you have some free time to pick up a bag, fill it up with littered recyclable items and return the full bag for a free T-shirt—that's it. Plus, you can be entered to win other contests every time you help keep the park clean.
See some interactive art installations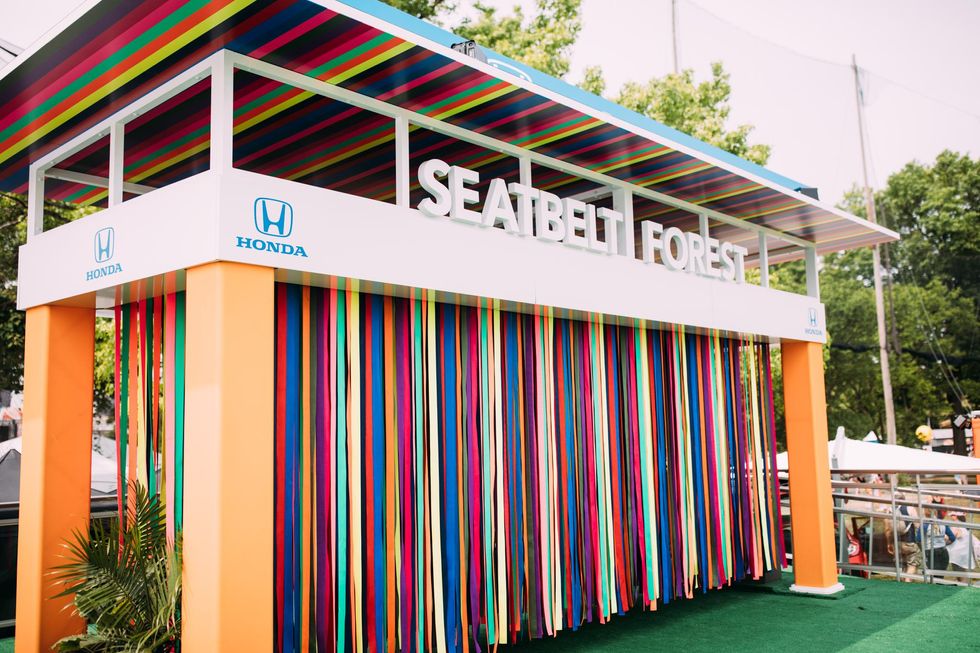 (Honda News)
Each partner at the festival has something up their sleeves, often worth exploring. As ACL partners change, you're likely to see some returns, like the Honda Seatbelt Forest or the Bumble BFF Find Your Bestie Booth. In 2019, Honda gave attendees a colorful backdrop to pose in front of and a break from the chaos, whereas Bumble promised to introduce you to a new friend and gave out merch to those who gave it a go!
Lend your ear (or your wallet) to a good cause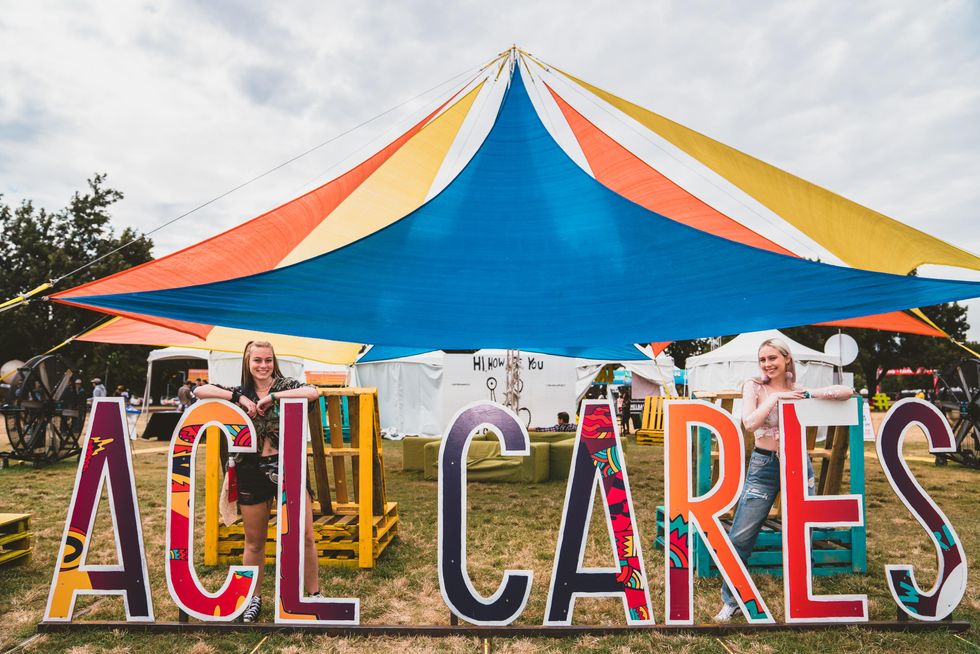 (Roger Ho for ACL Fest)
ACL is more than just a festival—it's a time to raise awareness for local organizations. Stop by the ACL Cares area, where nonprofits and organizations gather to spread the word, and you're likely to find organizations like Health Alliance for Austin Musicians, SIMS Foundation, Austin Music Foundation, Keep Austin Beautiful, The Nature Conservancy and the Love Hope Strength Foundation, where you can register to be a bone marrow donor at the festival.