Never miss a story
Sign up for our free daily morning email...
...and afternoon text update
Get connected with our daily update
An effective vaccination for COVID-19, officials have been saying since the crisis began this winter, could be a year or more away.
In the meantime, scientists and the broader medical community are feverishly looking for ways to mitigate a virus that, at times with seeming randomness, spares many who catch it while bringing others to death's door. Or through it.
---
Texas A&M University researchers, in concert with Harvard University and top hospitals in Texas and Los Angeles, this week are commencing a human trial with a drug that some international data indicates could be a promising interim treatment for COVID-19: the BCG vaccine, or bacille Calmette-Guerin. BCG wouldn't prevent COVID-19 entirely, but researchers are looking to prove that it could dampen the effects of the disease, creating a "trained immunity" that would save lives and curb the ravages of the disease in other cases.
The study is primarily funded with a $2.5 million grant from the Texas A&M system.
"If we get the data out in the next few months showing even a 10% effect on COVID-19, we could save hundreds, if not thousands, of lives," said Dr. Jeffrey Cirillo, a researcher in infectious and respiratory diseases with the Texas A&M Health Science Center in College Station. He said solid results would be available within a half year. "It allows us to buy time until we have a specific COVID-19 vaccine available."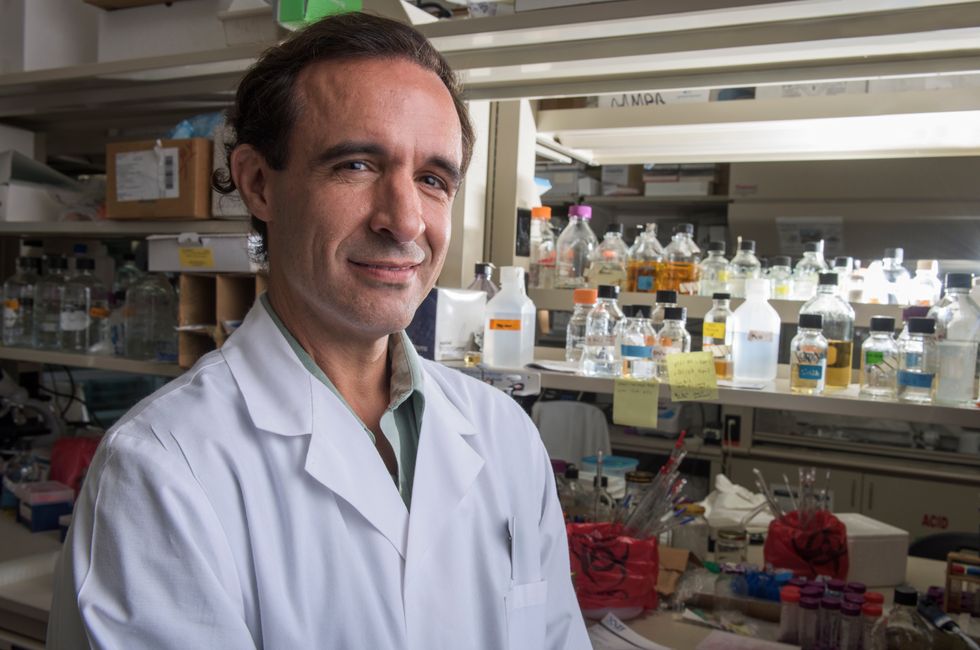 Dr. Jeffrey Cirillo, Texas A&M University Health Science Center
Dr. Jeffrey Cirillo of Texas A&M University Health Science Center said results of the study could be available with six months.
"If there was ever a time to invest in medical research, it is now," A&M Chancellor John Sharp said in a statement released by the A&M system. "I want to make sure [Cirillo] has what he needs to protect the world from more of the horrible effects of this pandemic."

But Cirillo had two cautions against the sort of overexuberance that has led some people to prematurely pursue remedies mentioned by politicians or the media.
The clinical trial, first of all, is in its infancy. Recruitment of a hoped-for 1,800 frontline medical workers to volunteer in the randomized, double-blind study is just beginning, with only 30 on board as of Tuesday. That includes about a dozen participants in Round Rock, Cirillo said. Actual BCG vaccinations (or, in half the cases, a placebo) won't begin until clinicians have at least 100 volunteers.
(A&M asks medical workers in College Station, Temple, greater Austin, Dallas and Houston to contact Cirillo at: jdcirillo@tamu.edu.)
Beyond that, while the vaccine is FDA-approved for bladder cancer treatment and thus safe, just how much it buttresses immune systems against the effects of COVID-19 remains unclear.
"What we have seen in other contexts is that BCG has a positive effect on the immune response to viral and bacterial infections," Cirillo said. "But we're really trying to get people to be cautious and not try to get the vaccine at this point."
BCG has been in use since 1921 as a vaccination for childhood tuberculosis in at least 20 developing countries—hundreds of thousands of young children get it each year, he said—and more recently in the U.S. and other countries to fight cancer. It has not been used typically as a vaccination in the United States because of the extremely low rates of childhood TB here.
But according to a COVID-19 statistical review released in the past few weeks by an M.D. Anderson professor and three co-authors—a study still under peer review—countries that do not use it as a TB vaccination in children have almost 10 times the incidence of COVID-19 infection. And the combined fatality rate from COVID-19—40 deaths per million residents—in about 155 countries without BCG vaccinations likewise is almost 10 times greater than in the 21 countries with widespread vaccination.
The World Health Organization, in a notice on its website about that comparison, warns against making too much of those numbers. Such studies, WHO says, could be subject to "significant bias" caused by unexplored differences between countries in "demographics and disease burden, testing rates for COVID-19 virus infections, and the stage of the pandemic in each country."
Cirillo said that his hopes for BCG are not based primarily on those numbers, in any case, because the effects of vaccinating infants would be unlikely to persist into adulthood. Instead, he said, other epidemiological studies of adult usage of the drug have shown mitigation of viral and other respiratory diseases.
And that beneficial effect occurs quickly, he said.
"In most cases, it appears to occur almost immediately, within a few days [of vaccination] to a certain degree," Cirillo said. "Certainly within two to three months, you see a fairly robust response."
Already, a clinical trial of a similar strain of BCG (one not approved by the FDA) with 4,000 people in Australia is underway, and Cirillo said it, too, holds promise. But Cirillo said manufacturing capacity already exists in the U.S. for the BCG variety in the A&M study with pharmaceutical giant Merck, as well as in factories in Canada, India and Italy.
"I think we can do it," if the drug proves beneficial in the coming months, Cirillo said. "It has been produced at a national scale in the past. So ramping up would not take as long as other vaccines."
With a taste of MLS play under their belts, Austin FC is entering the second half of a scoreless inaugural match.
The club has been given some generous breaks from No. 2 LAFC, who had one or both of their star DPs out for the half. While forward Diego Rossi is out for the entire match due to a hamstring injury, Carlos Vela was accidentally pulled too soon on what turned out to be a miscommunication.
"He gave us the sign that he needed to come off," LAFC Head Coach Bob Bradley said on broadcast. "I can't say more than maybe it's my fault."
The two breaks aside, Austin FC has been holding their own against the match favorites. In the signature style of Head Coach Josh Wolff, the team has been quick and intense, nearly connecting on several fast breaks. ATXFC has also kept about equal possession with LAFC, although their shot attempts haven't been quite as nervewracking as the home team.
LAFC has given goalkeeper Brad Stuver some scares with 11 shot attempts, four of them on goal. By contrast, Austin FC has had five shots on goal.
LA has pulled some dramatics and slowly gained more possession throughout the half, but ATXFC's defense isn't as shaky as it seemed in preseason. Jhohan Romana has pulled his weight in getting the ball out of goal, and defensive midfielder Alex Ring has shown the qualities that make him captain as he leads his teammates through their first ever match.
Will Austin FC win against the odds? It's tough to tell, but Austonia will keep you updated!
It's matchday! Austin FC—Austin's first major league sport team—kicks off its debut season in Los Angeles today after years in the making. We know how much this means to our beloved city and are taking you along with us as we journey to LA!
Austin FC writer Claire Partain and I are excited to bring you game-day coverage straight from the City of Angels. Check back here for updates, and visit our socials: @austonianews for the latest.
5 p.m: Kickoff!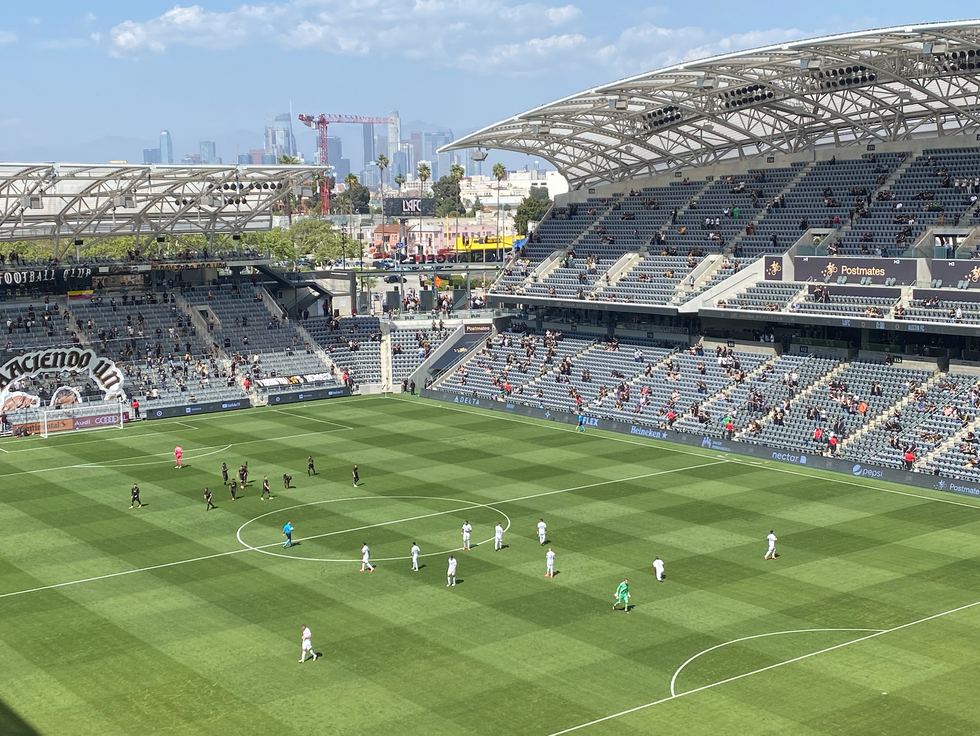 It's finally here! Claire will be updating Austonia's Twitter account live. And we'll post her game recap after the game. Best of luck Verdes!
4:40 p.m: Excitement radiates back home
Watch parties are in plenty supply back home. Austonia's Laura Figi visited Circle Brewing Co. and found a crowd of excited supporters.
4:20 p.m: Austin FC supporters are in the stadium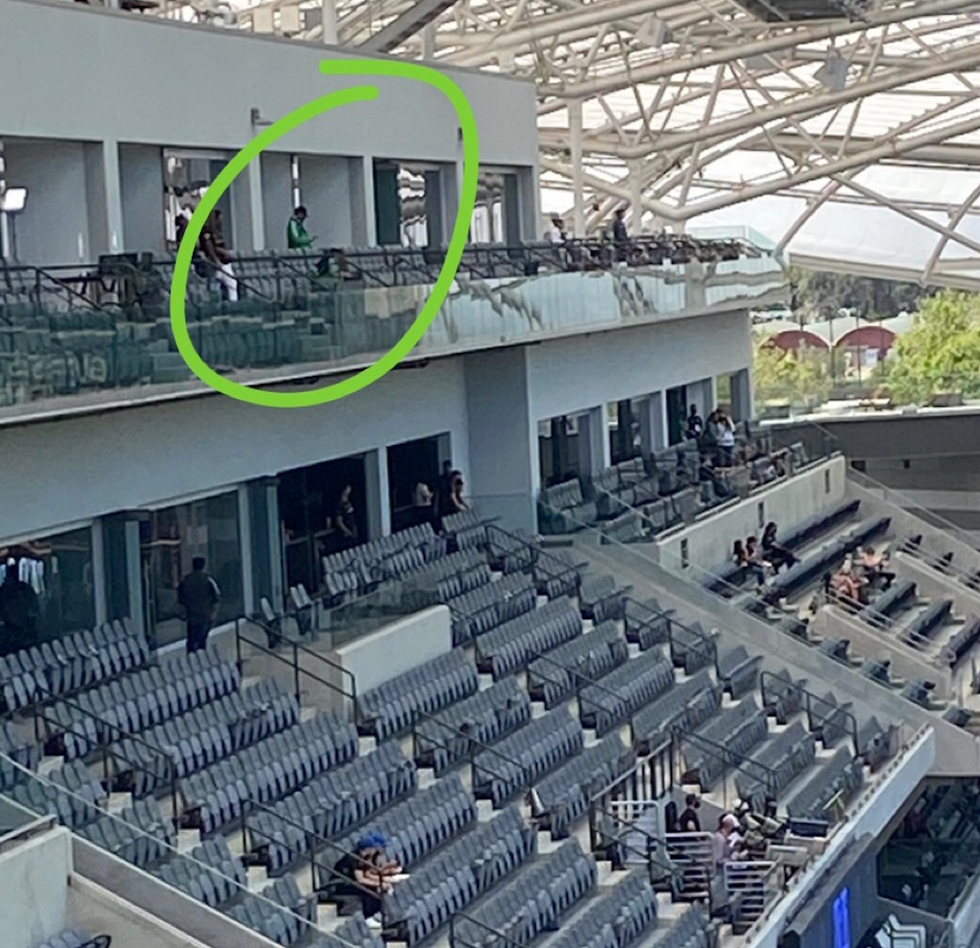 Although the Banc of California Stadium is hosting the match at limited capacity, we see some green in the stands ahead of kickoff. Just moments away from the Austin FC's debut!
~3:20 p.m: Austin FC's team bus enters the stadium grounds
With a warm welcome from Los Verdes, Austin FC players were welcomed into the Banc of California Stadium.
~1 p.m: Los Verdes in LA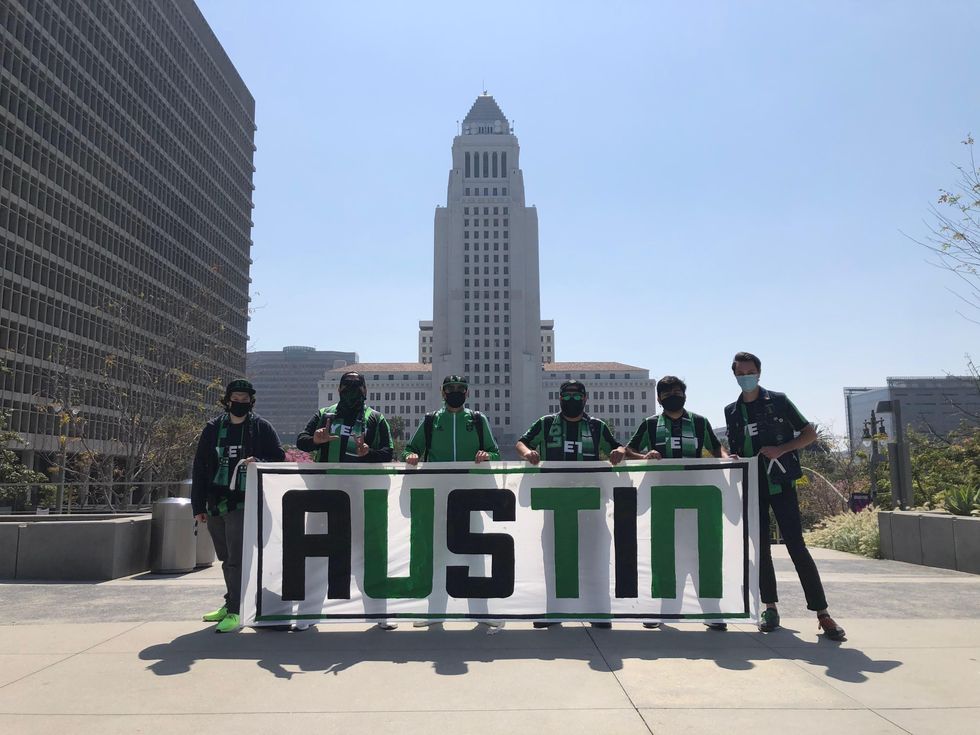 (Rigo Rodriguez/Los Verdes)
Austin FC supporters are making their presence known in LA, including the Los Verdes group.
Los Verdes members started having match-day fun around the area this morning with brunch. We'll be joining them about an hour before the game outside the stadium to share some of their excitement. We'll post immediately to Austonia's Instagram.
11:45 a.m: We landed!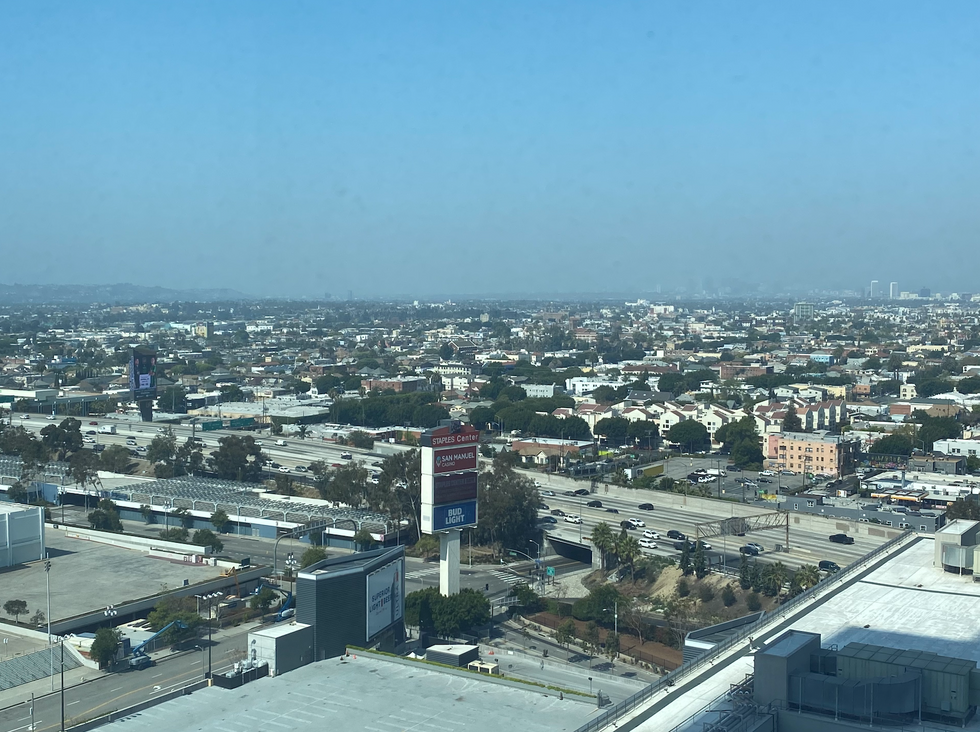 View from hotel room where we're staying; the stadium digital sign can be seen in the right corner. (Sonia Garcia/Austonia)
Switching over to pacific time, we're here and it's almost like no time went by. It's 9:45 a.m. here.
We've been in contact with Los Verdes, an Austin FC supporter group, who is also here in LA counting down to kickoff.
8:20 a.m: LA bound
Like many of you, we've been looking forward to this moment for, let's just say, a very long time. Today, we woke up bright and early, headed to Austin-Bergstrom International Airport and hopped on a flight to LA.
A gloomy day in Austin with a very quiet airport, we're headed to sunny skies in California.
As we wait for the game to start at 4:30 p.m., check out Claire's preview of the game with a predicted lineup and timeline of the long journey to get here.