Austonia AM
100% Austin news, info, and entertainment, straight to your inbox at 6 a.m. every morning.
In five minutes, you're fully informed and ready to start another great day in our city.
Get connected with our daily update
An effective vaccination for COVID-19, officials have been saying since the crisis began this winter, could be a year or more away.
In the meantime, scientists and the broader medical community are feverishly looking for ways to mitigate a virus that, at times with seeming randomness, spares many who catch it while bringing others to death's door. Or through it.
---
Texas A&M University researchers, in concert with Harvard University and top hospitals in Texas and Los Angeles, this week are commencing a human trial with a drug that some international data indicates could be a promising interim treatment for COVID-19: the BCG vaccine, or bacille Calmette-Guerin. BCG wouldn't prevent COVID-19 entirely, but researchers are looking to prove that it could dampen the effects of the disease, creating a "trained immunity" that would save lives and curb the ravages of the disease in other cases.
The study is primarily funded with a $2.5 million grant from the Texas A&M system.
"If we get the data out in the next few months showing even a 10% effect on COVID-19, we could save hundreds, if not thousands, of lives," said Dr. Jeffrey Cirillo, a researcher in infectious and respiratory diseases with the Texas A&M Health Science Center in College Station. He said solid results would be available within a half year. "It allows us to buy time until we have a specific COVID-19 vaccine available."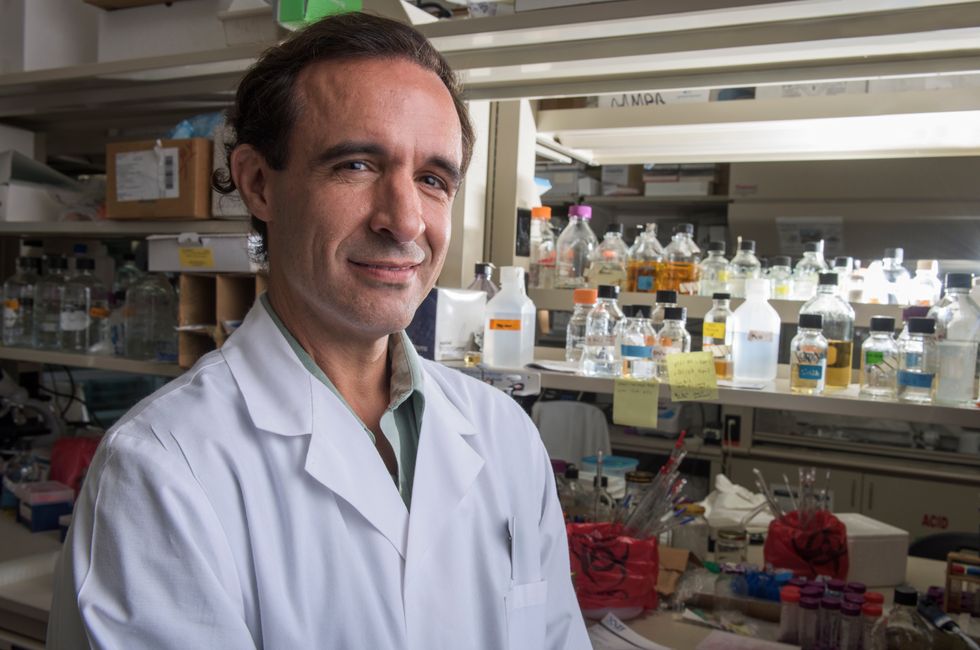 Dr. Jeffrey Cirillo, Texas A&M University Health Science Center
Dr. Jeffrey Cirillo of Texas A&M University Health Science Center said results of the study could be available with six months.
"If there was ever a time to invest in medical research, it is now," A&M Chancellor John Sharp said in a statement released by the A&M system. "I want to make sure [Cirillo] has what he needs to protect the world from more of the horrible effects of this pandemic."

But Cirillo had two cautions against the sort of overexuberance that has led some people to prematurely pursue remedies mentioned by politicians or the media.
The clinical trial, first of all, is in its infancy. Recruitment of a hoped-for 1,800 frontline medical workers to volunteer in the randomized, double-blind study is just beginning, with only 30 on board as of Tuesday. That includes about a dozen participants in Round Rock, Cirillo said. Actual BCG vaccinations (or, in half the cases, a placebo) won't begin until clinicians have at least 100 volunteers.
(A&M asks medical workers in College Station, Temple, greater Austin, Dallas and Houston to contact Cirillo at: jdcirillo@tamu.edu.)
Beyond that, while the vaccine is FDA-approved for bladder cancer treatment and thus safe, just how much it buttresses immune systems against the effects of COVID-19 remains unclear.
"What we have seen in other contexts is that BCG has a positive effect on the immune response to viral and bacterial infections," Cirillo said. "But we're really trying to get people to be cautious and not try to get the vaccine at this point."
BCG has been in use since 1921 as a vaccination for childhood tuberculosis in at least 20 developing countries—hundreds of thousands of young children get it each year, he said—and more recently in the U.S. and other countries to fight cancer. It has not been used typically as a vaccination in the United States because of the extremely low rates of childhood TB here.
But according to a COVID-19 statistical review released in the past few weeks by an M.D. Anderson professor and three co-authors—a study still under peer review—countries that do not use it as a TB vaccination in children have almost 10 times the incidence of COVID-19 infection. And the combined fatality rate from COVID-19—40 deaths per million residents—in about 155 countries without BCG vaccinations likewise is almost 10 times greater than in the 21 countries with widespread vaccination.
The World Health Organization, in a notice on its website about that comparison, warns against making too much of those numbers. Such studies, WHO says, could be subject to "significant bias" caused by unexplored differences between countries in "demographics and disease burden, testing rates for COVID-19 virus infections, and the stage of the pandemic in each country."
Cirillo said that his hopes for BCG are not based primarily on those numbers, in any case, because the effects of vaccinating infants would be unlikely to persist into adulthood. Instead, he said, other epidemiological studies of adult usage of the drug have shown mitigation of viral and other respiratory diseases.
And that beneficial effect occurs quickly, he said.
"In most cases, it appears to occur almost immediately, within a few days [of vaccination] to a certain degree," Cirillo said. "Certainly within two to three months, you see a fairly robust response."
Already, a clinical trial of a similar strain of BCG (one not approved by the FDA) with 4,000 people in Australia is underway, and Cirillo said it, too, holds promise. But Cirillo said manufacturing capacity already exists in the U.S. for the BCG variety in the A&M study with pharmaceutical giant Merck, as well as in factories in Canada, India and Italy.
"I think we can do it," if the drug proves beneficial in the coming months, Cirillo said. "It has been produced at a national scale in the past. So ramping up would not take as long as other vaccines."
After reaching Stage 4 last week of Austin Public Health's risk-based guidelines, Austin-Travis County is now at the Stage 5 threshold with a seven-day average of 50 hospitalizations and dwindling ICU capacity.
While unenforceable under Gov. Greg's Abbott order against local mandates, vaccinated individuals are asked to choose drive-through and curbside options, outdoor activities, social interactions with limited group sizes, as well as social distance and wearing masks indoors. Partially or unvaccinated individuals are asked to avoid gatherings, travel, dining and shopping, choose curbside and delivery options, as well as wear a mask on essential trips.
Flashing back to early-pandemic times, hospitals are at critical capacity—the 11 county Trauma Service Region of 2.3 million people is fluctuating at 16 staffed beds, according to APH.
In a statement on behalf of Ascension Seton, Baylor Scott & White Health and St. David's Healthcare, a spokesperson said that hospitals are asking residents to "help us and each other" by getting vaccinated and continuing to utilize safety practices to slow the spread of the virus.
According to the statement, a "longstanding" nurse staffing challenge combined with the recent COVID-19 spike is putting "extraordinary pressure" on hospital systems.
Along with the unmitigated spread of the virus in unvaccinated, the more contagious Delta variant is also to blame for the spike in cases. The seven-day moving average of COVID hospitalizations in the Austin area reached the Stage 5 threshold of 50 on Friday, triggering local health officials to ask residents to take action.
Local hospitals have a "surge plan" that includes utilization of "all available patient care space and employees within our hospitals and in other settings" that will go into effect when capacity is hit, according to the statement.
The hospitals are working on sourcing supplemental staff and emphasized that emergency care will still be available but it may involve patient transfers "in order to provide the most appropriate care."
Healthcare systems have hit this threshold previously during the pandemic: the city held an alternate care site at the Austin Convention Center from January to March of this year.
"Our responsibility during this pandemic continues to be balancing our readiness to care for patients with COVID-19, while making sure patients who depend on our hospitals receive needed and timely care," the statement said. "We do not want to see necessary non-COVID care delayed as it was during the early stages of the pandemic."
This story has been updated to after publication to include that Austin has reached the Stage 5 threshold.
Ingredients:
1 1/12 oz sweet pepper-infused Tito's Handmade Vodka
3 oz soda water
1 oz grapefruit juice
1/2 oz lime juice
1/4 oz simple syrup
Directions: Add all ingredients, except soda water, to a shaker with ice. Shake and strain into a glass over fresh ice. Top with soda water and garnish with a mint sprig.
Austin legend Willie Nelson will perform at the Texas Capitol today, his first large performance since the pandemic began, closing out a four-day long march across Central Texas to build support for federal voting protections.
Organized by The Poor People's Campaign, the march began in Georgetown on Wednesday and will end with a 10 a.m. rally at the Capitol featuring appearances from former U.S. Congressman Beto O'Rourke and Rev. Dr. William Barber.
Willie Nelson (with Charlie Sexton & friends) will play a free concert at the Poor People's Campaign march for democracy & justice in Austin this Saturday! https://t.co/zZSA0BpbWA

Sign up to join us and see Willie at 10am Saturday: https://t.co/KrDPIFIvST
— Beto O'Rourke (@BetoORourke) July 29, 2021
The rally calls on Congress to "stop attacks on democracy" by ending the filibuster, pass all provisions of the For the People Act, restore the 1965 Voting Rights Act, raise the federal minimum wage to $15 per hour and pass permanent protections for all 11 million undocumented immigrants.

Nelson denounced election law proposals gaining traction in red states, such as Senate Bill 1 and House Bill 3 in Texas, which 55 House Democrats foiled by fleeing to Washington, D.C., on July 12.
The bills would require additional ID verifications for mail-in ballots, allow partisan poll watchers "free movement" and prohibit elections officials from sending absentee ballot applications to voters who didn't request one.
"Laws making it more difficult for people to vote are unAmerican and are intended to punish people of color, the elderly and disabled," Nelson said. "If you can't win by playing the rules, then it's you and your platform–not everyone else's ability to vote."
The march is in the spirit of the Selma to Montgomery March of 1965, led by Dr. Martin Luther King Jr., which protested the blocking of Black Americans' right to vote by Jim Crow laws.