Austonia AM
100% Austin news, info, and entertainment, straight to your inbox at 6 a.m. every morning.
In five minutes, you're fully informed and ready to start another great day in our city.
Get connected with our daily update
(Travis County COVID-19 Public Dashboard)
Welcome to austonia.com, a new local news site for Austin. We're an authentically local company—Austin stories, Austin people, Austin advertisers. News, trends, media, topics, people. No paywalls. We cover the changes that are reshaping our city. To get connected, sign up for our free daily AM newsletter update.
Austin's COVID-19 fatality rate—defined as reported deaths per confirmed cases—has dropped by nearly half since the start of the pandemic.

---
It's a decrease that the city attributes both to better treatments and a rising number of cases among young people.
Travis County has confirmed 23,718 cases and reported 328 deaths as of Aug. 13, for a case fatality rate of around 1.4%. This is down from 1.8% on June 22 and 3.6% at the end of April.
The case fatality rate hit a low of around 1.1% in early July but has since risen slightly, which local health officials said was likely due to an increasing number of older patients hospitalized with COVID-19.
Better strategies for handling COVID
There are signs that the COVID-19 case fatality rate in Travis County has declined—at least to some degree—because doctors are better prepared for it.
Doctors are also more familiar with how to treat COVID-19 patients than they were in early March, and they have improved treatments, including:
convalescent plasma therapy
the antiviral drug remdesivir
ventilator management
In recent months, there has been an increasing number of cases among people ages 10 to 39, who have a much higher probability of recovering.
Travis County COVID-19 mortality by age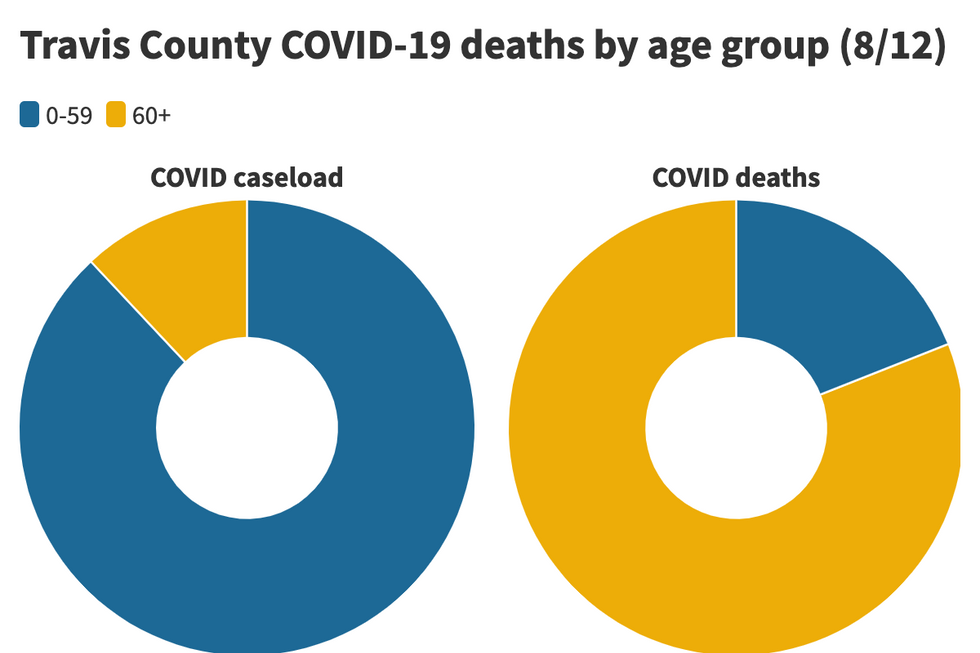 (Austin Public Health)
The COVID-19 case fatality rate also varies widely, even as it appears to decline overall.
The virus remains disproportionately fatal for certain groups. People over 60 years old account for 12% of confirmed cases but 81% of deaths. Just over 10% of Travis County's population is over 65 years old. (The U.S. Census Bureau does not provide more detailed information.)
Deaths also vary by ethnicity. Latino residents—34% of the population—account for 52% of confirmed cases and 49% of deaths.
Black Austinites are also more likely to be hospitalized with and die from COVID, although the disparity has lessened in recent weeks, local health officials have said.
This article was updated on Aug. 13 with new information, graphs and quotes.
Want to read more stories like this one? Start every day with a quick look at what's happening in Austin. Sign up for Austonia.com's free daily morning email.
City staff have reviewed more than 70 city-owned properties that could serve as temporary sanctioned homeless camps and will present potential site options in each council district to Austin City Council on Tuesday, according to a memo issued late Friday. They estimate that each camp will cost between $1.4 and $1.9 million to operate on an annual basis and have a capacity of 50 to 100 people.
Council members voted unanimously last week to direct staff to develop a plan and a budget for temporary sanctioned encampments after the resounding victory of Proposition B in the May 1 election. The proposition, which reinstated city bans on sitting, lying, camping and panhandling in certain areas of central Austin earlier this week, forced city officials to revisit temporary sanctioned encampments, an idea they previously abandoned because of concerns around their cost and upkeep.
"Consequently, in the face of insufficient shelter capacity, sanctioned encampments may be viewed as an alternative to illegal public camping, the imposition of criminal charges on the unsheltered, and the unintended consequence of increased numbers of encampments relocating into less visible, wooded areas that present high wildfire and flood risks," Homeless Strategy Officer Dianna Grey and Parks and Recreation Department Director Kimberly McNeeley wrote in the memo.
Staff recommend that each sanctioned camp offer basic infrastructure, including:
Electricity
Water service
Restrooms
Showers
Lighting
Other services may include perimeter fencing, trash collection, laundry facilities, storage and transportation.
Sites will also require general operational staff, 24/7 security personnel and service providers, with a focus on those that can help connect homeless residents to permanent housing and offer behavioral health support.
In addition to annual costs, each site is expected to require one-time startup costs, such as extending access to electricity and water lines. Staff's preliminary analysis suggests these could range from $200,000 to several million dollars depending on the site, according to the memo.
Although Prop B passed with nearly 58% of the vote and council has directed staff to consider temporary sanctioned camps, the memo raises familiar concerns about the strategy, including the difficulty of closing such sites once opened and the possibility of ballooning operating costs. Some Austinites, including Council Member Mackenzie Kelly, have also raised concerns about the possibility of sanctioned camps on city parkland.
Others support the sanctioned camp model. Max Moscoe is community engagement coordinator for The Other Ones Foundation, a local nonprofit that helps operate the state-sanctioned homeless camp in Southeast Austin. "Having a central hub of resources directly in the place where people are staying makes access to service much easier for clients," he wrote in an email to Austonia. "It is also helpful to have people in a consistent and safe place where they can gain traction and stability."

City staff are due to issue two subsequent reports to council, in addition to Friday's memo. By June 1, they will provide a proposed implementation schedule, potential funding and possible partners that can help share the cost or provide services. By July 1, they will identify land within the city limits that could accommodate tiny home structures to serve as temporary housing and the estimated related costs.
The Ending Community Homelessness Coalition conducts an annual homeless census. This year's count was canceled due to the pandemic, but in 2020 the nonprofit counted 1,574 unsheltered homeless people in the Austin-Travis County area.
As a lifelong Texan and 18-year Austin resident, street artist Goodluck Buddha wants to keep Californians out of Central Texas to preserve the city he loves.
As his business travels took him to states like California, he started posting his art there with a message to Californians in 2013. Buddha has many characters he creates but one, in particular, was created to draw attention to what he saw as a growing problem. Spotted all over Los Angeles is a skeletal monk holding a sign that says one of the following: "get out while you can," "total system failure" and most polarizing, "Austin, TX is at capacity, don't move there."
Buddha started developing his persona as an artist around 2013, keeping his art under wraps for the sake of his family and day job in the security industry. He asked his real name not be used on account of the work's potentially illegal nature. He had always admired street art and saw it as a way to interact with the community.
His disdain for the California migration started as a trendy joke but as the trickle of transplants turned more into a steady stream in the early 2010s, it started to seem like each new person he met was coming from Los Angeles or Beverly Hills.

"Austin started becoming a little popular with the California folks and everybody started moving here slowly and then it became kind of a problem," Buddha said.
The problem is not Californians, Buddha said, but the amount of money they come with, which he believes is driving up the cost of living and making it harder for the average Austinite to afford living here.

"I wanted to go straight to the source and put it out there for them to see that there's an issue—I don't know if they see it that way," Buddha said. "There's a lot of people that were able to make it with one full-time job and live in a nice house and now they're having to work a full-time job and a side hustle and then a side gig. It's making people more focused on trying to make money versus just living and having a good time."
Buddha can relate—while he would like to take his art career full-time, he is also a father and waiting until his children leave home to take a risk like that. He said he remembers a time when local artists could make a living doing what they loved while Austin nurtured them and wore the title "Live Music Capital of the World" like a badge of honor.
His art has since made its way to other big cities that he also goes to for business travels, including Portland and New York. And until he goes full time, he sells his art on social media.
"I always had this urge just to leave my mark and put stuff up," Buddha said. "It's kind of like a renegade art movement."