Get connected with our daily update
Welcome to Austonia, a new, locally owned news company here to report on news, business, and politics in Austin, Texas. Like what you see? Sign up for our daily newsletter to get our latest stories in your inbox.
Last month, in an attempt to limit the spread of COVID-19, Austin Mayor Steve Adler canceled South by Southwest and ordered the closure of all restaurants and bars in the city. While generally praised for his decision, Adler essentially shut down the city's hospitality industry at a time when it usually sees its highest sales.
Since then, many restaurants have pivoted to curbside delivery and selling bulk staples. But others have laid off staff or closed permanently. Cottage industries built around the city's dining scene have also been deeply impacted.
"I'm not making income," said Jane Ko, who runs the Austin food and travel blog A Taste of Koko. "I lost all of my projects, too."
Ko is an influencer—someone who generates interest in consumer products by posting about them on social media—who has more than 75,000 Instagram followers. Her blogging business and others, including local public relations firms, are experiencing a sharp loss in revenue as restaurants and bars slash budgets—or close their doors altogether.
"We've definitely had a reduction in our business because of COVID, and it's been really difficult," said Samantha Davidson, founder and president of Say My Name Public Relations, which represents local beer bar Craft Pride and restaurant group FBR Management, which includes Mean Eyed Cat and Lala's Little Nugget.
Davidson has applied for assistance from the Small Business Administration is waiting to hear back. In the meantime, she and her four employees are working to adapt their business model.
"With people sheltering at home and on their computers and on their phones—very engaged digitally—it's [a question of]: how do we get the information about what our clients are doing out to the people who are interested in to-go [meals]," Davidson said.
Say My Name's clients have worked with influencers such as Shelby Sorrel (43,900 Instagram followers) and sisters Lindsay and Morgan Vandygriff (97,700 Instagram followers). Since the pandemic arrived in Austin, some have also produced their own social media content in an effort to engage customers. Local chefs, including Loro Beverage Director Jason Kosmas and Uchi Sous Chef Blake Luecke, have been recording themselves cooking at home and sharing the videos on Instagram and TikTok.

Chelsea McCullough, owner of the PR firm Mylk Collective, which works with restaurants and beauty businesses, has also been "greatly affected" by this pandemic and is waiting to hear about the status of her SBA loan application.

In addition to helping her clients adapt to the current marketplace—such as by developing family-style take-out menus and offering meal kits—McCullough has teamed up with Ko on Hundred for Hospitality, a restaurant fund that serves 100 meals a day to laid-off service industry workers around Austin.
"I was really distraught the first week [restaurants were closed]," Ko said. "I had over 200 restaurants reach out to me for help."
On March 20, Ko started a GoFundMe, which has since raised over $14,000 to fund Hundred For Hospitality.
With these donations, Hundred For Hospitality has paid local restaurants such as The Peached Tortilla, Austin's Pizza and Easy Tiger to provide daily meals to service workers since March 30, with plans to continue through May 8.
McCullough said other local influencers have reached out to her to see how they can offer support, even as their own businesses are struggling.
"Let's be frank, influencers are used to getting a lot of complimentary dining experiences, but they really stepped up and said …. 'How can I support? Where can I eat out? Where can I purchase food?'" McCullough said.
Supporting these businesses now may mean protecting their own futures.
"It's not just about keeping the brand alive," Davidson said, "but keeping the industry alive."
It may not come as a surprise that dating app use surged during the pandemic when many had to swap the benefits of in-person dating for on-screen connections. Bumble revenue swelled to $337.2 million in 2020 compared to $275.5 million, Hinge revenue tripled in the same period and Tinder users broke two records from January to March of 2021.
What may be more intriguing, however, is that many apps anticipate more growth into 2022. Hinge expects to double its revenue by the end of 2021, while Tinder has announced several new features to meet new demands in time for what some are calling a "third surge" of COVID-19.
Vaccinated Austinites who had been eager for "Shot Girl Summer"—a season of in-person dating, going out and making up for time lost—may have to get back on the apps, at least partially, as cases rise higher than they've been since February and mask recommendations reenter the picture.
Austin-area resident Chloe Mohr, a 22-year-old recent college graduate, had sometimes used Tinder before the pandemic. While the app wasn't a supplemental replacement for deeper connections during stay-at-home orders, it did help her stay in the dating game and continue meeting new people.
"Using dating apps during the pandemic was easy when wanting something casual or entertaining," Mohr, who now works in marketing, said.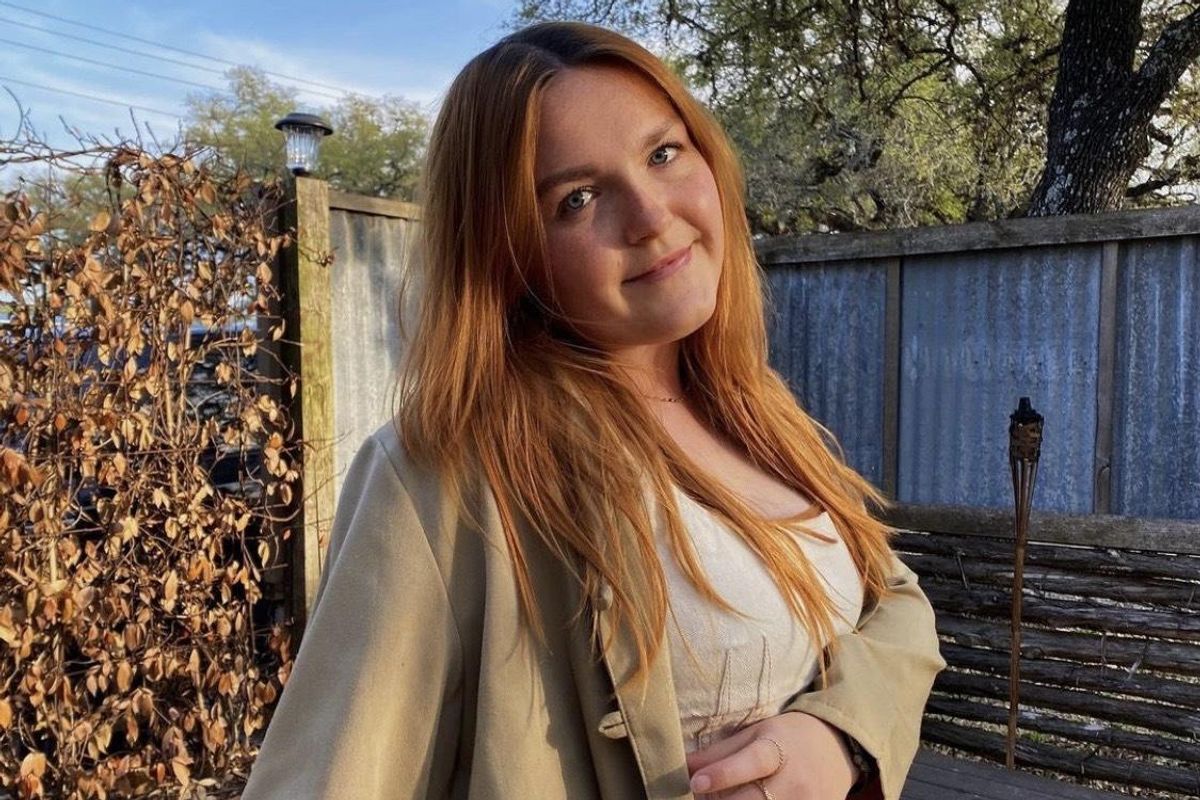 Chloe Mohr turned to Tinder more during the pandemic to stay connected to people. (Chloe Mohr)
Sixty percent of members came to Tinder because they felt lonely and wanted to connect with people, a Tinder study revealed, and chats were 32% longer during the pandemic.

But dating during a pandemic is no walk in the park when there's fear about contracting COVID, Mohr said. She had fears at the beginning
Tinder, Bumble, Hinge and OkCupid have responded to the new dating criteria, adding vaccination badges to profiles in partnership with U.S. and British governments.
In order to meet the demand for a stricter screening process and the superficial nature of swiping, Tinder has also introduced new features that allow users to add videos to their profiles and chat with others before they've even matched.
The new add-ons could be beneficial for the app as interest continues to swell—Google searches for "dating" have hit a five-year high, according to NPR.
But the future of dating could be vastly different—and stay different—even well into the next decade.
According to a Ypulse study, 43% of dating app users said the apps made them feel less lonely in the pandemic. Even post-pandemic, 40% of Tinder users say they plan on video-chatting with their matches before they meet, and being honest, authentic and respecting boundaries have become big talk on the app in the past year.
While it's unclear how the pandemic will shape dating for good, signs show that Austin residents and those nationwide may lean on dating apps once again if social distancing returns to the norm.