Get connected with our daily update
(Levan/Adobe)
As pharmaceutical companies and the federal government race to find a coronavirus vaccine, one Austin company is running clinical trials to see if the contenders have what it takes.
---
Benchmark Research is recruiting volunteers for four coronavirus vaccine trials—and preparing for more than a dozen more in the next few months—across five different cities, including more than 8,300 in Austin alone.
"We're just trying to find the vaccine as quickly as we possibly can," CEO Mark Lacy told Austonia.
But there are some challenges, including the warp speed of these trials and finding enough volunteers to participate.
A speeded-up process
The approval process for a vaccine is typically four to five years, Lacy said. But the coronavirus trials aren't typical.
"This is an extraordinarily speeded-up process," Lacy said.
Benchmark handles vaccine trials in the second and third stages—once they've already been tested on animals and are considered safe for humans. The goal of these later stages is to test for efficacy.
To do this, Benchmark recruits volunteers who meet the necessary criteria. In the case of the coronavirus trials, the company is largely focused on enrolling high-risk populations: essential workers, minority groups, individuals over 65 and those with chronic health conditions.
The government-funded trials are also focused on regions "heavily in surge," Lacy said.
Eligible volunteers will be enrolled in the coronavirus studies, which generally require a one- to two-year commitment, with regular in-person checkups and some other requirements.
The vaccine
One of the vaccines Benchmark is helping to study is from the Boston-based biotech firm Moderna.
The company, in partnership with researchers from the National Institutes of Health, developed a potential vaccine and produced it for human trials in record time—66 days after scientists sequenced the viral genome.
The first trial began in early March, and early results were published on Tuesday. Dr. Anthony Fauci, director of the National Institute of Allergy and Infectious Disease, told Bloomberg the Moderna vaccine data is "really quite promising."
The vaccine trial entered its final phase this month, with Benchmark studying whether it prevents symptomatic COVID-19 among volunteers.
At the current dose, the company is on track to deliver around 500 million doses a year by 2021, according to a June 11 press release.
The subjects
While every stage of vaccine development has been rushed, finding volunteers to test it on takes time.
Over the last 15 years, Benchmark has worked with more than 28,000 trial participants and studied vaccines for everything from anthrax to the Zika virus. But these coronavirus studies have been different.
"It's a bigger challenge than anyone would expect, because while there is a great interest in finding and being able to be one of the first ones with a cure, there's also a tremendous amount of fear," Lacy said.
Volunteers have many reasons to participate, including altruism, but they are also compensated for their time—usually between $1,000 and $1,500.
Money is what drew Katlyn Hahn, a 32-year-old Cedar Park resident, to participate in a Benchmark trial studying an Ebola vaccine in 2015.
Initially, Hahn had some reservations. "But I felt more at ease when they let me know that I wasn't the very first guinea pig," she said.
Once enrolled, Hahn attended appointments every week or two, where a doctor would draw blood and review her diary, where she recorded her vitals and any side effects. Each time, she would walk out with almost $200.
"I would say that I was happy to help because I felt fulfilled that I was doing something to help my fellow man," she said. "And also—I think that I got the placebo."
Want to read more stories like this one? Start every day with a quick look at what's happening in Austin. Sign up for Austonia.com's free daily morning email.
Officials are asking certain residents in Bastrop State Park to evacuate as crews work to put out a "very active fire" that is currently 0% contained.
The Texas A&M Forest Service has responded to help local fire departments with the Rolling Pines Fire at 100 Park Road 1A, which is consuming 300 acres. Residents of Pine Hill Drive, Pine Tree Loop, Linda Lane and Lisa Lane are being asked to evacuate.
Aviation resources have been called to assist.

According to the Bastrop County Office of Emergency Management, the wildfire sparked during a prescribed burn that took place today, despite wildfire warnings. Park Road 1C from Harmon Road to Park Road 1A had been closed for the prescribed burn.
The blaze is in the same location as the Bastrop Complex Fire of 2011, which burned for 55 days, killing two people, destroying 34,000 acres and around 1,700 homes and buildings. The fire, which started in 2011, became the most destructive wildfire in Texas at the time.
A hotbed for fires, the Hidden Pines Fire started at the same location in 2015, destroying 4,600 acres and 64 structures.
Some road closures have been put in place at State Highway 21 South Shore Lake Bastrop and East State Highway 21.
This is a developing story and will be updated as information becomes available.
After months of record-setting periods for Austin real estate, the Austin Board of Realtors announced Tuesday that the metro's housing market accounted for over $23 billion of economic activity in 2021, making it the biggest year yet for both home sales and median home prices in the metro.
The Austin-Round Rock MSA saw 41,316 homes sold in 2021, 2.5% more than a record-setting 2020. Median home prices skyrocketed as well, rising 30.8% from 2020 to $450,000. The housing market also saw unprecedented impact on Austin's economy, with sales dollar volume jumping to over $23.38 billion, and more homes hit the market in 2021 than any previous year, increasing by 5.9% to 46,449 total homes listed.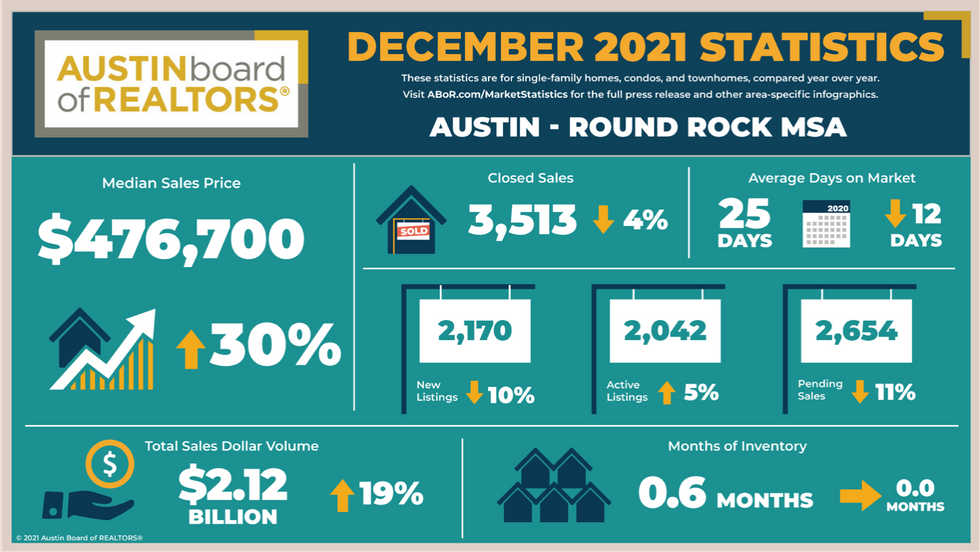 (Austin Board of Realtors)
As many recent Austin homebuyers have experienced firsthand, Austin Board of Realtors 2022 President Cord Shiflet said 2021 was the most "exciting, complicated, fast-paced and record-setting housing market" in Austin's history.
Shiflet dubbed the market as "complicated" for a reason—Austin became a case study on supply and demand in 2021, with demand far outpacing the number of active listings, which dropped by 48.2% to 2,348 homes in 2021.
The metro ended the year with 0.6 months of inventory, a far cry from a "healthy" six-month supply, and houses were snatched at breakneck speeds, spending 25 fewer days on the market when compared to 2020. The average home was on the market for 20 days.
But low inventory is more due to high demand than a stagnant homebuilding market, Mark Sprague, Independence Title's state director of information capital, said in the report.
"In 2021, the record number of homes sold were demand-driven transactions and that demand was influenced greatly by companies continuing to target the region for job creation and expansion," Sprague said. "Even though more homes are being built, listed and sold than ever before, our region is still nowhere close to having a comfortable amount of supply to meet the demand, which is why home prices continue to rise steadily."
Over 23,000 jobs have been promised by companies across the metro as of December 2021, breaking the 2020 record, according to Opportunity Austin, the economic development arm of the Greater Austin Chamber of Commerce. With an influx of major factories and offices, including Tesla's Giga Texas, Samsung's Taylor plant and a planned 33-floor Facebook office, Sprague said the region's booming market paired with a struggling inventory and supply chain issues could be a double-edged sword in 2022.
"In short, 2022 will see a robust market for home sales and property values, but the region must do more to address inventory, " Sprague said.
Shiflet recommended that potential homebuyers make a decision ahead of predicted increases in interest rates and home prices and said that he hopes local politicians will continue to prioritize affordable housing in the election year.
Still, Shiflet said a record-breaking housing market reflects Austin's growing reputation as a hub for talent, tech jobs and a good quality of life.
"With all the new jobs across the region from exciting companies like Tesla and Samsung, Austin was put on the world's stage and captured the hearts and attention of so many," Shiflet said. "We are lucky to call Austin our home when it has so much to offer from a great quality of life to a wonderful destination for innovation and opportunity."