Get connected with our daily update
(Levan/Adobe)
As pharmaceutical companies and the federal government race to find a coronavirus vaccine, one Austin company is running clinical trials to see if the contenders have what it takes.
---
Benchmark Research is recruiting volunteers for four coronavirus vaccine trials—and preparing for more than a dozen more in the next few months—across five different cities, including more than 8,300 in Austin alone.
"We're just trying to find the vaccine as quickly as we possibly can," CEO Mark Lacy told Austonia.
But there are some challenges, including the warp speed of these trials and finding enough volunteers to participate.
A speeded-up process
The approval process for a vaccine is typically four to five years, Lacy said. But the coronavirus trials aren't typical.
"This is an extraordinarily speeded-up process," Lacy said.
Benchmark handles vaccine trials in the second and third stages—once they've already been tested on animals and are considered safe for humans. The goal of these later stages is to test for efficacy.
To do this, Benchmark recruits volunteers who meet the necessary criteria. In the case of the coronavirus trials, the company is largely focused on enrolling high-risk populations: essential workers, minority groups, individuals over 65 and those with chronic health conditions.
The government-funded trials are also focused on regions "heavily in surge," Lacy said.
Eligible volunteers will be enrolled in the coronavirus studies, which generally require a one- to two-year commitment, with regular in-person checkups and some other requirements.
The vaccine
One of the vaccines Benchmark is helping to study is from the Boston-based biotech firm Moderna.
The company, in partnership with researchers from the National Institutes of Health, developed a potential vaccine and produced it for human trials in record time—66 days after scientists sequenced the viral genome.
The first trial began in early March, and early results were published on Tuesday. Dr. Anthony Fauci, director of the National Institute of Allergy and Infectious Disease, told Bloomberg the Moderna vaccine data is "really quite promising."
The vaccine trial entered its final phase this month, with Benchmark studying whether it prevents symptomatic COVID-19 among volunteers.
At the current dose, the company is on track to deliver around 500 million doses a year by 2021, according to a June 11 press release.
The subjects
While every stage of vaccine development has been rushed, finding volunteers to test it on takes time.
Over the last 15 years, Benchmark has worked with more than 28,000 trial participants and studied vaccines for everything from anthrax to the Zika virus. But these coronavirus studies have been different.
"It's a bigger challenge than anyone would expect, because while there is a great interest in finding and being able to be one of the first ones with a cure, there's also a tremendous amount of fear," Lacy said.
Volunteers have many reasons to participate, including altruism, but they are also compensated for their time—usually between $1,000 and $1,500.
Money is what drew Katlyn Hahn, a 32-year-old Cedar Park resident, to participate in a Benchmark trial studying an Ebola vaccine in 2015.
Initially, Hahn had some reservations. "But I felt more at ease when they let me know that I wasn't the very first guinea pig," she said.
Once enrolled, Hahn attended appointments every week or two, where a doctor would draw blood and review her diary, where she recorded her vitals and any side effects. Each time, she would walk out with almost $200.
"I would say that I was happy to help because I felt fulfilled that I was doing something to help my fellow man," she said. "And also—I think that I got the placebo."
Want to read more stories like this one? Start every day with a quick look at what's happening in Austin. Sign up for Austonia.com's free daily morning email.
In May, Circuit of the Americas chairman Bobby Epstein looked back on 10 years of Formula 1's U.S. Grand Prix at COTA confident that the race would be here to stay in Texas. But sources tell Austonia that securing another contract may be in jeopardy.
Some insiders worry that COTA's 2021 Grand Prix race might be its last.
The multi-day fest from Oct. 22-24 will include a 56-lap race over the 3.3-mile track, food and musical performances from two acts, including Billy Joel at COTA's 1,500-acre facility in Southeast Austin. But after this year, the U.S.' first F1-specific track could lose its headline event.
The facility's inability to secure a contract thus far comes down to the Texas Legislature, a new threat in Miami, and, most importantly, money.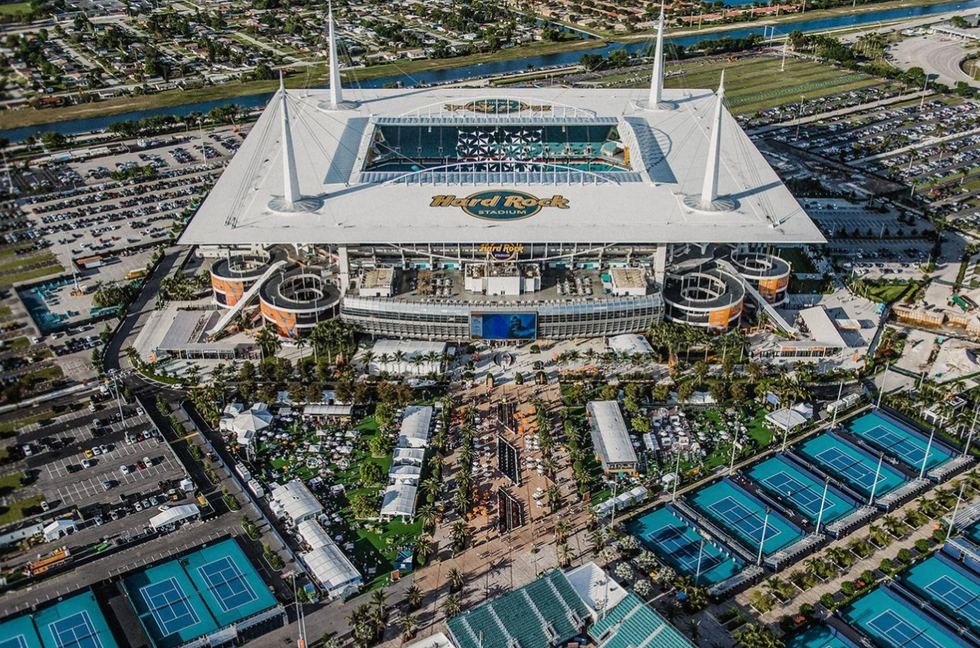 The first F 1 race will take place in Miami next year. (Hard Rock Stadium)
Every year, Formula 1 receives roughly $25 million from Texas' Major Events Reimbursement Program, a taxpayer-funded initiative that helps bring big sporting events like 2017's Houston Super Bowl to the state. A 2019 report by the Reimbursements Program on that year's race said the "data is inconclusive" on if the event has a positive or negative economic impact on the state with the resources given. In 2018, the Austin-American Statesman reported that COTA had brought back a total of $75.7 million between 2015 and 2017 for hosting the U.S. Grand Prix.
Legal issues have also barred Epstein and Co. from securing another 10-year contract earlier: in 2018, the company lost its yearly $25 million bid after failing to submit a human trafficking prevention plan as part of its yearly application.
That same year, F1 managing director of commercial operations Sean Bratches told the Associated Press that the organization hopes to stay at COTA "for many years to come."
However, in May, the racing league announced that it had secured a 10-year contract to hold the Miami Grand Prix as American interest in the sport soared following the three-season "Drive to Survive" documentary, which gives behind-the-scenes looks at drivers and races of the Formula One World Championship.
Epstein is optimistic about the new U.S. location and told Autoweek in May that "more race in our time zones are good for the sport."
"I think we're getting double the impact this way," Epstein said. "Miami should sell out huge the first year and maybe the second year and then after that, I think we'd be spitting audience if we were around the same time on the calendar. So the spread is fantastic."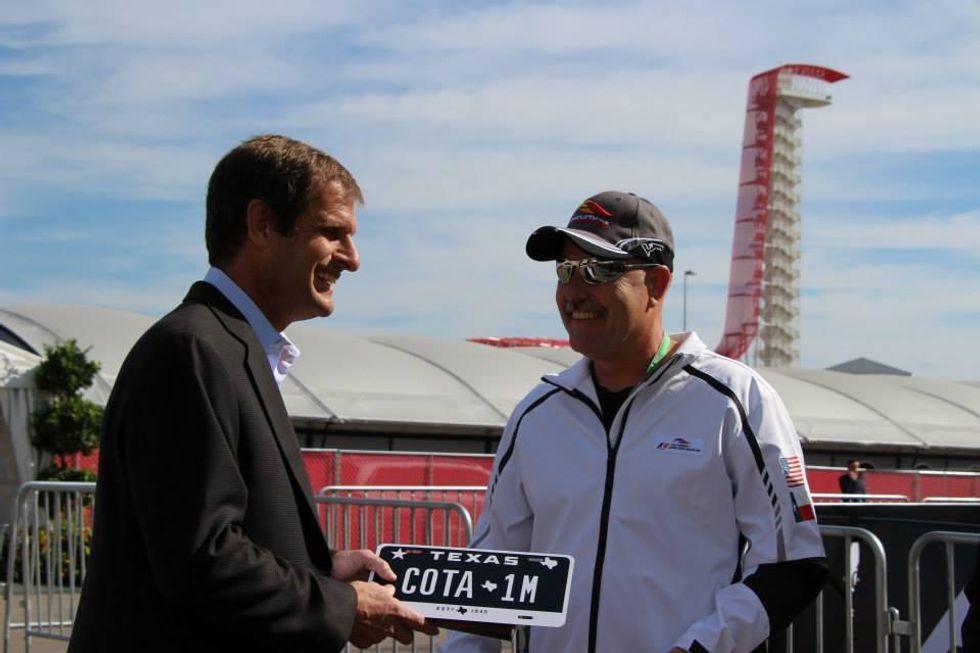 Bobby Epstein recognizes the 1 millionth customer of COTA in 2013. (COTA/Facebook)
The new F1 venture may impact COTA's contract, however: in an opinion piece for the Fort Worth Star-Telegram, writer Mac Engel said Texas is unlikely to fork over taxpayer money if the facility is no longer the only F1 track in the U.S.
According to Engel, the Major Events Reimbursements Program agrees to provide funding only "if Austin holds the only F1 race in the country."
Epstein hasn't addressed such claims; by contrast, he feels as though there's room for a third race in the U.S. as ticket sales rebound after COVID.
"In the first week, we sold pretty much all the tickets we put up for sale and we plan to break the 2019 attendance record," Epstein told Autoweek. "Texas was the first place to lift COVID-19 restrictions (in the U.S.) and put on sporting events, and we're full. We're at 100% capacity.
Despite ventures to diversify revenue at COTA—Epstein's USL soccer team Austin Bold has seen its own share of troubles, and the facility plans to develop into a multi-faceted entertainment arena complete with music venues, a waterpark, condominiums and an 11-story hotel—a loss of its primary event could be devastating for the $300 million complex.
F1 has rarely lasted more than a decade at venues in the U.S. over the last century; let's hope Austin breaks that curse.
COTA's media relations team did not immediately get back to Austonia for comment.
Houston? Dallas? San Antonio? No, it has to be Austin.
We know Californians love Texas, but a recent string of posts on neighborhood platform Nextdoor in Santa Barbara, California, displays what the craze to move to Austin looks like.
When one user posted, "Hi neighbors, I want to buy a house in Houston, Texas any recommendations?" the responses flooded in displaying what the admiration for Austin looks like from the West Coast. Users mostly advised against a move to Houston; one person even wrote, "Austin is the ONLY place to consider!!"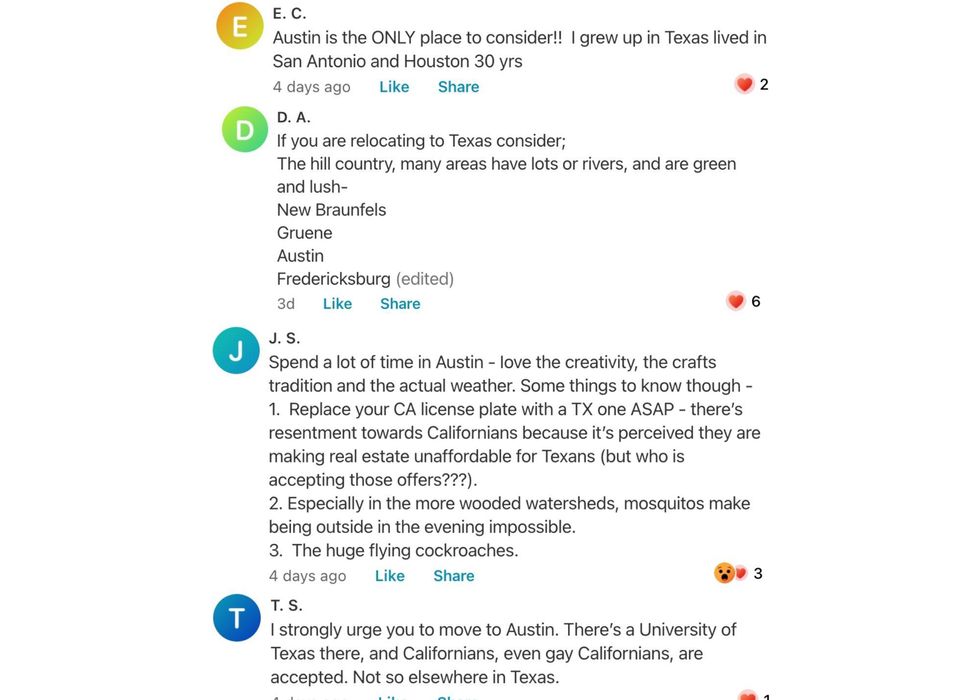 While some defended H-town, saying, "Awesome place to live," one person wrote, "WORST PLACE TO LIVE." Reasons to not move to Houston from Californians' perspective included:
"Foul air from refineries"
"horrible flooding due to the flat Gulf coastal shelf"
"crazy zoning"
"racial prejudice"
"super high humidity"
"very conservative"
The comments were shifted to Austin's lush greenery, weather and acceptance of gay people.
Over the last five years, Austin has seen more migrants from California than any other state, according to an Austin Chamber of Commerce report. The Austin appeal from residents living in more congested places like California became more prevalent during the pandemic when stay-at-home orders were issued and people sought more space.
It wasn't just Austin though; lots of other Sunbelt cities saw an influx in their housing market as a result of people working from home and looking for a lower cost of living. And that included Texas in general, with people flooding to various Texas cities.
But it hasn't come with resistance. The "Don't California my Texas" pleas are still alive and well, as Californians are blamed for raising the cost of living by outpricing current residents. The housing market has reached record numbers in the median home price year-over-year since the beginning of the pandemic. Austin was even predicted to be the most expensive city outside of California by the end of the year.
Still, Californians and even New Yorkers can't stay away. Companies and celebrities have followed, leading Texas transplant Elon Musk to label Austin's future as "the biggest boomtown that America has seen in half a century."