Get connected with our daily update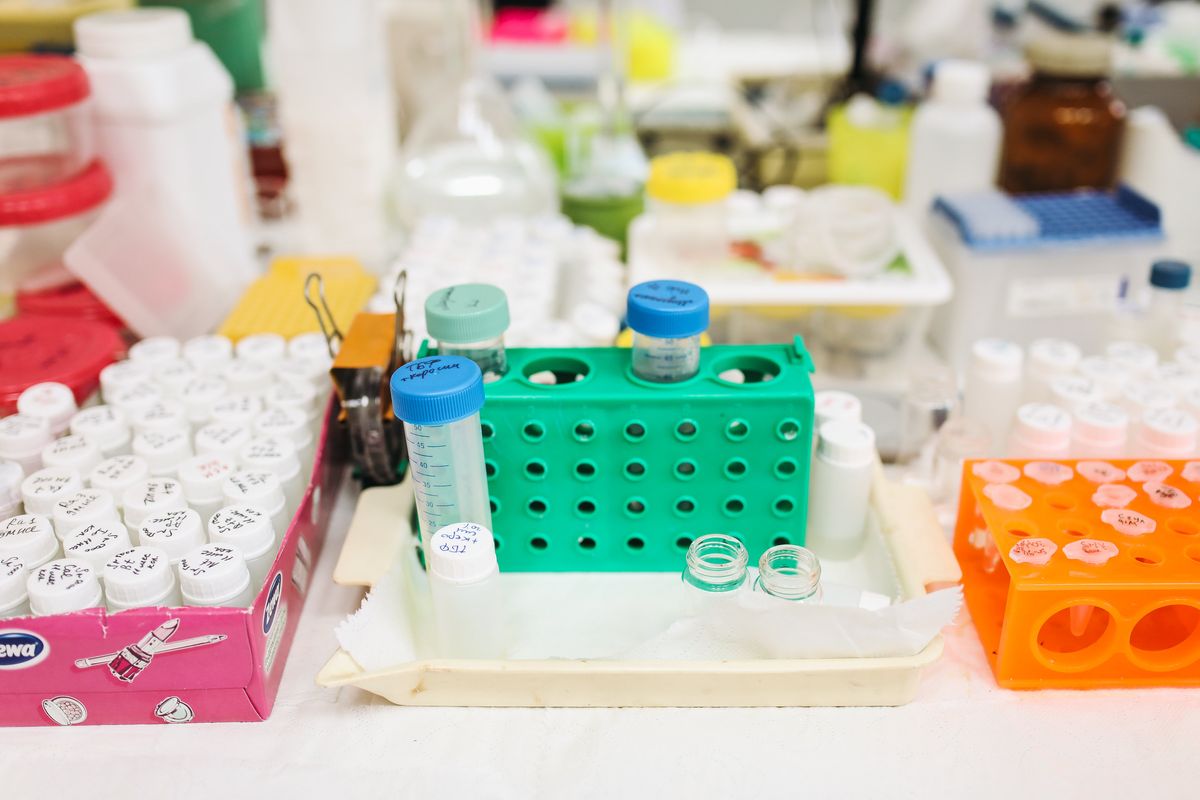 Gloria Vera-Bedolla's 24-year-old son started feeling sick on a Friday. He had a high fever, chest congestion, body aches and a bad cough. Four of his co-workers at a beer distributing company had tested positive for COVID-19.
---
On Saturday, Vera-Bedolla's daughter-in-law called her worried, and the two of them got to work looking for a test.
Five sites—including his doctor at Victory Medical and three CommUnity Care drive-thru locations—said they were either out of appointments or unable to provide results for up to 11 days.
"A person could've died by then," Vera-Bedolla told Austonia.
Finally, they found an open slot for a rapid test appointment at Austin Regional Clinic in Pflugerville—at 2 a.m. on a Monday. It cost $175, but the results were available in around 30 minutes.
Experiences like his are not uncommon in Austin as demand for COVID-19 testing soars and both local and national labs are overwhelmed. Vera-Bedolla's son (who was not available for an interview) is finally starting to feel better. But the run on tests continues.
​Delays everywhere
As the COVID-19 surge worsens in Texas and dozens of other states, increased demand for testing has overwhelmed clinical labs, driving up turnaround times and thwarting efforts to contain the spread of the virus.

Austin Public Health announced a few weeks ago that it would restrict free testing to residents with symptoms or known exposure and encouraged residents with insurance to get tested at their doctor's office.
But private practices are facing the same constraints.
"To me, it's a scandal," Dr. James Marroquin told Austonia.
Dr. Marroquin works at Capital Medical Clinic, an internal medicine practice on West 38th Street. Up until about mid-June, the clinic was testing around 100 patients for COVID-19 each week, Clinic Administrator Rae Smith said.
But around the time APH recommended patients seek out tests at private providers, the clinic's lab, Clinical Pathology Laboratories, said it would no longer accept COVID-19 tests because of a backlog. So the clinic stopped offering tests except to very high-risk patients. The clinic has since started accepting tests again, but doctors remain concerned about another backlog.
Other labs are facing similar issues, including two of the country's largest: Quest Diagnostics and LabCorp.
"I would say it's a systems issue," Texas Academy of Family Physicians CEO Tom Banning told Austonia. "We didn't design our lab system to do mass COVID testing."
Notes on getting a covid test in Austin rn: - The free city-run testing site's first available was July 17. - Usin… https://t.co/YbkNAw8T3v

— Summer Anne Burton (@Summer Anne Burton) 1594142989.0
Waiting game
Overwhelmed labs, which used to provide test results in three to five days, are now reporting wait times of a week or longer. This causes two main problems.

First, it stymies containment.
The main goal of testing is to help "box in" the spread of COVID-19 by alerting people who are infected of their status and prompting them to self-isolate and inform their contacts, Austin-Travis County Interim Health Authority Dr. Mark Escott explained last week.
"If we're getting results after the person is no longer infectious, that strategy no longer works," he said.
A patient may recover in the seven to 10 days it takes to receive a test result—and expose others in that period.
"At that stage, the test results are relatively useless for us," Dr. Escott said.
Second, it complicates health authorities' understanding of the virus.
Travis County reported 3,109 cases last week, 187 fewer than the week prior. But authorities say that could be because many tests are in limbo—conducted but not processed.
"We are missing thousands of results, so it's really difficult for us to tell if things are getting better or not," Dr. Escott said.
Want to read more stories like this one? Start every day with a quick look at what's happening in Austin. Sign up for Austonia.com's free daily morning email.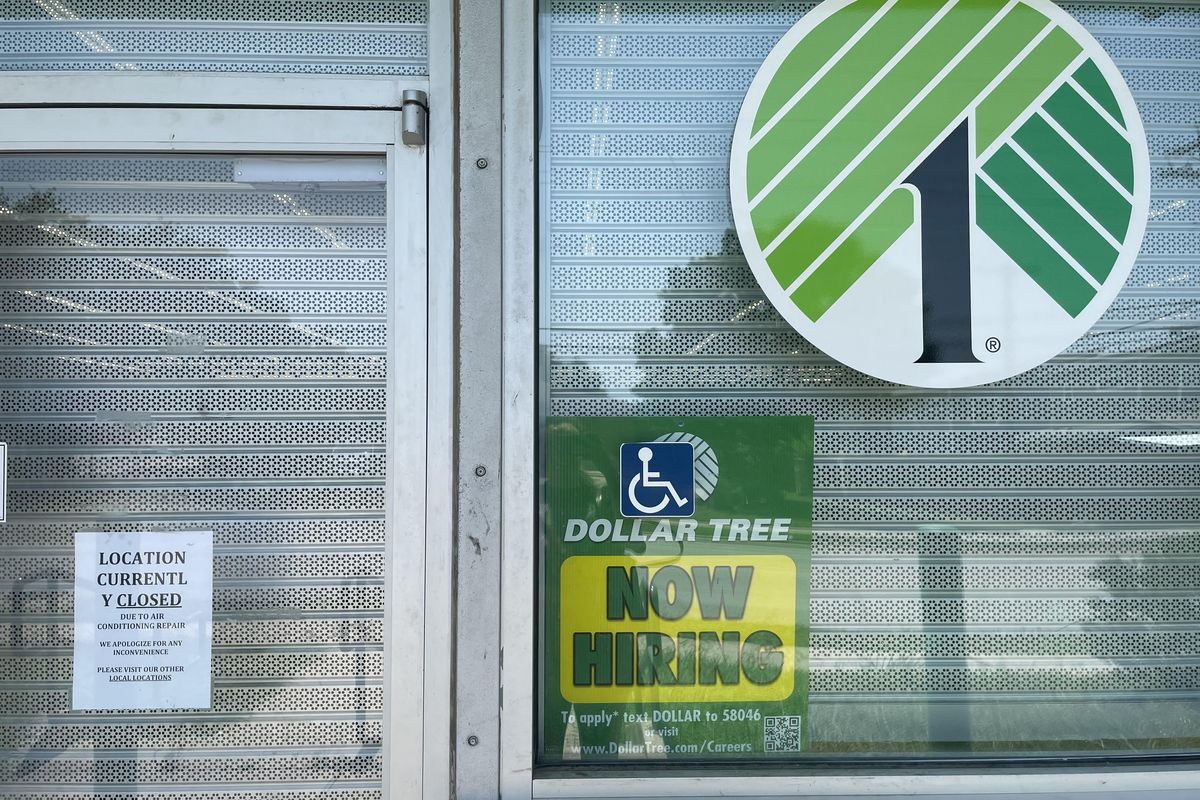 It's been a few weeks since a viral TikTok revealed poor working conditions at the Montopolis Dollar Tree in southeast Austin, and employee Maggie Lopez is still feeling its effects.
Lopez was filmed working alone at the location May 1 in a since-deleted video that saw 2.9 million views and over 450,000 likes.
In the video, stacked boxes littered the floor, shelves were left unstocked and a leaky, broken air conditioning unit welcomed customers into the understaffed storefront.
Lopez, who now works at the dollar store's Springdale location, says she was left with the aftermath of a 90-hour workweek, lost wages and a mystery illness after the store closed a few days later.
"Nobody ever told me... that there was no air conditioning. They didn't tell me there was danger of getting robbed," Lopez told Austonia. "Nobody said anything... they didn't care."
The location didn't shut its doors because of the TikTok exposure: instead, an AC unit specialist doing routine maintenance found employees working in extreme heat and said it was too hot for employees to continue working.
"To operate a business, you have to have your temperature within a certain parameter," Ikaika, the specialist who didn't disclose his full name to protect his job, told Austonia. "As soon as you walk in, you start sweating... it's not good at all."
Lopez said working in 90+ degree heat became the norm in her two months at the location as air conditioning units remained broken for months before the closure. She added some employees, including her former manager and several customers, passed out in the store due to the heat. But she said company leadership remained unresponsive.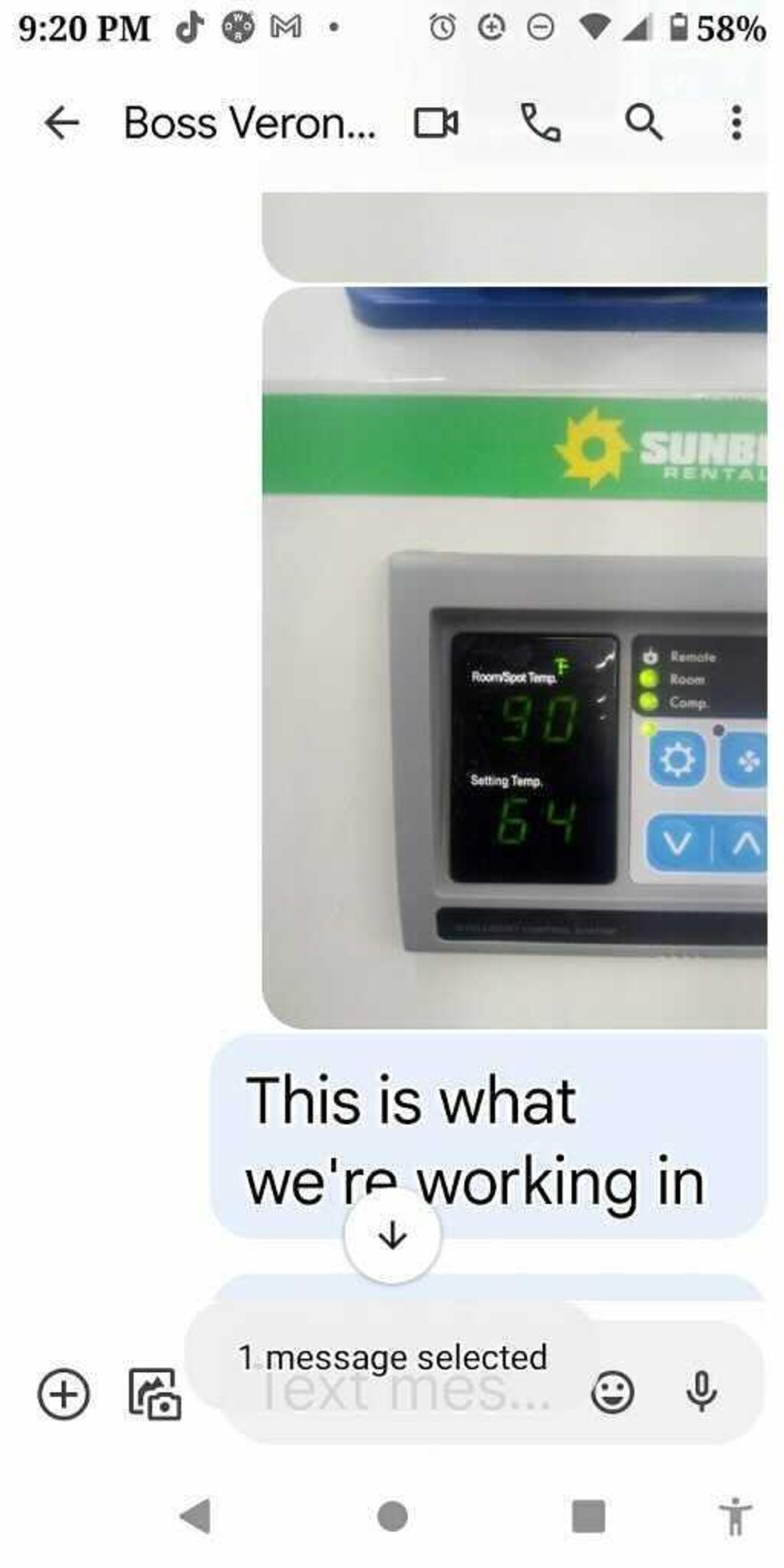 Lopez said she sent her district manager, Veronica Oyervides, screenshots of 90+ degree temperatures inside the store. (Maggie Lopez)
Four days after the air conditioning repairman told employees they should no longer keep working at the store, Lopez said her district manager, Veronica Oyervides, was asking her to come back in to prep the location for reopening. Lopez worked May 8 in the shuttered store prepping it for a reopening, which has yet to happen. Oyervides has declined to comment.
Ever since she started working in the deteriorating Dollar Tree, Lopez said she often wakes up with nosebleeds. She said she's constantly thirsty, her hands shake, and she's experiencing headaches and mood swings—symptoms she believes are due to long-term exposure to mold.
Former assistant manager Linnea Bradley told Austonia she has been hospitalized with symptoms linked to heat and stress after working at the store.
"We are sick and corporate does not give a shit," Lopez said. "What kind of damage did these stupid units do to our bodies?"
Lopez hasn't sought care for her symptoms. She says she makes $13.50 an hour and doesn't have health insurance.
Former employees have more complaints than just the heat: Lopez said that personal safety became a concern in the understaffed store. Catherine, a former employee who wished to only reveal her first name, said she's witnessed large-scale theft and instances of mismanagement in her months as a stocker at the location.

"They have no security, no cameras... they don't want you to have anything in writing," Catherine told Austonia. "It's just complete chaos."
Catherine said that she and other hourly employees were given zero hours for weeks on end as managers, who work on salary, were left to run the store alone from 5 a.m. to 10 p.m. each day. She said some managers became so desperate they were hiring homeless people to help stock shelves in exchange for a drink and a bite to eat.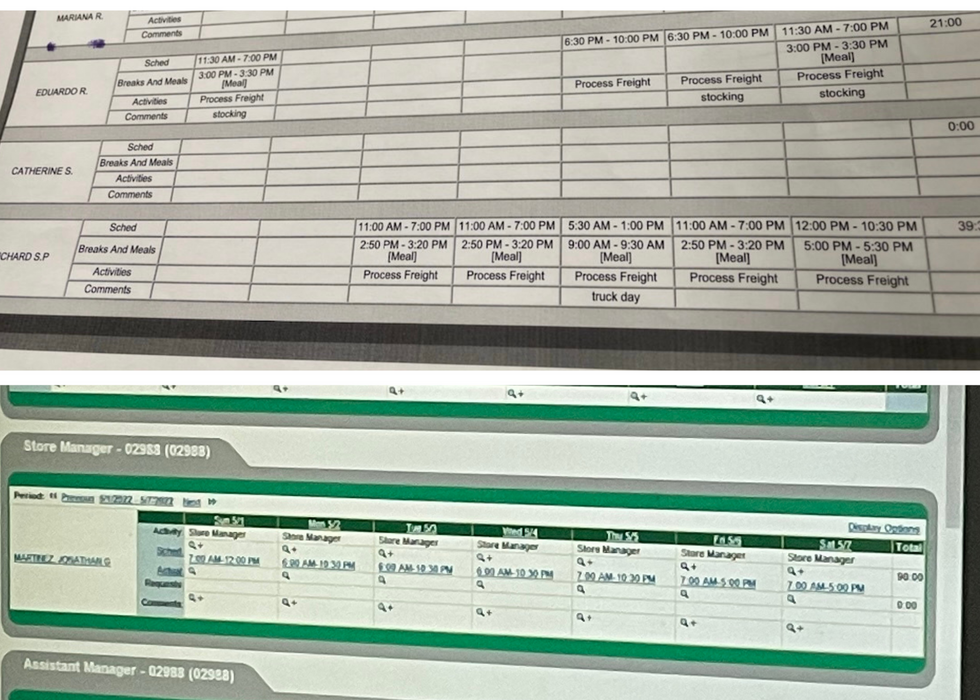 While Catherine (top, middle) often had zero-hour weekly schedules, Martinez, who was paid on salary, worked back-to-back 90-hour workweeks. (Catherine) (Claire Partain)
"They actually did have people willing to work, they just refused to give them hours," Catherine said. "I'm not understanding whether Dollar Tree wants to go under... are they doing this as a tax break?"
Other Austin Dollar Tree locations have reported similar issues. Former manager Jonathan Martinez, who says he was supposed to work 45 hours a week, says he was racking up 90+ hour workweeks and sleeping in the store as he shouldered both the Montopolis and William Cannon locations while his newborn baby was in the ICU in March.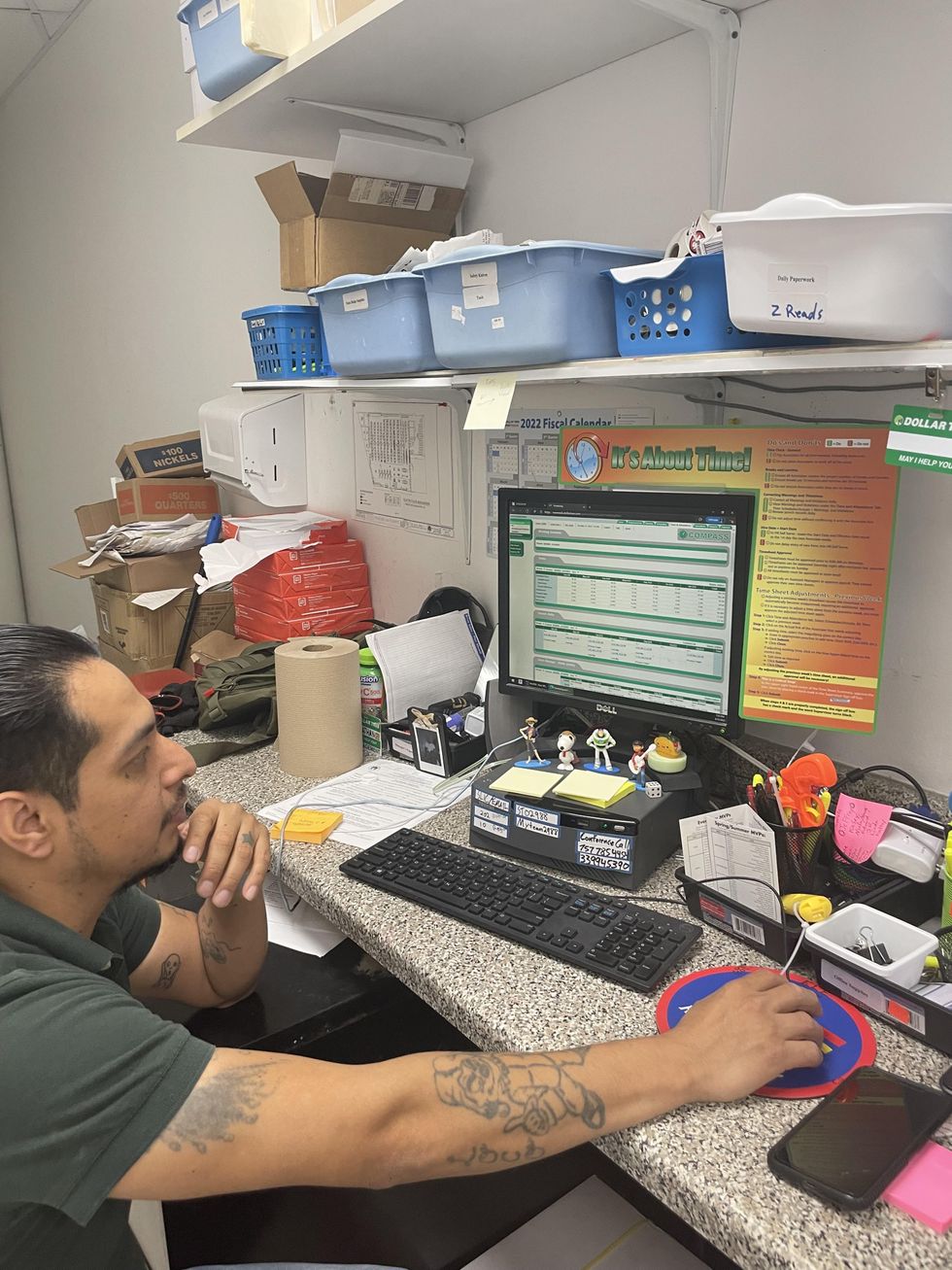 Martinez kept extra clothes in this office after working seven-day weeks at two Dollar Tree locations. (Claire Partain)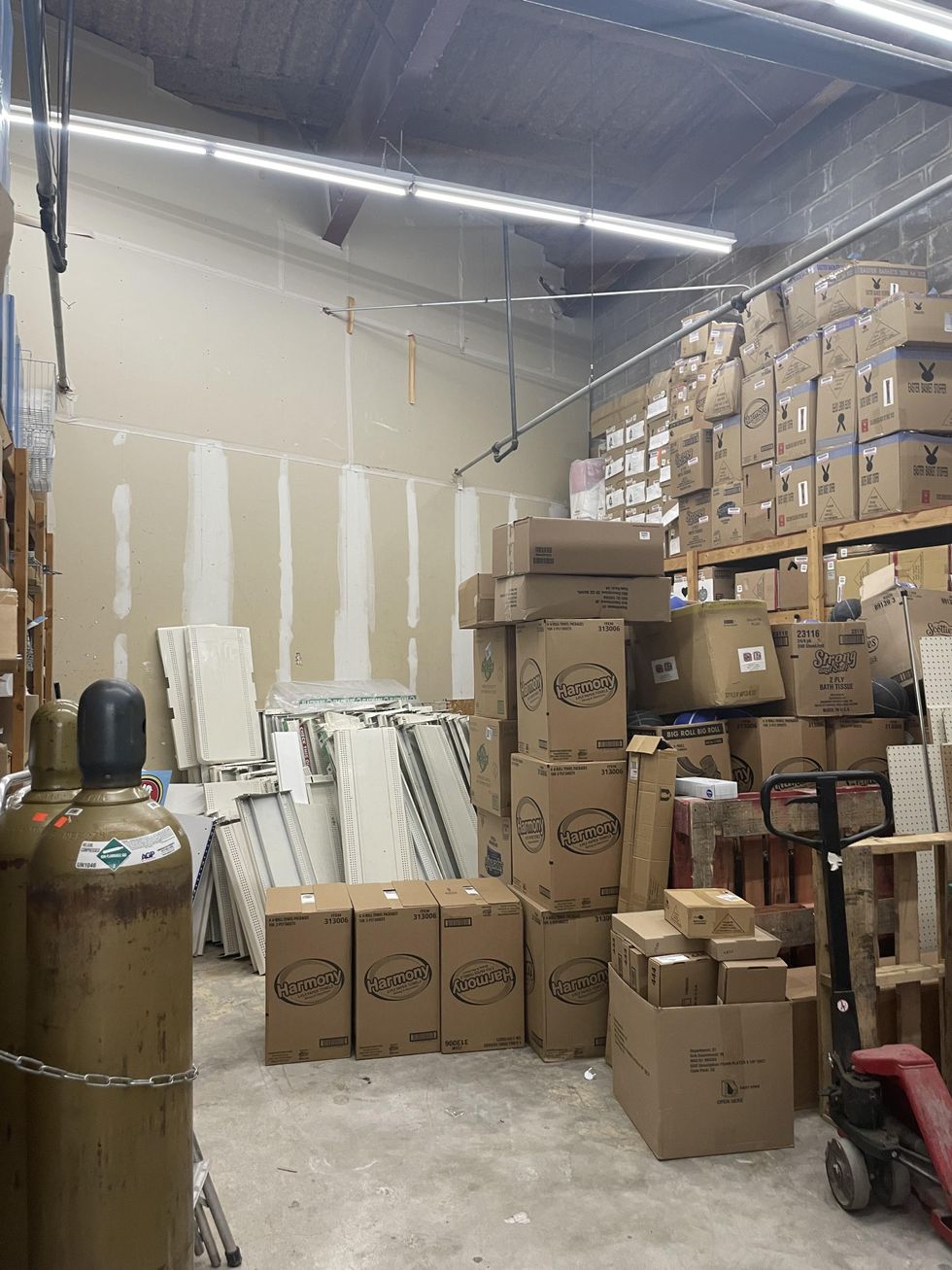 Martinez said he slept on boxes as he juggled the job and visiting his newborn in the ICU. (Claire Partain)
Martinez said he slept on boxes as he juggled the job and visiting his newborn in the ICU. (Claire Partain)
"As long as the store stays open, there are corporate people getting bonuses," Martinez, who quit last week after receiving a $100 annual bonus, told Austonia. "Six months ago, when corporate people had a shitload of bonuses, that's when they upped the price (of everything in the store from $1 to $1.25)."
In the six months since Dollar Tree hiked its prices to $1.25, it's gained plenty of mostly negative national attention. In February, the Food and Drug Administration shut down an Arkansas distribution plant due to a massive rodent infestation, and several lawsuits have ensued. The company has also come under fire for selling allegedly expired over-the-counter medicine and its worker shortage at locations across the country.
One employee, who still works for Dollar Tree and wished to remain anonymous, said that they've seen or heard that many area locations are near their breaking point.
"I've seen the good, the bad, the bad to worse," they said. "And it's always a rinse repeat kind of thing... How many more (stores) will go? And what about the employees?"
"Every time I would tell (Oyervides) 'I'm just going to close, I can't stand it anymore,' she would say, 'No, no, no,'" Lopez said. "And I'd be so upset because why? They have my paycheck. It's just been mortifying... the most horrible year of my life."
Dollar Tree's regional director did not respond to requests for comment from Austonia.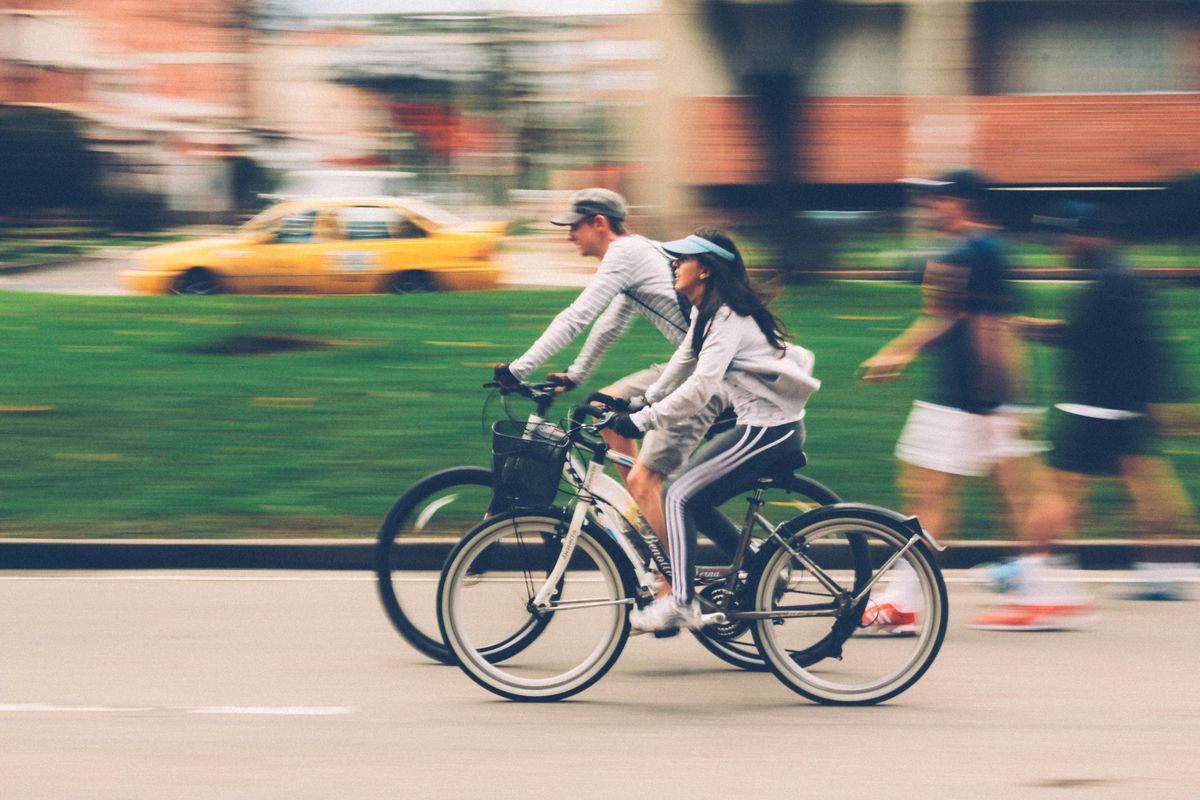 Grab a helmet and get active this morning by celebrating Bike to Work Day alongside the city.
The community will gather for a celebration at Austin City Hall starting at 8 a.m. with free tacos, coffee and giveaways.
A few things to remember around bikes:
Over 80% of bicycle crashes happen at intersections
It's important to wear reflective clothing during dark hours
Drivers should keep a distance—take at least three feet of space when passing.
Residents can find the most comfortable, safe bike routes via the 2022 Austin Bike Map, or rent a MetroBike with the code B2WD2022.