Never miss a story
Sign up for our free daily morning email...
...and afternoon text update
Get connected with our daily update
(AnyPlace MD)
AnyPlace MD, a Cedar Park-based business offering COVID-19 testing and symptom monitoring, has seen a change in consumer demand.

---
In early April, the company hosted its first antibody testing event in Austin. "The demand was massive," CEO Shane Stevens said. But subsequent events, including a drive-thru testing site at Circuit of The Americas, prompted less interest.
Stevens attributes this to growing doubt about antibody testing and questions about its efficacy.
The initial popularity of antibody testing was, in part, a response to a lack of regular COVID-19 tests. Antibody tests detect whether a person has developed an immunologic response to the virus—which may or may not confer immunity—and they were offered as a chance to give patients peace of mind and researchers a better sense of how widely COVID-19 has spread within communities.
Last month, local primary care centers began offering pinprick tests, promising results in 15 minutes. But health authorities quickly responded, warning that the tests varied in quality, risked false results and could not prove immunity.
To combat this, AnyPlace MD has partnered with the city of Austin and area nursing homes on testing initiatives. "By partnering with these groups, we have a more defined audience," he said. "It's going to be based really on need versus an assumption that there's a want for the testing."
Today, antibody tests are more stringently regulated. The FDA's initial policy, set in mid-March, was updated May 4 to prevent companies from falsely claiming their tests were approved by the agency.
But challenges remain.
Eric Olson is the CEO of Austin-based medical technology company Babson Diagnostics, which launched its own antibody test on April 30. He is hopeful that antibody tests can regain the public's trust.
"Number one, we need to be really careful about what we say that we're doing," he said. "We're providing a test that can tell you whether or not you've got antibodies. It's not a test that can tell you whether or not you've got immunity. And that's just got to be a clear line that you draw."
In a controlled setting, antibody testing may be able to help workplaces return to normal.
Dr. Andrea Natale, who directs the Texas Cardiac Arrhythmia Institute at St. David's Medical Center, and a team of researchers, have been working on the Austin COVID-19 Protection Project.
Since March, they have tested more than 700 people within the Austin health care community—including EMTs, patients and hospital staff—using a combination of diagnostic tests and antibody tests.
"If you combine both, you can start testing large numbers of people quickly," Dr. Natale said. "Once you reach a critical mass of tested people and you isolate the positives, then it becomes a very safe environment to be around each other without worry [of getting] sick."
Total Men's Primary Care, which has 16 locations in and around Austin, was one of the first places to offer antibody testing locally. It has since expanded its services to women and children and recently received the first shipment of FDA-approved Cellex tests sent outside of New York, CEO Robert Sek said.
The company is expanding its services to include on-site antibody testing for employers. Austin companies that have expressed interest include dental offices, restaurants, construction companies and a car dealership. "It's not diagnostic in nature, but it's trying to get another piece of information or data," Sek said. "That could be useful for them."
Antibody tests will also improve as companies refine their models. Babson is already working on its second iteration.
"We do think that there's a significant probability that this disease is something that we'll have to deal with year in and year out," Olson said, adding that testing for COVID-19 antibodies could become as normalized as checking one's cholesterol or glucose levels. "And if that's the case, we believe pretty strongly that serology testing is going to become a routine blood test."
Austin FC couldn't find the stamina to fight off a 2-0 loss against LAFC for their inaugural match on Saturday.
The match, which saw No. 21 Austin FC go head-to-head with No. 2 LAFC in Los Angeles, was broadcast nationally on FOX and FOX Deportes.
Eleven players took the stage as Austin FC players for the first time, with five starters making their MLS debut. "Ringleader" Alex Ring took the captain's armband and wore it well. The defensive midfielder could be seen leading his teammates through their first ever match, but it wasn't enough to stage an Austin takeover in LA.
As Austin FC took the stage for their first-ever match, they appeared more experienced than their track record. The club held LAFC to a scoreless first half, keeping about equal possession of the ball.
In the signature style of Head Coach Josh Wolff, the team played with quickness and intensity, nearly connecting on several fast breaks.
The club was given some generous breaks from No. 2 LAFC, who had one or both of their star DPs out for the half. While forward Diego Rossi is out for the entire match due to a hamstring injury, Carlos Vela was accidentally pulled too soon on what turned out to be a miscommunication.
"He gave us the sign that he needed to come off," LAFC Head Coach Bob Bradley said on broadcast. "I can't say more than maybe it's my fault."
LA pulled some dramatics and slowly gained more possession throughout the half, but ATXFC's defense wasn't initially as shaky as it seemed in preseason. Jhohan Romana has pulled his weight in getting the ball out of goal, and a 34-year old Matt Besler held his own in center back.
As the second half commenced, however, it became clear that LAFC had the advantage over Austin's first major league team.
Goalkeeper Brad Stuver had his work cut out for him, fending off 24 shot attempts, 11 of which were on goal.
LAFC finally connected in the 61st minute of play as Corey Baird shot one into the bottom right corner. The team capitalized off their momentum and put one past Stuver a second time, drawing roars of approval from the LAFC crowd.
While some last-minute attempts from Jon Gallagher and others were made, Austin FC didn't have the endurance to bring a tie. After seven additional minutes of stoppage time, the club lost their first match 2-0.
It's matchday! Austin FC—Austin's first major league sport team—kicks off its debut season in Los Angeles today after years in the making. We know how much this means to our beloved city and are taking you along with us as we journey to LA!
Austin FC writer Claire Partain and I are excited to bring you game-day coverage straight from the City of Angels. Check back here for updates, and visit our socials: @austonianews for the latest.
5 p.m: Kickoff!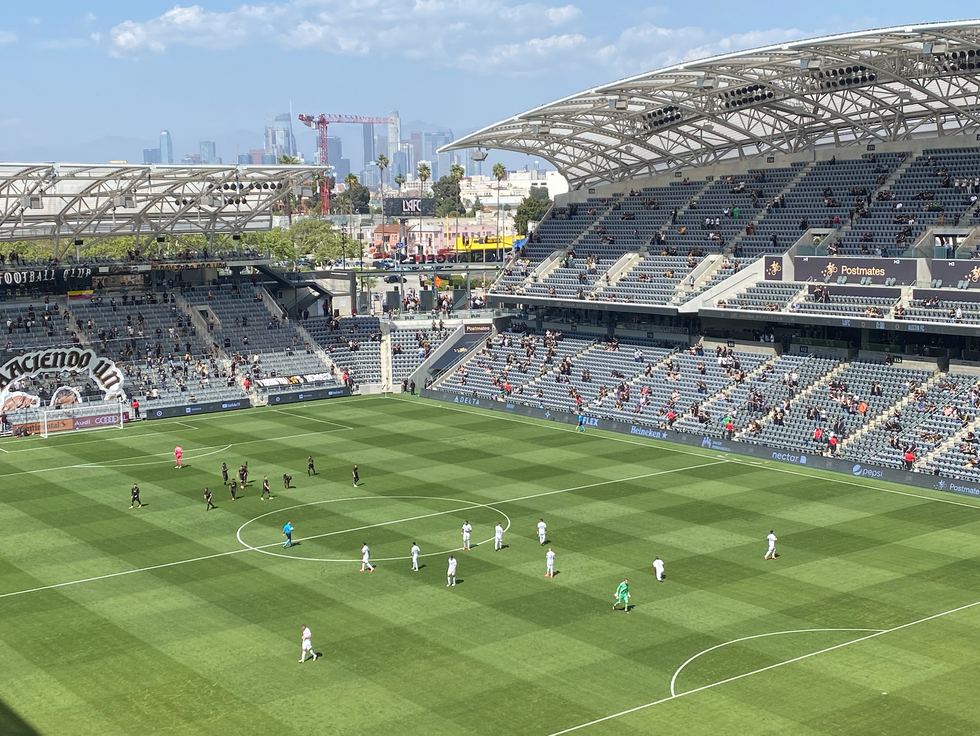 It's finally here! Claire will be updating Austonia's Twitter account live. And we'll post her game recap after the game. Best of luck Verdes!
4:40 p.m: Excitement radiates back home
Watch parties are in plenty supply back home. Austonia's Laura Figi visited Circle Brewing Co. and found a crowd of excited supporters.
4:20 p.m: Austin FC supporters are in the stadium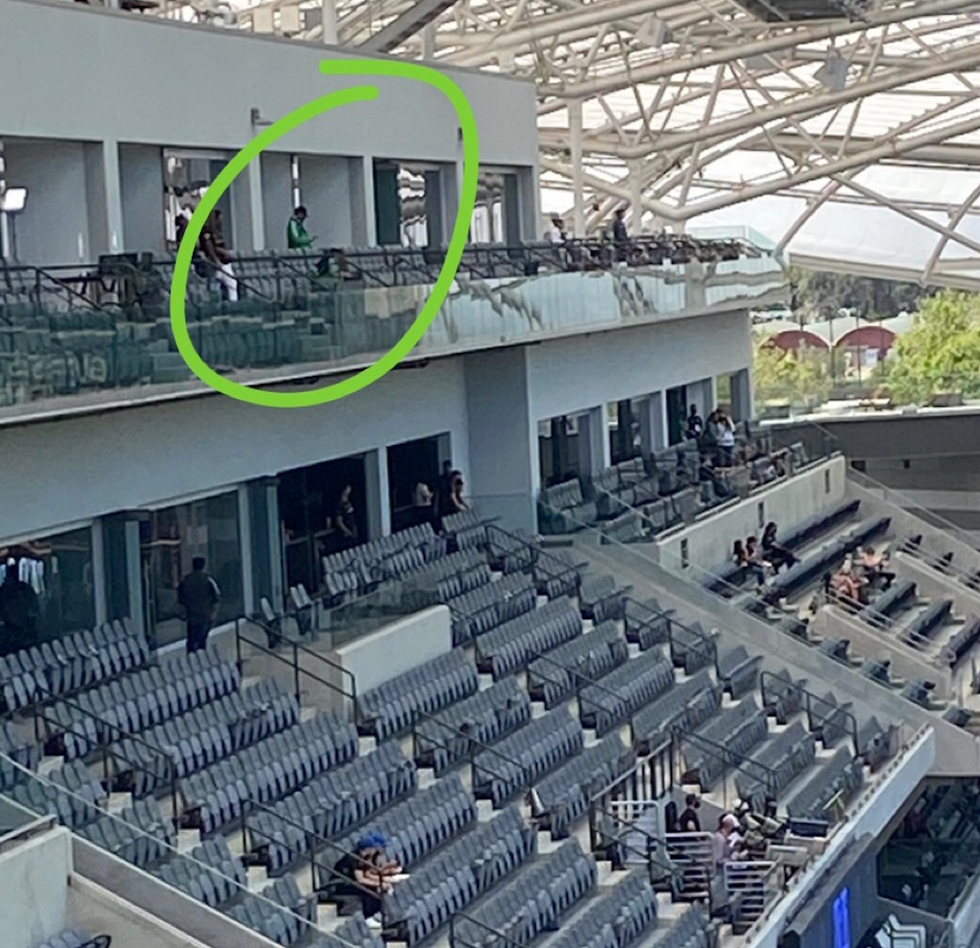 Although the Banc of California Stadium is hosting the match at limited capacity, we see some green in the stands ahead of kickoff. Just moments away from the Austin FC's debut!
~3:20 p.m: Austin FC's team bus enters the stadium grounds
With a warm welcome from Los Verdes, Austin FC players were welcomed into the Banc of California Stadium.
~1 p.m: Los Verdes in LA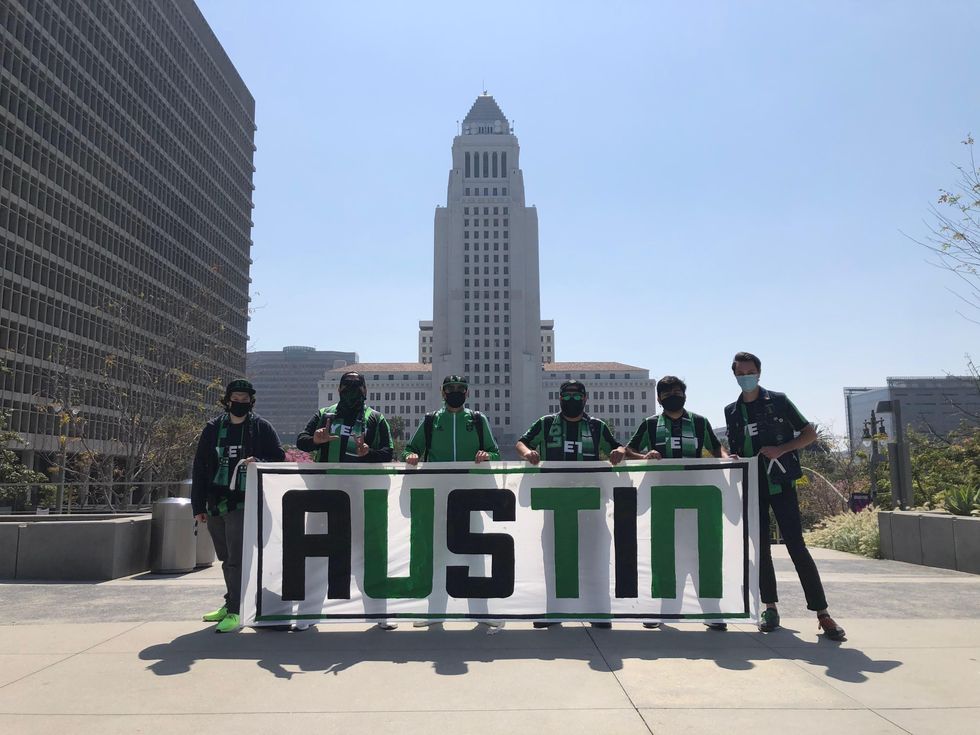 (Rigo Rodriguez/Los Verdes)
Austin FC supporters are making their presence known in LA, including the Los Verdes group.
Los Verdes members started having match-day fun around the area this morning with brunch. We'll be joining them about an hour before the game outside the stadium to share some of their excitement. We'll post immediately to Austonia's Instagram.
11:45 a.m: We landed!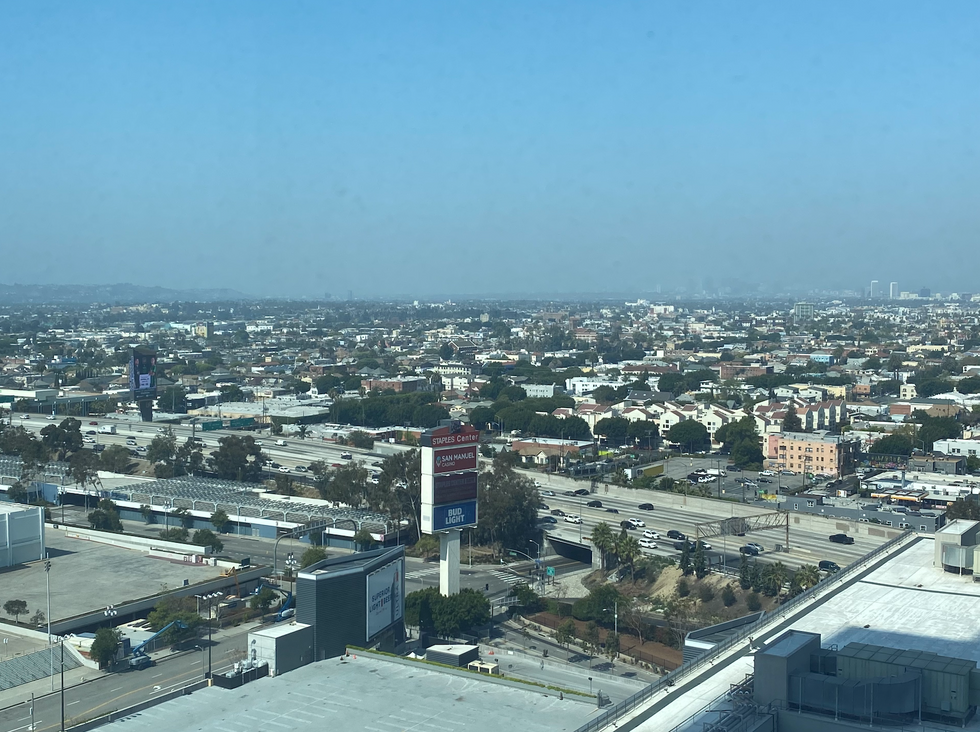 View from hotel room where we're staying; the stadium digital sign can be seen in the right corner. (Sonia Garcia/Austonia)
Switching over to pacific time, we're here and it's almost like no time went by. It's 9:45 a.m. here.
We've been in contact with Los Verdes, an Austin FC supporter group, who is also here in LA counting down to kickoff.
8:20 a.m: LA bound
Like many of you, we've been looking forward to this moment for, let's just say, a very long time. Today, we woke up bright and early, headed to Austin-Bergstrom International Airport and hopped on a flight to LA.
A gloomy day in Austin with a very quiet airport, we're headed to sunny skies in California.
As we wait for the game to start at 4:30 p.m., check out Claire's preview of the game with a predicted lineup and timeline of the long journey to get here.