Never miss a story
Sign up for our free daily morning email...
...and afternoon text update
Get connected with our daily update
Austonia staff
Welcome to Austonia, a new, locally owned news company reporting on news, business, and politics in Austin. Like what you see? Sign up for our daily newsletter to get our latest stories in your inbox.
Reports that indicate the new coronavirus may be mild or asymptomatic in up to 80% of cases have driven demand— in Austin and around the world—for antibody tests, which claim to be able to determine whether or not a person has had COVID-19.
---
People are seeking out these tests in the hope that, as is the case for many viruses, having COVID-19 will make people immune to it in the future—at least for a while. The problem is that even if the tests work—and some may not—is that no one really knows how the virus affects the immune system of survivors.
COVID-19 prompts the formation of antibodies in patients who have been exposed to it. "[T]his is what is referred to as an immunologic response," Dell Medical School Chief of Pathology Dr. Edward Weir wrote in an email. But he added that the effectiveness of these antibodies and the duration of any immunity they may confer remains to be seen.
Until these questions are answered, health officials have advised caution.
"I think a baseline expectation should be that this concept of social distancing, personal hygiene, the public masking … is going to have to continue until we reach herd immunity by one method or another," Austin-Travis County Health Authority Dr. Mark Escott said during an April 22 press conference.
Herd immunity is achieved when a majority of a population is immune to a disease, either because they've been vaccinated against it or have survived it themselves.
But the latter route, at least in the case of COVID-19, would come at great cost, according to experts.
Dr. Lauren Ancel Meyers, who leads the University of Texas at Austin COVID-19 Modeling Consortium, told Austin City Council members Tuesday that herd immunity might be attainable, but as the result of "a catastrophic second wave," if this disease proves to be immunizing.
Last week, Travis County Judge Sarah Eckhardt said 750,000 people in the region would need to be affected to achieve herd immunity. At the current mortality rate of 2.2%—and with a functional healthcare system not yet overwhelmed by COVID-19 cases—that would lead to 16,500 deaths.
"We don't want full-on herd immunity because our hospital capacity cannot absorb that," Eckhart said during an April 22 Commissioners Court meeting. "It would mean lots of death, literally."

So far, Travis County reports 1,756 confirmed COVID-19 cases. Austin-Travis County Interim Health Authority Dr. Mark Escott has said the caseload is likely seven or eight times as high as the confirmed number due to inadequate testing.
If the total caseload is seven times the number of confirmations—12,292—it would still amount to less than 1% of the population in Travis County.
In contrast, around 70% of the population would likely need to be immune—either by recovering from COVID-19 or receiving a vaccine—to achieve herd immunity, said Dr. Gypsyamber D'Souza, a professor at the Johns Hopkins Bloomberg School of Public Health.
"We're very far from achieving herd immunity," Dr. D'Souza said in a phone interview. "We won't get there in 2020."
There's also a chance, she added, that repeated surges could lead to hundreds of thousands of deaths nationwide, overwhelmed hospitals, and still not reach the exposure threshold needed to protect the herd.
In the meantime, health authorities have stressed the importance of long-term containment efforts to avoid a surge in cases and allow time for researchers to develop a vaccine that can enable herd immunity and minimize the loss of life.
With a taste of MLS play under their belts, Austin FC is entering the second half of a scoreless inaugural match.
The club has been given some generous breaks from No. 2 LAFC, who had one or both of their star DPs out for the half. While forward Diego Rossi is out for the entire match due to a hamstring injury, Carlos Vela was accidentally pulled too soon on what turned out to be a miscommunication.
"He gave us the sign that he needed to come off," LAFC Head Coach Bob Bradley said on broadcast. "I can't say more than maybe it's my fault."
The two breaks aside, Austin FC has been holding their own against the match favorites. In the signature style of Head Coach Josh Wolff, the team has been quick and intense, nearly connecting on several fast breaks. ATXFC has also kept about equal possession with LAFC, although their shot attempts haven't been quite as nervewracking as the home team.
LAFC has given goalkeeper Brad Stuver some scares with 11 shot attempts, four of them on goal. By contrast, Austin FC has had five shots on goal.
LA has pulled some dramatics and slowly gained more possession throughout the half, but ATXFC's defense isn't as shaky as it seemed in preseason. Jhohan Romana has pulled his weight in getting the ball out of goal, and defensive midfielder Alex Ring has shown the qualities that make him captain as he leads his teammates through their first ever match.
Will Austin FC win against the odds? It's tough to tell, but Austonia will keep you updated!
It's matchday! Austin FC—Austin's first major league sport team—kicks off its debut season in Los Angeles today after years in the making. We know how much this means to our beloved city and are taking you along with us as we journey to LA!
Austin FC writer Claire Partain and I are excited to bring you game-day coverage straight from the City of Angels. Check back here for updates, and visit our socials: @austonianews for the latest.
5 p.m: Kickoff!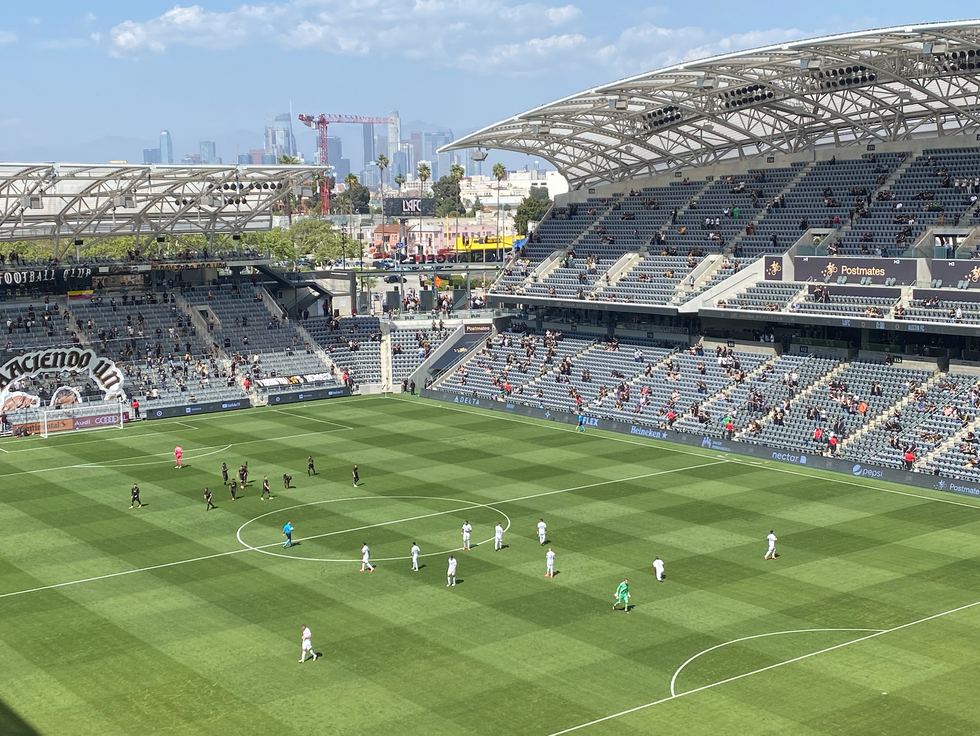 It's finally here! Claire will be updating Austonia's Twitter account live. And we'll post her game recap after the game. Best of luck Verdes!
4:40 p.m: Excitement radiates back home
Watch parties are in plenty supply back home. Austonia's Laura Figi visited Circle Brewing Co. and found a crowd of excited supporters.
4:20 p.m: Austin FC supporters are in the stadium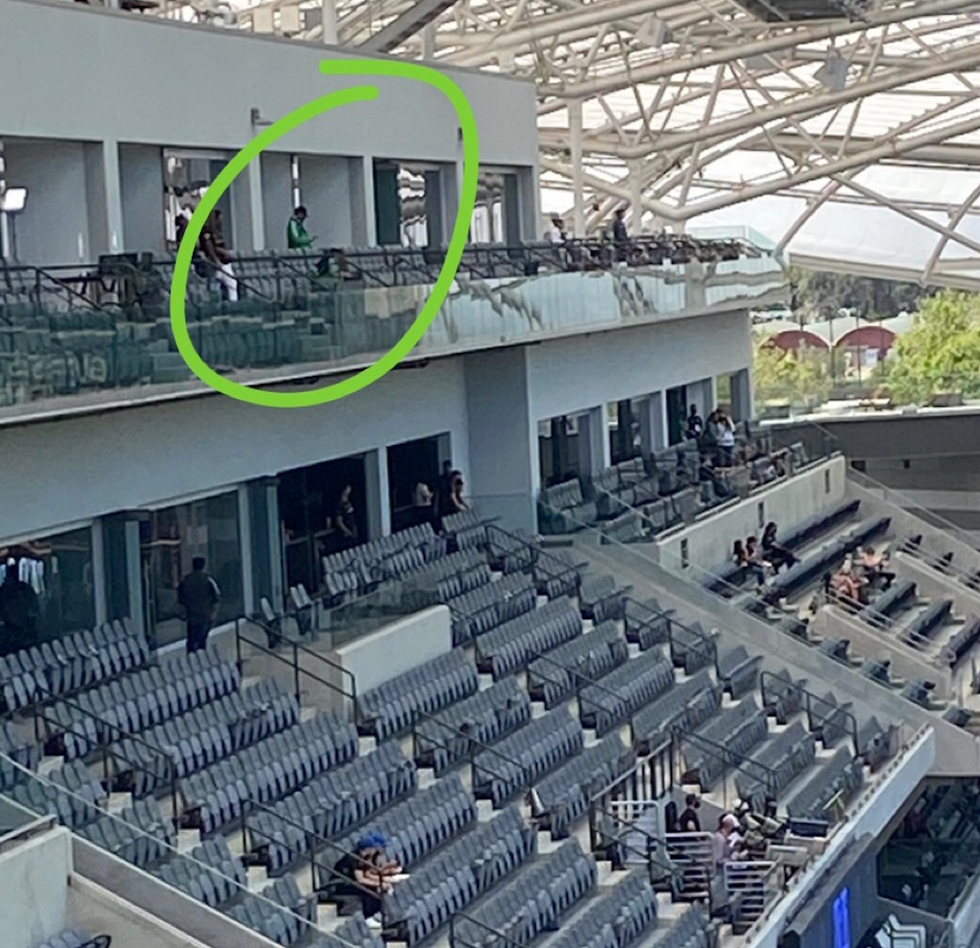 Although the Banc of California Stadium is hosting the match at limited capacity, we see some green in the stands ahead of kickoff. Just moments away from the Austin FC's debut!
~3:20 p.m: Austin FC's team bus enters the stadium grounds
With a warm welcome from Los Verdes, Austin FC players were welcomed into the Banc of California Stadium.
~1 p.m: Los Verdes in LA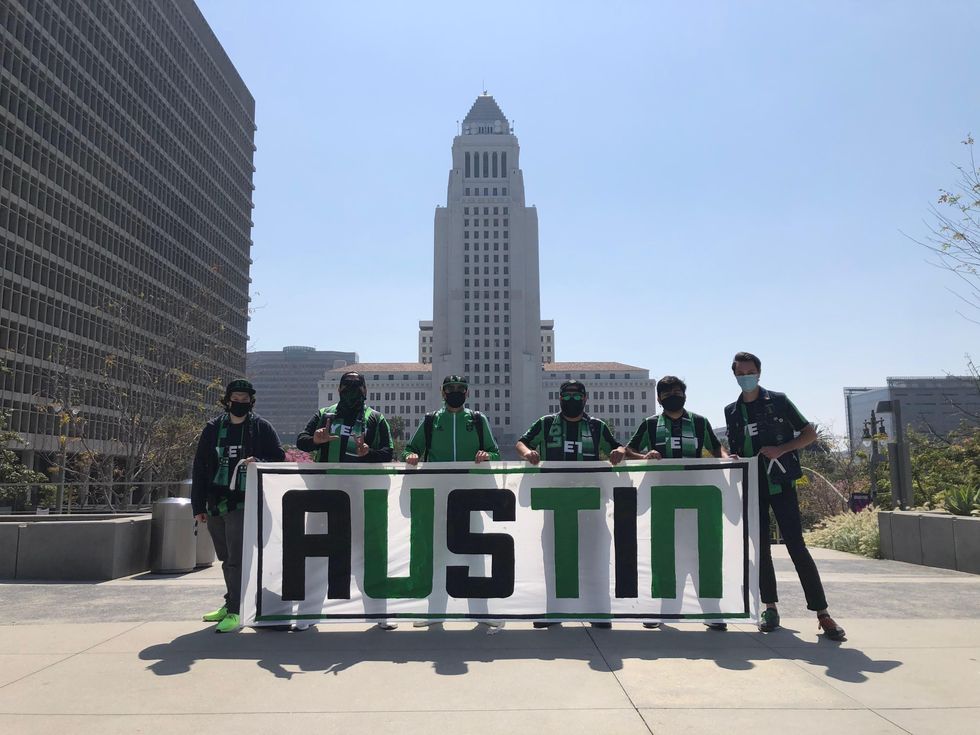 (Rigo Rodriguez/Los Verdes)
Austin FC supporters are making their presence known in LA, including the Los Verdes group.
Los Verdes members started having match-day fun around the area this morning with brunch. We'll be joining them about an hour before the game outside the stadium to share some of their excitement. We'll post immediately to Austonia's Instagram.
11:45 a.m: We landed!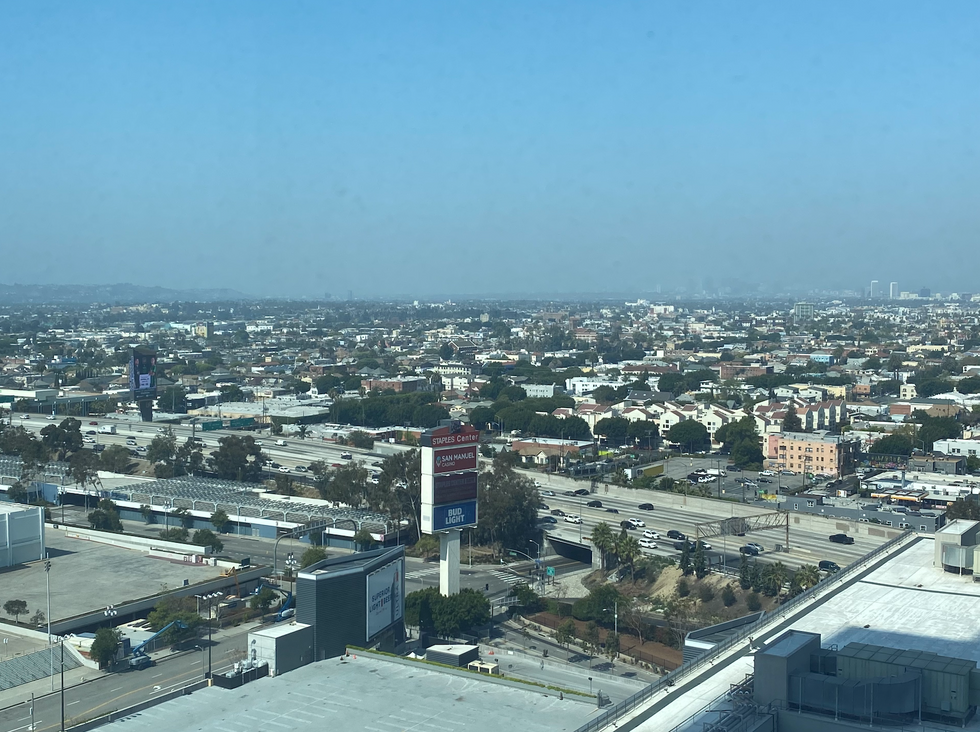 View from hotel room where we're staying; the stadium digital sign can be seen in the right corner. (Sonia Garcia/Austonia)
Switching over to pacific time, we're here and it's almost like no time went by. It's 9:45 a.m. here.
We've been in contact with Los Verdes, an Austin FC supporter group, who is also here in LA counting down to kickoff.
8:20 a.m: LA bound
Like many of you, we've been looking forward to this moment for, let's just say, a very long time. Today, we woke up bright and early, headed to Austin-Bergstrom International Airport and hopped on a flight to LA.
A gloomy day in Austin with a very quiet airport, we're headed to sunny skies in California.
As we wait for the game to start at 4:30 p.m., check out Claire's preview of the game with a predicted lineup and timeline of the long journey to get here.