Get connected with our daily update
(Austin Water)
Inside a freezer at the Cockrell School of Engineering at the University of Texas at Austin is a collection of wastewater samples, drawn from the city's two major treatment plants over the last month.
---
They're stashed away while a team of researchers finalizes their procedure for analyzing them. The goal? To measure the concentration of COVID-19 in the city's domestic wastewater in the hopes of detecting outbreaks sooner.
"Everybody has to flush," Associate Professor Dr. Mary Jo Kirisits told Austonia. "Everybody is contributing their sample on a daily basis."
The practice of studying waste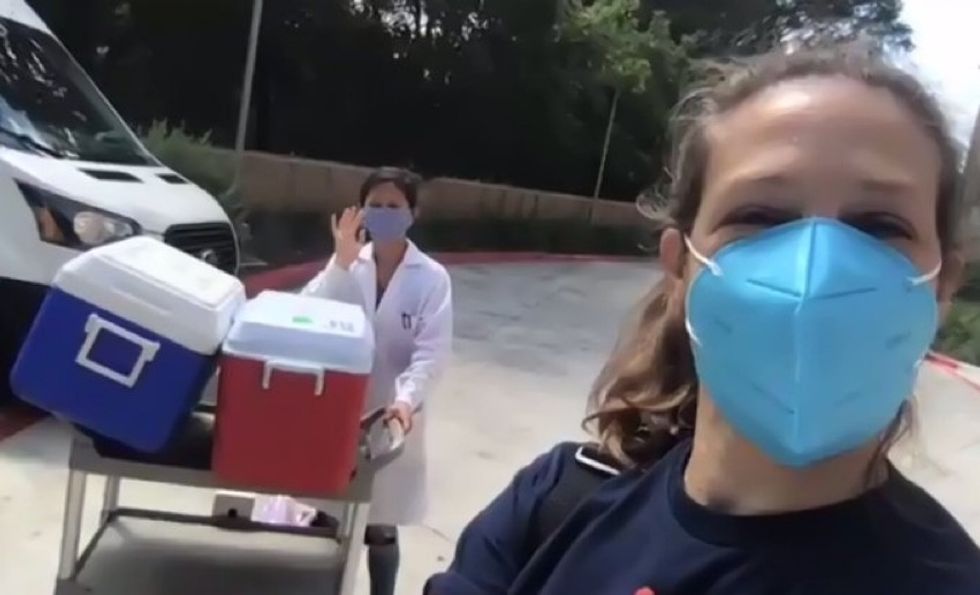 UT researchers take samples to test for COVID-19. (Mary Jo Kirisits)
Kirisits, along with colleagues from the Cockrell School and the Texas Advanced Computing Lab, is working on the study, which was commissioned by Austin Water and is scheduled to run until June 2021.

The water utility is collecting samples three days a week, sometimes multiple times per day, for the researchers to analyze; they will share their results with Austin Public Health.
This type of wastewater analysis isn't new.
"Certainly looking and analyzing wastewater is something that has been done historically for other diseases where vehicles of transmission are being shed by feces," Kirisits said, adding that it continues to be used to detect polio in other countries.
Now research groups worldwide are applying the technique to monitor the spread of COVID-19.
Studies show that the viral RNA can appear in feces within three days of infection, which is much sooner than it takes symptoms to appear in some patients or for local hospital rates to reflect an uptick, according to an April report from the journal Nature.
Local health officials often lament this lag time between when an outbreak occurs and when it is reflected in test results or hospital admission rates.
But the hope is that this wastewater study can function as a kind of warning system, alerting researchers to any COVID-19 resurgences in the coming months. "If [cases] do start to uptick," Kirisits said, "we're going to be able to see that before the cases start arriving in the hospital."
How it helps contain a pandemic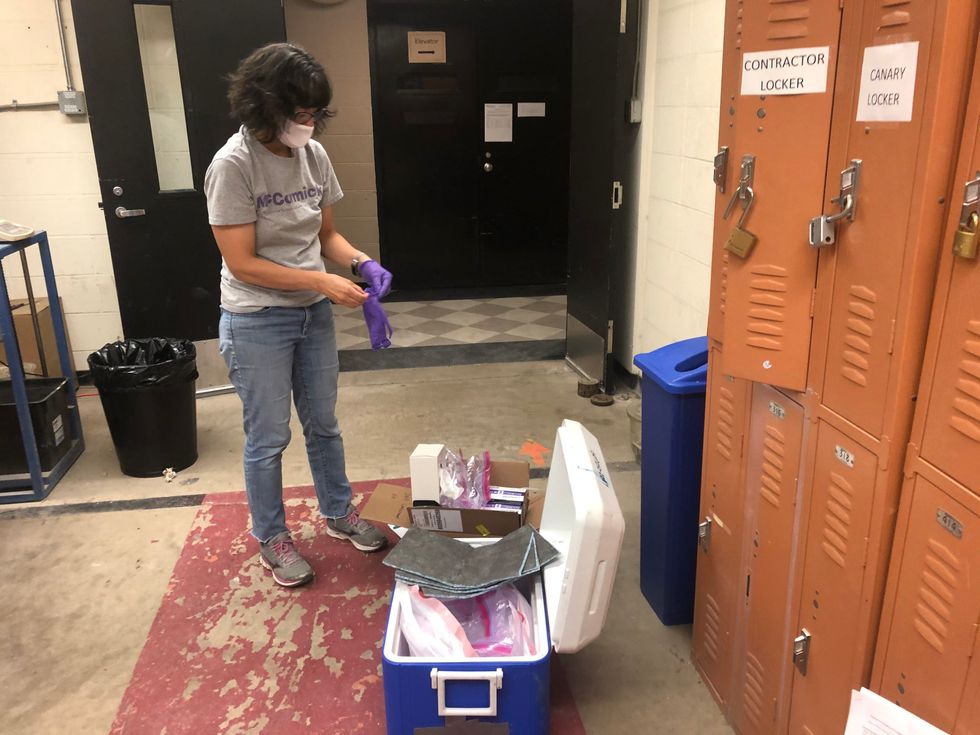 Preparing the coolers.(Mary Jo Kirisitis)
The sooner researchers—and Austin Public Health officials—learn of an outbreak, the sooner they can act to contain it.
"If we find a hotspot in a part of Austin that hasn't been on the radar screen—because maybe people aren't getting tested in that area for whatever reason—we can say, 'Hey, maybe we need to increase the education about social distancing or mask wearing or hand washing in that area,'" Kirisits said. "Maybe we need to deploy more testing resources to that area."
Ideally, researchers will also be able to refine the sampling process by deploying autosamplers at different locations around Austin—such as inside a manhole—to help pinpoint where outbreaks may be occurring.
Relying on samples from the treatment plants, as is currently the case, means researchers can only know if an outbreak is occurring in the area served by one of the two treatment plants, each of which serves around half a million people.
"Really the point that we're at right now is to use this [COVID-19 concentration metric] to understand what's happening temporarily in our sewersheds here in Austin," Kirisits said. "It's going to be great when we get to the point that [it] is really coming down and it's below our detection limit."
Want to read more stories like this one? Start every day with a quick look at what's happening in Austin. Sign up for Austonia.com's free daily morning email.
Concerning levels of cylindrospermopsin were discovered on Sept. 22 after a person got sick and samples were sent to get tested on Sept. 9. Signs will be posted at access points to Sculpture Falls that people and their pets should not injest or swim in the water.
Unlike the harmful algae making dogs sick in parts of Lake Travis and Lady Bird Lake in past summers, these toxins are found in the water, the city says. Barton Creek visitors are asked to avoid stagnant water especially.
The toxins also result in different health effects than the harmful algae in Lady Bird Lake, including liver and kidney damage. If exposed, people can feel:
Fever
Headache
Vomiting
Bloody diarrhea
If exposed, people should seek medical attention and report it to 311.
TinyFest Texas 2021
When: 10 a.m. Saturday – 5 p.m. Sunday
Where: Jourdan-Bachman Pioneer Farms, 10621 Pioneer Farms Drive
What: Tour tiny houses, van converstions, shipping container homes and more at this year's TinyFest. Grab tickets here for a weekend of speakers, workshops and panel discussions plus live music, food and more!

Fierce Whiskers Grand Opening
When: 12 p.m. Saturday
Where: Fierce Whiskers, 5333 Fleming Court
What: Fan of whiskey? Come along to the free grand opening of Fierce Whiskers Distillery's new tasting room. Enjoy bites from a food truck, oysters, musical performances and a raffle.

Austin Summer Carnival
When: 6 p.m. Saturday – 2 a.m. Sunday
Where: The Venue ATX, 516 East 6th St.
What: Don your dancing outfit for this carnival that celebrates the African heritage with Brazilian, Latin and Caribbean rhythms in Austin. Snag your tickets here.

Beginner's Succulent Arrangement and Planting
When: 3 p.m. – 4 p.m. Sunday
Where: Succulent Native, 5501 North Lamar Blvd.
What: Calling all first-time planters: Get your hands dirty and learn about succulent and cactus arrangement and care. No tools required! Grab your tickets here.