Get connected with our daily update
(Austin Water)
Inside a freezer at the Cockrell School of Engineering at the University of Texas at Austin is a collection of wastewater samples, drawn from the city's two major treatment plants over the last month.
---
They're stashed away while a team of researchers finalizes their procedure for analyzing them. The goal? To measure the concentration of COVID-19 in the city's domestic wastewater in the hopes of detecting outbreaks sooner.
"Everybody has to flush," Associate Professor Dr. Mary Jo Kirisits told Austonia. "Everybody is contributing their sample on a daily basis."
The practice of studying waste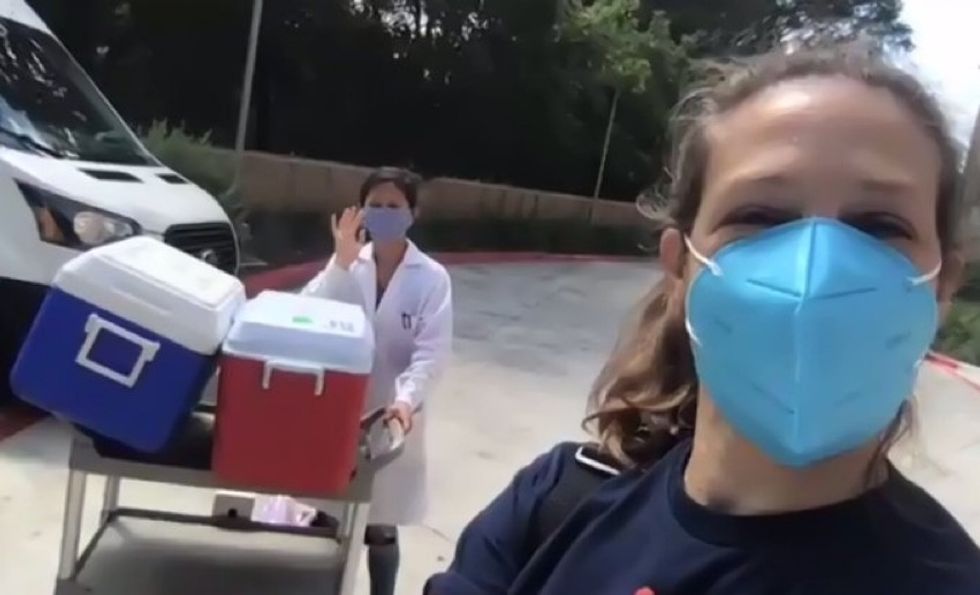 UT researchers take samples to test for COVID-19. (Mary Jo Kirisits)
Kirisits, along with colleagues from the Cockrell School and the Texas Advanced Computing Lab, is working on the study, which was commissioned by Austin Water and is scheduled to run until June 2021.

The water utility is collecting samples three days a week, sometimes multiple times per day, for the researchers to analyze; they will share their results with Austin Public Health.
This type of wastewater analysis isn't new.
"Certainly looking and analyzing wastewater is something that has been done historically for other diseases where vehicles of transmission are being shed by feces," Kirisits said, adding that it continues to be used to detect polio in other countries.
Now research groups worldwide are applying the technique to monitor the spread of COVID-19.
Studies show that the viral RNA can appear in feces within three days of infection, which is much sooner than it takes symptoms to appear in some patients or for local hospital rates to reflect an uptick, according to an April report from the journal Nature.
Local health officials often lament this lag time between when an outbreak occurs and when it is reflected in test results or hospital admission rates.
But the hope is that this wastewater study can function as a kind of warning system, alerting researchers to any COVID-19 resurgences in the coming months. "If [cases] do start to uptick," Kirisits said, "we're going to be able to see that before the cases start arriving in the hospital."
How it helps contain a pandemic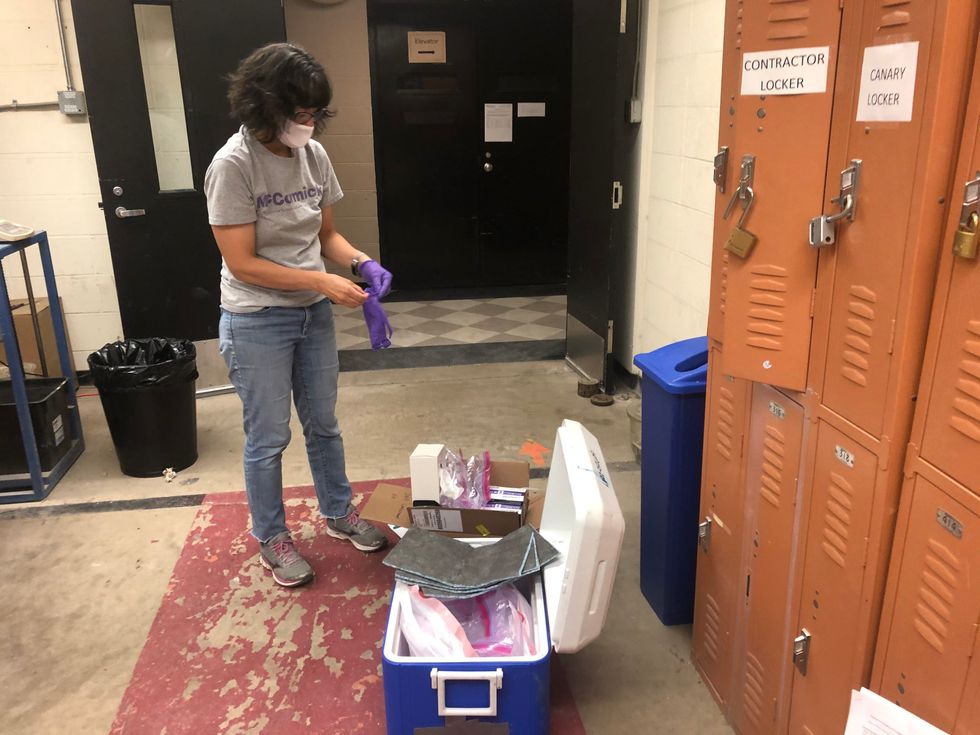 Preparing the coolers.(Mary Jo Kirisitis)
The sooner researchers—and Austin Public Health officials—learn of an outbreak, the sooner they can act to contain it.
"If we find a hotspot in a part of Austin that hasn't been on the radar screen—because maybe people aren't getting tested in that area for whatever reason—we can say, 'Hey, maybe we need to increase the education about social distancing or mask wearing or hand washing in that area,'" Kirisits said. "Maybe we need to deploy more testing resources to that area."
Ideally, researchers will also be able to refine the sampling process by deploying autosamplers at different locations around Austin—such as inside a manhole—to help pinpoint where outbreaks may be occurring.
Relying on samples from the treatment plants, as is currently the case, means researchers can only know if an outbreak is occurring in the area served by one of the two treatment plants, each of which serves around half a million people.
"Really the point that we're at right now is to use this [COVID-19 concentration metric] to understand what's happening temporarily in our sewersheds here in Austin," Kirisits said. "It's going to be great when we get to the point that [it] is really coming down and it's below our detection limit."
Want to read more stories like this one? Start every day with a quick look at what's happening in Austin. Sign up for Austonia.com's free daily morning email.
Officials are asking certain residents in Bastrop State Park to evacuate as crews work to put out a "very active fire" that is currently 0% contained.
The Texas A&M Forest Service has responded to help local fire departments with the Rolling Pines Fire at 100 Park Road 1A, which is consuming 300 acres. Residents of Pine Hill Drive, Pine Tree Loop, Linda Lane and Lisa Lane are being asked to evacuate.
Aviation resources have been called to assist.

According to the Bastrop County Office of Emergency Management, the wildfire sparked during a prescribed burn that took place today, despite wildfire warnings. Park Road 1C from Harmon Road to Park Road 1A had been closed for the prescribed burn.
The blaze is in the same location as the Bastrop Complex Fire of 2011, which burned for 55 days, killing two people, destroying 34,000 acres and around 1,700 homes and buildings. The fire, which started in 2011, became the most destructive wildfire in Texas at the time.
A hotbed for fires, the Hidden Pines Fire started at the same location in 2015, destroying 4,600 acres and 64 structures.
Some road closures have been put in place at State Highway 21 South Shore Lake Bastrop and East State Highway 21.
This is a developing story and will be updated as information becomes available.
After months of record-setting periods for Austin real estate, the Austin Board of Realtors announced Tuesday that the metro's housing market accounted for over $23 billion of economic activity in 2021, making it the biggest year yet for both home sales and median home prices in the metro.
The Austin-Round Rock MSA saw 41,316 homes sold in 2021, 2.5% more than a record-setting 2020. Median home prices skyrocketed as well, rising 30.8% from 2020 to $450,000. The housing market also saw unprecedented impact on Austin's economy, with sales dollar volume jumping to over $23.38 billion, and more homes hit the market in 2021 than any previous year, increasing by 5.9% to 46,449 total homes listed.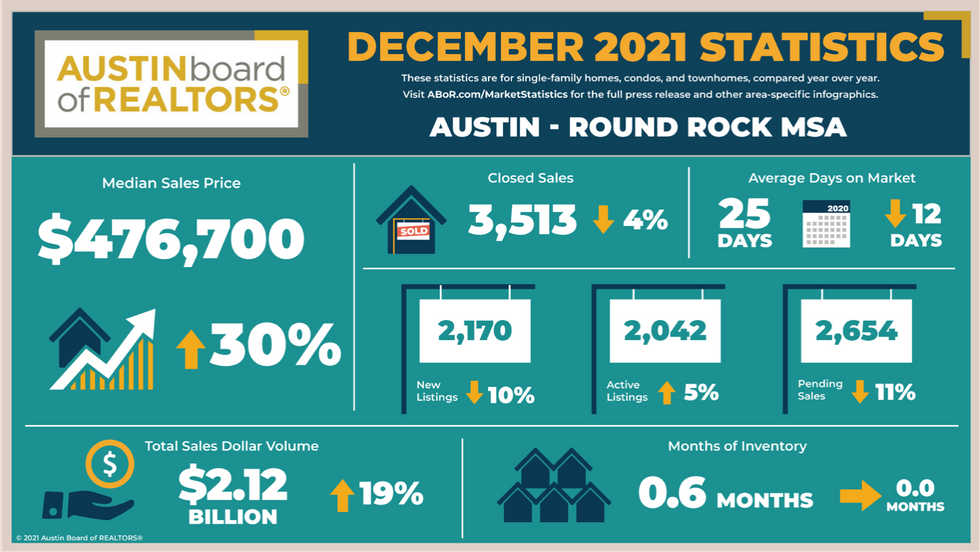 (Austin Board of Realtors)
As many recent Austin homebuyers have experienced firsthand, Austin Board of Realtors 2022 President Cord Shiflet said 2021 was the most "exciting, complicated, fast-paced and record-setting housing market" in Austin's history.
Shiflet dubbed the market as "complicated" for a reason—Austin became a case study on supply and demand in 2021, with demand far outpacing the number of active listings, which dropped by 48.2% to 2,348 homes in 2021.
The metro ended the year with 0.6 months of inventory, a far cry from a "healthy" six-month supply, and houses were snatched at breakneck speeds, spending 25 fewer days on the market when compared to 2020. The average home was on the market for 20 days.
But low inventory is more due to high demand than a stagnant homebuilding market, Mark Sprague, Independence Title's state director of information capital, said in the report.
"In 2021, the record number of homes sold were demand-driven transactions and that demand was influenced greatly by companies continuing to target the region for job creation and expansion," Sprague said. "Even though more homes are being built, listed and sold than ever before, our region is still nowhere close to having a comfortable amount of supply to meet the demand, which is why home prices continue to rise steadily."
Over 23,000 jobs have been promised by companies across the metro as of December 2021, breaking the 2020 record, according to Opportunity Austin, the economic development arm of the Greater Austin Chamber of Commerce. With an influx of major factories and offices, including Tesla's Giga Texas, Samsung's Taylor plant and a planned 33-floor Facebook office, Sprague said the region's booming market paired with a struggling inventory and supply chain issues could be a double-edged sword in 2022.
"In short, 2022 will see a robust market for home sales and property values, but the region must do more to address inventory, " Sprague said.
Shiflet recommended that potential homebuyers make a decision ahead of predicted increases in interest rates and home prices and said that he hopes local politicians will continue to prioritize affordable housing in the election year.
Still, Shiflet said a record-breaking housing market reflects Austin's growing reputation as a hub for talent, tech jobs and a good quality of life.
"With all the new jobs across the region from exciting companies like Tesla and Samsung, Austin was put on the world's stage and captured the hearts and attention of so many," Shiflet said. "We are lucky to call Austin our home when it has so much to offer from a great quality of life to a wonderful destination for innovation and opportunity."