Never miss a story
Sign up for our free daily morning email...
...and afternoon text update
Get connected with our daily update
(Roschetzky Photography/Shutterstock)
When Steve Davis, 34, moved to Austin from Indianapolis on July 5, it was two months later than planned—and to a much different city than the one he'd visited months earlier.
---
"My main purpose was to get out of my Indy bubble and meet new people," he told Austonia. "I haven't been able to do that."
Davis, who works for a mortgage company, began charting his move early this year. He planned to transfer from his employer's Indiana headquarters to a satellite office in Austin. When he visited the city in February, friends organized a party bus to drive their group from Salt Lick to a distillery and the Oasis on Lake Travis.
When the pandemic hit, Davis was unsure if a move would even be possible. "I kind of got over it and was like, 'OK, I'm just going to be stuck in Indy and not get to move,'" he said.
When Indiana and Texas began to loosen restrictions in late May, Davis visited Austin again. He signed a lease and confirmed an early July move-in. "I was like, 'I want to get down there before the second wave hits, so I can at least meet people and make friends,'" he said. "Well, it seems like that second wave hit when I was moving."
Now in Austin, Davis chose to work out of his new office even though it means wearing a mask all day. "I'm single, I live alone, and I didn't want to be stuck at home and not see anybody," he said.
Despite the challenges, Davis is glad he made the move—and hopeful that the city will open up in the coming weeks.
He is not alone.
Although the impact of the pandemic on moving trends is not yet known, people continue to arrive in Austin, which U.S. News and World Report named the best place to live—for the third year running—in May.
The adjustment can be hard when gathering places—such as parks, pools and bars—are closed and social gatherings are taboo.
Matthew Winters created a Facebook group for 20- and 30-somethings new to Austin in 2013. It now has 9,411 members, many of whom post about wanting to meet people.
But the utility of such groups changes in a pandemic. "The longer that it goes on, what I've noticed is events are just generally dying," Winters said.
Before COVID-19, members would post about gathering for discos or to network. When local stay-home orders took effect in late March, some members who work in tech organized creative virtual events—a game night or playing music as a group—but they have since tapered off.
There is also more trolling and negative commentary. "I've just noticed that kind of animosity a lot more during COVID than before," Winters said.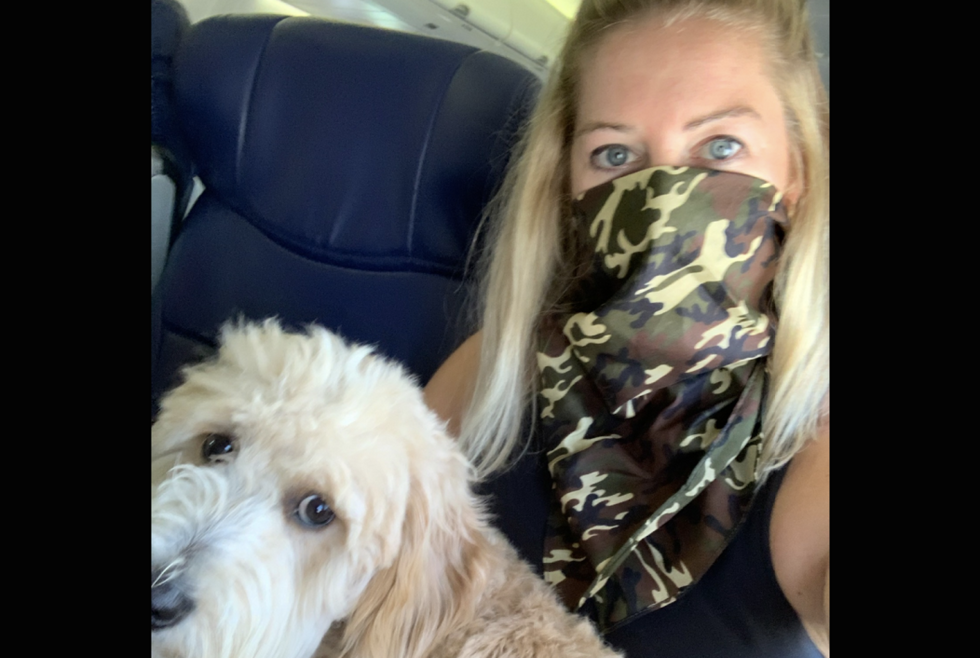 Katie Bennett moved to Austin in mid-June. (Katie Bennett)
Some people are still connecting with others.

Katie Bennett, 28, moved to the Riverside neighborhood from Denver in mid-June for a job in finance. She quickly found a group of friends after joining a Facebook group for women new to Austin.
After organizing a socially distanced meetup at a dog park, she and some of the other members rented a boat for a lake day and went out to brunch. One woman brought along someone she had met on Bumble BFF, expanding the circle.
Finding new friends has eased Bennett's transition to a new city. "We understand where each other is coming from," she said. "I don't want to say that any of us have too many complaints, but we can commiserate with each other and the situation that we're all in."
One topic of conversation: dating.
"My experience on dating apps has been different, whether that be Austin or the pandemic," she said. "And I wouldn't say that's a positive difference."
Want to read more stories like this one? Start every day with a quick look at what's happening in Austin. Sign up for Austonia.com's free daily morning email.
Stephen Broderick is now in police custody for a suspected domestic violence incident that killed three in northwest Austin on Sunday.

After initially being called an active shooting incident, joint local law enforcement and more than 75 FBI agents proceeded with an almost day-long manhunt with three helicopters and on-ground teams for former Travis County deputy Broderick. Police captured him after a 911 caller reported a suspicious man walking along U.S. 290, where he was taken into custody.
Police believe the victims, who have been identified as two Hispanic women and one Black man, knew their assailant. A child was involved but is now safely in police custody. Two of the victims have been identified as former and current Elgin ISD students: Alyssa Broderick and Willie Simmons III.
The school district released a statement offering its condolences to the families. Alyssa was enrolled until October 2020 and played on the basketball team. Simmons was a senior at Elgin High School where he was captain of the football team and had been recruited to play football at the University of North Texas.
Travis County Sheriff Sally Hernandez released the following statement on the incident: "I'm truly heartbroken that a former Travis County Sheriff's Office Deputy is the suspect in such a horrific incident. TCSO is standing by to provide any, and all assistance we can to the families of the victims in their time of need. I'm proud of the integrity and professionalism shown by the men and women of TCSO, APD and other law enforcement agencies, who worked tirelessly throughout the night to locate Stephen Broderick. I'm especially grateful to the vigilant citizen who called 911 after seeing Broderick, and to the Manor PD officers and TCSO deputies who took him into custody this morning."
During a press briefing at 4:45 p.m. on Sunday, Interim Police Chief Joe Chacon said law enforcement was on the scene for several hours investigating the incident with 41-year-old Broderick.
"We're very sorry that obviously this has happened and we continue to try and locate this individual, we are transitioning from a search in this area to a fugitive search and those efforts will continue until this person is located," Chacon said. "I don't want anyone to think that we're packing up and going home. We're going to continue to look for this individual because he continues to pose a threat to this community."
This story has been updated at 8 a.m. Monday to include the latest information.

From Your Site Articles
Related Articles Around the Web
(Hard Rock Stadium)
Formula 1 is returning to Florida for the first time since 1959, announcing that the brand-new Miami Grand Prix will join the calendar in 2022 and Austin will no longer be the only F1 race in the U.S.
Held at the Hard Rock Stadium complex in Miami Gardens, this will be the first race in the Sunshine State in 62 years. With a new track setup, F1 will loop the stadium, home of the NFL's Miami Dolphins.
The new 3.36 mile circuit has 19 corners, three straights and potential for three DRS zones, with expected top speeds of 198 mph.

Now with two races in the U.S., F1 President Stefano Domenicali said they will avoid having back-to-back events by keeping the Miami Grand Prix separate from the U.S. Grand Prix, which is held at Austin's Circuit of the Americas.
The date of the race has yet to be confirmed, though Domenicali said he expects the first race in a 10-year deal to take place in the second quarter of 2022. Austin's race will take place on Oct. 24 this year.
"The USA is a key growth market for us, and we are greatly encouraged by our growing reach in the U.S. which will be further supported by this exciting second race," Domenicali said.
Miami will mark the 11th race location in the U.S. since the Championship began in 1950: Circuit of The Americas in Austin; Dallas, Texas; Indianapolis, Indiana; Sebring, Florida; Riverside, California; Watkins Glen, New York; Long Beach, California; Las Vegas, Nevada; Detroit, Michigan and Phoenix, Arizona. COTA was first opened in 2012.
Domenicali said F1 will be working with the FIA and the Hard Rock Stadium to leave a lasting impact on the community: discounted tickets for residents, a program to support local businesses and a STEM education program through F1 in schools.