Austonia AM
100% Austin news, info, and entertainment, straight to your inbox at 6 a.m. every morning.
In five minutes, you're fully informed and ready to start another great day in our city.
Get connected with our daily update
(Roschetzky Photography/Shutterstock)
When Steve Davis, 34, moved to Austin from Indianapolis on July 5, it was two months later than planned—and to a much different city than the one he'd visited months earlier.
---
"My main purpose was to get out of my Indy bubble and meet new people," he told Austonia. "I haven't been able to do that."
Davis, who works for a mortgage company, began charting his move early this year. He planned to transfer from his employer's Indiana headquarters to a satellite office in Austin. When he visited the city in February, friends organized a party bus to drive their group from Salt Lick to a distillery and the Oasis on Lake Travis.
When the pandemic hit, Davis was unsure if a move would even be possible. "I kind of got over it and was like, 'OK, I'm just going to be stuck in Indy and not get to move,'" he said.
When Indiana and Texas began to loosen restrictions in late May, Davis visited Austin again. He signed a lease and confirmed an early July move-in. "I was like, 'I want to get down there before the second wave hits, so I can at least meet people and make friends,'" he said. "Well, it seems like that second wave hit when I was moving."
Now in Austin, Davis chose to work out of his new office even though it means wearing a mask all day. "I'm single, I live alone, and I didn't want to be stuck at home and not see anybody," he said.
Despite the challenges, Davis is glad he made the move—and hopeful that the city will open up in the coming weeks.
He is not alone.
Although the impact of the pandemic on moving trends is not yet known, people continue to arrive in Austin, which U.S. News and World Report named the best place to live—for the third year running—in May.
The adjustment can be hard when gathering places—such as parks, pools and bars—are closed and social gatherings are taboo.
Matthew Winters created a Facebook group for 20- and 30-somethings new to Austin in 2013. It now has 9,411 members, many of whom post about wanting to meet people.
But the utility of such groups changes in a pandemic. "The longer that it goes on, what I've noticed is events are just generally dying," Winters said.
Before COVID-19, members would post about gathering for discos or to network. When local stay-home orders took effect in late March, some members who work in tech organized creative virtual events—a game night or playing music as a group—but they have since tapered off.
There is also more trolling and negative commentary. "I've just noticed that kind of animosity a lot more during COVID than before," Winters said.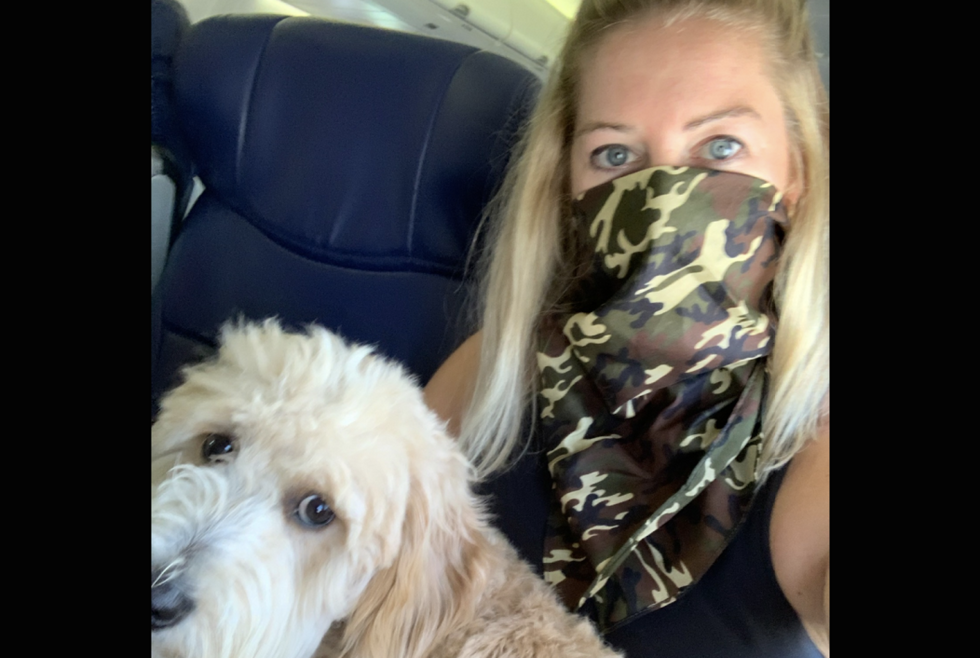 Katie Bennett moved to Austin in mid-June. (Katie Bennett)
Some people are still connecting with others.

Katie Bennett, 28, moved to the Riverside neighborhood from Denver in mid-June for a job in finance. She quickly found a group of friends after joining a Facebook group for women new to Austin.
After organizing a socially distanced meetup at a dog park, she and some of the other members rented a boat for a lake day and went out to brunch. One woman brought along someone she had met on Bumble BFF, expanding the circle.
Finding new friends has eased Bennett's transition to a new city. "We understand where each other is coming from," she said. "I don't want to say that any of us have too many complaints, but we can commiserate with each other and the situation that we're all in."
One topic of conversation: dating.
"My experience on dating apps has been different, whether that be Austin or the pandemic," she said. "And I wouldn't say that's a positive difference."
Want to read more stories like this one? Start every day with a quick look at what's happening in Austin. Sign up for Austonia.com's free daily morning email.
Summertime sure does fly by, doesn't it? It's time to jam-pack as many summer activities as you can while there is still about a month left before school starts up again and the grind gets going. Luckily, Austin is full of places to visit that will fill your season full of memories.
To get you started, check out some of these seasonably-fit museums, galleries and snacks.
Soak up the rest of summer while you can!
Ingredients:
1 1/12 oz sweet pepper-infused Tito's Handmade Vodka
3 oz soda water
1 oz grapefruit juice
1/2 oz lime juice
1/4 oz simple syrup
Directions: Add all ingredients, except soda water, to a shaker with ice. Shake and strain into a glass over fresh ice. Top with soda water and garnish with a mint sprig.
The Biden administration is asking cities and states to use pandemic relief funds to pay residents $100 to get vaccinated. Meanwhile, Texas Gov. Greg Abbott reaffirmed prohibitions on pandemic protocols in a new executive order issued on Thursday.
The order emphasizes that "the path forward relies on personal responsibility rather than government mandates," according to a press release. It outlaws government entities from requiring employees to be vaccinated or individuals to provide proof of vaccination and upholds previous orders restricting government entities' ability to impose pandemic protocols.
Local public health and elected officials have asked all Austinites to wear masks indoors, regardless of vaccination status, and unvaccinated individuals to avoid nonessential trips last week given the rising number of local confirmed cases and related hospitalizations in recent weeks. But it is not enforceable under Abbott's order.
The seven-day moving average of new hospital admissions in the five-county Austin metro has more than quintupled since the beginning of July and is now 47.4. The threshold for Stage 5 is 50, according to Austin Public Health's risk-based guidelines.
Despite these trends, Abbott stands firm in his commitment to avoid new statewide mandates and to prohibit local government entities from issuing any of their own.

"Texans have mastered the safe practices that help to prevent and avoid the spread of COVID-19," he said in a statement. "They have the individual right and responsibility to decide for themselves and their children whether they will wear masks, open their businesses and engage in leisure activities."
Public health officials have attributed the current spike to the more contagious Delta variant and unmitigated spread among unvaccinated individuals. Abbott encouraged Texans to get vaccinated if they haven't already but affirmed that it would never be required by the state in his statement.
An increasing number of Austin-area employers—including Ascension Seton, Baylor Scott & White Health, Facebook and the Department of Veterans Affairs—have announced new vaccine requirements in recent days. Austin Mayor Steve Adler asked the city manager to enact a similar requirement on Wednesday, but the city is unable to do so due to an executive order issued by Abbott in April.