Get connected with our daily update
(Roschetzky Photography/Shutterstock)
When Steve Davis, 34, moved to Austin from Indianapolis on July 5, it was two months later than planned—and to a much different city than the one he'd visited months earlier.
---
"My main purpose was to get out of my Indy bubble and meet new people," he told Austonia. "I haven't been able to do that."
Davis, who works for a mortgage company, began charting his move early this year. He planned to transfer from his employer's Indiana headquarters to a satellite office in Austin. When he visited the city in February, friends organized a party bus to drive their group from Salt Lick to a distillery and the Oasis on Lake Travis.
When the pandemic hit, Davis was unsure if a move would even be possible. "I kind of got over it and was like, 'OK, I'm just going to be stuck in Indy and not get to move,'" he said.
When Indiana and Texas began to loosen restrictions in late May, Davis visited Austin again. He signed a lease and confirmed an early July move-in. "I was like, 'I want to get down there before the second wave hits, so I can at least meet people and make friends,'" he said. "Well, it seems like that second wave hit when I was moving."
Now in Austin, Davis chose to work out of his new office even though it means wearing a mask all day. "I'm single, I live alone, and I didn't want to be stuck at home and not see anybody," he said.
Despite the challenges, Davis is glad he made the move—and hopeful that the city will open up in the coming weeks.
He is not alone.
Although the impact of the pandemic on moving trends is not yet known, people continue to arrive in Austin, which U.S. News and World Report named the best place to live—for the third year running—in May.
The adjustment can be hard when gathering places—such as parks, pools and bars—are closed and social gatherings are taboo.
Matthew Winters created a Facebook group for 20- and 30-somethings new to Austin in 2013. It now has 9,411 members, many of whom post about wanting to meet people.
But the utility of such groups changes in a pandemic. "The longer that it goes on, what I've noticed is events are just generally dying," Winters said.
Before COVID-19, members would post about gathering for discos or to network. When local stay-home orders took effect in late March, some members who work in tech organized creative virtual events—a game night or playing music as a group—but they have since tapered off.
There is also more trolling and negative commentary. "I've just noticed that kind of animosity a lot more during COVID than before," Winters said.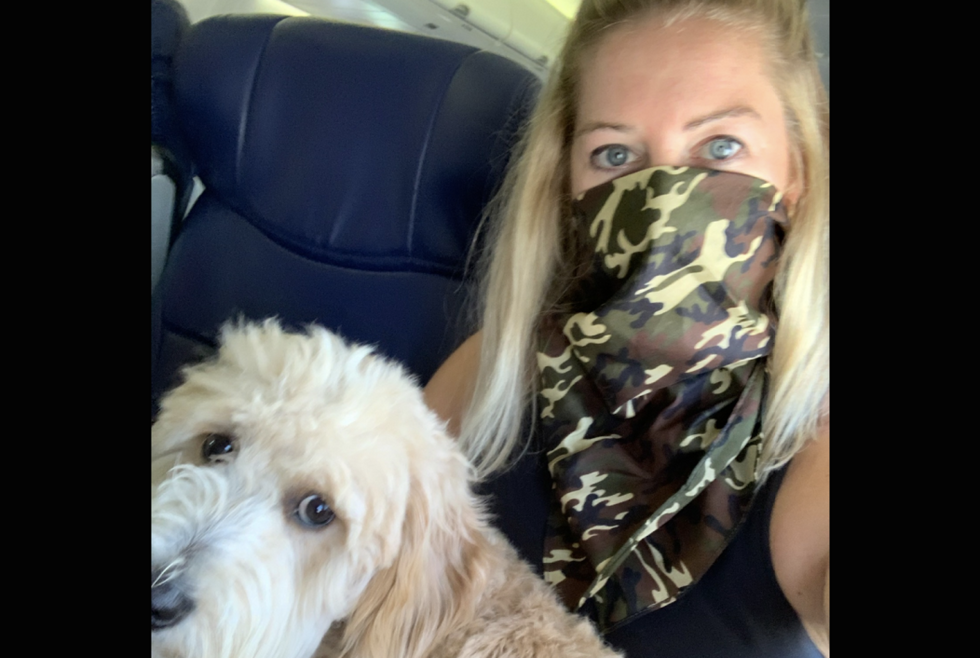 Katie Bennett moved to Austin in mid-June. (Katie Bennett)
Some people are still connecting with others.

Katie Bennett, 28, moved to the Riverside neighborhood from Denver in mid-June for a job in finance. She quickly found a group of friends after joining a Facebook group for women new to Austin.
After organizing a socially distanced meetup at a dog park, she and some of the other members rented a boat for a lake day and went out to brunch. One woman brought along someone she had met on Bumble BFF, expanding the circle.
Finding new friends has eased Bennett's transition to a new city. "We understand where each other is coming from," she said. "I don't want to say that any of us have too many complaints, but we can commiserate with each other and the situation that we're all in."
One topic of conversation: dating.
"My experience on dating apps has been different, whether that be Austin or the pandemic," she said. "And I wouldn't say that's a positive difference."
Want to read more stories like this one? Start every day with a quick look at what's happening in Austin. Sign up for Austonia.com's free daily morning email.
Austinites love their pets and even more so, they love to name them Charlie and Luna, according to the latest report.
The two names topped both top male and female categories for dogs and cats in the annual end-of-year report from Rover, a site for dog care. While the names Charlie and Luna topped the Austin lists, they came in second nationally. Luna goes on another year of reigning, while Charlie climbed up to the top spot this year.
Top dog names of 2021 in Austin
Male:
Top cat names of 2021 in Austin
Male:
But that's not to say the year's events and other factors didn't have an impact on how people named their furry friends. Here are some notable trends seen this year in Austin pet names.
Food-inspired names: Hershey is up 1,030% for dogs, while Sushi is up 944% and Bean is up 544% for cats.
Alcohol-inspired names: Tequila is up 630% and Merlot is up 330% for dogs.
Olympics: Manny, after Puerto Rican skateboarder Manny Santiago, is up 730% for dogs. Amber, inspired by U.S. Women's Skeet Shooting Gold Medalist Amber English, is up 730%.
Pop-culture: Dogs named Greta are trending up 930%, which could be inspired by rock band Greta Van Fleet.
COVID: For the first time in Austin, the dog names Rona and Zoom made the list.
Austin weather: Storm is the most popular new-to-the-list name for cats. Snow was also new to the list.
Nationally, even more creative names were seen for the first time, including Britney Spears, Dua Lipa, Bitcoin, Elon Musk and Bezos.
"Each year our annual top pet names report showcases what cultural moments made an impact and clearly, the pandemic was a big factor. From sports to the TV shows we binge-watched, our pets' names were shaped by a truly unique year," said Kate Jaffe, trend expert for Rover. "With the continuation of work from home, our bonds with our pets have grown even deeper."
Looks like Austin FC is cleaning house—and they're taking a few Verde faves out ahead of the 2022 season.
Following the retirement of defender Matt Besler, the club's original 33-man roster was trimmed to 22 in roster changes announced Tuesday.
Who's out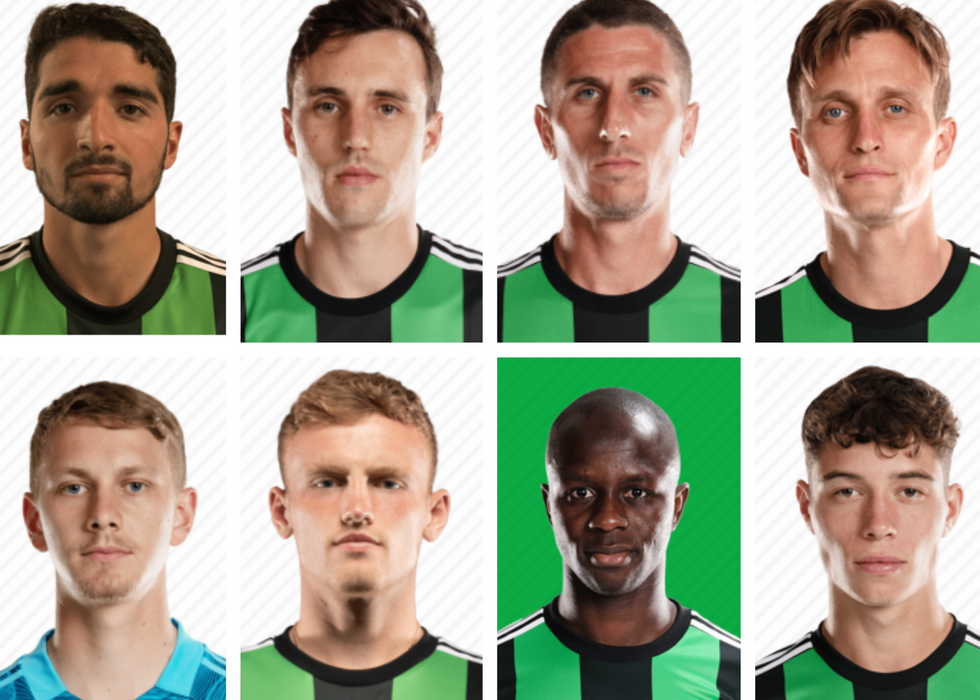 (From top left) Players Emmanuel Perez, Jared Stroud, Ben Sweat, Aaron Schoenfield, Brady Scott, Aedan Stanley, Kekuta Manneh and Sebastian Berhalter will not be with Austin FC for the 2022 season. (mlssoccer.com)
Austin FC declined its contract options for six players, including:
Kekuta Manneh
Aaron Schoenfeld
Brady Scott
Aedan Stanley
Jared Stroud
Ben Sweat
Stroud became an early fan favorite for the team after helping teammate Diego Fagundez to the team's first goal in April, racking up a second assist just one match later with another Fagundez goal. After a few months of limited appearances, Stroud started once again in November and attempted his first MLS goal, but no dice.
Manneh, a forward, showed promise as Austin FC's first Austinite: a Gambia native, Manneh played soccer in the Texas capital while in high school and early in his professional career. Manneh showed energy on the pitch but never saw his efforts translate to the stat board.
By the start of the season, Sweat had secured a starting spot as left back for Austin FC but tore his ACL in the Colorado Rapids match on April 17, putting him off the pitch for the remainder of the season.
Both under 23, Stanley and Scott saw few appearances to the Verde pitch. In May, Scott went on loan to play as goalkeeper for USL Championship side Memphis 901. Schoenfield, a 31-year-old forward, has played briefly for various MLS and USL teams as well as professional teams in Israel.
Austin FC also announced that they would not exercise the transfer options for Sebastian Berhalter and Emmanuel Perez, both of whom spent the 2021 season in Verde on loan.
Berhalter, the son of U.S. Men's National Team Head Coach Gregg Berhalter, filled some big shoes in key moments of the season as central midfielder. At just 20, Berhalter started five times in the key position for Captain Alex Ring. Perez made four starts as forward for Austin FC.
Who's in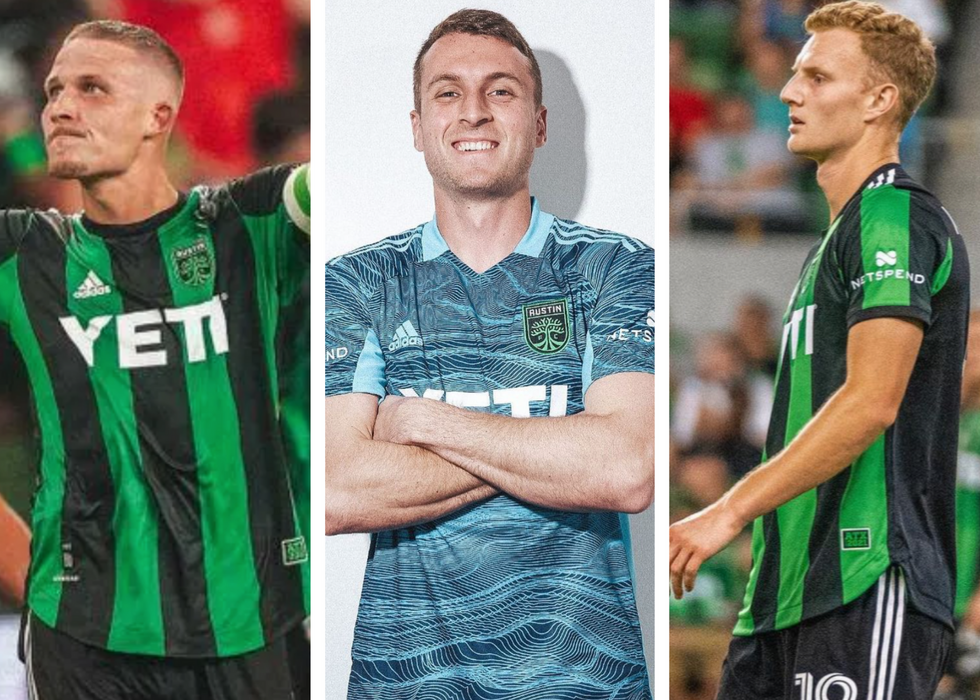 (From left) Captain Alex Ring, Will Pulisic and Freddy Kleemann all had their contracts renewed with Austin FC for the 2022 season.
It wasn't all doom and gloom. The club held on to the following for the 2022 season:
Captain Ring
Freddy Kleemann
Will Pulisic
Ring, known as one of the top defensive midfielders in the league, had a rocky but rewarding road as Austin FC's captain in their inaugural season. Despite two red cards that rendered him out of two key matches, Ring tallied four goals and three assists as he led the team throughout the season, earning MLS Team of the Week honors multiple times.
At 22, Kleemann made just three appearances in central midfield for Austin FC but showed potential toward the end of the season. Pulisic wasn't able to start due to fellow goalkeeper Brad Stuver's standout success, but the cousin of Chelsea standout Christian Pulisic has plenty of years left in the tank.
Who's missing
Austin FC now has three goalkeepers, six defenders, seven midfielders and six forwards as the team's brief offseason continues. After the retirement of legendary central midfielder Matt Besler, the team will need to make strong signing options in the back and midfield positions in the MLS SuperDraft and transfer seasons before their first match against FC Cincinnati on Saturday, February 26.
But don't worry about fan favorites Fagundez, Sebastian Driussi or Stuver: all 22 other players are still firmly rooted in place for the upcoming season.
Just as the world takes a breath from the Delta variant-induced third COVID surge that pushed hospitals past capacity this summer, a new variant—the omicron—is forcing countries around the world to once again consider shutting their doors.
It's too early to tell whether the variant will have the devastating effects of the Delta variant, the Mu variant—which accounted for 3% of U.S. cases before dropping off almost entirely by October—or somewhere in between. But as omicron continues to rise sharply in all provinces of South Africa, the Biden administration is reintroducing some travel restrictions that went into effect Monday.
As the variant spreads to countries around the world, including Canada, the Netherlands and Hong Kong, the World Health Organization declared omicron a "variant of concern"—though some are calling the move premature.
What is omicron?
The omicron variant, B.1.1.529, is now under strict watch from the WHO after quickly spreading throughout Southern Africa.
It's genetically different from the Alpha and Delta variants and has up to 30 mutations in its genetic code, leading some to worry that the risk of retransmission from those who have already had COVID could be high. The strain's mutations could also aid omicron in beating out other strains and spreading more quickly to hosts.
Omicron is the latest version of the coronavirus to cause concern. Here's what we know about where it's spread so far and what makes it different than other variants that came before. https://t.co/ncciXnIuw9
— The New York Times (@nytimes) November 29, 2021
It appears to be doing the trick. While an Associated Press report found that case numbers in South Africa are still well below other pandemic peaks—3,220 new cases were reported in South Africa on Saturday— up to 90% of new cases in the South African province of Gauteng are omicron.
The strain's effects seem to be mild so far, and hospitals haven't been overburdened yet, though hospitalizations are rising.
And doctors worry that the full extent of the variant hasn't been realized. Vaccine hesitancy is strong among South Africa's youngest population—22% of those aged 18 to 34 are vaccinated—and most of those infected with COVID have been in those younger age groups. Doctors worry that older age groups will be more adversely affected.
And while experts in the country expected a fourth surge and possible variant, the omicron still came as a "shock" as it quickly spread to all nine South African provinces and other continents. It's now the first strain labeled as a "variant of concern" since the Delta variant.
It's unclear if the variant is more immune to vaccines, although some signs indicate that it's a possibility.
Where has it been detected?
The omicron strain still hasn't been detected in dozens of countries, and it's far from the first strain to make a mark since Delta. But it's coincided with a quick uptick in cases in South Africa, where it was originally found, and became the dominant strain in Pretoria, a city of around 750,000, in just a few weeks.
Omicron is now present in nearby Botswana and has jumped on board flights to Europe, Asia, Australia and North America. Hong Kong has detected three cases, while 10 European nations including the Netherlands, the United Kingdom, Portugal and Germany have found a total of 45 cases. Canada has detected three cases, and none have yet been found in the United States.
What has been done?
Against the wishes of both South Africa and the WHO, several countries have decided to once again shut their doors.
After detecting an omicron case, Israel decided to bar entry to foreigners, while Morocco suspended incoming international air travel for two weeks. Dozens of countries are restricting travel from Southern Africa to South Africa's chagrin—the government said travel restrictions are "akin to punishing South Africa for its advanced genomic sequencing and the ability to detect new variants quicker."
The WHO also called for borders to remain open as closing borders appears to have a limited effect on the spread of variants, and many countries are hesitant to clamp down on restrictions that have limited its citizens for so long.
The United States said in a statement Friday that it would restrict travel from eight southern African countries except for citizens and permanent U.S. residents who test negative for the virus.
White House Chief Medical Adviser Dr. Anthony Fauci said Sunday that it's "too early to say" whether tightened COVID restrictions will be needed to combat omicron but that citizens must be ready to do "anything and everything" to prevent its spread.
When will we know more?
The WHO said it will take around two weeks to gauge the full effects of omicron, from its ability to evade vaccines to its contagiousness.
For now, countries have once again urged their citizens to get vaccinated. Some vaccine companies have already spoken about the strain, including Moderna, which said Sunday that a new vaccine that protects against the variant could be released in early 2022 if needed.
For now, Fauci said that the country must "prepare for the worst" just in case omicron becomes the culprit of yet another surge.
"Inevitably, it will be here. The question is will we be prepared for it? If and when, and it's going to be when, it comes here hopefully we will be ready for it," Fauci said.