Get connected with our daily update
Some of the nation's most beloved Americana performers raised their voices—along with more than half a million dollars—on Wednesday night in a livestreaming concert event to benefit Austin musicians and businesses devastated by the pandemic. Hosted by actors Ethan Hawke, Renee Zellweger, Owen Wilson and Woody Harrelson, "A Night for Austin" featured never-before-released segments and videos recorded for the event by more than two dozen stars performing in as many locations—home, studios, empty venues, the streets of Austin.
---
Each played one song, whether it was headliner Paul Simon playing "Homeward Bound" from his house, Norah Jones at her electric piano playing "Lone Star," Ray Benson rocking his session at the Broken Spoke, or Willie Nelson doing a jazzy rendition of "On the Road Again" to wind up the two-hour show. Lukas and Willie Nelson contributed a video showing signs on Antone's marquee ("We Love You, Austin") and boarded up Sixth Street bars painted with inspiring messages.
The performance was free to watch and audience was (and still is) invited to donate. The last reported total as the credits rolled was $531,785.30, now earmarked for the "A Night for Austin" fund managed by the local nonprofit Austin Community Foundation.
The fund, along with some matching donations from BMI Austin, Universal Music Publishing, and AT&T, will benefit: The Central Texas Food Bank, MusiCares, Health Alliance for Austin Musicians, Six Square—Austin's Black Cultural District, People Fund, the Southern Smoke Foundation and the Red River Cultural District.
Organized by Simon and Edie Brickell and headlined by Willie, the show also featured songs by Patti Griffin, Britt Daniel of Spoon, Alejandro Escovedo, Shawn Colvin, David Ramirez, Lyle Lovett, James Taylor, Charlie Sexton (also the project's music director) and more, along with duets like Bonnie Raitt with Boz Scaggs.
Several performers professed their love for Austin, the Live Music Capital of the World, and their sorrow at the devastation in the city and what the closing of live venues has done to the estimated 8,000 local musicians and other industry workers.
"Austin had a big, big impact on my life," said country star Vince Gill during his segment. "One of the very first bands I was in, we did Jerry Jeff Walker songs, and Gary P. Nunn songs, and Guy Clark songs, Rodney Crowell songs, Willie and Waylon, and the great Bob Wills. An awful lot of good has come from Texas, and I'm glad to be a part of singing a song trying to encourage you to give, if you can—if your heart leads you to that. I know all of these musicians will be grateful."
Officials are asking certain residents in Bastrop State Park to evacuate as crews work to put out a "very active fire" that is currently 0% contained.
The Texas A&M Forest Service has responded to help local fire departments with the Rolling Pines Fire at 100 Park Road 1A, which is consuming 300 acres. Residents of Pine Hill Drive, Pine Tree Loop, Linda Lane and Lisa Lane are being asked to evacuate.
Aviation resources have been called to assist.

According to the Bastrop County Office of Emergency Management, the wildfire sparked during a prescribed burn that took place today, despite wildfire warnings. Park Road 1C from Harmon Road to Park Road 1A had been closed for the prescribed burn.
The blaze is in the same location as the Bastrop Complex Fire of 2011, which burned for 55 days, killing two people, destroying 34,000 acres and around 1,700 homes and buildings. The fire, which started in 2011, became the most destructive wildfire in Texas at the time.
A hotbed for fires, the Hidden Pines Fire started at the same location in 2015, destroying 4,600 acres and 64 structures.
Some road closures have been put in place at State Highway 21 South Shore Lake Bastrop and East State Highway 21.
This is a developing story and will be updated as information becomes available.
After months of record-setting periods for Austin real estate, the Austin Board of Realtors announced Tuesday that the metro's housing market accounted for over $23 billion of economic activity in 2021, making it the biggest year yet for both home sales and median home prices in the metro.
The Austin-Round Rock MSA saw 41,316 homes sold in 2021, 2.5% more than a record-setting 2020. Median home prices skyrocketed as well, rising 30.8% from 2020 to $450,000. The housing market also saw unprecedented impact on Austin's economy, with sales dollar volume jumping to over $23.38 billion, and more homes hit the market in 2021 than any previous year, increasing by 5.9% to 46,449 total homes listed.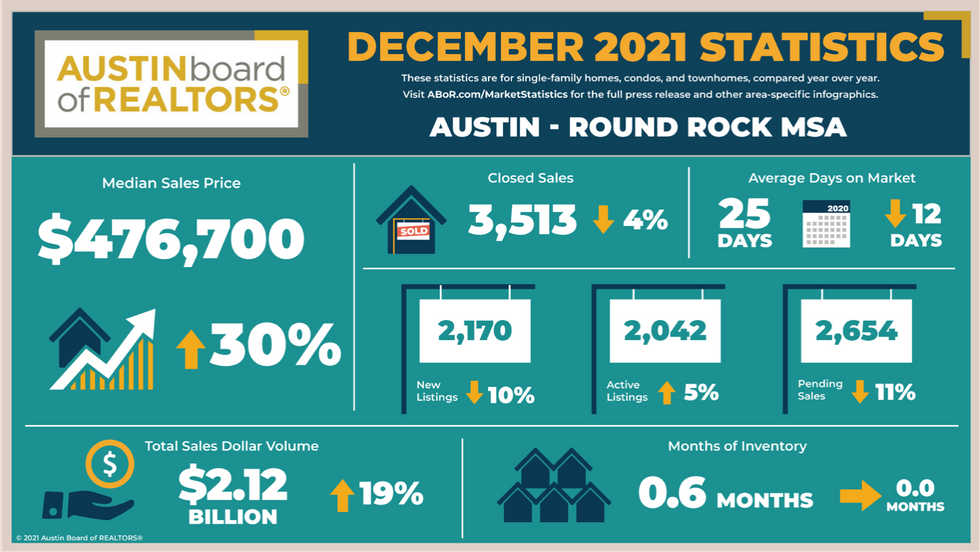 (Austin Board of Realtors)
As many recent Austin homebuyers have experienced firsthand, Austin Board of Realtors 2022 President Cord Shiflet said 2021 was the most "exciting, complicated, fast-paced and record-setting housing market" in Austin's history.
Shiflet dubbed the market as "complicated" for a reason—Austin became a case study on supply and demand in 2021, with demand far outpacing the number of active listings, which dropped by 48.2% to 2,348 homes in 2021.
The metro ended the year with 0.6 months of inventory, a far cry from a "healthy" six-month supply, and houses were snatched at breakneck speeds, spending 25 fewer days on the market when compared to 2020. The average home was on the market for 20 days.
But low inventory is more due to high demand than a stagnant homebuilding market, Mark Sprague, Independence Title's state director of information capital, said in the report.
"In 2021, the record number of homes sold were demand-driven transactions and that demand was influenced greatly by companies continuing to target the region for job creation and expansion," Sprague said. "Even though more homes are being built, listed and sold than ever before, our region is still nowhere close to having a comfortable amount of supply to meet the demand, which is why home prices continue to rise steadily."
Over 23,000 jobs have been promised by companies across the metro as of December 2021, breaking the 2020 record, according to Opportunity Austin, the economic development arm of the Greater Austin Chamber of Commerce. With an influx of major factories and offices, including Tesla's Giga Texas, Samsung's Taylor plant and a planned 33-floor Facebook office, Sprague said the region's booming market paired with a struggling inventory and supply chain issues could be a double-edged sword in 2022.
"In short, 2022 will see a robust market for home sales and property values, but the region must do more to address inventory, " Sprague said.
Shiflet recommended that potential homebuyers make a decision ahead of predicted increases in interest rates and home prices and said that he hopes local politicians will continue to prioritize affordable housing in the election year.
Still, Shiflet said a record-breaking housing market reflects Austin's growing reputation as a hub for talent, tech jobs and a good quality of life.
"With all the new jobs across the region from exciting companies like Tesla and Samsung, Austin was put on the world's stage and captured the hearts and attention of so many," Shiflet said. "We are lucky to call Austin our home when it has so much to offer from a great quality of life to a wonderful destination for innovation and opportunity."