Never miss a story
Sign up for our free daily morning email...
...and afternoon text update
Get connected with our daily update
(We Are Blood)
Lindsay Thompson, 30, suspects she had one of the earliest cases of coronavirus in Austin. She began feeling sick—body aches, a cough, fatigue—on March 14, one day after the city first announced cases. Because Thompson is a physician's assistant, she qualified for testing. On March 20, five days after she got a nasal swab, she received her results.

"It was kind of an emotional thing to know that I was positive," she said.
---
Thompson alerted everyone she spent time with in the first two weeks of March and posted on Instagram about her diagnosis. Her partner, with whom she lives, never presented symptoms, but Thompson suspects she contracted an asymptomatic case.
"I really have no clue [how I got it]," Thompson said.
Since then, Thompson has recovered and returned to work. She also applied with the American Red Cross to be a plasma donor and is awaiting results.
Convalescent plasma therapy uses plasma donations from recovered patients—or those who have convalesced—in the hopes that their antibodies aid those in need of treatment.
For more than a century, convalescent plasma therapy has been used to treat diseases such as the Spanish flu, diphtheria and Ebola, with varying levels of success. In late March, a team of researchers at Houston Methodist Hospital began the country's first clinical trial using plasma transfusions to treat the coronavirus. And last week, local nonprofit We Are Blood announced it was "actively collecting" convalescent plasma donations from people like Thompson, who have lab-confirmed coronavirus diagnoses and are fully recovered.
As of Monday afternoon, We are Blood—which provides blood to 40 hospitals and clinics in Central Texas—had received 80 applications and collected two plasma donations, said Nick Canedo, vice president of community engagement.
To qualify as a plasma donor, individuals must have a lab-confirmed diagnosis, be symptom-free for at least 14 days and be eligible to donate blood.
As of today, Travis County has 856 confirmed coronavirus cases, 93 hospitalizations and 144 recoveries. Austin-Travis County Interim Health Authority Dr. Mark Escott told Travis County commissioners this morning that reporting the number of recovered cases is helpful.
"Now we have the opportunity to transition those individuals who have recovered into plasma donors. We have 49 individuals in the ICU, and that means 49 individuals who may benefit from plasma treatment," Dr. Escott said. "We're hoping that this will prove to be successful in treating these critically ill individuals."
Dr. Escott added that all of the University of Texas at Austin students who tested positive for the coronavirus after traveling to Cabo San Lucas for spring break are interested in donating plasma. Additionally, local officials have identified 63 people as potential plasma donors and hope to identify hundreds more in the coming weeks.
Results from the Houston study are not yet available, but on March 27 the Journal of the American Medical Association published a paper by Chinese scientists detailing convalescent plasma therapy among five coronavirus patients.
"Within three days of transfusion, body temperatures normalized in four of the five patients," according to a March 31 press release from the Texas Medical Center describing the Chinese study. "[W]ithin two weeks, three patients were taken off mechanical ventilation."
Thompson is waiting for final approval from the Red Cross to donate plasma. In the meantime, she is assessing patients with coronavirus symptoms in her role as a physician's assistant.
"I do feel safer," she said of having survived COVID-19. "If I hadn't I think I would have a little more anxiety about testing [other] people."
Austin FC couldn't find the stamina to fight off a 2-0 loss against LAFC for their inaugural match on Saturday.
The match, which saw No. 21 Austin FC go head-to-head with No. 2 LAFC in Los Angeles, was broadcast nationally on FOX and FOX Deportes.
Eleven players took the stage as Austin FC players for the first time, with five starters making their MLS debut. "Ringleader" Alex Ring took the captain's armband and wore it well. The defensive midfielder could be seen leading his teammates through their first ever match, but it wasn't enough to stage an Austin takeover in LA.
As Austin FC took the stage for their first-ever match, they appeared more experienced than their track record. The club held LAFC to a scoreless first half, keeping about equal possession of the ball.
In the signature style of Head Coach Josh Wolff, the team played with quickness and intensity, nearly connecting on several fast breaks.
The club was given some generous breaks from No. 2 LAFC, who had one or both of their star DPs out for the half. While forward Diego Rossi is out for the entire match due to a hamstring injury, Carlos Vela was accidentally pulled too soon on what turned out to be a miscommunication.
"He gave us the sign that he needed to come off," LAFC Head Coach Bob Bradley said on broadcast. "I can't say more than maybe it's my fault."
LA pulled some dramatics and slowly gained more possession throughout the half, but ATXFC's defense wasn't initially as shaky as it seemed in preseason. Jhohan Romana has pulled his weight in getting the ball out of goal, and a 34-year old Matt Besler held his own in center back.
As the second half commenced, however, it became clear that LAFC had the advantage over Austin's first major league team.
Goalkeeper Brad Stuver had his work cut out for him, fending off 24 shot attempts, 11 of which were on goal.
LAFC finally connected in the 61st minute of play as Corey Baird shot one in to the bottom right corner. The team capitalized off their momentum and put one past Stuver a second time, drawing roars of approval from the LAFC crowd.
While some last minute attempts from Jon Gallagher and others were made, Austin FC didn't have the endurance to bring a tie. After seven additional minutes of stoppage time, the club lost their first match 2-0.
It's matchday! Austin FC—Austin's first major league sport team—kicks off its debut season in Los Angeles today after years in the making. We know how much this means to our beloved city and are taking you along with us as we journey to LA!
Austin FC writer Claire Partain and I are excited to bring you game-day coverage straight from the City of Angels. Check back here for updates, and visit our socials: @austonianews for the latest.
5 p.m: Kickoff!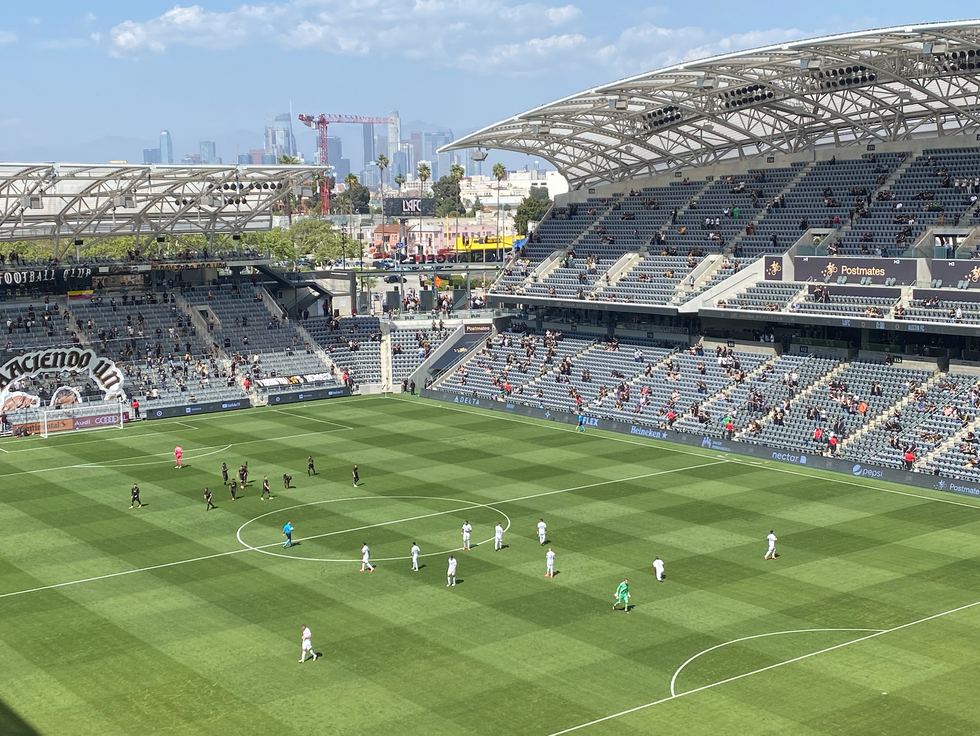 It's finally here! Claire will be updating Austonia's Twitter account live. And we'll post her game recap after the game. Best of luck Verdes!
4:40 p.m: Excitement radiates back home
Watch parties are in plenty supply back home. Austonia's Laura Figi visited Circle Brewing Co. and found a crowd of excited supporters.
4:20 p.m: Austin FC supporters are in the stadium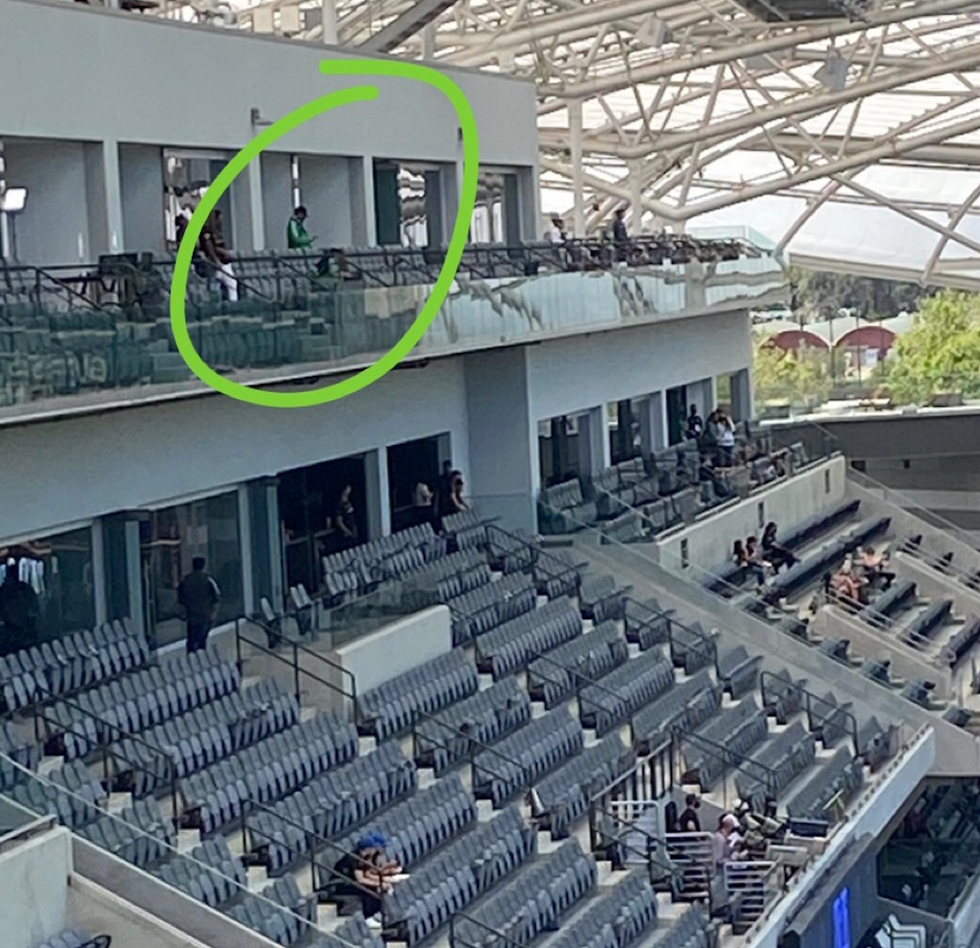 Although the Banc of California Stadium is hosting the match at limited capacity, we see some green in the stands ahead of kickoff. Just moments away from the Austin FC's debut!
~3:20 p.m: Austin FC's team bus enters the stadium grounds
With a warm welcome from Los Verdes, Austin FC players were welcomed into the Banc of California Stadium.
~1 p.m: Los Verdes in LA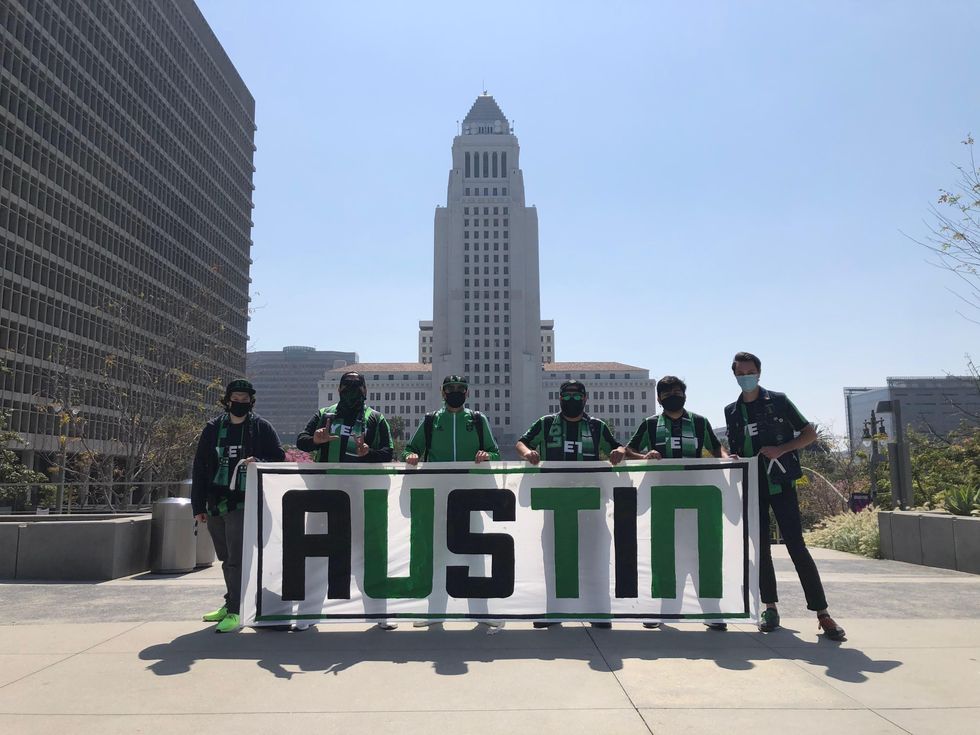 (Rigo Rodriguez/Los Verdes)
Austin FC supporters are making their presence known in LA, including the Los Verdes group.
Los Verdes members started having match-day fun around the area this morning with brunch. We'll be joining them about an hour before the game outside the stadium to share some of their excitement. We'll post immediately to Austonia's Instagram.
11:45 a.m: We landed!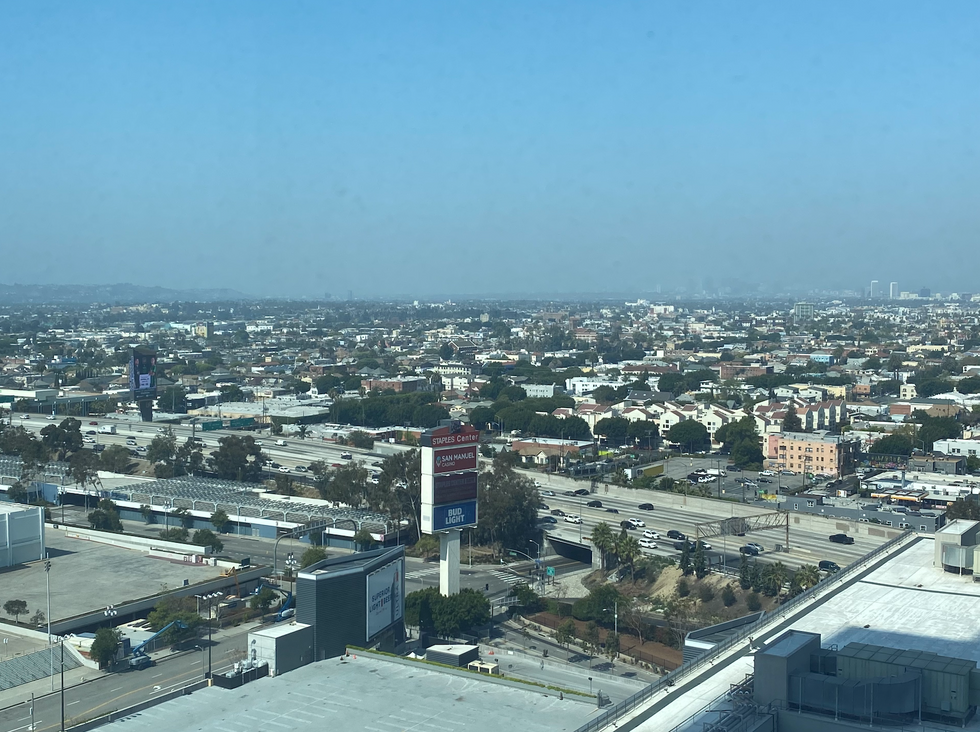 View from hotel room where we're staying; the stadium digital sign can be seen in the right corner. (Sonia Garcia/Austonia)
Switching over to pacific time, we're here and it's almost like no time went by. It's 9:45 a.m. here.
We've been in contact with Los Verdes, an Austin FC supporter group, who is also here in LA counting down to kickoff.
8:20 a.m: LA bound
Like many of you, we've been looking forward to this moment for, let's just say, a very long time. Today, we woke up bright and early, headed to Austin-Bergstrom International Airport and hopped on a flight to LA.
A gloomy day in Austin with a very quiet airport, we're headed to sunny skies in California.
As we wait for the game to start at 4:30 p.m., check out Claire's preview of the game with a predicted lineup and timeline of the long journey to get here.