Get connected with our daily update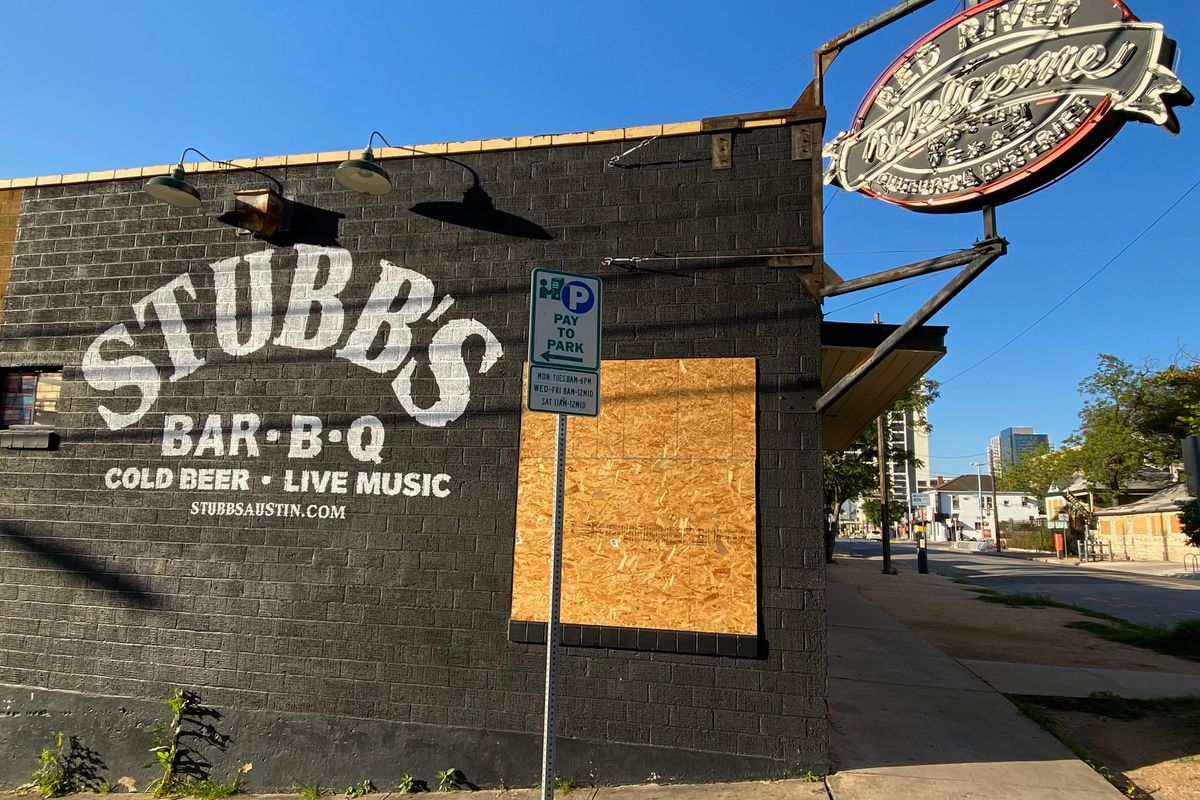 Mark Dewey
When I called Ryan Garrett, the general manager of Stubb's BBQ, he was homeschooling his 8-year-old daughter and 5-year-old son. The giant ovens at Stubbs were stilled. Citizen Cope's April 25 concert in Stubb's Waller Creek Amphitheater had been indefinitely postponed. And Garrett's 106 employees were out of work, although the full-timers were still drawing paychecks.

"We are keeping hope alive," said Garrett, 47.
---
When the coronavirus pandemic has finished its business with Austin, "the public is going to be stoked to get back out. Having said that, there will certainly be modifications to operations, with sanitary stations, ensuring the good health of the staff and following CDC and public health guidelines."
The venerable Stubb's, which dates back to 1986 in Austin and is famous for its BBQ sauce, is one of 875 storefront businesses downtown. Of those, 615 were considered "non-essential" under the city's March 25 closure order and required to shut down. They include restaurants, bars, nightclubs, entertainment venues, gyms and personal care services. Seventy-eight percent of those were closed or substantially affected by the shutdown, according to the Downtown Austin Alliance, which determined the number by analyzing digital signals emanating from the stores.
"Some are doing take-out or delivery," said Dewitt Peart, president and CEO of the Downtown Austin Alliance (DAA). "But you're not going to have a meal at Eddie V's."
The DAA has produced a heat map that shows businesses that were open before and after the shutdown in the DAA-managed downtown improvement district, roughly bounded by MLK Boulevard to the north, Lavaca Street to the west, Cesar Chavez Street to the south, and I-35 to the east. A DAA chart shows a decline of 89% in Congress Avenue pedestrian traffic through March and early April. Together, the documents are a stunning reminder of the impact of the nation's shutdown.
(Above: The Downtown Austin Alliance maps storefront businesses that were open before the coronavirus-related closures. Click through to the second slide to see those remained after.)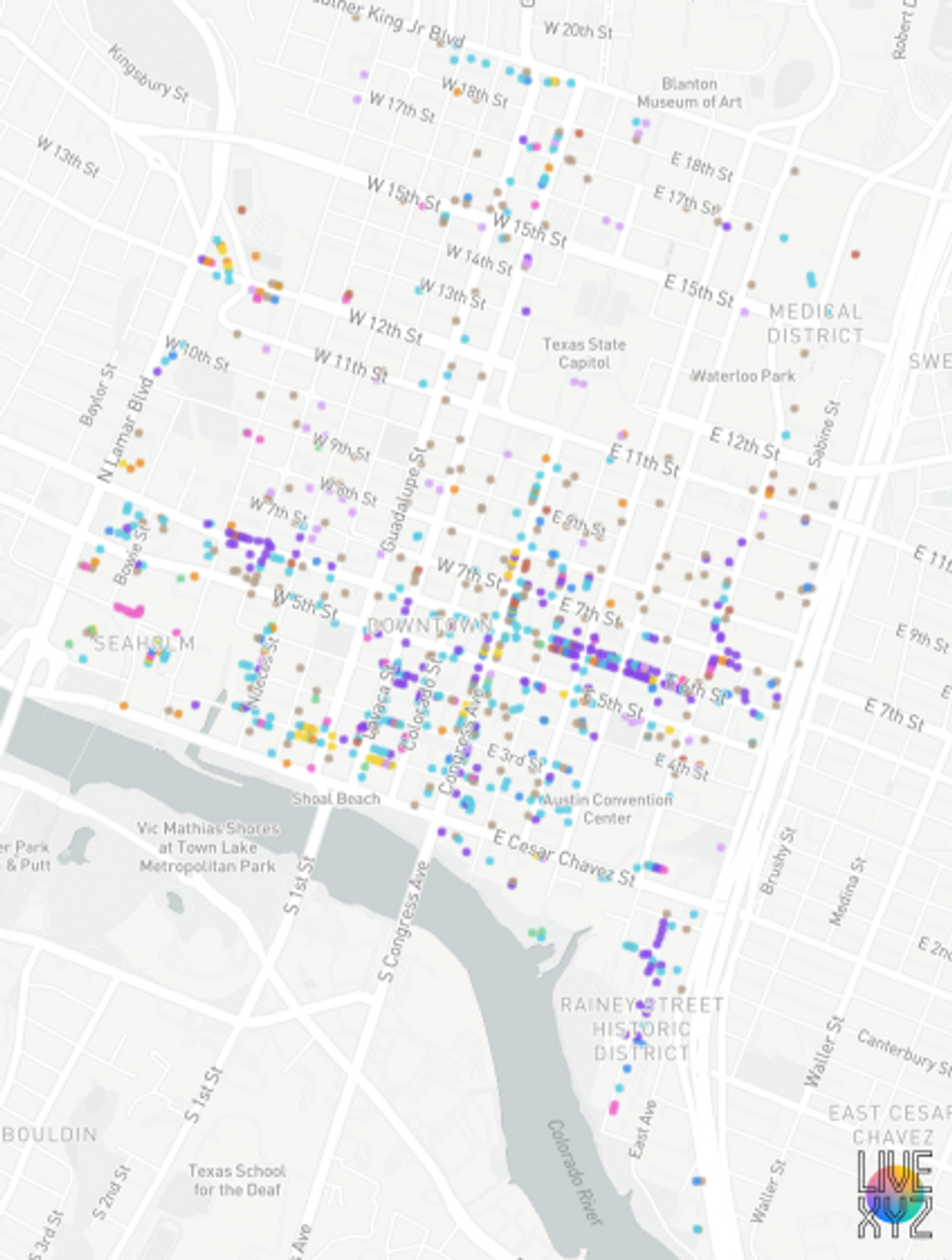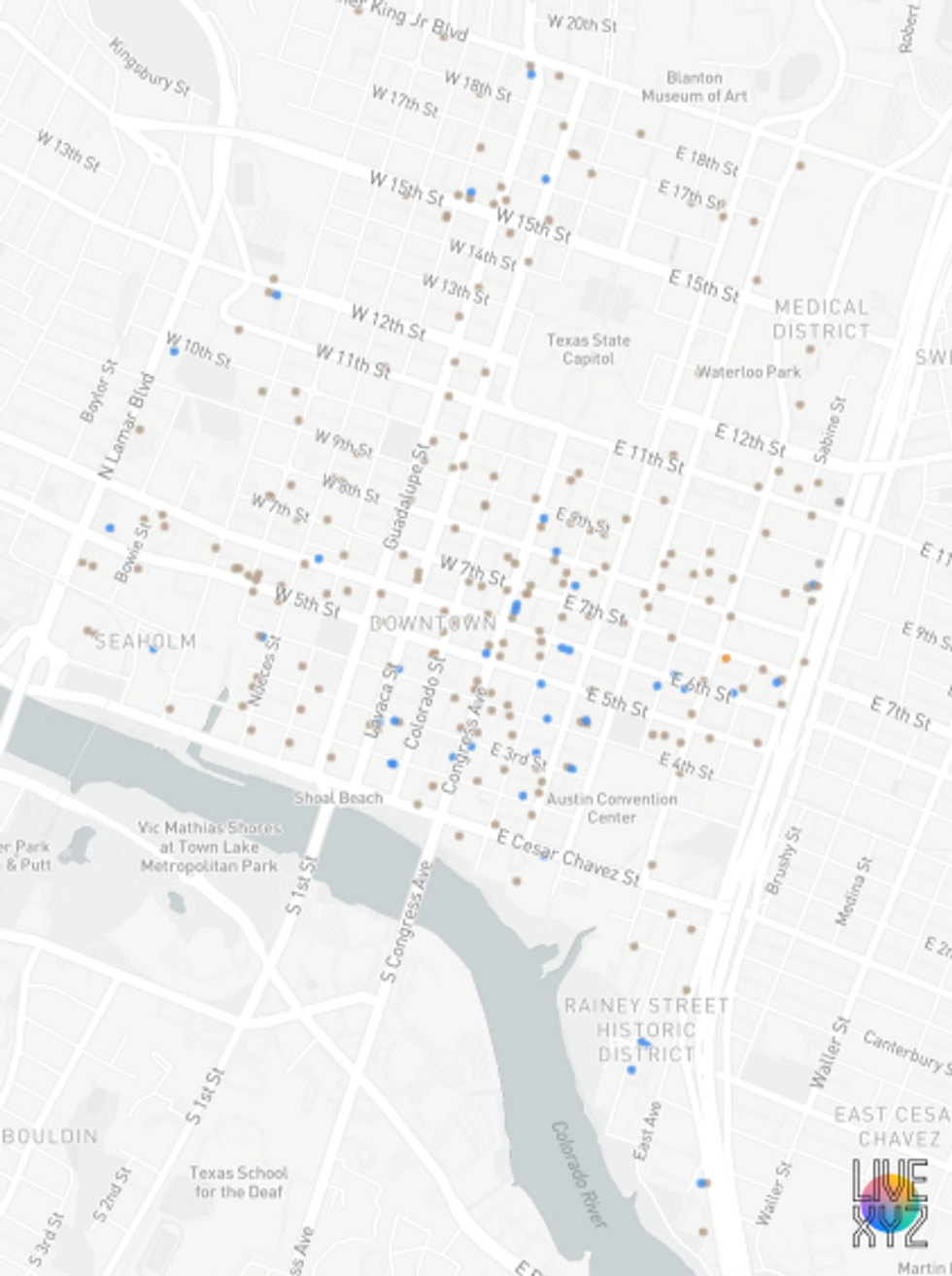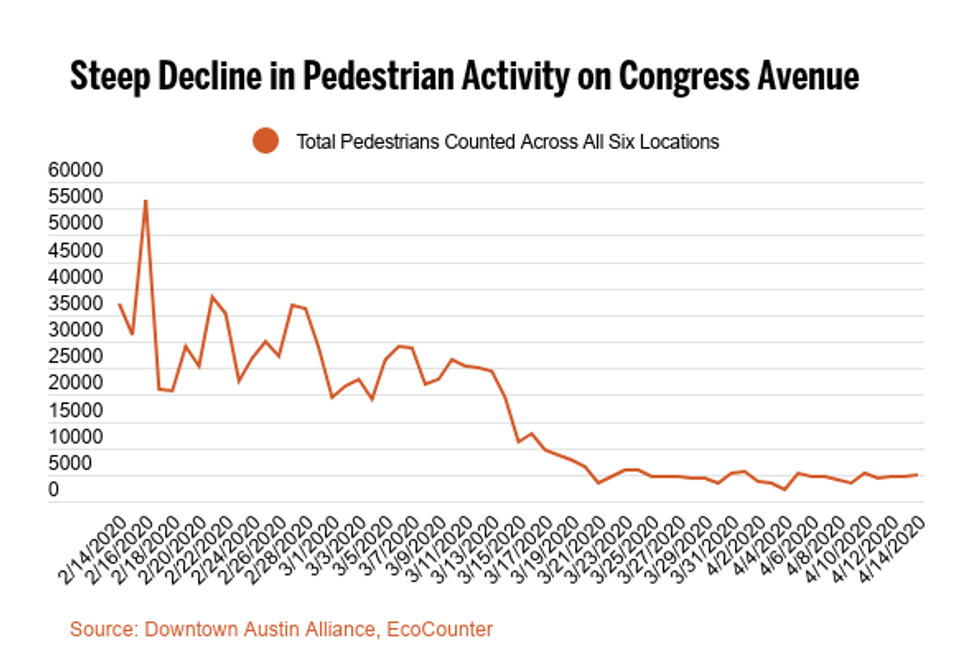 Has Peart ever seen anything like this? He said he witnessed the mid-1980s demise of the steel industry in Pittsburgh, accompanied by 30% unemployment, but "this is both an economic collapse and a fear for everyone's well-being."
Meanwhile Garrett says Stubb's team is hanging on. While he let go of part-time and seasonal workers, he is still paying full-time workers. Stubb's can't do that indefinitely. "No, not indefinitely. There are finite resources. Stubb's is a city block. The expenses that come with that are extreme," he said, including employee health insurance, general liability insurance, utilities, taxes and the costs of a commercial kitchen with large freezers.

Concerts were not canceled, but just postponed. When Stubb's reopens, "the concert industry and the touring acts are going to be aggressive in getting on stage and performing again," said Garrett. He will welcome them back and make room on the calendar.
Up and down Red River, the taverns and nightclubs are dark, but Garrett said the spirit will prevail. "We are a tight-knit community down on Red River when it comes to authenticity and camaraderie. We are a unique entertainment district like nowhere else in the world. We want to reopen. We are aware that precautions need to be taken."
He added, "We are the epicenter of the live music center of the world."
Back at the DAA, Peart is also optimistic, but guarded. Every Monday, he speaks with downtown development executives around the nation, from New York to Seattle. Some are further along in recovery, and they tell Peart that not all mom and pop storefronts are coming back.
Peart will be watching several things: Will the tourists and conventions come back? Will Austin get congressional funding, taxpayer and feepayer support for improvements to I-35, light rail and airport expansions? "We need to keep those projects on track," he said.
And will Congress Avenue's foot traffic return?
"If you're a retail business anywhere downtown, your lifeblood is really that pedestrian traffic. Without that, it will be challenging for many of these [storefront] businesses to continue," says Peart.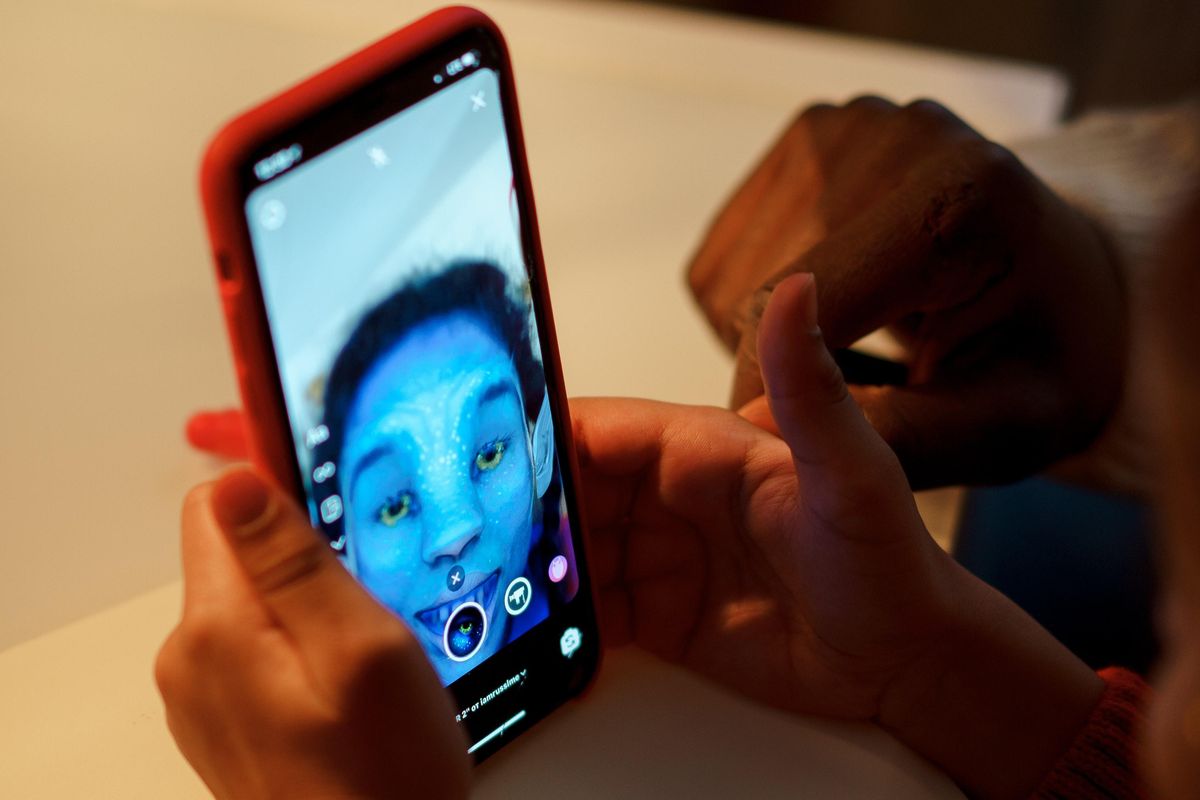 Some of your favorite Instagram filters can't be used in Texas anymore and Austinites are sounding off on social media.
Meta, Facebook and Instagram's parent company, announced on Wednesday that certain filters would no longer be available in Texas.
The change is a result of Texas Attorney General Ken Paxton's lawsuit against Meta, alleging the company uses facial recognition technology that violates laws in Texas. A release from Meta says it stopped using facial recognition tech in November 2021 and denies Paxton's allegations.
Some Austinites bemoaned the shift, saying some of their favorite filters were now unavailable.
But more often than not, locals joked about the ban.
And some in-between chose to show off some natural beauty.
Finally, some are trying to cash in on the opportunity.
Meta said it plans to create an opt-in system for both Texas and Illinois residents, who are facing the same issues.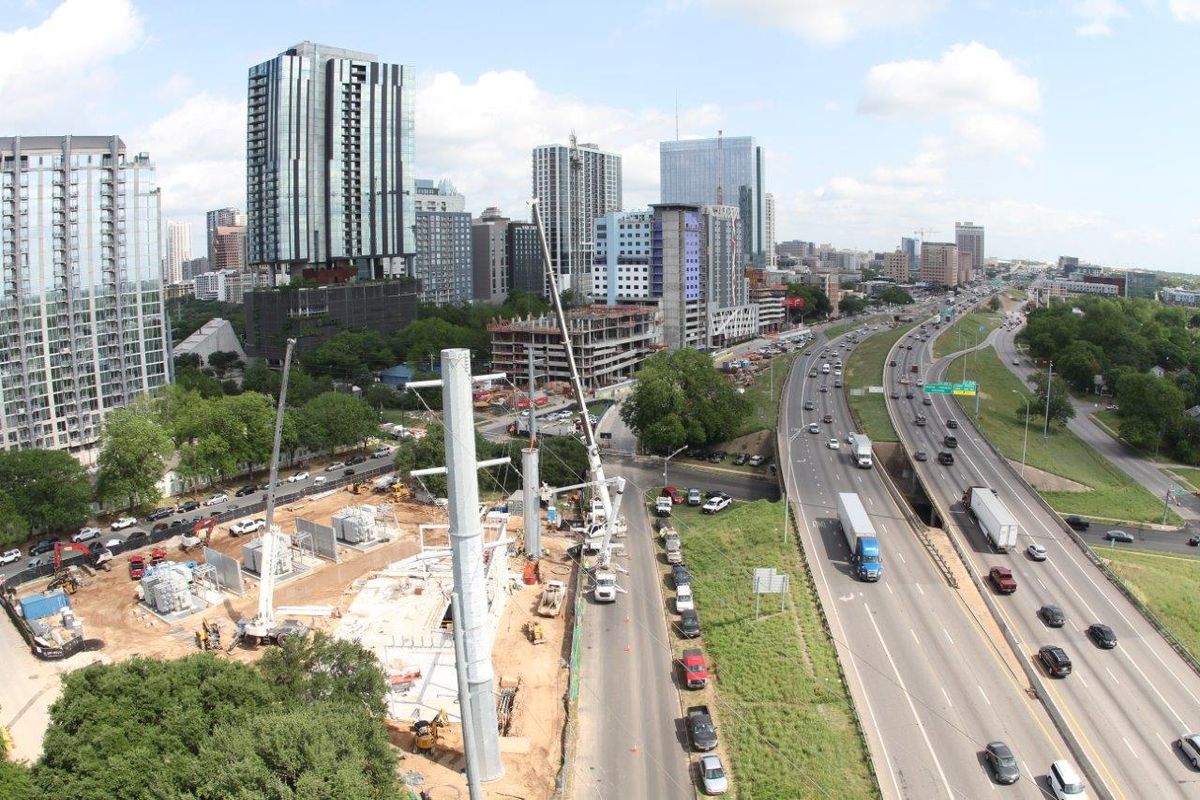 Power demand is forecast to push within 600 megawatts of the Electric Reliability Council of Texas' capacity Friday afternoon as a record month of heat continues.

Demand for the statewide power grid hit over 65,000 Mw at 5 p.m., just under the capacity the grid can handle. ERCOT announced approximately 2,900 Mw of power was lost on Friday due to six power generation facilities tripping offline. At 5 p.m. it said all reserve generation resources available are operating. Texans have been asked to conserve energy.
Inbox: ERCOT says "six power generation facilities tripped offline resulting in the loss of approximately 2,900 MW of electricity. At this time, all reserve generation resources available are operating." Asks Texans to conserve power... pic.twitter.com/g6LxJlHlop
— Forrest Wilder (@Forrest4Trees) May 13, 2022
As the power grid threatens to buckle under the weight of consumers, record-breaking heat continues to push up demand. Austin is currently in the hottest May on record, with temperatures averaging at 82 degrees—eight degrees higher than average—at Austin's Camp Mabry.

And Austin is expected to have another triple-digit onslaught next week, with temperatures peaking at highs of 100 degrees Friday and Saturday. As a result, demand could peak Monday, with forecast demand expected to reach a May record of 70,758 Mw. The previous record was 67,265 in 2018, while ERCOT's all-time high was 74,820 Mw in August 2019.
While ERCOT has not yet seen a heat surge reminiscent of 2021's Winter Storm Uri, power outage woes became all too real for around 3,600 southeast Austinites Saturday as Austin Energy put on a last-resort power pause from around 3:30 to 7:30 p.m.
The outage was a culmination of many factors—from near-100 degree heat to unfortunately-timed maintenance checks and growth in the Bluff Springs area. The result was an overheating circuit that needed relief fast.
"It was related to high usage overloading one circuit at a time when some of our infrastructure was still undergoing maintenance in preparation for the months to come," Austin Energy spokesperson Matt Mitchell told Austonia. "So it was a very unique set of circumstances that we do not see repeating itself."
Mitchell said that all seasonal maintenance is complete and that Austin Energy will open a new power substation in Bluff Springs this June. The organization also said the issue had nothing to do with ERCOT, which released a statement assuring consumers that power was not threatened during that time.
ERCOT also told Austonia before 5 p.m. that it "projects there will be sufficient generation to meet demand for electricity" on Friday. It then informed the public about the energy loss due to a power trip.