Never miss a story
Sign up for our free daily morning email...
...and afternoon text update
Get connected with our daily update
Mark Dewey
When I called Ryan Garrett, the general manager of Stubb's BBQ, he was homeschooling his 8-year-old daughter and 5-year-old son. The giant ovens at Stubbs were stilled. Citizen Cope's April 25 concert in Stubb's Waller Creek Amphitheater had been indefinitely postponed. And Garrett's 106 employees were out of work, although the full-timers were still drawing paychecks.

"We are keeping hope alive," said Garrett, 47.
---
When the coronavirus pandemic has finished its business with Austin, "the public is going to be stoked to get back out. Having said that, there will certainly be modifications to operations, with sanitary stations, ensuring the good health of the staff and following CDC and public health guidelines."
The venerable Stubb's, which dates back to 1986 in Austin and is famous for its BBQ sauce, is one of 875 storefront businesses downtown. Of those, 615 were considered "non-essential" under the city's March 25 closure order and required to shut down. They include restaurants, bars, nightclubs, entertainment venues, gyms and personal care services. Seventy-eight percent of those were closed or substantially affected by the shutdown, according to the Downtown Austin Alliance, which determined the number by analyzing digital signals emanating from the stores.
"Some are doing take-out or delivery," said Dewitt Peart, president and CEO of the Downtown Austin Alliance (DAA). "But you're not going to have a meal at Eddie V's."
The DAA has produced a heat map that shows businesses that were open before and after the shutdown in the DAA-managed downtown improvement district, roughly bounded by MLK Boulevard to the north, Lavaca Street to the west, Cesar Chavez Street to the south, and I-35 to the east. A DAA chart shows a decline of 89% in Congress Avenue pedestrian traffic through March and early April. Together, the documents are a stunning reminder of the impact of the nation's shutdown.
(Above: The Downtown Austin Alliance maps storefront businesses that were open before the coronavirus-related closures. Click through to the second slide to see those remained after.)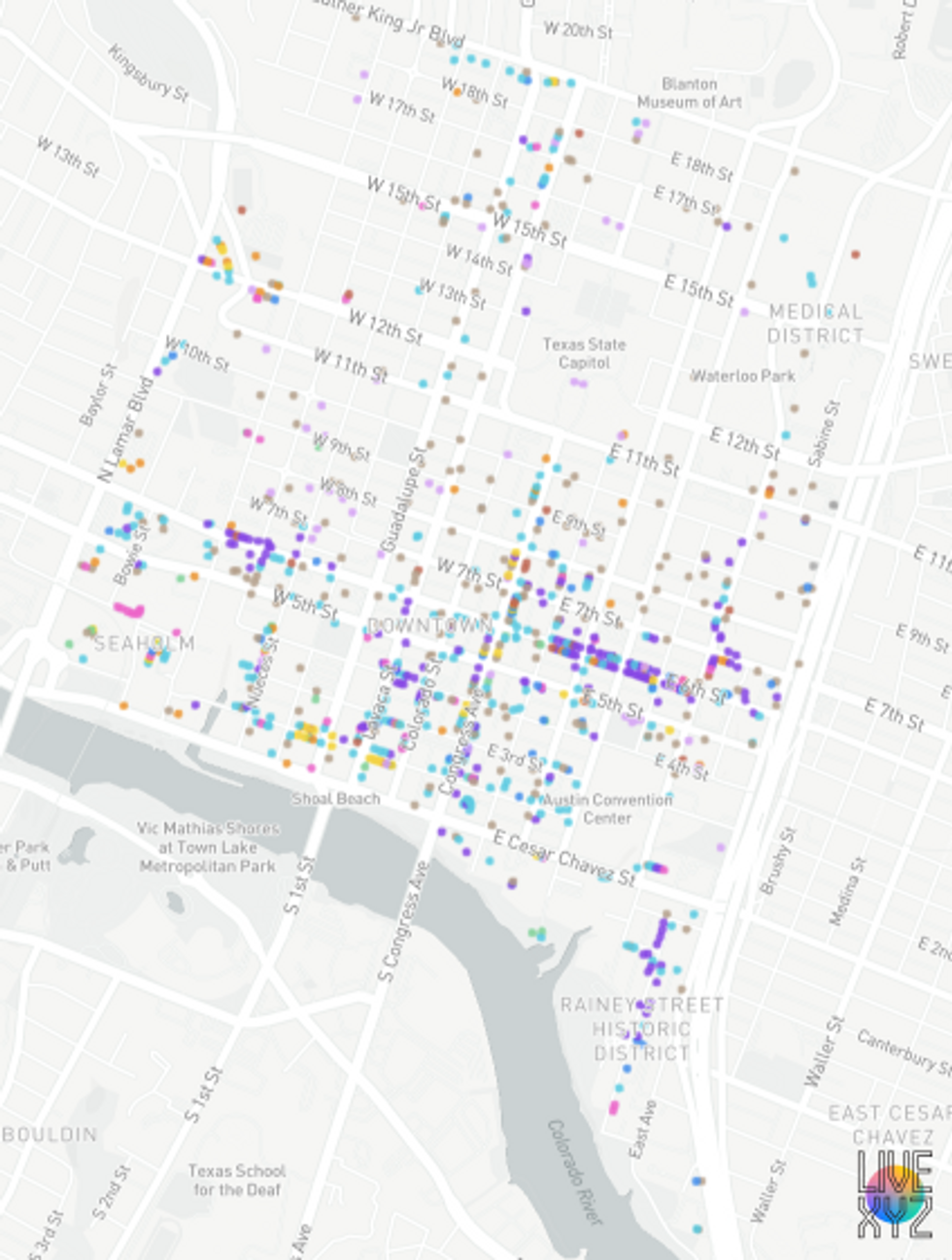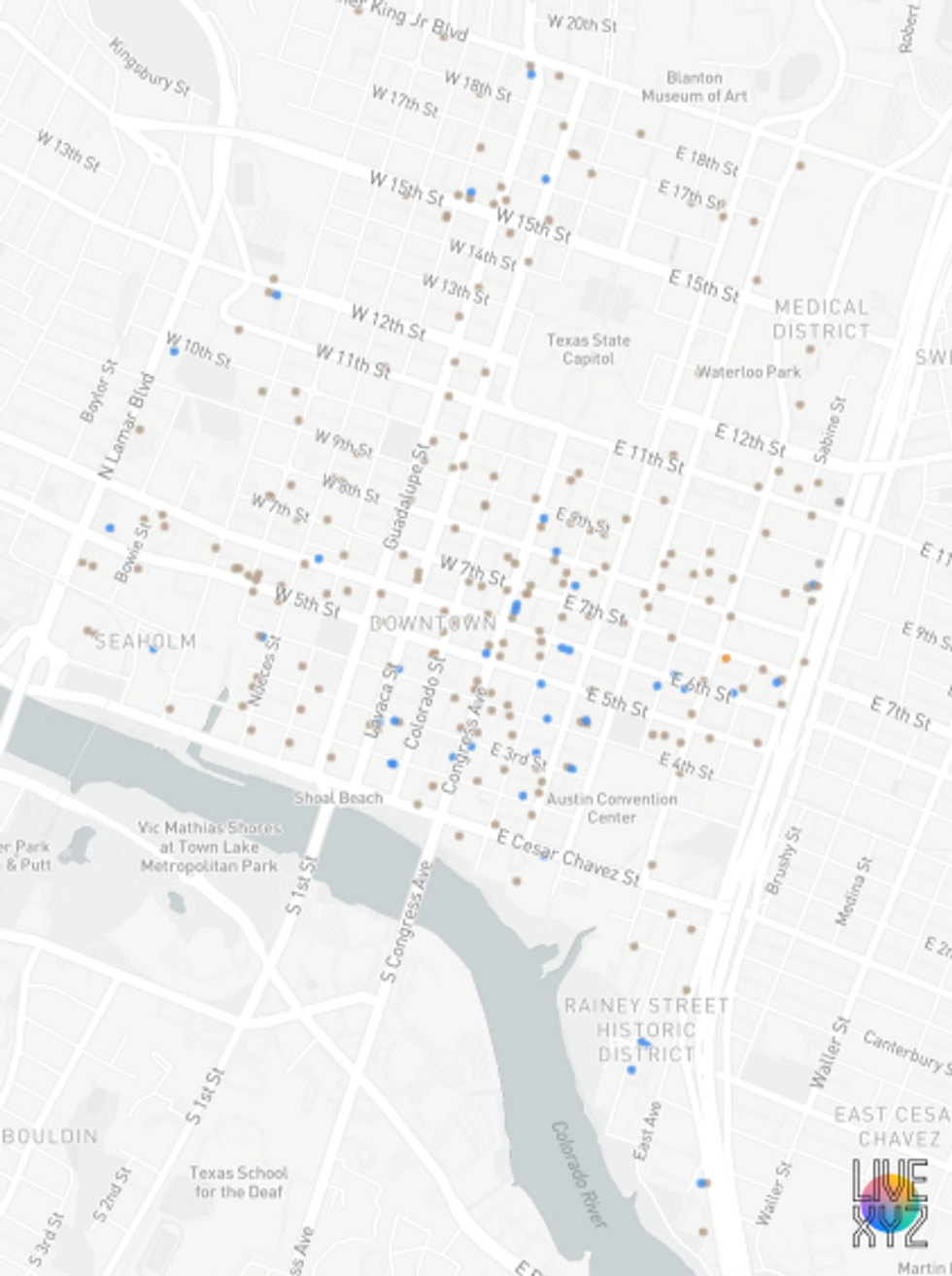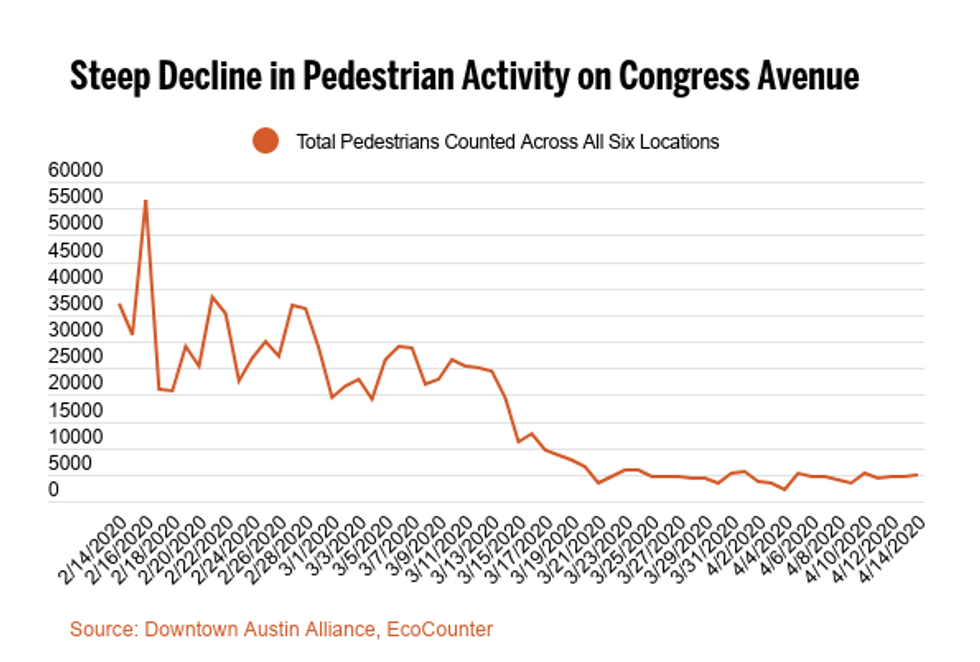 Has Peart ever seen anything like this? He said he witnessed the mid-1980s demise of the steel industry in Pittsburgh, accompanied by 30% unemployment, but "this is both an economic collapse and a fear for everyone's well-being."
Meanwhile Garrett says Stubb's team is hanging on. While he let go of part-time and seasonal workers, he is still paying full-time workers. Stubb's can't do that indefinitely. "No, not indefinitely. There are finite resources. Stubb's is a city block. The expenses that come with that are extreme," he said, including employee health insurance, general liability insurance, utilities, taxes and the costs of a commercial kitchen with large freezers.

Concerts were not canceled, but just postponed. When Stubb's reopens, "the concert industry and the touring acts are going to be aggressive in getting on stage and performing again," said Garrett. He will welcome them back and make room on the calendar.
Up and down Red River, the taverns and nightclubs are dark, but Garrett said the spirit will prevail. "We are a tight-knit community down on Red River when it comes to authenticity and camaraderie. We are a unique entertainment district like nowhere else in the world. We want to reopen. We are aware that precautions need to be taken."
He added, "We are the epicenter of the live music center of the world."
Back at the DAA, Peart is also optimistic, but guarded. Every Monday, he speaks with downtown development executives around the nation, from New York to Seattle. Some are further along in recovery, and they tell Peart that not all mom and pop storefronts are coming back.
Peart will be watching several things: Will the tourists and conventions come back? Will Austin get congressional funding, taxpayer and feepayer support for improvements to I-35, light rail and airport expansions? "We need to keep those projects on track," he said.
And will Congress Avenue's foot traffic return?
"If you're a retail business anywhere downtown, your lifeblood is really that pedestrian traffic. Without that, it will be challenging for many of these [storefront] businesses to continue," says Peart.
With a taste of MLS play under their belts, Austin FC is entering the second half of a scoreless inaugural match.
The club has been given some generous breaks from No. 2 LAFC, who had one or both of their star DPs out for the half. While forward Diego Rossi is out for the entire match due to a hamstring injury, Carlos Vela was accidentally pulled too soon on what turned out to be a miscommunication.
"He gave us the sign that he needed to come off," LAFC Head Coach Bob Bradley said on broadcast. "I can't say more than maybe it's my fault."
The two breaks aside, Austin FC has been holding their own against the match favorites. In the signature style of Head Coach Josh Wolff, the team has been quick and intense, nearly connecting on several fast breaks. ATXFC has also kept about equal possession with LAFC, although their shot attempts haven't been quite as nervewracking as the home team.
LAFC has given goalkeeper Brad Stuver some scares with 11 shot attempts, four of them on goal. By contrast, Austin FC has had five shots on goal.
LA has pulled some dramatics and slowly gained more possession throughout the half, but ATXFC's defense isn't as shaky as it seemed in preseason. Jhohan Romana has pulled his weight in getting the ball out of goal, and defensive midfielder Alex Ring has shown the qualities that make him captain as he leads his teammates through their first ever match.
Will Austin FC win against the odds? It's tough to tell, but Austonia will keep you updated!
It's matchday! Austin FC—Austin's first major league sport team—kicks off its debut season in Los Angeles today after years in the making. We know how much this means to our beloved city and are taking you along with us as we journey to LA!
Austin FC writer Claire Partain and I are excited to bring you game-day coverage straight from the City of Angels. Check back here for updates, and visit our socials: @austonianews for the latest.
5 p.m: Kickoff!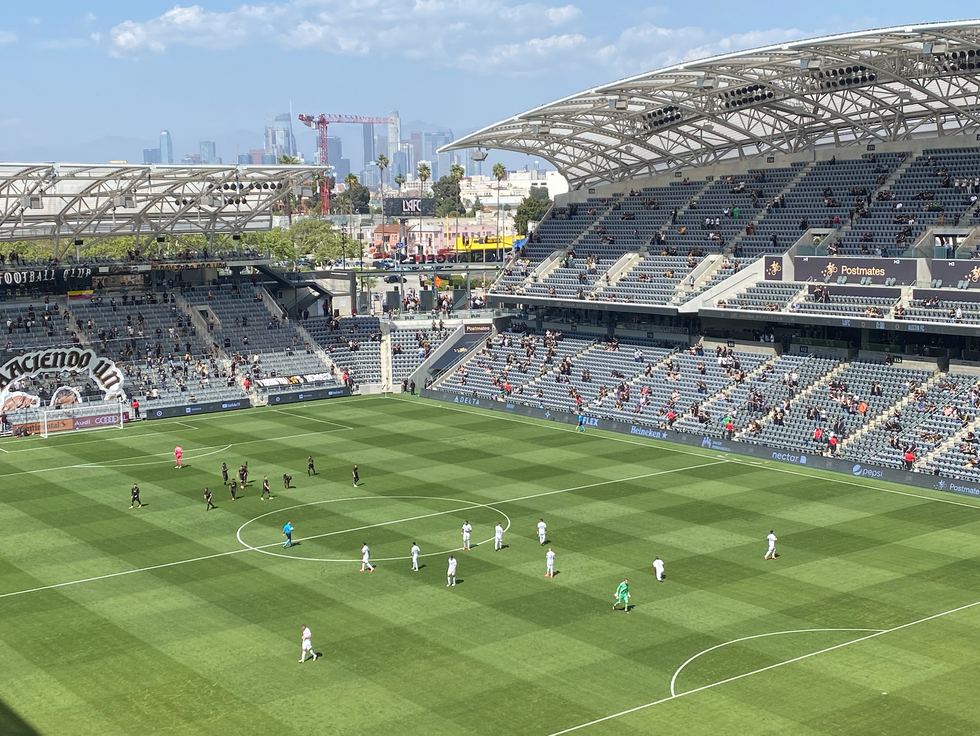 It's finally here! Claire will be updating Austonia's Twitter account live. And we'll post her game recap after the game. Best of luck Verdes!
4:40 p.m: Excitement radiates back home
Watch parties are in plenty supply back home. Austonia's Laura Figi visited Circle Brewing Co. and found a crowd of excited supporters.
4:20 p.m: Austin FC supporters are in the stadium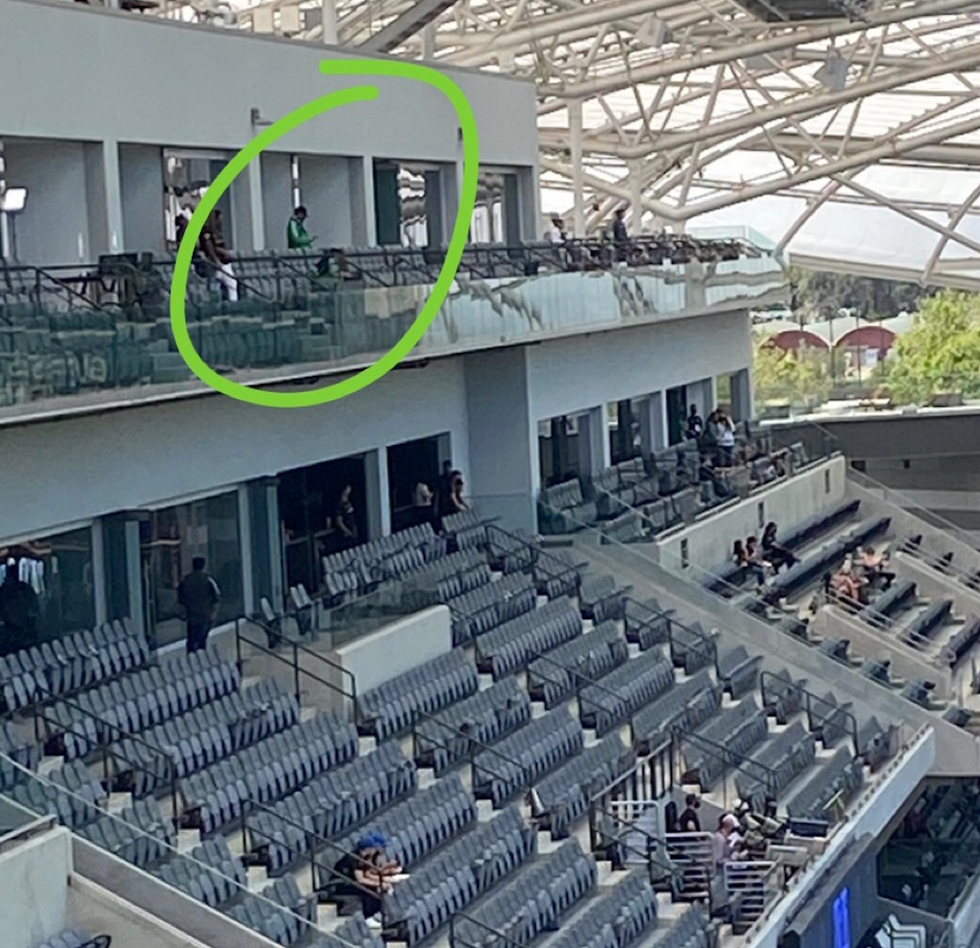 Although the Banc of California Stadium is hosting the match at limited capacity, we see some green in the stands ahead of kickoff. Just moments away from the Austin FC's debut!
~3:20 p.m: Austin FC's team bus enters the stadium grounds
With a warm welcome from Los Verdes, Austin FC players were welcomed into the Banc of California Stadium.
~1 p.m: Los Verdes in LA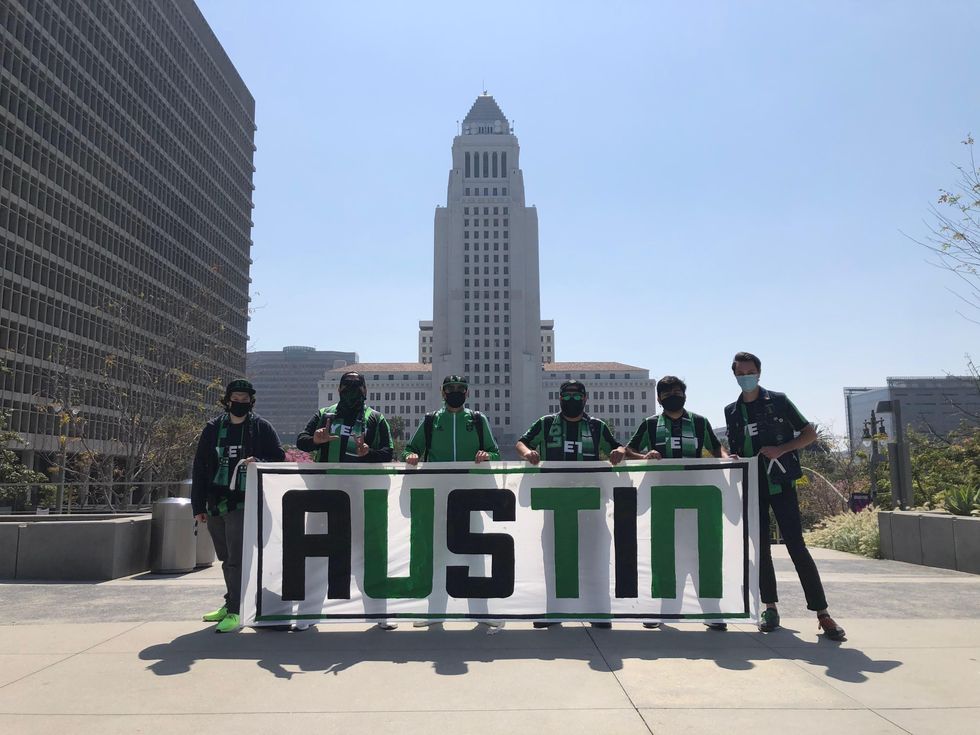 (Rigo Rodriguez/Los Verdes)
Austin FC supporters are making their presence known in LA, including the Los Verdes group.
Los Verdes members started having match-day fun around the area this morning with brunch. We'll be joining them about an hour before the game outside the stadium to share some of their excitement. We'll post immediately to Austonia's Instagram.
11:45 a.m: We landed!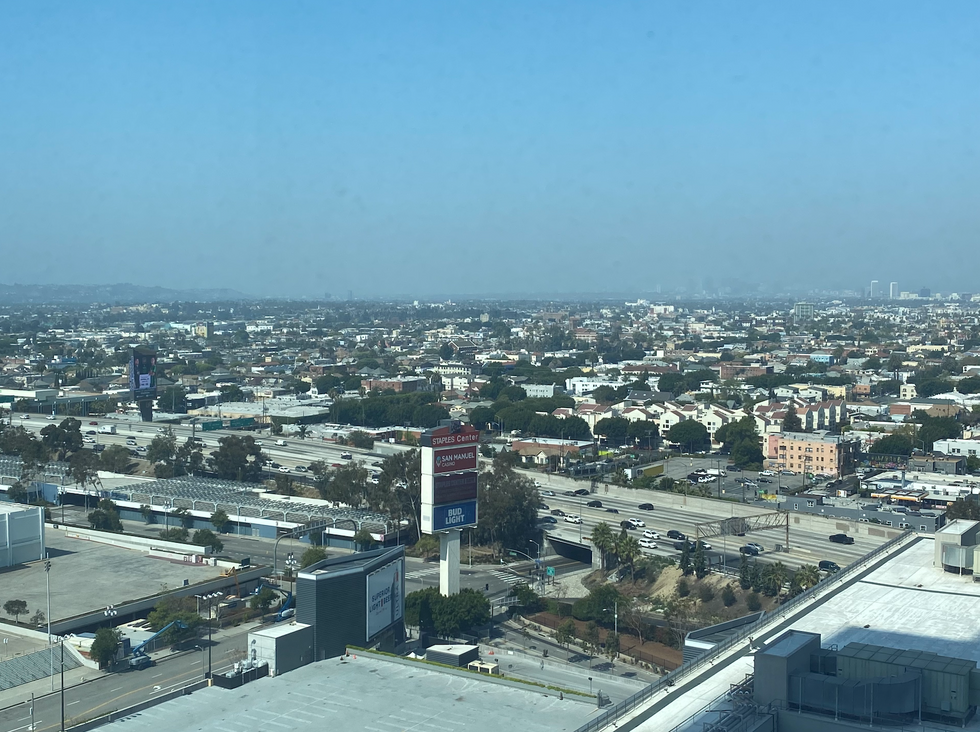 View from hotel room where we're staying; the stadium digital sign can be seen in the right corner. (Sonia Garcia/Austonia)
Switching over to pacific time, we're here and it's almost like no time went by. It's 9:45 a.m. here.
We've been in contact with Los Verdes, an Austin FC supporter group, who is also here in LA counting down to kickoff.
8:20 a.m: LA bound
Like many of you, we've been looking forward to this moment for, let's just say, a very long time. Today, we woke up bright and early, headed to Austin-Bergstrom International Airport and hopped on a flight to LA.
A gloomy day in Austin with a very quiet airport, we're headed to sunny skies in California.
As we wait for the game to start at 4:30 p.m., check out Claire's preview of the game with a predicted lineup and timeline of the long journey to get here.