Get connected with our daily update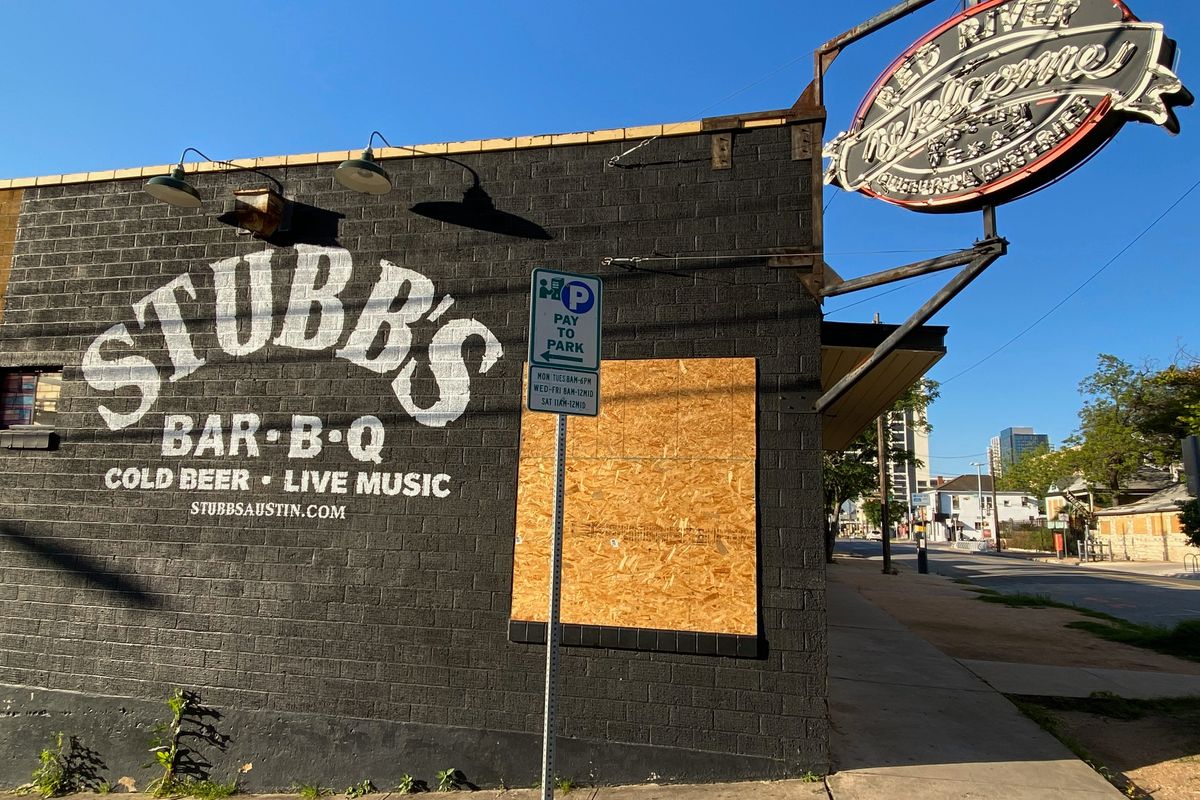 Mark Dewey
When I called Ryan Garrett, the general manager of Stubb's BBQ, he was homeschooling his 8-year-old daughter and 5-year-old son. The giant ovens at Stubbs were stilled. Citizen Cope's April 25 concert in Stubb's Waller Creek Amphitheater had been indefinitely postponed. And Garrett's 106 employees were out of work, although the full-timers were still drawing paychecks.

"We are keeping hope alive," said Garrett, 47.
---
When the coronavirus pandemic has finished its business with Austin, "the public is going to be stoked to get back out. Having said that, there will certainly be modifications to operations, with sanitary stations, ensuring the good health of the staff and following CDC and public health guidelines."
The venerable Stubb's, which dates back to 1986 in Austin and is famous for its BBQ sauce, is one of 875 storefront businesses downtown. Of those, 615 were considered "non-essential" under the city's March 25 closure order and required to shut down. They include restaurants, bars, nightclubs, entertainment venues, gyms and personal care services. Seventy-eight percent of those were closed or substantially affected by the shutdown, according to the Downtown Austin Alliance, which determined the number by analyzing digital signals emanating from the stores.
"Some are doing take-out or delivery," said Dewitt Peart, president and CEO of the Downtown Austin Alliance (DAA). "But you're not going to have a meal at Eddie V's."
The DAA has produced a heat map that shows businesses that were open before and after the shutdown in the DAA-managed downtown improvement district, roughly bounded by MLK Boulevard to the north, Lavaca Street to the west, Cesar Chavez Street to the south, and I-35 to the east. A DAA chart shows a decline of 89% in Congress Avenue pedestrian traffic through March and early April. Together, the documents are a stunning reminder of the impact of the nation's shutdown.
(Above: The Downtown Austin Alliance maps storefront businesses that were open before the coronavirus-related closures. Click through to the second slide to see those remained after.)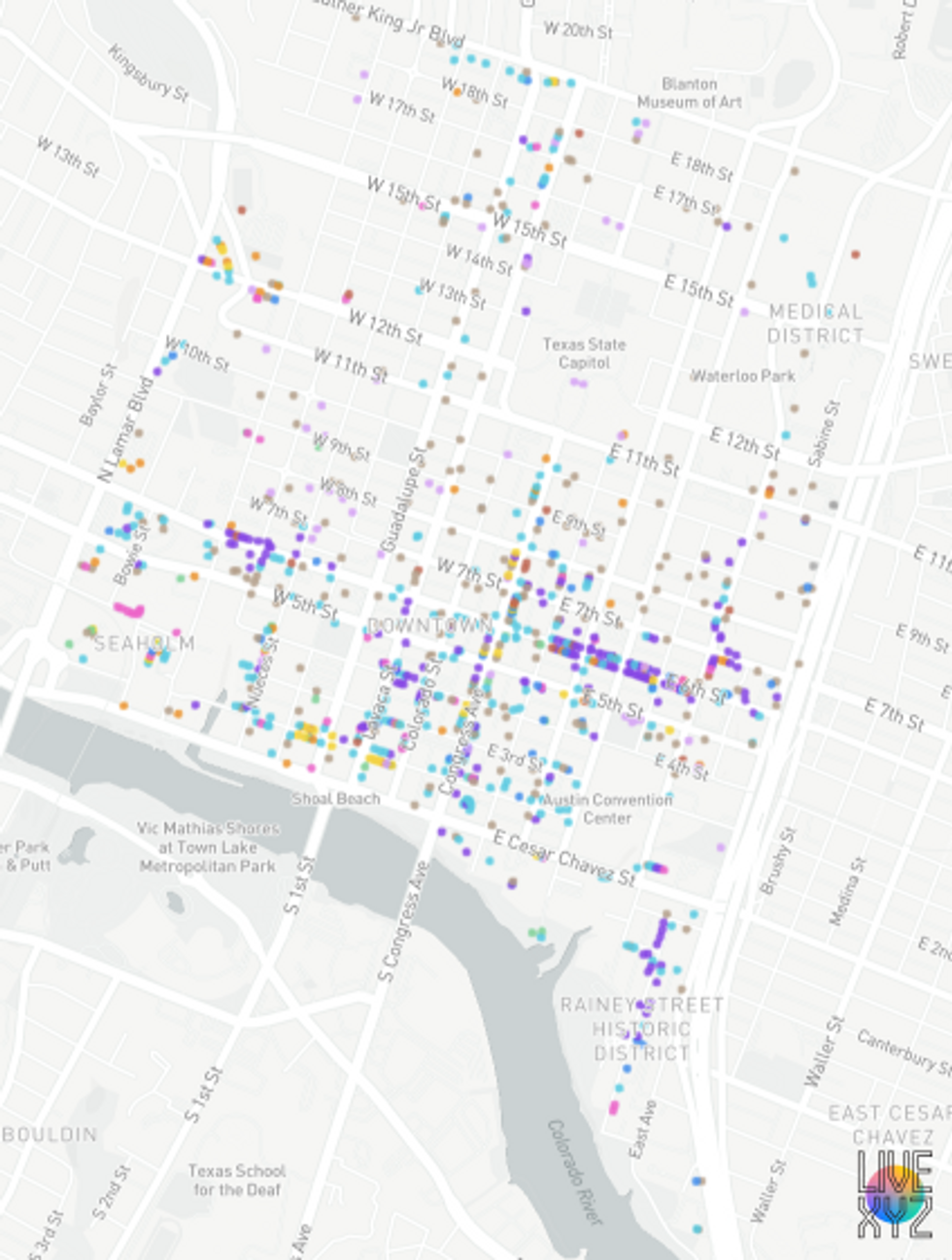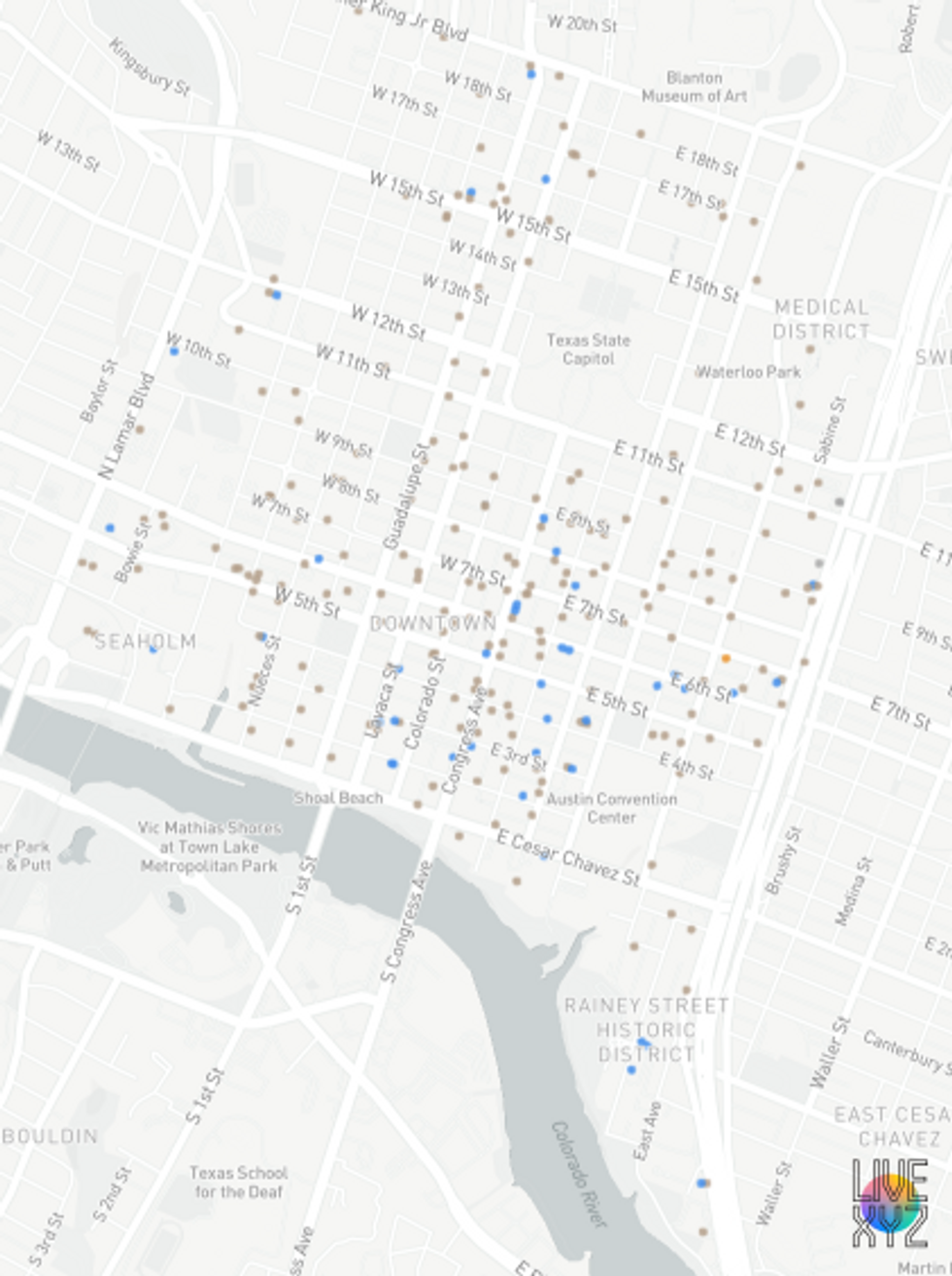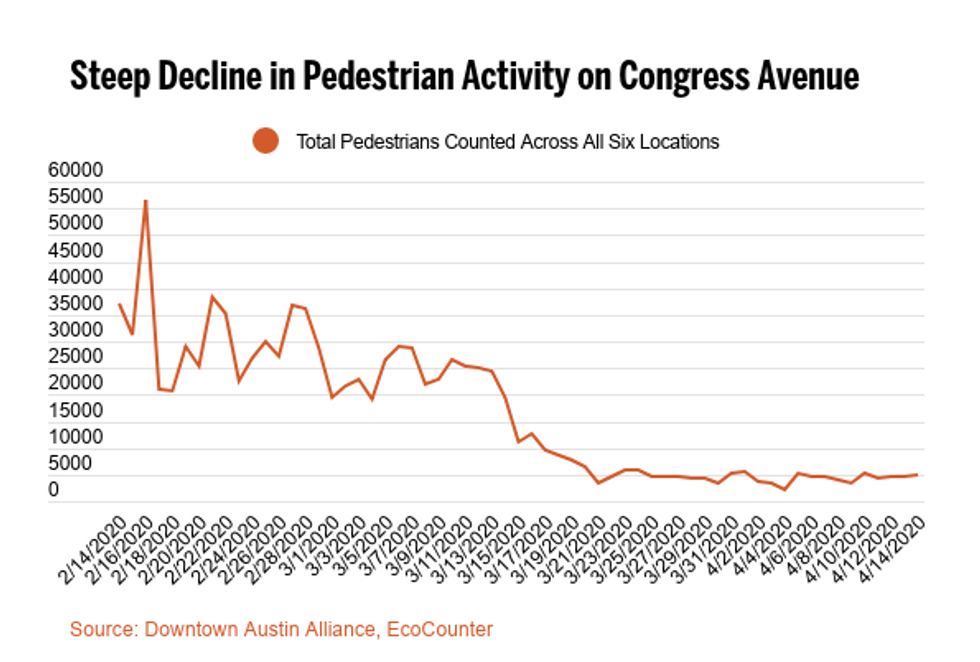 Has Peart ever seen anything like this? He said he witnessed the mid-1980s demise of the steel industry in Pittsburgh, accompanied by 30% unemployment, but "this is both an economic collapse and a fear for everyone's well-being."
Meanwhile Garrett says Stubb's team is hanging on. While he let go of part-time and seasonal workers, he is still paying full-time workers. Stubb's can't do that indefinitely. "No, not indefinitely. There are finite resources. Stubb's is a city block. The expenses that come with that are extreme," he said, including employee health insurance, general liability insurance, utilities, taxes and the costs of a commercial kitchen with large freezers.

Concerts were not canceled, but just postponed. When Stubb's reopens, "the concert industry and the touring acts are going to be aggressive in getting on stage and performing again," said Garrett. He will welcome them back and make room on the calendar.
Up and down Red River, the taverns and nightclubs are dark, but Garrett said the spirit will prevail. "We are a tight-knit community down on Red River when it comes to authenticity and camaraderie. We are a unique entertainment district like nowhere else in the world. We want to reopen. We are aware that precautions need to be taken."
He added, "We are the epicenter of the live music center of the world."
Back at the DAA, Peart is also optimistic, but guarded. Every Monday, he speaks with downtown development executives around the nation, from New York to Seattle. Some are further along in recovery, and they tell Peart that not all mom and pop storefronts are coming back.
Peart will be watching several things: Will the tourists and conventions come back? Will Austin get congressional funding, taxpayer and feepayer support for improvements to I-35, light rail and airport expansions? "We need to keep those projects on track," he said.
And will Congress Avenue's foot traffic return?
"If you're a retail business anywhere downtown, your lifeblood is really that pedestrian traffic. Without that, it will be challenging for many of these [storefront] businesses to continue," says Peart.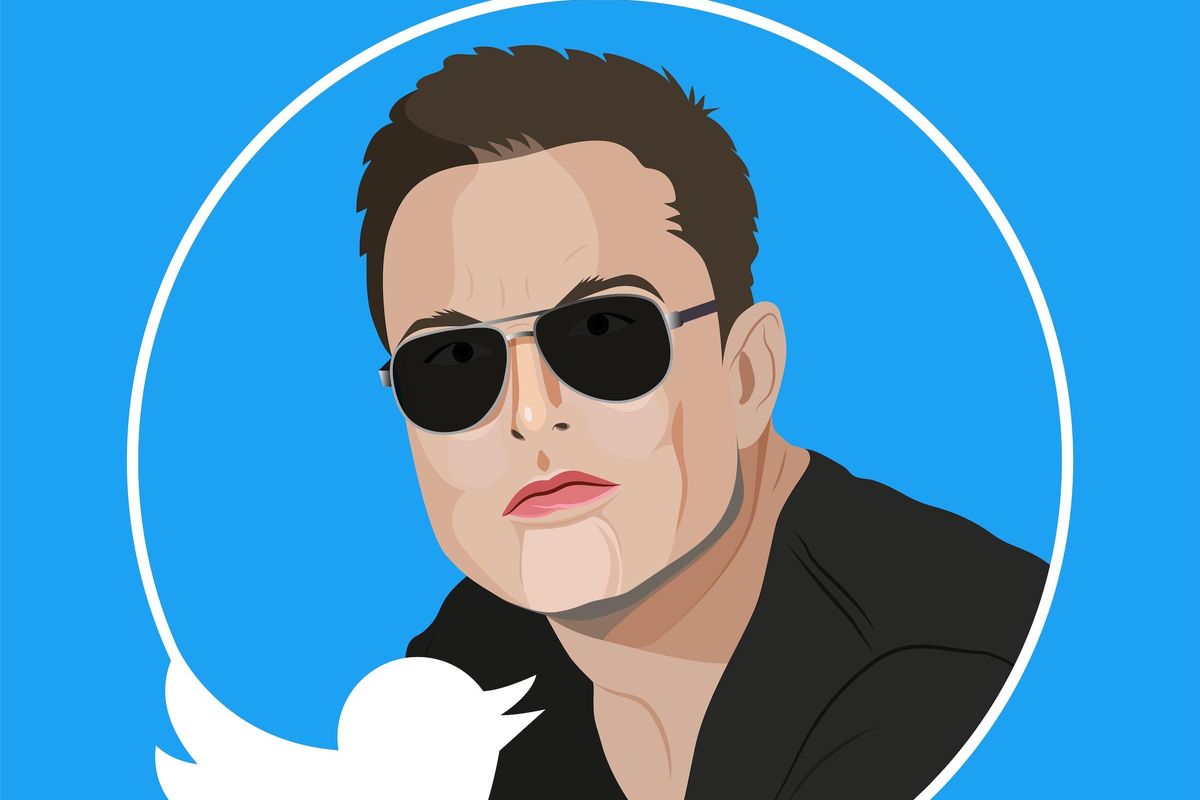 Shutterstock
Elon Musk has proposed once again to buy Twitter for $54.20 a share.
The news that Musk is offering to carry on with the $44 billion buyout was first reported by Bloomberg. Now, a filing with the Securities and Exchange Commission shows Musk made the proposal in a letter to the tech giant on Monday.
The New York Stock Exchange temporarily halted trading in Twitter stock twice Tuesday, first because of a big price move and the second time for a news event, presumably the announcement of Musk's renewed offer.
While the per share offer price on this latest proposal remains the same as the original offer, it's unclear if Musk has made other term changes or if Twitter would reject it. According to other reports, a deal could be reached this week.
The stock closed at $52.00/share Tuesday, indicating market uncertainty around the $54.20 offer.
After Musk informed Twitter of plans to terminate the original agreement in July, Twitter sued. A trial has been expected in Delaware Chancery Court on Oct. 17.
With the proposition of a buyout on the table again, it revives the question of whether Musk might move Twitter from San Francisco to Central Texas.
He's done so with some of his other companies. Tesla's headquarters in southeast Travis County had its grand opening earlier this year and tunneling business The Boring Company moved to Pflugerville. At least two other Musk companies, SpaceX and Neuralink, have a Central Texas presence without being headquartered here.
Technology journalist Nilay Patel this afternoon voiced concerns that owning Twitter and Tesla together could be problematic for Musk, as his Tesla manufacturing facilities in Germany and China are both in countries that have disputes with Twitter over content moderation and censorship.
Telsa shares fell after the Twitter news became public, before rallying to close up, at $249.44.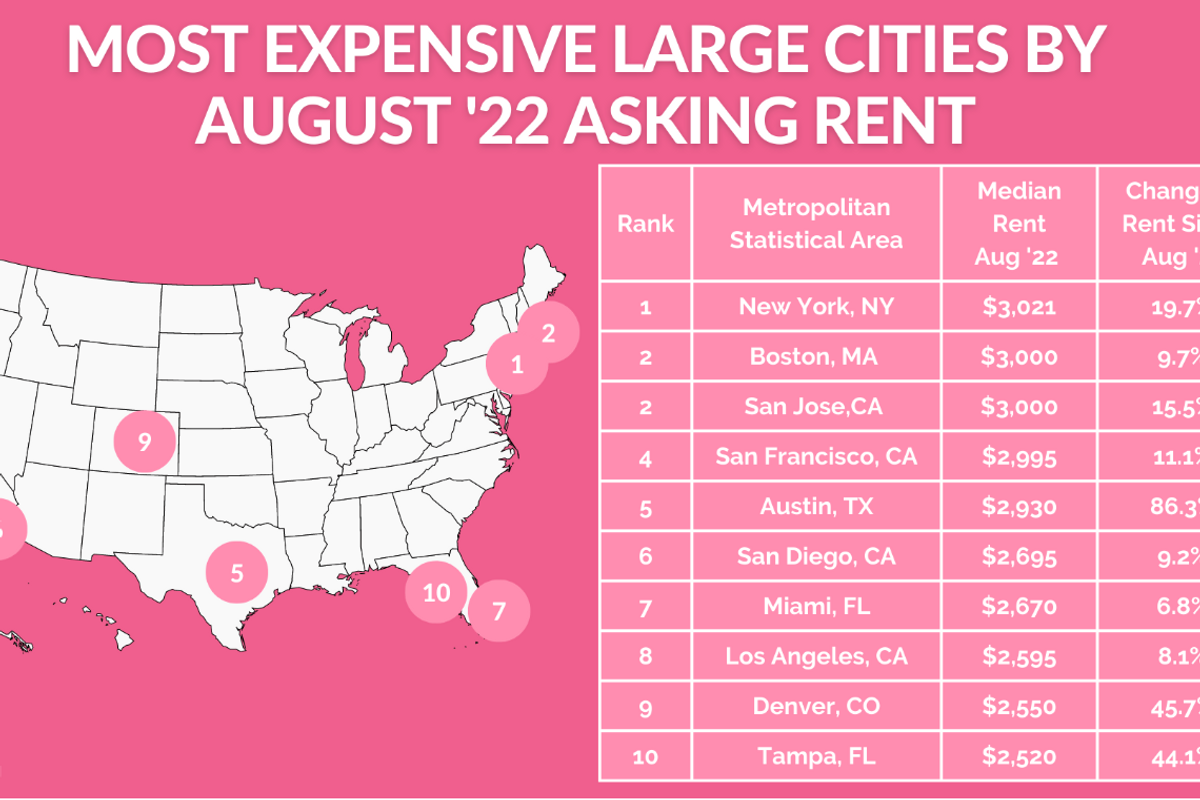 Dwellsy
While searching for a place to live, Austin renters will face monthly rates of nearly $3,000, a recent guide from rental marketplace Dwellsy shows.
The median rent in August this year was $2,930, a more than 86% increase since August 2021. That's $820 more than the nationwide median asking rent in August and puts Austin just below the Bay Area, Boston and New York for large cities with the most expensive asking rent.
"Within this group, Austin, TX stands out for the highest increases in asking rent, which has nearly doubled since this time last year," the study notes.
Outside of those large cities, however, others are seeing even higher rent spikes. Metro areas that ranked above Austin in one-year increases include those like Kansas City, MO with a 112% change in rent since last August and Tucson, AZ with a 124% change.
The data reflects large apartment communities, single-family homes and 2-6 unit buildings.