Get connected with our daily update
Karen Brooks Harper
Callie Rocha, 23, wanted to hit the rocks early.
Rocha, of Austin, woke up near dawn, packed up her climbing gear, and headed out to McKinney Falls State Park in southeast Austin to be the first one to climb the boulders after the parks reopened on Monday.
Did she do it for the bragging rights? To be No. 1? Not especially.
---
"Nobody's been touching them," the out-of-work restaurant employee said. "I thought I'd be the first one to touch those rocks without any germs on them."

She doubts she'll return until the threat of COVID-19 has passed because she figures more germy hands may land on them in short order.
She may be right. Visitors flocked on Monday to McKinney Falls, among the first of Texas' 89 state parks to reopen, per the governor's Friday order, after they were shut down mid-March due to concerns about the coronavirus.

Just over a dozen are still closed but could open later in the summer, parks officials said.
In Central Texas, parks that are reopening include Pedernales Falls, Possum Kingdom, Lyndon B. Johnson State Park and Historic Site, Longhorn Cavern, Lockhart State Park, Lake Whitney, Mineral Wells, Inks Lake, Garner, Blanco and Bastrop state parks.
Some limitations apply: Visitors are required to wear face masks, avoid large groups, and maintain six feet of distance between themselves and others. No overnight camping is being allowed yet—day use only.

At McKinney the swings were removed from the swing set to discourage use of the playground, which was off-limits. Roads to campsites were closed. Visitors were required to pre-register and then pick up their car permits stuck onto a kiosk just inside the grounds.
A park official greeted visitors and waved them through, eyes twinkling above a homemade decorative mask.
"Great to have y'all back!" she said cheerfully.
By lunchtime, there was a short line of cars waiting to get inside, the parking lots were half full, and visitors—nearly all of them wearing masks—dotted the falls, the picnic areas, the fishing pools and the swimming holes in sunny 80-degree weather.

"It was busier (than a normal Monday) due to people wanting to be outside," said Stephanie Salinas Garcia, public information officer for Texas Parks and Wildlife.
On Friday, Gov. Greg Abbott announced a multi-phased plan to reopen the Texas economy after weeks of social-distancing measures—and the parks were the first to come back online.
"We've been stir-crazy," said Tom Web, who traveled from New Braunfels with his wife, Beth, to hike the park. "Just cooped up in our house. We like to hike and get outdoors."
Austin veterinarian Frank Schuman, his wife Natalie, their three children ages 2-15, and aunt Marina Villarreal, headed to the falls to swim and get away from homeschooling doldrums.
One drawback: Masks in the heat.
"I'm hoping I don't break out," Natalie Schuman said.
Terry Black's Barbecue is journeying outside of the smoked meats sphere and into the hospitality sector, announcing plans to open "Friday Mountain," a resort-style vineyard near Driftwood.
According to a report from the Austin Business Journal, Friday Mountain will be located on 64 acres at 150 Concord Circle, featuring a boutique hotel with 22 rooms, a 14-acre vineyard and a 20,000-square-foot underground wine facility, a spa, event space, all-day café and high-end restaurant. Construction is poised to start in the next month.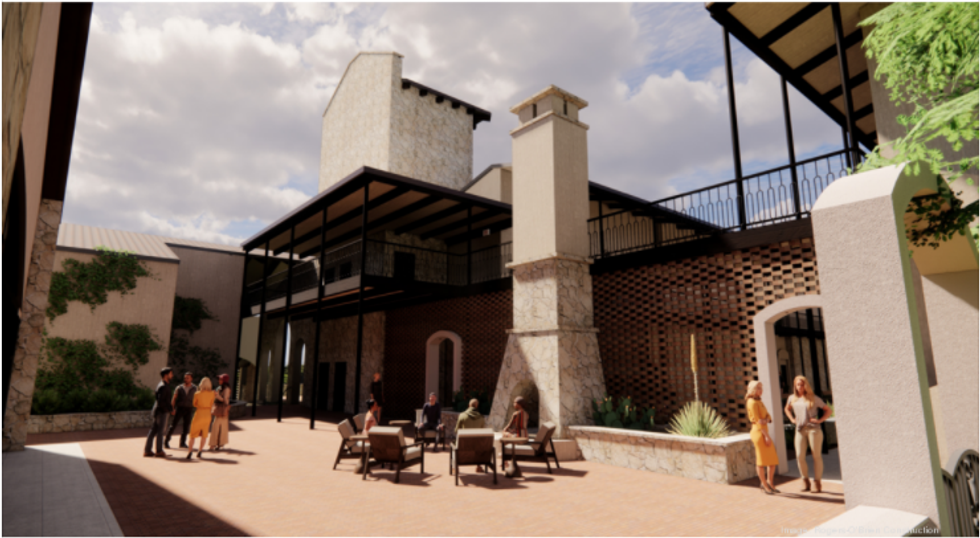 The courtyard outside of the event space will echo Hill Country architecture. (Rogers-O'Brien Construction)
Co-owner Mark Black said he expects construction to last about 10 months, hoping for opening early next year, and would hire around 140 employees: 60 full-time and 80 part-time.
The new project has long been in the works for the restaurateurs—including Mark's twin brother Mike and sister Christina—who come from the same lineage as those behind Lockhart's Black's BBQ but separated the business due to a falling out within the family.
Friday Mountain was originally planned to be a wedding venue but issues arising about noise, traffic and environmental concerns led the Dripping Springs City Council to ask for updated plans.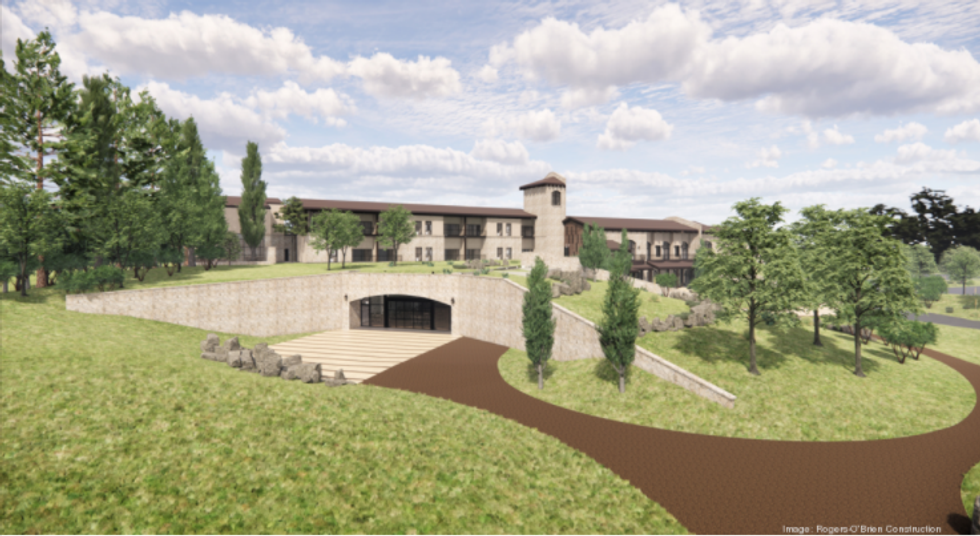 A rendering of the entrance to the planned underground wine cave. (Rogers-O'Brien Construction)
In the new plans, which have since been submitted, Black said he heard the neighborhood's concerns and is focusing on working with the right contractors to avoid issues. Black said he knows not everyone will be on board with the venue but that it will provide a little something for everyone.
To bring the concept to life, Black is partnering with engineers at Kimley-Horn and Associates Inc., architects at Lawrence Group, and Rogers-O'Brien Construction Co. Ltd. as the general contractor.
As for the vineyard, Black has partnered with Salt Lick Cellars to have wine aged and ready to drink wine upon opening and will hand off wine making operations to enthusiast Phil Price.
According to a Texas Department of Licensing and Regulation filing, the project will cost an estimated $20 million to be completed in January 2023.
From Your Site Articles
Related Articles Around the Web
The Texas French Bread Bakery, located on 2900 Rio Grande Street, has been completely destroyed after a fire erupted on Monday night.
The Austin Fire Department responded to the fire just before 11 p.m., where they arrived to see flames coming from the roof of the bakery. Firefighters fought the fire for about an hour before the roof collapsed.
While no one was injured in the fire, firefighters say the historic building was completely totaled.
AFD determined that the fire was accidental and caused by mechanical failure. AFD said the damages amounted to $1.6 million total: $1.1 million in structural damage and $500,000 in damage to the contents of the bakery.

This year, Texas French Bread will celebrate 40 years of business. Before the bakery occupied the building, it was the Rome Inn, a music venue that hosted 1970s artists like Stevie Ray Vaughan.