Get connected with our daily update
Charlie L. Harper III
Local officials announced on Wednesday a "surge plan"—what to do if health facilities are overwhelmed—and offered more information about quarantine facilities, hospital capacity, social distancing efforts and measures to further "flatten the curve" in Austin.
The press conference was the city's first since March 30, and it addressed a number of questions reporters and residents alike have been asking about the pandemic at our doorsteps and, for some, in our homes.
---
What is the scale of the coronavirus outbreak in Austin?
As of Tuesday evening, there were 545 confirmed cases, 77 hospitalizations and 28 individuals on ventilators, Dr. Escott said. These numbers will be updated regularly on the city's website.
Though U.S. Surgeon General Jerome Adams said on Sunday that this would be the country's "Pearl Harbor" week with respect to the impact of the coronavirus, Austin Mayor Steve Adler said the city's peak caseload will depend on how successfully residents observe social distancing and personal hygiene recommendations, including washing hands and wearing masks when out in public. Data indicates Travis County residents have reduced nonessential activity by 64%, County Judge Sarah Eckhardt said, which is helping to slow the virus' spread and allow the city time to prepare.
Updated modeling from the University of Texas at Austin, released yesterday, shows that even a 75% reduction in contact will lead to a caseload peak that exceeds local hospital capacity.
"Let's keep staying home and working safe," Eckhardt said. "We are saving lives."
What is the ventilator capacity in Austin?
There are "about 755" ventilators in our five-county region, Dr. Escott said.
Additionally, researchers at the University of Texas at Austin are building a new ventilator model made of cheap, widely available resources to help meet patient needs during this pandemic. The device uses a manual resuscitator and a windshield wiper motor pulled from a Toyota Camry to automatically compress the bag to deliver oxygen to the patient. Once the research team vets its prototype, it plans to produce at least 2,000 ventilators and make the design free to duplicate.
"This is why we have to continue this effort of stay-home-and-work-safe as long as we can," Dr. Escott said. "All these things are critical for us so we can prolong that peak as long as we can, so we can get that testing in place; we can get that [personal protective equipment] in place; we can get the equipment in place."
The city announced a "surge plan." What is that?
The three-stage surge plan announced yesterday is designed to address patient care needs should coronavirus cases overwhelm the hospital system serving Travis, Williamson, Bastrop, Caldwell and Hays counties.
The first stage involves increasing the capacity of area hospitals, such as adding a second bed to single rooms and converting anesthesia machines to serve as ventilators, Dr. Escott said. This brings the total area hospital bed capacity to around 4,300. Currently, area hospitals are operating at around 50% capacity, according to a press release issued by the city earlier today.
In the second stage, "Type 2" facilities—such as outpatient surgical centers and former hospital buildings—serving 50-100 people will open to care for patients that hospitals cannot accommodate. So far, the city has identified six such facilities, but staff have not named them.
In the last stage, the city will open "Type 1" facilities, large venues that can be converted to care for low-acuity patients, such as those who need an IV or supplemental oxygen. These facilities have also not been named, and Dr. Escott said local and state officials and health care providers are working to determine staffing models.
If Austin reaches the last stage, hospitals will be overwhelmed, which means their staff members will not be available to help in Type 1 facilities. One option being considered, Dr. Escott said, is to pull health care professionals from other areas, such as physicians in private practice, non-hospital-based nurses, and paramedics.
What is going on with hotels and homelessness?
On Thursday, Austin City Council will authorize three lease agreements—totalling more than $3.5 million—with area hotels for use as emergency housing and isolation space. The properties are the Crown Plaza Hotel at I-35 and Hwy. 290, the La Quinta Inn at I-35 and Hwy. 71, and the Motel 6 at I-35 and Hwy. 183. Each lease is for a 60-day term with an option to extend for two additional 30-day terms.
Occupancy is down as much as 95% at area hotels, according to a presentation by local economics strategy firm TXP at City Council's Tuesday work session. And across the state, nearly 269,000 jobs supporting the total hotel industry have been lost due to this pandemic, per the American Hotel and Lodging Association.
The three hotels will serve as isolation and protective lodging facilities and will be staffed by a combination of hotel employees and city and county employees, who are helping to coordinate social services and psychiatric support for those who need it.
Isolation facilities will serve anyone who tests positive for the coronavirus.
"They're comfortable facilities," said Dr. Escott, who encouraged people with the virus to stay in hotels to prevent exposing family members and roommates.
Protective lodging facilities serve those at high-risk for complications, such as the homeless.
Around two dozen people are staying in hotels for these purposes, Dr. Escott said.
Austin Mayor Steve Adler said he is hopeful this housing remains available to homeless residents long after the pandemic has been contained.
"That's consistent with the approach that we were trying to bring on [before coronavirus]," Adler said, referring to the city's purchase of a hotel in Southeast Austin last year. "My expectation is that we won't go back to where we were before."
Is testing capacity improving?
While Travis County still doesn't have enough tests, the supply has increased significantly, Eckhradt said.
As soon as this week, area hospitals may begin using a new rapid test machine from Abbott Laboratories, Dr. Escott said, which will help physicians make timelier decisions about who requires hospitalization.
Additionally, antibody tests are now available, and local officials are working to determine the best way to deploy them. The simple blood test helps identify individuals who have been exposed to the virus and have developed antibodies to fight it off. While the test doesn't help indicate if an individual is contagious, it does provide more information about immunity, Dr. Escott said.
How are the local Stay Home-Work Safe orders being enforced?
Although the orders allow for violators to be fined or jailed, Adler said success depends on Austinites' sense of social responsibility.
"We will not be able to enforce our way to the level of compliance that we need," he said. "At the end of the day we're going to have to be enforcing this by agreement between each other."
Let us know what else you'd like us to find out, and how you're handling the crisis. Take our coronavirus survey.

Capital Metro has been awarded $750,000 from the Federal Transit Administration to go toward Project Connect's Orange Line, documents show.
The FTA announced the funding round on Thursday, which dispersed $11 million across 12 states and 20 projects. The money is meant to connect communities to affordable transit and housing through the FTA Pilot Program for Transit-Oriented Development planning.
CapMetro said the funds will go toward projects at eight stations spanning 6.5 miles on the South end of the Orange Line, which has a total of 22 stations. The full project stretches across the 20 miles from Southpark Meadows to Tech Ridge.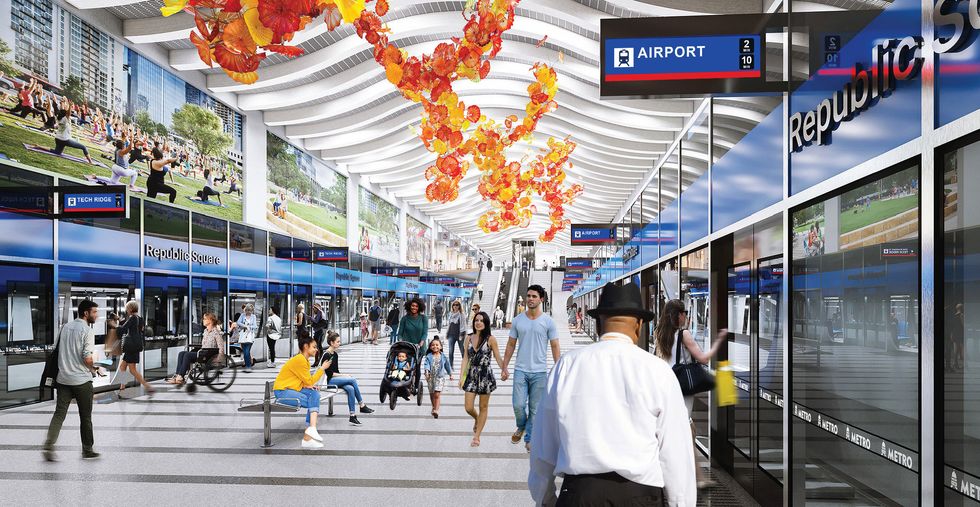 Republic Square station is along the Orange Line. (Project Connect rendering)
Once it's complete, which officials estimate will be in 2028, the Orange Line will reach the following stations:
Tech Ridge (Park & Ride)
North Lamar International District
Crestview
The Triangle
UT campus
Republic Square
Auditorium Shores
South Congress
Southpark Meadows (Park & Ride)
A $500 million mixed-use development spanning 1,400 acres is coming to Southeast Austin, near Tesla's headquarters at Giga Texas.
Plans for the development by Houston-based real estate firm Hines include 2,500 houses along with multi-family and townhomes, and commercial land. Hines is partnering with Trez Capital, Sumitomo Forestry and Texas-based Caravel Ventures.
The development, which is known as Mirador, will be located off the 130 Toll and Highway 71, which the developers say provides easy access to the Circuit of the Americas Formula 1 racetrack and other Austin attractions like restaurants, parks and live music venues.
Hines also boasts amenities like a 60-acre lake, over 600 acres of greenbelt, community parks, trails and a swimming pool.
"As Austin continues to grow into the tech epicenter of Texas, coupled with a supply-constrained market, the demand for new housing is at its highest," Dustin Davidson, managing director at Hines, said. "Mirador will be critical in providing more options for Austin's growing population and we are excited to work alongside our partners given they each provide a unique and valued perspective in single-family development."
The local housing market has been hot in recent years, with home sales accelerating earlier in the pandemic. In July 2021, the Austin metro area hit its pricing peak at $478,000. As Austonia previously reported, the area has been expected to see the Tesla effect, with the new workforce driving up demand for housing and other services.
The single-family houses are expected to be developed over the course of six years, in phases. Construction on the homes is expected to start this year and home sales will begin in 2023.