Get connected with our daily update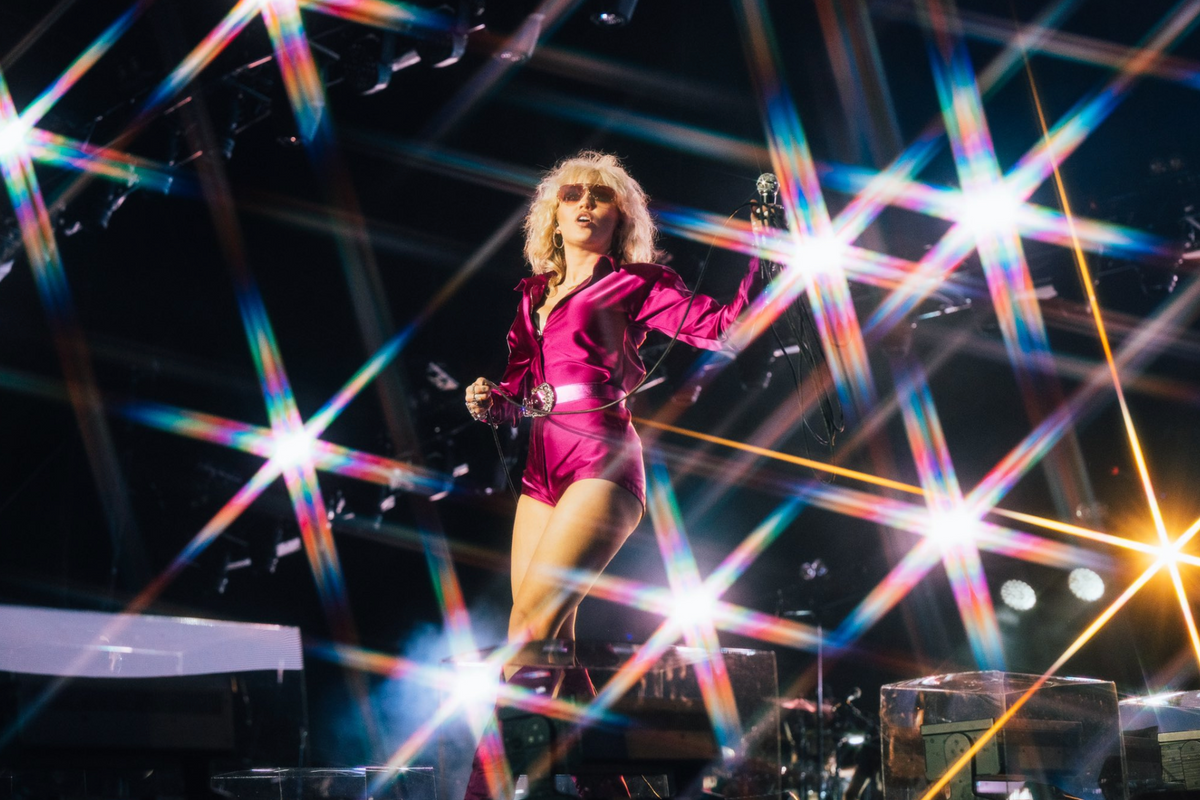 Festival-goers were all smiles as Austin City Limits kicked off on Friday—especially when there was no rain. A delayed start, the day went off without a hitch with performances by headliners Machine Gun Kelly, Megan Thee Stallion, Miley Cyrus and George Strait.
Although the forecast called for rain, skies were clear most of the day, other than some short showers during Cyrus' set.
Here's what the day looked like:
---
8 p.m. Miley Cyrus puts on a rock-n-roll performance at the Honda stage
Miley Cyrus reemerged for her own set this time, dressed in a pink bodysuit, heeled boots, a large belt and "real big" hair, which the rockstar said she chose in honor of Texas. Cyrus didn't stick to any one album, she sang songs back from her early days, including "The Climb," and "Wrecking Ball."
Of course, Cyrus was sure to perform the namesake song from her new album "Plastic Hearts" as well as paying tribute to Janis Joplin. Cyrus said after a year of loneliness due to COVID, her heart was full to be performing at festivals again.
"I'm sure some of us grew up together," Cyrus said to the audience. "I'm still a little bit shocked every time people actually show up to one of my concerts but this festival is lined up with so many fucking incredible artists. I thank y'all so much for surrounding me at this stage."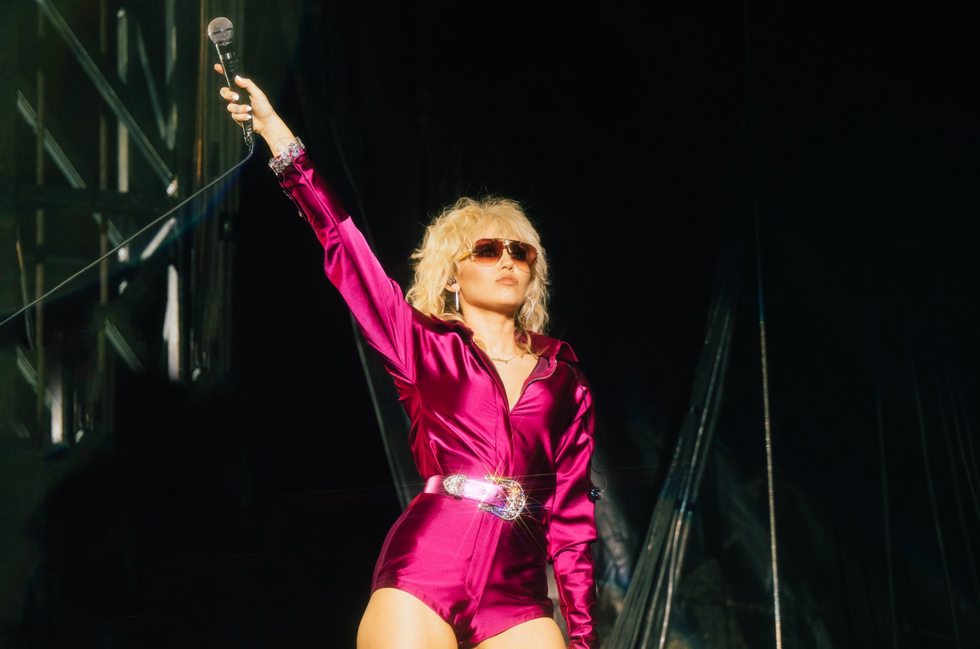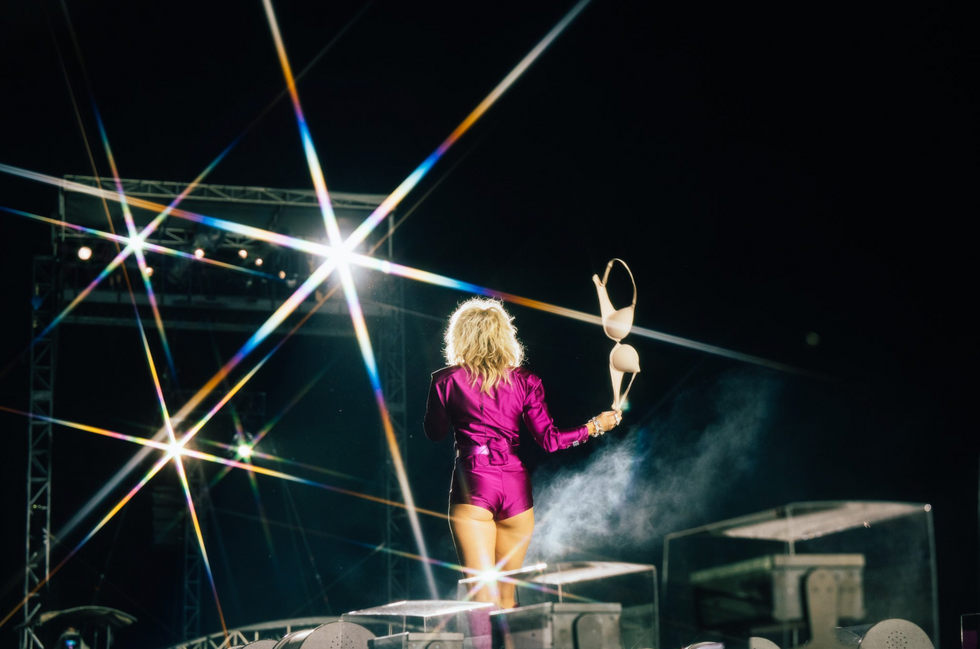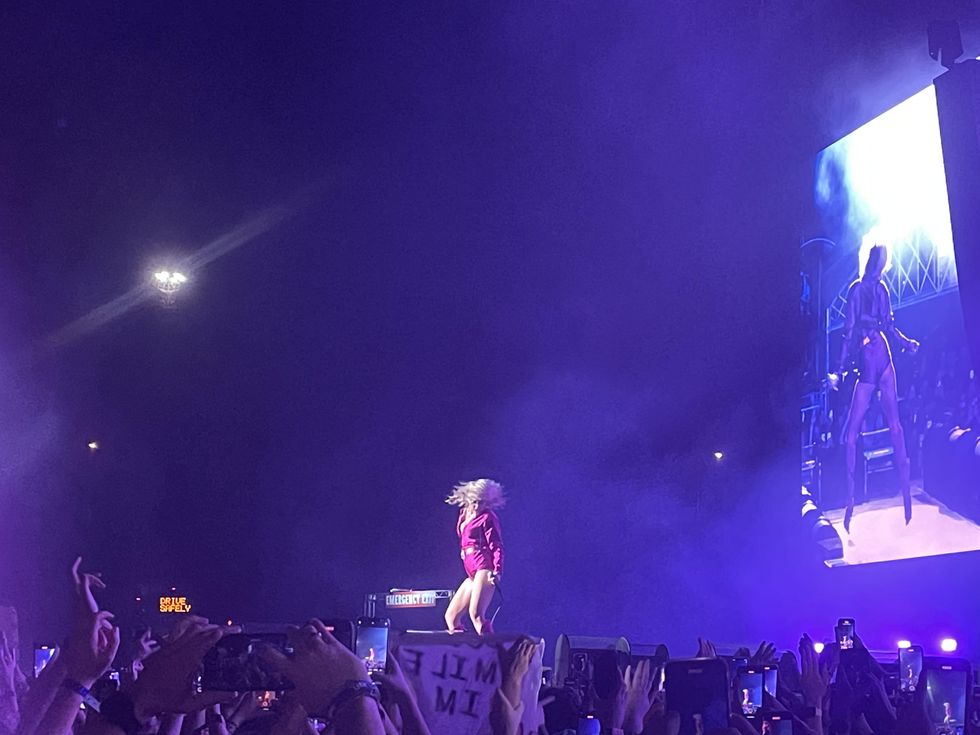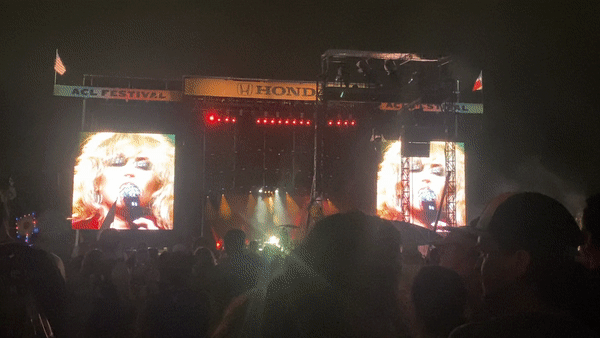 7:30 p.m. Megan Thee Stallion invites crowd members on stage and gets a surprise from Miley Cyrus for TwerkFest 2021
Megan Thee Stallion took over the Honda stage wearing a white corset top reading "Stallion" and hot pink shorts, the perfect outfit for the twerking "Hot Girl Coach" herself. A Houston native, Stallion gushed over how happy she was to be home in the Lone Star State.
About halfway into the festival, Stallion brought some "hotties" from the crowd to dance with her on the stage and Cyrus made an appearance, hugged Stallion and watched from the side of the stage for the rest of the show. Also backstage, the camera showed a glimpse of Billie Eilish jamming to Meg.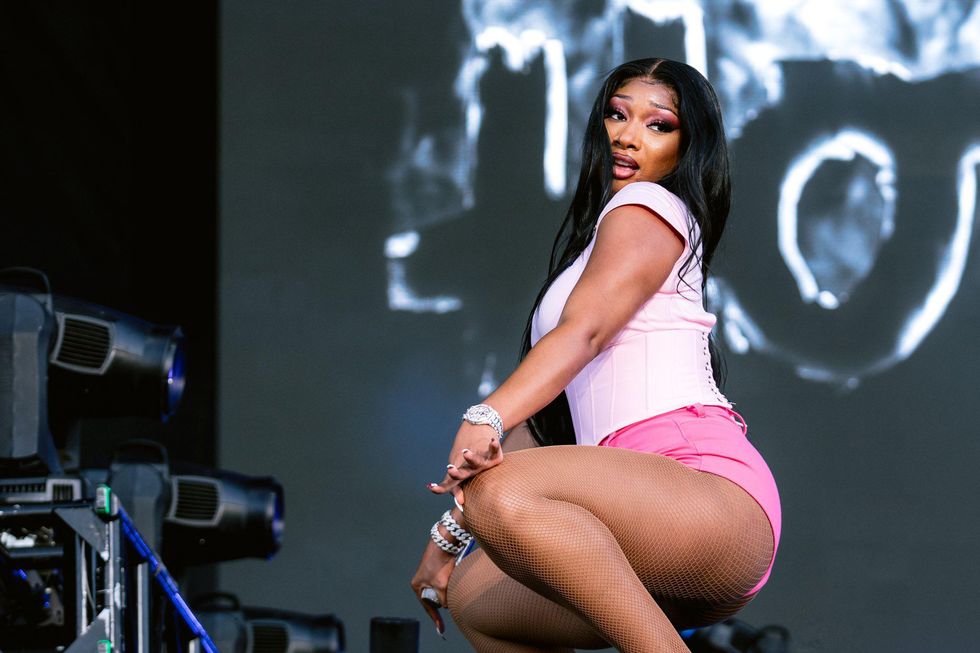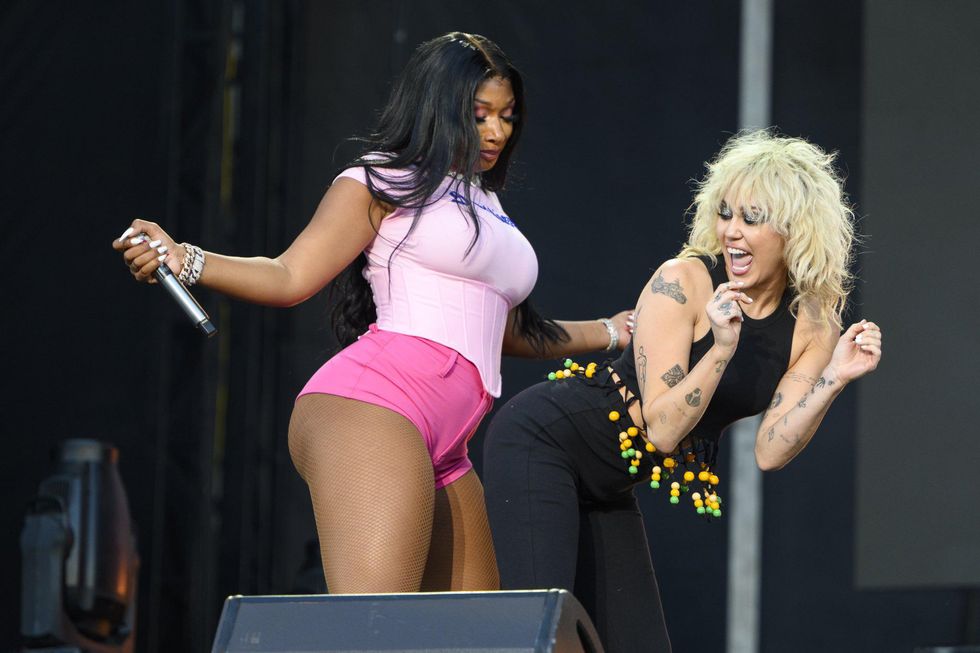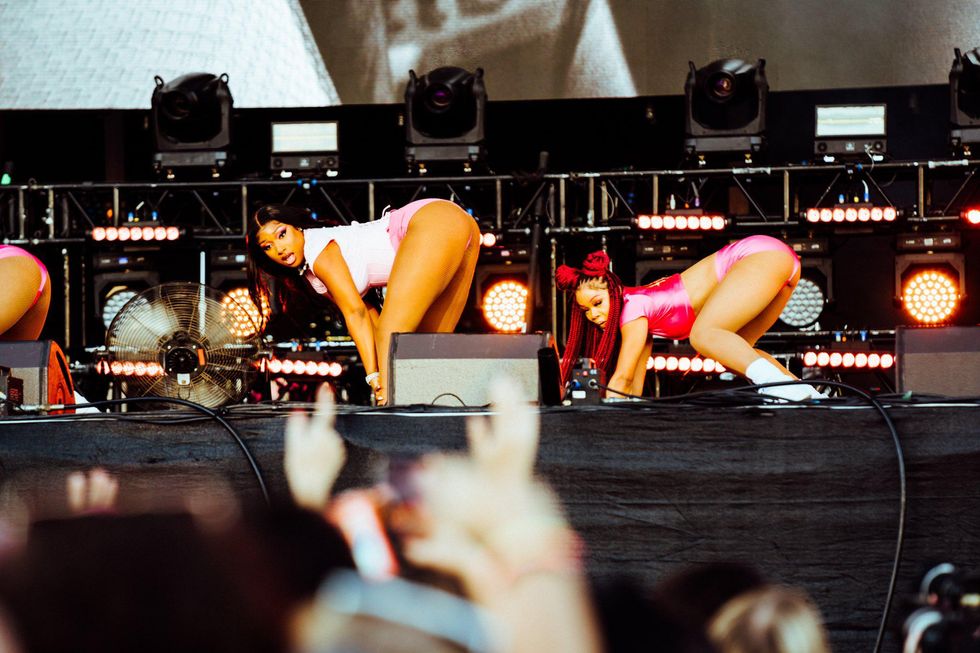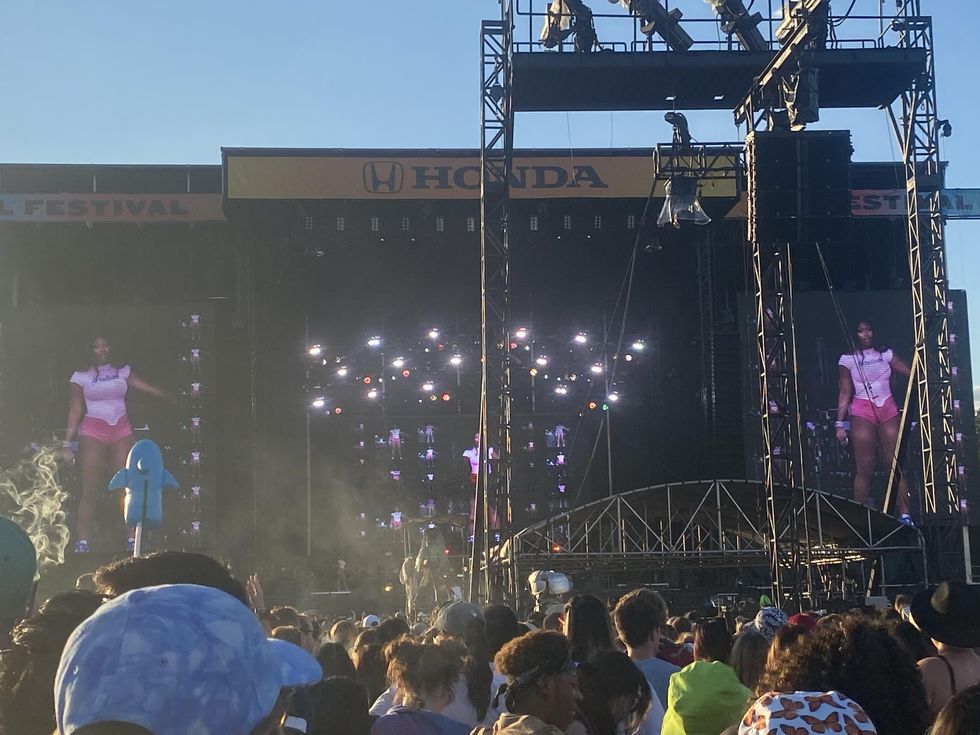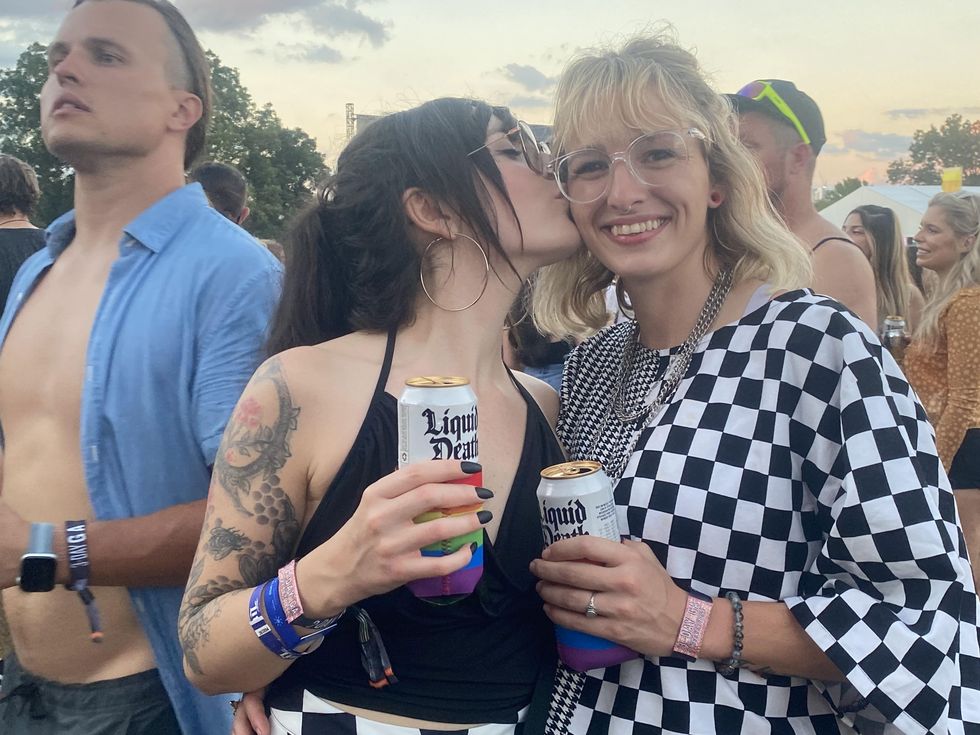 Bonfils kisses Spurlin's cheek, celebrating their shared birthday today. (Laura Figi/Austonia)
Madeline Bonfils and Jasmine Spurlin, Detroit natives, were in town for their shared birthday weekend and serendipitously grabbed tickers for the festival. The pair said seeing Stallion, with all of her body positivity and love for her fans, reminding them of home.
"It was all voluptuous women and Megan, she brings forth body positivity," Bonfils said. "I like that she brought people from the crowd onstage because that shows she's humble and that she's a human."
5:30 p.m. 'Fit check!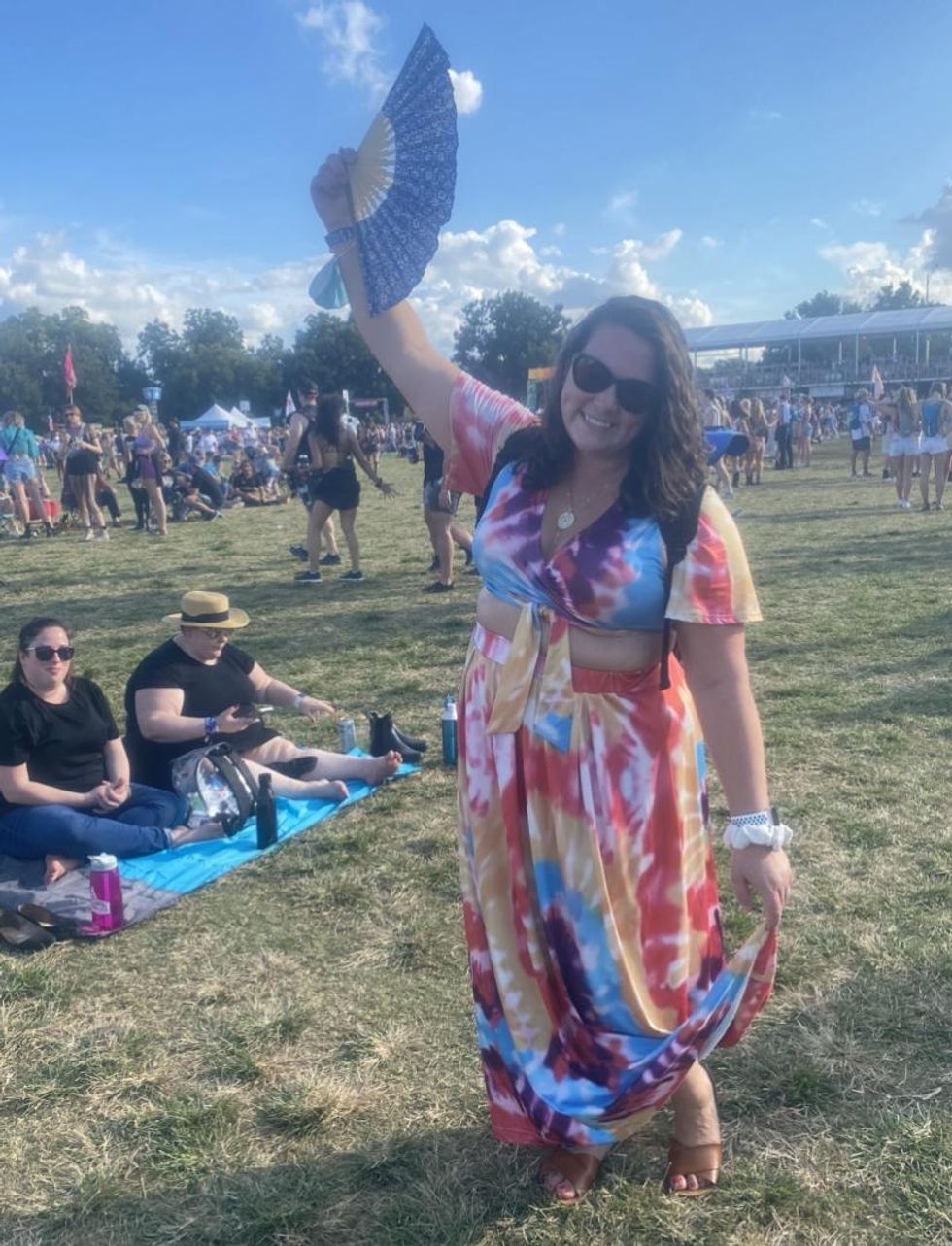 ​(Laura Figi/Austonia)
Rebecca Hopkins drove from Houston to see the bands at ACL—day one is her all-tie dye outfit. Hopkins says she's most excited to see Bille Eilish, who she has seen several times.
"We do a lot of festivals so we're just happy to be back," Hopkins said.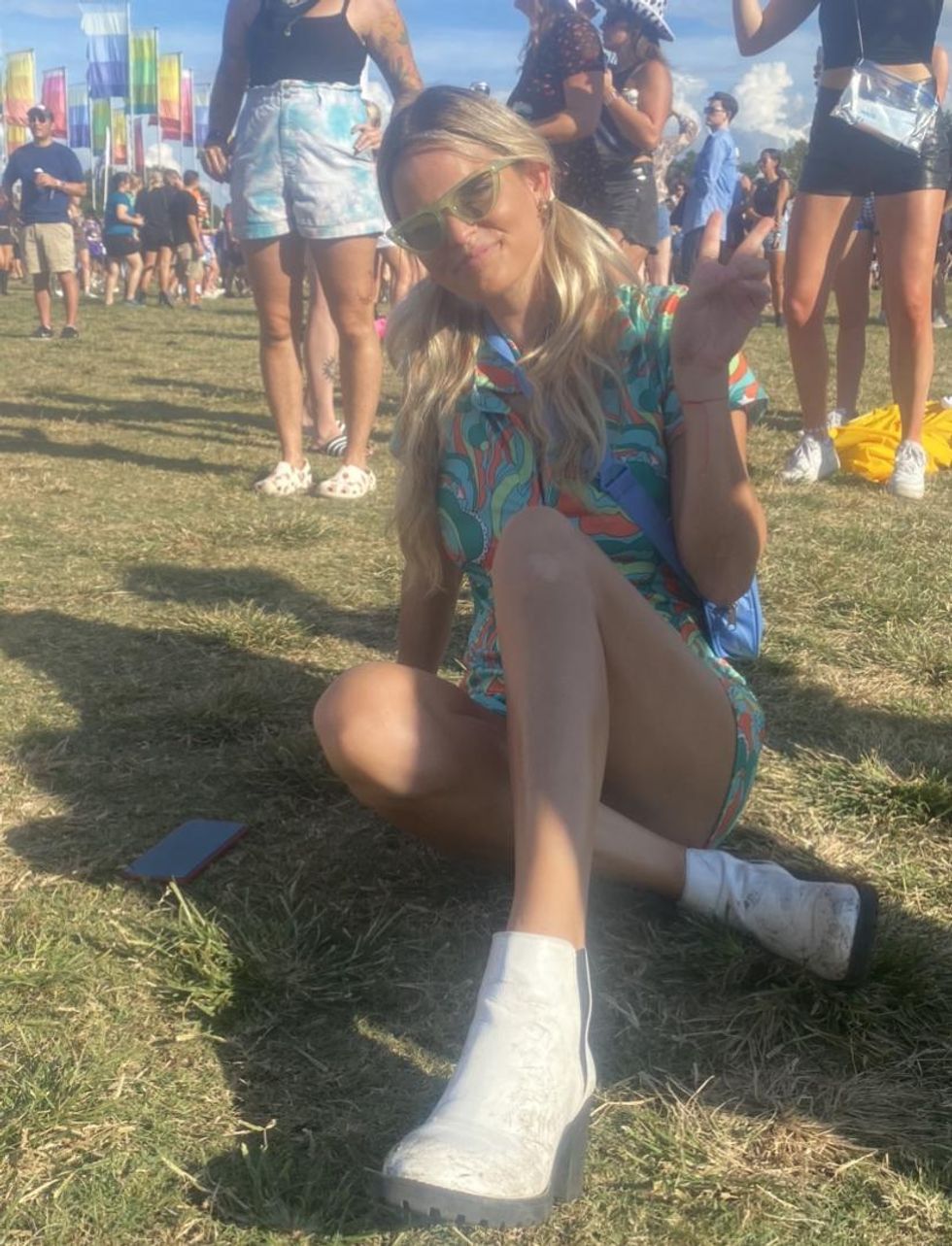 (Laura Figi/Austonia)​
Morgan Glass put on her grooviest outfit for her favorite performer, Miley Cyrus. The best part of her ensemble is that it comes in pairs—Glass is meeting up with a friend wearing the exact same outfit.

"Miley Cyrus, I've know her since watching Hannah Montana," Glass said. "I love her vibe, I love who she is. She's so free-spirited."
4:30 Machine Gun Kelly takes the Honda stage
After a frantic entrance to the festival (beware the Barton Springs West entrance), ACL attendees began to file into Zilker Park. Machine Gun Kelly took the stage first, ripping guitar riffs and an excited audience. Fans were clapping less than 15 minutes in. Toward the end of the show, MGK climbed up to a high platform on the stage.
The bad boy punk artist performed on Thursday at Stubb's for the festival's first night show. He said he had been wanting to perform at ACL for years and what a big moment it was to perform since he played at South by Southwest a few years back to a small crowd. He also thanked fans for helping him win his first MTV Video Music Award this year.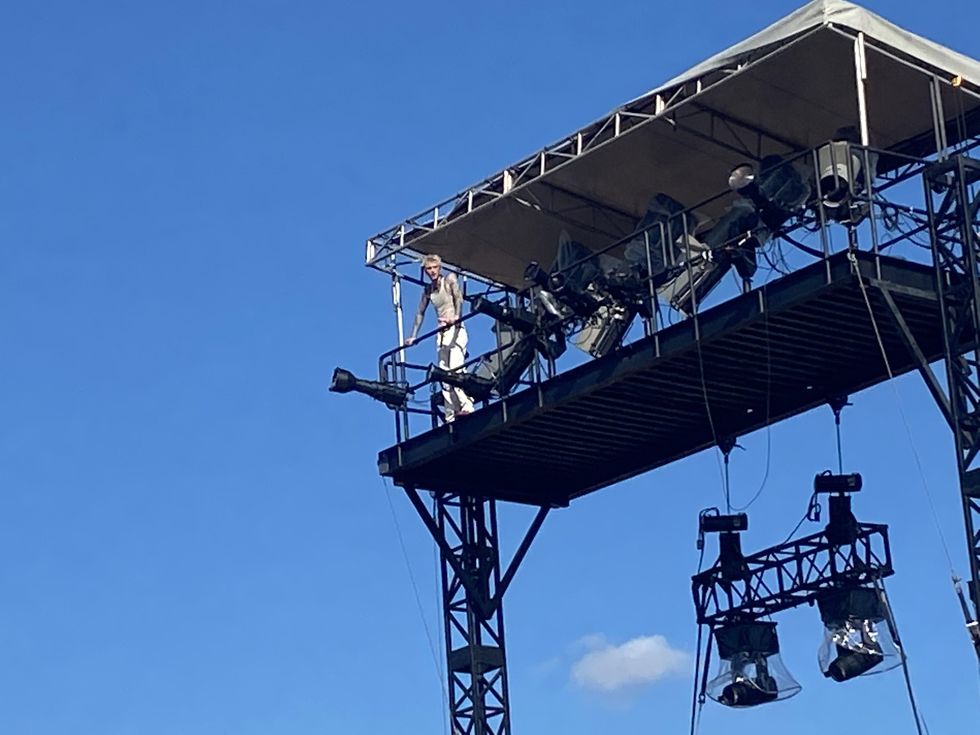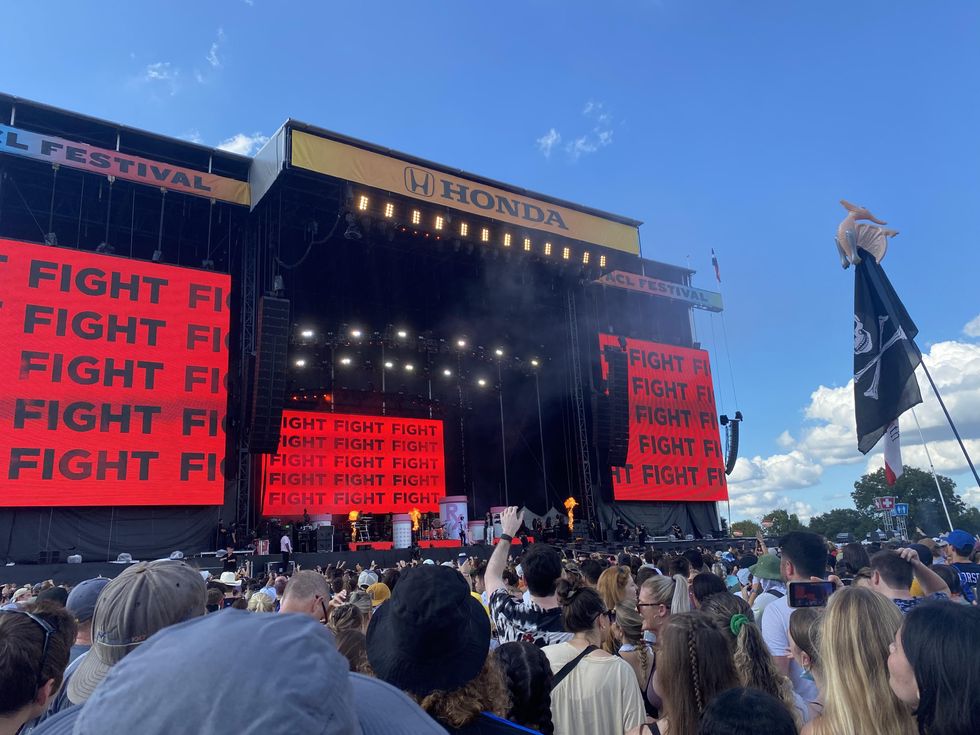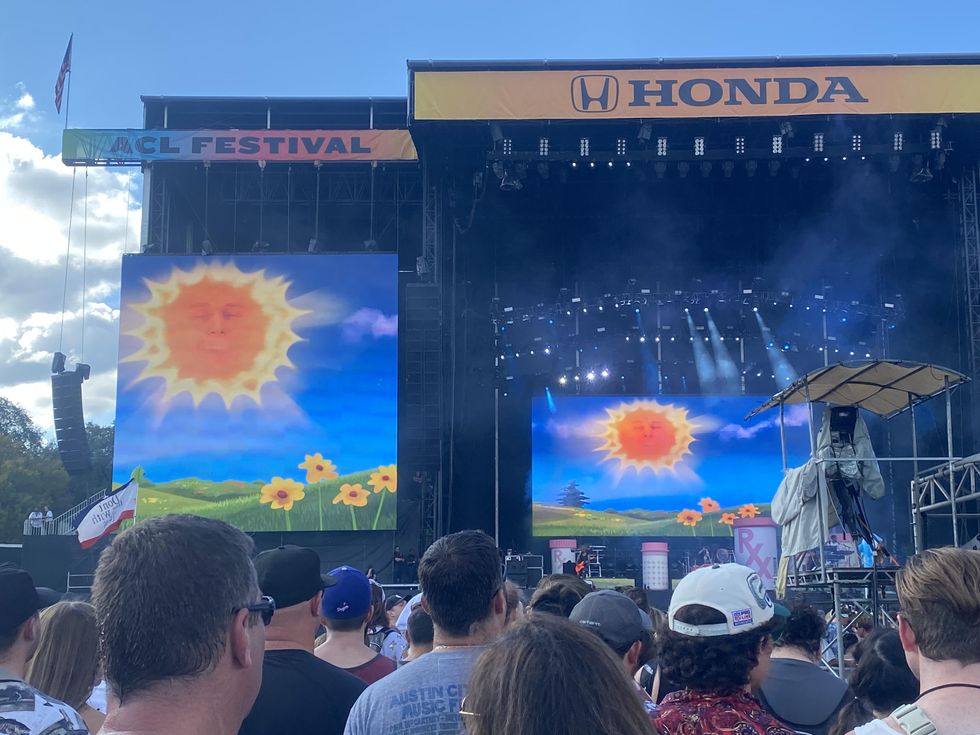 3:30 p.m. Barton Springs West entrance attracting massive crowds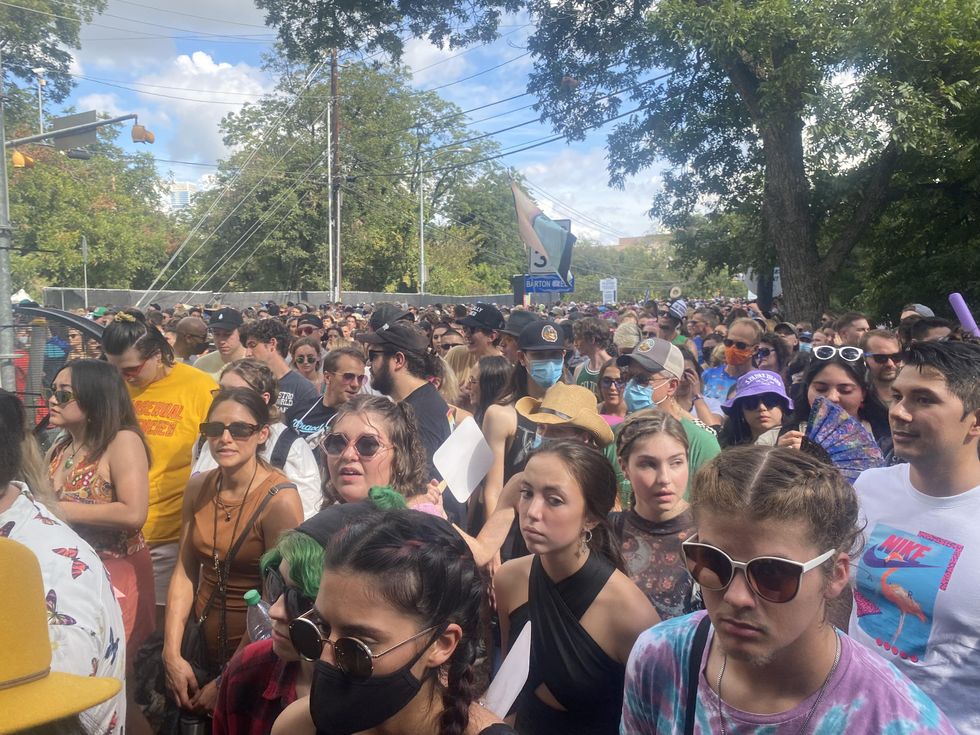 (Laura Figi/Austonia)
The entrance to the festival was backed up to South Lamar as of 3 p.m., so the entrance is not for the faint of heart. Though the forecast called for rain, there have been clear skies since 11 a.m.!
11:20 a.m: Updated schedule released
SCHEDULE UPDATE: Time changes have been made for today's schedule. Gates open at 3pm. See you soon. pic.twitter.com/0uvgJ5hu0h

— ACL Festival (@aclfestival) October 1, 2021
The updated schedule is up and several artists paid the price. Asleep at the Wheel, Audic Empire, Darkbird, Unusual Demont, Bexley, Claud, Primo the Alien; Nothing, Nowhere; Q and Nané were all cut from the lineup.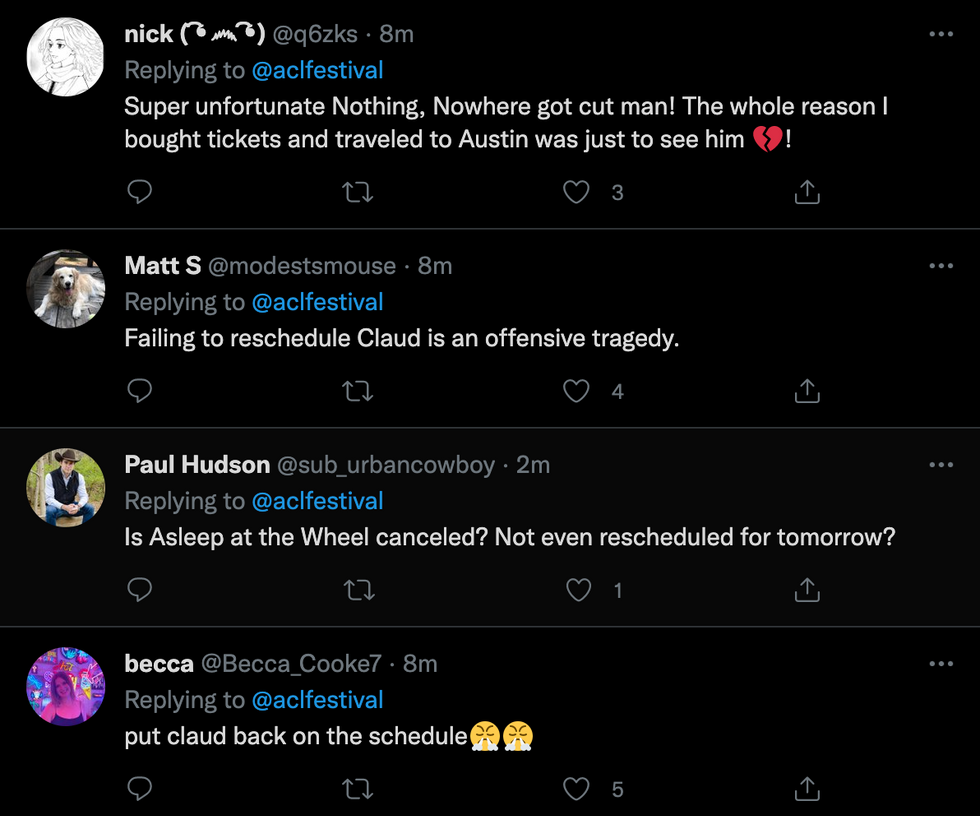 Fans were disappointed at the array of cancelations and some speculated that it would mean the entire festival will be canceled. It also seems the performances won't be rescheduled—Primo the Alien confirmed to Austonia that her set was canceled altogether.
10 a.m: Festival is delayed until 3 p.m.
Due to inclement weather overnight and impacts to Zilker Park, gates for the first day of ACL Fest will open at 3pm today. We look forward to seeing you this afternoon. Stay tuned for performance schedule updates. pic.twitter.com/Wju3pZsSCv

— ACL Festival (@aclfestival) October 1, 2021
Delaying the festival means canceling several sets—stay tuned for lineup updates.
Clear skies are expected from 11 a.m. to 2 p.m. but the rest of the day is looking like rainy skies. Keep your attire light, moisture-wicking and covered in a waterproof barrier for optimal comfort.
We'll be updating right here throughout the day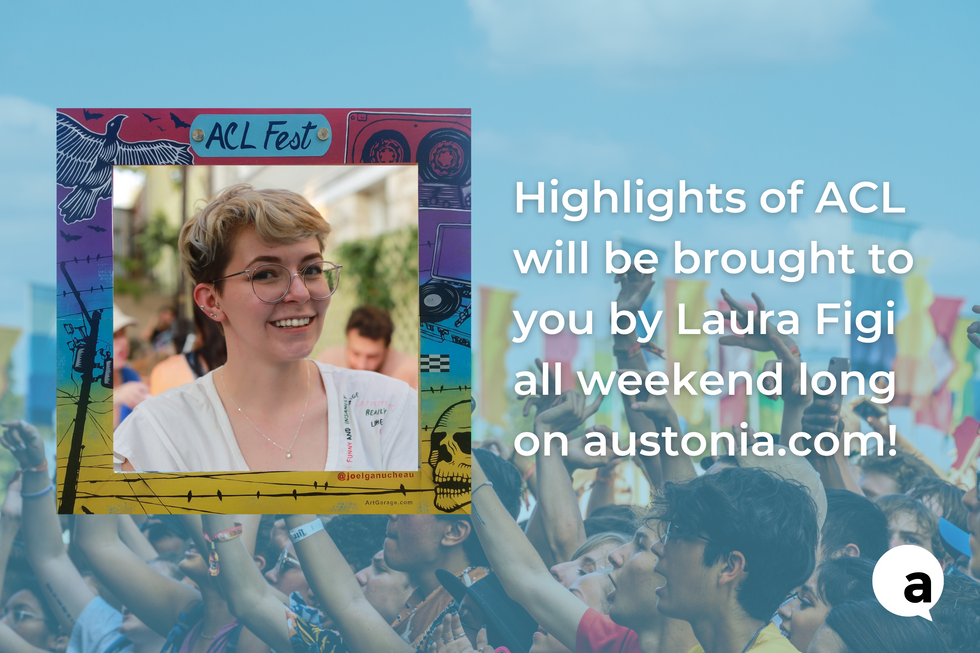 No judgment if you've waited until now to prepare! Before you head out, give our guides a quick read so you can get the most out of your wristband.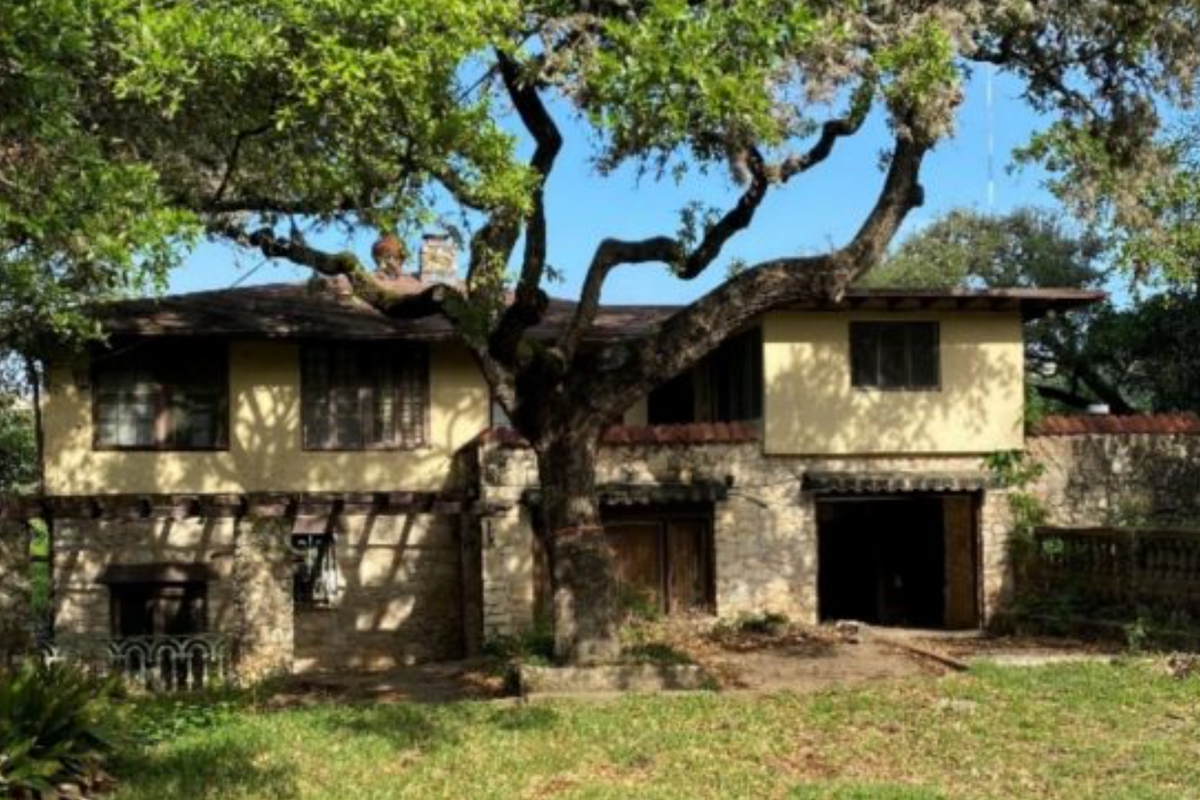 Austin Monitor
By Jonathan Lee
The Planning Commission was split Tuesday on whether to help save an eclectic lakefront estate from demolition by zoning it historic amid concerns over tax breaks and the likelihood that a previous owner participated in segregation as a business owner.
The property in question, known as the Delisle House, is located at 2002 Scenic Drive in Tarrytown. The main house, with Spanish and Modern influences, was built in 1923 by Raymond Delisle, an optician. A Gothic Revival accessory apartment was built in 1946. The current owner applied to demolish the structures in order to build a new home.'
Historic preservationists, for their part, overwhelmingly support historic zoning, which would preserve the buildings in perpetuity. The Historic Landmark Commission unanimously voted to initiate historic zoning in July, citing architectural significance, landscape features and association to historic figures. City staffers recommend historic zoning, calling both structures one-of-a-kind examples of vernacular architecture.
Tarrytown neighbors have also banded together to stop the demolition. Many have written letters, and a few spoke at the meeting. "How could anyone buy this property with the intent of destroying it?" Ila Falvey said. "I think it's an architectural treasure."
Michael Whellan, an attorney representing the property owner, said that the claims made by preservationists are shaky. The buildings are run down, he said, and have had substantial renovations. A structural engineer hired by the owner said any attempt at preservation would involve tearing down and rebuilding – an undertaking Whellan said would likely cost millions.
Whellan also argued that any historical significance derived from the property's association with Delisle and longtime owner C.H. Slator is dubious. "These men are not noted for any civic, philanthropic or historic impact," he said.
What's more, according to Whellan, Slator likely participated in segregation as the owner of the Tavern on North Lamar Boulevard between 1953 and 1960.
A city staffer, however, said she found no evidence to support the claim. "We would never landmark a property where a segregationist lived, or there was a racist person," Kimberly Collins with the Historic Preservation Office said.
Commissioner Awais Azhar couldn't support historic zoning in part due to lingering uncertainty about Slator. "Focusing on that factor is not here to disparage an individual or family. It is not about playing the race card. This is an important assertion for us to consider as Planning commissioners," Azhar said.
Commissioner Carmen Llanes Pulido said that allegations of racism should come as no surprise. "We're talking about white male property owners in the 1950s, in Austin, on the west side – and of course they were racist," she said. But she argued that allowing the house to be demolished based on these grounds does nothing to help people of color who have been harmed by racism and segregation.
The question of tax breaks was also controversial. Michael Gaudini, representing the property owner, said that the tax breaks associated with historic zoning would exacerbate inequality by shifting property tax burdens to less affluent communities. City staffers estimate that the property, appraised at $3.5 million, would get either a $8,500 or $16,107 property tax break annually, depending on whether a homestead exemption is applied.
Commissioner Grayson Cox preferred the commission focus not on tax breaks but on whether the structures merit preservation. "To me, nothing in the historic preservation criteria lists, is this person deserving of a tax break or not?"
Azhar, on the other hand, said he plans to propose a code amendment getting rid of city property tax breaks for historic properties.
The commission fell one vote short of recommending historic zoning, with six commissioners in support and three opposed. Azhar and commissioners Claire Hempel and Greg Anderson voted against.
The odds of City Council zoning over an owner's wishes are slim. Nine out of 11 members must vote in favor, and there have only been a handful of such cases over the past several decades.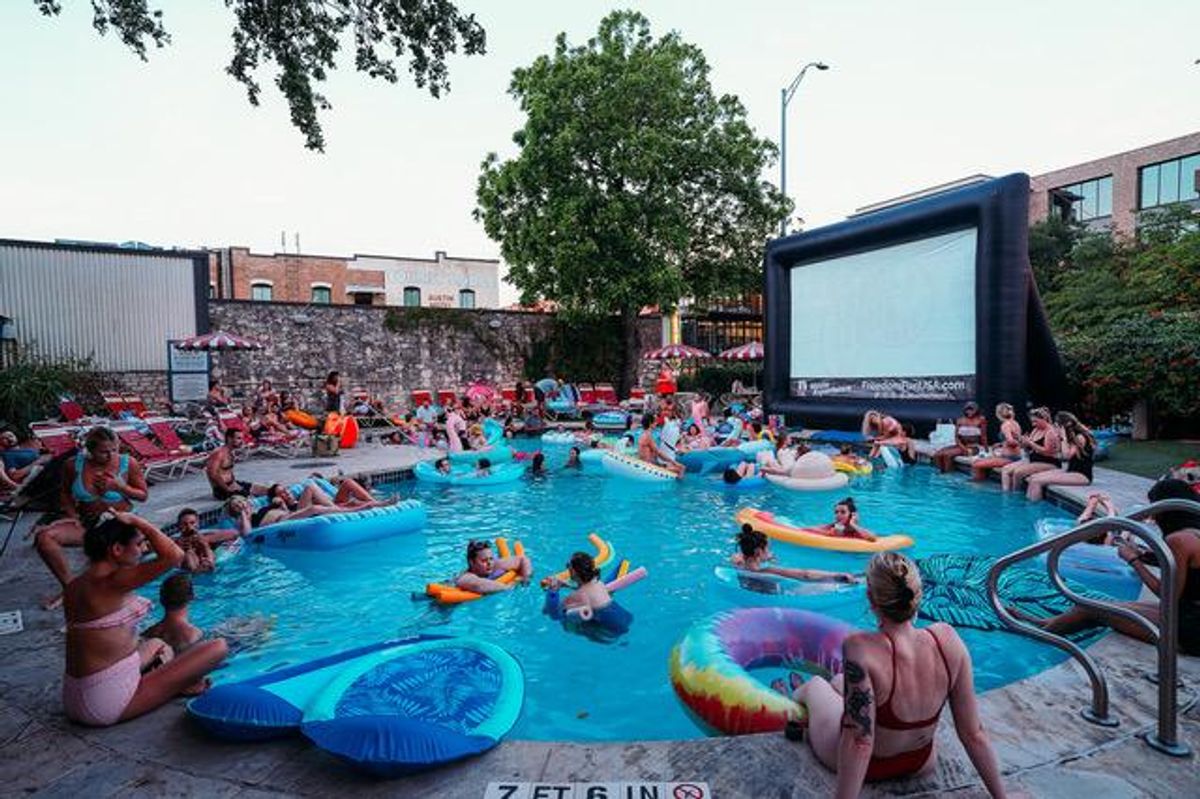 Austin Motel
What's new in Austin food & drink this week:
Nau's Enfield Drug closing after losing their lease. Did McGuire Moorman Lambert buy the building, with its vintage soda fountain?
Nixta Taqueria Chef Edgar Rico named to Time Magazine's Time 100 Next influencer list, after winning a James Beard Award earlier this year.
Question: From what BBQ joint did pescatarian Harry Styles order food this week?
Austin Motel is opening the pool and pool bar Wednesday nights in October for Freaky Floats.
Vincent's on the Lake closing due to "economic conditions and low water levels [at Lake Travis]."
Cenote has closed its Windsor Park location. The East Cesar Chavez location remains open.
The Steeping Room on N. Lamar has closed.
Local startup It's Skinnyscored new financing for its gluten-free pasta business.
P. Terry's opened a new location in Kyle, at 18940 IH-35.