Get connected with our daily update
Festival-goers were all smiles as Austin City Limits kicked off on Friday—especially when there was no rain. A delayed start, the day went off without a hitch with performances by headliners Machine Gun Kelly, Megan Thee Stallion, Miley Cyrus and George Strait.
Although the forecast called for rain, skies were clear most of the day, other than some short showers during Cyrus' set.
Here's what the day looked like:
---
8 p.m. Miley Cyrus puts on a rock-n-roll performance at the Honda stage
Miley Cyrus reemerged for her own set this time, dressed in a pink bodysuit, heeled boots, a large belt and "real big" hair, which the rockstar said she chose in honor of Texas. Cyrus didn't stick to any one album, she sang songs back from her early days, including "The Climb," and "Wrecking Ball."
Of course, Cyrus was sure to perform the namesake song from her new album "Plastic Hearts" as well as paying tribute to Janis Joplin. Cyrus said after a year of loneliness due to COVID, her heart was full to be performing at festivals again.
"I'm sure some of us grew up together," Cyrus said to the audience. "I'm still a little bit shocked every time people actually show up to one of my concerts but this festival is lined up with so many fucking incredible artists. I thank y'all so much for surrounding me at this stage."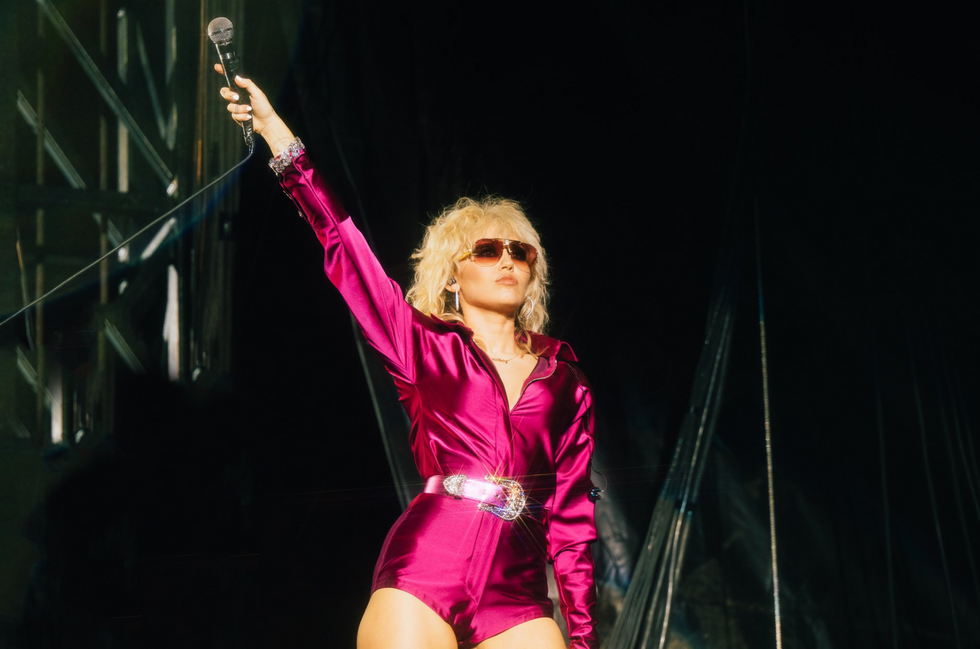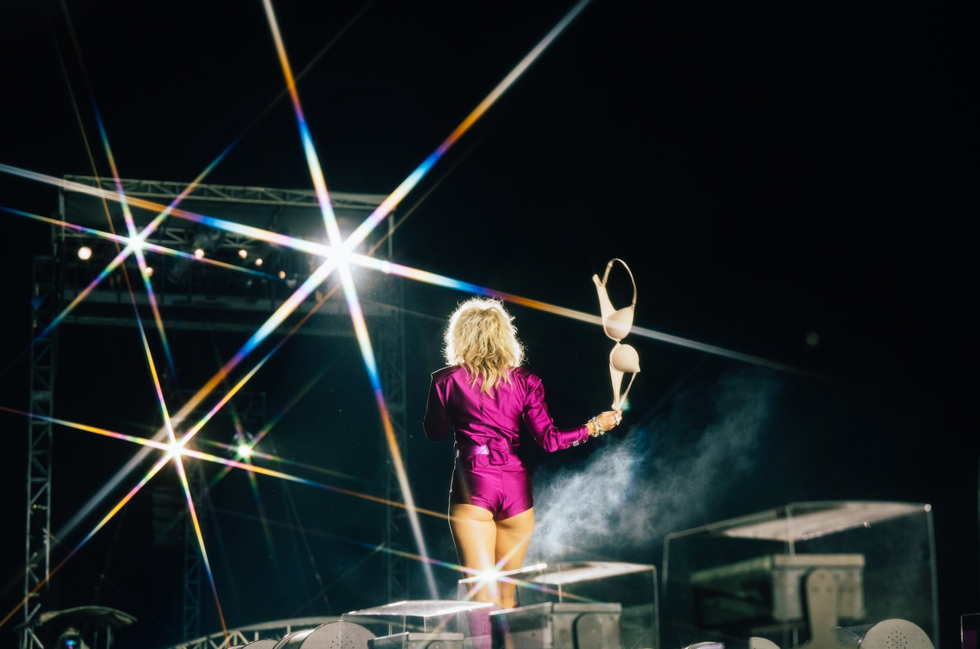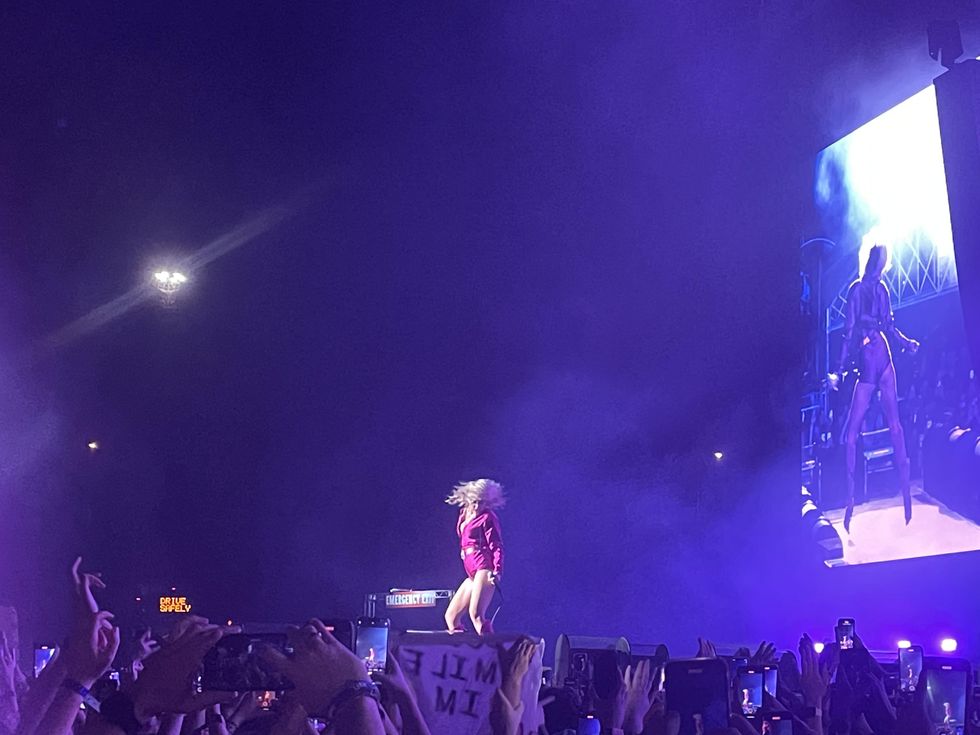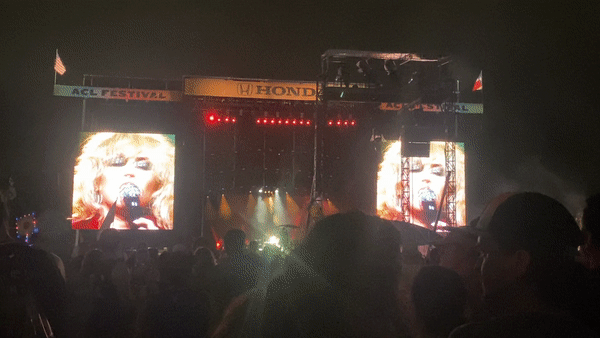 7:30 p.m. Megan Thee Stallion invites crowd members on stage and gets a surprise from Miley Cyrus for TwerkFest 2021
Megan Thee Stallion took over the Honda stage wearing a white corset top reading "Stallion" and hot pink shorts, the perfect outfit for the twerking "Hot Girl Coach" herself. A Houston native, Stallion gushed over how happy she was to be home in the Lone Star State.
About halfway into the festival, Stallion brought some "hotties" from the crowd to dance with her on the stage and Cyrus made an appearance, hugged Stallion and watched from the side of the stage for the rest of the show. Also backstage, the camera showed a glimpse of Billie Eilish jamming to Meg.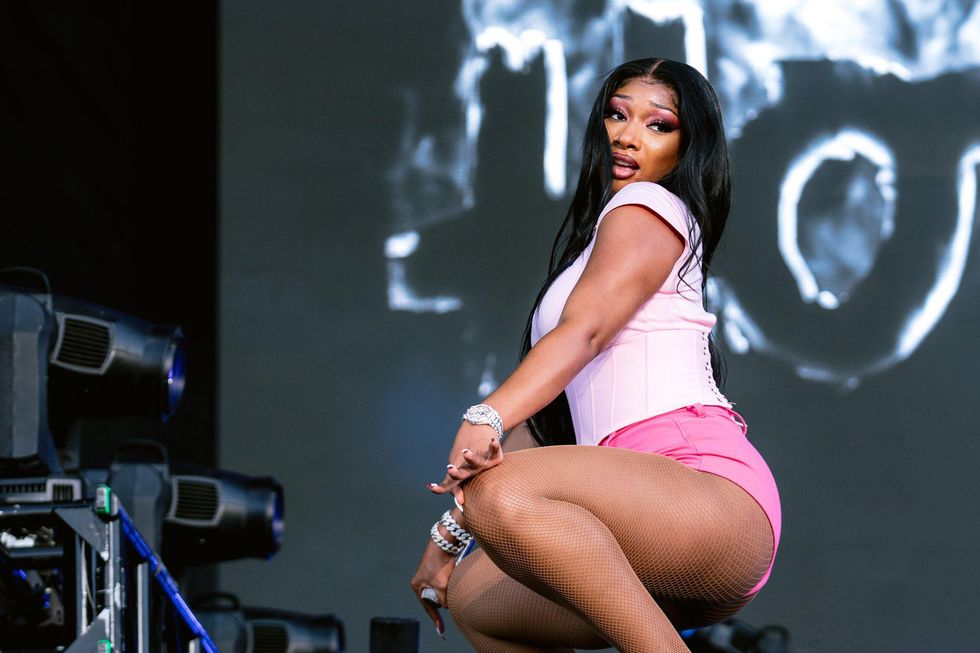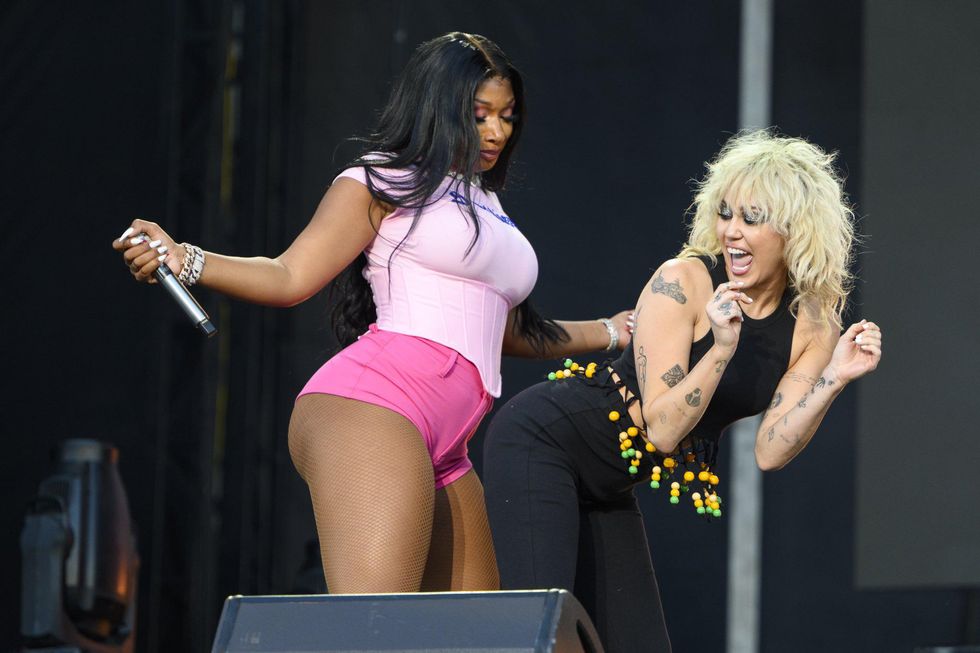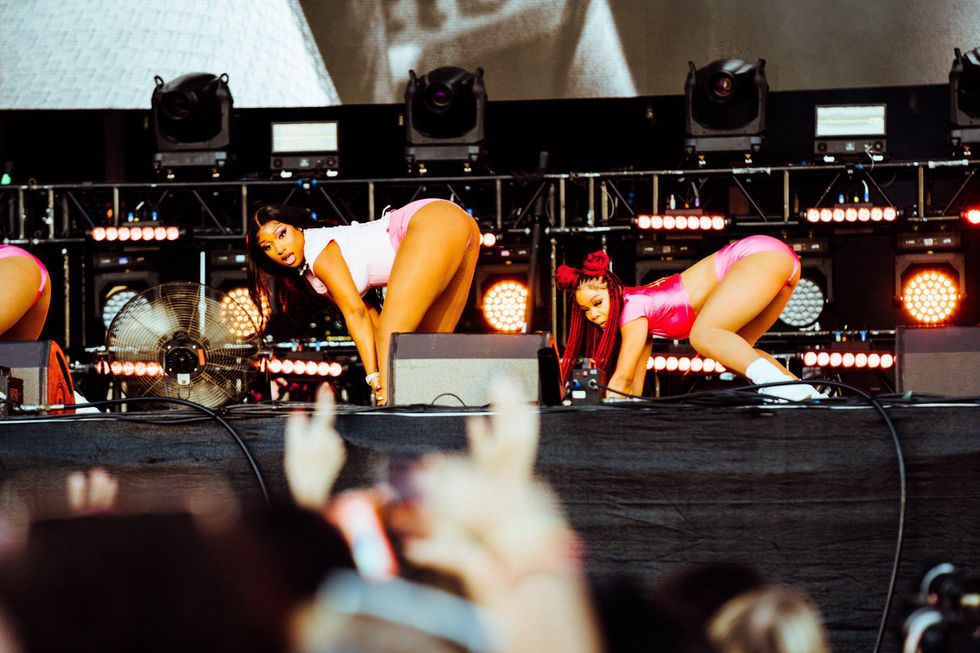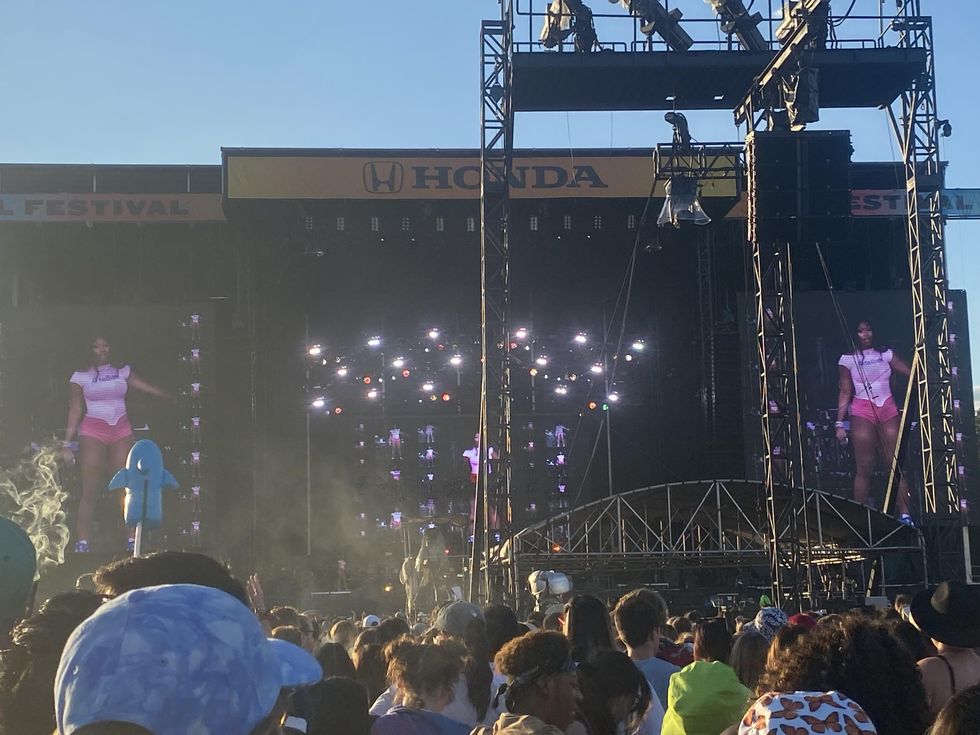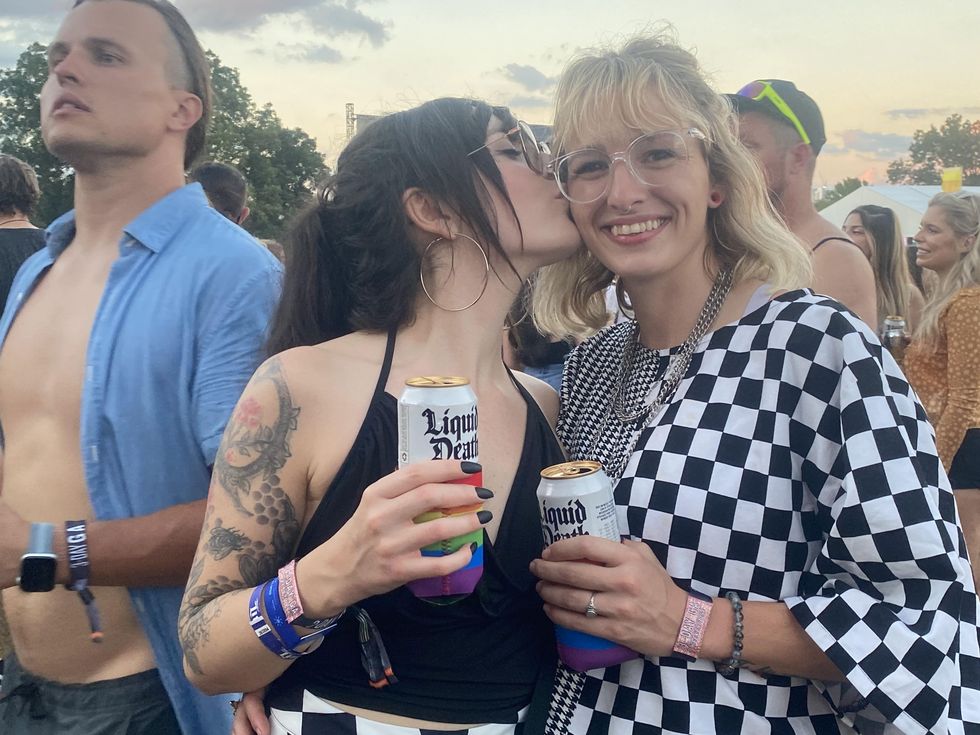 Bonfils kisses Spurlin's cheek, celebrating their shared birthday today. (Laura Figi/Austonia)
Madeline Bonfils and Jasmine Spurlin, Detroit natives, were in town for their shared birthday weekend and serendipitously grabbed tickers for the festival. The pair said seeing Stallion, with all of her body positivity and love for her fans, reminding them of home.
"It was all voluptuous women and Megan, she brings forth body positivity," Bonfils said. "I like that she brought people from the crowd onstage because that shows she's humble and that she's a human."
5:30 p.m. 'Fit check!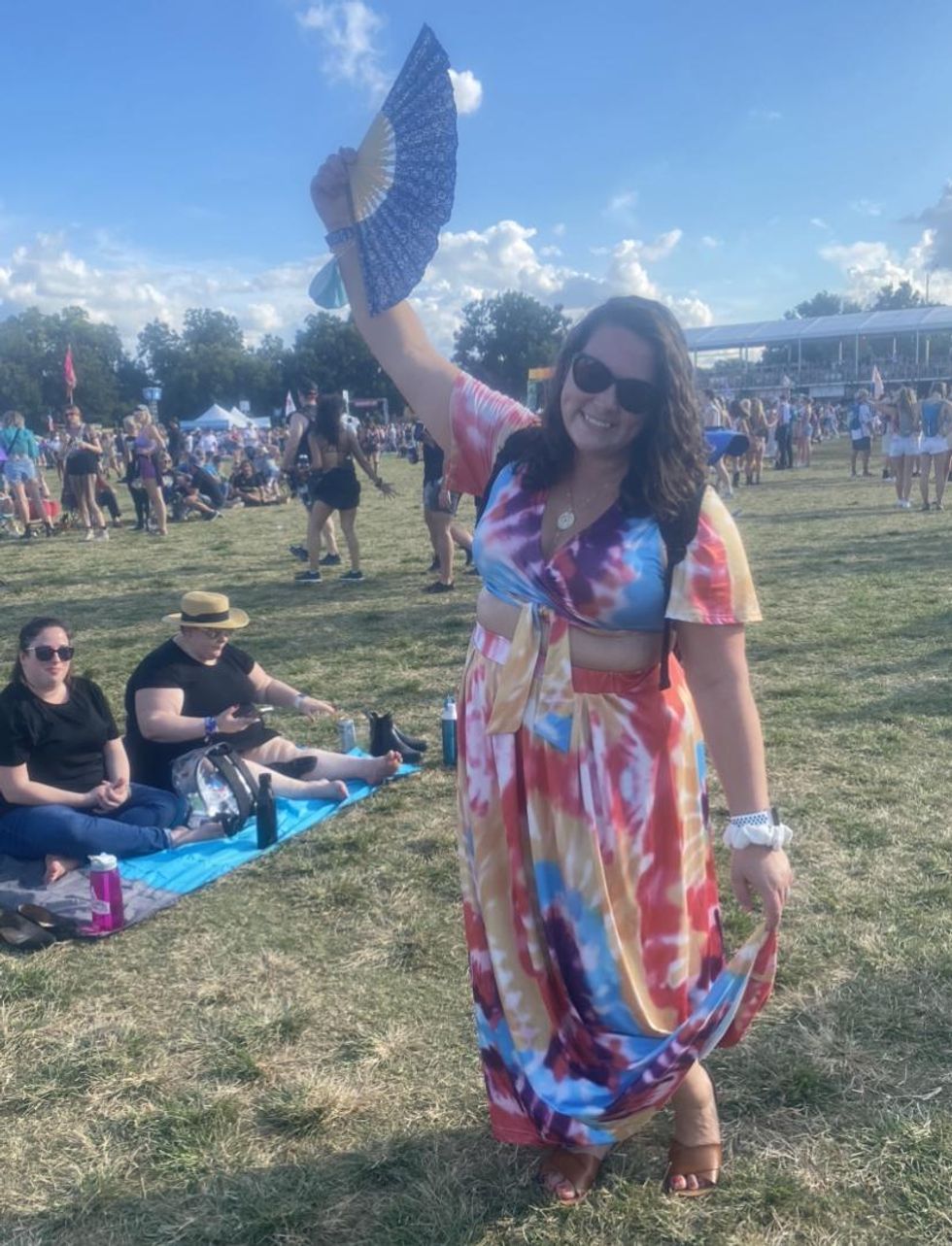 ​(Laura Figi/Austonia)
Rebecca Hopkins drove from Houston to see the bands at ACL—day one is her all-tie dye outfit. Hopkins says she's most excited to see Bille Eilish, who she has seen several times.
"We do a lot of festivals so we're just happy to be back," Hopkins said.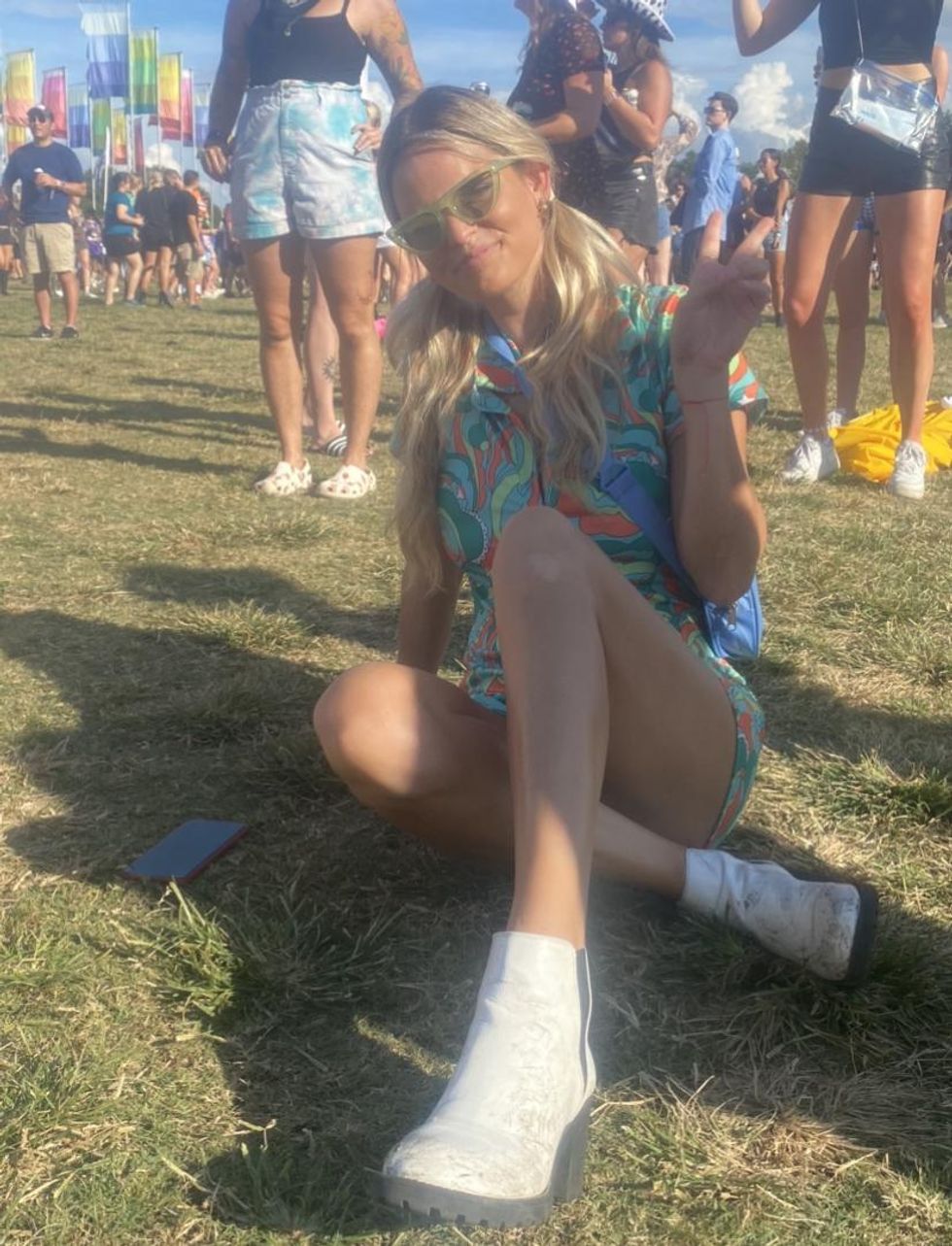 (Laura Figi/Austonia)​
Morgan Glass put on her grooviest outfit for her favorite performer, Miley Cyrus. The best part of her ensemble is that it comes in pairs—Glass is meeting up with a friend wearing the exact same outfit.

"Miley Cyrus, I've know her since watching Hannah Montana," Glass said. "I love her vibe, I love who she is. She's so free-spirited."
4:30 Machine Gun Kelly takes the Honda stage
After a frantic entrance to the festival (beware the Barton Springs West entrance), ACL attendees began to file into Zilker Park. Machine Gun Kelly took the stage first, ripping guitar riffs and an excited audience. Fans were clapping less than 15 minutes in. Toward the end of the show, MGK climbed up to a high platform on the stage.
The bad boy punk artist performed on Thursday at Stubb's for the festival's first night show. He said he had been wanting to perform at ACL for years and what a big moment it was to perform since he played at South by Southwest a few years back to a small crowd. He also thanked fans for helping him win his first MTV Video Music Award this year.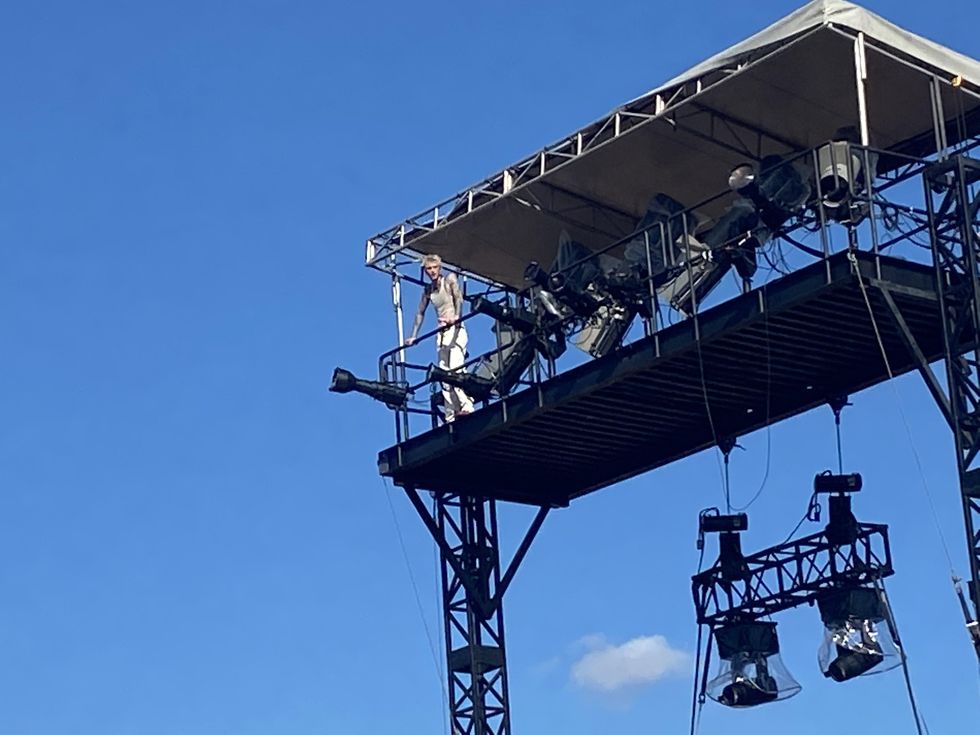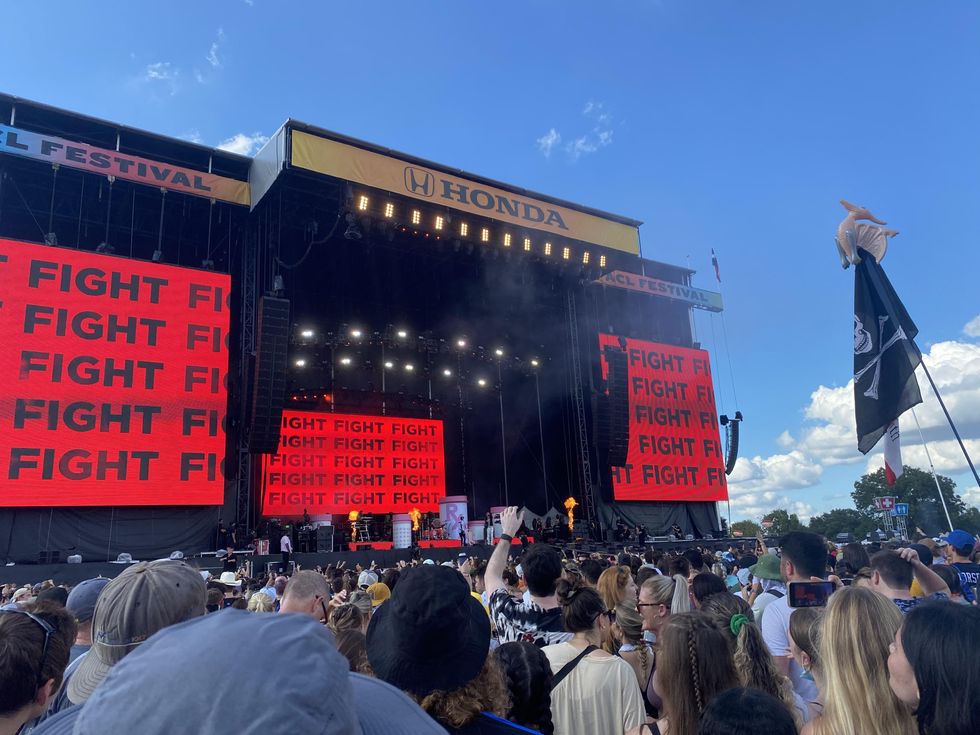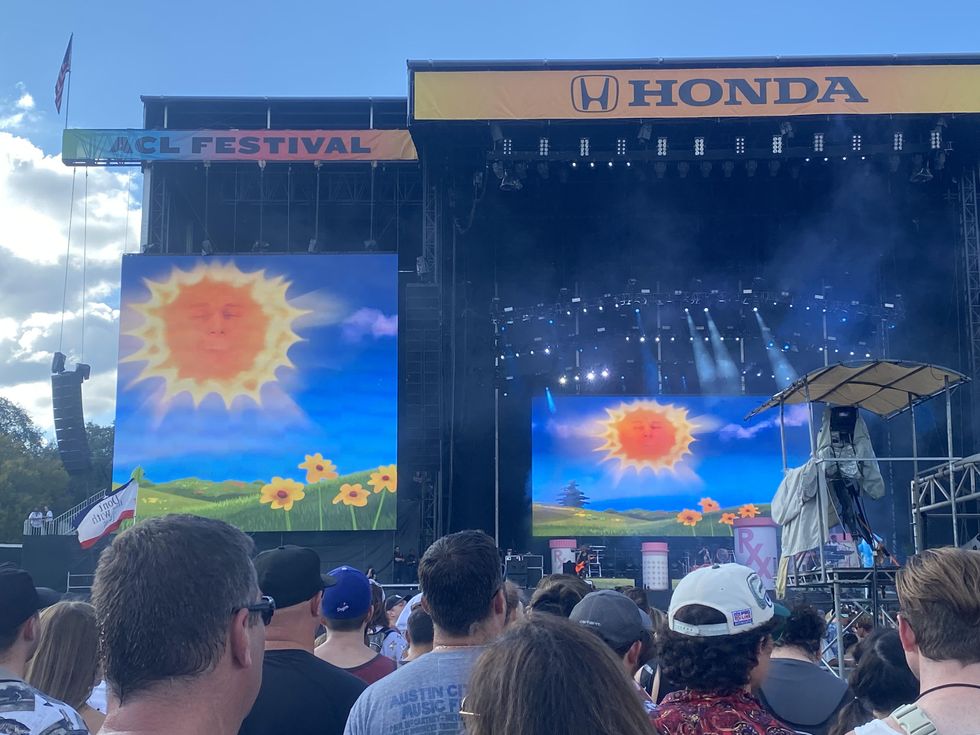 3:30 p.m. Barton Springs West entrance attracting massive crowds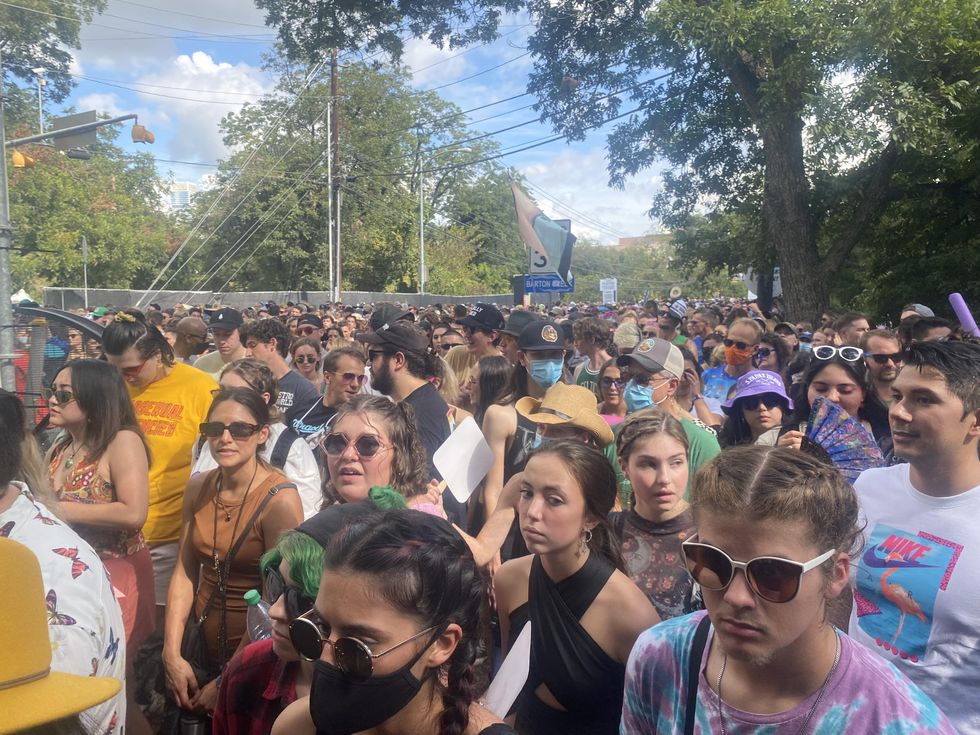 (Laura Figi/Austonia)
The entrance to the festival was backed up to South Lamar as of 3 p.m., so the entrance is not for the faint of heart. Though the forecast called for rain, there have been clear skies since 11 a.m.!
11:20 a.m: Updated schedule released
SCHEDULE UPDATE: Time changes have been made for today's schedule. Gates open at 3pm. See you soon. pic.twitter.com/0uvgJ5hu0h

— ACL Festival (@aclfestival) October 1, 2021
The updated schedule is up and several artists paid the price. Asleep at the Wheel, Audic Empire, Darkbird, Unusual Demont, Bexley, Claud, Primo the Alien; Nothing, Nowhere; Q and Nané were all cut from the lineup.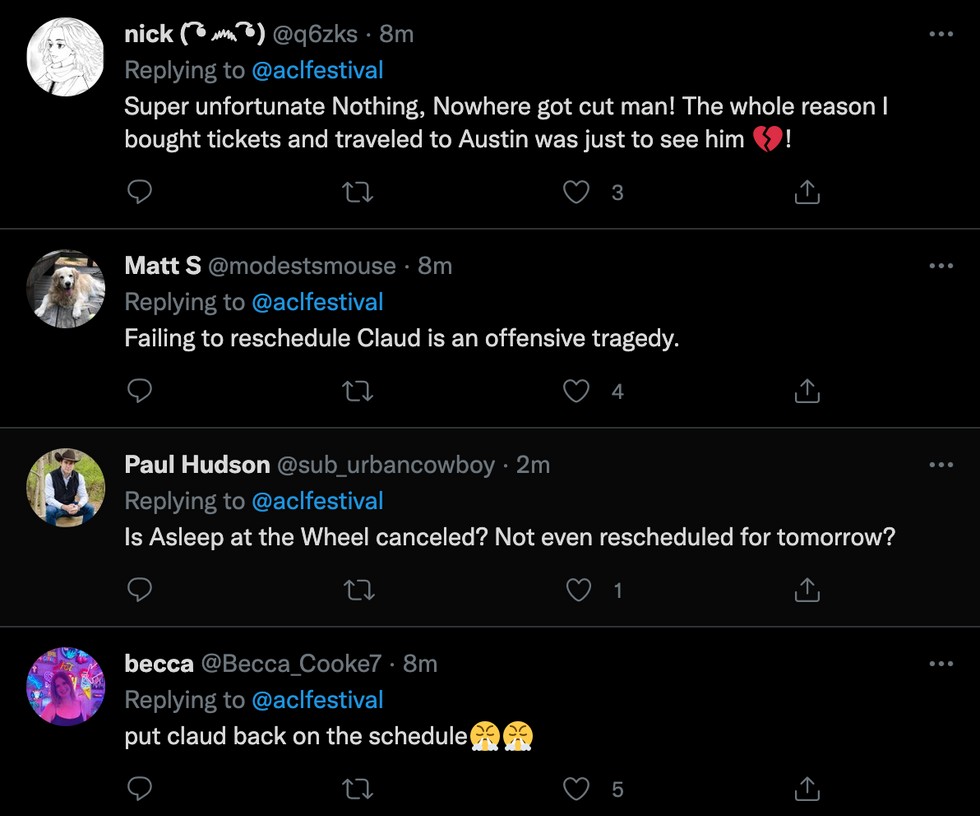 Fans were disappointed at the array of cancelations and some speculated that it would mean the entire festival will be canceled. It also seems the performances won't be rescheduled—Primo the Alien confirmed to Austonia that her set was canceled altogether.
10 a.m: Festival is delayed until 3 p.m.
Due to inclement weather overnight and impacts to Zilker Park, gates for the first day of ACL Fest will open at 3pm today. We look forward to seeing you this afternoon. Stay tuned for performance schedule updates. pic.twitter.com/Wju3pZsSCv

— ACL Festival (@aclfestival) October 1, 2021
Delaying the festival means canceling several sets—stay tuned for lineup updates.
Clear skies are expected from 11 a.m. to 2 p.m. but the rest of the day is looking like rainy skies. Keep your attire light, moisture-wicking and covered in a waterproof barrier for optimal comfort.
We'll be updating right here throughout the day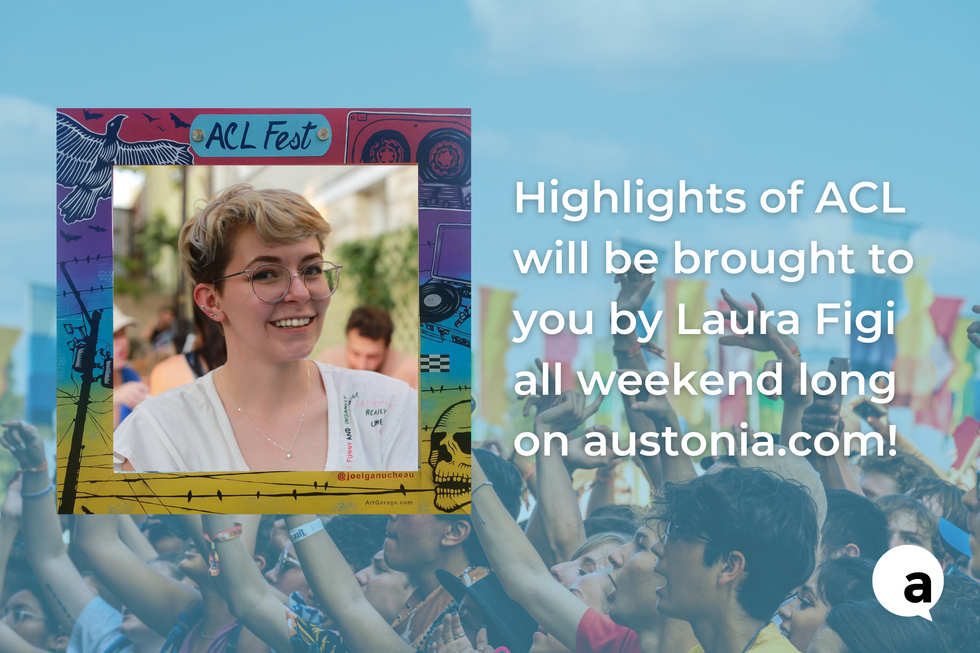 No judgment if you've waited until now to prepare! Before you head out, give our guides a quick read so you can get the most out of your wristband.
As we gear up for Friday's sales frenzy, shoppers may have one key question on their minds: Which stores offer the best discounts?
According to a WalletHub survey of nearly 5,000 Black Friday deals from 21 of the biggest U.S. retailers, Macy's has the best overall savings with an average 58.5% discount.

Here's how other stores fared based on shopping category:
For clothes & apparel discounts: JCPenney has the best deals with an average 58.8% discount.
For jewelry deals: Belk offers an 80% discount, followed by Kohl's at 75%.
For furniture deals: Office Depot and OfficeMax are your best bet with a 49% discount.
For consumer electronics, toys, and computers and phones: Macy's takes the cake.
Check out the full list here.
In this season of gifts, giving, and gratitude, Tito's is making it easy to shop for your friends and loved ones while helping our community.
The beloved Austin company's Love, Tito's retail space, downtown at 215 Lavaca Street, is fully stocked with great gear. 100% of net proceeds of whatever you purchase—a new collar for your four-legged friend, a Tito's tee, some branded barware—go to the nonprofits they support. From the environment to animal rescue, you can choose your cause while choosing a new copper cocktail kit… or old school cap… or golf polo.
The store is stocked with stuff that the online experience just can't offer: never-before-seen swag, doggy photo booths (to say it's a dog-friendly space is an understatement), a record player to spin some tunes, and a bar finder listing local spots serving mean Tito's cocktails. Locals and out-of-town visitors alike can enjoy wonderful distractions while kicking back in an environment designed to cater to Tito's fans.

While you can't enjoy a cocktail there due to Texas liquor laws, the store offers unique experiences for any and all fans of the brand, and gives folks a chance to find what resonates with them while taking home a piece of the Tito's story.
*At our Love, Tito's store in Austin, net proceeds constitute an average margin of at least 25% of the retail price of a product, excluding the cost of tax on the purchase. We are not deducting cost of our people, the store rent or other operating costs.
The holiday season is upon us, so get ready to celebrate with carols, snacks and light shows galore. Austin is full of holiday festivities spanning throughout all of December so get out and enjoy the cool weather while it lasts.
Don't miss these nine holiday-themed light shows.
Austin's most famous annual light show and a Readers Choice of USA Today's 10 Best Public Displays of Holiday Lights, the Trail of Lights will be drive-thru again this year Nov. 27-Dec. 31. For 57 years in a row, the Trail of Lights has lit up Zilker Park with games, food, local vendors and more than two million lights gleaming for the holidays. The event, as always, is free to the public and you can reserve slots here. The Zilker Tree is already up, so you can already see it if the holiday cheer is too much to bear.
Coming back for the second year in a row, Peppermint Parkway will transport you to COTALAND, where six million lights gleam and Christmas is just a one-mile drive away. The hybrid event will have you drive through the display of lights, dancing elves and unique little villages before you hit the walking plaza, where you can grab a bite to eat and meet Santa. Tickets range from $40-$95, some including a lap around the COTA track, running from Nov. 26-Dec. 26.
Dreamland Dripping Springs has been transformed into a winter wonderland—running throughout the month of December, the venue's first-ever holiday display is taking over with activities for the whole family. Plus, running from Nov. 20-Jan. 4, a pop-up ice skating rink will really bring the holiday cheer for $10 or $5 Monday specials. The lights display will feature half a million lights and warm, festive sips from the taproom.
With events galore for the holiday season, winter is really when the Hill Country Galleria thrives. Starting with its Light Up The Plaza event on Saturday from 6-8 p.m., where visitors can see Santa, gaze at the official lighting of the holiday tree and hear some live tunes from rock band American Authors. The Galleria will also hold a holiday market every Thursday, Friday and Saturday leading up to Christmas Eve and periodic photos with Santa at Buenos Aires Cafe.
Deck the Halls at the Driskill Hotel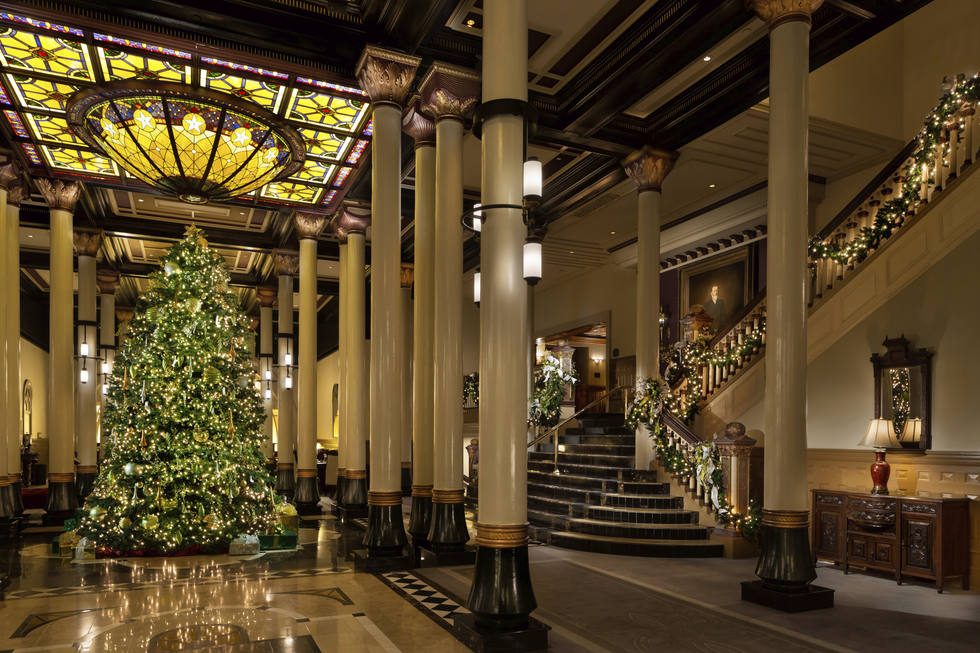 (Courtesy of the Driskill Hotel)
This holiday season, the Driskill will deck out every nook and cranny of the historic hotel from the grand staircase to the 16-foot Christmas tree in the lobby to be lit on a Dec. 1 ceremony that will be open to the public. Touches of Driskill festivities can also be seen at Dell Children's Hospital with a gingerbread village for its annual "Cookies for Caring" event.
Kicking off the lighting of the tree on Saturday, Dec. 4, Austinites will gather on the steps of the Texas Capitol at 6 p.m. to sing the 45-foot tree to life. Afterward, local band Los Coast will close out the night with a free concert. The fun doesn't stop there though as the Downtown Austin Alliance will host the Downtown Holiday Stroll, with "holiday passports" and stamps to collect for local restaurants and stores, and a Frida Friday Holiday Market at Republic Square.
Combining festive holiday lights and the beautiful native plants of Central Texas, Luminations at the Wildflower Center is back with thousands of lights, luminarias and a lit-up look at Fortlandia. This year will also feature an interactive light maze called "silvana" by Ben Busche of architecture firm Brut Deluxe, which will be the maze's first appearance in North America. The event will run Thursdays-Sundays from Dec. 2-Jan. 30 for $10-$25 per person.
Reserved tables are back for Mozart's Coffee Roasters annual Christmas Lights Show for $20 four-person tables and $30 six-person tables—so get your tickets early because these tables are likely to sell out. The light show will also feature a festival-style Bavarian marketplace for those last-minute gifts. If you're too late to reserve a table, don't worry, there will be standing room available for free so come one, come all, and come early for parking.
From Dec. 2-4, Old Settlers Park will light up with holiday displays, family activities, festive refreshments and live music. Watch the balloons hover above the lake as you sip on a hot chocolate or give to those in need, with stands for Round Rock Operation Blue Santa, which is taking toys for kids in need, the Play For All Foundation, which is accepting cash donations for disabled children, and the People & Parks Foundation, accepting cash donations for green space in the community. Admission to the event is free, along with most of the activities in the park.