Get connected with our daily update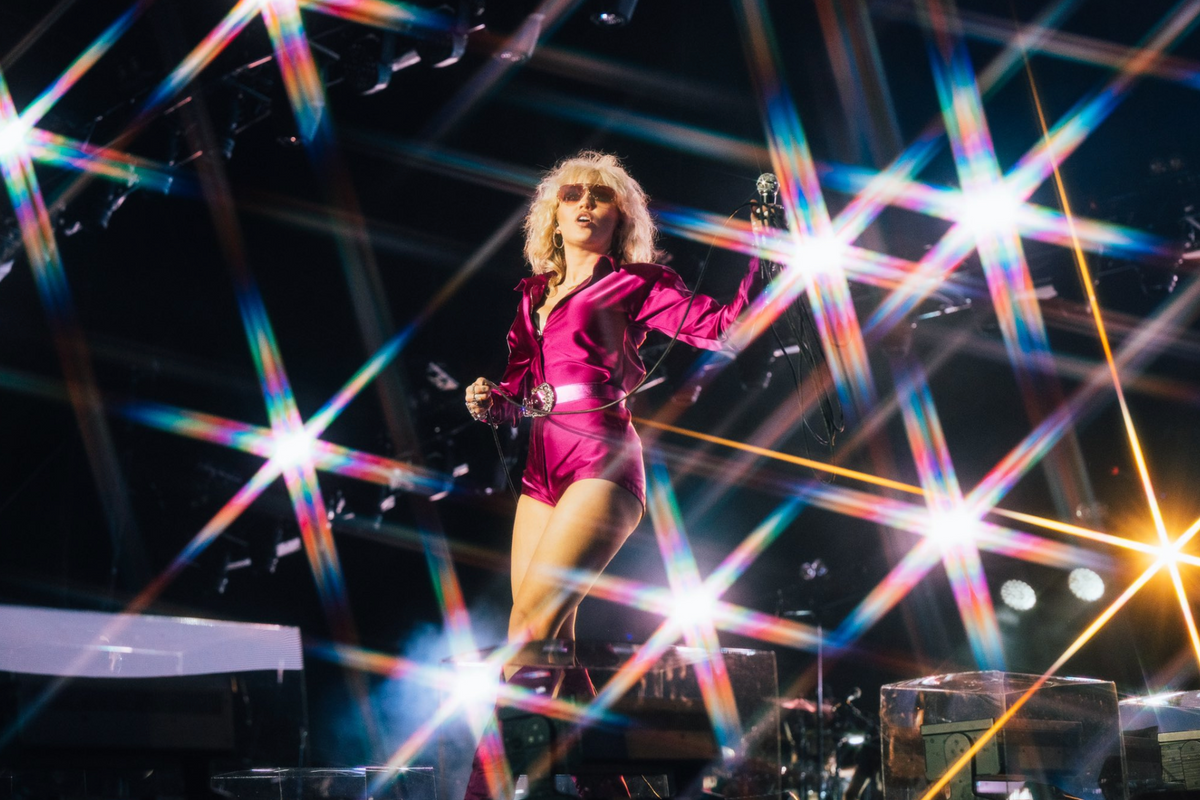 Festival-goers were all smiles as Austin City Limits kicked off on Friday—especially when there was no rain. A delayed start, the day went off without a hitch with performances by headliners Machine Gun Kelly, Megan Thee Stallion, Miley Cyrus and George Strait.
Although the forecast called for rain, skies were clear most of the day, other than some short showers during Cyrus' set.
Here's what the day looked like:
---
8 p.m. Miley Cyrus puts on a rock-n-roll performance at the Honda stage
Miley Cyrus reemerged for her own set this time, dressed in a pink bodysuit, heeled boots, a large belt and "real big" hair, which the rockstar said she chose in honor of Texas. Cyrus didn't stick to any one album, she sang songs back from her early days, including "The Climb," and "Wrecking Ball."
Of course, Cyrus was sure to perform the namesake song from her new album "Plastic Hearts" as well as paying tribute to Janis Joplin. Cyrus said after a year of loneliness due to COVID, her heart was full to be performing at festivals again.
"I'm sure some of us grew up together," Cyrus said to the audience. "I'm still a little bit shocked every time people actually show up to one of my concerts but this festival is lined up with so many fucking incredible artists. I thank y'all so much for surrounding me at this stage."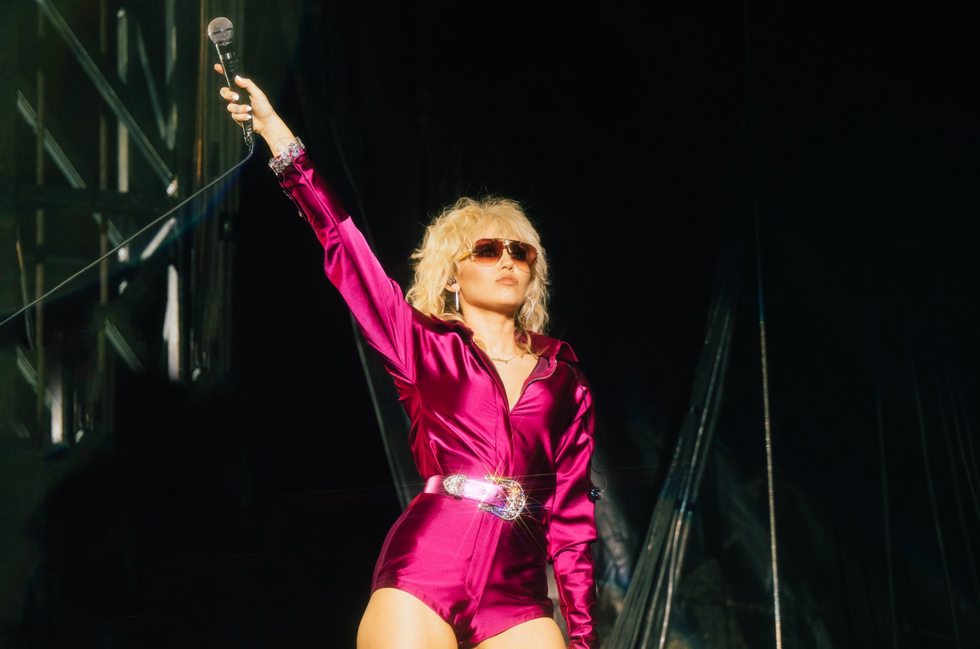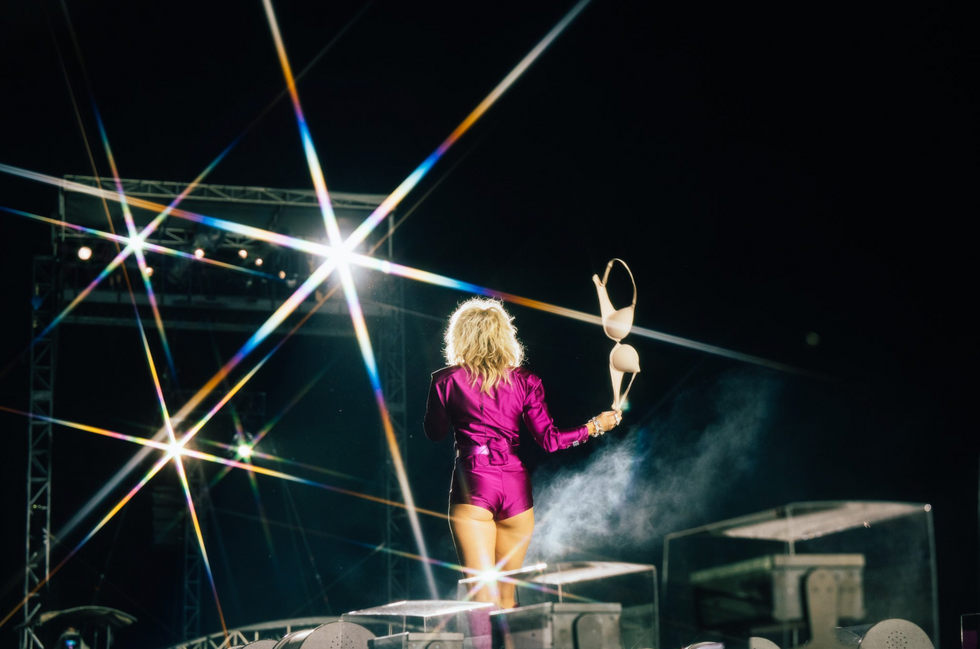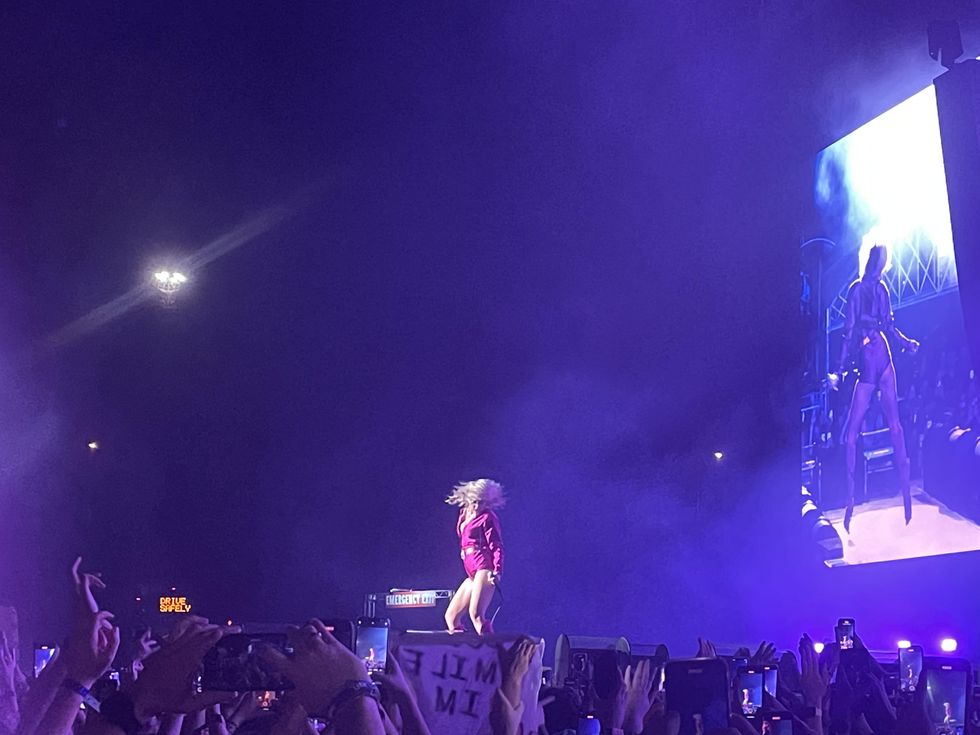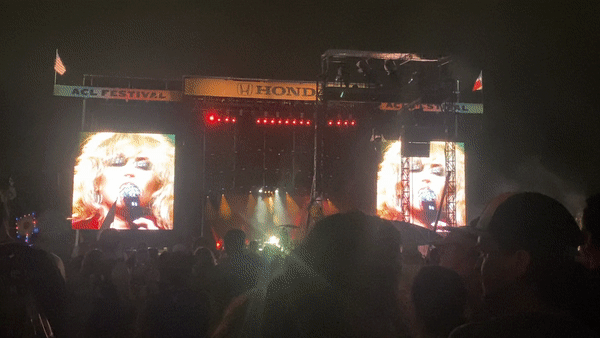 7:30 p.m. Megan Thee Stallion invites crowd members on stage and gets a surprise from Miley Cyrus for TwerkFest 2021
Megan Thee Stallion took over the Honda stage wearing a white corset top reading "Stallion" and hot pink shorts, the perfect outfit for the twerking "Hot Girl Coach" herself. A Houston native, Stallion gushed over how happy she was to be home in the Lone Star State.
About halfway into the festival, Stallion brought some "hotties" from the crowd to dance with her on the stage and Cyrus made an appearance, hugged Stallion and watched from the side of the stage for the rest of the show. Also backstage, the camera showed a glimpse of Billie Eilish jamming to Meg.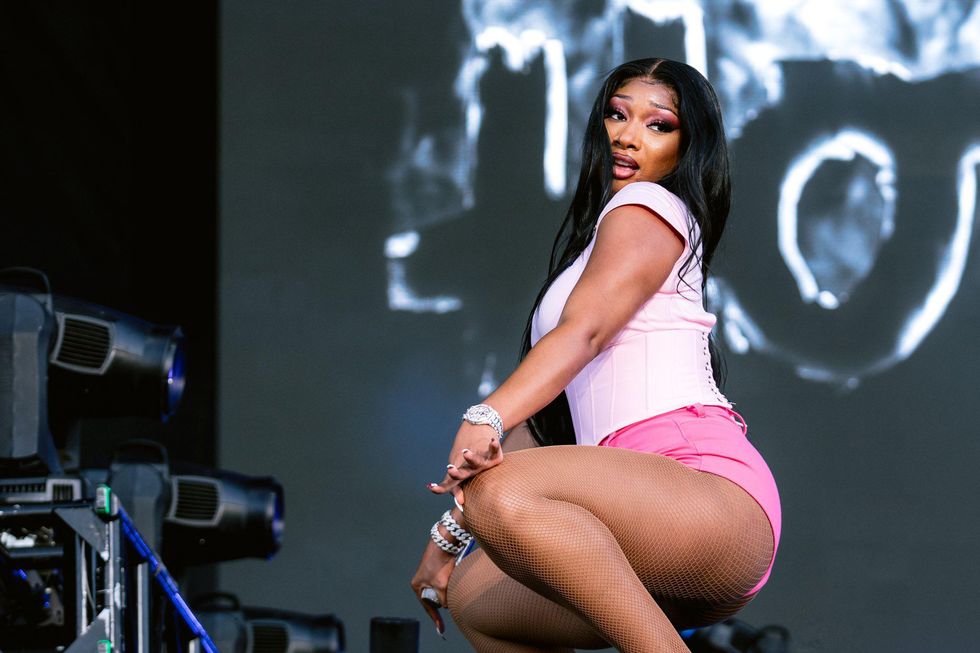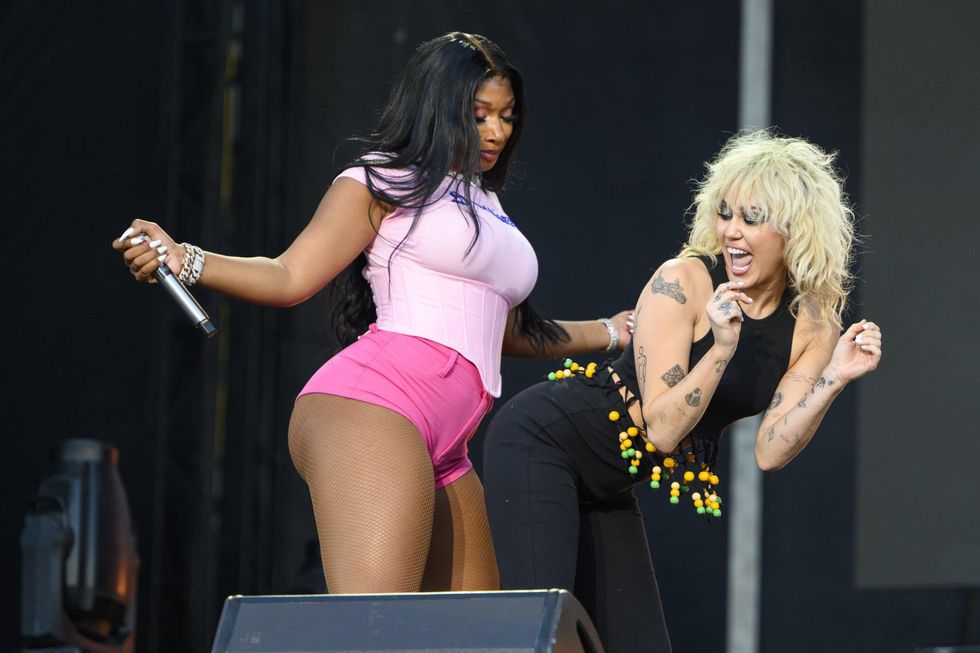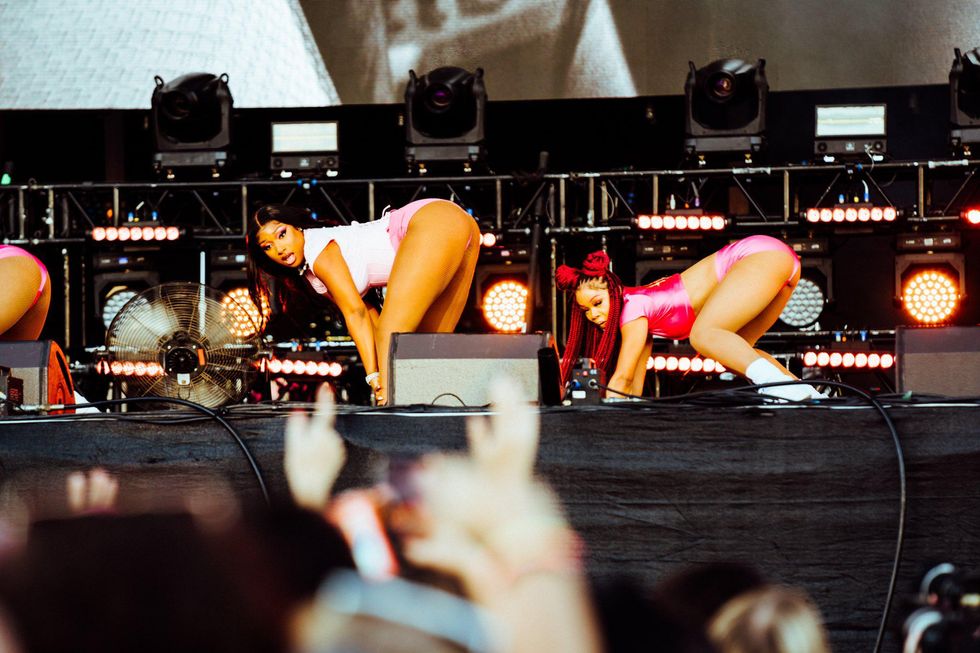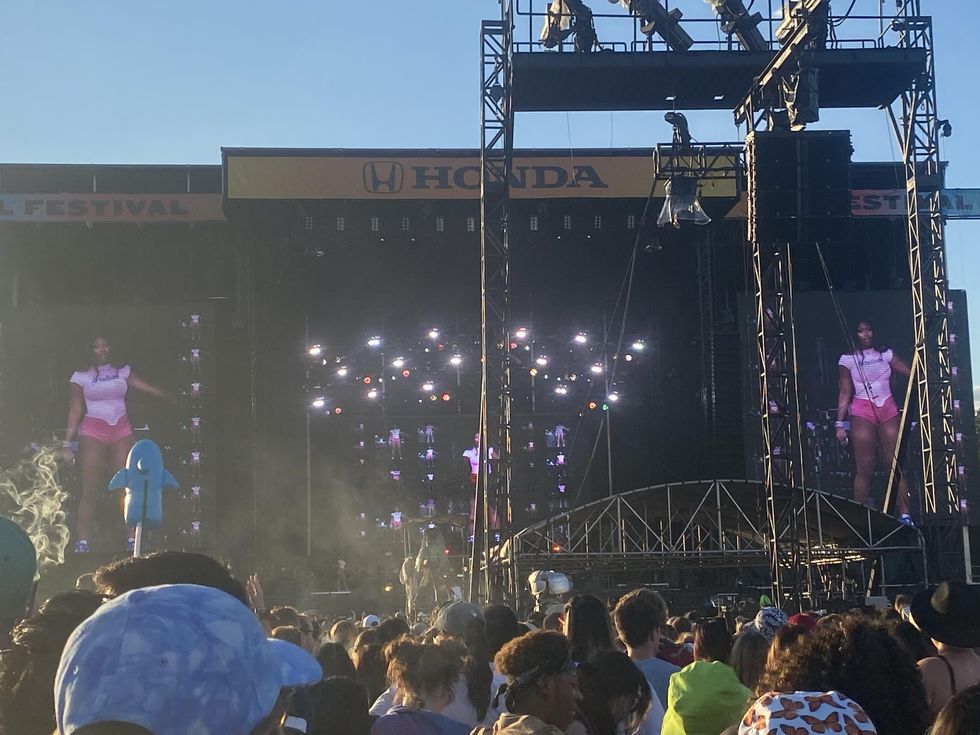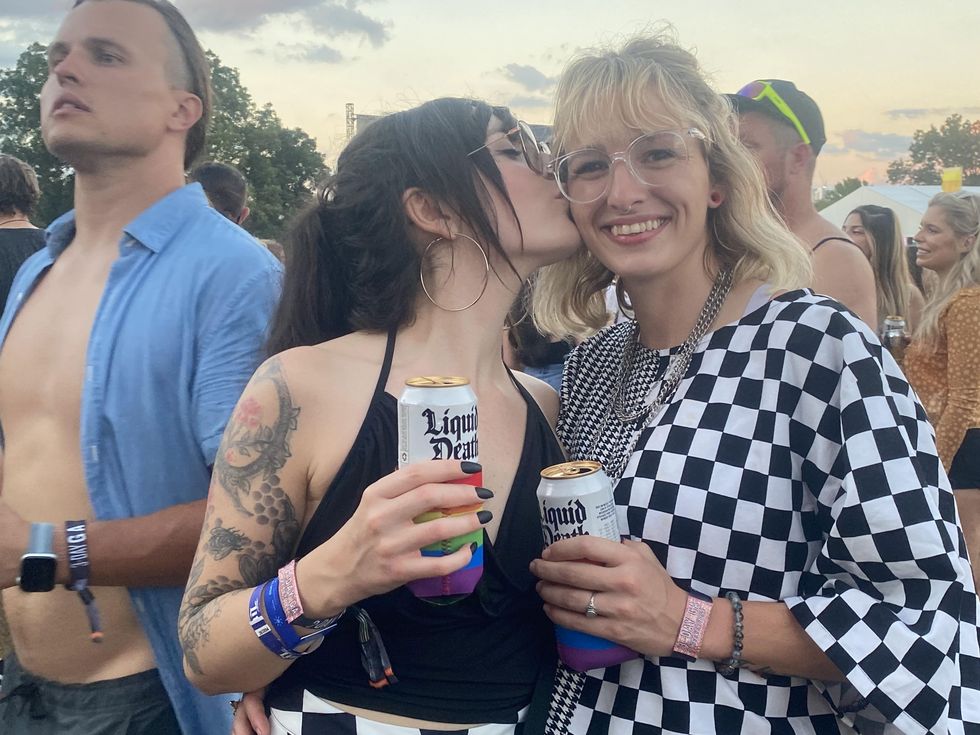 Bonfils kisses Spurlin's cheek, celebrating their shared birthday today. (Laura Figi/Austonia)
Madeline Bonfils and Jasmine Spurlin, Detroit natives, were in town for their shared birthday weekend and serendipitously grabbed tickers for the festival. The pair said seeing Stallion, with all of her body positivity and love for her fans, reminding them of home.
"It was all voluptuous women and Megan, she brings forth body positivity," Bonfils said. "I like that she brought people from the crowd onstage because that shows she's humble and that she's a human."
5:30 p.m. 'Fit check!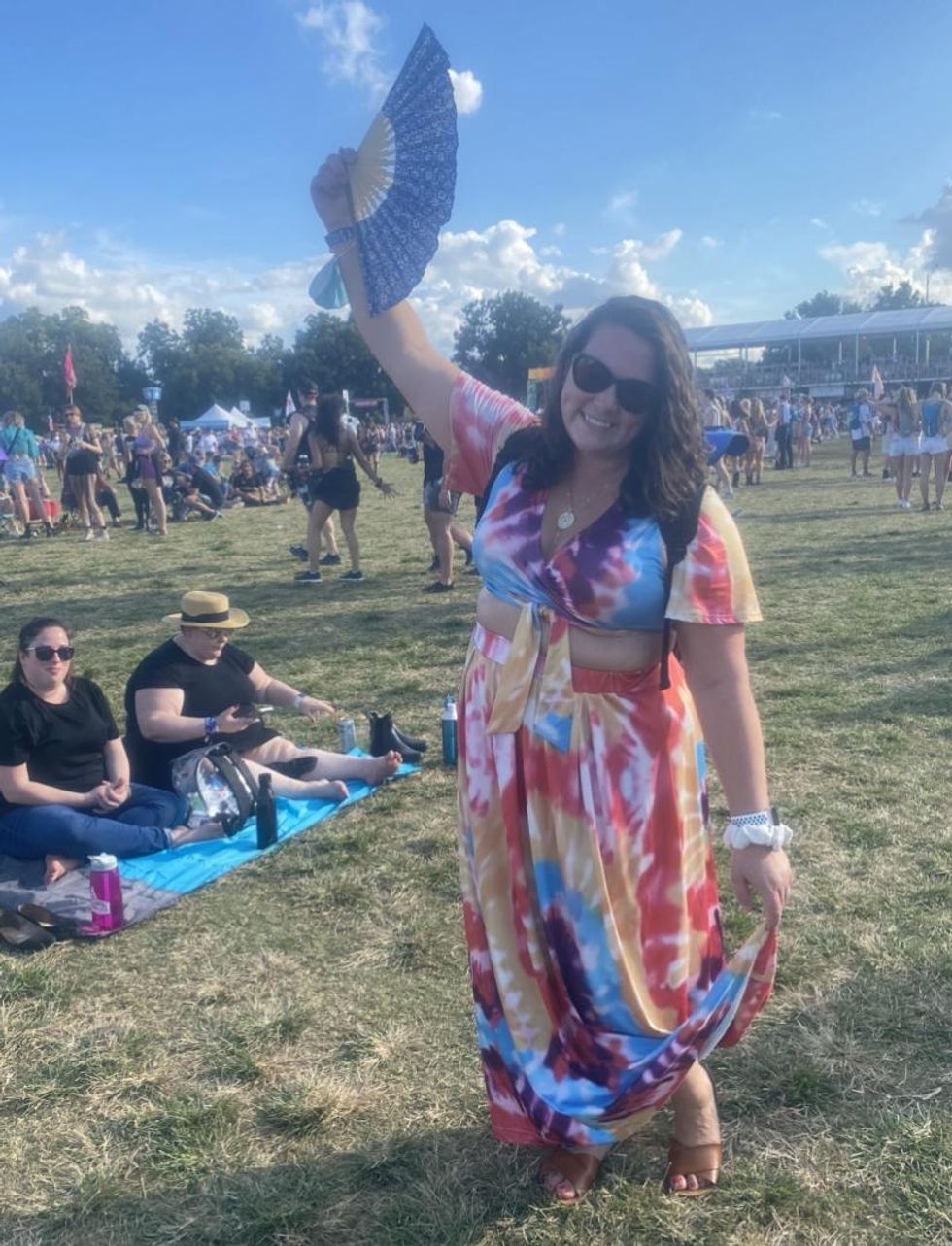 ​(Laura Figi/Austonia)
Rebecca Hopkins drove from Houston to see the bands at ACL—day one is her all-tie dye outfit. Hopkins says she's most excited to see Bille Eilish, who she has seen several times.
"We do a lot of festivals so we're just happy to be back," Hopkins said.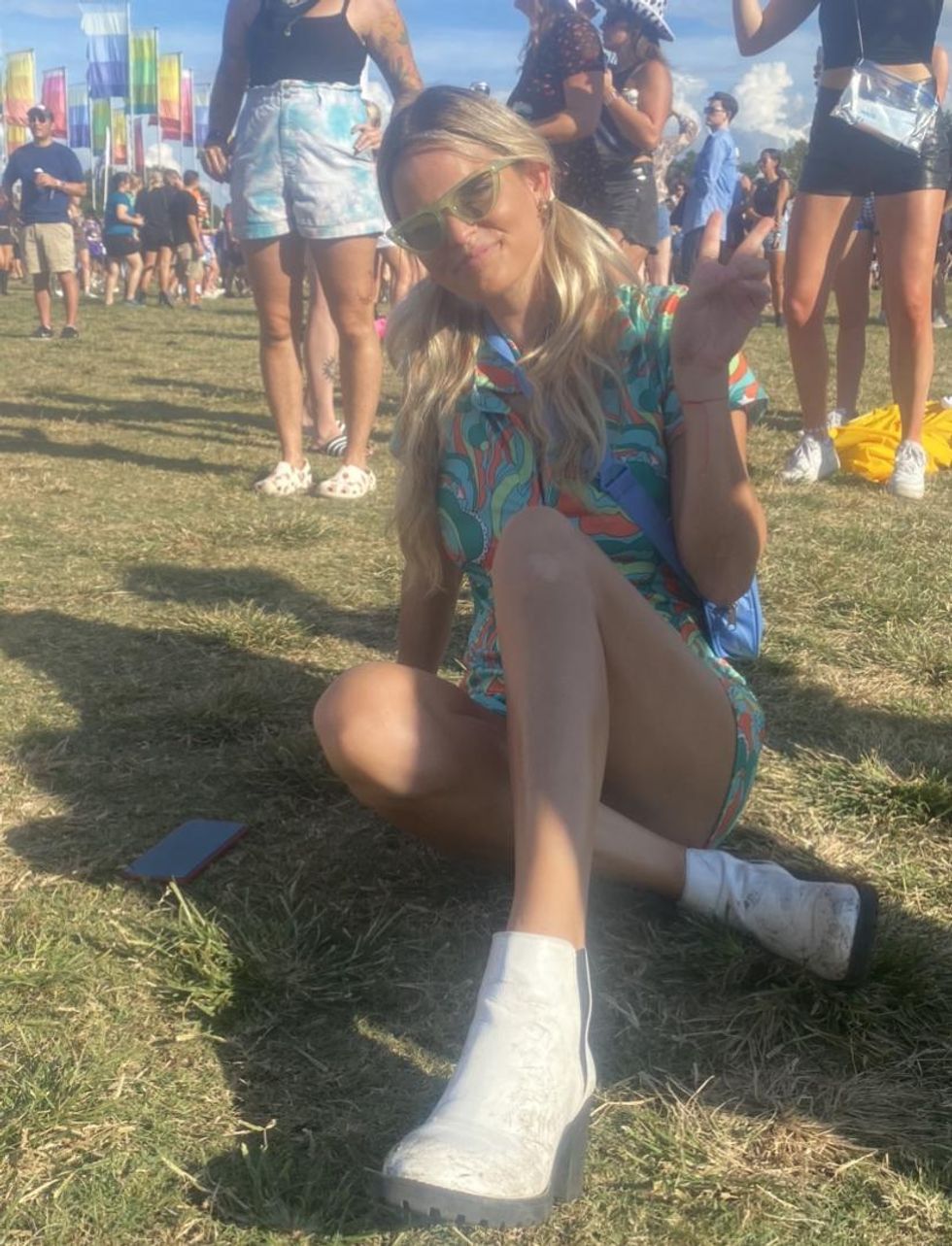 (Laura Figi/Austonia)​
Morgan Glass put on her grooviest outfit for her favorite performer, Miley Cyrus. The best part of her ensemble is that it comes in pairs—Glass is meeting up with a friend wearing the exact same outfit.

"Miley Cyrus, I've know her since watching Hannah Montana," Glass said. "I love her vibe, I love who she is. She's so free-spirited."
4:30 Machine Gun Kelly takes the Honda stage
After a frantic entrance to the festival (beware the Barton Springs West entrance), ACL attendees began to file into Zilker Park. Machine Gun Kelly took the stage first, ripping guitar riffs and an excited audience. Fans were clapping less than 15 minutes in. Toward the end of the show, MGK climbed up to a high platform on the stage.
The bad boy punk artist performed on Thursday at Stubb's for the festival's first night show. He said he had been wanting to perform at ACL for years and what a big moment it was to perform since he played at South by Southwest a few years back to a small crowd. He also thanked fans for helping him win his first MTV Video Music Award this year.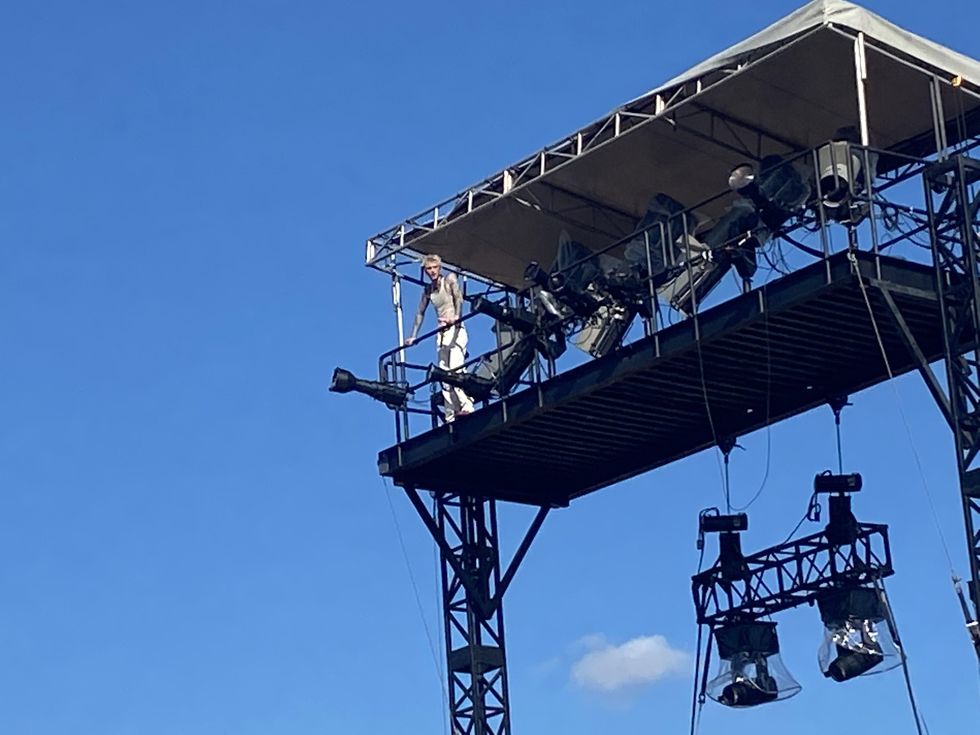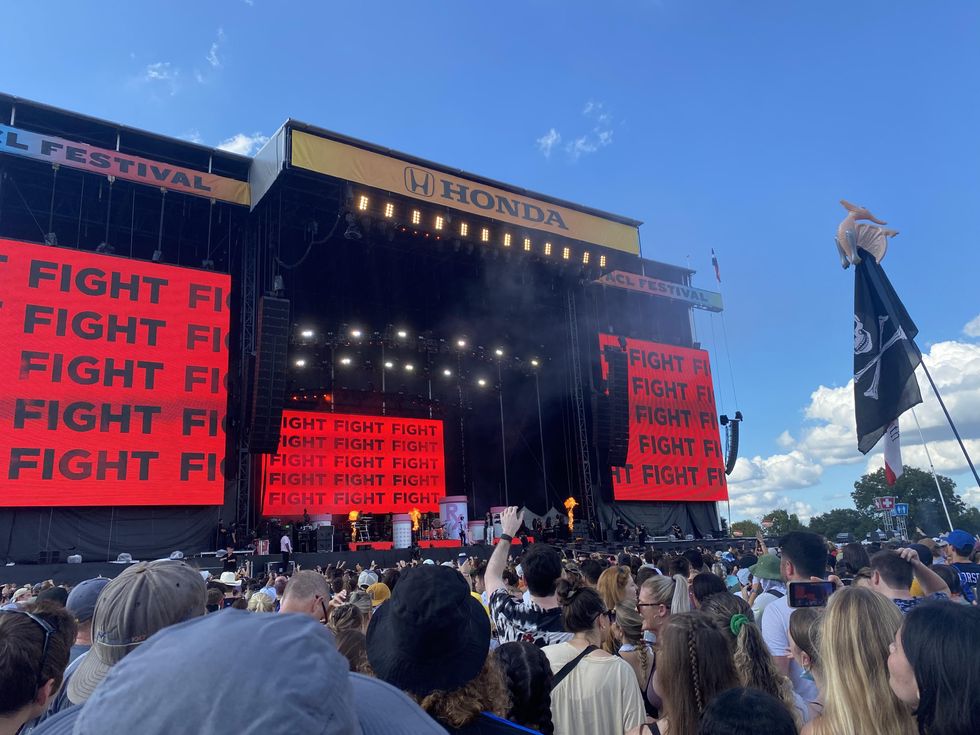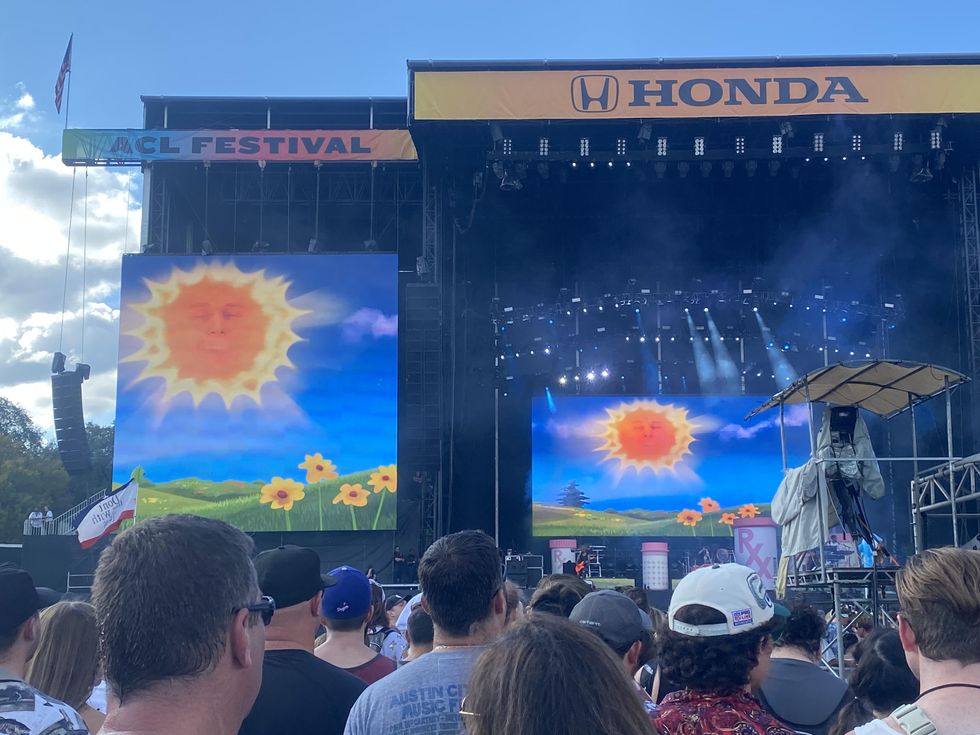 3:30 p.m. Barton Springs West entrance attracting massive crowds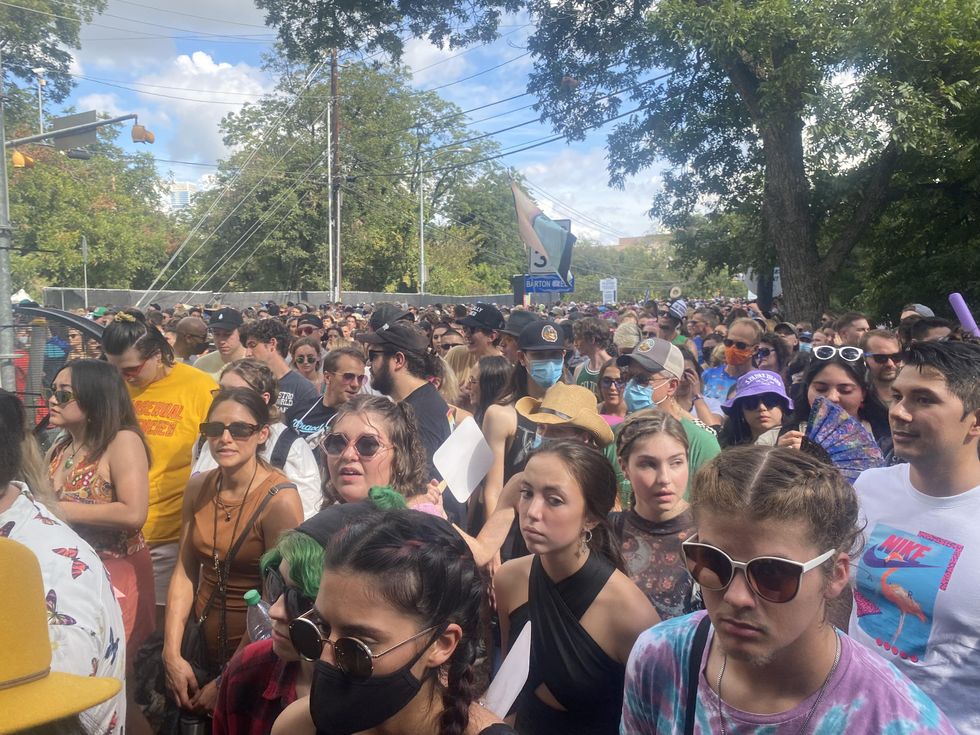 (Laura Figi/Austonia)
The entrance to the festival was backed up to South Lamar as of 3 p.m., so the entrance is not for the faint of heart. Though the forecast called for rain, there have been clear skies since 11 a.m.!
11:20 a.m: Updated schedule released
SCHEDULE UPDATE: Time changes have been made for today's schedule. Gates open at 3pm. See you soon. pic.twitter.com/0uvgJ5hu0h

— ACL Festival (@aclfestival) October 1, 2021
The updated schedule is up and several artists paid the price. Asleep at the Wheel, Audic Empire, Darkbird, Unusual Demont, Bexley, Claud, Primo the Alien; Nothing, Nowhere; Q and Nané were all cut from the lineup.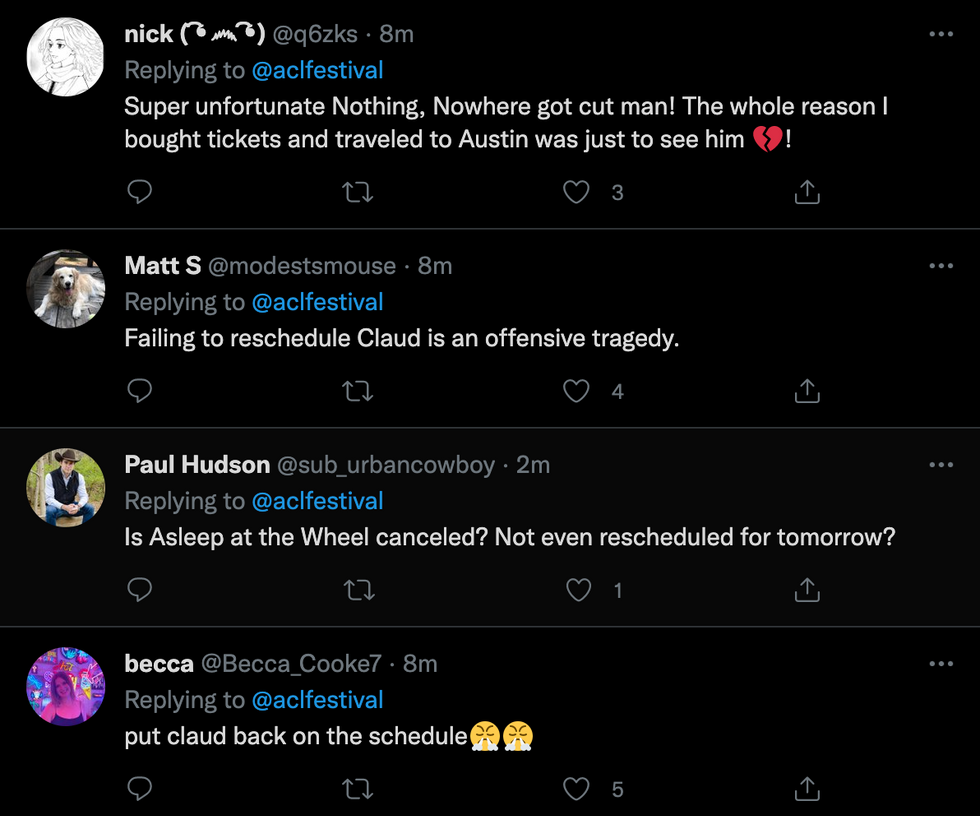 Fans were disappointed at the array of cancelations and some speculated that it would mean the entire festival will be canceled. It also seems the performances won't be rescheduled—Primo the Alien confirmed to Austonia that her set was canceled altogether.
10 a.m: Festival is delayed until 3 p.m.
Due to inclement weather overnight and impacts to Zilker Park, gates for the first day of ACL Fest will open at 3pm today. We look forward to seeing you this afternoon. Stay tuned for performance schedule updates. pic.twitter.com/Wju3pZsSCv

— ACL Festival (@aclfestival) October 1, 2021
Delaying the festival means canceling several sets—stay tuned for lineup updates.
Clear skies are expected from 11 a.m. to 2 p.m. but the rest of the day is looking like rainy skies. Keep your attire light, moisture-wicking and covered in a waterproof barrier for optimal comfort.
We'll be updating right here throughout the day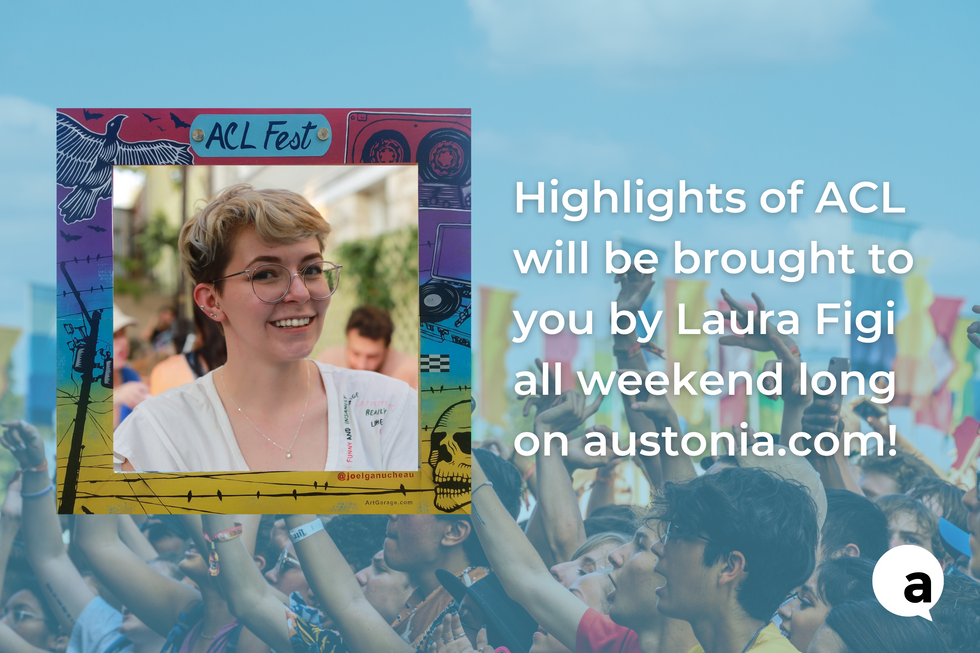 No judgment if you've waited until now to prepare! Before you head out, give our guides a quick read so you can get the most out of your wristband.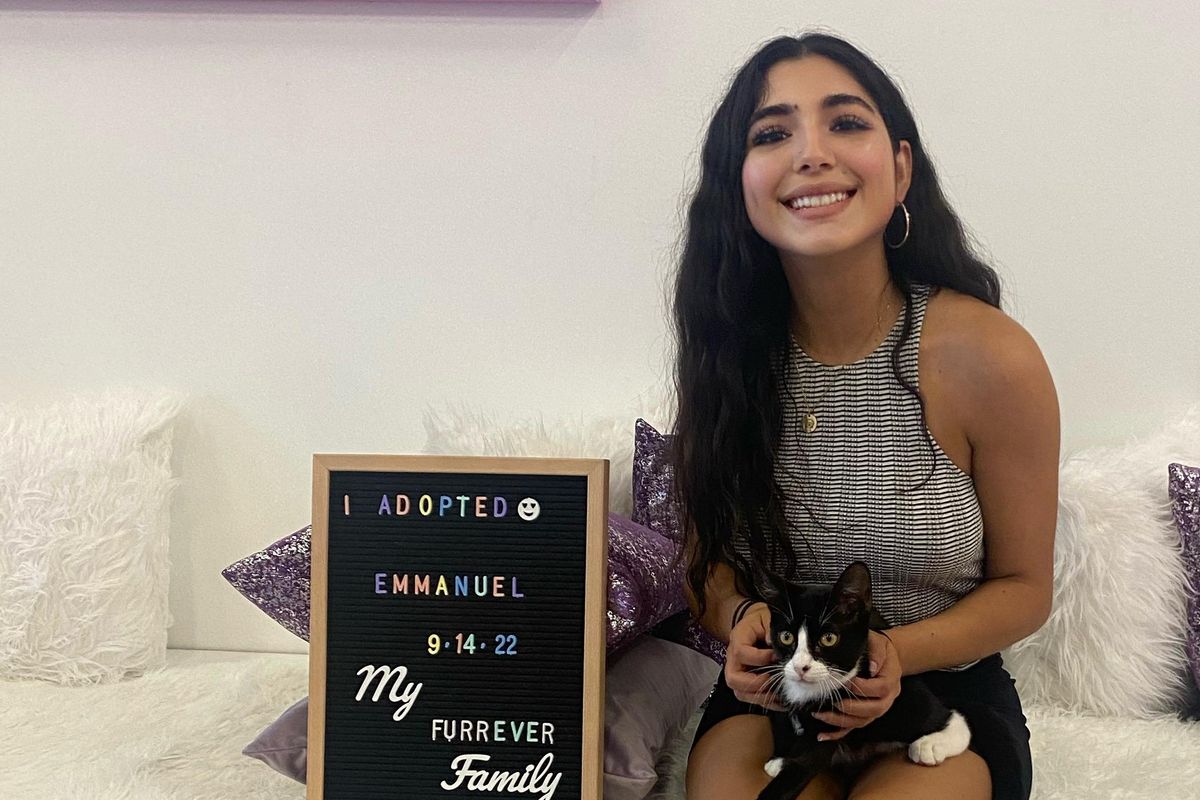 Purr-fecto Cat Lounge
Timmy and Tommy are ready to play.
As the 2-month-old white-and-tabby brothers swat feather wands, chase toys and generally hold court inside Purr-fecto Cat Lounge, a half-dozen potential adoptive parents look on lovingly, trying to get their attention.
"This is kind of like the speed dating of cats," said Lupita Foster, owner of Purr-fecto Cat Lounge. "I intentionally didn't put in any tables. That's why we call it a lounge instead of a cat café because we have these lounge areas where you can sit and relax and cuddle."
Foster, who has owned a cleaning company, Enviromaids, for 18 years, was inspired to open Purr-fecto Cat Lounge after adopting her own cat, Romeo, from a local shelter.
"When you want to adopt a cat, you have to spend a lot of time with them to get their personality," Foster said. "I wanted to do something to help the community and something that makes me feel good, that warms my heart. A business with a purpose. This was a perfect idea."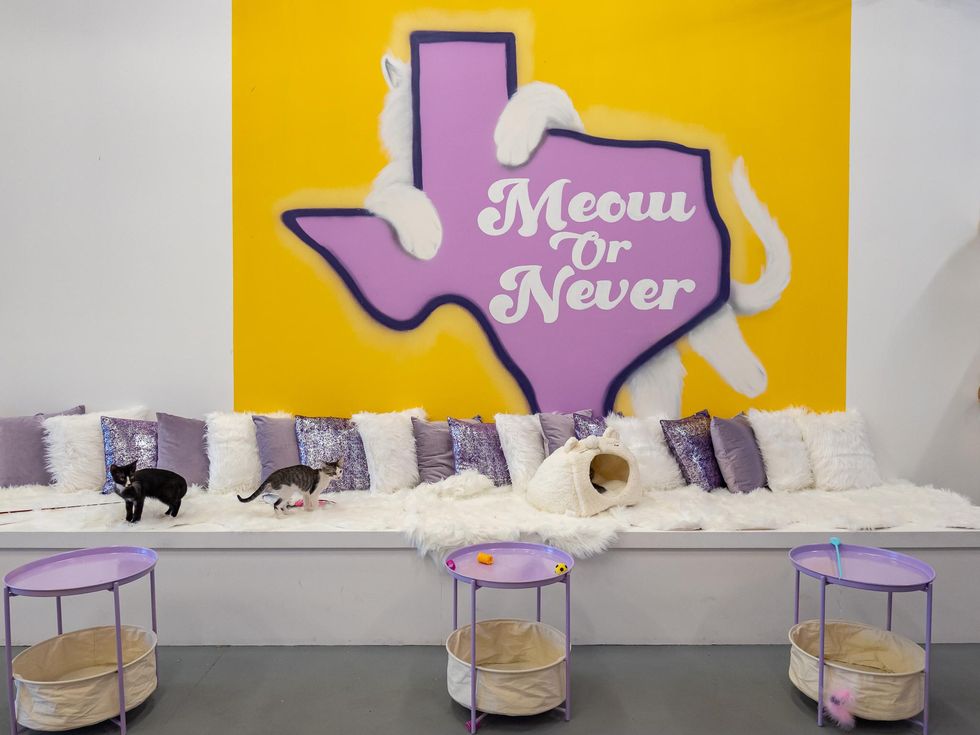 Actually, a purr-fect idea.
Inspired in part by a cat lounge she visited in Los Angeles, Foster began laying the groundwork for the business in late 2021 and officially opened the doors of Purr-fecto Cat Lounge, located at 2300 S. Lamar Blvd., in July 2022. Since then, she's worked with rescue organizations such as Fuzzy Texan Animal Rescue and Sunshine Fund Cat Rescue to facilitate nearly 100 cat adoptions.
At any given time, there are 10-15 cats living in the space, which features an ideal blend of calm, cool corners and adorably Instagrammable backdrops with phrases such as "I want to spend all my 9 lives with you."
Lina Martinez, 32, learned about Purr-fecto Cat Lounge from a friend's Instagram post and made an appointment to visit two days later.
"My first impression was, 'AWW!'" Martinez said. "The kittens were to die for. I felt happy and at peace – just what I needed."
Visitors to the cat lounge pay $15 for a 30-minute CATXperience session or $30 for a 70-minute session that is spent getting to know the personalities of each cat. Foster said the first thing she typically sees from visitors to the lounge is a smile.
"Everybody that enters the door is smiling," she said. "And we've seen people who have cried because they can't have kids and they decide to go and adopt a cat instead."
Foster said she loves bringing in cats who might not have a chance to be adopted at traditional shelters. She told the story of one cat named Izzy, who was partially blind, who was adopted by a family that had a deaf cat at home.
"Izzy was not going to get adopted anywhere else, but she's extremely beautiful," she said. "If she was in a cage in a rescue and you tell people she's blind, she was probably going to be overlooked. But visiting our space, she doesn't seem like she's blind. She knows her way around. She moves around perfectly."
Although Martinez, who had been casually looking for a pet to adopt since moving to Austin nearly four years ago, was interested in a cat named Ruby that she had seen on Purr-fecto's social media, at the lounge she instead found herself drawn to 5-month-old mixed breed Tuxedo cat.
"I thought he was a star," she said. "He worked the room and introduced himself to everyone. When I laid down to pet Ruby, he ran from the other side of the room and cuddled with me. It was game over. He got me."
And she, of course, got him, complete with a commemorative photo that read "My Furrever Family" the day she took him home. Although his original name was Emmanuel, she renamed him Sullivan after her favorite DJ.
"Purr-fecto is special because of the amount of effort and love they put into taking care of the cats," Martinez said, "and finding them good homes and making possible adopters feel at home."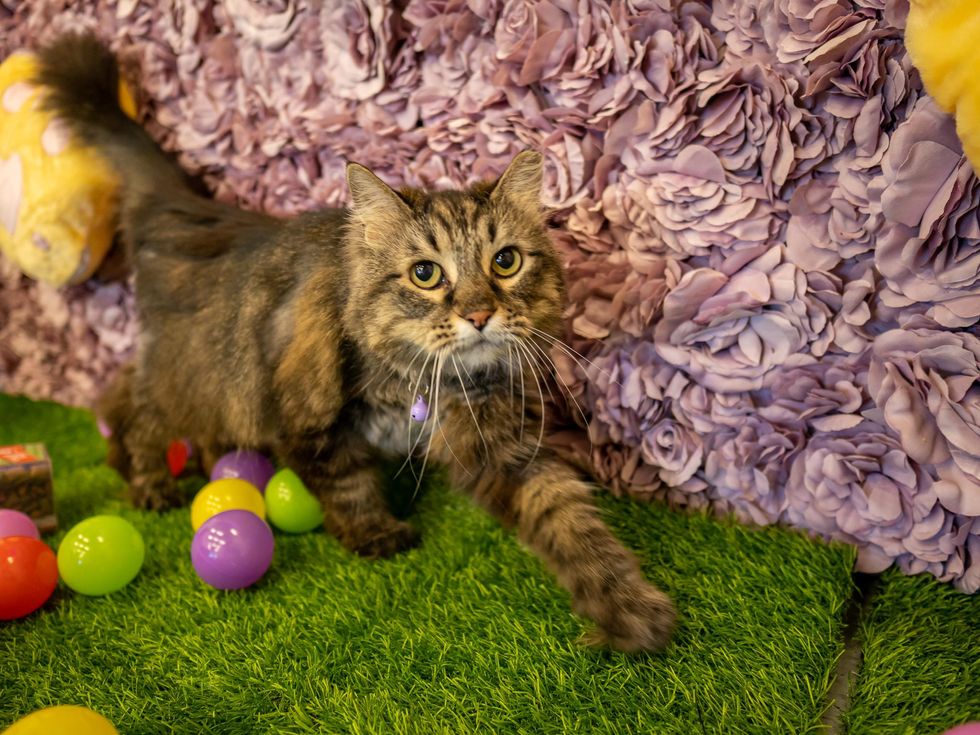 Foster, who spent a recent Thursday hosting a group of teenagers in foster care at the lounge, several of whom expressed interest in working there, said the best part about her new endeavor is that her heart is always full.
"I just feel complete," she said. "I always felt as an entrepreneur that I was missing something. I knew I accomplished a lot, but in my heart I was missing a little connection with the community. Now I'm creating connections between humans and pets and that's amazing. I'm creating family bonds. It's just about love, you know. And we need that."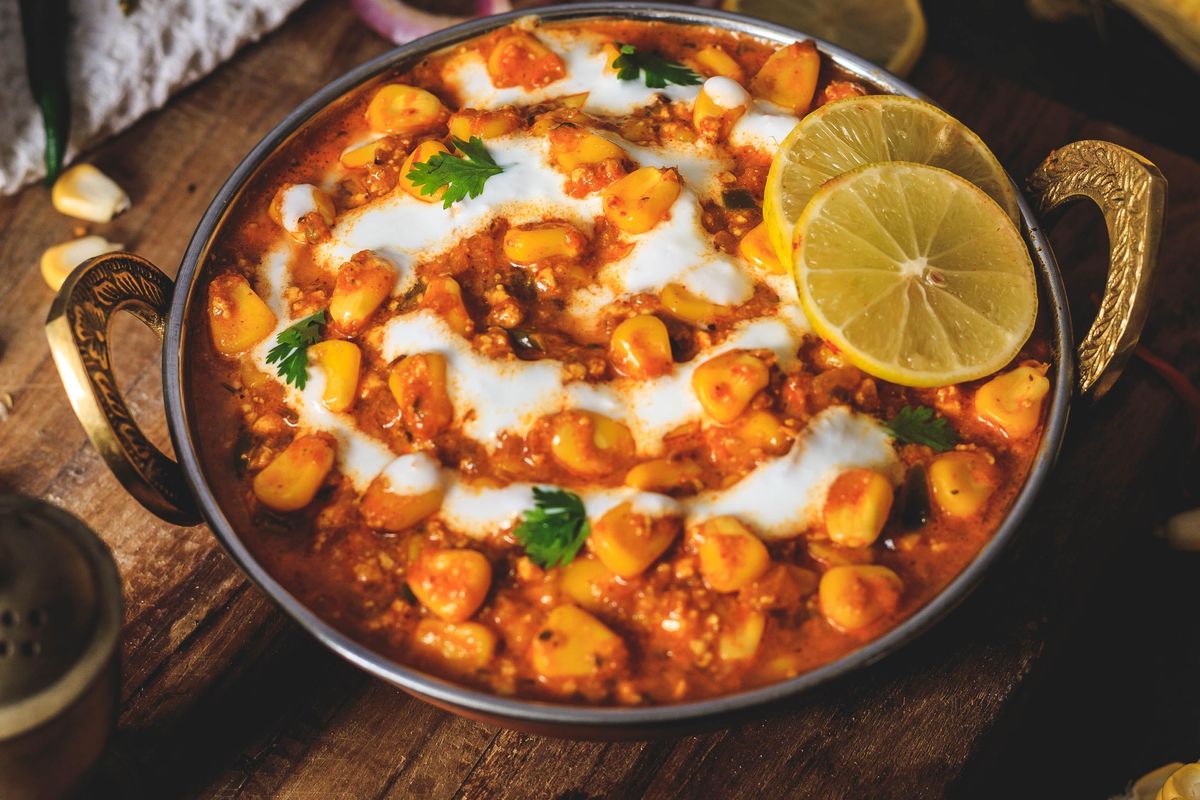 We all have those cravings for an amazing butter chicken or some authentic dosas with coconut chutney, but when I was thinking about where I wanted to go to satisfy my taste buds I realized that my list of great Indian food around Austin was surprisingly short. After doing some research and asking around, here is your list of the best Indian restaurants around town.
This restaurant claims to have the most authentic South Indian food, and from what I've heard, the claims might be true! Their menu features the traditional South Indian dishes of Idlis, Vadas, a variety of Dosas, and more.
If you're looking for an Indian and Tex-Mex fusion cozy restaurant, then look no further! Nasha on East 7th Street prides itself on its specialty margaritas, Tikka con Queso, Biryani, and more creative dishes!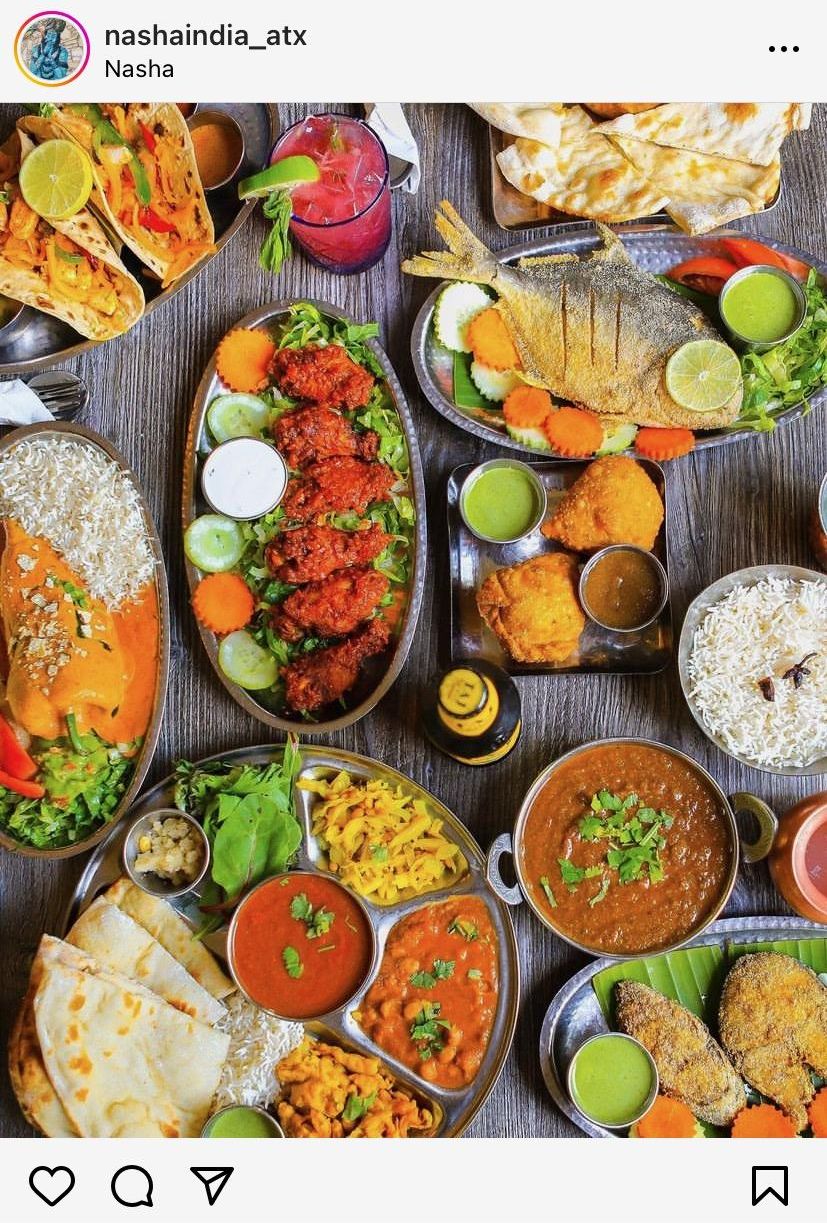 Austin Chai Wala is a personal favorite of mine, with the best masala chai I have ever had in Austin. The quaint truck in Rosedale Market features a unique blend of South Asian cuisine, including Masala Fries, Paratha Wraps, Samosas, and a delicious Mango Lassi.


This Round Rock Restaurant is known for its South Indian food, and its pakoras, a deep-fried North Indian street food filled with vegetables like potatoes or peas. Great stop for comfort food!
The best about this restaurant is its ambiance, and if you're a UT student then it is just a stone's throw away from campus. The Brick wall setting and extensive wine selection make it a great choice for a date night or a treat-yourself dinner.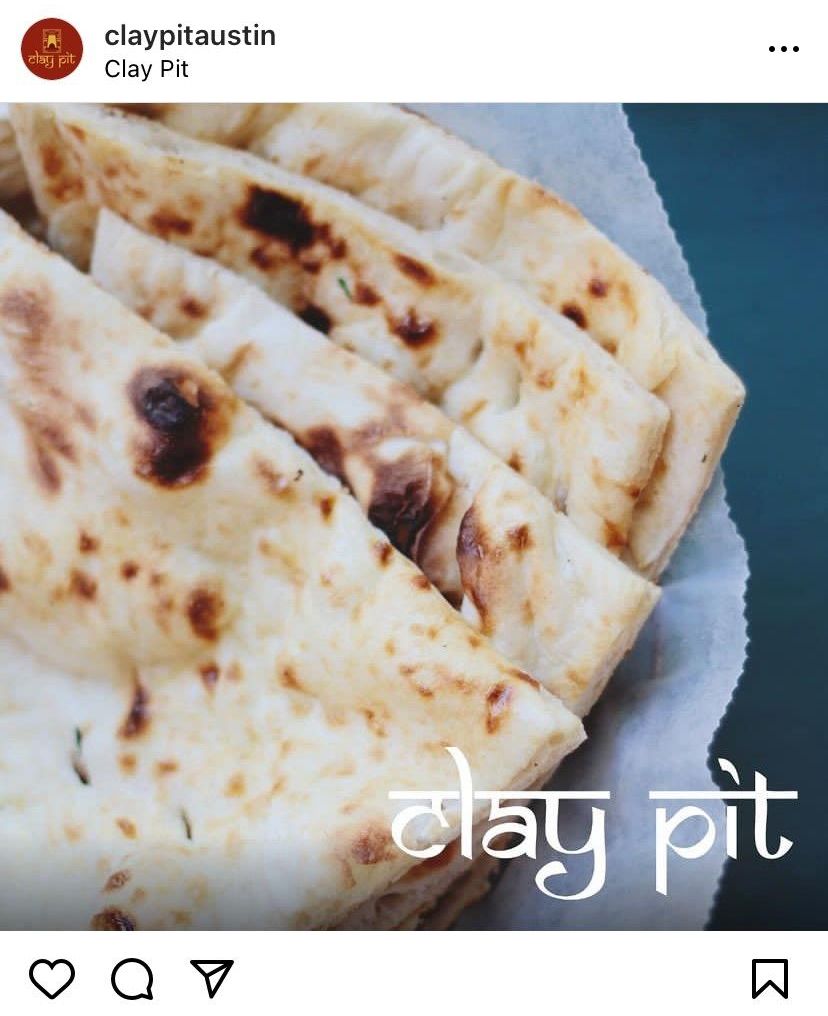 Named after one of the best spices used in Indian cooking, Saffron specializes in a fusion of Himalayan Nepali and Indian cooking. Stop by for some amazing Paneer Tikka, delicious Tandoori meat, or Nepalese fried rice dishes.
This little food truck on Burnet focuses on keeping the authentic South Indian Dosa recipe while embracing modern twists. Check out their menu offering signature dosas, street bites like Samosas, and their original "Doffles", dosa waffle sweet bites.