Get connected with our daily update
Festival-goers were all smiles as Austin City Limits kicked off on Friday—especially when there was no rain. A delayed start, the day went off without a hitch with performances by headliners Machine Gun Kelly, Megan Thee Stallion, Miley Cyrus and George Strait.
Although the forecast called for rain, skies were clear most of the day, other than some short showers during Cyrus' set.
Here's what the day looked like:
---
8 p.m. Miley Cyrus puts on a rock-n-roll performance at the Honda stage
Miley Cyrus reemerged for her own set this time, dressed in a pink bodysuit, heeled boots, a large belt and "real big" hair, which the rockstar said she chose in honor of Texas. Cyrus didn't stick to any one album, she sang songs back from her early days, including "The Climb," and "Wrecking Ball."
Of course, Cyrus was sure to perform the namesake song from her new album "Plastic Hearts" as well as paying tribute to Janis Joplin. Cyrus said after a year of loneliness due to COVID, her heart was full to be performing at festivals again.
"I'm sure some of us grew up together," Cyrus said to the audience. "I'm still a little bit shocked every time people actually show up to one of my concerts but this festival is lined up with so many fucking incredible artists. I thank y'all so much for surrounding me at this stage."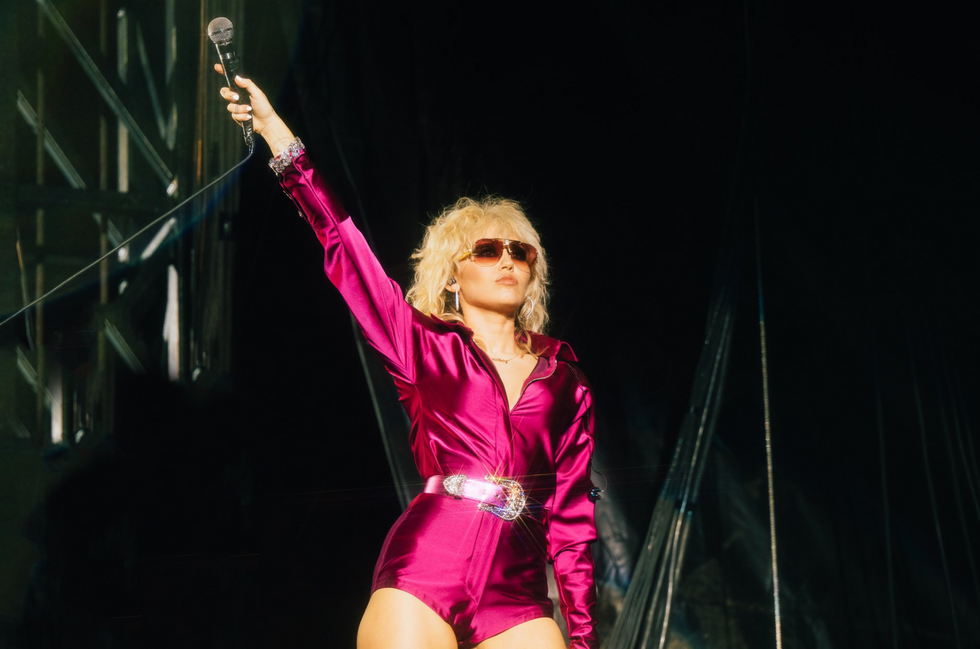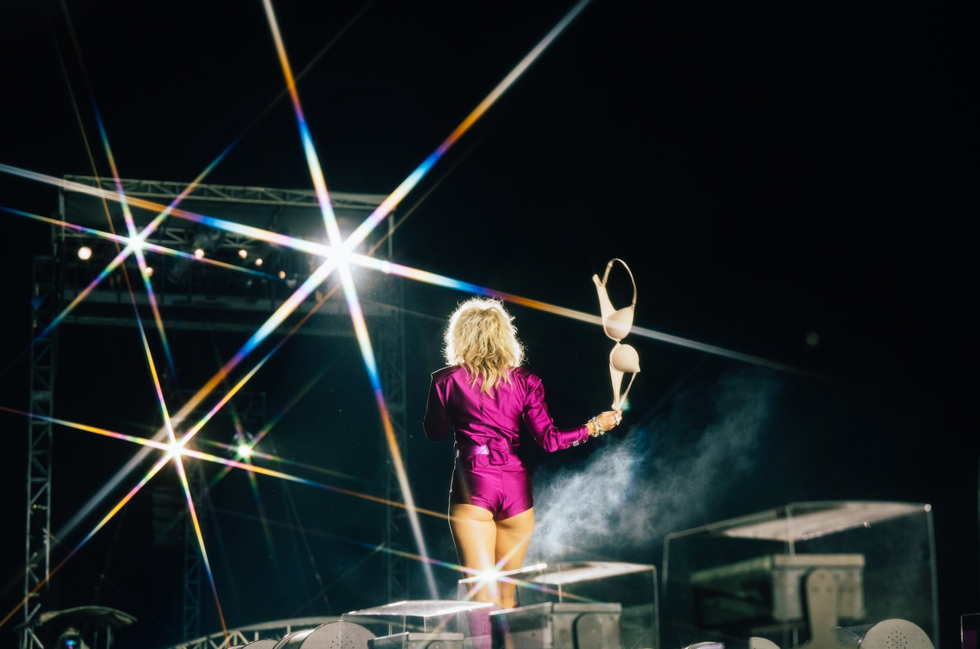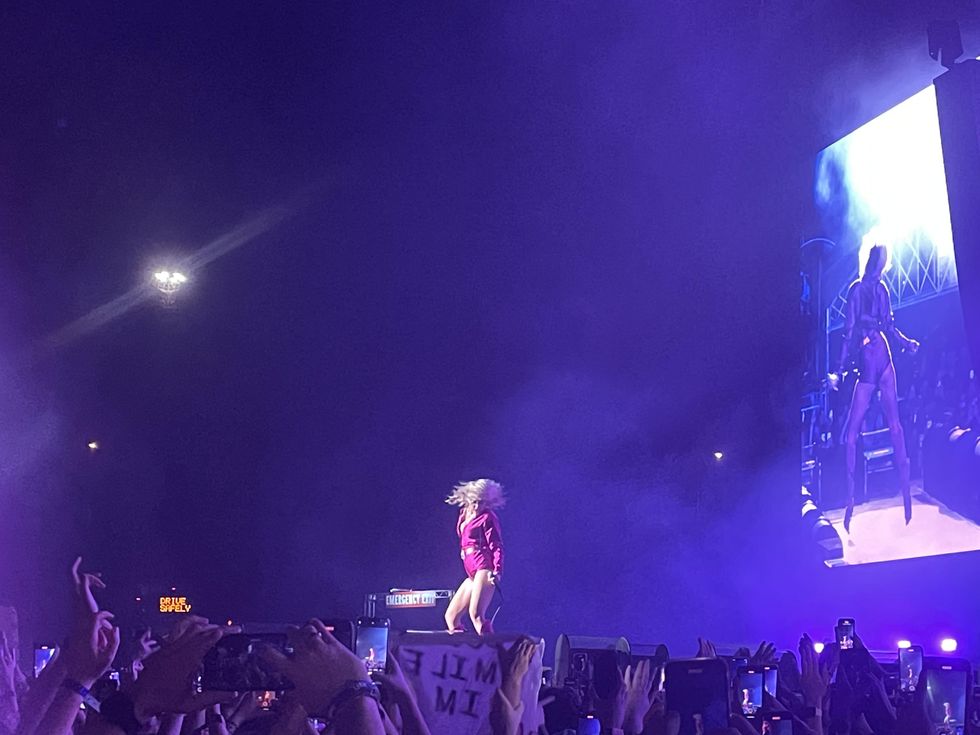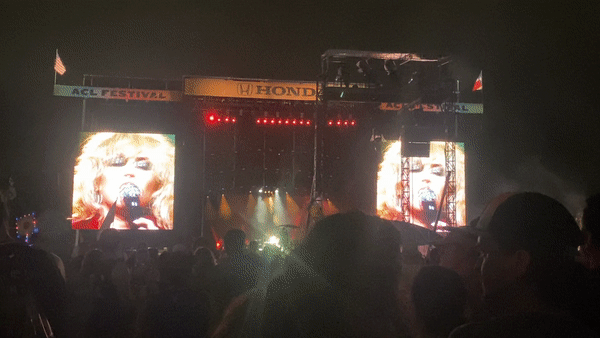 7:30 p.m. Megan Thee Stallion invites crowd members on stage and gets a surprise from Miley Cyrus for TwerkFest 2021
Megan Thee Stallion took over the Honda stage wearing a white corset top reading "Stallion" and hot pink shorts, the perfect outfit for the twerking "Hot Girl Coach" herself. A Houston native, Stallion gushed over how happy she was to be home in the Lone Star State.
About halfway into the festival, Stallion brought some "hotties" from the crowd to dance with her on the stage and Cyrus made an appearance, hugged Stallion and watched from the side of the stage for the rest of the show. Also backstage, the camera showed a glimpse of Billie Eilish jamming to Meg.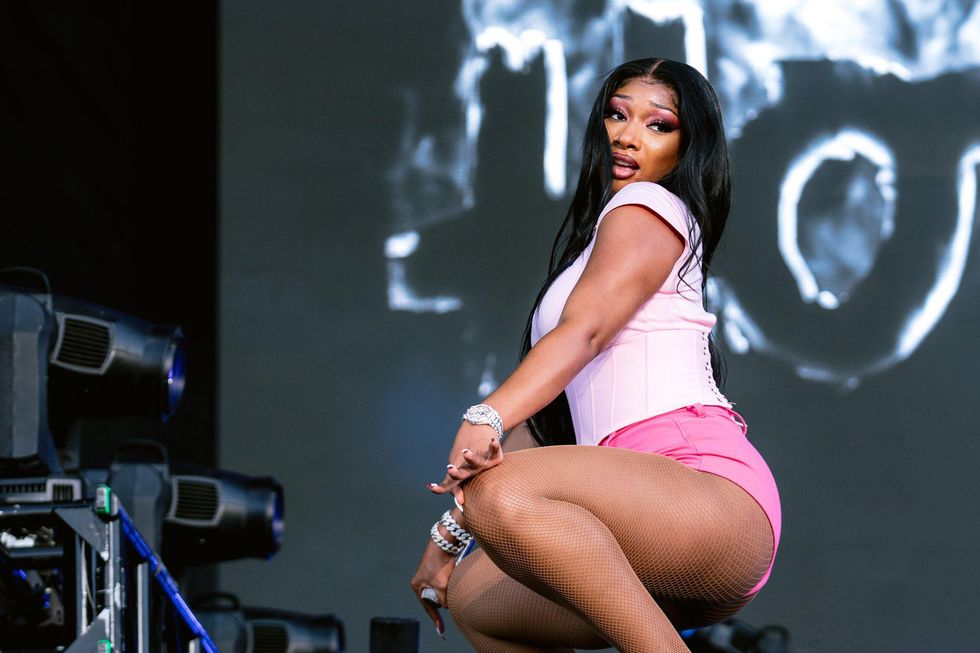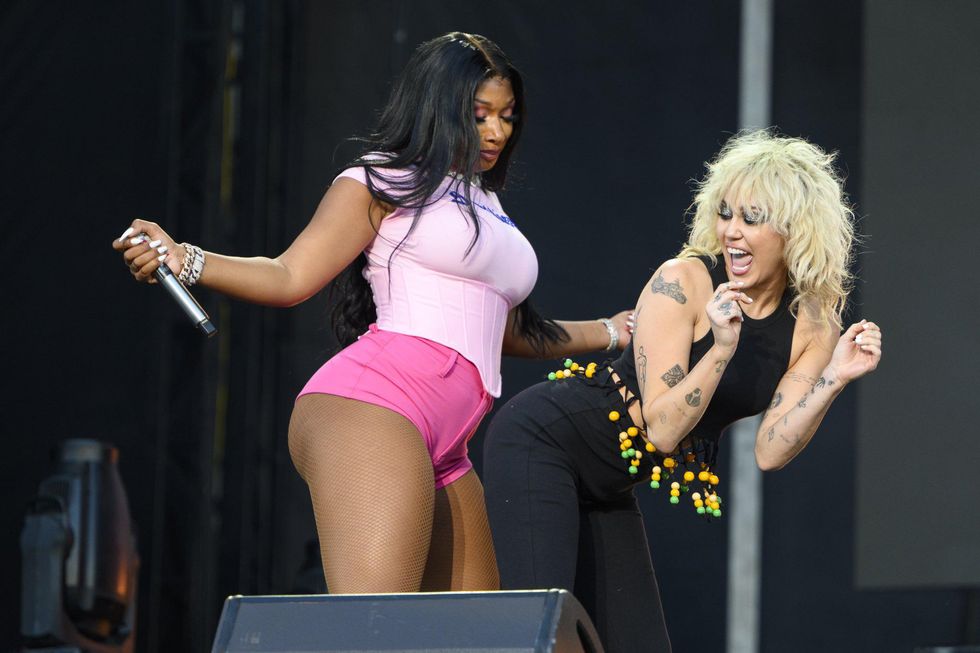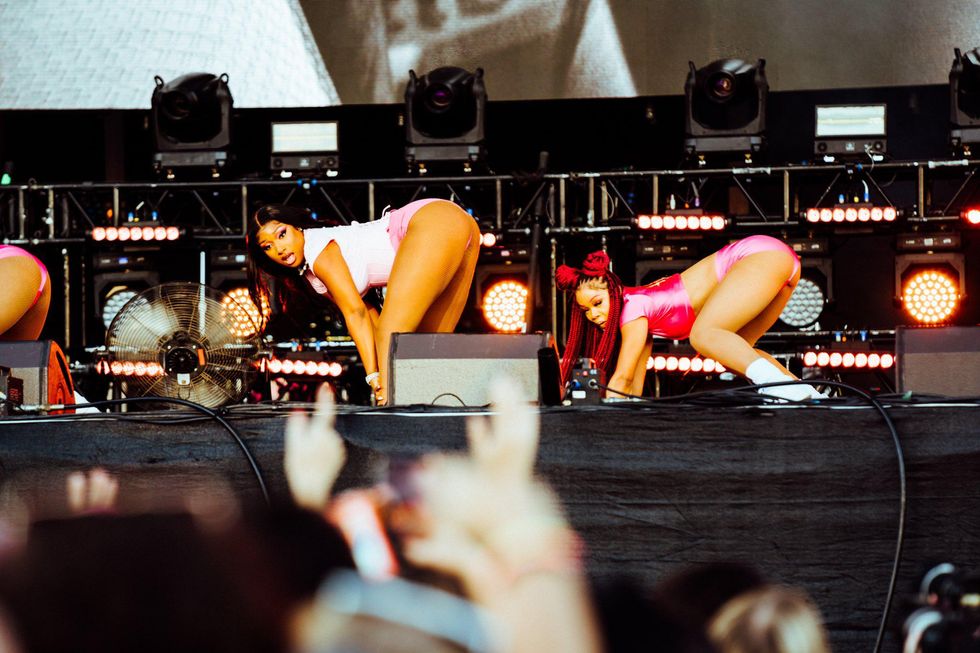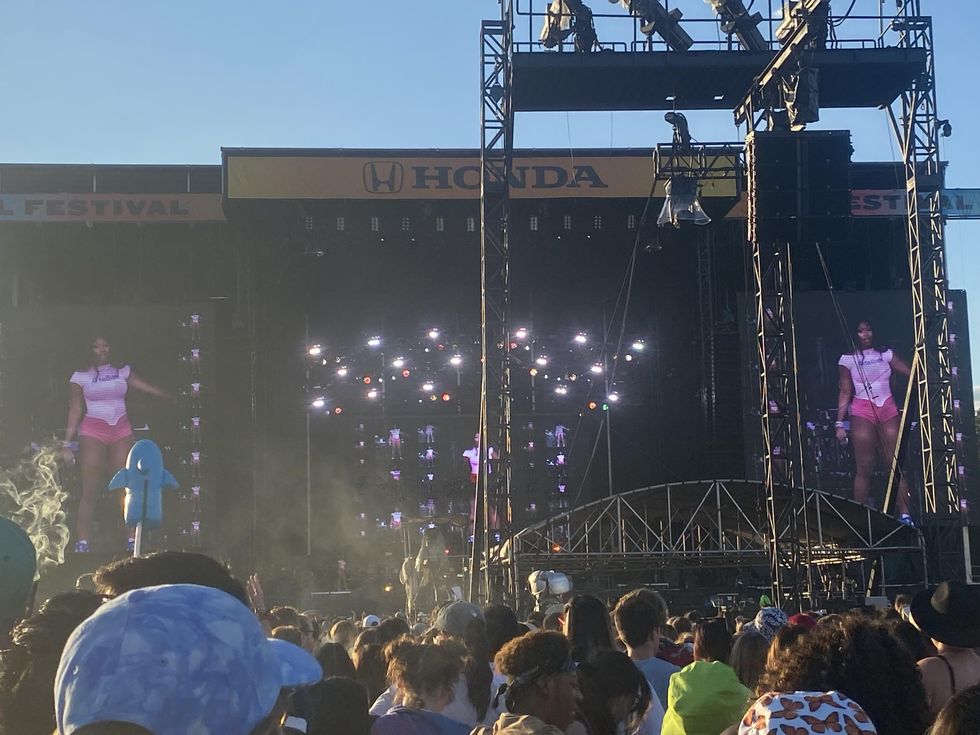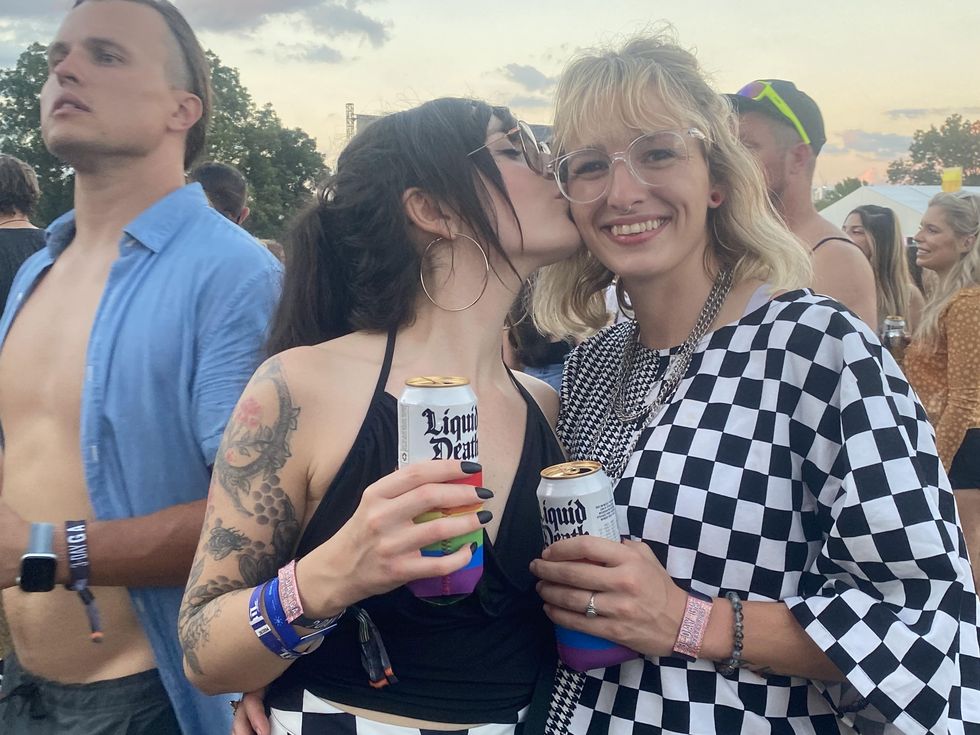 Bonfils kisses Spurlin's cheek, celebrating their shared birthday today. (Laura Figi/Austonia)
Madeline Bonfils and Jasmine Spurlin, Detroit natives, were in town for their shared birthday weekend and serendipitously grabbed tickers for the festival. The pair said seeing Stallion, with all of her body positivity and love for her fans, reminding them of home.
"It was all voluptuous women and Megan, she brings forth body positivity," Bonfils said. "I like that she brought people from the crowd onstage because that shows she's humble and that she's a human."
5:30 p.m. 'Fit check!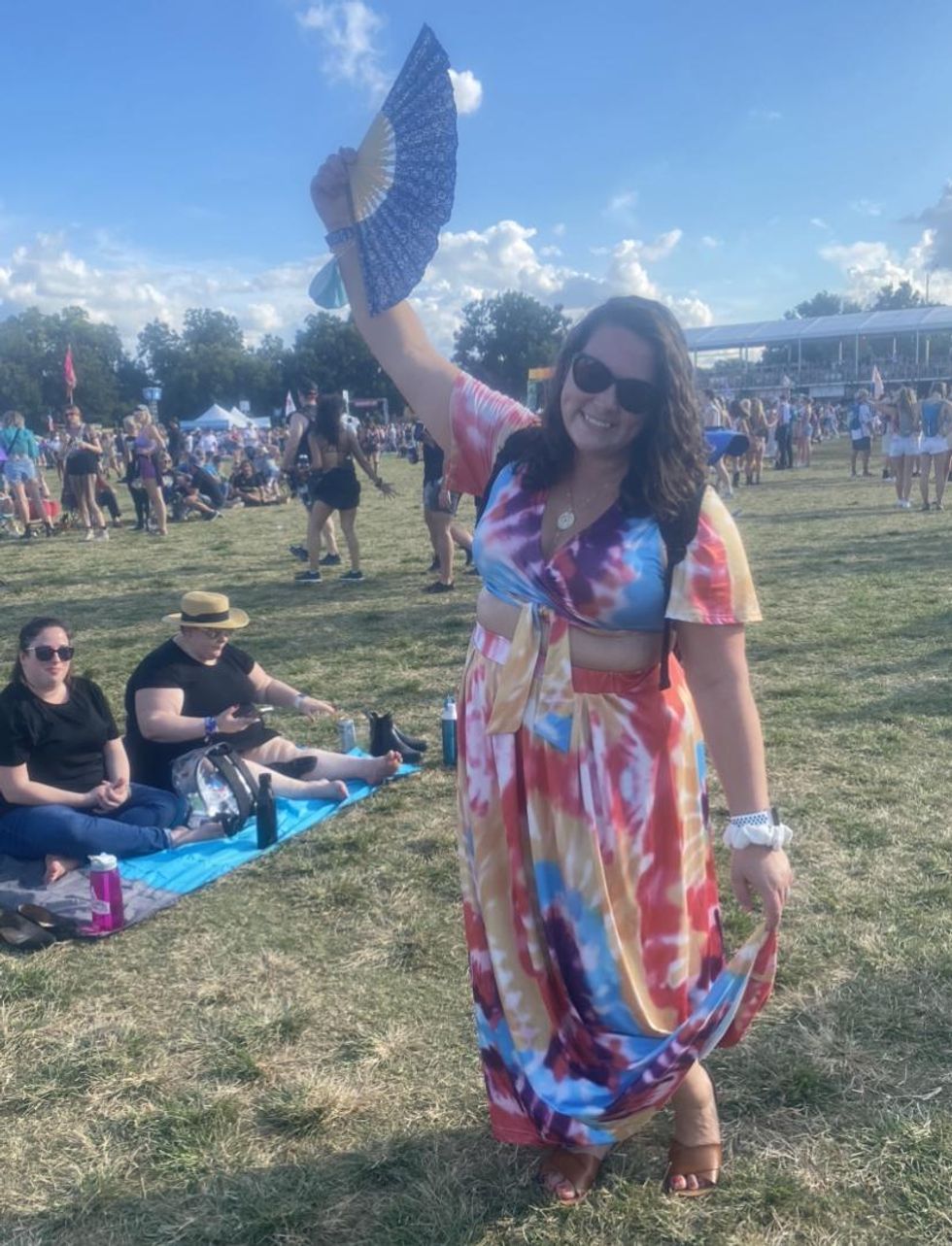 ​(Laura Figi/Austonia)
Rebecca Hopkins drove from Houston to see the bands at ACL—day one is her all-tie dye outfit. Hopkins says she's most excited to see Bille Eilish, who she has seen several times.
"We do a lot of festivals so we're just happy to be back," Hopkins said.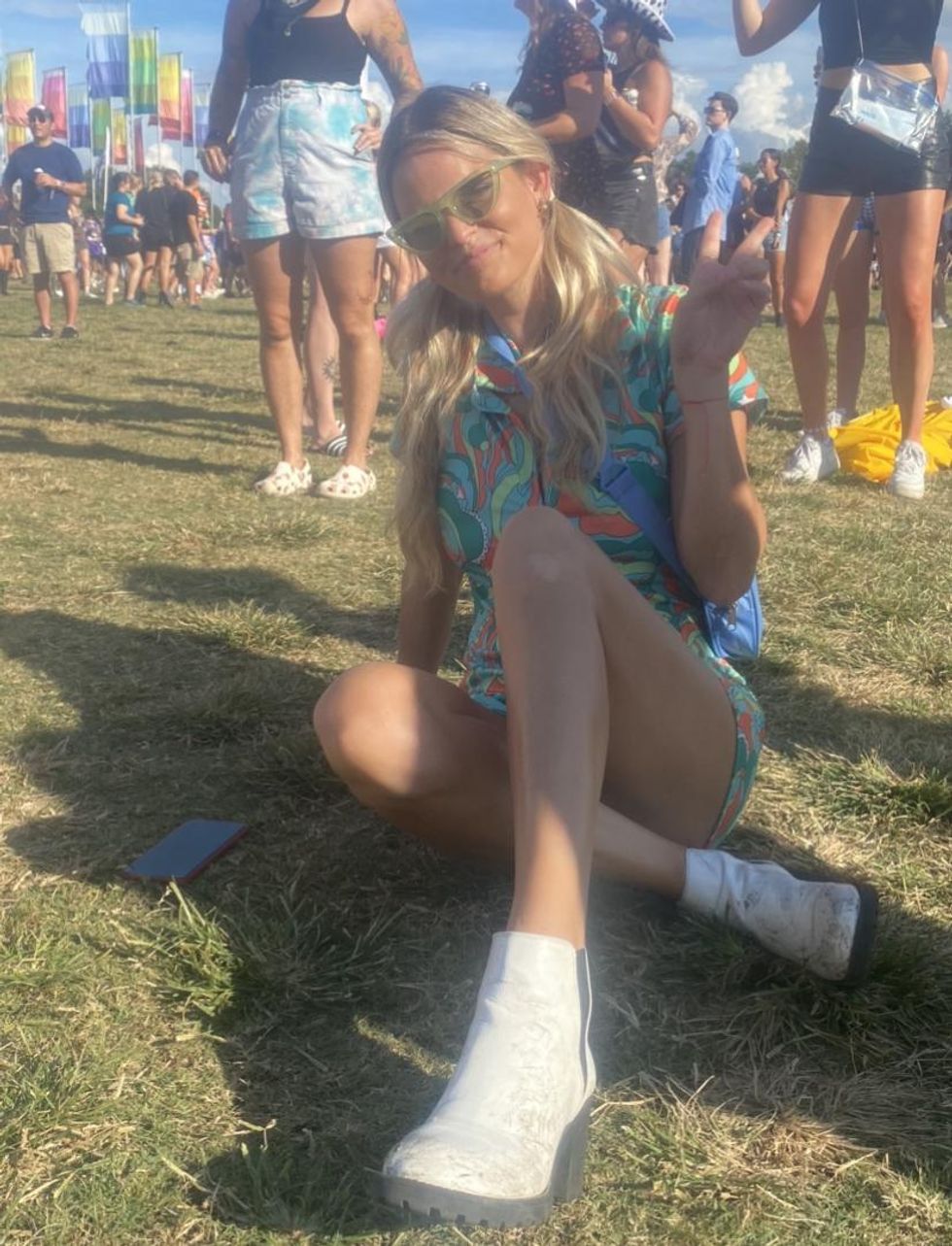 (Laura Figi/Austonia)​
Morgan Glass put on her grooviest outfit for her favorite performer, Miley Cyrus. The best part of her ensemble is that it comes in pairs—Glass is meeting up with a friend wearing the exact same outfit.

"Miley Cyrus, I've know her since watching Hannah Montana," Glass said. "I love her vibe, I love who she is. She's so free-spirited."
4:30 Machine Gun Kelly takes the Honda stage
After a frantic entrance to the festival (beware the Barton Springs West entrance), ACL attendees began to file into Zilker Park. Machine Gun Kelly took the stage first, ripping guitar riffs and an excited audience. Fans were clapping less than 15 minutes in. Toward the end of the show, MGK climbed up to a high platform on the stage.
The bad boy punk artist performed on Thursday at Stubb's for the festival's first night show. He said he had been wanting to perform at ACL for years and what a big moment it was to perform since he played at South by Southwest a few years back to a small crowd. He also thanked fans for helping him win his first MTV Video Music Award this year.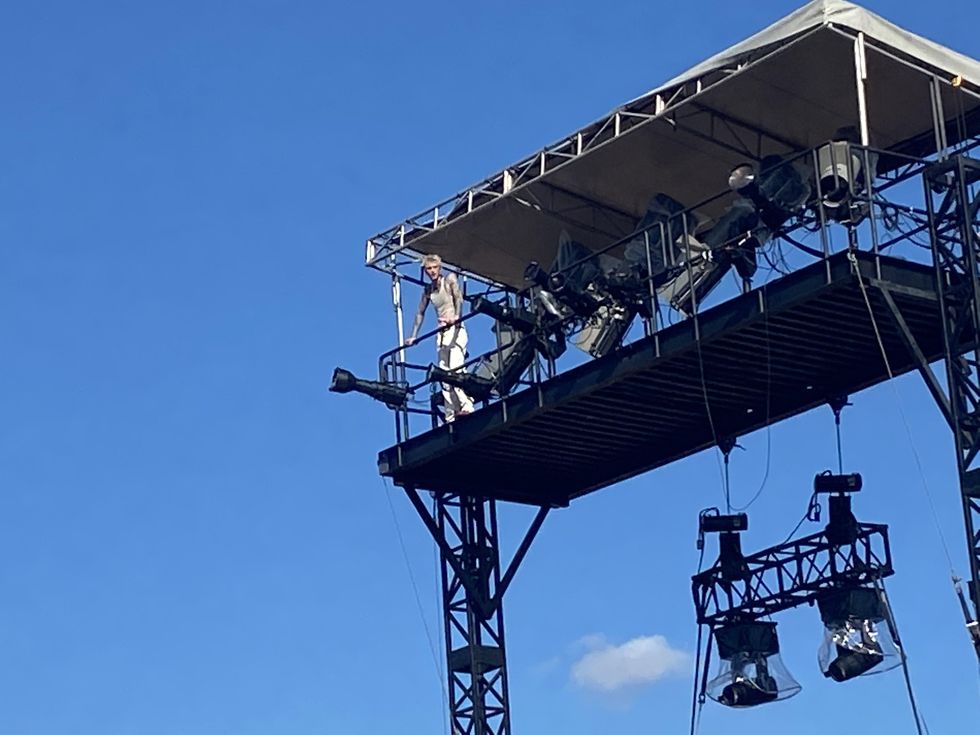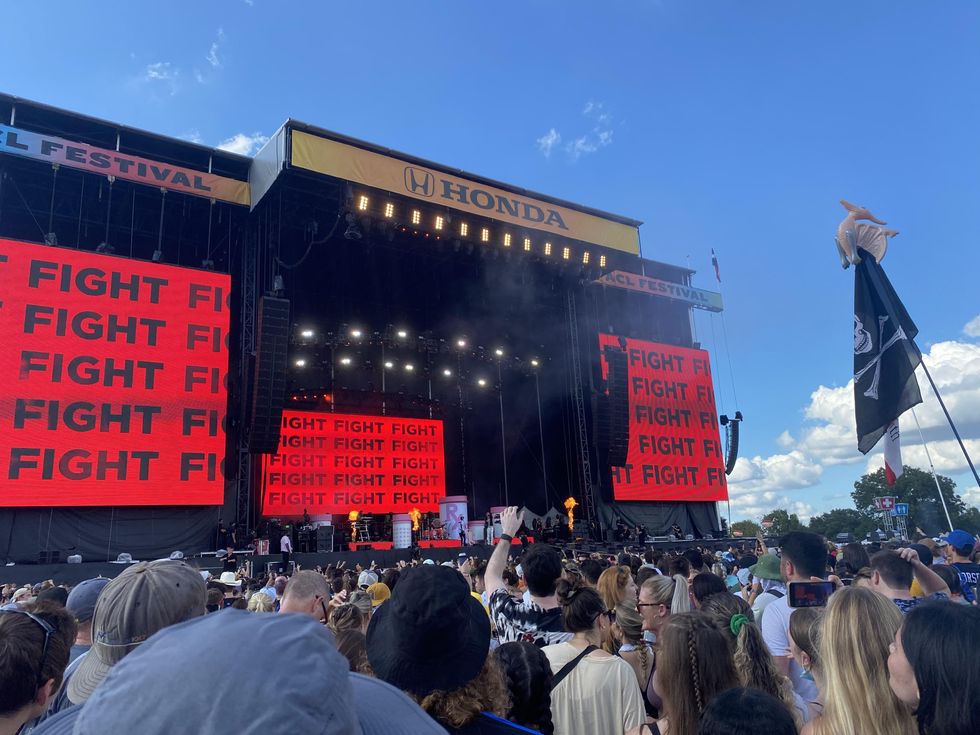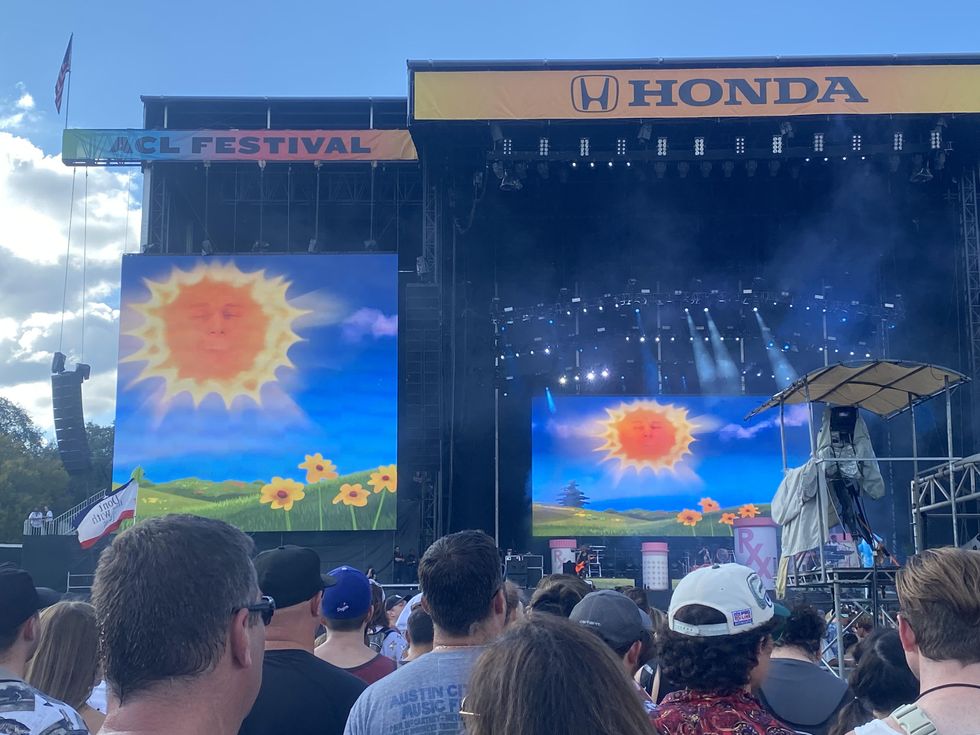 3:30 p.m. Barton Springs West entrance attracting massive crowds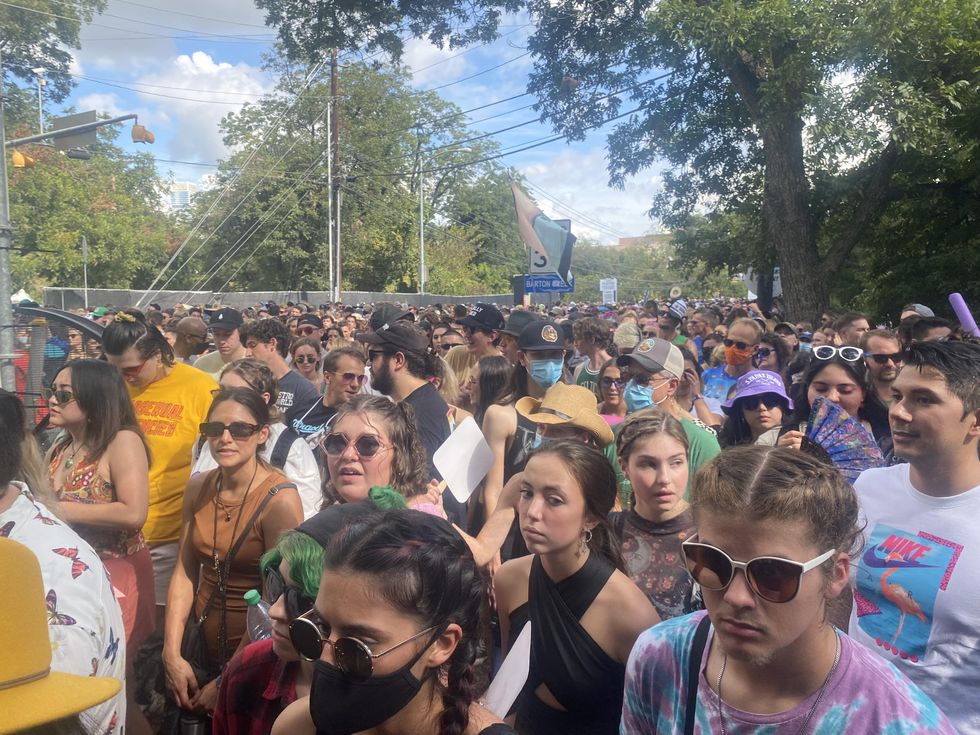 (Laura Figi/Austonia)
The entrance to the festival was backed up to South Lamar as of 3 p.m., so the entrance is not for the faint of heart. Though the forecast called for rain, there have been clear skies since 11 a.m.!
11:20 a.m: Updated schedule released
SCHEDULE UPDATE: Time changes have been made for today's schedule. Gates open at 3pm. See you soon. pic.twitter.com/0uvgJ5hu0h

— ACL Festival (@aclfestival) October 1, 2021
The updated schedule is up and several artists paid the price. Asleep at the Wheel, Audic Empire, Darkbird, Unusual Demont, Bexley, Claud, Primo the Alien; Nothing, Nowhere; Q and Nané were all cut from the lineup.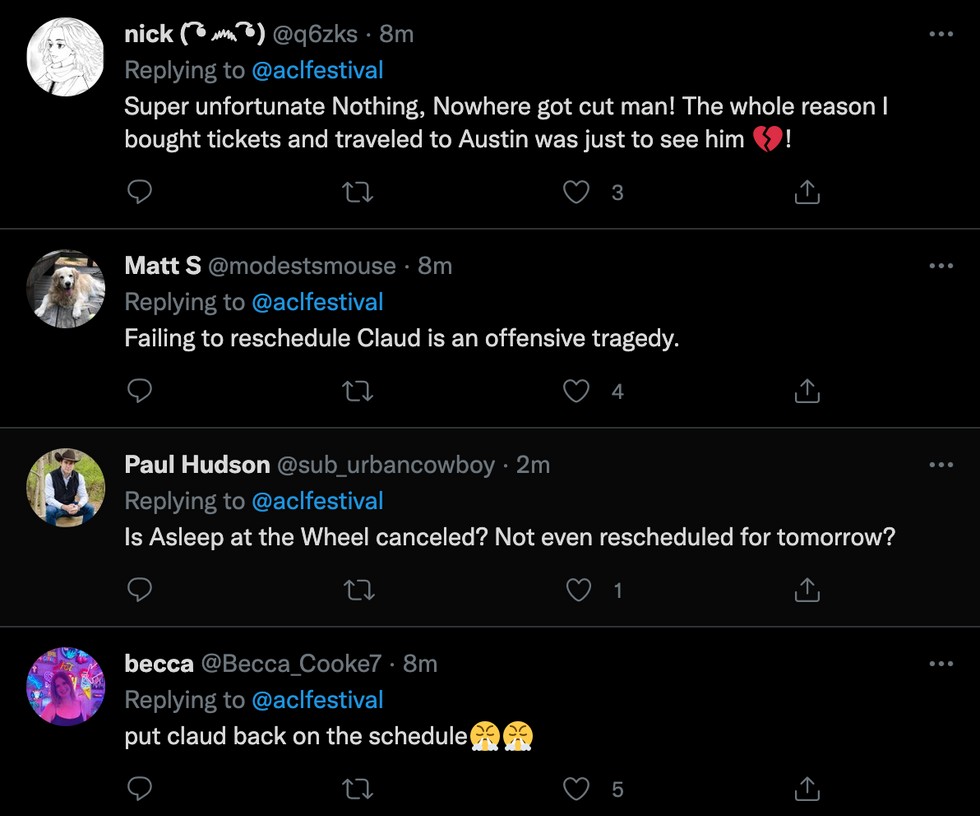 Fans were disappointed at the array of cancelations and some speculated that it would mean the entire festival will be canceled. It also seems the performances won't be rescheduled—Primo the Alien confirmed to Austonia that her set was canceled altogether.
10 a.m: Festival is delayed until 3 p.m.
Due to inclement weather overnight and impacts to Zilker Park, gates for the first day of ACL Fest will open at 3pm today. We look forward to seeing you this afternoon. Stay tuned for performance schedule updates. pic.twitter.com/Wju3pZsSCv

— ACL Festival (@aclfestival) October 1, 2021
Delaying the festival means canceling several sets—stay tuned for lineup updates.
Clear skies are expected from 11 a.m. to 2 p.m. but the rest of the day is looking like rainy skies. Keep your attire light, moisture-wicking and covered in a waterproof barrier for optimal comfort.
We'll be updating right here throughout the day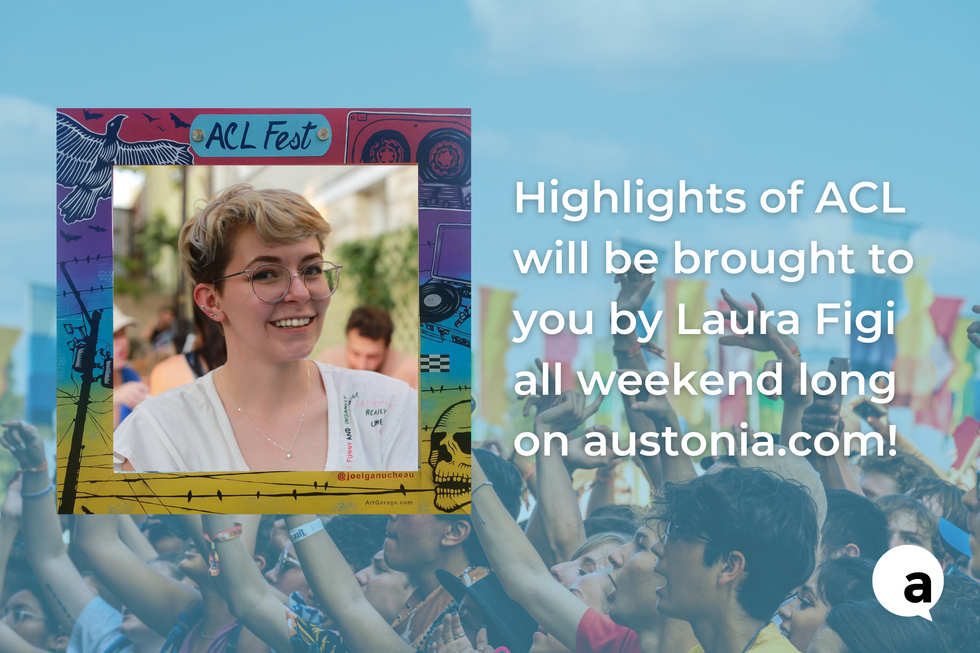 No judgment if you've waited until now to prepare! Before you head out, give our guides a quick read so you can get the most out of your wristband.
After casually searching for a home for years, Austin influencer and blogger Jane Ko experienced the pandemic housing surge firsthand when she found an empty lot near the airport in the summer of 2020. Stretched thin by high demand and limited supply, Austin's median home prices had already reached a then-record of $435,000 in August of that year, while new inventory grew by just 0.1% in that month.
Due to seemingly ever-increasing demand, Austin's homebuilding market has been busy—if not strained. New listings were up 6% in November 2021, while median home prices had cooled ever-so-slightly to $470,000. The area was ranked the fifth-busiest metro in the country for single-family homebuilding permits in August 2021, according to a National Association of Homebuilders report.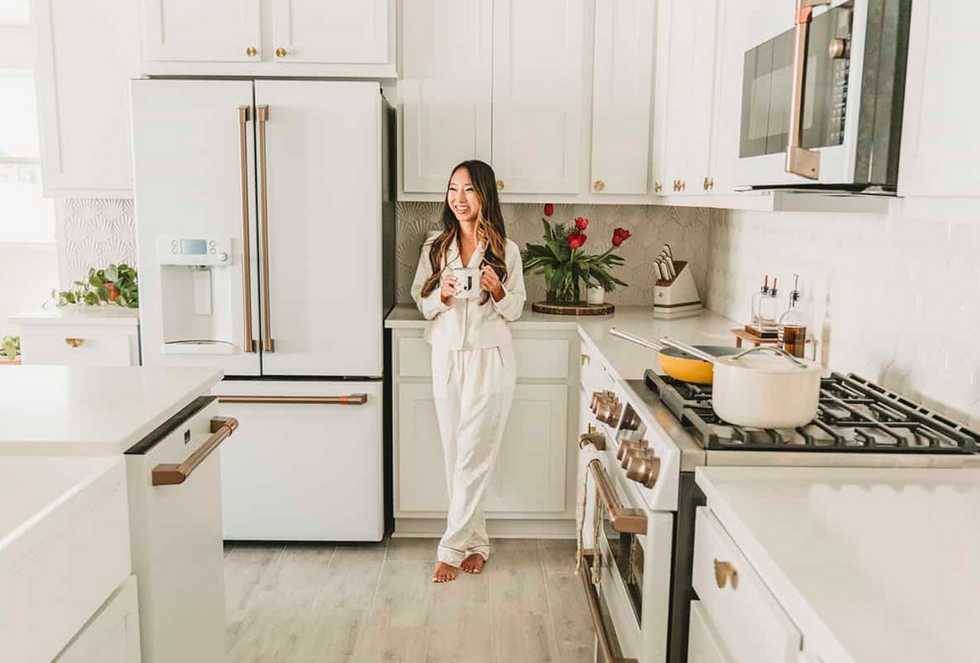 Austin influencer Jane Ko build a semi-custom home on an empty lot near Austin-Bergstrom International Airport. (Jane Ko/A Taste of Koko)
"I think for those of us that have been here, we've seen prices rise in the last five years and I kind of figured if I don't buy now, then I probably won't be able to," Ko said. "I kind of stumbled upon it and I think for a lot of people that's been really the only way to find real estate since the market is so hot."
Austin's inventory has remained somewhat low, especially in the center of town, leading some to believe that homebuyers are being "priced out" by the city's limited options. Area suburbs are reflecting that—the Kyle-Buda-San Marcos region saw 2,900 new home starts from September 2020-21, more than any other Austin submarket.
But with new developments working to keep pace with demand, 2021 Austin Board of Realtors President Susan Horton told Austonia the trend just reflects customer desires.
"I don't think that folks are being pushed by any means," Horton said. "Folks that want to buy out in the rural areas are buying for personal reasons and they're buying because they want the land and privacy. Folks really, truly want to be out. If you want a big lot, it's there."
Like many homebuyers during the pandemic, Ko was happy to scrap Austin's downtown for more space. Because she works from home, she said she and many of her friends are looking for bigger homes and bigger lots in hot areas like Dripping Springs.
Ko had the option of moving into already-built homes within the neighborhood but opted for a custom-built home instead—something that Horton said is another draw for prospective homebuyers.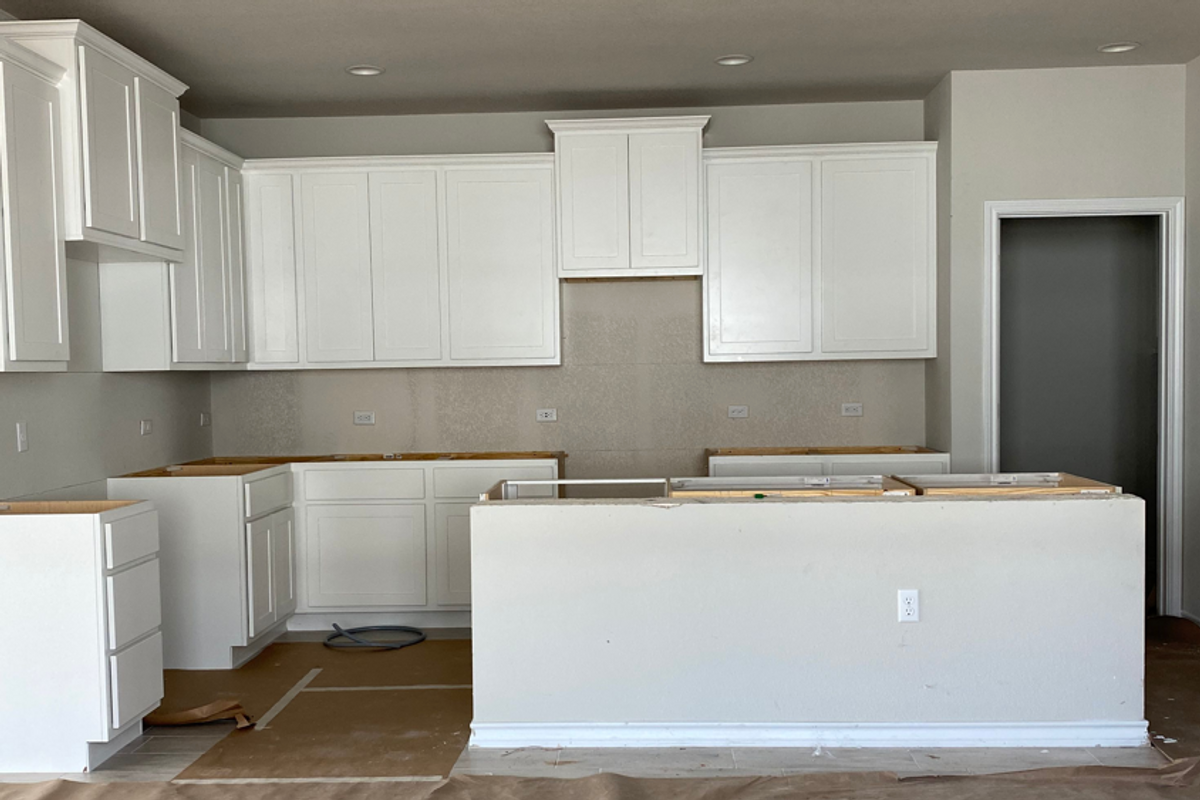 Austin influencer Jane Ko remodeled her kitchen after building her semi-custom home. (Jane Ko/A Taste of Koko)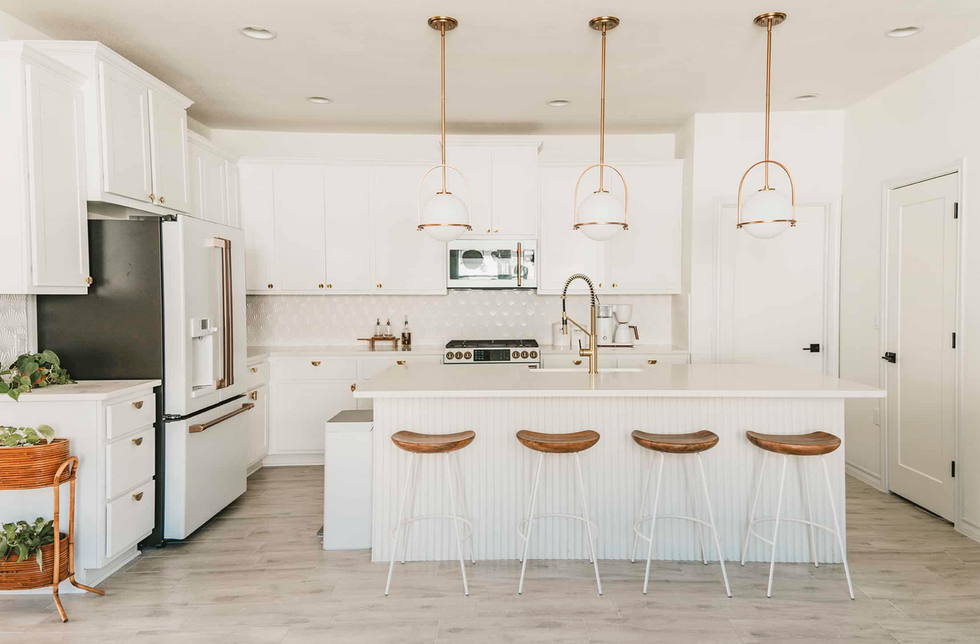 Ko's kitchen remodel took months due to supply chain delays/ (Jane Ko/A Taste of Koko)
"The desire to be away from the person next door is really most of the time the deciding factor," Horton said. "And then there are those that want to have a house simply because they want to design it themselves, and so those are the aspects that make buying that raw land and building a house really important."
But building a custom home has its drawbacks. Horton said construction loans, land surveying, zoning restrictions and road access are all hoops that can be jumped through with an experienced realtor.
But even through the tedious and stalled homebuilding process, Ko said it's been worth it to create a home made just for her.
"This is a place that I'm hopefully going to stay in for a very long time," Ko said. "And I think because I do a lot of entertaining at home and shoot photos at home, it's really important that my space looks the way I want it to."
In earlier phases of the pandemic, people took it as the perfect moment to uproot their lives to the newest boomtown. Many, particularly Californians, found a fit with Austin, enjoying the Texas weather and lower cost of living. But for some, it may only be a pitstop.
Melaku Mihret, who works remotely in Austin for a Meta office in the Bay Area, thinks some of the Californians who have moved to Texas in the pandemic may just move here temporarily, save money and then head back. Others have also speculated a possible reverse migration, but it may be too early to tell.
According to the Kinder Institute at Rice University, Texan migration to California has remained steady for years. And when it comes to Californians leaving, the institute says it's less about a pull into Texas and more of a push out of California driven by home prices.
But they're not all staying in Austin. U-Haul data shows departures from Austin were up 18% even as one-way arrivals were up 22% in 2021.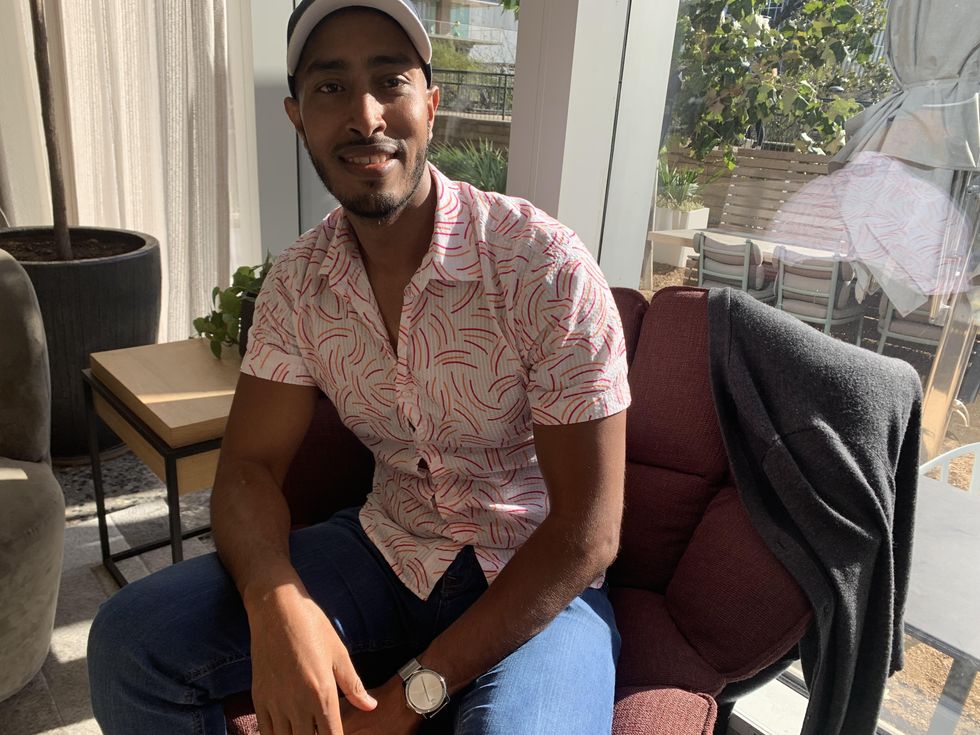 Melaku Mihret, a remote worker a Meta office in the Bay Area, is now living in Austin. (Andrea Guzman)
For Mihret, the biggest driver behind his move was the squeeze of costs in Northern California. If the cost of living wasn't an issue, Mihret said he'd live in the Bay Area. So if Austin continues to become less and less affordable, would Californians go back?
For Mihret, not many places come close to what California offers. He points to the nature, such as the mountains and lakes, in California and the massive tech hub it is. Austin is "not even nearly close to California," Mihret said, after acknowledging Austin's growth as an emerging tech hub.
Meanwhile others like Ian Davies, who grew up in Austin and left in 2011 when he was in high school, much prefer living in Austin.

His family had moved to Philadelphia, years passed and he eventually landed a job in financial operations at NBC Universal in Los Angeles, California. When the option of remote work during the pandemic came around, he longed to return home.

"I couldn't wait to move back to Austin," Davies said. "Not that I didn't enjoy my time in LA. But LA is just a whole other beast than Austin."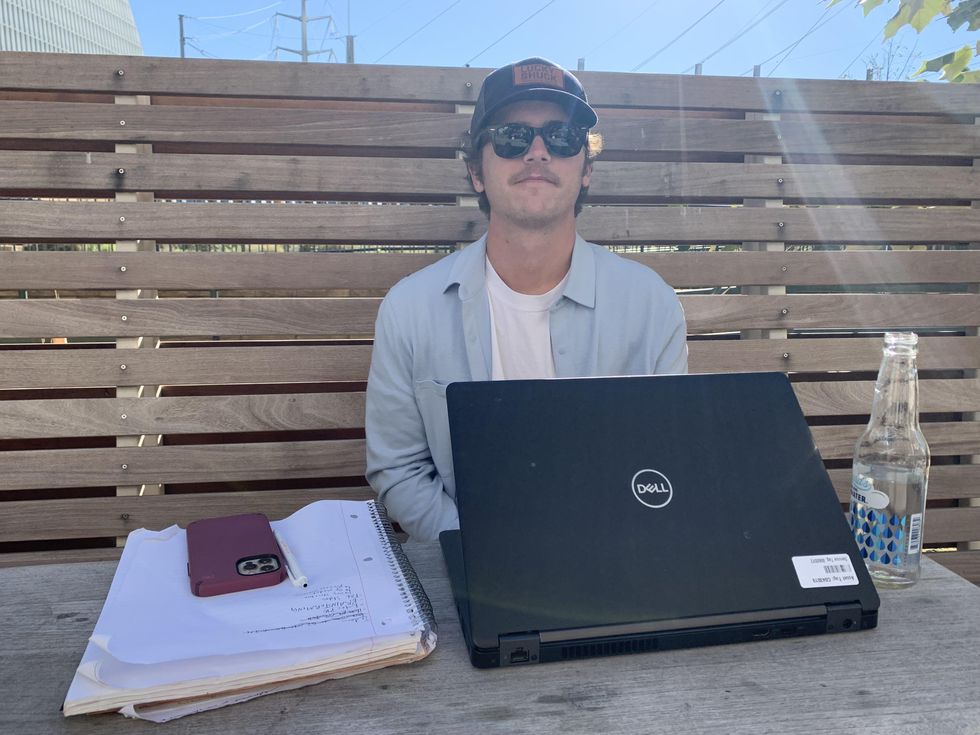 Ian Davies does remote work for NBC Universal in Downtown Austin in early January. (Andrea Guzman)
But a downside he says is it's become more expensive in the past year and half since he returned. The Austin-Round Rock-Georgetown metro area had the 12th highest change in a recent study on cost of living increases across the country. And among the nation's top 10 tech hubs, Austin saw the largest year-over-year increase in average rent this past September, with an average of $1,647.
It's a cost of a growing city. Davies sees a positive in all the growth, as he enjoys living in a city with a diverse population, like when he was in LA.
"There's a group of Austinites who are very against people moving here, and I'm definitely not part of that crowd. I want to share this city with other people. I think it's awesome."

He says he wouldn't want to be anywhere else.
"I hope that Austin can keep its soul and keep its weirdness. Like blues and rock and live music," Davies said. "I haven't seen much of that change. I hope people that move here can adapt the spirit of the past and carry that."