Austonia AM
100% Austin news, info, and entertainment, straight to your inbox at 6 a.m. every morning.
In five minutes, you're fully informed and ready to start another great day in our city.
Get connected with our daily update
After a barrage of cancellations swept through 2020 and bled into 2021, news of an in-person Austin City Limits Festival comeback may seem out of place. However, as the population inches toward herd immunity, it might not be so far off.
---
With possibly the most difficult year of the pandemic under our belts, here are a few reasons ACL could go on as scheduled in 2021.
1. ACL has been planning for the festival
An ACL spokesperson confirmed the planning of a fall in-person music festival to Austonia last week. Organizers have been promoting its 2021 dates since the same day it canceled the 2020 festival. While its social media accounts have been largely inactive, ACL's website is up-to-date on dates and times for the in-person festival.
2. Live Nation's CEO is confident in festivals returning
ACL is put on by Austin-based event management company C3 Presents, which is owned by Live Nation, a global entertainment company that puts on festivals around the world. During an investor call on Thursday, Live Nation CEO Michael Rapino said he is optimistic about the return of summer festivals this year. Citing 170,000 tickets that had been sold for three different music festivals in the United Kingdom, where the government recently ruled that large live music events can return at full capacity on June 21, Rapino said he thinks the U.S. could be on the same timeline. Festivals could start as early as midsummer if states can up their business capacity to 75%, Rapino said.
With more artists than ever wanting to tour and fans eager to make up for lost time, all signs point to even more concerts ahead. Thank you to all of our @LiveNation employees for their endless resilience and creativity – none of this would be possible without you pic.twitter.com/gdiapVYSyk
— Michael Rapino (@Michael_Rapino) February 25, 2021
After all…

3. "Everyone who wants a COVID vaccine will have had one"
Rapino said that by mid-summer, COVID-19 vaccines are projected to be available to the general public and believes outdoor events will be a preferable interaction since they are open-air. Some have suggested events as large as festivals should only be an option for people who have received and have proof of getting the vaccine.
"For both the U.S. and U.K., projections indicate that everyone who wants a vaccine will be able to get one by May or June, and Europe and most other markets following a few months later," Rapino said. "Given the mass social and economic toll the lockdown has put on the public, we believe there will be strong momentum to reopen society swiftly as soon as vaccines are readily available, and we believe outdoor activity will be the first to happen. So while the timing of returning to live will continue to vary across global markets, every sign points to beginning safely in many countries sometime this summer and scaling further from there."
Gov. Greg Abbott said last week that more widespread distribution will begin by the end of this month. While the vaccine process has been nothing short of a mess, Austin's vaccine allocation is on the up and up, as this week's allocation jumped up 50%.
With the approval of the Johnson & Johnson vaccine, which only requires one shot, The Texas Department of State Health Services will receive an additional 200,000 doses next week. As of Feb. 22, Austin had received 233,515 doses of the vaccine, but this week alone, the city will receive a 46,540 dose shipment. Plus, Moderna and Pfizer are ramping up production with the intention of delivering 300 million doses each by July. The state health department estimates that vaccines will be available to the general public this spring.
4. Cases are on a national decline
Although the U.S. is coming out of a massive spike that started around October, cases have been on a steady decline nationally since mid-January. Travis County has followed the same trend. Even though COVID-19 is still not under control, with a vaccine available and the worst spike behind us...
5. Tours are being planned
Austin-based musician Jackie Venson told Austonia last week that she had been vaccinated through a volunteer program, which meant she was finally ready to get back on the road and retry a tour that had been canceled in 2020. Artists all over the world are rescheduling international tours that were called off in 2020, including The Weeknd, Tame Impala, Harry Styles, Russ and Maroon 5. Some even have shows scheduled in Central Texas, months before ACL is even scheduled to begin.
This summer we were excited to be bringing Love On Tour to North America. However, due to the ongoing threat from Covid-19 we have been forced to reschedule these dates to next summer. pic.twitter.com/EqSlr6HmBb
— Harry Styles. (@Harry_Styles) June 10, 2020
6. Festivals are being planned

ACL is not the only festival that plans to reignite in 2021. While major spring festivals like South by Southwest, California's Coachella and UK's Glastonbury have been canceled for the second year in a row, other festivals later in the year have managed to skirt the issue by waiting. Although Dr. Anthony Fauci does not recommend easing up restrictions until the time is right, he said large gatherings should be safe to resume once the U.S. nears herd immunity—after 70-85% of people are vaccinated or have already recovered from the virus—which he predicted would be this fall last month.
Festivals like The Governor's Ball and Bonnaroo—New York City and Manchester, Tennessee, festivals that usually kick off June—have been postponed until September. On the local front, JMBLYA said it is planning 2021's festival and UTOPiAfest is already selling tickets for an October festival.
7. We really, really need it
After a year when no one thought things could get any worse, Texans have already been through the wringer with statewide political protests and the winter storm of the century that left millions without necessities.
Austin became the Live Music Capital of the World by playing live music and residents have certainly missed its presence. The pandemic has wreaked havoc on our lives from a physical and mental standpoint and while no Austinite wants to see anyone get hurt by a music festival that is supposed to bring joy to the city, going another year ACL-free just doesn't feel right.
Logistically, planning an international festival after a global pandemic is a challenge in and of itself. Some have talked about providing proof of a vaccine to enter, setting tents six feet apart or cutting the attendance lower to make the event a real possibility. For now, seven months away from the two-week fest, ACL is definitely a possibility.
After Austin voters passed Proposition B, reinstating a ban on public camping, City Council directed staff to look into possible sanctioned campsites where homeless residents could live legally. Now two members are asking to shelve discussion on the controversial topic.
Staff presented dozens of possible sanctioned campsites across each fo the 10 council districts in late May, following the election. But members mostly pushed back on the proposed locations, citing cost, wildfire risk and lack of transparency as concerns.
With updated criteria, staff recommended two sites—one in District 1 and the other in District 8—for further review last week. After being briefed on the options during Tuesday's work session, Mayor Pro Tem Natasha Harper-Madison, who represents District 1, and Council Member Paige Ellis, who represents District 8, issued a joint statement proposing "a pause" on further discussion of temporary sanctioned encampments.
"We are not convinced that these sites would be a cost-effective solution, but rather a band-aid tactic when we need to be supporting the long-term strategy to get folks off the street permanent," they said. "It is our responsibility to look at the situation holistically and objectively, and to spend out city's limited resources on solutions we know can work."
Homeless Strategy Officer Dianna Grey noted that the two locations were imperfect and would require a lot of time and money to outfit as sanctioned campsites during the briefing.
City staff and homeless experts have previously raised concerns about sanctioned encampments, saying they are expensive to maintain, challenging to manage and hard to close, even when intended to to be temporary.
In 2019, staff declined to make recommendations for such sites despite being directed by council to do so, citing 2018 guidance from the U.S. Interagency Council on Homelessness. "Neither authorized encampments nor parking areas provide housing for people experiencing homelessness," staff wrote in a memo. "Rather, each option detracts from the staff resources assigned to addressing this moral imperative."

But with Prop B being enforced and too few shelter beds and affordable units for the estimate unsheltered homeless population in Austin, the city is facing the same predicament that prompted District 9 Council Member Kathie Tovo to pursue possible sanctioned campsites in the first place: "When individuals in encampments ask where they should go, we need to have places to suggest," she said at a May 6 council meeting.
Don't lose your mask just yet—the Centers for Disease Control and Prevention announced it is now recommending masks in areas that are surging as cases rise nationwide and the Delta variant looms.
The CDC announced Tuesday that even fully vaccinated individuals should mask up indoors if their community is experiencing substantial transmission—defined as areas with more than 50 cases per 100,000 people. Travis County is sitting at an average of 94.59 cases per 100,000 over the past seven days, falling into the highest risk category, according to the CDC.
#DeltaVariant surging in U.S. New data show Delta much more contagious than previous versions of #COVID19. Unvaccinated people: get vaccinated & mask until you do. Everyone in areas of substantial/high transmission should wear a mask, even if vaccinated. https://t.co/tt49zOEC8N
— CDC (@CDCgov) July 27, 2021
After two COVID-19 recommendation stage jumps in the last two weeks, from Stage 2 to Stage 4, Austin-area cases are the highest they have been since February. The seven-day average for cases is on an upward trend, reaching 226 on Tuesday.
The CDC is also recommending that all students K-12 wear masks indoors, regardless of vaccination status. A May executive order by Gov. Greg Abbott prohibits schools from requiring masks, regardless of vaccination status. Austin ISD is "strongly" encouraging students to wear masks.
Although vaccinated individuals are still protected against the most severe symptoms of the variant, infections are spreading rapidly and now make up 83% of confirmed cases in the U.S. At least a dozen cases of the delta variant have been confirmed in the Austin area, though there are likely more since testing for it is limited.
CDC Director Dr. Rochelle Walensky said that hospital admissions are "almost exclusively" coming from people who are unvaccinated but those who are vaccinated can still catch and spread the virus.
"Unlike the alpha variant that we had back in May, where we didn't believe that if you were vaccinated you could transmit further, this is different now with the Delta variant," Walensky said. "That leads us to believe that the breakthrough infections, rare that they are, have the potential to pool and transmit at the same with the same capacity as an unvaccinated person."
Research suggests those who become infected carry 1,000 times more of the virus than other variants and could stay contagious for longer.
The announcement comes on the heels of the Biden administration ramping up cautionary measures in the face of the Delta variant. Just last week, the CDC said it had no plans to change its May guidance of vaccinated not having to wear masks unless there was a significant change in the data. Officials met on Sunday night to review new evidence,
according to reports.

The Moody Center, a $338 million, 530,000-square-foot multipurpose arena at the University of Texas at Austin, celebrated its topping out on Tuesday.
With the final beam placed, the arena's steel-frame structural phase—which involved more than 5.3 million pounds of steel—is complete.

"This past year has been full of unprecedented events, not to mention weather challenges, and yet the women and men working on this project continue to deliver," Moody Center General Manager and Senior Vice President Jeff Nickler said in a press release.
To celebrate the topping out Oak View Group, the development and investment firm behind the Moody Center will affix a tree to the final beam in keeping with the time-honored tradition.

The practice dates back to ancient Scandinavian religious rites, which involved placing a tree atop new buildings to appease tree-dwelling spirits displaced during the construction process, according to the International Association of Bridge, Structural and Ornamental Ironworkers in Washington D.C.
After the steel-frame structure phase, the development will move on to enclosing and finishing the interior of the Moody Center.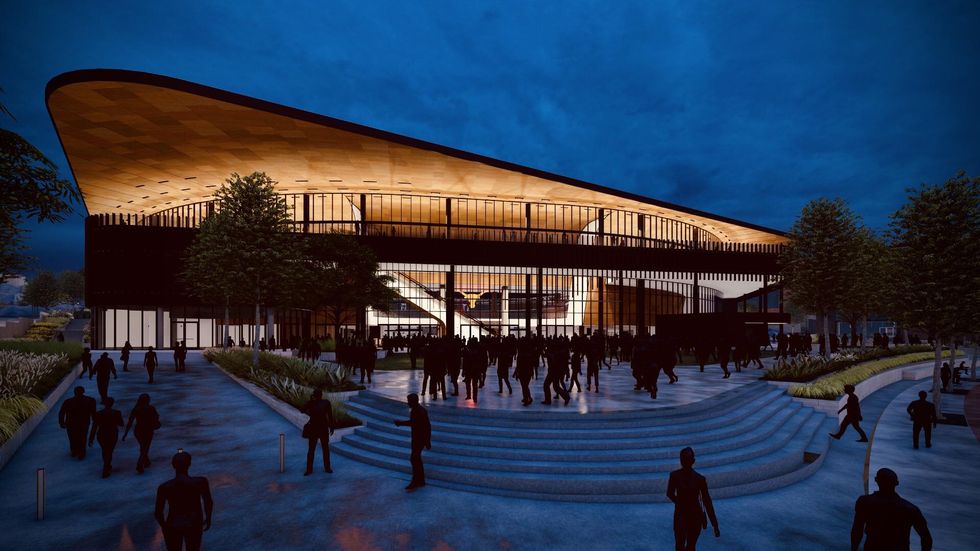 Rendering of the Moody Center. (Moody Center)
The arena is set to open next April and already has some major acts scheduled for its inaugural year, including The Weeknd, Justin Bieber, John Mayer and The Killers. It will replace the 43-year-old Frank C. Erwin Jr. Center and serve as the home of UT's men's and women's basketball games, among other sports and community events.