Get connected with our daily update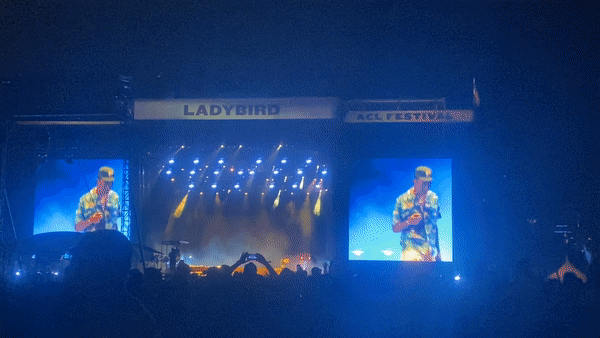 And just like that, weekend one of ACL has come to a fulfilling conclusion. We hope you enjoyed it just as much as we did. Headliner for day three was Tyler, the Creator, who put on a theatrical set that transcended his discography.
Austinites lucked out—the entire festival went off without a hitch and little more than a few drops of rain. Here are some of the highlights of day three.
---
8:30 p.m. Tyler, the Creator has lots of love for Austin, Texas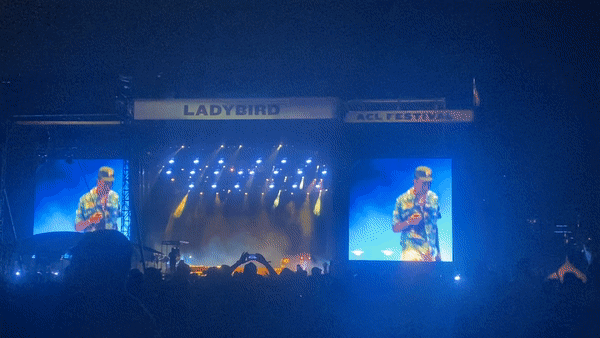 (Laura Figi/Austonia)
"AUST-EEN" was something Tyler, the Creator, whose real name is Tyler Okonma, brought up frequently during his highly-visual, nautical set that closed out Sunday's festival. Tyler took the Lady Bird stage with a pair of suitcases and headed for a mechanical boat on the other side.
Okonma was incredibly interactive with the audience—frequently addressing the crowd and getting real about his feelings about Texas.
"It's hot as fuck, based on my skin color I don't feel safe in most of the places in this fucking state," Okonma said. "But we are in my favorite city in Texas, I'm not just saying that, y'all have an incredible Whole Foods with brown sugar salmon."
Okonma's set at Lollapalooza was applauded for his theatrics and as a showcase of his work. His Austin set was no different, going as far back as "Yonkers," which he released in 2011 and first performed in Austin, and transitioning into newer tracks like "See You Again," which he did a singalong to, and "Earfquake."
thank you @tylerthecreator you were AMAZING pic.twitter.com/a9VaMEeOi4

— erika (@erikaseguraaa) October 4, 2021
Okonma closed his set with a fireworks display on stage, wishing everyone a safe trip home.
"All my Austin shows have always treated me with so much love," Okonma said. "Thank y'all so much."
6:30 p.m. Greta Van Fleet leaves fans with the uncanny feeling that they witnessed history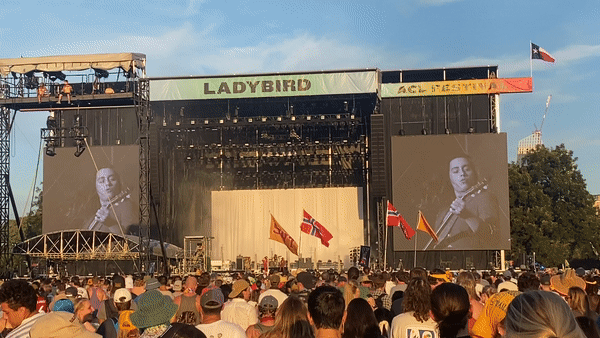 (Laura Figi/Austonia)
Opening with their smash-hit "Heat Above," Greta Van Fleet took the Lady Bird stage to much applause. Singer Josh Kiszka emerged wearing a bejeweled red jumpsuit, barefoot.
The band rarely addressed the crowd—stopping a few times to comment on the status of the sunset and thanking the audience for their cheers.
What's the deal? We'll see your beautiful faces shortly. @GretaVanFleetpic.twitter.com/fRegJGzj9B

— ACL Festival (@aclfestival) October 3, 2021
Greta Van Fleet's crowd cheered at the many sustained high notes, drum solo and a reverberating guitar solo that ended the show. "Safari Song" earned the band screaming applause while "Light My Love" had people swaying and couples dancing.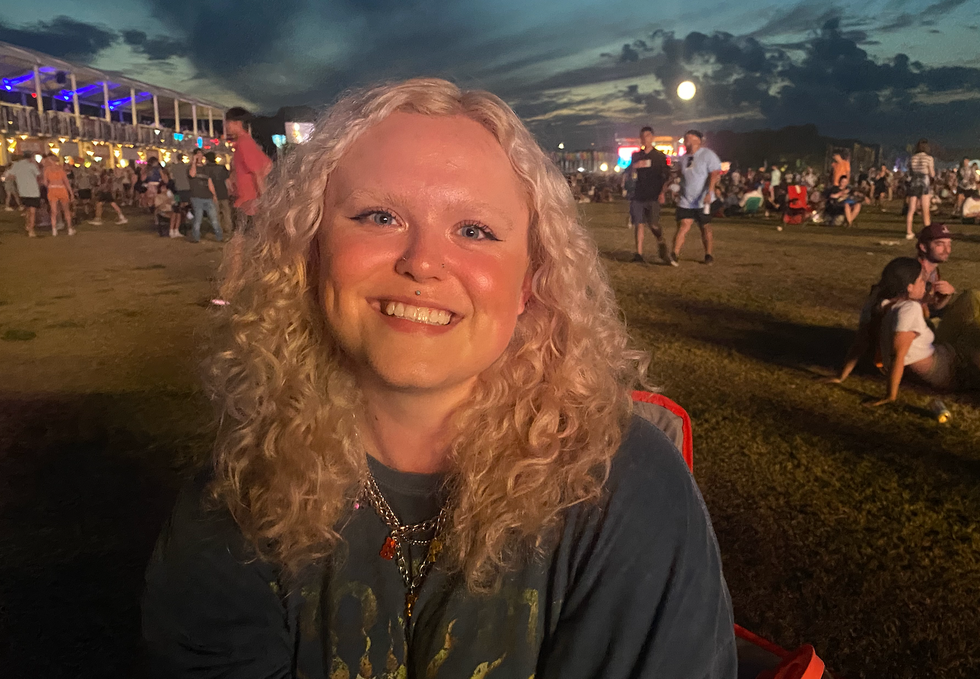 Delaney Shanahan traveled all the way from Dallas for ACL and hadn't heard much of Greta Van Fleet's music outside of the meme-worthy TikTok reputation they've gained. By the end of the set, Shanahan said she felt "euphoric," like she had just witnessed history.
"I felt like 'wow, I was at the Greta Van Fleet show at ACL in 2021.' Seriously, people will be looking back on it," Shanahan said. "Definitely part of history."
Shanahan said Greta Van Fleet has officially earned a spot on her playlist—falsetto and all—and as a longtime fan of Tyler, the Creator, she stuck around for his set on the same stage.
5:30 p.m. Austonia checks in with Sir Woman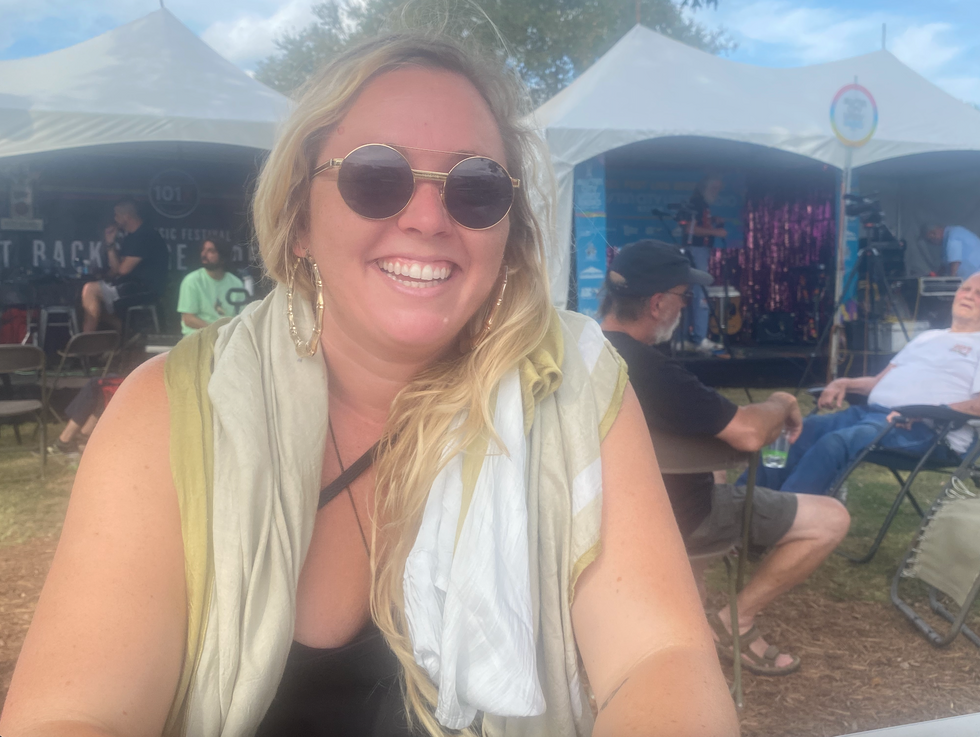 Kelsey Wilson took her solo project, Sir Woman, to ACL this year after several festival performances as the singer for Wild Child.
The crowd came and went just for Wilson, who told Austonia she was stunned to see a packed house under the Tito's Vodka stage.
"I was thinking it would be a little light but by the time we walked on stage, the tent was spilled over," Wilson said. "I could not have been more excited. Everyone was singing to every word, which was just insane."
A native Austinite, Wilson said she never meant to stay in her hometown but the community and support she gets in the Love Music Capital is too good to leave.
"I never thought I would stay in my hometown, ever, but this happens to be the greatest place to live for music," Wilson said. "There's a lot of really wonderful places to go but it's so supportive when it comes to your artistic community. I just feel so held by this place."
Wilson isn't done with festivals yet—she's also playing UTOPiAfest, which runs from Oct. 14-16 this year.
4:30 p.m. Band of Horses says Gov. Greg Abbott "sucks"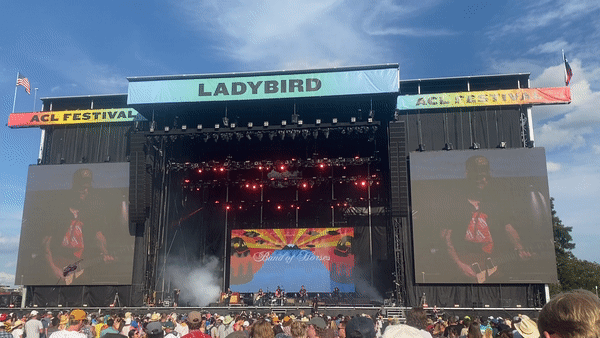 The political takes didn't end on Saturday—Band of Horses got on the Lady Bird stage at 4:30 p.m., thanking the audience for bringing them to their third ACL. However, the band made it clear they didn't stand with Texas leadership.
"What a treat it is to see y'all—thanks for coming to see us today," singer and guitarist Ben Bridwell said. "It's good to be back in Austin, Texas, even though your governor fucking sucks."
Band of Horses played "No One's Gonna Love You," lovingly dedicated to the audience, and a cover of Brooks & Dunn's "Neon Moon."
3:45 p.m. Austonia checks in with Austin-based Calder Allen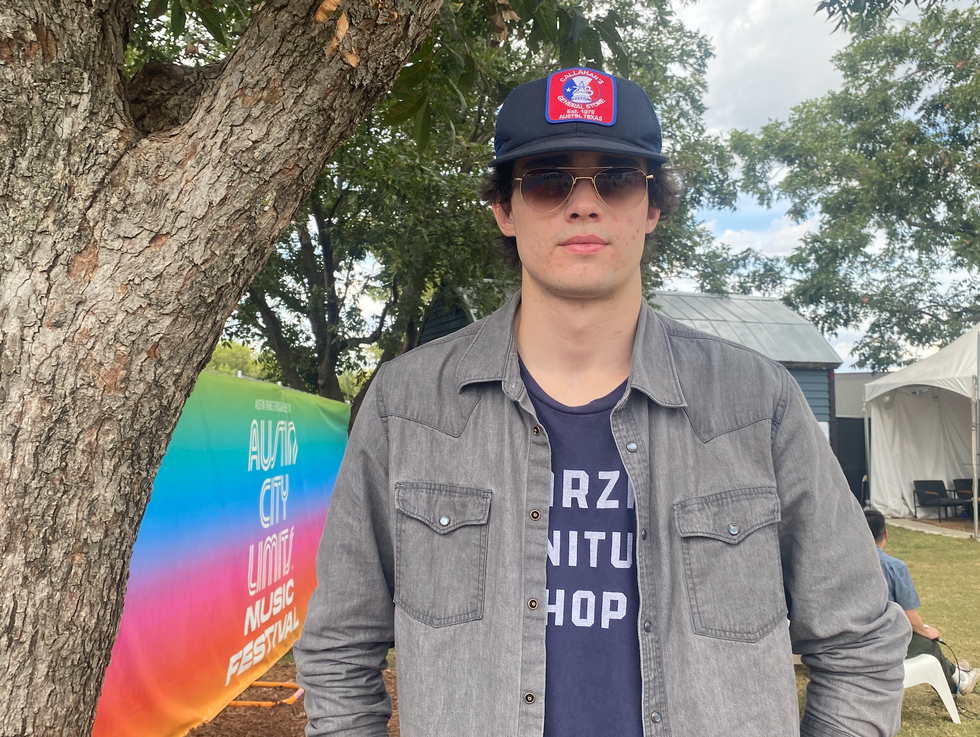 A very recent high school graduate, Calder Allen is one of the youngest performers at the festival. Allen took the Tito's Vodka stage from 1 p.m.-1:45 p.m. with a host of special guests: Charlie Sexton on vocals and guitar, Martie Maguire on violin, Bukka Allen on keyboards, Glen Fukunaga on bass, Billy Cassis on guitar, and Conrad Choucroun on drums.
Growing up with a family of musicians, Allen's musical prowess is in his DNA. Allen is currently in school at the University of Montana and makes lots of time for fly fishing, his other passion, and said he's going to go where the wind takes him.
"Coming to ACL throughout high school, now playing it and seeing my friends in the crowd, it's funny," Allen said. "I'm open to anything so I'll just see where the music takes me."
Sights around the park: Flags are a great way to landmark (and rally for a cause!)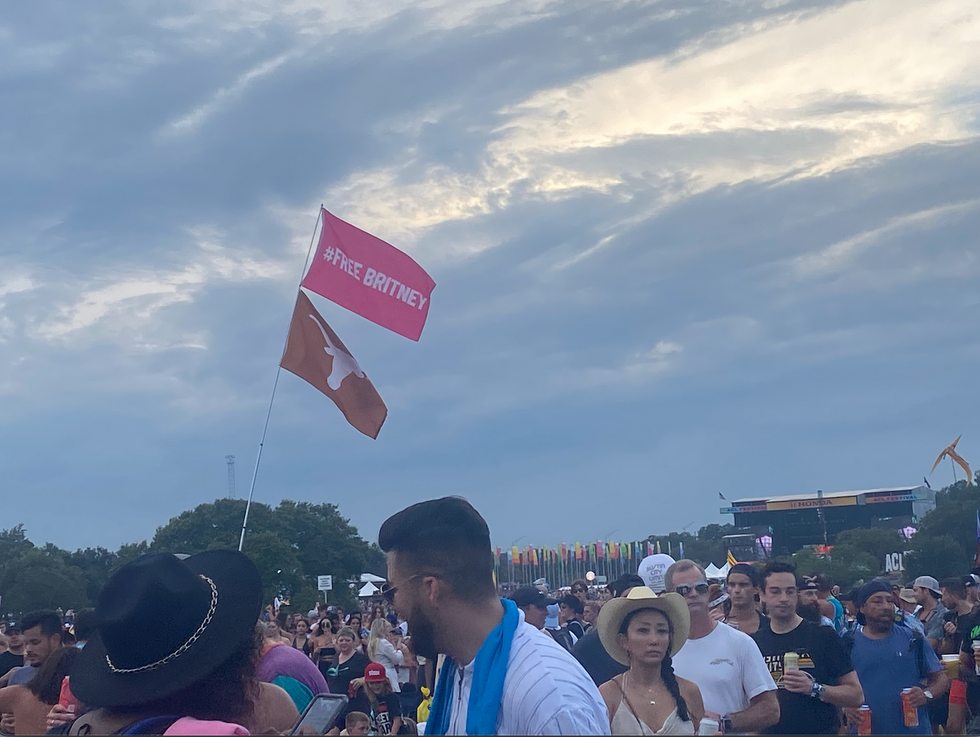 You'll see all types of flags around the fest but this #freebritney flag caught eyes.
3 p.m. Born and raised Austinite Gina Chávez is making connections with her audience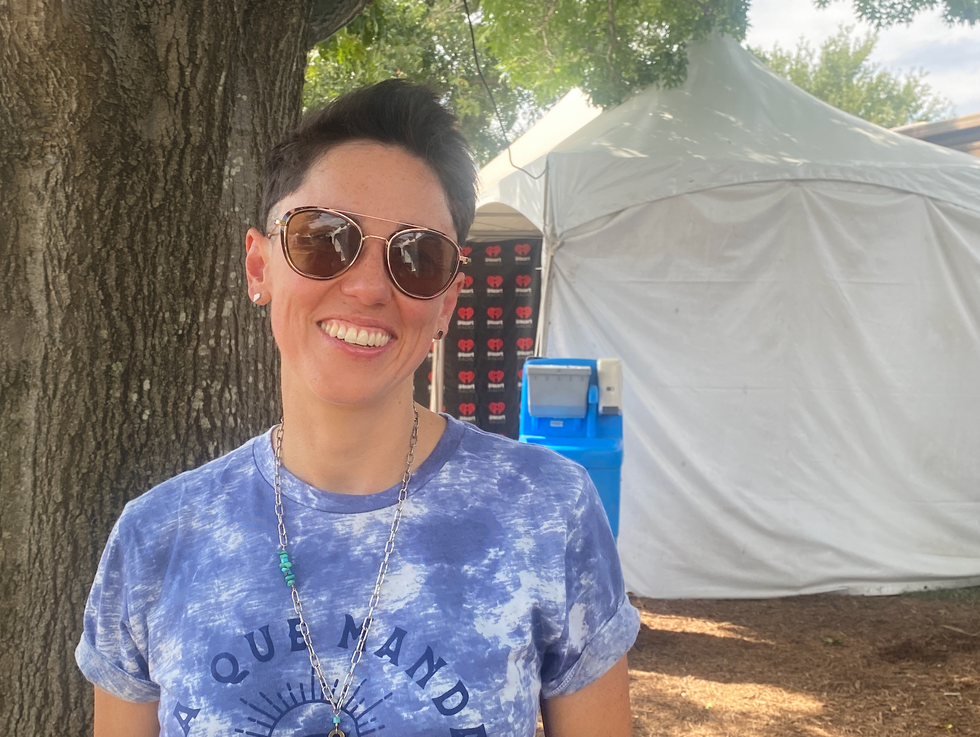 Her second time at the festival, Austinite Gina Chávez played on the BMI stage yesterday at 5:20 p.m. A feminist and queer Texan, Chávez had a jam-packed day on Saturday; first, she played a set at the "Our Bodies are not Your Choice" rally at the Texas Capitol.
Chávez just released her first all-Spanish album and said she was excited to be back at the festival after five years, full of energy after the pandemic shutdown and having grown alongside her band.
"Everybody's so grateful to be here and be around—it was great," Chávez said. "I've been performing bilingual music my whole career. People love it—we take them on a journey."
Chávez has one last ACL show left—an ACL Late Nights performance tonight at Antone's. Doors open at 7 p.m.!
1:30 p.m. Mother Mother dominates Zilker Park's afternoon crowd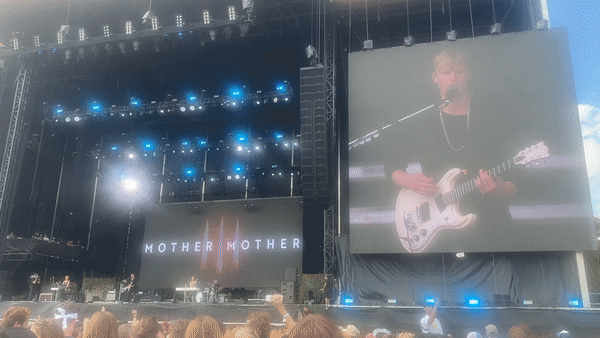 (Laura Figi/Austonia)
The Vancouver-based band hopped on the Honda stage at 1 p.m. playing songs from their aptly-named new album, "Inside." Larger than life and excited to play for hundreds of fans clumped around the stage, vocalist and guitarist Ryan Guldemond said the band was excited to be back in Austin.
"It is a gift, a blessing, a privilege to be here," Guldemond told the audience.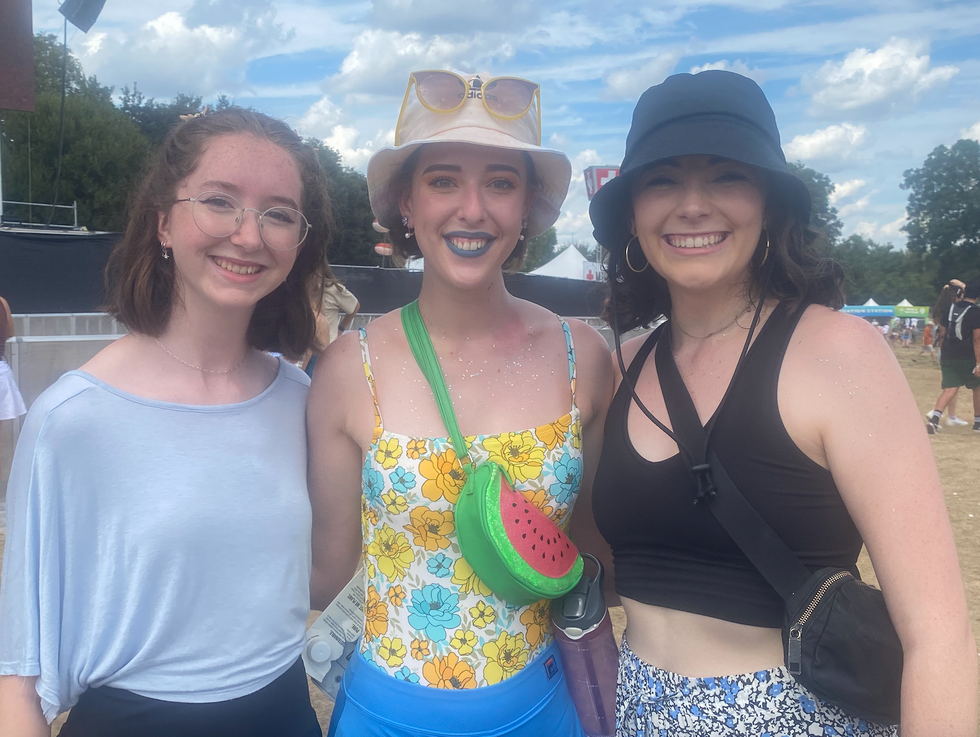 From left to right, 17-year-old Avery Thomas, 23-year-old Victoria Soderman and 23-year-old Taylor Thomas also said they were excited to discover new bands at the festival. (Laura Figi/Austonia)
From left to right, 17-year-old Avery Thomas, 23-year-old Victoria Soderman and 23-year-old Taylor Thomas also said they were excited to discover new bands at the festival. (Laura Figi/Austonia)

Trio Taylor and Avery Thomas, and Victoria Soderman said out of all the bands they came to ACL to see, Mother Mother was the one they were most excited for. Their favorites? "Burning Pile" and "Wrecking Ball," though Mother Mother closed the set with their most famous song, "Hayloft."
"It's a very surreal moment when you realize you're actually seeing (them) live, in-person," Soderman said. "Not through a screen, not through any kind of technology, it's such a personal soul connection and there is nothing like it."
12:30 p.m. Bastrop-based Deezie Brown brings the "funk"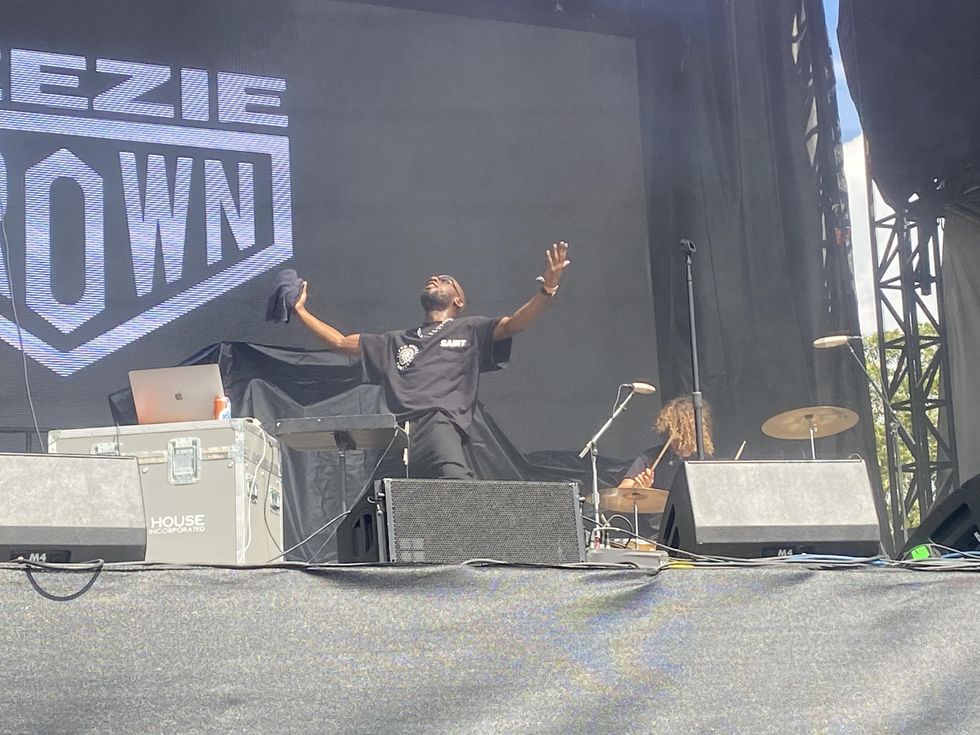 (Laura Figi/Austonia)
Rock, soul and funk—that's what Deezie Brown brought with him to the Miller Lite stage. Bastrop born, Brown said he had never been to ACL, either to attend or perform.
It may be hot out but Brown's set was ice cold.
Sights around the park: Bumble's Hive has free goodies in exchange for a peek at your profile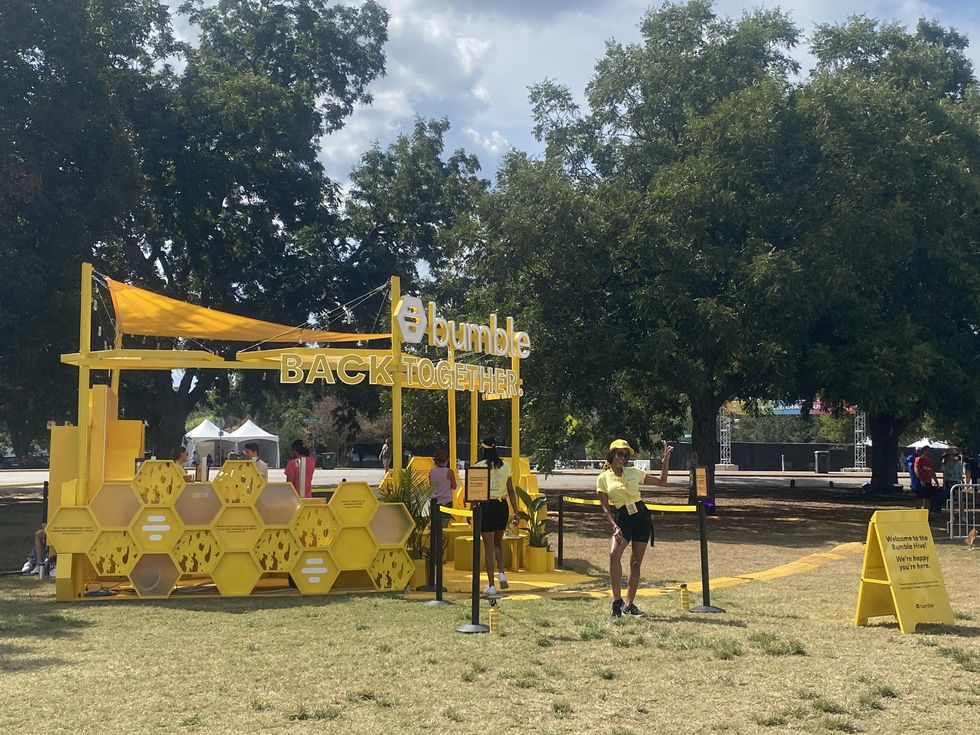 (Laura Figi/Austonia)
Located right near the Honda and BMI stages, the Hive asks only to look at your dating profile for entry. Inside, there's space to lounge, fill up your water and snag a cute photo or two.
Check out the full lineup for Sunday: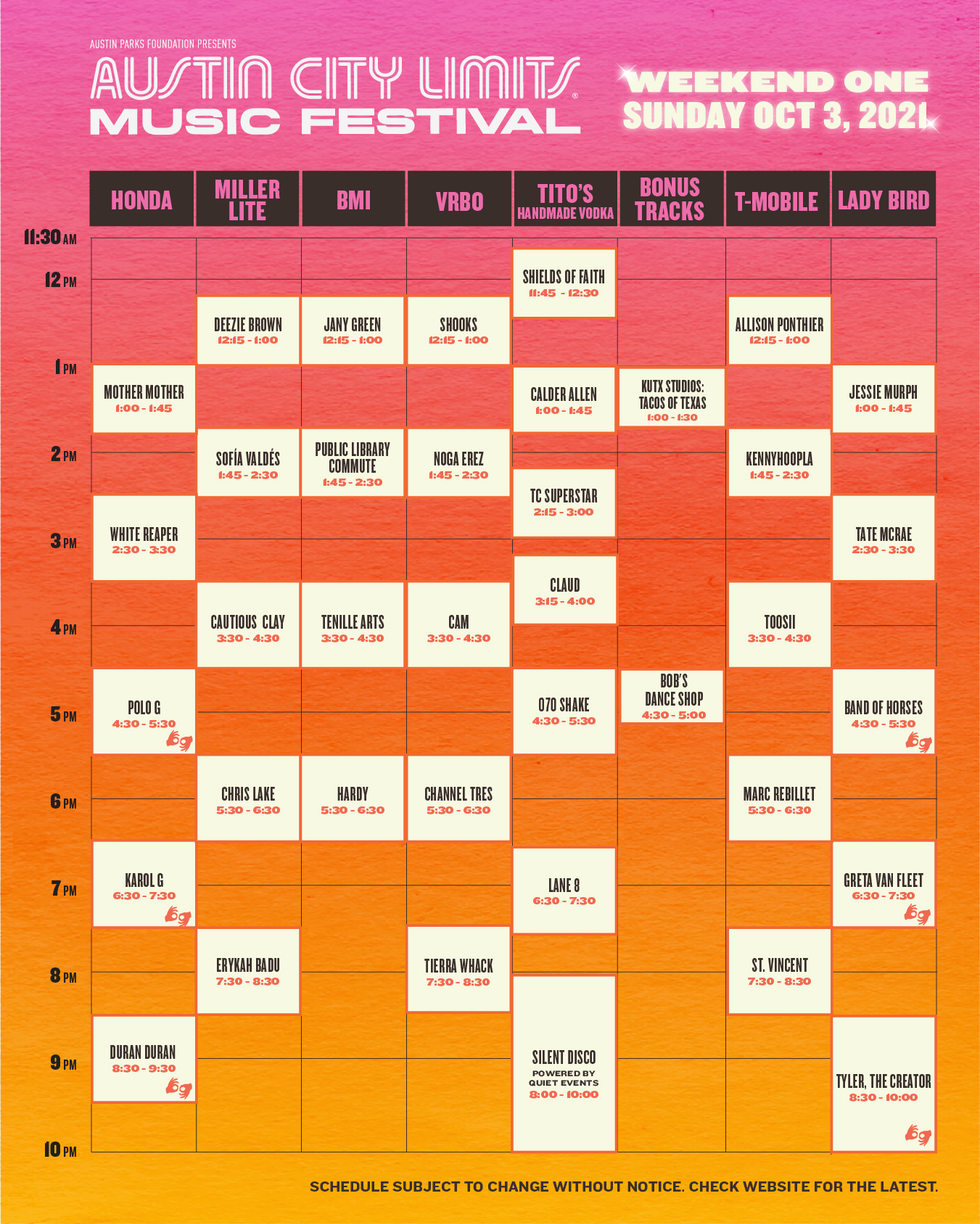 ICYMI: Billie Eilish and Phoebe Bridgers say 'bans off our bodies,' Doja Cat puts on an ethereal show, Remi Wolf gets the crowd bouncing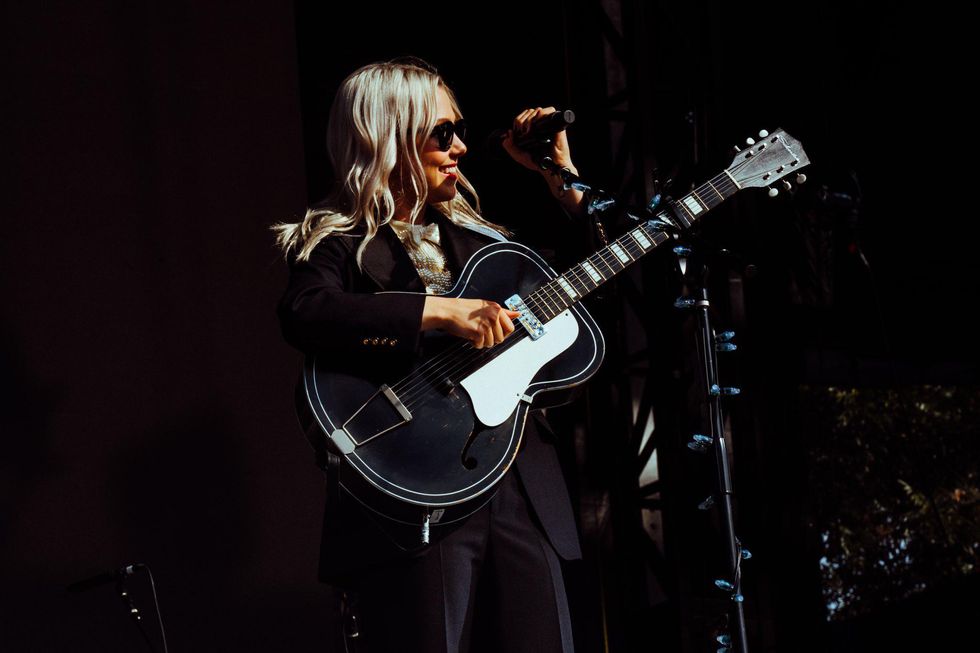 (Jackie Lee Young and Miranda McDonald for ACL Fest)
In a word, day two was iconic. 🤘
Another star-studded day of performers, hysterical fans, festival outfits and hours under the Texas sun is ahead of us, but in case you missed day two, here are some of the highlights.
Billie Eilish and Phoebe Bridgers spoke out against Texas' new abortion law. Bridgers shot a jab at Gov. Greg Abbott for signing the bill and Eilish said she almost pulled out of the festival, "when they made that shit a law, I almost didn't want to do this show."
Doja Cat put on an ethereal, dance-heavy performance to a frenzied group of fans. The immensely popular rapper dominated the Lady Bird stage for the night, attracting a massive crowd that stretched halfway across the park.
Remi Wolf's bouncy set prepared fans for Bridgers and Alison Wonderland—from the T-Mobile stage, Wolf had fans dancing all the way over to the Lady Bird stage.
Wait times to get inside the festival were definitely better than day one and there wasn't a drop of rain in sight throughout the whole day!
We'll be updating right here throughout the day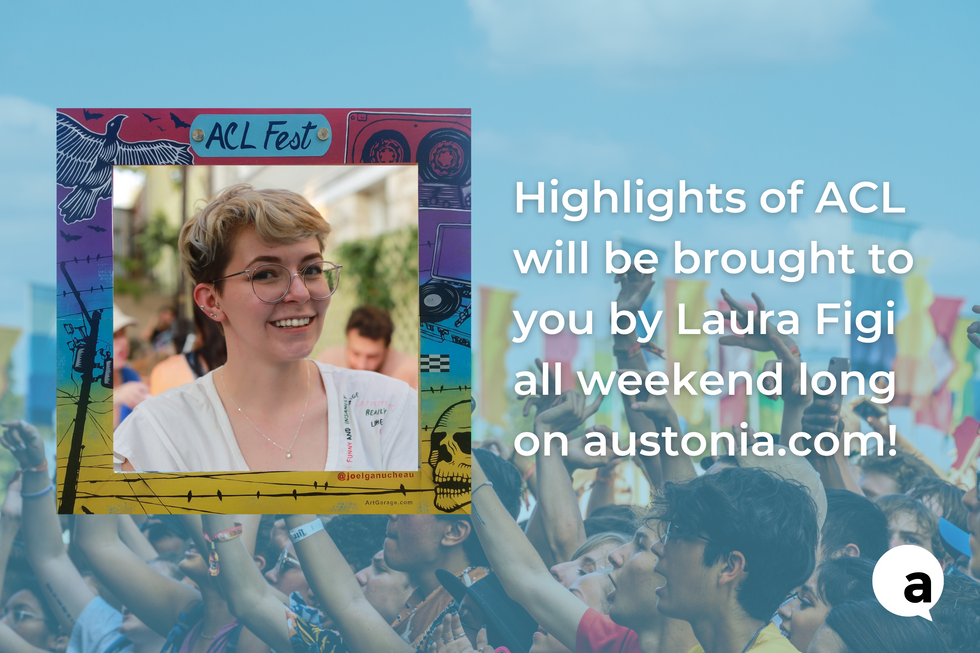 We'll be updating right here throughout the day
Before you head out, give our guides a quick read so you can get the most out of your wristband.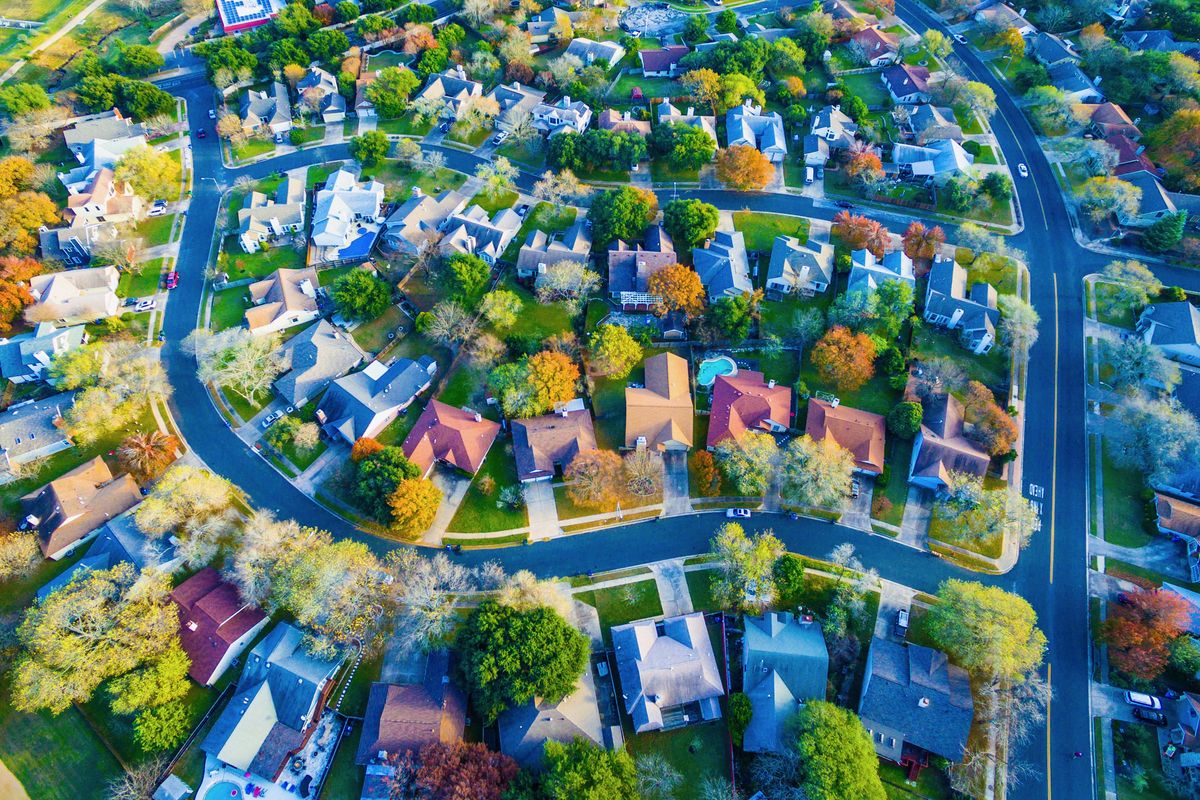 Shutterstock
So you want to buy a house?

To anyone trying to get on the "housing ladder," it's been a discouraging couple of years as prices skyrocketed in a market crowded with buyers bidding against each other for just about any available home.

Things may be calming down, with the Austin Board of REALTORS reporting fewer sales and more available homes this summer.

Mortgage rates have more than doubled in the last year, from around 3% to well over 6% on a 30-year fixed rate loan, getting even more of a bump this week after the Federal Reserve raised bank rates on Wednesday.

So how affordable are homes right now? That, of course, depends on what you want and how much you're able or willing to pay, but here are some rough estimates of what a typical buyer would pay to buy a $650,000 home, which would be considered "mid-price" in today's market.

Mortgage banker Chris Holland (NMLS 211033) of Austin's Sente Mortgage ran some numbers for Austonia to illustrate a typical purchase.


Holland says that while the 30-year fixed rate mortgage is often mentioned in the media, the most popular loan that he's seeing now is a 7/1 adjustable rate mortgage, which has a fixed rate for 7 years and then adjusts every year based on market rates, with a limit on how much it can increase each year. The interest is amortized over a 30-year period. Adjustable Rate Mortgages (ARMs) offer lower rates than fixed rate loans.

Here are the numbers, which are examples. In practice, exact numbers vary with a buyer's credit rating and overall financial situation, and with the rate, which can move up or down at any time.
$650,000 home purchase price
7/1 ARM at 5.875%
5% down payment, equals $32,500
95% financed, equals $617,500
$4,990 payment, including principle and interest (P&I), insurance, and property tax
Typically, a borrower's debt to income ratio needs to be at or below 45%. So for this mortgage, a borrower, or borrowers, would need income of roughly $11,100/month, or $133,200/year. That number could be higher, depending on the buyer's outstanding credit balances on things like credit cards and car loans.
Not included are closing costs, moving costs, maintenance, and any changes a new buyer might want to make to the home.

Holland says he's had a lot of clients approved for loans who were house hunting but have put that on hold, hoping prices come down.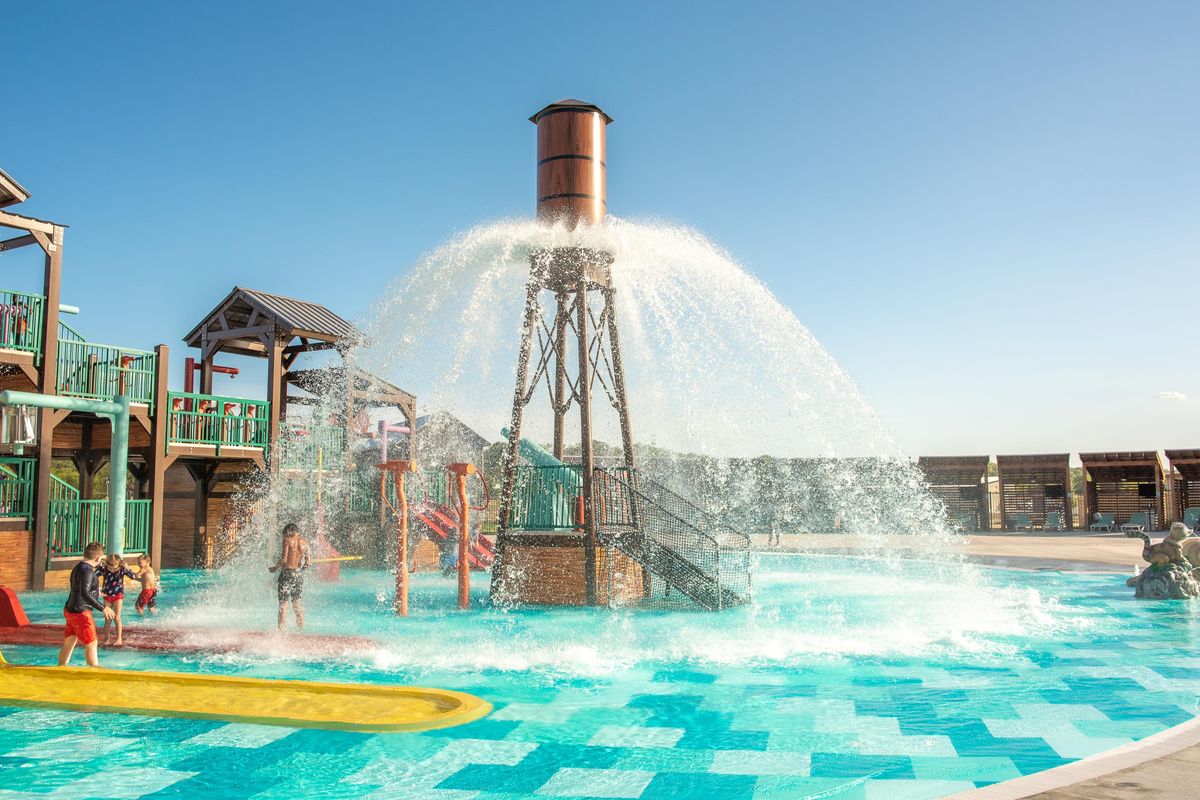 Camp Fimfo Waco
Camp Fimfo Waco, a brand new camping resort, is kicking off football and fall camping season in style! With top-notch amenities, premium accommodations, and 10 weekends of fall fun, there's no better place to have a fall camping getaway, especially if you're a Baylor football fan!
Fall promises to be a one-of-a-kind camping experience. From Sept. 16 to Nov. 24, weekends will be packed with fall-themed activities, including special Halloween weekends in October. Campers can enjoy activities like fall crafts, campground trick-or-treating, costume contests, site decorating, outdoor movie nights, and more!