Austonia AM
100% Austin news, info, and entertainment, straight to your inbox at 6 a.m. every morning.
In five minutes, you're fully informed and ready to start another great day in our city.
Get connected with our daily update
One hour after tickets went on sale for Austin City Limits music festival, all tickets from general admission to platinum sold out for Weekend One with Weekend Two tickets selling out two hours later.
The festival will take place in Zilker Park on the first two weekends in October with headliners Stevie Nicks, George Straight, Billie Eilish and more. View the full lineup here.

This story has been updated as Weekend Two tickets sold out.
After beating Minnesota United 1-0 last time they were at Allianz Field, Austin FC is looking to get some much-needed points in the board up North. Hot off of an energy-fueled draw at home, the club is hoping to break a scoreless streak and bring back a win for their first midweek match.
Follow along here for the biggest plays of the game.
7:05 Last-minute lineup changes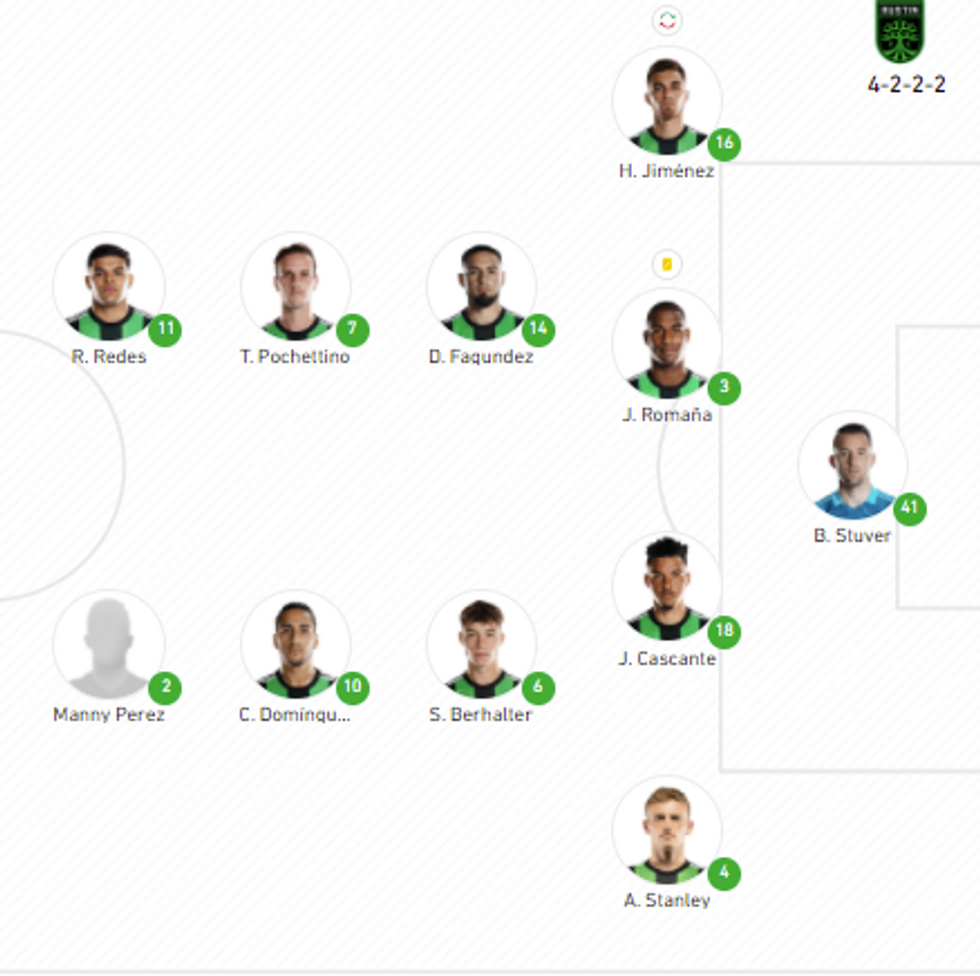 (mlssoccer.com)
Austin FC has already suffered from a thin roster, and it's exemplified in this match: at the last minute, the club announced that captain Alex Ring would be substituted out of the match. Austin FC announcer Adrian Healey suggested that Ring suffered a tweaked ankle in warmups.
Surprises are plentiful on the starting XI. Manny Perez and Aedan Stanley have both made their starting debuts with the club, a recovered Jhohan Romana is in for veteran Matt Besler, and Berhalter was put in for Ring. Hector Jimenez and Rodney Redes also make rare appearances in the starting lineup.
10' Minnesota makes the first move
Fragapane's first goal at Allianz Field is absolute 🔥🔥🔥!

Loons lead 1-0! #MINvATX pic.twitter.com/GtI0FRhxxG

— Major League Soccer (@MLS) June 24, 2021
Austin FC new Minnesota's Franco Fragapane would be a threat. 10 minutes into play in his second match with the Loons, Fragapane got his second goal with the club to make the match 1-0. Austin FC's new group is going to need to gain some confidence fast to get another lead at Allianz Field.
18' Minnesota cracks a quick 2-0 lead
🗣 "Adrien Hunou on home debut makes it 2!"

The Loons are feelin' it! #MINvATX pic.twitter.com/YpbdecRuDW

— Major League Soccer (@MLS) June 24, 2021
On his home debut with the club, Adrien Hunou's expertly-placed header gives the Loons a quick lead over Austin. Fragapane once again gets his feet on the goal as his sailing set piece is brought in.
Austin needs some offensive confidence and just a little bit of luck to get back on track.
33' Hunou is caught offsides
It looked like Austin may be 0-3 in Minnesota, but the Loons' Adrien Hunou is thankfully called offsides to make it a 2-0 match.
Halftime report: three fans weigh in
Austin FC fans all in rare agreement at the half: Austin FC is tired.

Zach Gonzalez, Adrian Martinez and Cade Summers weigh in: pic.twitter.com/gwT5wumvsT

— Austonia (@austonianews) June 24, 2021
For the first time in a long time, fans are all in agreement: Austin FC did not have a good half. Fans Zach Gonzalez, Adrian Martinez and Cade Summers say that the club looks tired back on the road and can't gel with all the injuries and new faces on the pitch.
55' Dominguez is out as Stuver takes the armband
this would've blown the roof off the place...

...if we had a roof pic.twitter.com/9dBQAyo7br

— Minnesota United FC (@MNUFC) June 24, 2021
Star striker Cecilio Dominguez is substituted in for Jared Stroud, giving keeper Brad Stuver the responsibility as captain. He earns it immediately with a show-stopping save that wows even the Minnesota Twitter account. Stuver once again makes the game closer than it should be as Austin struggles to find their groove on the road.
Although the scoreboard doesn't show it, Austin FC and Minnesota actually have the same amount of shots on goal (3).
Austin ISD secondary students failed courses at much higher rates in the second semester of the 2020-21 school year compared to the 2019-20 school year, even as campuses reopened to students, according to new data released to Austonia.
Around a third of high school students failed at least one course in both semesters of the most recent school year, with a slight increase in the second semester—34.8% compared to 32.7%. During the 2019-20 spring semester, around 15% of high school students failed at least one course.
A similar trend occurred at the middle school level, where around 30% of students failed at least one course in both semesters of the 2020-21 school year. This is nearly double the rate of student failures in the first semester of the 2019-20 school year and more than triple the rate in the second semester.
This updated data shows that student failures continued to be an issue at AISD even as campuses reopened. District officials have attributed the higher failure rates to the challenges of hybrid learning.

AISD resumed in-person classes after winter break as the local COVID-19 risk level improved but continued to offer remote learning through the spring semester—an option that most middle and high school students favored. During the final weeks of classes, which ended June 3, about one-third of middle school students and fewer than 10% of high school students were learning on campus, according to the district.
This trend is not limited to AISD. Similar failure rate increases occurred across the 10 largest Houston-area school districts, according to a recent KHOU report. And nearly 30% of high school students in the 15 largest Central Texas school districts were failing at least one class midway through the 2020-21 school year, according to a KVUE Defenders report published in February.
Rising failure rates are also not completely a consequence of the pandemic, during which time public school districts, including AISD, faced falling enrollment, funding challenges and a widening digital divide.
Other issues
Students were facing myriad challenges during this last school year in addition to the pandemic. Texas Appleseed, an Austin-based nonprofit, published a statewide report on K-12 students during the pandemic in March, which found an increasing number of students faced food and housing insecurity while dealing with the pandemic, virtual learning and the nationwide reckoning with police violence.
Andrew Hairston, co-author of the report and director of Texas Appleseed's Education Justice Project, said rising school failure rates "provide a microcosmic view of what has been a year of tremendous suffering for your people and their parents and their families" in an interview last month.
Moving forward
AISD announced last week that it plans to return all students to on-campus learning in the 2021-22 school year, as local COVID case rates remain low and after state lawmakers failed to pass a bill that would have allowed for some virtual learning options. "We know and realize this will be a big shift for our students, so we're committed to doing everything possible to help them in that regard," Chief of Schools Anthony Mays said in a statement.
The Texas Appleseed report included a series of recommendations for school districts to alleviate student suffering, including issuing bans on suspensions and expulsions, considering offering a pass/fail grading system for the 2021-22 school year, cutting school police budgets and reinvesting the money into full-time mental health care providers and support services.
"There's just going to be such resounding ripple effects from this pandemic in so many different ways," Hairston said. "It's going to be catastrophic if districts don't take prophylactic measures now."
Flights may be in high demand, but just as many people are taking to the road as they look for their first post-COVID vacation this summer.
For those in Texas, road-tripping may be easier than you'd think: the state was ranked second-best for road-tripping this summer in a WalletHub study. According to the personal finance site, over two-thirds of people in the U.S. are taking a vacation this summer, and 59% of people said they'd rather drive than fly.
Based on 33 key metrics, Texas was just behind New York as the best state to road trip through.
With the fourth-most attractions, third-lowest gas prices and ninth-lowest cost, Texas's sprawling countryside provides more bang-for-your-buck journeying through the Lone Star State. It was also found to have the most restaurants per capita of any other state in a previous WalletHub study.
With the fourth-most attractions, road trippers are bound to find something to see from West Texas' desert beauty to South Padre Island's esteemed beaches. Just make sure to bring a friend: the state ranked 34th in overall safety.
From camping to city hopping, Texas is packed with natural wonders and modern fun sure to entertain any vacation planners as the summer heats up.