Get connected with our daily update
After a year-long hiatus, Austin City Limits is returning to Zilker Park—the festival's iconic central Austin location. But after 18 years, some residents are ready to see the festival move to a different part of town, lamenting another year of traffic, losing access to their favorite park and corporate greed.
---
Longtime Austinite Robert Reeves, a lover of live music who spent years working on the Vans Warped Tour, has been living in the city since 1992. Reeves said he wants ACL out of Zilker Park, not just to save a few minutes driving on the weekend, but also to keep Austin local.

ACL is run by C3 presents, an Austin entertainment company. However, in 2014, 51% of the company was acquired by Live Nation, a Beverly Hills-based company. While C3 puts on the festival, Live Nation has a big say on how the show is run.
"It is no longer the showcase for Austin and Austin talent," Reeves said. "You don't get credit for being homegrown Austin when you're no longer a homegrown Austin company, when you're catering to people outside and you're causing problems for the residents here."
Reeves is not the only resident who feels this way. Austinites took to Twitter and a recent Towers survey to share their displeasure with the festival's location.
Since shit in Austin flows downhill, expect Roy Guerrero Park to soon be publicly talked about as a new location for the ACL Festival. Because of all that diversity, equity and inclusion n' stuff. It should move to COTA.https://t.co/nQ9GwqrpVp

— Fred McGhee (@fred_mcghee) July 4, 2021
I actually do think Zilker is too small for ACL now. So the next logical place for it to move would of course be Muny. https://t.co/E4G3QogIB9

— sarianrogue (@sarianrogue) July 2, 2021
The problem, Reeves says, is that the festival no longer supports the community. C3 has donated more than $35 million to Austin Parks and Recreation over the years. But Reeves thinks Live Nation needs to give back more to the community if it wants to use it.
"It's not how much we think something is worth, it's how much the other person thinks it's worth," Reeves said. "Look, I love ACL, but I've got to tell you, it has lost its way. Regardless of how much value (ACL) adds to Zilker Park, it's a park, whatever. If we told Live Nation to fuck off… they would have to take a charge on their next earnings report to Wall Street, their stock would plummet."
Reeves acknowledges that ACL was a huge economic boom during its inception but says that Austin has more economic freedom now. On top of that, Reeves said residents of Barton Hills, Rollingwood and Bouldin Creek neighborhoods have had enough of the traffic, rental problems and commotion.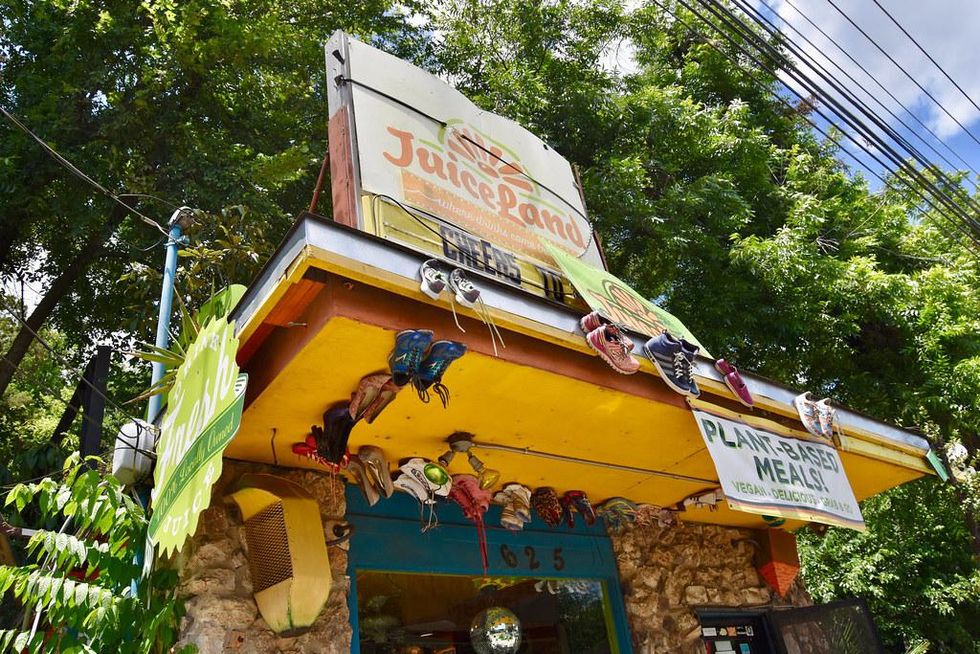 Juiceland is one of the businesses to benefit from business ACL brings in. (Nick Amoscato/CC)
"It takes inventory out of the real estate market, which in turn raises prices," Reeves said. "There's assholes in LA that have mansions in Malibu at Live Nation because of this."
Reeves' argument: Live Nation needs ACL more than Austinites do. So if not Zilker Park, where should the festival be held?
"Not my fucking problem," Reeves said. "If you're not changing, you're dying."
Few businesses in the area share the same opinion—ACL is a huge revenue driver. Barton Springs Juiceland Manager Kaley, who declined to give a last name, said the two weekends are the best shifts of the year.
"Employees will make over $100 in tips a day, it's the best time for us," Kaley said. "We didn't have ACL last year and we're still fine but that being said, it is definitely something that I think everyone around here looks forward to. It really drives up revenue for us and Chuy's and Juliet (Italian Kitchen)."
Beyond that, Kaley, a lifelong Austinite, said ACL just wouldn't be the same festival if it was held elsewhere.
"Quite frankly if it wasn't at Zilker Park anymore, it wouldn't be ACL anymore," Kaley said.
In May, Circuit of the Americas chairman Bobby Epstein looked back on 10 years of Formula 1's U.S. Grand Prix at COTA confident that the race would be here to stay in Texas. But sources tell Austonia that securing another contract may be in jeopardy.
Some insiders worry that COTA's 2021 Grand Prix race might be its last.
The multi-day fest from Oct. 22-24 will include a 56-lap race over the 3.3-mile track, food and musical performances from two acts, including Billy Joel at COTA's 1,500-acre facility in Southeast Austin. But after this year, the U.S.' first F1-specific track could lose its headline event.
The facility's inability to secure a contract thus far comes down to the Texas Legislature, a new threat in Miami, and, most importantly, money.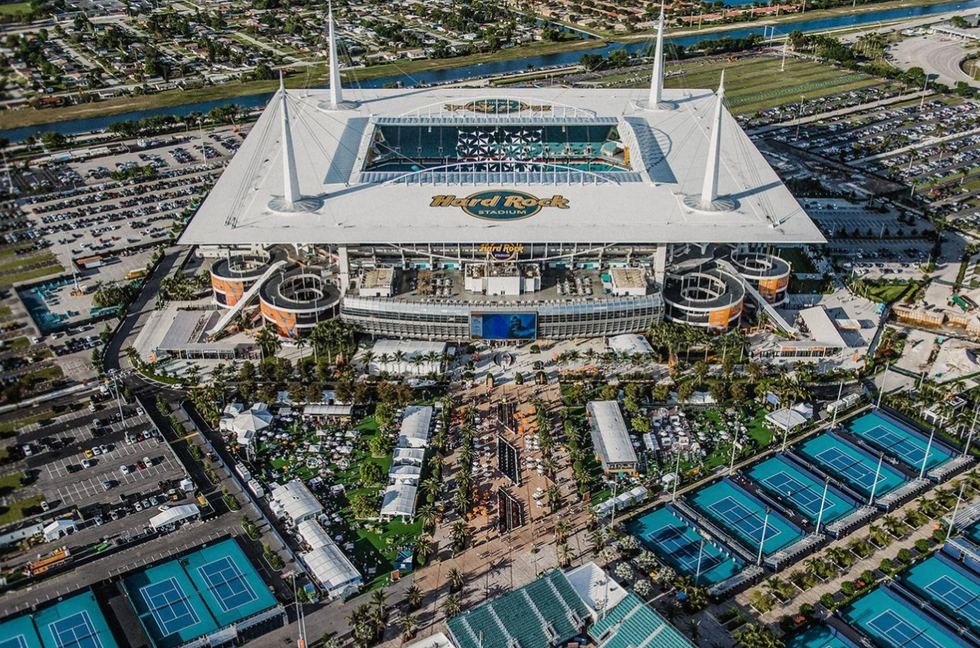 The first F 1 race will take place in Miami next year. (Hard Rock Stadium)
Every year, Formula 1 receives roughly $25 million from Texas' Major Events Reimbursement Program, a taxpayer-funded initiative that helps bring big sporting events like 2017's Houston Super Bowl to the state. A 2019 report by the Reimbursements Program on that year's race said the "data is inconclusive" on if the event has a positive or negative economic impact on the state with the resources given. In 2018, the Austin-American Statesman reported that COTA had brought back a total of $75.7 million between 2015 and 2017 for hosting the U.S. Grand Prix.
Legal issues have also barred Epstein and Co. from securing another 10-year contract earlier: in 2018, the company lost its yearly $25 million bid after failing to submit a human trafficking prevention plan as part of its yearly application.
That same year, F1 managing director of commercial operations Sean Bratches told the Associated Press that the organization hopes to stay at COTA "for many years to come."
However, in May, the racing league announced that it had secured a 10-year contract to hold the Miami Grand Prix as American interest in the sport soared following the three-season "Drive to Survive" documentary, which gives behind-the-scenes looks at drivers and races of the Formula One World Championship.
Epstein is optimistic about the new U.S. location and told Autoweek in May that "more race in our time zones are good for the sport."
"I think we're getting double the impact this way," Epstein said. "Miami should sell out huge the first year and maybe the second year and then after that, I think we'd be spitting audience if we were around the same time on the calendar. So the spread is fantastic."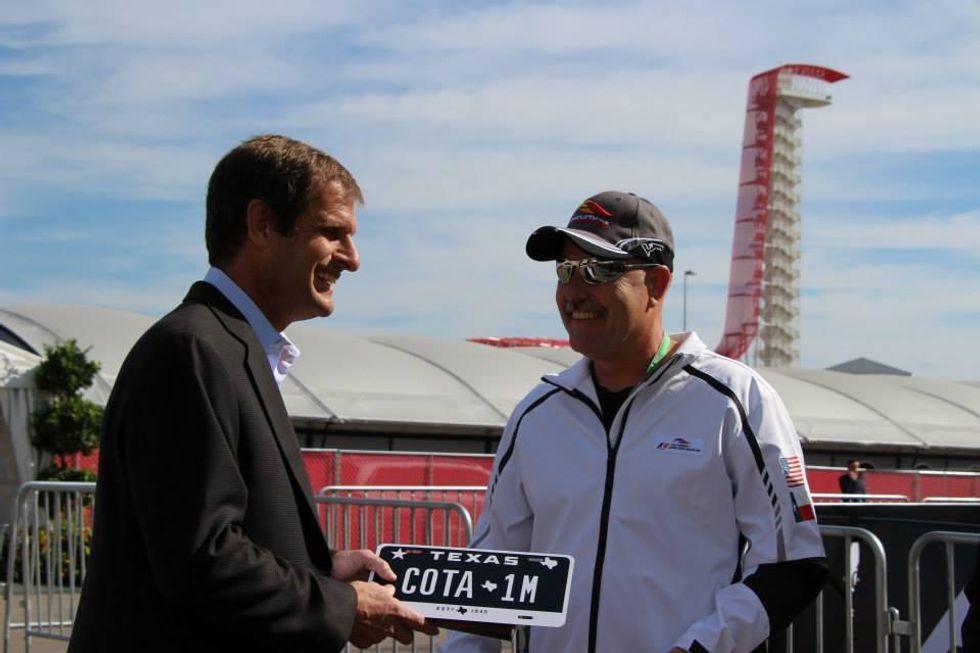 Bobby Epstein recognizes the 1 millionth customer of COTA in 2013. (COTA/Facebook)
The new F1 venture may impact COTA's contract, however: in an opinion piece for the Fort Worth Star-Telegram, writer Mac Engel said Texas is unlikely to fork over taxpayer money if the facility is no longer the only F1 track in the U.S.
According to Engel, the Major Events Reimbursements Program agrees to provide funding only "if Austin holds the only F1 race in the country."
Epstein hasn't addressed such claims; by contrast, he feels as though there's room for a third race in the U.S. as ticket sales rebound after COVID.
"In the first week, we sold pretty much all the tickets we put up for sale and we plan to break the 2019 attendance record," Epstein told Autoweek. "Texas was the first place to lift COVID-19 restrictions (in the U.S.) and put on sporting events, and we're full. We're at 100% capacity.
Despite ventures to diversify revenue at COTA—Epstein's USL soccer team Austin Bold has seen its own share of troubles, and the facility plans to develop into a multi-faceted entertainment arena complete with music venues, a waterpark, condominiums and an 11-story hotel—a loss of its primary event could be devastating for the $300 million complex.
F1 has rarely lasted more than a decade at venues in the U.S. over the last century; let's hope Austin breaks that curse.
COTA's media relations team did not immediately get back to Austonia for comment.
Houston? Dallas? San Antonio? No, it has to be Austin.
We know Californians love Texas, but a recent string of posts on neighborhood platform Nextdoor in Santa Barbara, California, displays what the craze to move to Austin looks like.
When one user posted, "Hi neighbors, I want to buy a house in Houston, Texas any recommendations?" the responses flooded in displaying what the admiration for Austin looks like from the West Coast. Users mostly advised against a move to Houston; one person even wrote, "Austin is the ONLY place to consider!!"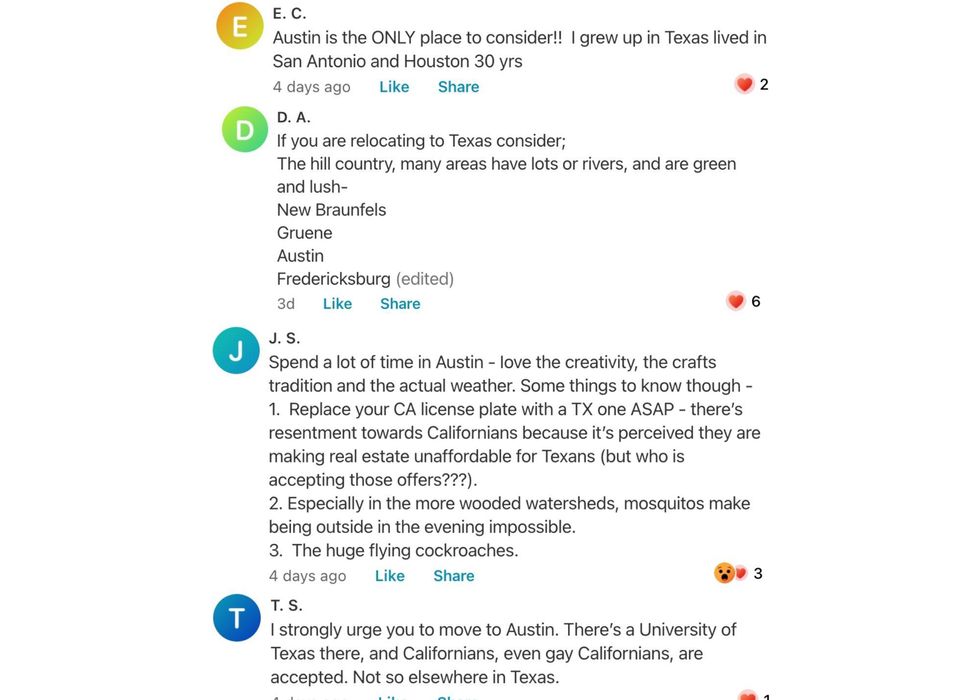 While some defended H-town, saying, "Awesome place to live," one person wrote, "WORST PLACE TO LIVE." Reasons to not move to Houston from Californians' perspective included:
"Foul air from refineries"
"horrible flooding due to the flat Gulf coastal shelf"
"crazy zoning"
"racial prejudice"
"super high humidity"
"very conservative"
The comments were shifted to Austin's lush greenery, weather and acceptance of gay people.
Over the last five years, Austin has seen more migrants from California than any other state, according to an Austin Chamber of Commerce report. The Austin appeal from residents living in more congested places like California became more prevalent during the pandemic when stay-at-home orders were issued and people sought more space.
It wasn't just Austin though; lots of other Sunbelt cities saw an influx in their housing market as a result of people working from home and looking for a lower cost of living. And that included Texas in general, with people flooding to various Texas cities.
But it hasn't come with resistance. The "Don't California my Texas" pleas are still alive and well, as Californians are blamed for raising the cost of living by outpricing current residents. The housing market has reached record numbers in the median home price year-over-year since the beginning of the pandemic. Austin was even predicted to be the most expensive city outside of California by the end of the year.
Still, Californians and even New Yorkers can't stay away. Companies and celebrities have followed, leading Texas transplant Elon Musk to label Austin's future as "the biggest boomtown that America has seen in half a century."