Get connected with our daily update
Austin ISD students have returned to the classroom for the first time since the pandemic closed down schools in March. The in-person classes, which some teachers fought against, are being taught according to a hybrid model that blends 25% on-campus capacity with virtual learning.
---
Here's a look at what school looked like on Tuesday of the first week.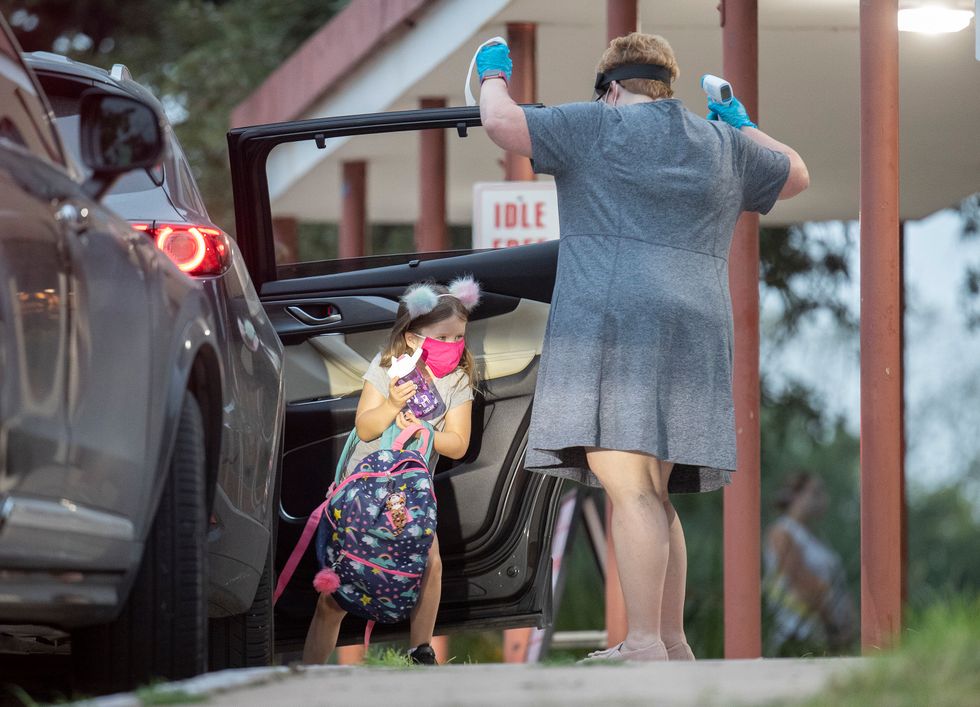 Longtime school principal Katie Achtermann checks in students for the second day of in-person classes at Barton Hills Elementary in South Austin. All students temperatures are checked on arrival, and face coverings are required to enter the building.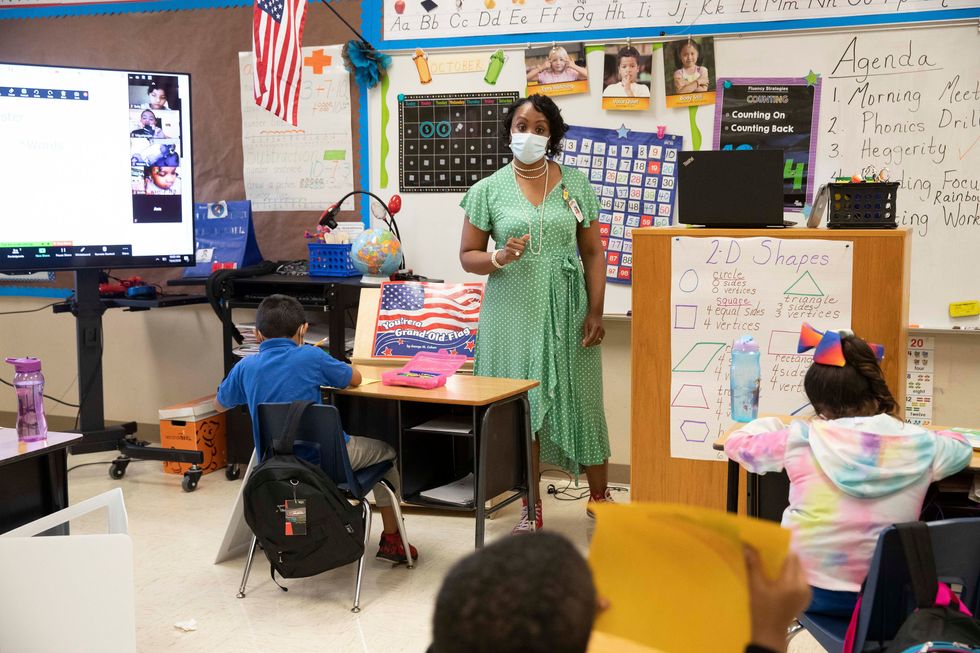 Under the careful watch of first grade teacher Nicole Miller, and with plenty of PPE ready, in-person learning takes off during the second day of classes at Campbell Elementary. The AISD school is using a combination of remote and in-person learning amid the pandemic.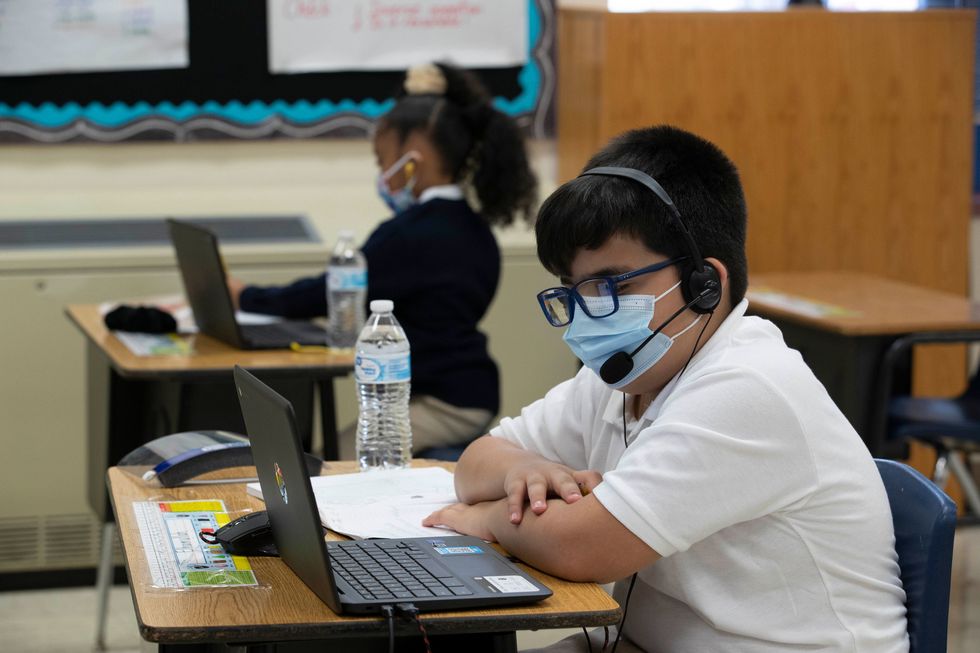 Second Day of In-Person Classes in Austin
In-person learning is optional for AISD families. The district is phasing in students to on-campus learning, starting with the youngest grades at each school.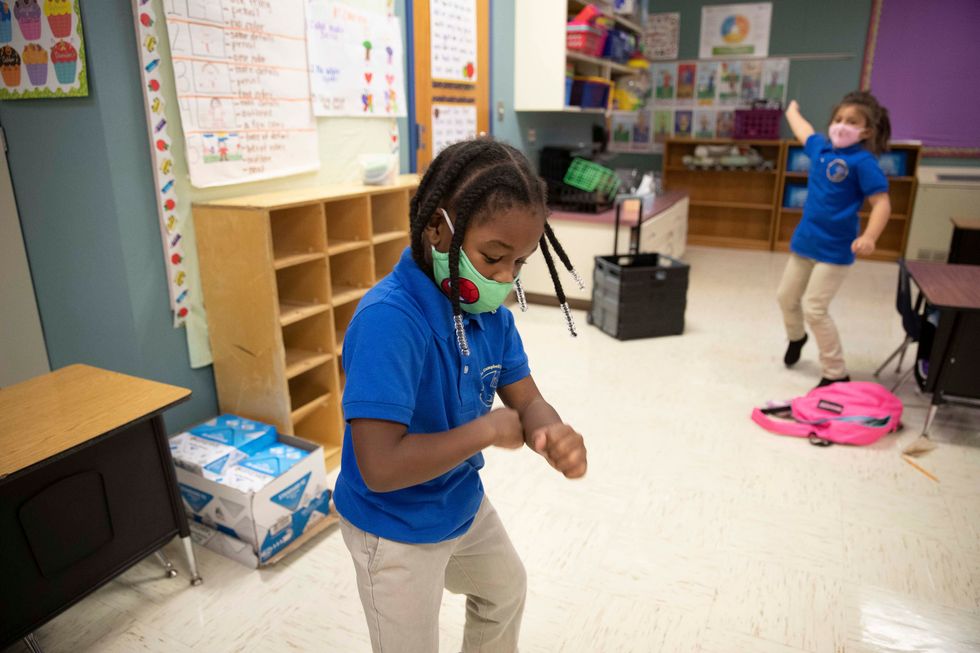 Kindergarten classes have yet to lose any of their spunk as most kids are glad to be back in the classroom.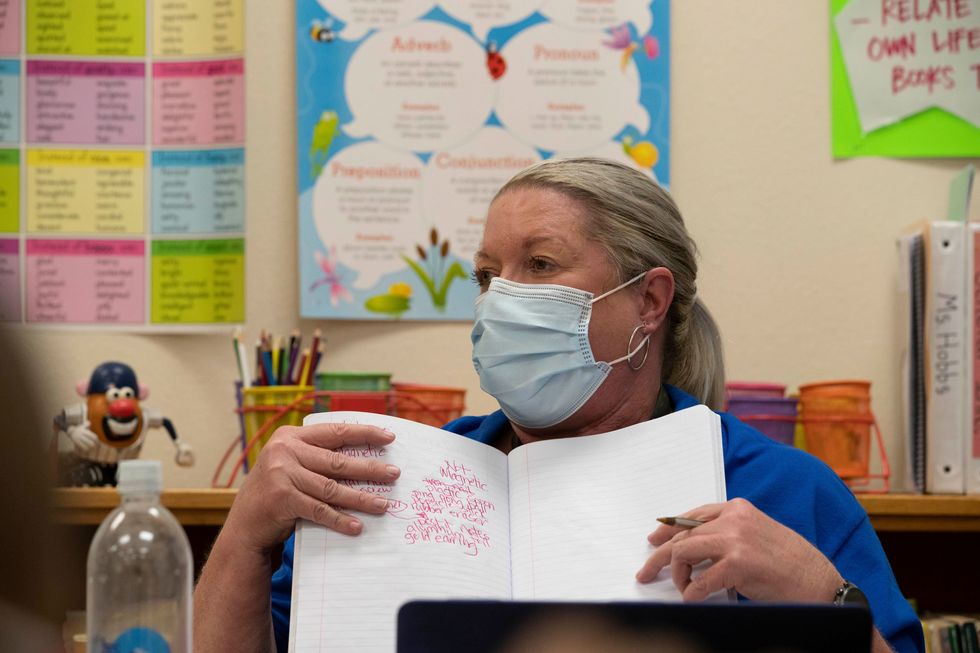 Seasoned teacher Clarissa Hobbs is back in the classroom to teach her students. AISD experienced a drop in enrollment as parents opted out of in-person school, possibly opting into learning pods, homeschooling or private school.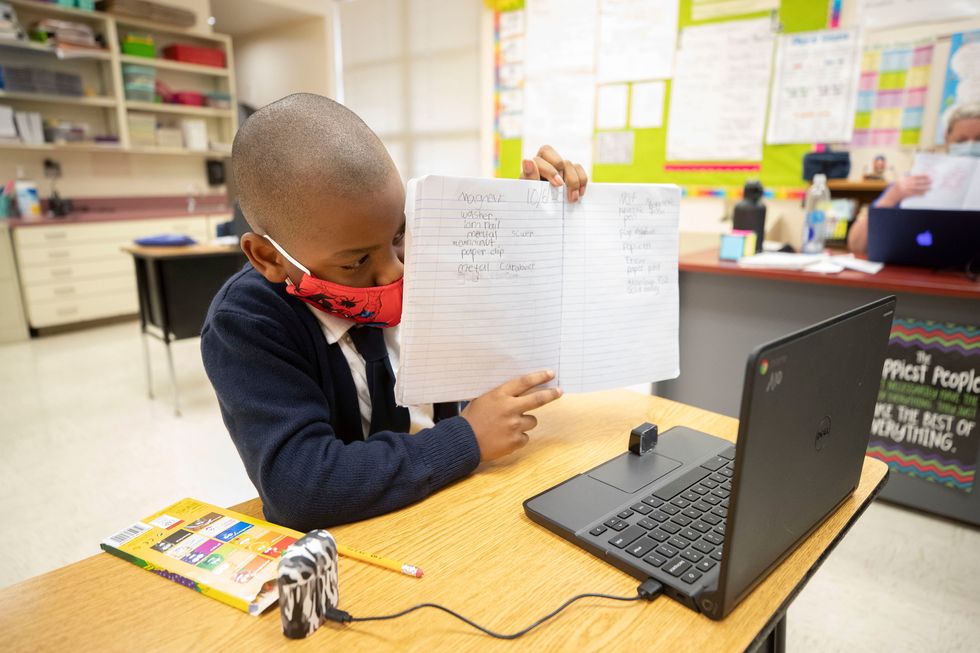 Student Amarin Mervin follows Ms. Hobbs' instructions to show his work to his classmates on screen. It's a learning experience that's new for everyone.
(Tito's Handmade Vodka)
Ingredients:
750 mL Tito's Handmade Vodka
1 1/2 cup toasted pecans
Directions: Toast pecans in a 350°F oven until they become aromatic (about 5 minutes). Let pecans cool, drop them into a resealable jar, and fill with Tito's Handmade Vodka. Store in a cool, dark place for 1 month, if you can wait that long.
Small businesses have struggled through a long and arduous year, working to keep their livelihood afloat in a sea of uncertainty. This holiday season poses the opportunity to not only give gifts to your favorite people but also give back to your favorite local artists, Austin icons and small businesses.
So skip the line and shop small. There are hundreds of businesses to support around Austin, so if nothing here strikes a chord, visit the <a href="https://ibuyaustin.com/Find-a-local-business/" rel="noopener noreferrer" target="_blank">Austin Independent Business Alliance directory</a> for more.
The Austin Winery
<div id="7f64f" class="rm-shortcode" data-rm-shortcode-id="3400579315aa2bd42eeff0f20ebc659e"><blockquote class="instagram-media" data-instgrm-captioned data-instgrm-version="4" style=" background:#FFF; border:0; border-radius:3px; box-shadow:0 0 1px 0 rgba(0,0,0,0.5),0 1px 10px 0 rgba(0,0,0,0.15); margin: 1px; max-width:658px; padding:0; width:99.375%; width:-webkit-calc(100% - 2px); width:calc(100% - 2px);"> <div style="padding:8px;"> <div style=" background:#F8F8F8; line-height:0; margin-top:40px; padding:50% 0; text-align:center; width:100%;"> <div style=" background:url(data:image/png;base64,iVBORw0KGgoAAAANSUhEUgAAACwAAAAsCAMAAAApWqozAAAAGFBMVEUiIiI9PT0eHh4gIB4hIBkcHBwcHBwcHBydr+JQAAAACHRSTlMABA4YHyQsM5jtaMwAAADfSURBVDjL7ZVBEgMhCAQBAf//42xcNbpAqakcM0ftUmFAAIBE81IqBJdS3lS6zs3bIpB9WED3YYXFPmHRfT8sgyrCP1x8uEUxLMzNWElFOYCV6mHWWwMzdPEKHlhLw7NWJqkHc4uIZphavDzA2JPzUDsBZziNae2S6owH8xPmX8G7zzgKEOPUoYHvGz1TBCxMkd3kwNVbU0gKHkx+iZILf77IofhrY1nYFnB/lQPb79drWOyJVa/DAvg9B/rLB4cC+Nqgdz/TvBbBnr6GBReqn/nRmDgaQEej7WhonozjF+Y2I/fZou/qAAAAAElFTkSuQmCC); display:block; height:44px; margin:0 auto -44px; position:relative; top:-22px; width:44px;"> </div></div><p style=" margin:8px 0 0 0; padding:0 4px;"> <a href="https://www.instagram.com/p/CH5zZd0FC6w/" style=" color:#000; font-family:Arial,sans-serif; font-size:14px; font-style:normal; font-weight:normal; line-height:17px; text-decoration:none; word-wrap:break-word;" target="_top"></a></p> </div></blockquote></div><p><a href="https://www.theaustinwinery.com/" target="_blank" rel="noopener noreferrer">The Austin Winery</a>, located on 440 E. St. Elmo Road, already gives bulk discounts, because let's face it, 2020 has been a rough year. Whether you gift this local wine to someone else or stockpile for the next pandemic, <a href="https://www.austintexas.org/coupon/20%25-off-pickup-orders-free-wine-delivery-in-austin/1168/" target="_blank" rel="noopener noreferrer">take 20% off</a> a pickup order and get free Austin delivery through the rest of the year.<br></p>
Away Spa at W. Austin
<div id="b2292" class="rm-shortcode" data-rm-shortcode-id="c7920a53b54fdbe6b4f3cfb882b1f751"><blockquote class="instagram-media" data-instgrm-captioned data-instgrm-version="4" style=" background:#FFF; border:0; border-radius:3px; box-shadow:0 0 1px 0 rgba(0,0,0,0.5),0 1px 10px 0 rgba(0,0,0,0.15); margin: 1px; max-width:658px; padding:0; width:99.375%; width:-webkit-calc(100% - 2px); width:calc(100% - 2px);"> <div style="padding:8px;"> <div style=" background:#F8F8F8; line-height:0; margin-top:40px; padding:50% 0; text-align:center; width:100%;"> <div style=" background:url(data:image/png;base64,iVBORw0KGgoAAAANSUhEUgAAACwAAAAsCAMAAAApWqozAAAAGFBMVEUiIiI9PT0eHh4gIB4hIBkcHBwcHBwcHBydr+JQAAAACHRSTlMABA4YHyQsM5jtaMwAAADfSURBVDjL7ZVBEgMhCAQBAf//42xcNbpAqakcM0ftUmFAAIBE81IqBJdS3lS6zs3bIpB9WED3YYXFPmHRfT8sgyrCP1x8uEUxLMzNWElFOYCV6mHWWwMzdPEKHlhLw7NWJqkHc4uIZphavDzA2JPzUDsBZziNae2S6owH8xPmX8G7zzgKEOPUoYHvGz1TBCxMkd3kwNVbU0gKHkx+iZILf77IofhrY1nYFnB/lQPb79drWOyJVa/DAvg9B/rLB4cC+Nqgdz/TvBbBnr6GBReqn/nRmDgaQEej7WhonozjF+Y2I/fZou/qAAAAAElFTkSuQmCC); display:block; height:44px; margin:0 auto -44px; position:relative; top:-22px; width:44px;"> </div></div><p style=" margin:8px 0 0 0; padding:0 4px;"> <a href="https://www.instagram.com/p/CHx4JPoJWbu/" style=" color:#000; font-family:Arial,sans-serif; font-size:14px; font-style:normal; font-weight:normal; line-height:17px; text-decoration:none; word-wrap:break-word;" target="_top"></a></p> </div></blockquote></div><p>Give the gift of the oh-so-important self care this year, plus enjoy a little bit of it for yourself as well. With a $250 gift card purchase, receive an extra $25 spa voucher. Located on 200 Lavaca St., Austin residents also receive <a href="https://www.austinawayspa.com/texasresidents" target="_blank" rel="noopener noreferrer">20% off of certain services</a>—how can you afford not to go?</p>
Half Price Books
<div id="1fe88" class="rm-shortcode" data-rm-shortcode-id="7f5ac65fbadb3b621ba9a69d6556aa28"><blockquote class="instagram-media" data-instgrm-captioned data-instgrm-version="4" style=" background:#FFF; border:0; border-radius:3px; box-shadow:0 0 1px 0 rgba(0,0,0,0.5),0 1px 10px 0 rgba(0,0,0,0.15); margin: 1px; max-width:658px; padding:0; width:99.375%; width:-webkit-calc(100% - 2px); width:calc(100% - 2px);"> <div style="padding:8px;"> <div style=" background:#F8F8F8; line-height:0; margin-top:40px; padding:50% 0; text-align:center; width:100%;"> <div style=" background:url(data:image/png;base64,iVBORw0KGgoAAAANSUhEUgAAACwAAAAsCAMAAAApWqozAAAAGFBMVEUiIiI9PT0eHh4gIB4hIBkcHBwcHBwcHBydr+JQAAAACHRSTlMABA4YHyQsM5jtaMwAAADfSURBVDjL7ZVBEgMhCAQBAf//42xcNbpAqakcM0ftUmFAAIBE81IqBJdS3lS6zs3bIpB9WED3YYXFPmHRfT8sgyrCP1x8uEUxLMzNWElFOYCV6mHWWwMzdPEKHlhLw7NWJqkHc4uIZphavDzA2JPzUDsBZziNae2S6owH8xPmX8G7zzgKEOPUoYHvGz1TBCxMkd3kwNVbU0gKHkx+iZILf77IofhrY1nYFnB/lQPb79drWOyJVa/DAvg9B/rLB4cC+Nqgdz/TvBbBnr6GBReqn/nRmDgaQEej7WhonozjF+Y2I/fZou/qAAAAAElFTkSuQmCC); display:block; height:44px; margin:0 auto -44px; position:relative; top:-22px; width:44px;"> </div></div><p style=" margin:8px 0 0 0; padding:0 4px;"> <a href="https://www.instagram.com/p/CH0pVWOhkHC/" style=" color:#000; font-family:Arial,sans-serif; font-size:14px; font-style:normal; font-weight:normal; line-height:17px; text-decoration:none; word-wrap:break-word;" target="_top"></a></p> </div></blockquote></div><p>Texas-business Half Price Books is not skimping on the sales this year, and some of the deals even carry over into the new year. <a href="https://blackfriday.com/ads/black-friday/half-price-books" target="_blank" rel="noopener noreferrer">Take 20% off</a> of your online book haul and for every $25 gift card you give away, any HPB will give you $5 off in January. </p>
Kendra Scott
<div id="9364d" class="rm-shortcode" data-rm-shortcode-id="0dffe48a630a52143f0f01295d32318c"><blockquote class="instagram-media" data-instgrm-captioned data-instgrm-version="4" style=" background:#FFF; border:0; border-radius:3px; box-shadow:0 0 1px 0 rgba(0,0,0,0.5),0 1px 10px 0 rgba(0,0,0,0.15); margin: 1px; max-width:658px; padding:0; width:99.375%; width:-webkit-calc(100% - 2px); width:calc(100% - 2px);"> <div style="padding:8px;"> <div style=" background:#F8F8F8; line-height:0; margin-top:40px; padding:50% 0; text-align:center; width:100%;"> <div style=" background:url(data:image/png;base64,iVBORw0KGgoAAAANSUhEUgAAACwAAAAsCAMAAAApWqozAAAAGFBMVEUiIiI9PT0eHh4gIB4hIBkcHBwcHBwcHBydr+JQAAAACHRSTlMABA4YHyQsM5jtaMwAAADfSURBVDjL7ZVBEgMhCAQBAf//42xcNbpAqakcM0ftUmFAAIBE81IqBJdS3lS6zs3bIpB9WED3YYXFPmHRfT8sgyrCP1x8uEUxLMzNWElFOYCV6mHWWwMzdPEKHlhLw7NWJqkHc4uIZphavDzA2JPzUDsBZziNae2S6owH8xPmX8G7zzgKEOPUoYHvGz1TBCxMkd3kwNVbU0gKHkx+iZILf77IofhrY1nYFnB/lQPb79drWOyJVa/DAvg9B/rLB4cC+Nqgdz/TvBbBnr6GBReqn/nRmDgaQEej7WhonozjF+Y2I/fZou/qAAAAAElFTkSuQmCC); display:block; height:44px; margin:0 auto -44px; position:relative; top:-22px; width:44px;"> </div></div><p style=" margin:8px 0 0 0; padding:0 4px;"> <a href="https://www.instagram.com/p/CH8HBNNgvfj/" style=" color:#000; font-family:Arial,sans-serif; font-size:14px; font-style:normal; font-weight:normal; line-height:17px; text-decoration:none; word-wrap:break-word;" target="_top"></a></p> </div></blockquote></div><p>Kendra may not be a "small" business anymore but it started small with Austin roots. From Nov. 29 through Dec. 2, take 25% off of everything (yes, everything!) in the store and an extra 30% off of $300 or more for the "Yellow Friday" sale.</p>
Lilla & Beth
<div id="4c901" class="rm-shortcode" data-rm-shortcode-id="f95a34010ca819c655a05ddb7c0933cf"><blockquote class="instagram-media" data-instgrm-captioned data-instgrm-version="4" style=" background:#FFF; border:0; border-radius:3px; box-shadow:0 0 1px 0 rgba(0,0,0,0.5),0 1px 10px 0 rgba(0,0,0,0.15); margin: 1px; max-width:658px; padding:0; width:99.375%; width:-webkit-calc(100% - 2px); width:calc(100% - 2px);"> <div style="padding:8px;"> <div style=" background:#F8F8F8; line-height:0; margin-top:40px; padding:50% 0; text-align:center; width:100%;"> <div style=" background:url(data:image/png;base64,iVBORw0KGgoAAAANSUhEUgAAACwAAAAsCAMAAAApWqozAAAAGFBMVEUiIiI9PT0eHh4gIB4hIBkcHBwcHBwcHBydr+JQAAAACHRSTlMABA4YHyQsM5jtaMwAAADfSURBVDjL7ZVBEgMhCAQBAf//42xcNbpAqakcM0ftUmFAAIBE81IqBJdS3lS6zs3bIpB9WED3YYXFPmHRfT8sgyrCP1x8uEUxLMzNWElFOYCV6mHWWwMzdPEKHlhLw7NWJqkHc4uIZphavDzA2JPzUDsBZziNae2S6owH8xPmX8G7zzgKEOPUoYHvGz1TBCxMkd3kwNVbU0gKHkx+iZILf77IofhrY1nYFnB/lQPb79drWOyJVa/DAvg9B/rLB4cC+Nqgdz/TvBbBnr6GBReqn/nRmDgaQEej7WhonozjF+Y2I/fZou/qAAAAAElFTkSuQmCC); display:block; height:44px; margin:0 auto -44px; position:relative; top:-22px; width:44px;"> </div></div><p style=" margin:8px 0 0 0; padding:0 4px;"> <a href="https://www.instagram.com/p/CH8F_Oulu1n/" style=" color:#000; font-family:Arial,sans-serif; font-size:14px; font-style:normal; font-weight:normal; line-height:17px; text-decoration:none; word-wrap:break-word;" target="_top"></a></p> </div></blockquote></div><p>For some unique Austin-centric decor, gifts, clothes and accessories, <a href="https://www.lillabeth.com/" target="_blank">Lilla &amp; Beth</a>, located on 1911 Aldrich Street, has you covered this year. The more you buy, the more you save so take 10% off purchases under $50, 15% off purchases over $50 and 20% off purchases over $100. Everyone will wish they had gotten you as their secret Santa!</p>
Record Store Crawl
<img lazy-loadable="true" src="https://assets.rebelmouse.io/eyJhbGciOiJIUzI1NiIsInR5cCI6IkpXVCJ9.eyJpbWFnZSI6Imh0dHBzOi8vYXNzZXRzLnJibC5tcy8yNDgyNzk5Ni9vcmlnaW4uanBnIiwiZXhwaXJlc19hdCI6MTYzODcyOTIzMH0.tGkJ9sOB3AI3Mev0rf_h-ZaUOO4-KfVgRO3mUckvzPQ/img.jpg?width=980" id="6e233" class="rm-shortcode" data-rm-shortcode-id="4a20cc26c9be0201045b17c0d7993ab4" data-rm-shortcode-name="rebelmouse-image" /><p>Self-described "magic school bus that takes you to record stores and bars," the 2020 <a href="https://www.recordstorecrawl.com/?frontpage=true" target="_blank" rel="noopener noreferrer">Record Store Crawl</a> will make holiday shopping more fun than ever before. The Record Store Crawl will drive you to 10 record stores in the area, complete with a band on the bus for entertainment. Last year, the event helped sell 2 million records at local retailers nationwide, so this is a great way to have fun and help out the music industry.</p>
Roam Homegrown
<div id="e2418" class="rm-shortcode" data-rm-shortcode-id="0ed8000c5859b55fc66cca94b64ecfa2"><blockquote class="instagram-media" data-instgrm-captioned data-instgrm-version="4" style=" background:#FFF; border:0; border-radius:3px; box-shadow:0 0 1px 0 rgba(0,0,0,0.5),0 1px 10px 0 rgba(0,0,0,0.15); margin: 1px; max-width:658px; padding:0; width:99.375%; width:-webkit-calc(100% - 2px); width:calc(100% - 2px);"> <div style="padding:8px;"> <div style=" background:#F8F8F8; line-height:0; margin-top:40px; padding:50% 0; text-align:center; width:100%;"> <div style=" background:url(data:image/png;base64,iVBORw0KGgoAAAANSUhEUgAAACwAAAAsCAMAAAApWqozAAAAGFBMVEUiIiI9PT0eHh4gIB4hIBkcHBwcHBwcHBydr+JQAAAACHRSTlMABA4YHyQsM5jtaMwAAADfSURBVDjL7ZVBEgMhCAQBAf//42xcNbpAqakcM0ftUmFAAIBE81IqBJdS3lS6zs3bIpB9WED3YYXFPmHRfT8sgyrCP1x8uEUxLMzNWElFOYCV6mHWWwMzdPEKHlhLw7NWJqkHc4uIZphavDzA2JPzUDsBZziNae2S6owH8xPmX8G7zzgKEOPUoYHvGz1TBCxMkd3kwNVbU0gKHkx+iZILf77IofhrY1nYFnB/lQPb79drWOyJVa/DAvg9B/rLB4cC+Nqgdz/TvBbBnr6GBReqn/nRmDgaQEej7WhonozjF+Y2I/fZou/qAAAAAElFTkSuQmCC); display:block; height:44px; margin:0 auto -44px; position:relative; top:-22px; width:44px;"> </div></div><p style=" margin:8px 0 0 0; padding:0 4px;"> <a href="https://www.instagram.com/p/CIBGx0urxvs/" style=" color:#000; font-family:Arial,sans-serif; font-size:14px; font-style:normal; font-weight:normal; line-height:17px; text-decoration:none; word-wrap:break-word;" target="_top"></a></p> </div></blockquote></div><p>Give the gift of relaxation with the help of <a href="https://roamhomegrown.com/" target="_blank" rel="noopener noreferrer">Roam Homegrown's collection</a> of candles, soaps, scents and self care goodies. To celebrate the holidays, the Austin-based, women-owned company is giving 10% sitewide until Dec. 31. This offer has no minimum so you can gift as much or as little as your heart desires.</p>

<p class="">Make sure to check business hours before heading out, it is COVID-19 after all.</p>