Get connected with our daily update
In light of the Taliban takeover in Afghanistan, Austin ISD announced the district is welcoming newly-arrived Afghan refugee students and their families on Wednesday.
---
AISD said the district's Refugee Family Support Services Office has been serving refugees and asylum seekers for years, providing resources and a language hub. Refugee Family Support Coordinator Salimah Shamsuddin discussed welcoming efforts at 10 a.m. Thursday.
The district doesn't yet know how many new Afghan students it will receive, as the numbers with Refugee Services of Texas change constantly. However, Shamshuddin said one of the district's points of pride is its diversity: There are over 700 refugee students that attend an AISD school, of which 300 are Afghan.
"Our district's cultural and linguistic diversity is a strength with students from all around the world and over 100 different languages spoken by our families," Shamshuddin said. "We appreciate the warm welcome and the show of support for our refugee families in the Austin Community."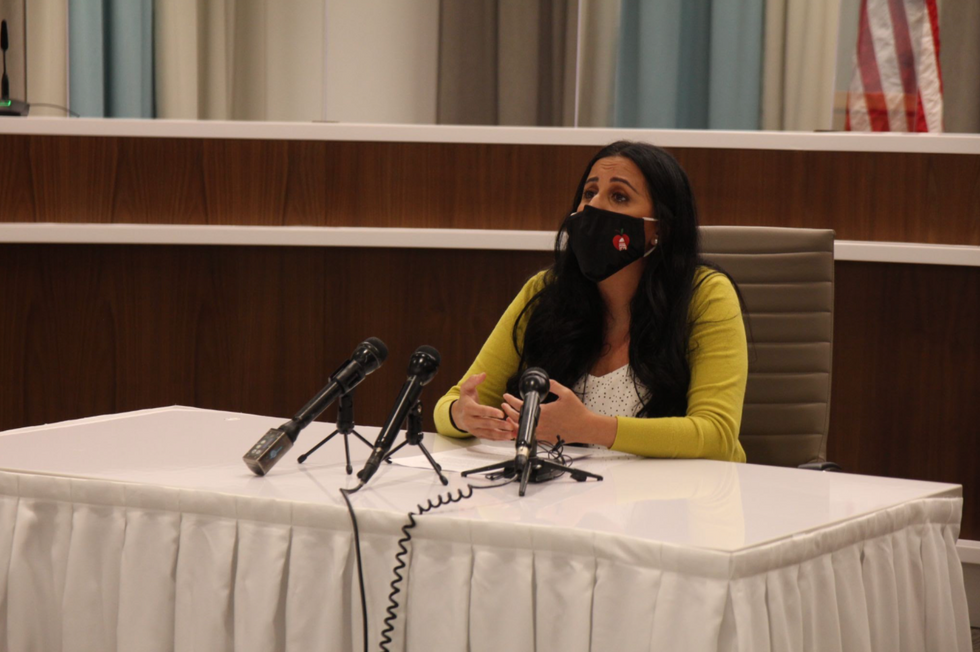 Refugee Family Support Coordinator Salimah Shamsuddin discussed welcoming efforts for Afghan refugee students at 10 a.m. Thursday. (Laura Figi/Austonia)
The office offers day-to-day interpretation services in 19 languages—including Afghanistan's two most common languages Pashto and Dari—tutoring, social or emotional support and holds campus events targeted at refugee families.
Shamshuddin said when families arrive, the office has interpreters to help parents get their children registered for school in their native language, provides cultural orientation for parents and students to show what school in America looks like, and works closely with students and English-as-a-Second-Language teachers to help them integrate.
"We train teachers and do a lot of professional development about how to make your classroom more culturally competent and relevant, how to make it more inclusive—something as simple as adding a map in the background, and asking students, 'Hey, where are you from? Why don't you pin the country that you're from,' that can make the classroom inclusive," Shamshuddin said.
Shamshuddin said these resources are an important part of helping students and families integrate. In September, AISD will hold two training sessions for teachers focusing on cultural competency and emotional awareness of refugees.
"Providing that support, making sure that parents know what's going on in the classroom by informing them in their home language, I think that is really important," Shamshuddin said. "A lot of people forget that they're coming here from a different country, a different culture."
New refugees are being welcomed citywide—Austin City Council is expected to approve a resolution and direct the city manager to coordinate with local, state and federal entities in welcoming refugees, some of whom have already arrived, today.
Austin is preparing to resettle at least 185 Afghan refugees by the end of September, almost more than any other city in the state. Each of the incoming refugees has received a Special Immigrant Visa, and has undergone background and health checks.
This story was updated at 12 p.m. to include information after the meeting.
After months of speculation, a new report says political personality Beto O'Rourke is mulling a run for Texas governor that he will announce later this year.
Sources tell Axios the former congressman is preparing his campaign for the 2022 election, where he will likely vie for the position against incumbent Gov. Greg Abbott. The only other candidate that has announced he will take on Abbott for governor is former Texas GOP Chairman Allen West—no Democrats have announced they are running as of yet.
"No decision has been made," Axios reports David Wysong, O'Rourke's former House chief of staff and a longtime adviser, said. "He has been making and receiving calls with people from all over the state."
A new poll from The Dallas Morning News and University of Texas at Tyler shows O'Rourke is narrowing the gap between himself and Abbott's prospects for governor. In the poll, 37% said they'd vote for O'Rourke over Abbott, while 42% said they'd vote for Abbott.
Abbott has been in the hot seat due to his handling of COVID-19 and the signing of landmark legislation into law, including new abortion and voting rights laws; 54% of poll respondents voted they think the state is headed in the "wrong direction." Still, Texas hasn't had a Democrat as governor since the 90s.
O'Rourke's people-focused approach to the 2018 Senator race, which he lost to Sen. Ted Cruz, gave him a widespread following and many hoped he'd throw his hat into the ring since he said he was considering it earlier this year.
"We hope that he's going to run," Gilberto Hinojosa, the state chair of the Democratic Party, told Axios. "We think he'll be our strongest candidate. We think he can beat Abbott because he's vulnerable."
Austin rapper Jordi Esparza may not have won the 2021 Red Bull Batalla, the world's largest Spanish freestyle rap competition, but for a spirited two rounds, the 22-year old Mexican native looked like he had every right to.
On Saturday evening in Los Angeles, the event itself looked like Cobra Kai meets Star Search with graphics adding a very Batman Beyond aesthetic. Over a dozen rappers hoping to represent the U.S. in the international round of the competition took to the stage with in-your-face jabs at accents, sexual orientation and odors, among other things.
This was Esparza's second rodeo; he had placed third at the 2020 National Finals, automatically securing him a spot this year.
However, things were different this year. He was not nervous about the contest. Unlike in 2020, when he made his Red Bull Batalla debut, the anxiety of the event led him to "feeling so bad."
Affecting a casual calm, the locally-based landscaper said he just felt "so relaxed, so happy" and primarily wanted to "enjoy everything."
Choosing his first-round opponent, Esparza, whose stage name is Jordi, elected to go against LA-based Boss.
Esparza freestyled an attack on his opponent's weight and cholo style of dress.
Boss—bracketing his Latin freestyle with English appeals to the crowd—mocked Jordi's lack of education, made fun of how clean Jordi's shoes looked and suggested that Jordi just came back from a Footlocker.
That first round went to Jordi.
But his next opponent Eckonn would prove to be his undoing.
Eckonn compared Jordi to Hannah Montana, while Jordi soulfully explained that he had learned from the best.
Esparza's verbal dexterity is matched by a rattling rhythm and a game face that is as mawkish as it is mockish. The overall effect is that of an underdog with bite.
Eckonn beat Esparza in that round with the overall championship going to Palm Beach-based rapper Reverse.
However, Esparza was just happy to be there. He recently told Austonia going to the finals again was a dream come true—a pinnacle that he said he won't know how to top.
With his nimble jabs and sneaky prowess, honed from pop culture and the swagger of a young working man hungry to be more, Jordi Esparza is just getting started.