Get connected with our daily update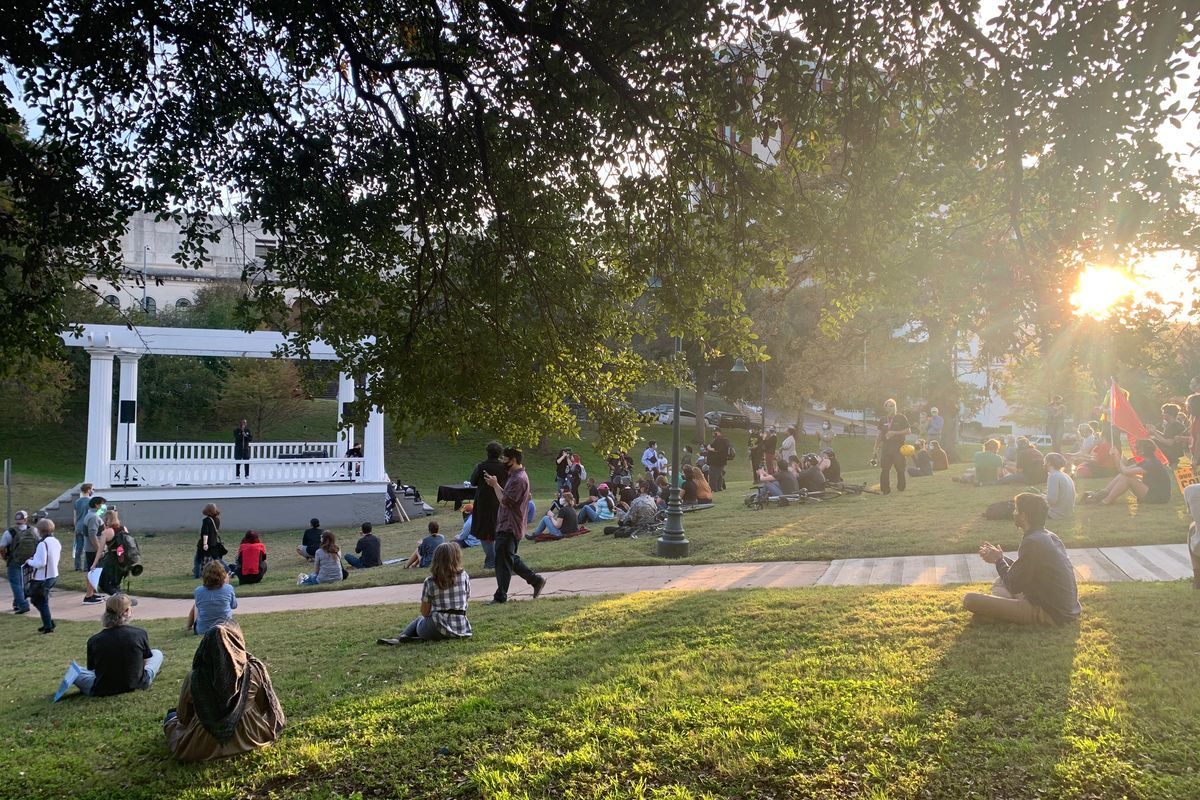 (Emma Freer/Austonia)
As counting drags on in the presidential election and amid fears of possibly violent demonstrations, two local organizations convened in downtown Austin to talk about what's next.
---
Protect the Results—a coalition of local progressive organizations such as Indivisible Austin, MoveOn Central Texas, Workers Defense Project and Austin DSA— hosted a march from Wooldridge Square, on Guadalupe Street, to the nearby state Capitol building and back. Their message: Count every vote.
Members of the group, clad in reflective vests, then helped provide community security to a small event hosted by the Austin Justice Coalition to discuss what happens after the election is called.

"The fact that the 'blue wave' didn't hit the shores of Texas … means that in two years we really have to turn out," Executive Director Chas Moore said, looking ahead to the 2022 midterms.
In the meantime, Moore rallied the crowd to keep up with their activism, given the close nature of the race.
"The fact that over 67 million people have voted for Trump is something that, I think, we should be concerned about," he said.
Moore also raised concerns about the political climate locally.

Last week, four Austin City Council members signed an open letter to Austin Police Department Chief Brian Manley, demanding that he explain how his department would maintain public safety during any post-election protests and account for recent reports that APD officers had treated domestic terrorist and white supremacist groups more leniently than peaceful protesters.
Then, over the weekend, APD officers posed in a photo outside of City Hall with members of the group Take Back Austin, which is calling on Austin Mayor Steve Adler to resign. Some held Trump flags, others flashed white supremacist hand signals.
Hey look it's @Austin_Police posing with trump supporters flashing the white power sign. Hey @Austin_Police don't d… https://t.co/DLxHWSryZL

— 𝕸𝖔𝖙𝖍𝖊𝖗 𝕸𝖊𝖗𝖗𝖎𝖈𝖐 🦂 (@𝕸𝖔𝖙𝖍𝖊𝖗 𝕸𝖊𝖗𝖗𝖎𝖈𝖐 🦂) 1604294090.0
Moore connected this incident with the Austin City Council election results, which saw incumbents Jimmy Flannigan and Alison Alter challenged by conservative candidates who attacked their support of recent efforts to defund APD. Both are headed to runoff elections on Dec. 15.

"Jimmy Flannigan is losing potentially to someone who was in that photo with the Proud Boys," Moore said, referring to Mackenze Kelly. "Alter, who is really good, is headed to a runoff."
In addition to encouraging turnout in these upcoming races, AJC leadership laid out their other post-election action items.
Warren Burkley, community outreach director for AJC, said these include continuing the push to "defund" APD and reallocate dollars to other city services, such as the forensics lab and mental health responders.
Other local priorities include passing an ordinance that would allow city officials to fire the police chief and advocating during the next state legislative session to pass criminal justice reforms, such as expanding the Sandra Bland Act.
State Senator Sarah Eckhardt, D-Austin, rode her bike to the event and spoke toward the end.
"In the full interest of full disclosure, I am a politician," she said, adding that she is also a former prosecutor. "I am a woman, but I'm the man."
Still, Eckhardt expressed hope that elected officials and activists could work together on issues such as criminal justice reform and engage in constructive, rather than destructive, conflict.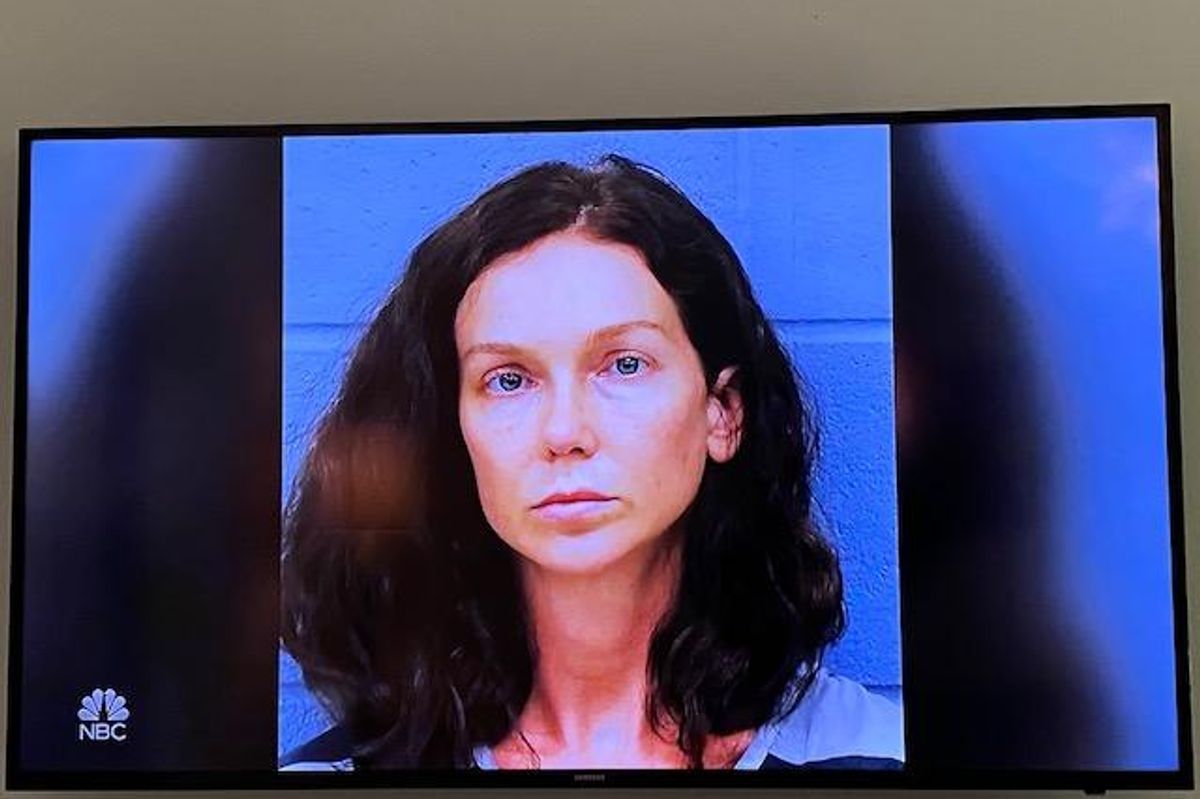 Austin's Kaitlin Armstrong after capture in Costa Rica.
(Editor's note: this is part two of a two part Austonia series tracking the Dateline NBC investigation of Moriah Wilson's murder. Read part one here.)
After pro gravel biker Moriah "Mo" Wilson is gunned down in South Austin on May 11, police investigators develop a "person of interest," Austin's Kaitlin Armstrong, 34, a real estate agent, yoga teacher, amateur cyclist, and longtime girlfriend of Austin cyclist Colin Strickland.
Originally from Michigan, where a childhood friend described her as "fun loving" and "smart," Armstrong finished college and traveled the world studying yoga, in places like Iceland, Bali, and Mexico. She ended up in Austin where she met Colin Strickland. The two were business partners in a vintage trailer business, along with her own venture flipping houses. "Business partners and life partners," NBC said.
According to NBC's evaluation of a police report, a friend of Wilson's, who remains anonymous, said that despite Strickland's relationship with Kaitlin Armstrong, Mo Wilson and Strickland had been seeing each other since their "fling" in Austin months before. NBC reports this friend told police that before she died, Wilson had received a number of calls from Kaitlin Armstrong warning her to stay away from Armstrong's boyfriend, Colin Strickland.
A second tipster claimed to have been present when Armstrong first learned that Wilson and Strickland had been seeing each other. The tipster said Armstrong became "enraged" and threatened to kill Moriah Wilson.
Police found an outstanding warrant for Armstrong for an unpaid botox bill, and brought her in for questioning. She was largely unresponsive to their inquiries. Then police discovered a typo in the warrant and were forced to release her.

Six days after Wilson's death, a police ballistics analysis pointed toward a 9mm weapon owned by Kaitlin Armstrong. In his police interview, Strickland had told police he had previously purchased two 9mm handguns, one for him and one for Armstrong.
Police obtained a warrant to arrest Kaitlin Armstrong for first degree murder, but when they went to arrest her, she was gone.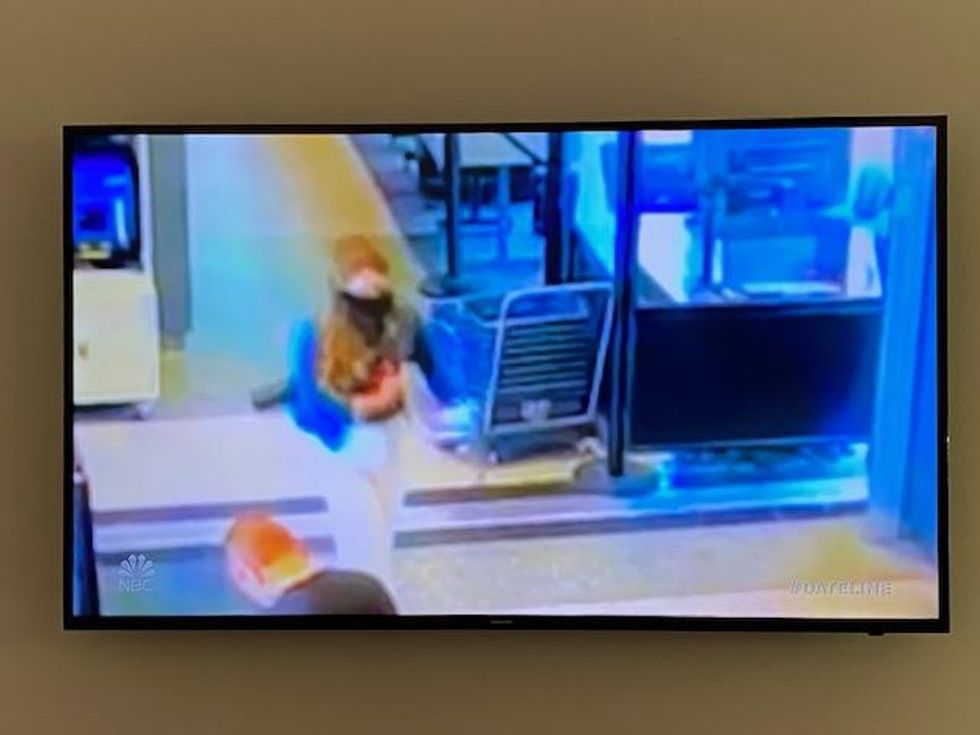 (Dateline NBC)
Disappearance
Austin police asked the U.S. Marshals to find her. The Marshals believed Armstrong was hiding in Austin, until 14 days after the murder when they discovered video from ABIA showing Armstrong, masked and carrying a yoga mat, about to board a plane 3 days after the murder. From Austin, Armstrong had flown to Houston and on to New York's LaGuardia, where the trail went cold.
The Marshals posted a reward, $5,000, asking the public for help. Help came with a tip that Armstrong had been seen in upstate New York a few days after arriving at LaGuardia. Investigators knew that Kaitlin's sister lived there, and went to investigate, but did not find any trace of Armstrong.
Another tip came that Kaitlin had been seen next at Newark International Airport on May 18. But, as before, there was no trail to follow.
But how could she travel without using her identification documents? And how could she survive without using her credit cards and bank account?
Back in Austin, police found her Jeep at a CarMax dealership, where she had sold it weeks before for $12,200.
Costa Rica
Meanwhile, in the small, end-of-the-road surfing town of Santa Teresa, Costa Rica, Kaitlin Armstrong had quietly arrived in town and was working for a local hostel, Don Jon's, checking in guests and teaching yoga.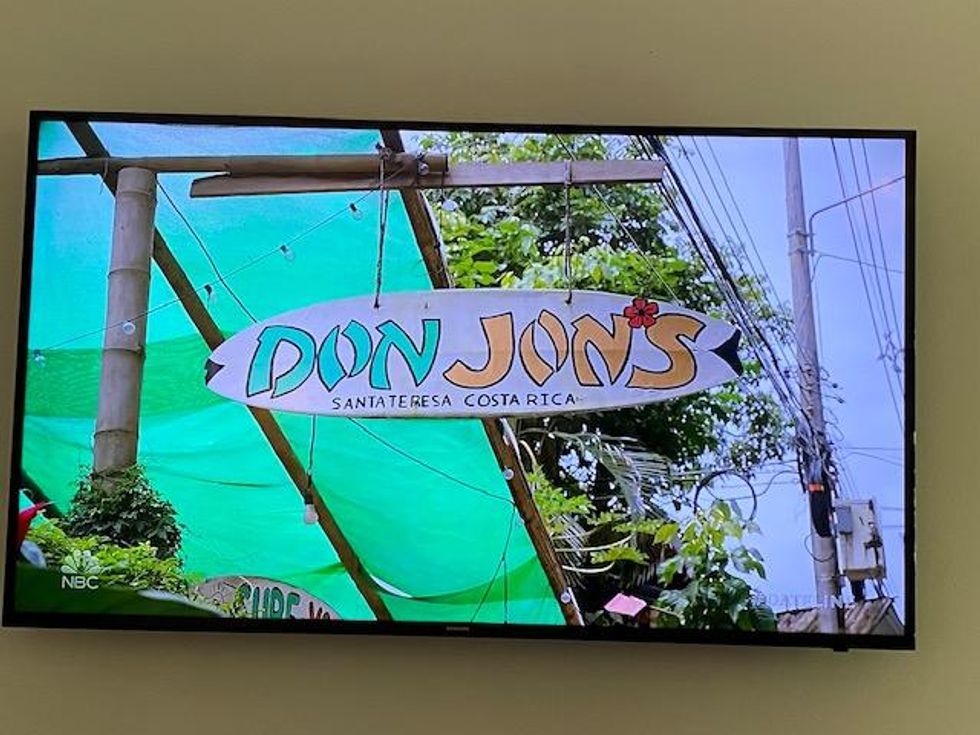 Dateline NBC
(Dateline NBC)
She befriended a local man who described Santa Teresa to NBC as "a really good place to hide out....it's the land of the unwanted, and the 'wanted.'"
At night, Armstrong became a regular at the town's one bar. She called herself "Ari," but didn't say much about past.
She dyed her hair dark and cut it shorter. She traveled to the capital, San Jose, where she may have had plastic surgery to change the appearance of her nose. Armstrong was later identified by an employee of the surgical center, but if that was her, she used a different name to register for the procedure.
Armstrong told people in Santa Teresa that she had had a surfing accident and needed treatment.
Capture
Summing it all up, Austin American-Statesman reporter Ryan Autullo said she "lacked the discipline, frankly, to not get caught." She did some things to conceal herself, but she also wanted to "have fun and live it up at the beach."
Around this time, working off the yoga mat clue, U.S. investigators were contacting police in "yoga destinations" around the world and circulating Armstrong's description. An officer in Costa Rica made inquiries, and was told about a "new yogi" in Santa Teresa.
43 days after Armstrong disappeared, police walked into Don Jon's and arrested her.
In the aftermath, a customer discovered Armstrong's documents, which he photographed before turning over to police. They included her sister's passport, and Armstrong's own passport, American Express Platinum Card, and her social security card.
Armstrong was extradited to the United States, returned to Austin, indicted for murder, and placed in jail with a $3.5 million dollar bail.
She pleaded not guilty, hiring Austin criminal attorney Rick Cofer to defend her.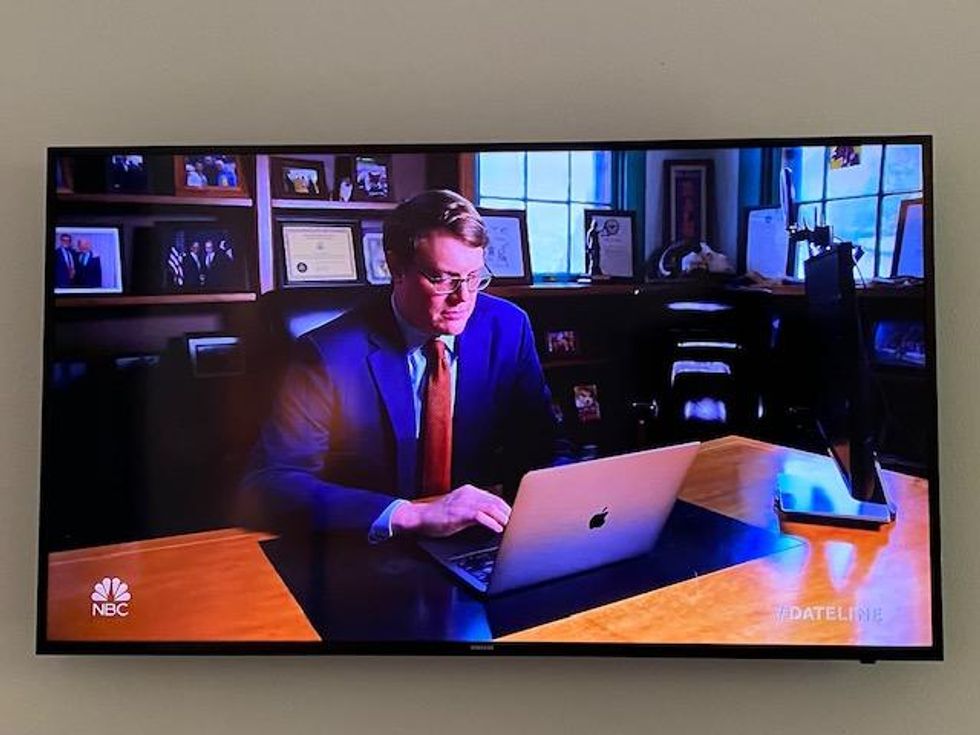 (Dateline NBC)
Cofer, a former prosecutor, was interviewed by NBC. He explained away every point of Armstrong's disappearance and apparent flight to a skeptical interviewer.
He identifies what he says are some weak points in the prosecution's case. Then he perhaps implies that he knows something prosecutors don't. "Kaitlin Armstrong is not guilty, Cofer said. "Evidence will come out that Kaitlin Armstrong was nowhere near the scene of Miss Wilson's murder."
A trial date was set for October 19, but a Travis County judge said in a ruling that an October trial is "highly unlikely."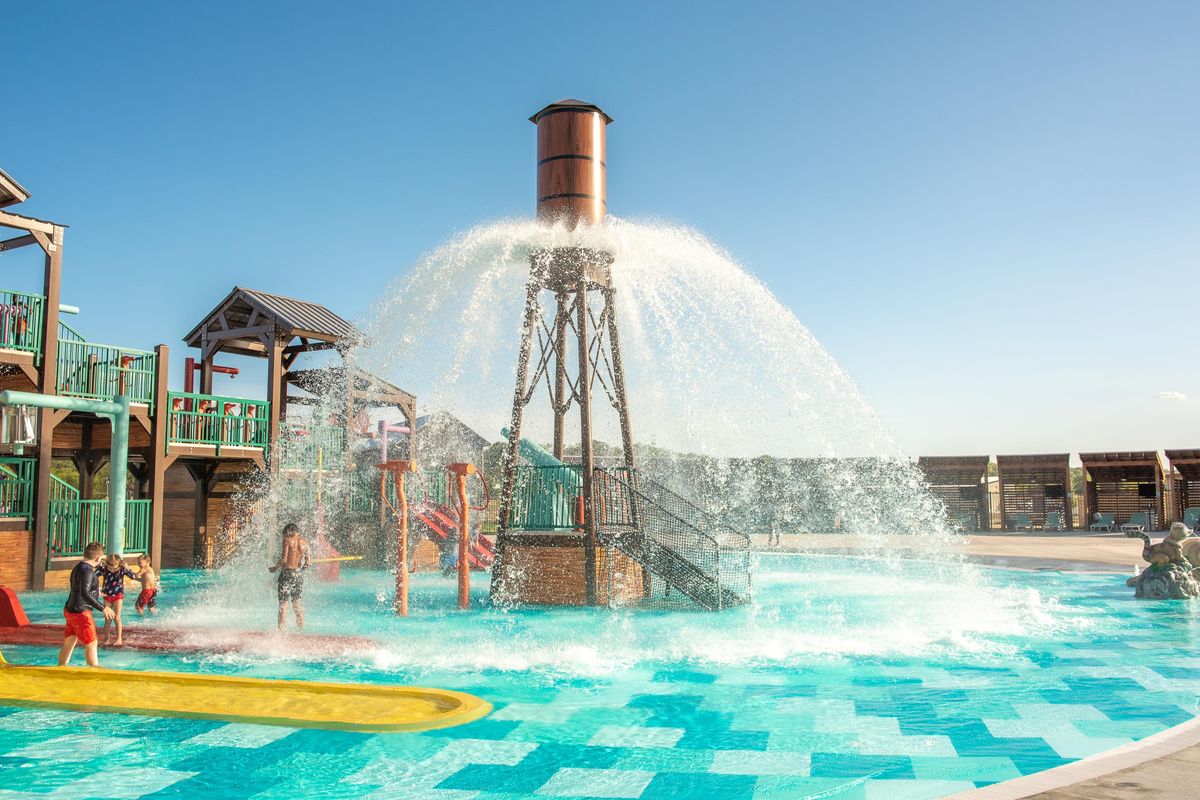 Camp Fimfo Waco
Camp Fimfo Waco, a brand new camping resort, is kicking off football and fall camping season in style! With top-notch amenities, premium accommodations, and 10 weekends of fall fun, there's no better place to have a fall camping getaway, especially if you're a Baylor football fan!
Fall promises to be a one-of-a-kind camping experience. From Sept. 16 to Nov. 24, weekends will be packed with fall-themed activities, including special Halloween weekends in October. Campers can enjoy activities like fall crafts, campground trick-or-treating, costume contests, site decorating, outdoor movie nights, and more!