Austonia AM
100% Austin news, info, and entertainment, straight to your inbox at 6 a.m. every morning.
In five minutes, you're fully informed and ready to start another great day in our city.
Get connected with our daily update
(Emma Freer/Austonia)
As counting drags on in the presidential election and amid fears of possibly violent demonstrations, two local organizations convened in downtown Austin to talk about what's next.
---
Protect the Results—a coalition of local progressive organizations such as Indivisible Austin, MoveOn Central Texas, Workers Defense Project and Austin DSA— hosted a march from Wooldridge Square, on Guadalupe Street, to the nearby state Capitol building and back. Their message: Count every vote.
Members of the group, clad in reflective vests, then helped provide community security to a small event hosted by the Austin Justice Coalition to discuss what happens after the election is called.

"The fact that the 'blue wave' didn't hit the shores of Texas … means that in two years we really have to turn out," Executive Director Chas Moore said, looking ahead to the 2022 midterms.
In the meantime, Moore rallied the crowd to keep up with their activism, given the close nature of the race.
"The fact that over 67 million people have voted for Trump is something that, I think, we should be concerned about," he said.
Moore also raised concerns about the political climate locally.

Last week, four Austin City Council members signed an open letter to Austin Police Department Chief Brian Manley, demanding that he explain how his department would maintain public safety during any post-election protests and account for recent reports that APD officers had treated domestic terrorist and white supremacist groups more leniently than peaceful protesters.
Then, over the weekend, APD officers posed in a photo outside of City Hall with members of the group Take Back Austin, which is calling on Austin Mayor Steve Adler to resign. Some held Trump flags, others flashed white supremacist hand signals.
Hey look it's @Austin_Police posing with trump supporters flashing the white power sign. Hey @Austin_Police don't d… https://t.co/DLxHWSryZL

— 𝕸𝖔𝖙𝖍𝖊𝖗 𝕸𝖊𝖗𝖗𝖎𝖈𝖐 🦂 (@𝕸𝖔𝖙𝖍𝖊𝖗 𝕸𝖊𝖗𝖗𝖎𝖈𝖐 🦂)1604294090.0
Moore connected this incident with the Austin City Council election results, which saw incumbents Jimmy Flannigan and Alison Alter challenged by conservative candidates who attacked their support of recent efforts to defund APD. Both are headed to runoff elections on Dec. 15.

"Jimmy Flannigan is losing potentially to someone who was in that photo with the Proud Boys," Moore said, referring to Mackenze Kelly. "Alter, who is really good, is headed to a runoff."
In addition to encouraging turnout in these upcoming races, AJC leadership laid out their other post-election action items.
Warren Burkley, community outreach director for AJC, said these include continuing the push to "defund" APD and reallocate dollars to other city services, such as the forensics lab and mental health responders.
Other local priorities include passing an ordinance that would allow city officials to fire the police chief and advocating during the next state legislative session to pass criminal justice reforms, such as expanding the Sandra Bland Act.
State Senator Sarah Eckhardt, D-Austin, rode her bike to the event and spoke toward the end.
"In the full interest of full disclosure, I am a politician," she said, adding that she is also a former prosecutor. "I am a woman, but I'm the man."
Still, Eckhardt expressed hope that elected officials and activists could work together on issues such as criminal justice reform and engage in constructive, rather than destructive, conflict.
(Stubb's Austin/Instagram)
After a long, long year without live music, Austin has waited patiently for a return that has finally come. Festivals are planning returns and even venues that adhered strictly to safety protocols during the pandemic are feeling safe enough to gather again in person.
Starting in just a few short days, you can finally enjoy what makes Austin, well, Austin again. Here are a few of the live shows to look forward to.
Remember to jump on those tickets–Austinites have been missing their live music!
We asked you what you wanted and you told us. More newsletter!
Austonia launched its new and improved newsletter today. You can expect:
100% Austin news, info and entertainment
Sent straight to your inbox at 6 a.m. every morning
In 5 minutes or less, you're fully informed and ready for a great day
Sign up here:
For Marco Silvestrini, gelato takes him back to his childhood when he and neighborhood kids in a small Italian town would end their day at the local gelato shop. It was part of what made some of the best memories for him.
He's since been offering that same experience for the past seven years with his artisanal gelato shop, Dolce Neve, in Austin, alongside his sister and her husband.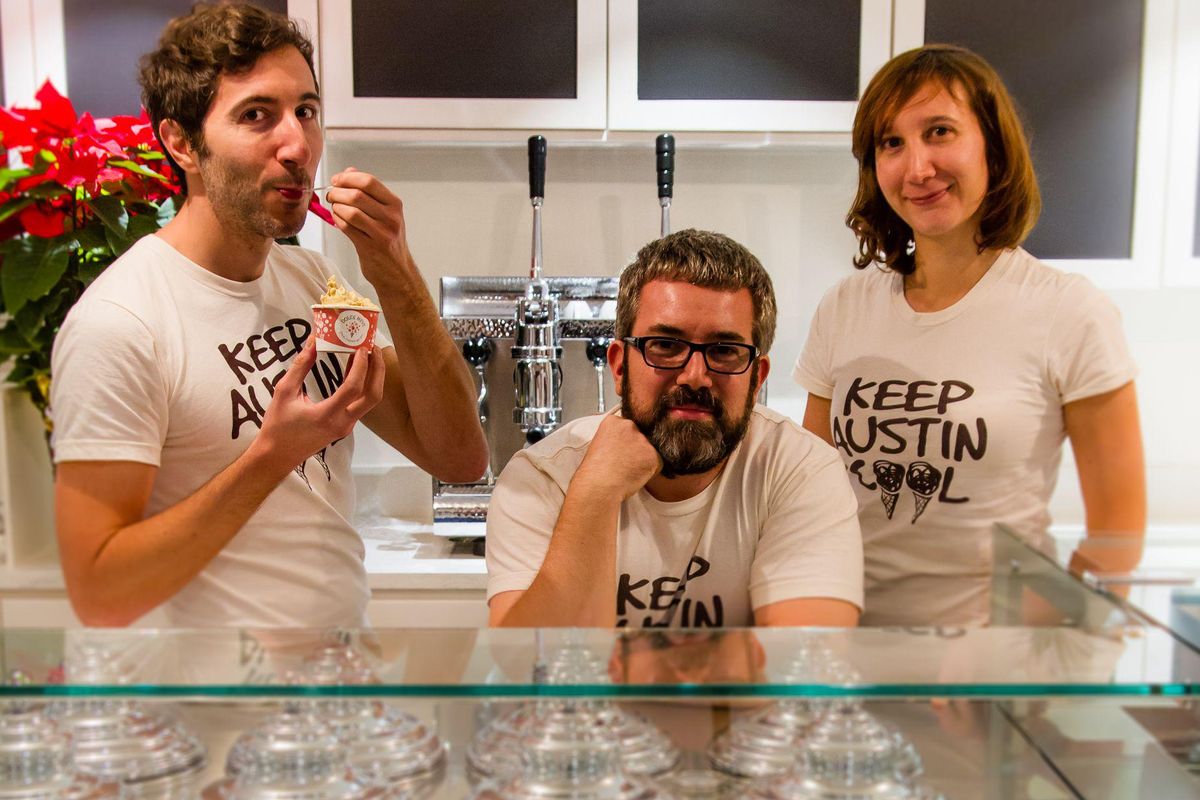 Leo Ferrarese, Marco and Franscesa Silvestrini run Dolce Neve. (Dolce Neve)
While gelato always played a big role in Silvestrini's life, it wasn't in his plans to take on a business with his favorite treat. After a few years in New York working as a management consultant, he felt he was missing out on something. "I decided to take a step back and started thinking, what could... I do to make society better and happier, even just for a moment," Silvestrini said.
He thought back to his childhood and the role gelato played in it and wanted to offer the same experience to Americans.
Once he had the product idea down, it came down to location. Growing up among farmers in a small community in Central Italy, Silvestrini knew he wanted a slower pace of living than New York, so he asked around. The answer he got: "Austin." The only thing he knew about what would become his future home was it had a Formula 1 track.
But after visiting once, he felt a great sense of community he didn't feel in The Empire State. "I felt it was not just a good place for a concept like mine, but also a good place to live because at the end of the day, you cannot just think about your business," he said.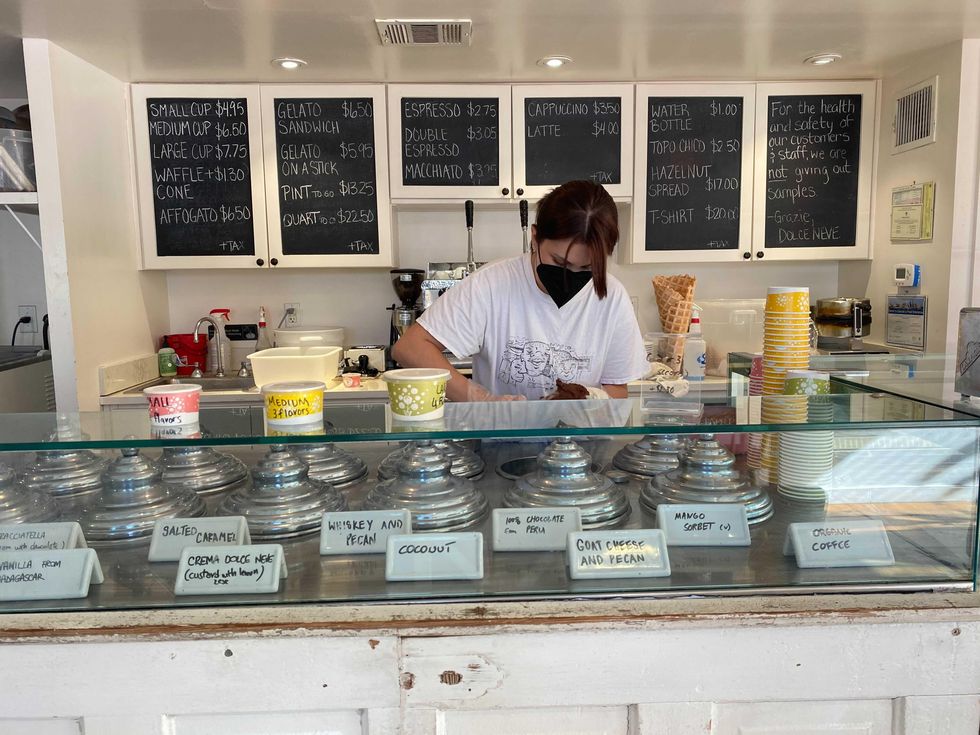 "Dolce Neve" translates to "sweet snow." The shops offers 12-18 flavors at a time. (Dolce Neve)
Similarly, his sister Francesca Silvestrini was experiencing the same feelings while studying for her Ph.D. in Ohio before teaming up with Silvestrini. She went back to Italy to be properly trained in making gelato while Silvestrini focused on the business plan. They brought Leo Ferrarese, her husband, onboard and opened their first shop on South First Street in January 2014. The rest is history.
On the menu, you'll find various traditional and innovative flavors that rotate out. Some of the staples include chocolate, 100% vanilla from Madagascar and salted caramel. Other rotating or seasonal flavors include whiskey and pecan, organic cantaloupe sorbet, goat cheese and pecan, almond custard and tiramisu. They've created over 300 flavors together in the span of the business.
So what's next for the shop? Lately, Silvestrini has been thinking a lot about that. With two locations in Austin, one in Houston—he's just not sure if expanding more is the right move. Maintaining a quality product and good service is of utmost importance that he's not willing to sacrifice.
"In order to be happy, it's not about making money, it's about being an integral part of the community," Silvestrini said. "There have been so many cases in which I think what I did today really made a difference in somebody's life."