Get connected with our daily update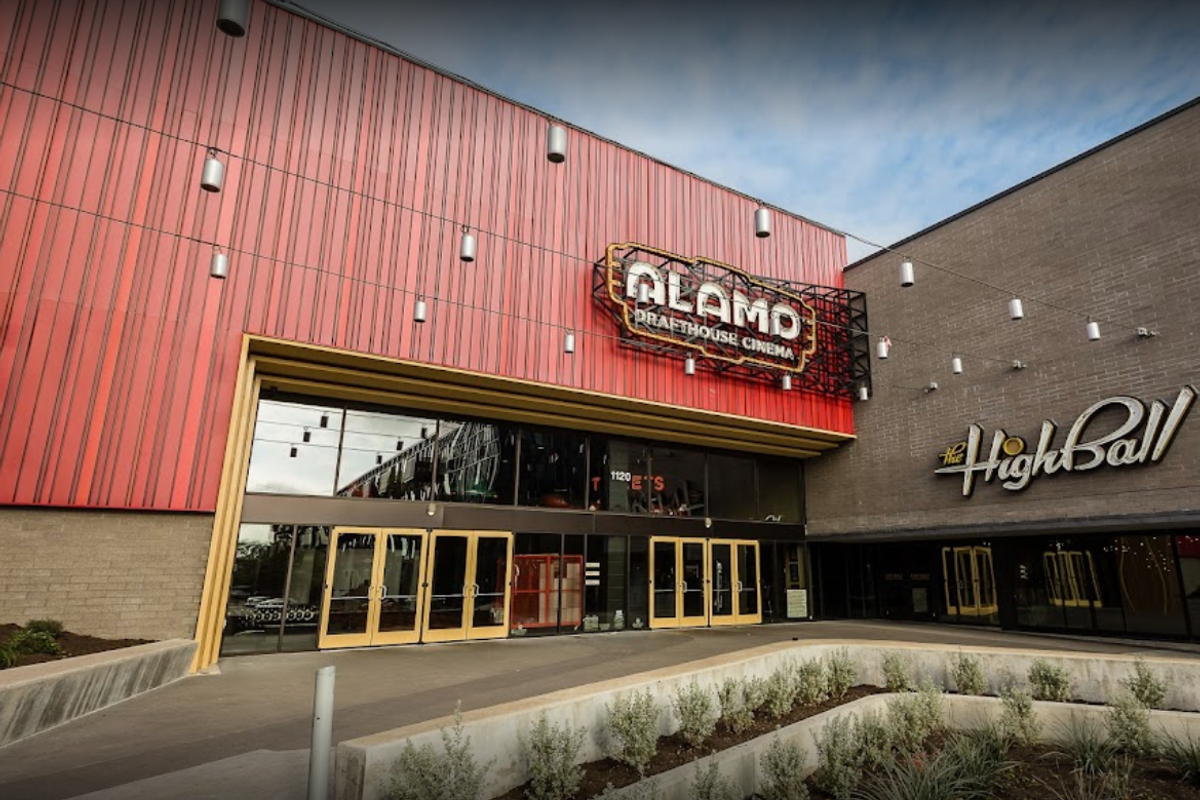 Alamo Drafthouse Cinema workers at the South Lamar location have unionized, according to a release from the Industrial Workers of the World, and are asking that management recognize the union.
---
Called Drafthouse United, which submitted a voluntary recognition request to management on Feb. 14, unionized workers are asking for the following:
wage and benefit increases
paid sick leave
transparent COVID-19 policies and practices
a resolution to fix long-standing building maintenance requests
Zach Corpstein, who has been serving at Alamo for four years, wrote a letter explaining the decision to unionize, saying the pandemic has "shaken the business to its core," and while COVID restrictions started out well, they fell away seemingly overnight without consulting employees or guests.
"Our aim in unionizing is not to submit a list of demands to Alamo Drafthouse's Corporate offices, but one of proposed solutions, so that we can work together to create a better future," Corpstein said.
Alamo Drafthouse has not released a statement. Austonia has reached out for comment.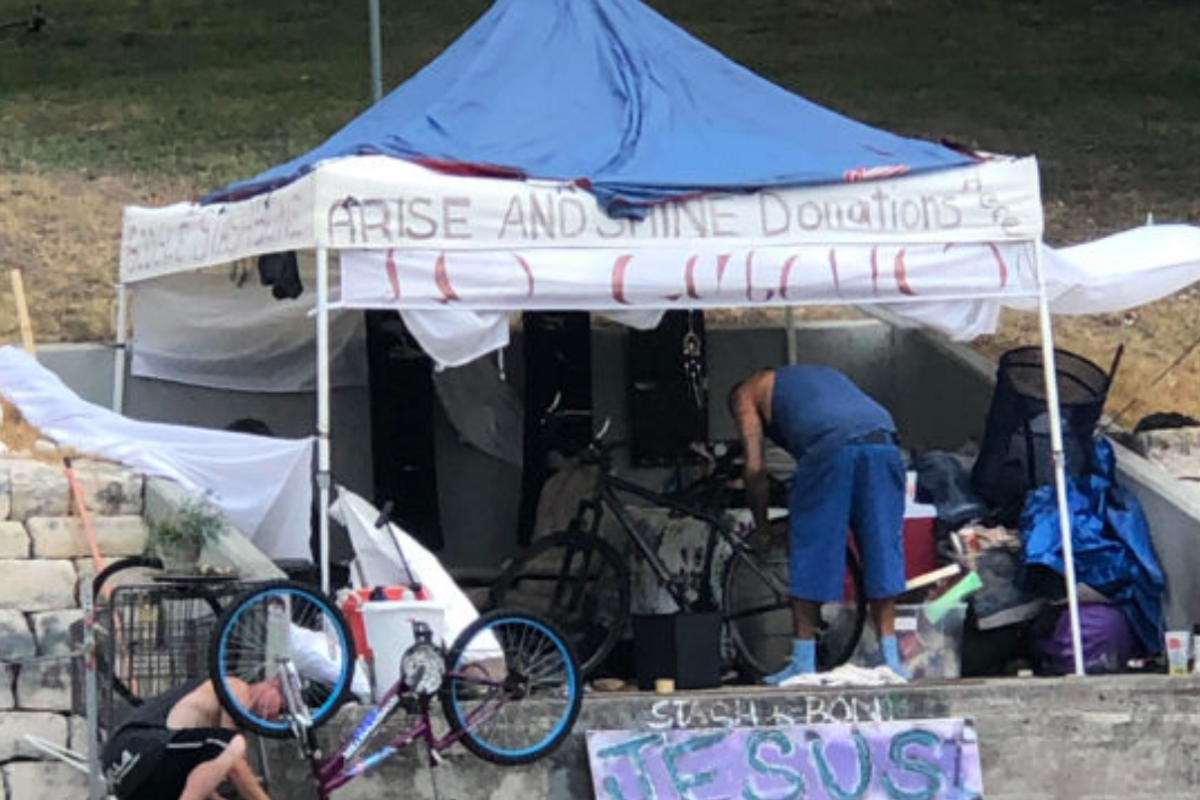 By Chad Swiatecki
City staffers are making a series of changes to the management of homeless encampments, with a centralized response and assessment system in the works that is expected to become operational later this summer.
City Council's Public Health Committee received a presentation Wednesday detailing the current state of work to break up and manage the homeless communities that have continued to sprout up around the city since the public vote last year to reinstate a ban on sitting and camping in public.
Eighteen city departments, including Austin Fire, Transportation and Public Works, are involved in the clearing and care of encampment sites, with requests for services far exceeding the capacities of those groups. On average, Austin Resource Recovery, Public Works and the Watershed Protection Department tend to 68 sites per month, with the encampments collectively generating 138 tons of trash per month.
To improve coordination, produce better results with cleanups and address the needs of homeless individuals, staffers are working to create a central response structure that uses some of the components of the Housing-Focused Encampment Assistance Link, or HEAL. The improvement plan would also establish a framework for prioritizing what resources are used and when, create protocols around biohazard cleanup and leftover property, and implement a system for tracking the various camps to prioritize responses.
The basic guidelines of the central response structure have been established, with full activation expected after the prioritization tool is complete. That tool will begin testing this month, with full activation in July.
Council members were receptive to the update, which looks to find a way to keep encampments from repopulating when their inhabitants can't be placed in temporary bridge shelter units quickly as was envisioned when the HEAL initiative was launched.
Committee Chair Kathie Tovo asked Dianna Grey, the city's homeless strategy officer, if current contracts related to the cleanup of encampment sites will need to be updated with more funds. Tovo referenced the fire that occurred following the recent clearing of an encampment along Bouldin Creek because the contractor charged with cleaning the site took several weeks to perform the work.
"We will see a need for some additional resources in some of those contracts, but departments are looking at their resource array to see what they can draw from other places to support the work," Grey said. "The other piece that has been challenging is Public Works, Watershed and Austin Resource Recovery, depending on the funding source, can use those contracts or staff only in particular places. That resource coordination is something we're hoping to improve, looking at the crews we can use in a particular location and seeing if we can alleviate situations like (Bouldin Creek)."
Council Member Ann Kitchen, who spearheaded the HEAL initiative, expressed frustration with the lack of cleanup and "placemaking" at cleared sites.
"I need to know who to work with to make sure that happens. What I'm not hearing is a systematic approach and my idea is that HEAL would be available for all of these locations," she said.
Mayor Steve Adler said he appreciated the work improving the process, but pushed Grey and other staff to come forward soon with a timeline for when additional permanent supportive housing units would be completed.
"For the community we need to recognize that there will be no answer to this, no disappearing of encampments, no thorough and exhaustive placement of people in homes until we have places for people to be. We could have been doing this work years and years ago to build out the infrastructure so that we had it in place, but we don't and now we're trying to catch up. We need a presentation on the arc and time frame for having units available," he said.
"There is a dramatic increase in the number of units that are going to be coming online in the next three years relative to anything we've done before and the community needs to both see that it's going to happen but also see it doesn't happen overnight."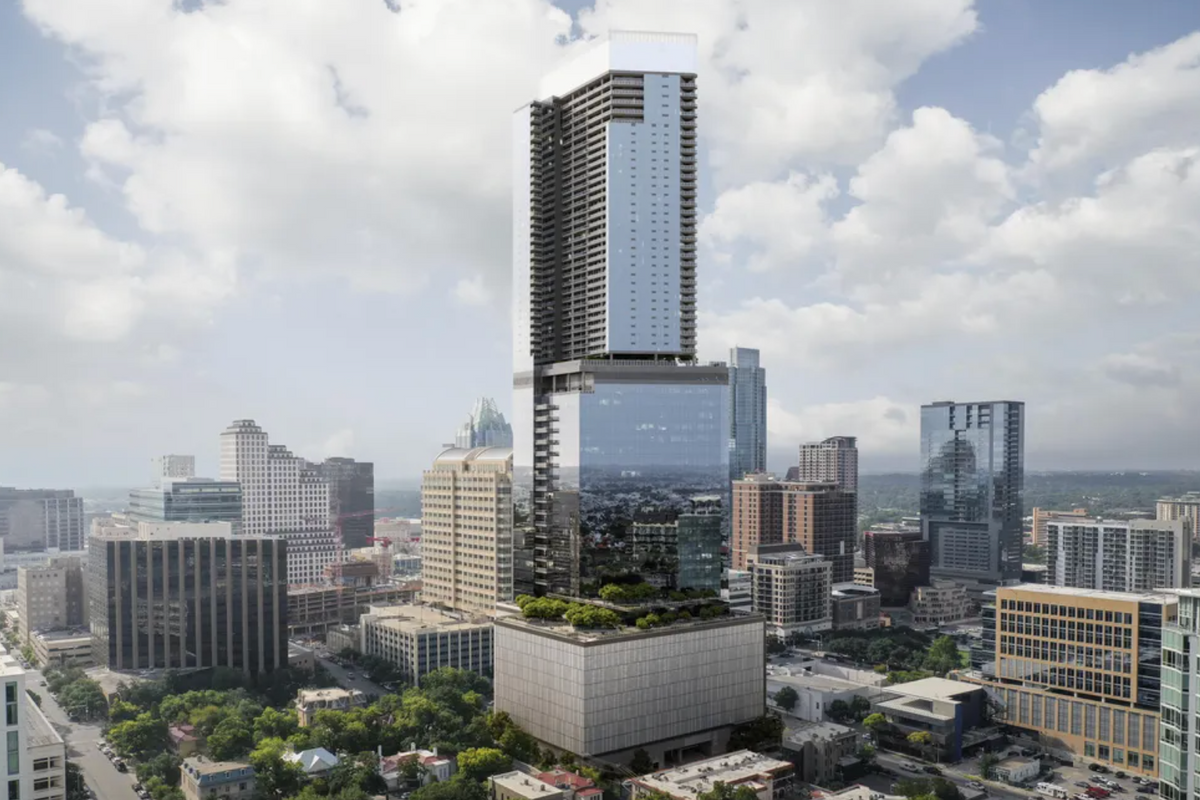 A park in the sky. That's how Ed Muth, Gensler principal-in-charge of the Sixth and Guadalupe project, describes the outdoor deck on level 14 of the building.
It's a gathering space that'll be lushly landscaped and filled with various plant types. It'll also have spaces for sitting and a small amphitheater tech space. It's poised to be an area for Meta employees to spend time and mingle once the tech giant moves in next spring.
As downtown grows with increased residential and office space, the tech industry's influence in the area is clear with Google's sailboat tower plus TikTok signing a lease on Colorado. How will Sixth and Guadalupe shape Austin's skyline?
For starters, it's poised to be the tallest tower in Austin when it is completed in 2023, standing 66 floors high. The deal with Meta, Facebook's parent company, was inked on Dec. 31, 2021 and is downtown Austin's largest lease ever, spanning across 33 floors and 589,000 square feet. It'll cater to some of the 2,000 employees that have been working in Austin. The social media giant has also said it plans on adding 400 more employees.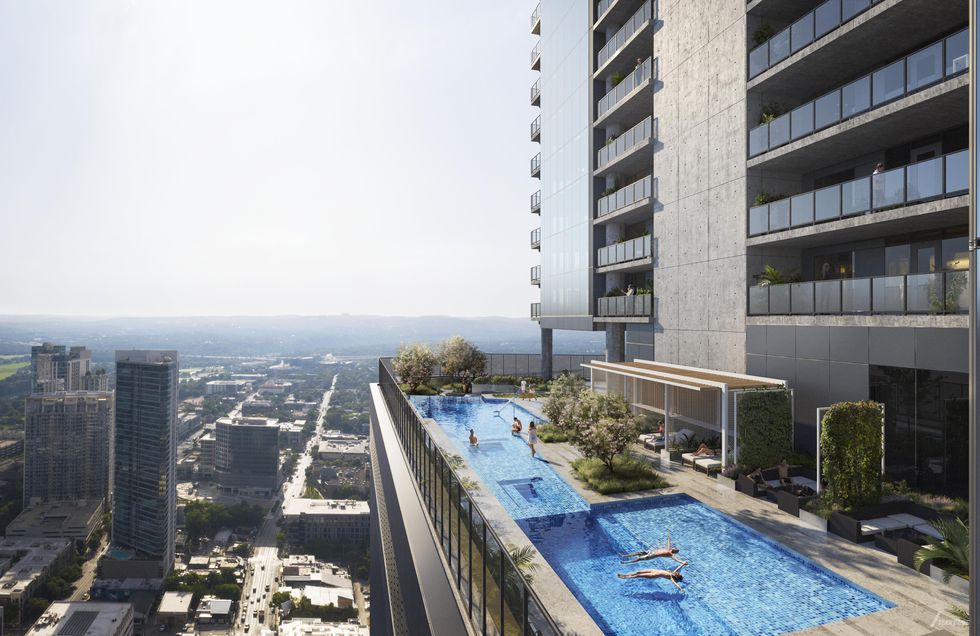 Key to the project, Muth told Austonia, is making sure clients get everything that they expected out of it.

Soon-to-be residents, the first of which are expected to come in the summer of next year, will occupy space from level 34 up and can expect gaming lounges, theater space, a garden on level 53 plus some pools. The one on level 66 will be the highest pool deck in Austin, Muth said.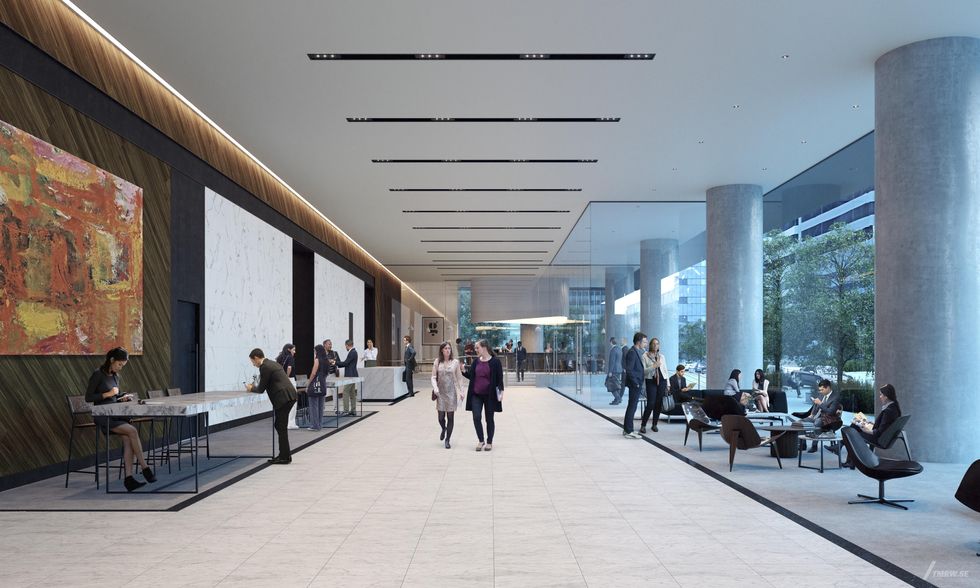 The flashy amenities are sure to catch the attention of people vying to move in, but other major design elements were brought on by the Capitol view corridor.
"It's set out there to make sure that we don't block the views of the Capitol," Muth said. "It kind of set the rules for where we can build, where we could position the building, how we design, the shape of the building, and how we put the square footage together in that building."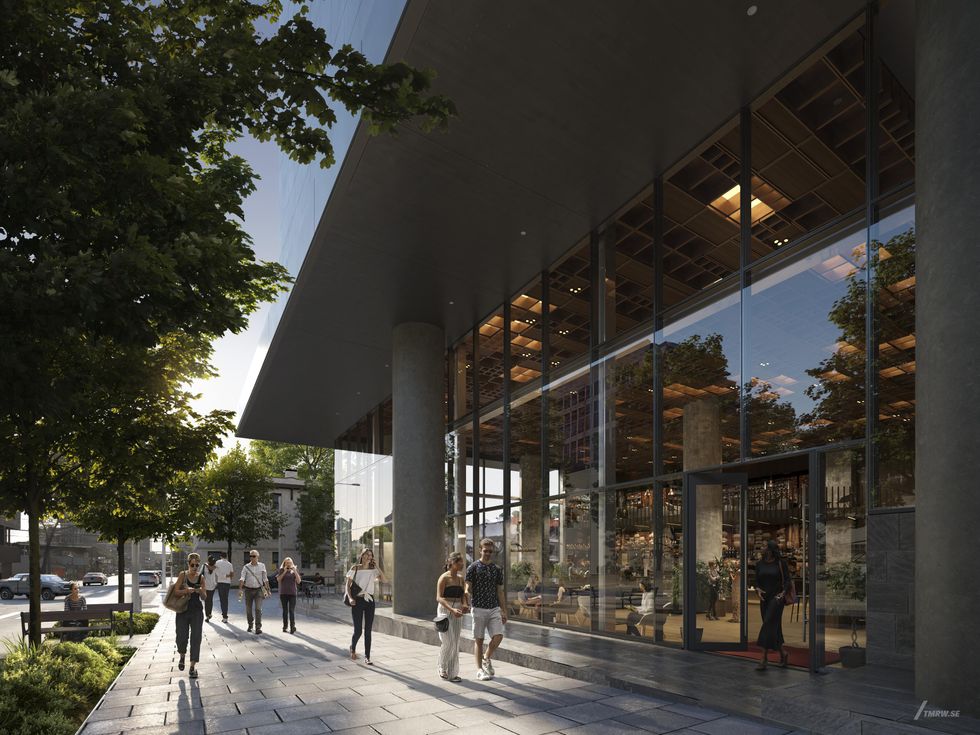 A building of this undertaking involved a team of about 20 people at Gensler, a global architecture firm headquartered in San Francisco. They've been working with commercial developer Lincoln Property Company and residential developer Kairoi plus about a dozen consultants, some of whom were in Austin and others in Dallas.

The downtown tower boom has been in the works for some time. Muth said they've built a lot of trust working with them for the past five years, with some of their work carried out remotely during COVID-19. In the early days of the pandemic, downtown areas across the country—Austin included—saw lowered activity and both residents and workers heading to suburbs and other areas of the city.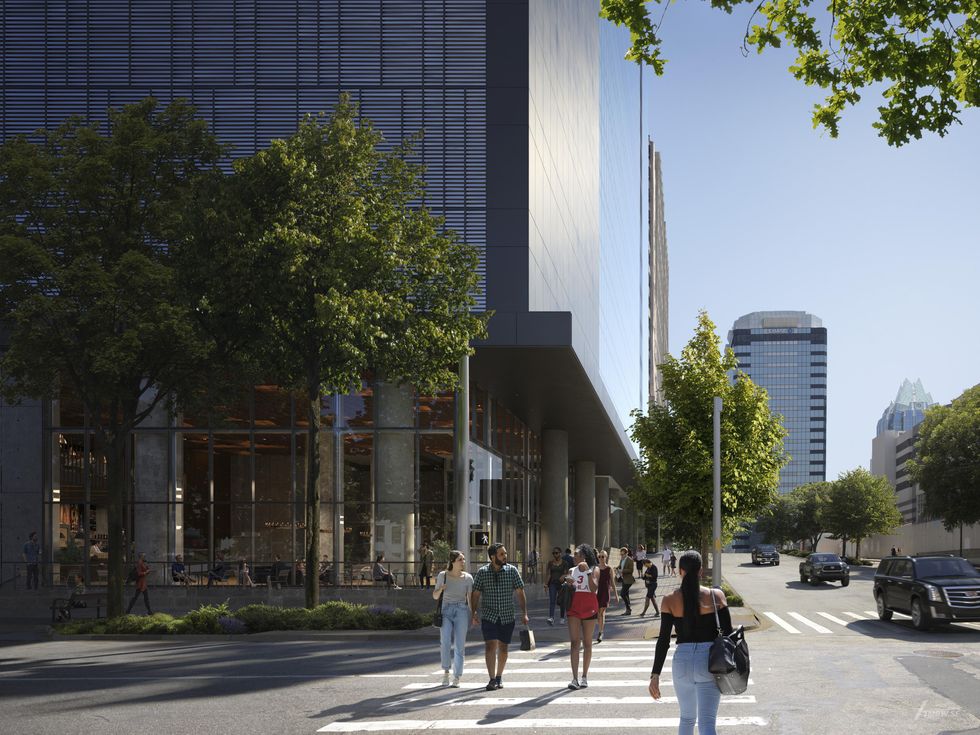 "It really rose to its form, as we see it today, during that time, and a lot of people weren't downtown," Muth said. "So it probably surprised some folks when they came back downtown to say, 'Wow, where'd that come from?'"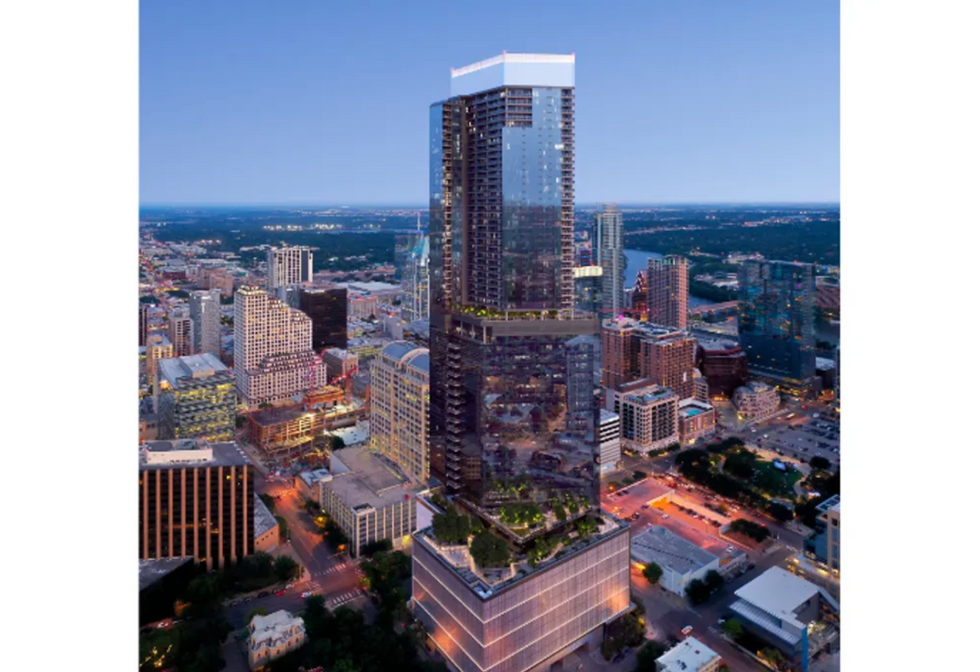 About two weeks ago, Muth made a visit to the site, noticing restaurants and retail that hadn't been there previously. Sixth and Guadalupe itself will include retail on the ground floor, adding to downtown's growth even on the sidewalk level.
"Just looking out from the level 14th floor deck, I think we counted five or six, maybe seven new construction sites that are within blocks of this project. The area's rapidly changing," Muth said.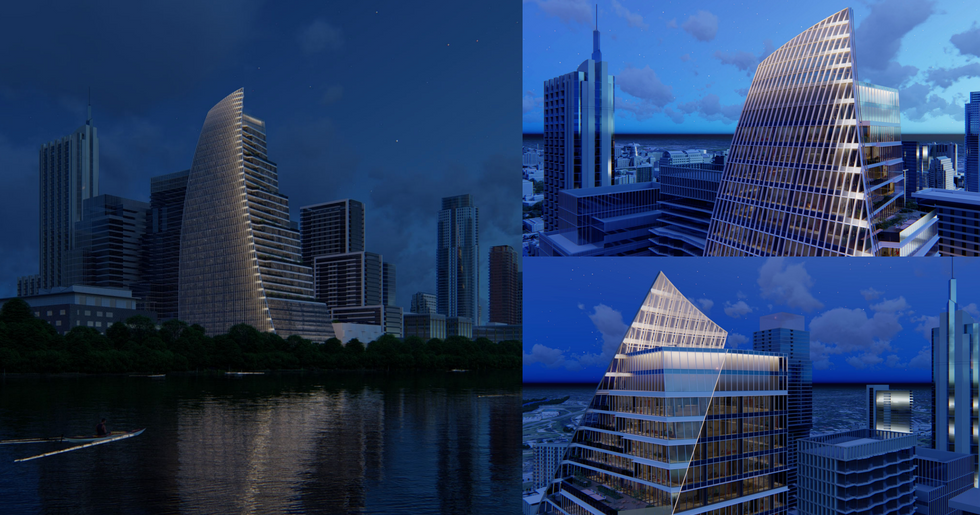 Exclusive: Architect involved in Austin's new Google tower outlines considerations that led to unique design