Get connected with our daily update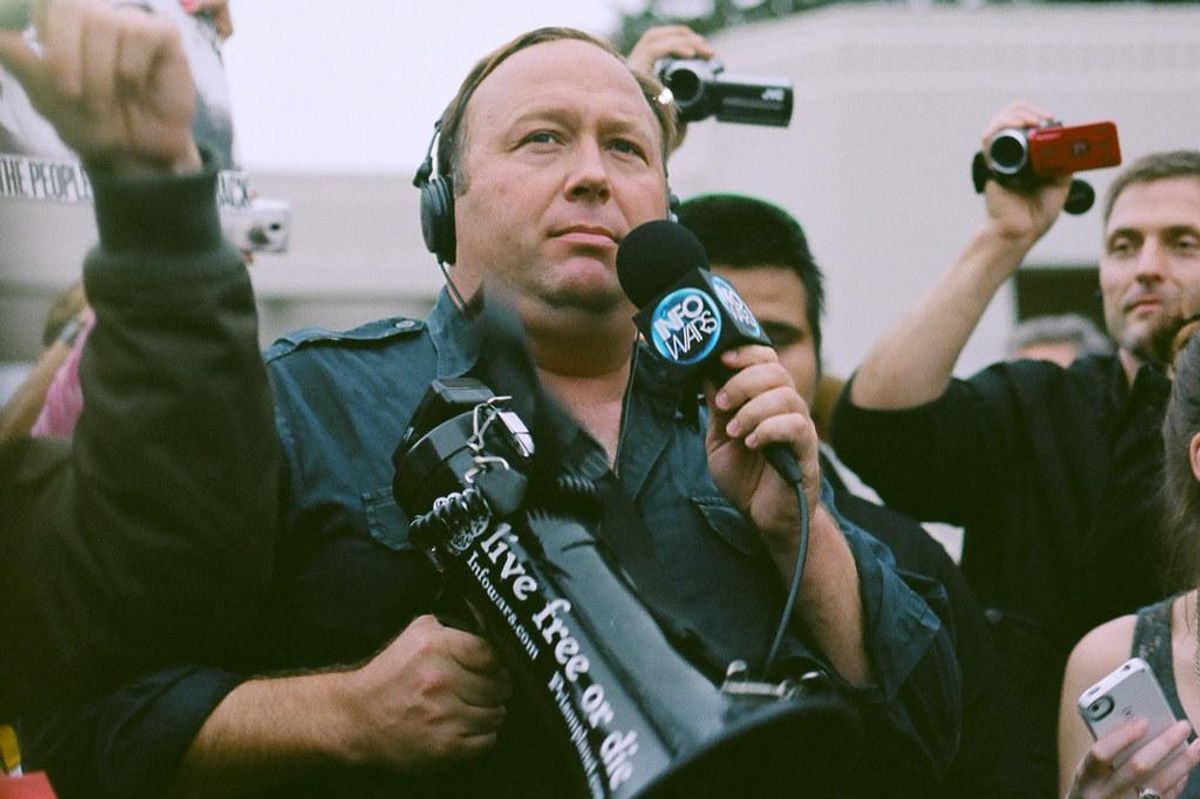 (Sean Anderson/CC)
A handful of lawsuits accusing InfoWars conspiracy theorist Alex Jones of defamation against Sandy Hook victims will be allowed to move forward, despite Jones's attempts to squash them, The Texas Supreme Court ruled Friday.
---
The four lawsuits, filed by parents of two children killed in the shooting on Dec. 14, 2012, were filed in Travis County, where Jones is based. The parents argue they have suffered emotional distress after Jones's comments.
In reference to the deadly shooting, in which 20 young children and eight adults were killed at Sandy Hook Elementary in Newtown, Connecticut, Jones claimed that "no one died" because it was a staged operation to demonize guns. After these comments, some of his followers reportedly harassed and stalked parents who were involved.
Neil Heslin, father of 6-year-old Jesse Lewis, filed two lawsuits taking issue with Jones's statements that the Sandy Hook shooting was "a giant hoax" and disputing that Heslin held his dead son in his arms afterward.
Scarlett Lewis, mother of Jesse Lewis, took issue with Jones's statement saying the shooting was "as phony as a three dollar bill" and doubting the parents' grieving.
Citing that Jones believed the shooting was a "false flag" operation put on by gun activists, Leonard Pozner and Veronique De La Rosa, parents of 6-year-old Noah Pozner, filed a suit.
Similarly, after the 2018 shooting at Marjory Stoneman Douglas High School in Parkland, Florida, which killed 17 people, Jones made claims that students involved were "crisis actors" in a "deep state false flag operation." Jones also attacked survivor David Hogg, who was 17 at the time.
Another defamation lawsuit, relating to InfoWars misidentifying the Parkland shooter, was also allowed to move forward by The Texas Supreme Court. The incorrect information was left on the site for 13 hours, without a correction issued after it was taken down.
The Texas Supreme Court rejected all of the attempted dismissals on behalf of Jones's legal team without comment. However, Justices Jeff Boyd and John Devine dissented on the Pozner suit without giving a reason.
Jones rescinded his claims during a deposition in 2019, saying he was under a "form of psychosis" that made him believe the shootings and "basically ... everything was staged." He said this distrust resulted from "the media and the corporations lying so much."
Jones has a history of spreading misinformation, starting in the early 2010s, and has started many prevalent conspiracy theories. Jones has been vocal about conspiracies that the Sept. 11 attacks were an inside job, drinking water is contaminated with chemicals that "turn the freaking frogs gay" and that Democratic officials are involved in a sex-trafficking ring.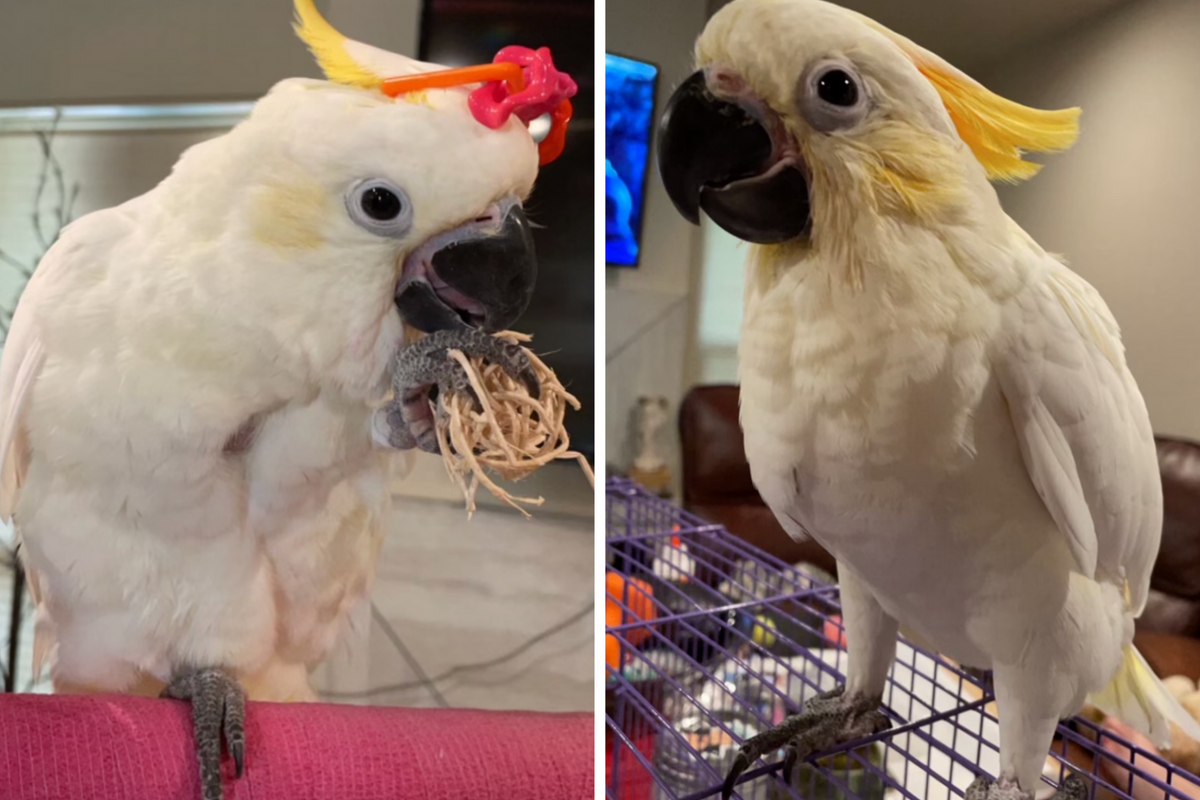 A big-money bird has been stolen from a northwest Austin pet store.
Kelsey Fernandez, the owner of a $6,000 sulphur and citron-crested cockatoo named Lemon Grab, said the emotional support animal was taken from the Gallery of Pets store, around closing time on Sunday.
"I've struggled with mental illness my entire life, and ever since I got him I've been doing so much better," Fernandez told Austonia.
The $6k cockatoo is young and will starve unless he is fed by hand, Fernandez said.
In a surveillance video, a man appears to have something under his shirt as he and two others exit the business around the same time the store believes that Lemon Grab was stolen.
Fernandez said a report has been filed with the Austin Police Department with an $1,000 reward for his return.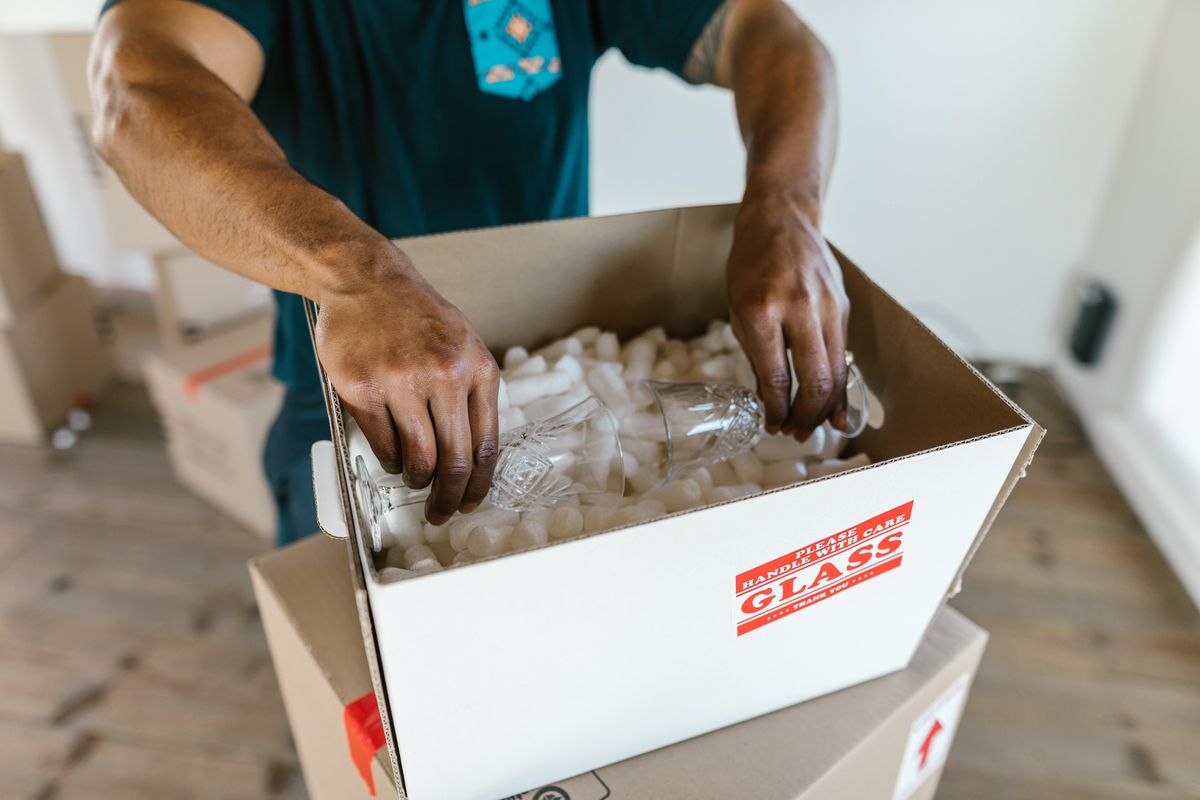 Introverts and personal space lovers may not want to make the move to Austin anytime soon: The Texas capital saw a bigger increase in one-bedroom rent prices than almost any other U.S. city in April, according to a Rent.com report.
Austin's one-bedroom rent has more than doubled—a 112% increase—from April 2021 to 2022, the report said. Only Oklahoma City saw a higher year-over-year increase with a 133% jump.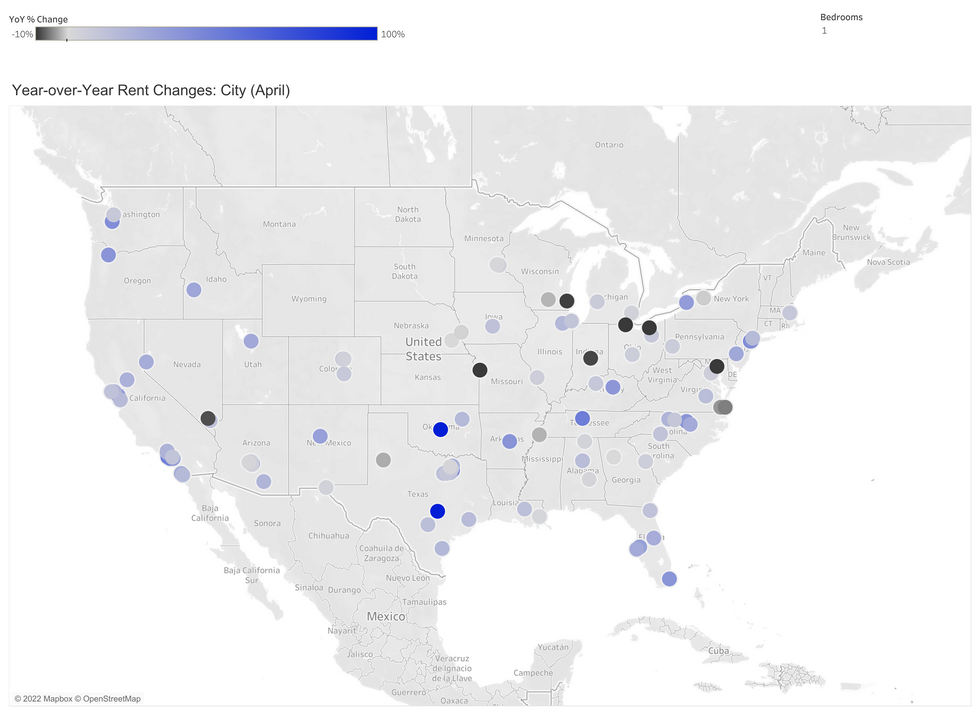 Austin also had the fourth-highest increase in two-bedroom rent, with a 50% increase in the past year. The city joined a nationwide trend where rents were up 8.3% year-over-year across the U.S, a trend exacerbated by a 6.2% increase in inflation in the same time period.
But "not everyone is experiencing inflation the same way," Redfin Deputy Chief Economist Taylor Marr said in the report, and a brunt of the load has gone to cities with more move-ins. While over 90% of state rental markets increased in the last year, that jump was seen most in Sun Belt states, including Texas, Arizona and Florida.
Even with breakneck increases in rent, however, Austin's rent prices still haven't cracked the top 10: the city's one-bedroom apartments are the 12th most expensive in the nation with an average price of $2,918. Meanwhile, its two-bedrooms fall behind Texas cities Frisco, Dallas and Plano and come out 34th on the list with a $2,302 average monthly rent.