Get connected with our daily update
Austinite and former University of Texas diver Alison Gibson says she's good at "turning off her brain."
The 21-year-old diver said it's all a mental game as she heads to Tokyo ready to represent herself, her alma mater and her country at the 2021 Olympics.
---
At a meet-and-greet at Orangetheory Fitness in Austin, the soon-to-be Olympian told Austonia the key to her success, aside from 12 years of hard work and dedication, is clearing her mind before each dive.
"It's really easy for doubts and fears to seep into your mind," Gibson said. "I try to just relax and have fun because the thing is, my body knows what to do, my brain knows what to do, and I just have to kind of allow that to happen."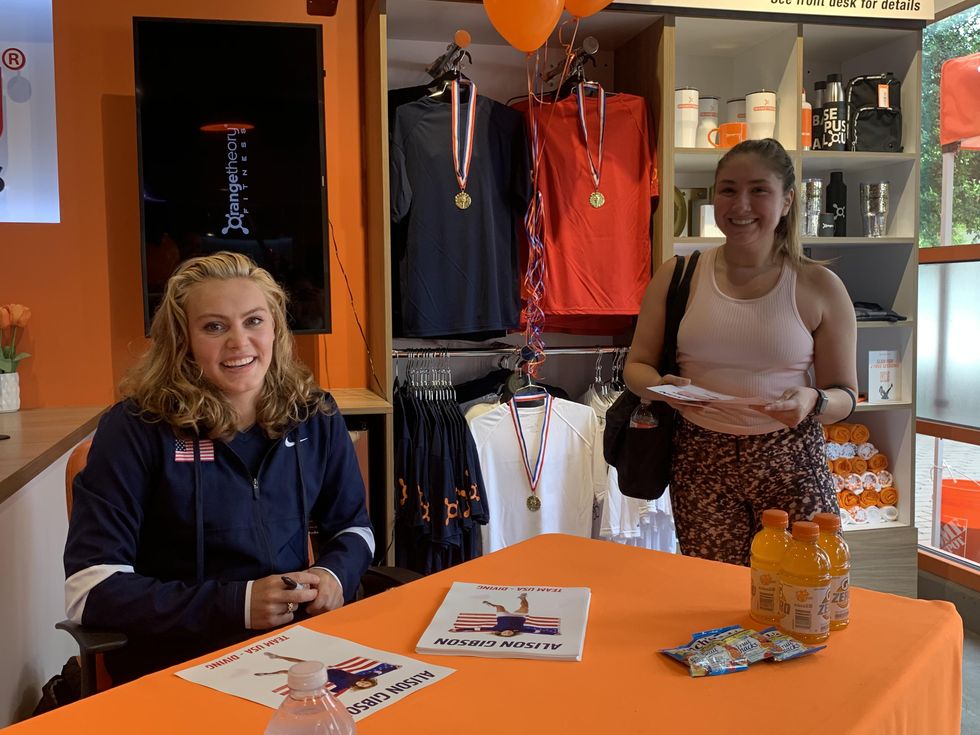 Gibson signed autographs and took pictures with fans at OrangeTheory fitness on Mueller on Monday. (Claire Partain/Austonia)
The hard work has paid off; after starting a diving career path at age nine, Gibson became UT's first NCAA diving champion in 10 years in the one-meter competition as a freshman in 2017. She followed up with three Big 12 Championships and was named to both the 2019 USA Diving Tier Two diving team and Team USA at the 2018 FINA Diving World Cup.
Gibson said she never knew she would be an Olympian, just that she loved the sport itself.
"I just fell in love with it really quickly," Gibson. "I always had the dream of becoming an Olympian, but I was always a small goal person. As I achieved each of those goals, it led me one step closer to making the Olympic team."
Gibson found out she was going to the Olympics alongside partner Krysta Palmer in June at the Olympic Trials. Although it took four days for the competition to end, Gibson said she knew they had punched the golden ticket as she hit the water.
"I actually kind of knew (as) I was under the water," Gibson said. "I knew that was good enough to make the team. And it was so cool, because we just came out and hugged each other. It was just a super surreal experience."
While Gibson has been part of a rigorous physical training schedule—she had just finished weight training prior to the sendoff—sometimes the mental side of the sport takes just as much practice.
To separate her own self-worth from her performance, which Gibson said would be a "roller coaster," Gibson relies on her Christian faith to stay grounded. She prays before each dive and was prayed for by well-wishers at her church on Sunday.
"My identity is in Christ (and) because of that, the things that happen in diving and things that happen in life don't affect my image of myself," Gibson said. "I think that's something a lot of people kind of get caught up in at a high level, so I really wanted to make sure that I stayed humble and grounded and knew where my true identity was."
Gibson wants more than a gold medal at the Tokyo Olympics; her other goal is to meet star gymnast Simone Biles.
"I'm going to be like, 'Look, we're both from Texas, let's be best friends,'" Gibson said.
On a more serious note, Gibson wants to impact young athletes on their own journey. She knows what it's like to get burnt out, and she hopes to inspire them to keep going.
"Always have fun and remember where you came from, and remember why you started doing what you're doing," Gibson said. "I love the feeling of flying, I love the feeling of hitting the water, I just love every part of it. If you can take a step back and remind yourself of the real reason why you're doing it, that really helps you keep pushing through the really hard times."
Gibson heads to Tokyo on Saturday, but there's no need to pack her bags; she'll be stocked up with plenty of Team USA gear once she gets to her first Olympic Village. The long-awaited ceremony begins less than a week later on Friday, July 24.
East Austin restaurant la Barbecue has been robbed a third time in less than three months, according to a post on the restaurant's Instagram.
In the post, the restaurant included photos of what appeared to be a man exiting a minivan from surveillance footage.
"This guy pulled up in a car full of stuff… he ripped our gate open and stole a couple empty kegs," the post said. "The ring system scared him off so he did not venture back into the area. PLEASE EVERYONE ON THE EAST SIDE BE CAREFUL!!! This guy goes back into his car to grab something before he goes in. I am hoping he won't be back!!"
The robbery comes as many restaurant and food truck owners have been on guard from recent break-ins. East Austin cheesesteak truck R&B's Steak and Fries has also been robbed three times in around three months, according to owner Kris Elliott. Elliot said the truck was last robbed around a month and a half ago.
"When the weather gets cold, it seems like these things start to happen more often," Elliott said. "We're just happy no one got hurt."
Additionally, he said all 5 of the food trucks in their lot have experienced burglaries. The landlord of the space is taking action by investing in alarm and camera systems. "Been very tough dealing with this problem as us small business owners are just trying to survive during the pandemic," Elliott said.
And it's not just in East Austin. North Austin restaurants Eldorado Cafe and Chez Zee Bistro were both broken into and robbed on the weekend of Jan. 8, while over a dozen food truck robberies and break-ins were reported in the latter half of 2021.
Some, like Chez Zee's Deborah Velasco, wonder if the understaffed Austin Police Department's decision to no longer respond to non-emergency calls is part of the problem. Xose Velasco, owner of East Austin's Discada, said owners are keeping their guard up in the wake of the robberies as he was robbed twice within a month of reopening in November 2021.
"We try to keep the lights on," Velasco said. "We're a little bit more careful."
After 12 months, the long-anticipated massive Tesla factory in Southeast Travis County is up and operating and everyone wants a look inside.
Phase 1 of Giga Texas appears to be tied up as production of the Model Y Tesla is underway, the electric car company revealed on Wednesday in its fourth-quarter earnings call. The factory, located on the former Harold Green-turned Tesla Road, sits on more than 2,000 acres of land in southeast Travis County.
Here's a glimpse inside the factory.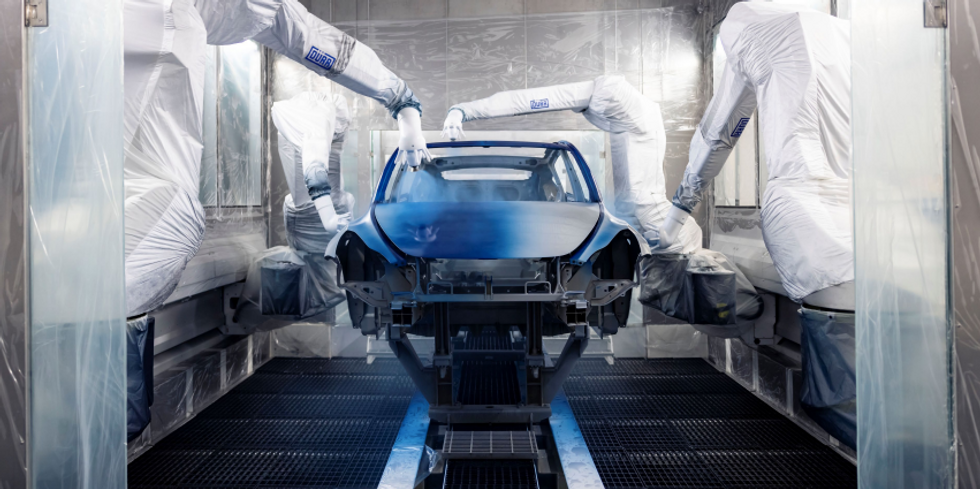 (Tesla)
Model Ys will be the first Teslas to come out of Giga Texas with an estimated delivery of August. The wait estimate comes after Tesla noted supply chain issues have affected their factories, which have been running below capacity for several quarters. A deep blue metallic like this goes for $1,000 more than a white or silver Model Y, totaling $61,990.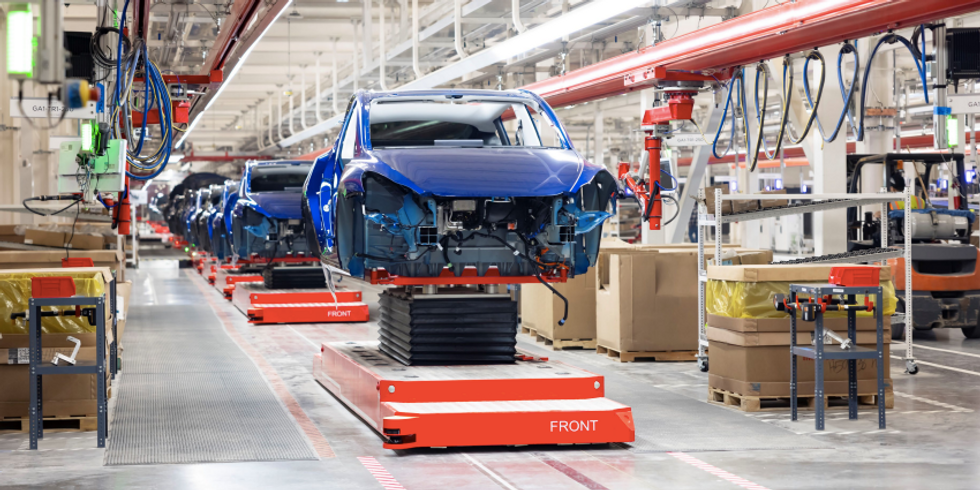 Model Ys began being produced at Giga Texas at the end of 2020. In general assembly at the factory, the Teslas get their major interior components to finish the vehicle.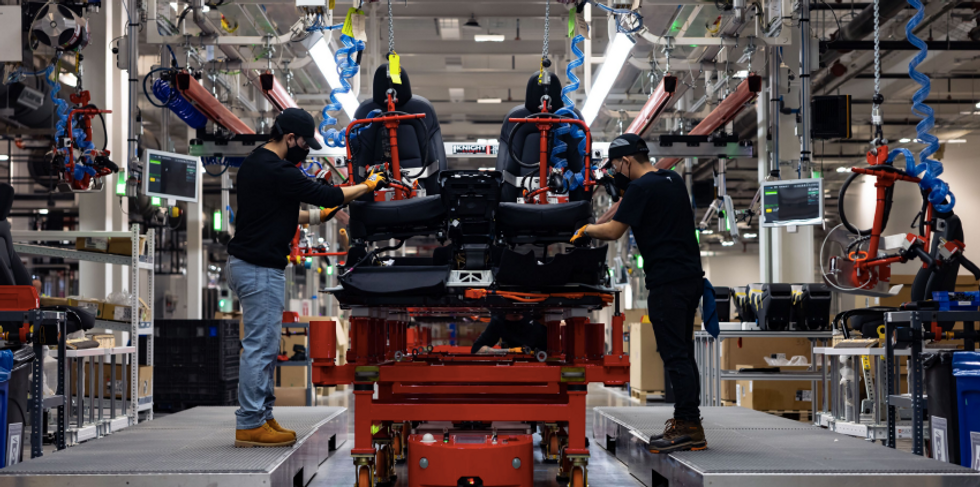 (Tesla)
Workers at Austin's Gigafactory are attaching seats to a structural battery pack. It's been described by some as the biggest difference between Texas-made Model Y's and the current version at the Fremont, California factory. It shouldn't have a major impact on the owner's experience, but Tesla has updated instructions for the jacking procedure, as the lift points are different.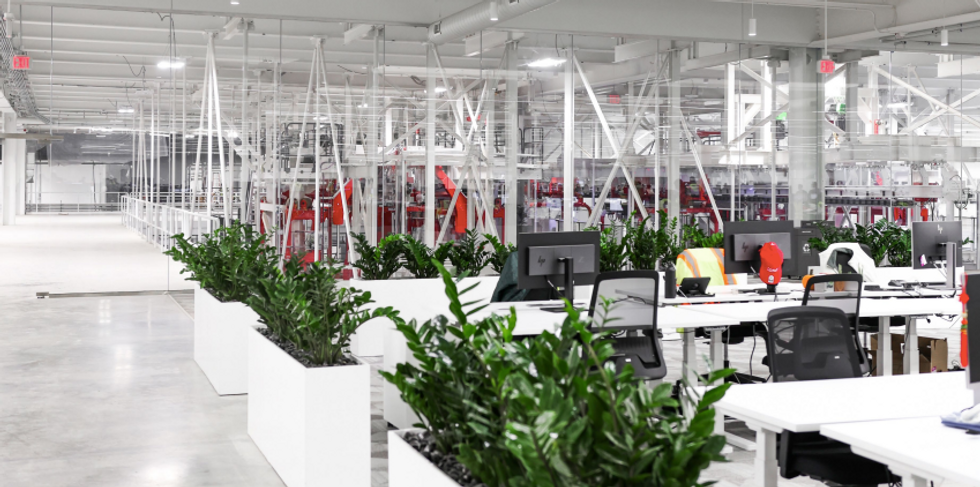 With a sleek, open office setup, workers can take in a view of the factory from their seats. It's a component CEO Elon Musk wanted for what is now the headquarters of Tesla.
On the Austin, Texas public location Snapchat, a photo of inside Giga Texas has appeared. On the left you can see a sneak peek of a Model Y body.pic.twitter.com/N7zliZ5vkL

— Sawyer Merritt (@Sawyer Merritt) 1643081462
With Snapchat's maps, anyone can look at everyday activity happening at the factory. To view these geographically-linked stories, click the bottom left "map" icon and search "Tesla Giga Texas." Once you've found it, you can view the Snapchat story of those in and around the facility. While most stories stay up for only 24 hours, Giga Texas is a designated place on Snapchat, allowing users to view a collection of photos and videos from the inside.
Following Model Ys, Texas-made Teslas will include the Cybertruck, Semi and Model 3. But it might be a while before those other models arrive. EV makers have been hit hard by the chip shortage, and it's thought that changing features are contributing to Cybertruck delays as Tesla works to compete in the electric pickup market.
Joe Rogan paid a visit to buddy Elon Musk this week. The two have been seen around town since both moving to Texas. Naturally, Rogan was impressed with the prototype.
If you're dying to get a closer look at this factory, you just might get to. In December, Musk said the factory would have tours available to the community early this year.